A homemade combination of aloe vera gel and skin-nourishing oil makes a gentle face moisturizer that saves money and nourishes the skin. Discover how easy it is to make a moisturizer for all skin types using two simple and natural ingredients.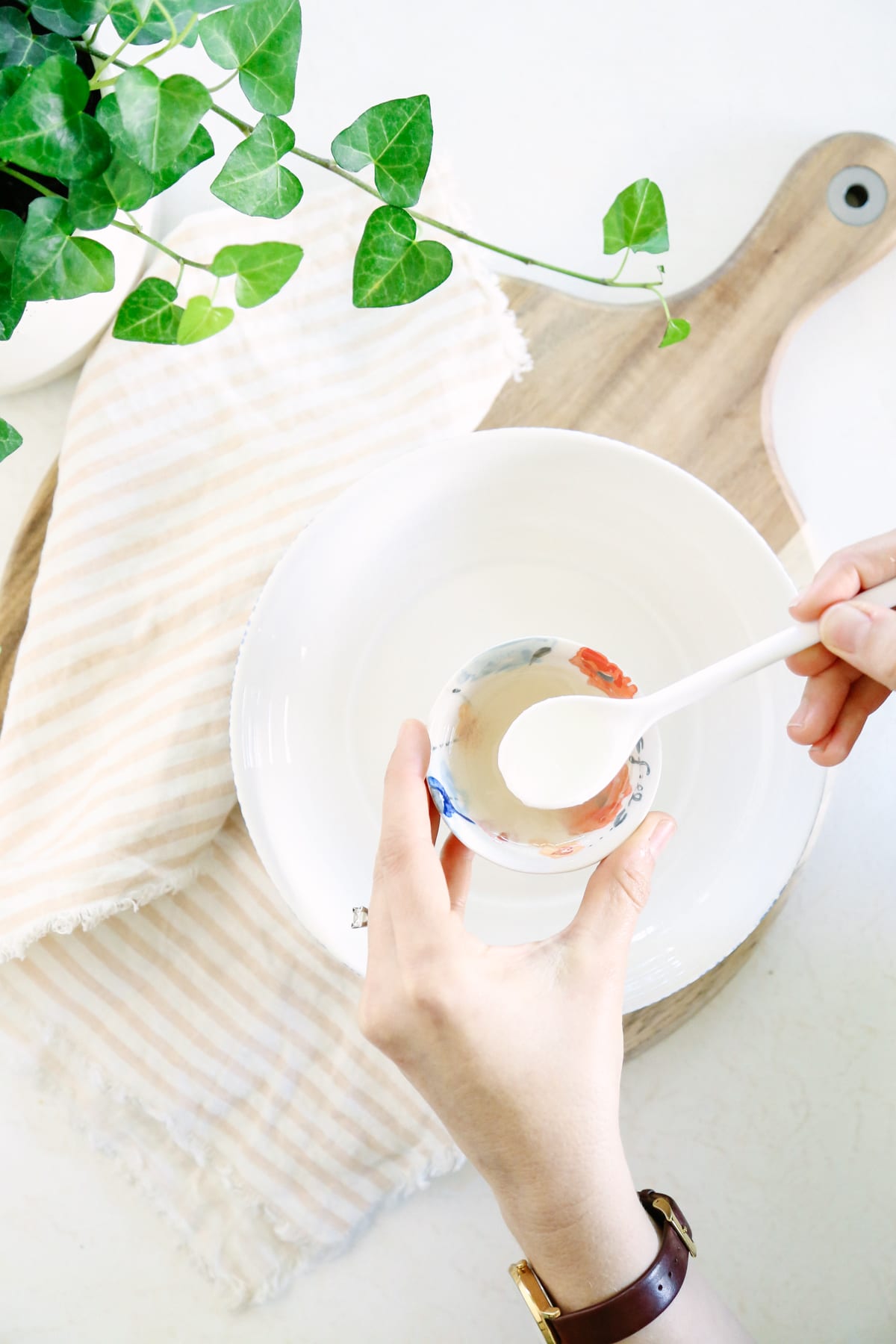 Years ago, when it came to shopping for a face moisturizer, I would turn to the fancy bottles sitting at the speciality counters in department stores. You know, the kind of bottle with an ingredient list so long that you're immediately sold on the idea that something extra special is about to happen. And since the ingredient list was so special and the bottle was always so pretty, I felt guilted into buying the product, This must be what my skin is missing! 
Since I certainly didn't want to miss out on anything, I spent way too much on moisturizers that didn't work as promised and were full of toxic ingredients. I was a marketer's ideal customer: naive and hungry for a miracle product.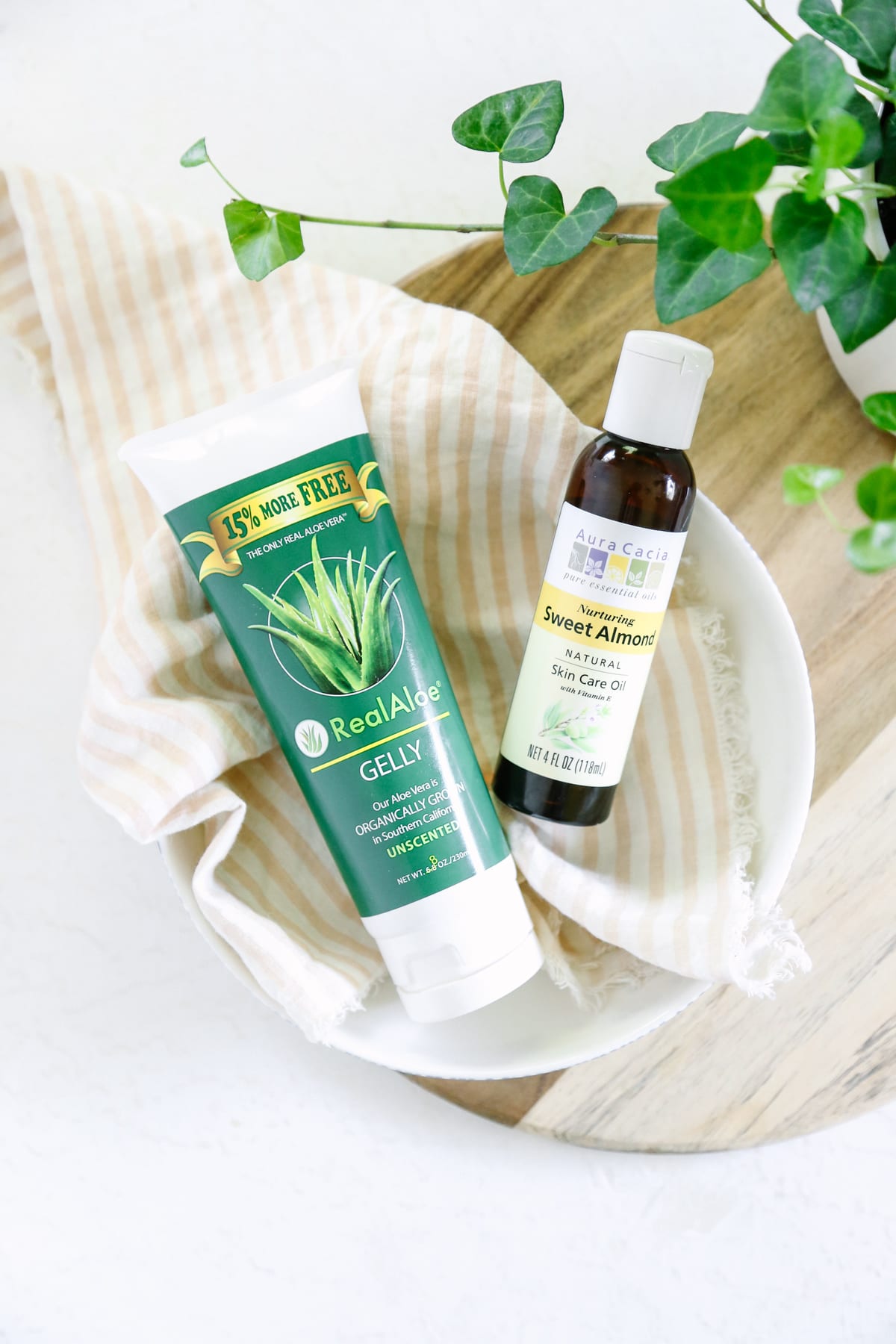 If you want to skip an expensive moisturizer and opt for a budget-friendly option, making your own moisturizer at home is the way to go! That's what I've learned over the years. (Today, I choose to buy a moisturizer from one of my favorite natural skincare brands, but I still adore this recipe because it's easy to make and works so well.)
When I first started my quest to seek out natural skincare products, there weren't many store-bought options on the market. (That's all changed today: the best 8 natural store-bought moisturizers). Coconut oil was all the rage. And one of its many uses includes moisturizing the skin, so I started using coconut oil as a face and body moisturizer. I loved that moisturizer, but I found that after some time, coconut oil was causing breakouts on my face. While the rest of my body did well with the coconut oil moisturizer, my face did not. Hello, pimples!
Since then, I've experimented with many different options for moisturizing my face, naturally. Some experiments have been absolute failures and others have been great successes (the successes have made their way to the blog: explore homemade body and face moisturizers).
When it comes to good skincare practices, it's important to get to know your skin, pay attention to what works for you, and keep things simple.
Today, I'll show you how to make one of my favorite natural face moisturizers from my DIY experimenting, using just aloe and oil.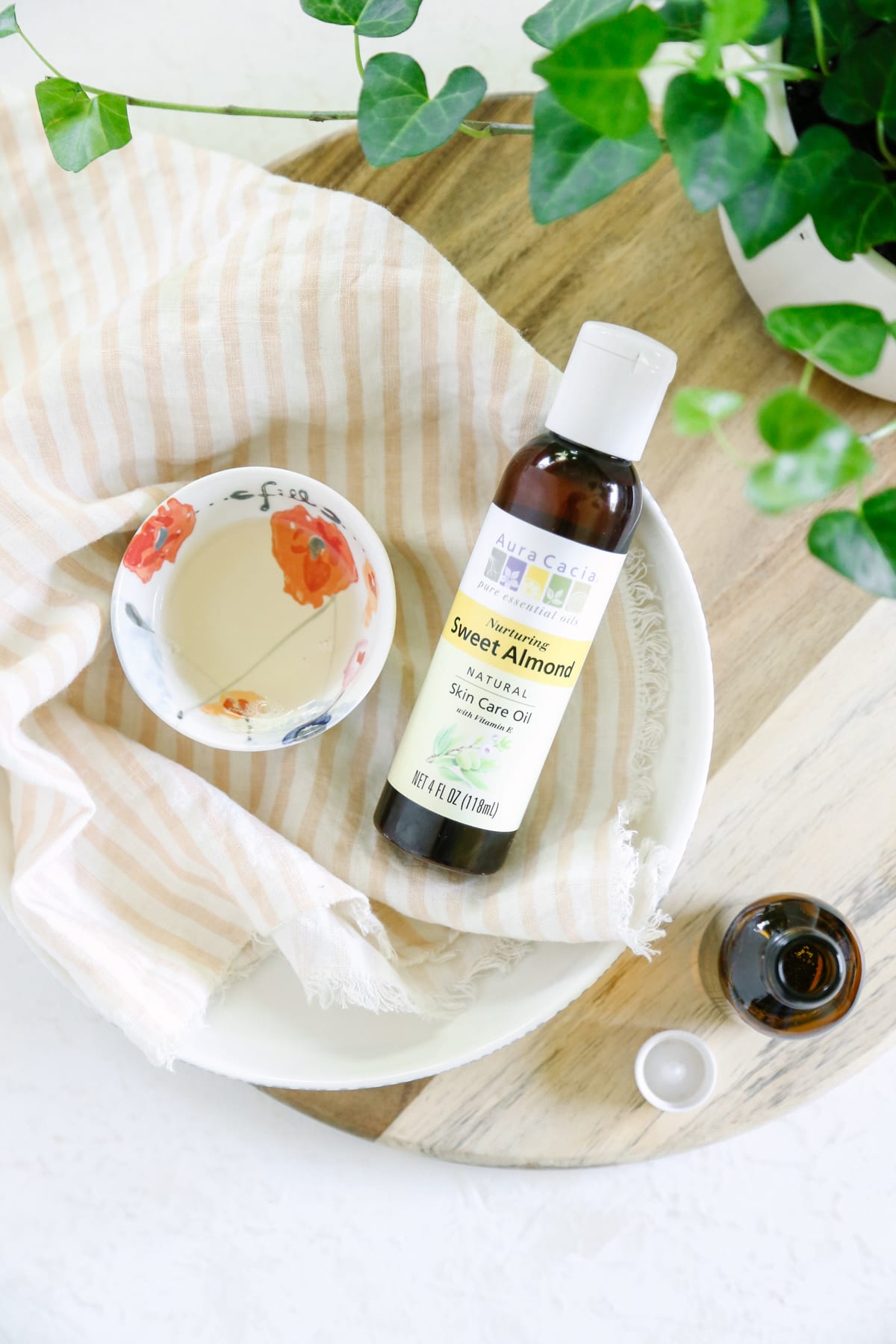 Is aloe vera a good face moisturizer?
Aloe vera gel, taken from the inner gel of the Aloe barbadensis plant (aloe vera plant), is a natural moisturizer that offers natural hydration to the skin, so it's an ideal ingredient to add to a skincare routine, whether you have dry skin, sensitive skin, acne, or aging skin. (Explore natural acne skincare products or aging skincare products.)
Aloe vera is an excellent natural beauty treatment and moisturizer. It's rich in vitamins and minerals, antioxidants and phytochemicals, and has a soothing and healing effect on skin that makes it great for skin conditions like acne, minor burns, dermatitis, psoriasis and eczema. Aloe vera is a common ingredient used to treat sunburns due to its soothing and antioxidant properties.
In an article by Penn Medical, Aloe Vera: Not Just For Sunburns, Dr. Manasija Rath shares about the benefits of using aloe vera on the skin, "It contains anti-inflammatory chemical compounds — which reduce swelling — called anthraquinones. These chemical compounds promote healing and alleviate pain when applied to your skin. If your skin needs to heal, aloe may be a good option."
We're all exposed to free radicals and environmental conditions that can cause damage to skin over time: sun exposure, cold weather, wind, pollutants, etc. This is why a nourishing skincare routine, using nutrient-rich products, is so important. And aloe is a fantastic ingredient to add to this routine!
According to WebMD, "(aloe vera) increases collagen in wounds and scar tissue to help the skin heal faster, may prevent UV and gamma radiation damage, and helps stimulate both collagen and elastin fibers, boosting the elasticity of your skin." Free radicals (which decrease collagen production), sun damage, and aging concerns are real. Aloe vera is an amazing ingredient for providing nutrients, naturally, to the skin. Nature truly knows best.
If you're interested in some of the benefits of aloe vera, this article from Mind Body Green is very insightful.
When Buying Aloe Vera…
It's important to purchase a quality aloe vera gel that doesn't contain a bunch of yucky ingredients (artificial green coloring, etc.). My favorite brands are Real Aloe or Majestic Pure. Fresh aloe is also a great choice, but when you mix it with oil to make a moisturizer, you'll need to keep the moisturizer in the fridge (which can be very cooling for the skin, so the coolness might be an added benefit).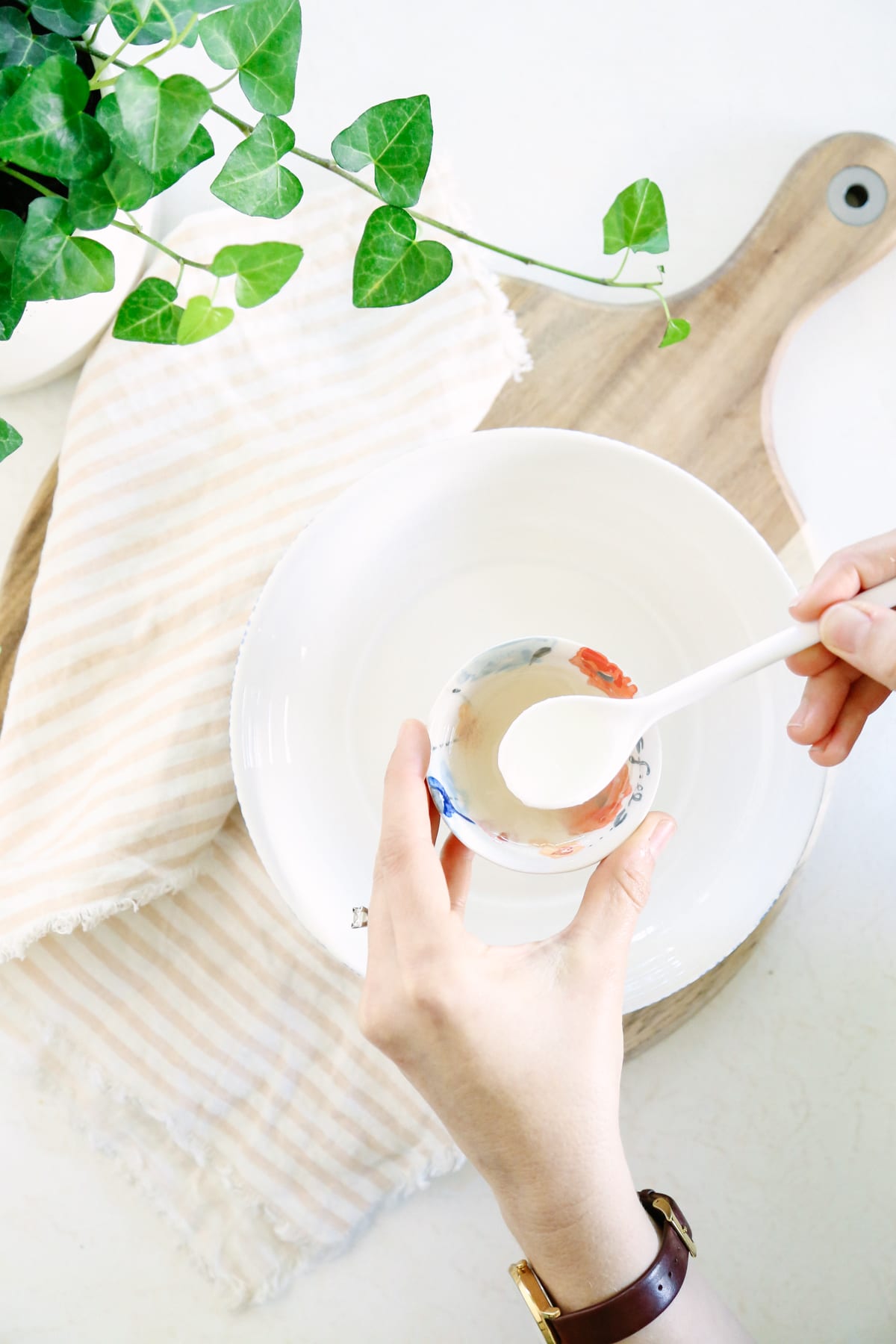 Can I apply aloe vera on my face daily as a moisturizer?
I've used aloe vera on my face as a daily moisturizer without issue and haven't found any studies that caution against the daily use of aloe vera.
According to WebMD, you can use too much aloe vera on your skin as a moisturizer. Aloe has enzymes that can exfoliate the skin and too much exfoliation can cause the skin to overproduce oils (which could lead to breakouts) and become overly dry. If you notice this is happening, or experience any skin sensitivity, listen to your skin and take a break from aloe as a moisturizer.
Of course, too much of anything is not good. In this aloe vera face moisturizer recipe (below), you'll dilute the aloe with a nourishing oil, like jojoba or sweet almond oil. The oil adds moisture and helps balance out the aloe, making it a face moisturizer that could be used daily.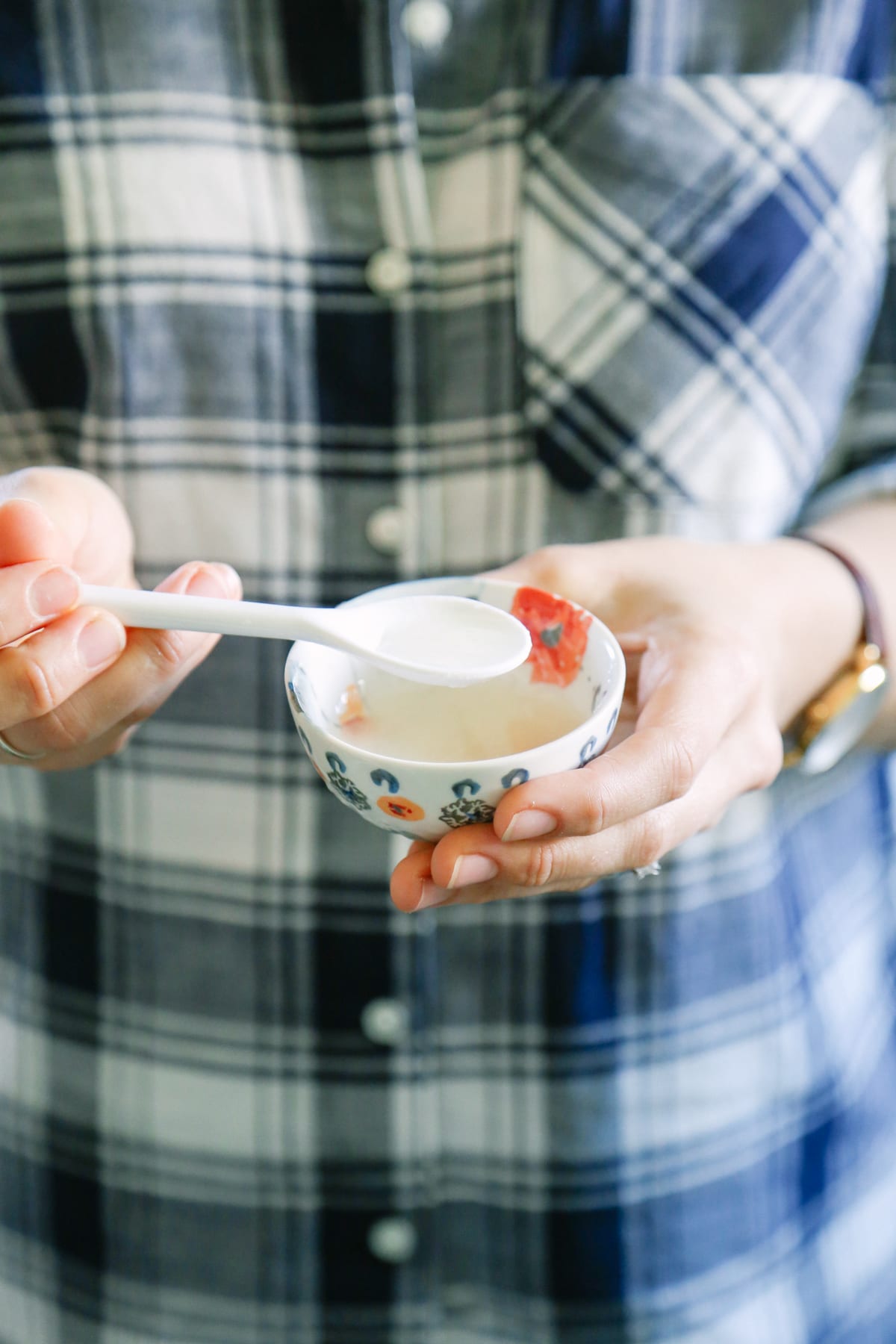 Will aloe vera make my face breakout?
Aloe vera should not cause breakouts on the face, as it's known for its healing properties. Aloe vera is actually used to calm breakouts. Aloe may be used to make a soothing breakout mask or mixed with aloe and honey to create a face cleanser that is soothing and gentle.
The bottomline: Aloe will not cause breakouts and it's a great option for calming any breakouts currently on the face and improving the texture of skin.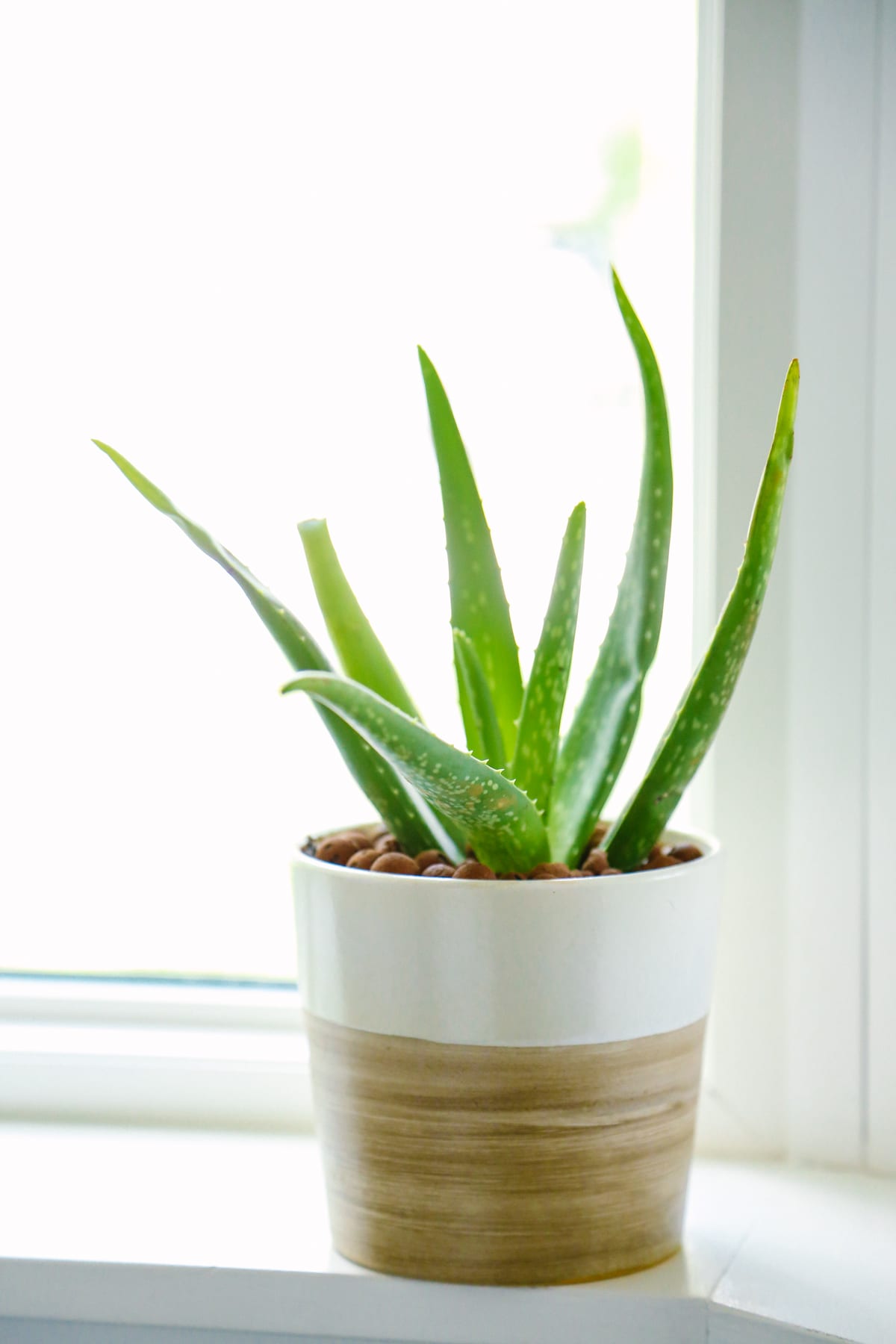 3 homemade aloe vera products to add to your skincare routine
Aloe is one amazing natural skincare ingredient! Besides this aloe vera face moisturizer, here are 3 of the best DIY aloe products to add to your skincare routine: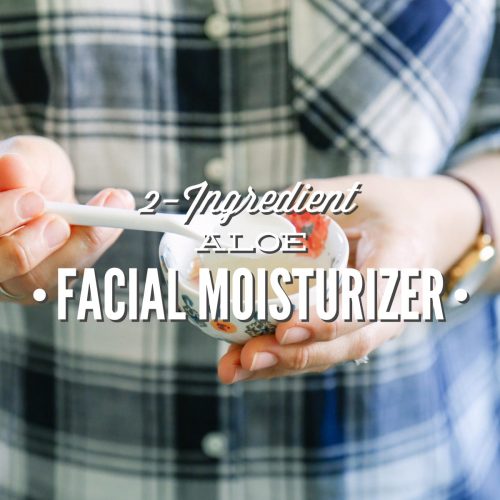 2-Ingredient Aloe Vera Face Moisturizer
A homemade combination of aloe vera gel and skin-nourishing oil makes a gentle face moisturizer that saves money and nourishes the skin.
Ingredients
jojoba oil

or other nourishing oil: grapeseed, sweet almond, apricot kernel, argan, or tamanu.
Instructions
In a small bottle (I use a 4-ounce glass bottle with a dropper), combine the aloe vera and nourishing oil in equal amounts. Feel free to play around with the ratio that works best for your skin.

Shake the bottle to combine the mixture. If you'd like to add additional ingredients, I suggest adding a small amount of vitamin E oil or a few drops of your favorite skin-friendly essential oil (I love lavender, tea tree, or carrot seed).
To Apply:
Before use, vigorously shake the bottle for a few seconds to combine the ingredients. Then, place a small amount of aloe moisturizer on (clean) fingertips and massage the moisturizer on the face.
Notes
How to choose the best oil for your skin: Jojoba is most like the oil our skin naturally produces, so it's ideal for most people. Grapeseed or sweet almond oil are known for being very light and gentle oils, so they may be a great choice for many folks who don't want something very heavy. You can even use coconut oil to create a facial moisturizer (find my recipe here, which I use after shaving), if your face does well with coconut oil; however, coconut oil can clog pores and cause breakouts on the face. 
Combining aloe and oil is much like combining water and oil, so it's not a natural combination that easily blends together. Despite their differences, I've found the aloe is the perfect "lightening" agent (with great skincare benefits) for the moisturizing oil. To get around the oil and water issue, I simply shake my moisturizer bottle before I use it. With a good, vigorous shake, the aloe vera gel and oil come together to create a light moisturizer that sinks into my skin.