This post may contain affiliate links. Affiliate links come at no extra cost to you. These links allow me to share the products I authentically recommend (and use) and support Live Simply by receiving a small commission.
A couple of years ago my brother-n-law, Ryan, developed a new interest: coffee. Coffee has been a very trendy topic for several years now, but his new interest went way beyond just being a trendy fad. His interest led him to learning how to make the perfect pot of coffee, which then led him to purchase the best coffee gear and source the perfect beans to start his own coffee business. That's some intense coffee love! Now Ryan is even working on mastering the art (and science) of roasting his own coffee beans.
Ryan's love for a good cup of joe has be passed down to other family members, including my own family. And while I'm not interested in ever roasting my own beans (and I thought grinding my own wheat berries was too much work?!), I do have a new respect for a good cup of coffee.
With a new passion for all-things coffee running through our family's caffeinated veins, I'm learning some of the do's and don'ts of making and enjoying a well-brewed cup of joe. Let's talk about one of these rules, shall we?
Coffee Rule: A well-roasted, well-brewed cup of coffee doesn't need coffee creamer.
No coffee creamer? Say what?!
Don't get me wrong, I'm not a rule breaker. I can totally get behind rules like: grind your coffee beans at home versus purchasing the ground beans from the store and weigh coffee beans and time your water pour (when using a Chemex). But the moment I was told "Creamer really isn't needed," I was ready to head back to my non-trendy Folgers days (sorry, Folgers peeps). I'm pretty sure coffee is just an excuse for tastefully enjoying a half-cup of cream anyway, since eating a stick of butter is kind of a faux pas.
I'm happy to report that I've convinced Dustin that even really good deserves coffee creamer, because (and here's the big kicker) not all coffee creamer is created equal.  In fact, nearly every store-bought coffee creamer on the market is made with very questionable ingredients, some are beyond questionable and just down right disturbing, particularly the powder imitation stuff!
A good coffee creamer should consist of two basic foundation ingredients: milk and heavy cream. That's it! At some point over the last two decades, coffee creamer companies decided that good ol' milk just wasn't, well, good enough for coffee. Let's take a look at a popular brand of "French vanilla" coffee creamer: Water, Sugar, Palm Oil, Corn Syrup, Contains 2% Or Less of The Following: Sodium Caseinate* (A Milk Derivative), Dipotassium Phosphate, Natural And Artificial Flavors, Mono And Diglycerides, Sodium Stearoyl Lactylate, Carrageenan, Salt. 
That, my friend, is not coffee creamer. That, my friend, is probably the reason our coffee rule in question was created: "A well-roasted, well-brewed cup of coffee doesn't need coffee creamer."  Even bad coffee is too good for a bottle full of ingredients like the one above. So what's the alternative? What's considered a good creamer to add to a cup of joe?
Oh, I'm so glad you asked.
Homemade coffee creamer!
Homemade coffee creamer sounds like a fancy undertaking, but making your own creamer couldn't be any easier. The same two basic ingredients are used to make any flavor creamer desired: milk and cream. That's it! With these two ingredients, spices can be added to create multiple natural flavors, or the creamer can be enjoyed "as is" with a great cup of joe. Coffee creamer generally lasts about 7 days in the fridge, so homemade creamer is a great prep time recipe to make in advance for the upcoming mornings. Cheers!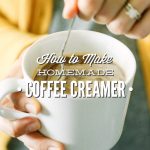 How to Make Homemade Coffee Creamer
Servings 2 cups; reduce or increase the recipe ratios as needed
Calories 599 kcal
Ingredients
1 cup whole milk
1 cup heavy cream
1/4 cup pure maple syrup
1-2 tsp pure vanilla extract
Instructions
Pour the ingredients into a tall bowl. Using an

immersion blender

, blend the ingredients together for 20-30 seconds. It's important to keep the blending time short since the cream will thicken the longer you blend (AKA: whipped cream!). If you don't have an immersion blender, vigorously whisk the ingredients until combined.

Pour the coffee creamer into a storage bottle (like a mason jar). Store the creamer for up to 7 days, depending on the expiration date on your milk and cream. Gently shake the coffee creamer if separation occurs.
Ingredient Note: I recommend using cream and milk made from grass-fed cows. Natural By Nature brand sells a great store-bought whole milk and heavy cream that aren't ultra-pasteurized.  Organic Valley sells a "Grass Milk" that's not ultra-pasteurized; however, their heavy cream contains carrageenan. If you can't find a decent heavy cream, and don't mind a coconut flavor, go with canned coconut milk and skim the cream from the top. Always read ingredient labels!
I use milk and cream from a local raw milk farm most of the time. When milk and cream aren't available, I purchase Natural By Nature.
More Real Food You May Like: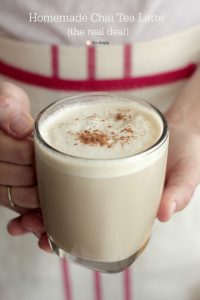 If you make this recipe, be sure to snap a photo and hashtag it #LIVESIMPLYBLOG. I'd love to see what you make!
My Free Crash Courses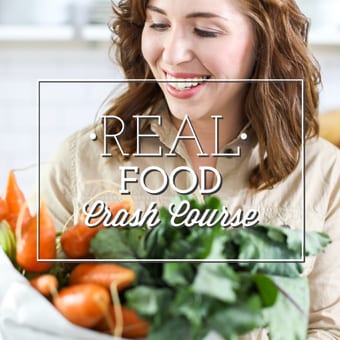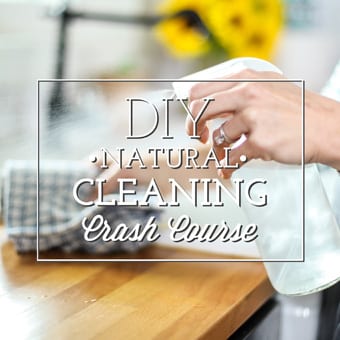 Subscribe to download the Courses