This post may contain affiliate links. Affiliate links come at no extra cost to you. These links allow me to share the products I authentically recommend (and use) and support Live Simply by receiving a small commission.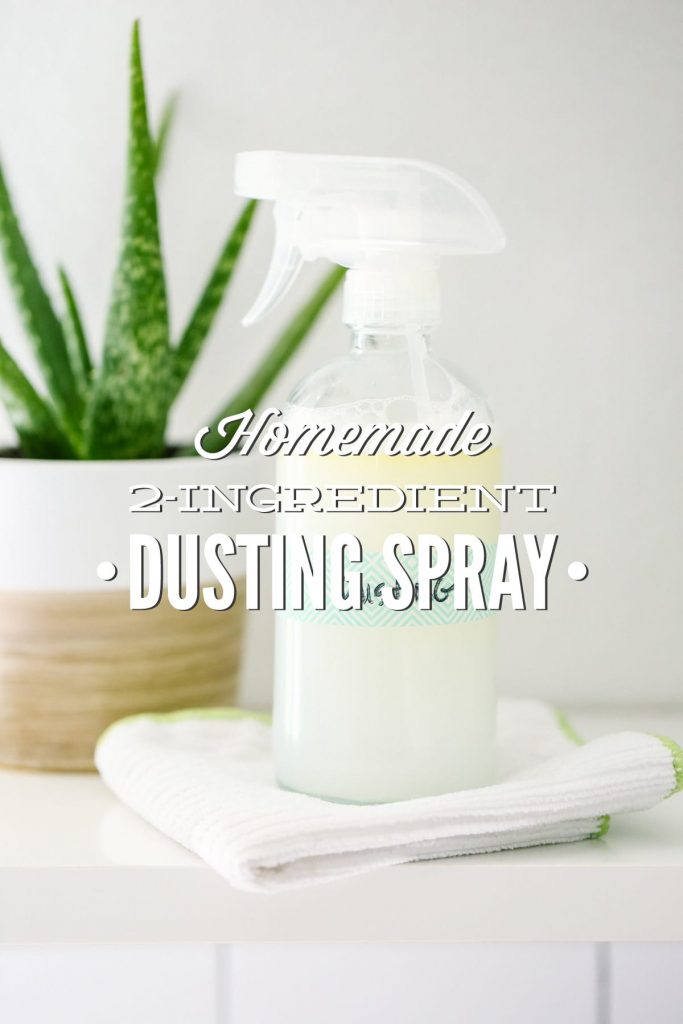 When it comes to describing a dusting spray, the last thing most people think about is the phrase two-ingredient.
In fact, just trying to learn about the exact ingredients used in commercial dusting sprays has proved to be a very difficult task. No, more like an impossible task. Considering the fact that I've only been able to learn about a few of the disclosed ingredients in the most popular dusting spray sold in stores, I believe it's safe to say that a two-ingredient dusting spray is quite a revolutionary idea.
Since when did dusting furniture become so complicated and toxic?
Instead of focusing on the negative, the multi-ingredient and ultra-mysterious dusting sprays, let's focus our discussion on a dusting spray that's made with just two ingredients. And most importantly, a dusting spray that we can feel confident about safely using in our homes and around our families. I know, such a simple dusting spray sounds too good to be true, right?! It exists, friend, it exists!!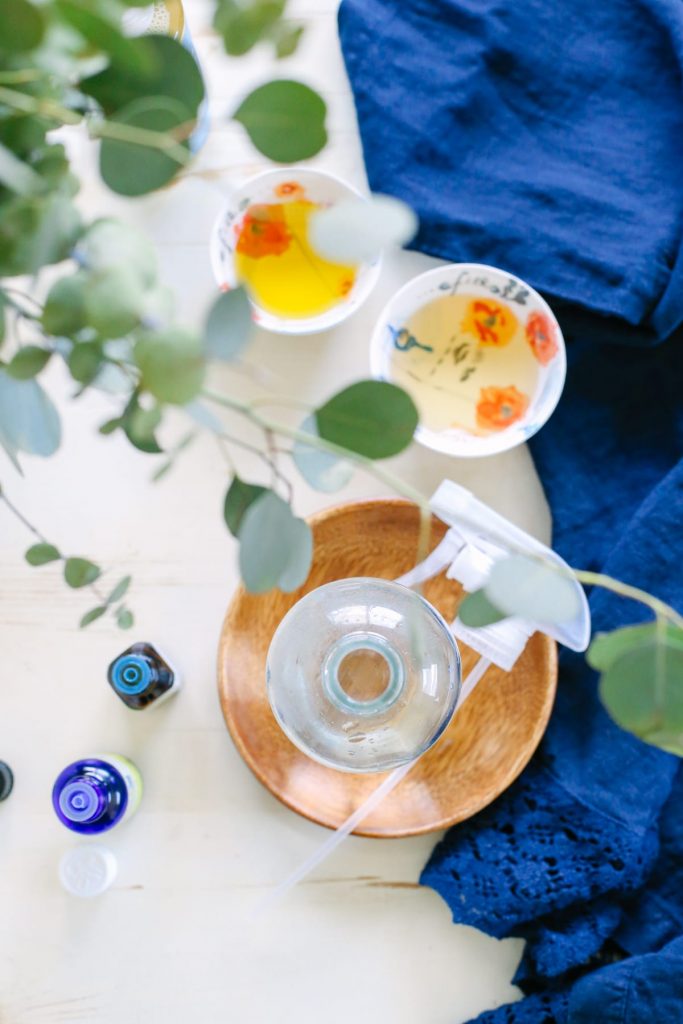 First, I think it's important to revisit the purpose of dusting spray. After all, if we're going to spend our time making and using a cleaner, it needs to be a necessary product, not just something marketers have led us to believe we need.
Simply stated, a dusting spray is used to trap dust and other allergens, making it easier to pick up the unwelcome guests with a cloth or duster. Many times, commercial dusting sprays are used to shine and polish wood surfaces; however, I believe wood just needs a light dusting versus heavy-duty polishing most of the time. Every couple of months, I use a homemade wood polish on our wood furniture. If you own the DIY Natural Cleaning Challenge, the recipe is on page 166.
I propose that a cleaning tool with such a simple and important purpose should also be made with simple ingredients. That only seems like common sense, right?!
With this purpose in mind, let's take a look at the two ingredients used to make my homemade dusting spray:
Castile Soap: According to Time Magazine, "Dust consists of some combination of shed bits of human skin, animal fur, decomposing insects, food debris, lint and organic fibers from clothes, bedding and other fabrics, tracked-in soil, soot, particulate matter from smoking and cooking, and, disturbingly, lead, arsenic and even DDT." Yuck! In the natural cleaning world, castile soap is the super hero ingredient that fights against the multi-faceted villain known as DUST.
Castile soap is a concentrated vegetable-based soap made of ingredients you can actually pronounce. This soap is gentle on the skin and effective in the fight against dirt, grease, dust, and unwanted germs. Dr. Bronner's is a very a popular brand of castile soap. Castile soap can be used to clean just about anything and everything: your face, your laundry, and even your stinky dog!
Water: In my homemade dusting spray, good ol' water aids in lifting dust and allergens from surfaces. When water is accompanied by castile soap and a microfiber cloth, the dynamic trio is an unstoppable force in the fight against our villain, DUST.
Optional Ingredients: Yes, my homemade dusting spray technically only requires two ingredients, and a microfiber cloth (trust me, try the microfiber cloth!),  but there are two other ingredient options worth mentioning: a moisturizing oil (if you're dusting wood surfaces) and lemon essential oil (for scent and beneficial cleaning properties).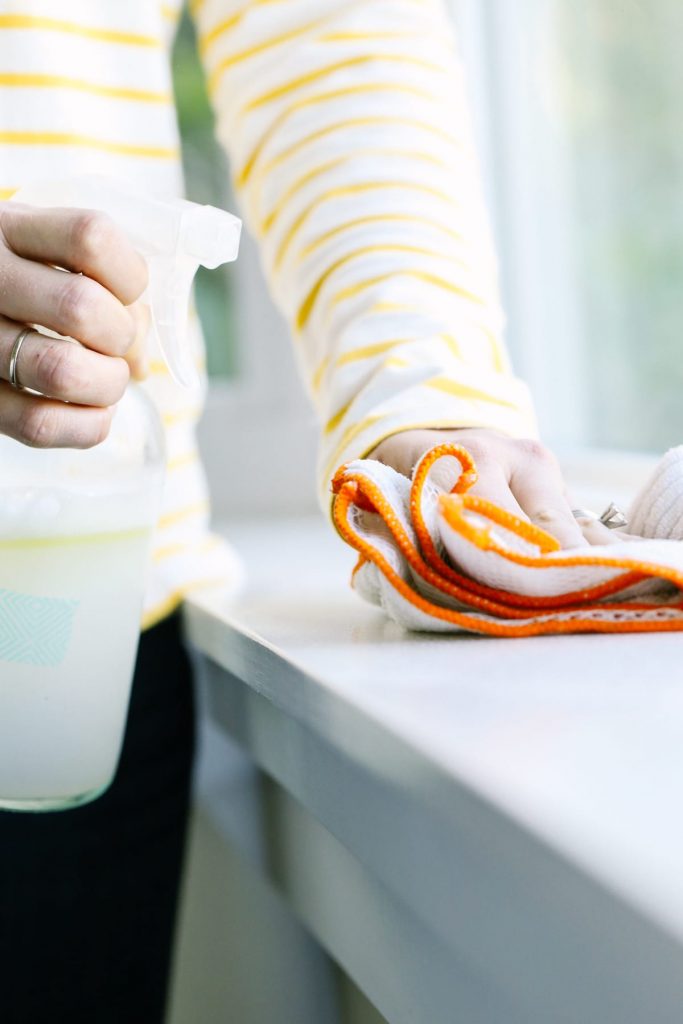 Let's start an alternative cleaning revolution, and get back to using simple, two-ingredient formulas that are safe and effective. Ready, set, go!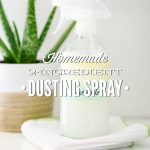 Homemade 2-Ingredient Dusting Spray
Instructions
Combine the water, liquid castile soap, moisturizing oil, and lemon essential oil in a

spray bottle

. Gently shake the bottle to combine the ingredients.
Recipe Notes
To Use: Spray a cloth (microfiber is preferable) with dusting spray, then wipe surfaces to remove dust. If you added oil to the formula, you'll need to gently shake the bottle before spraying the cloth. This may not be safe for all wood surfaces. It's important to know how your wood has been sealed before using any cleaning product.
The "where to buy" links provide links to the actual products I use. As always, I recommend shopping around online and at local stores for the best prices and products you love. Recipe shared from my book, DIY Natural Cleaning Challenge.
Ingredient Notes
A few drops of tea tree essential oil may also be used in this recipe, if desired.
When you introduce water into a product without a preservative you always run the risk of introducing bacteria, so use water-based products quickly.
If you make this recipe, be sure to snap a photo and hashtag it #LIVESIMPLYBLOG. I'd love to see what you make!
My Free Crash Courses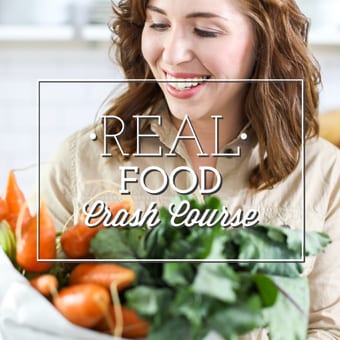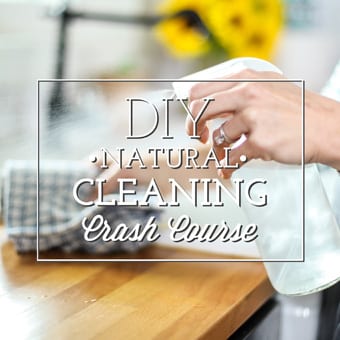 Subscribe to download the Courses