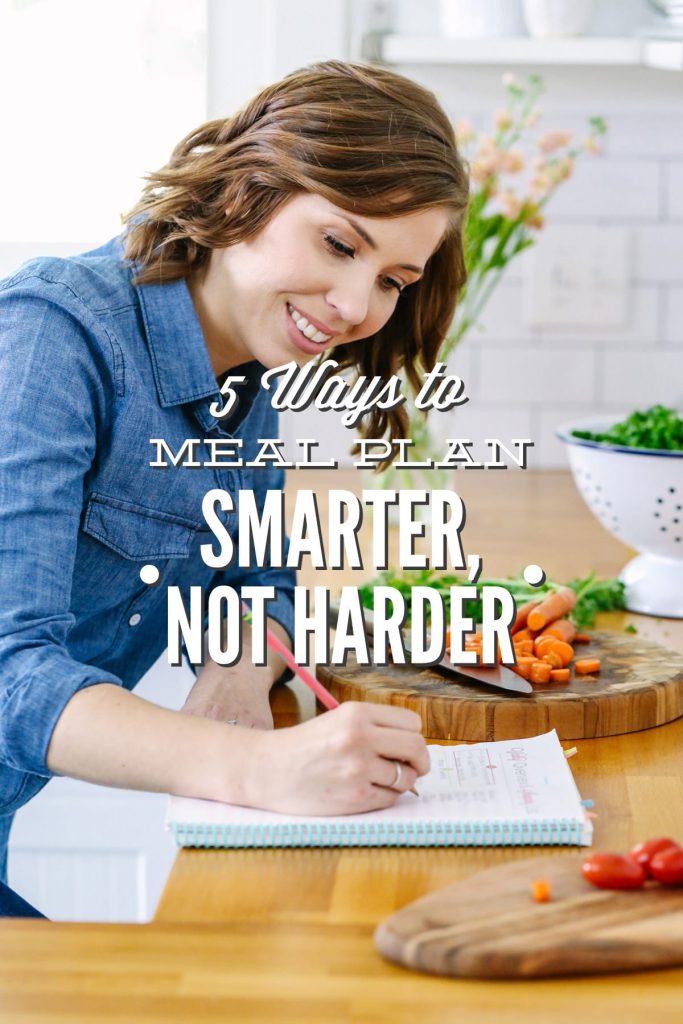 We've spent a lot of time over the last few weeks making real food recipes together. Without a plan in place for how to use those recipes in everyday meals, the recipes may remain just ideas on a page.
Now I get it, creating a meal plan sounds like a time-consuming activity, but I truly believe it's one of the most impactful ways to make real food a practical lifestyle. The good news is that while meal planning can be a time-consuming activity, it's doesn't need to be. Meal planning can actually be a very simple and efficient activity. Over the years, I've discovered five strategies that help me save time, money, and even brain power when it comes to creating a real food meal plan.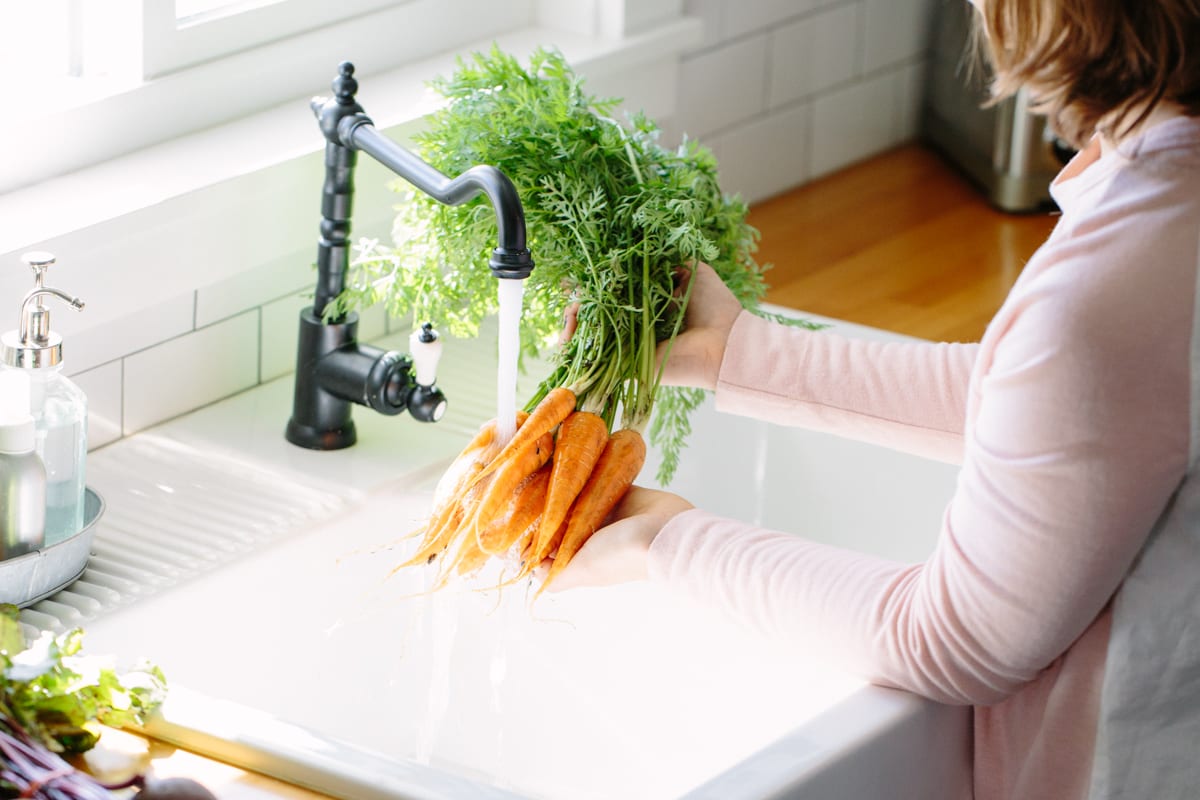 5 Ways to Meal Plan Smarter, Not Harder
1. Take an Inventory:
Before creating a meal plan, it's important to know exactly what's in your pantry, freezer, and fridge. Skipping this important step may result in purchasing food you already own, or purchasing extra food you don't really need because a perfect meal is already sitting in your pantry and fridge.
How To:
Before meal planning, open your fridge, pantry, and freezer. Simply take a mental note of what you currently have in stock. Spinach? Oats? Ground beef? Frozen strawberries?
Now it's time to write down meal ideas using these foods on your meal plan. Sure, you're probably not going to use everything in your pantry, freezer, and fridge to create a meal plan, but knowing what you have to work with is a great first step. If you can't think of any ideas off the top of your head, it's time to take a look at your favorite meal ideas to find meals/recipes that use these ingredients, which brings us to strategy number two…
A note about organization: Taking an inventory of your food is much easier to do if your fridge, freezer, and pantry are organized. I recommend keeping pantry ingredients in clear containers so you can easily take an inventory of what you have in stock. I like to keep an on-going written inventory list for both my pantry and freezer, updating the lists anytime I run out of an item or add something new. The fridge is constantly changing, so I prefer to take a mental note of what I currently have in stock.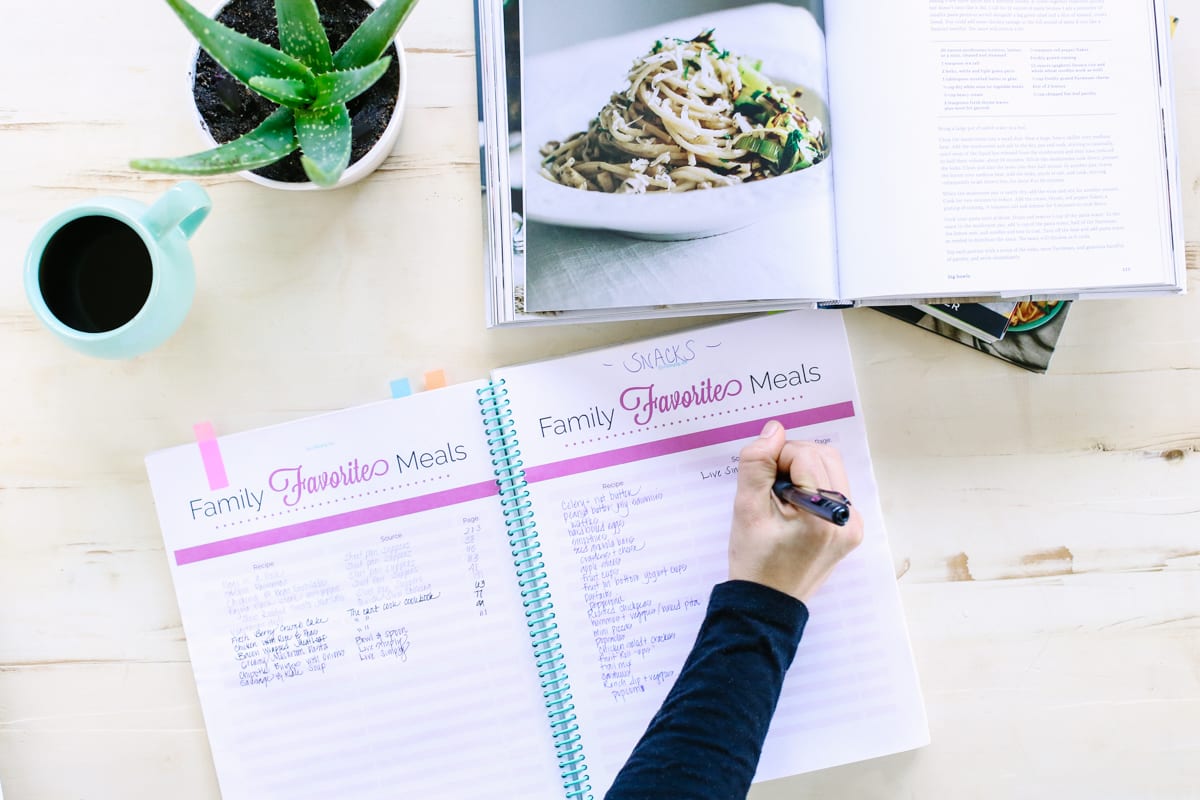 2. Use Family Favorite Meals:
Before creating a list of my family's favorite meals, I spent way too much time each weekend thumbing through cookbooks and browsing Pinterest looking for meal ideas. Finally, my lightbulb moment happened: What if I create a list of favorite meals to regularly rotate in my meal plan?
How To:
Gather your family together and ask, "What are your favorite foods/meals?" Based on your family's suggestions, create a list of favorite meals. Hamburgers? Chicken salad? French fries? Scrambled eggs? Broccoli? Burrito bowls? Write it down on your list. Do you have a favorite recipe from Pinterest that you regularly make? Awesome, add it to your list. Is Grandma's famous breakfast casserole a huge hit with your family? Great, add it to your list. I recommend writing down the following information on your list: recipe name, source, page (if the recipe comes from a cookbook or magazine).
The goal is to create a list of 15-30 recipes (or meal ideas) that you can regularly rotate throughout your meal plans.
If you'd like to add variety to your meal plan with new meals, I recommend keeping a separate list (I call my list, Recipes to Try) with meal ideas from Pinterest, cookbooks, magazines, and blogs. When you feel the need to spice things up, take a look at this list and add a new recipe to your meal plan. If you try a new recipe and your family loves it, add it to your favorite list.
3. Assign Themes:
Now that you've created go-to lists for recipes and meal inspiration, work on creating themes for your meal plan.
How To:
I like to add variety to our meal plan by choosing new themes every month, and then planning meals within the themes. For example:
Sunday: Waffles or Pancakes/"Bar" Style (salad bar, potato bar, chili bar, pasta bar, etc.)
Monday: Eggs/Mexican
Tuesday: Breakfast Burritos and Smoothies/Salad or Breakfast
Wednesday: Oatmeal/Easy or Crock-Pot
Thursday: Eggs/Italian
Friday: Muffins and Smoothies/Pizza
Saturday: Potatoes and Eggs (hash, country-style potatoes, etc.)/Soup
The goal of using themes is to provide a bit of structure to your meal plan and take away the guess work that comes from starting with a blank calendar.
4. Reuse Ingredients:
Before my "smarter, not harder" days, I would plan a super special dinner every single night, made with a ton of special ingredients. After a few months of using this meal planning strategy, Dustin had to sit down with me for a "come to Jesus" financial meeting.
Meal planning isn't about creating super fancy or impressive meals every night. Meal planning is about creating a practical guide that will help you purchase food and use that food to nourish your family. With this goal in mind, I decided to be more strategic in how I planned our meals by using similar ingredients throughout the week.
How To:
As you meal plan, look for meals on your lists that use similar ingredients. For example: If you have black beans in your pantry and you plan to make black bean soup on Monday night, plan to use the black beans in another meal. Maybe you'll make tacos or nachos later in the week.
5. Reuse Meal Plans:
Before taking the "smarter, not harder" route, I threw away my meal plan each week. Yep, in the trash can. Or my meal plan would get lost at the bottom of my purse, which is basically a pretty leather trash can. Since I would write my meal plans on a piece of scratch paper, I didn't see much value in keeping my hard work.
Today, I write my meal plans in my meal planner, which means I save every single meal plan; and this means I can reuse my meal plans throughout the year. If my schedule is extra busy one week, I can simply look through my old meal plans and find one that appeals to me, and viola…my family's meal plan is ready! I've basically created my own personal meal planning service.
How To:
First, ditch the scratch paper. Instead, use a dedicated notebook, calendar, or meal planner. Keep your meal plans in this special location so you can reference them throughout the year and reuse the plans as needed. After just a few months of using this strategy, you'll be able to enjoy a goldmine of ready-to-go meal plans. Now that's working "smarter, not harder."
meal plan solution
Family Survival Weekly Meal Plan
The Family Survival Meal Plan is the fast-track way to put real-food meals on autopilot and break out of mealtime survival with the easy-to-follow meal plan, time-saving food prep and cooking methods, and the real-food recipe book that make nourishing your family one less thing to stress about.