Today's recipe has become a family favorite, a meal that I make on constant rotation. It's also the very best homemade ziti recipe, in my opinion.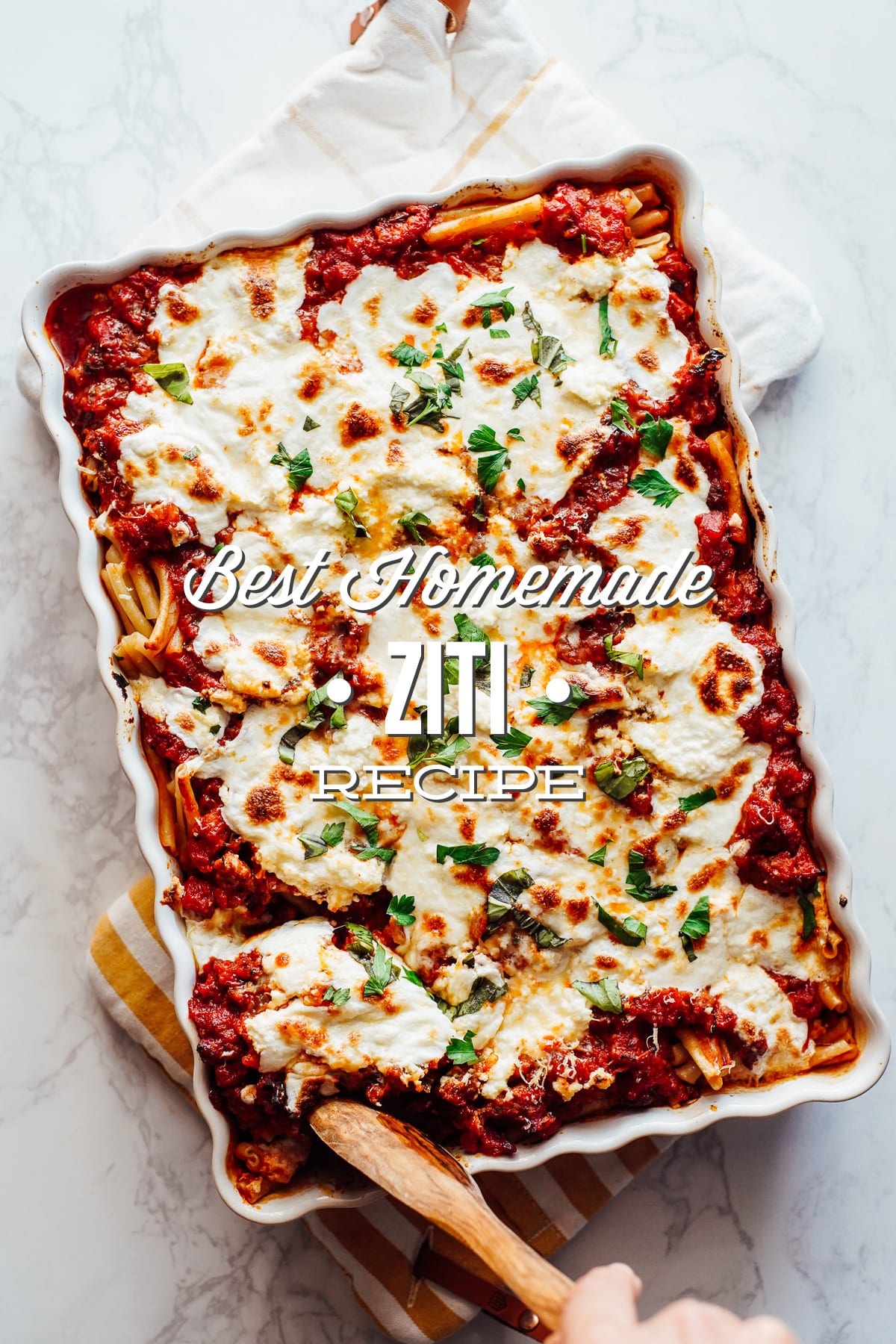 Homemade ziti is not only a great family meal, as it feeds a hungry family for dinner with lots of leftovers (a natural cook once, eat twice meal), it's also a great meal to share. This is my go-to meal to make for a friend who has just had a baby, a new neighbor, or a family member in need of a home-cooked meal.
How to Make Ziti From Scratch
And yes, it's worth the effort!
What makes this recipe the "best"? It's all about the from-scratch nature of this recipe. Cooking from scratch and using quality ingredients always results in the best food, period. This is true with salad dressing, pancakes, waffles, ziti, pesto, and the list could go on.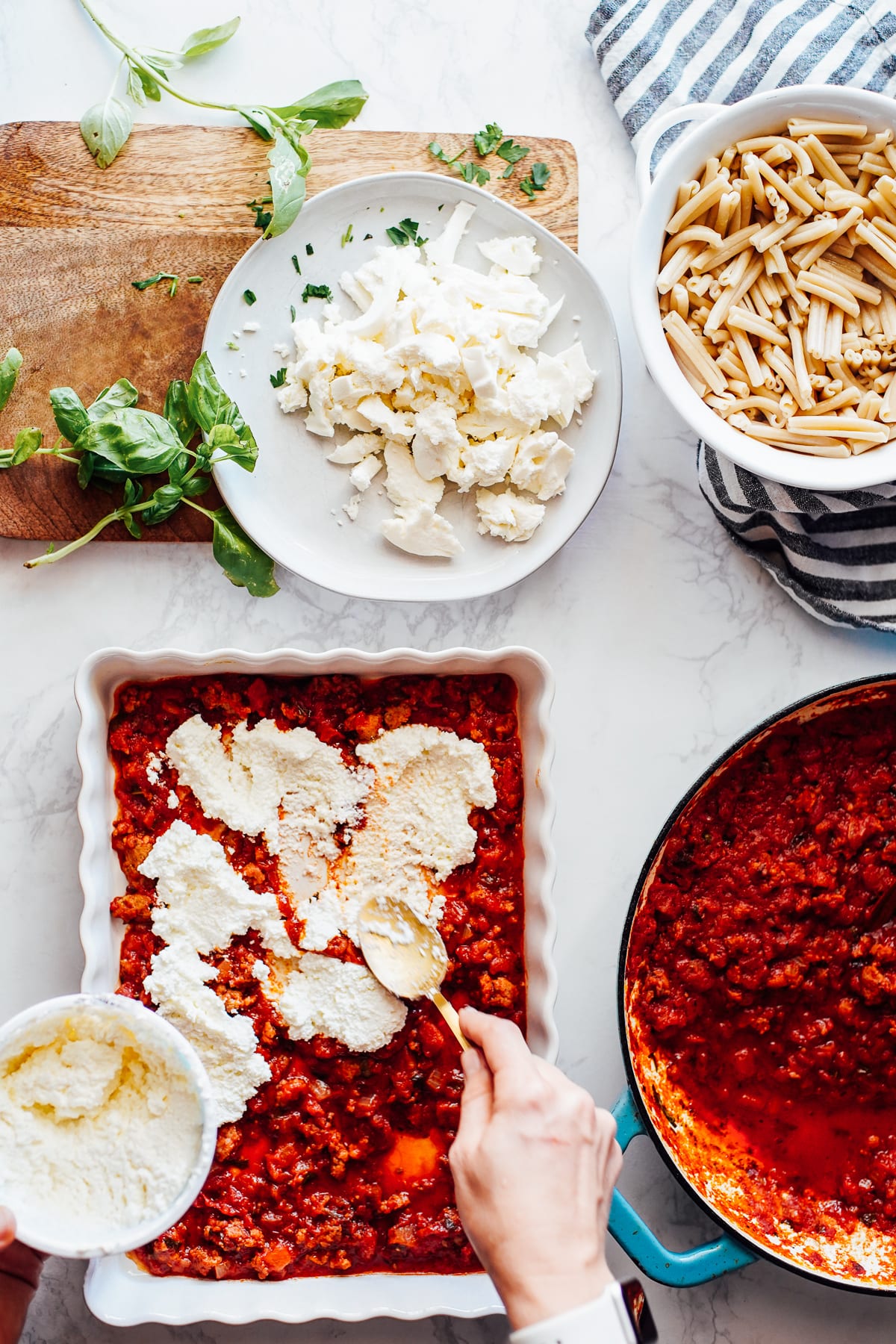 To make this recipe from scratch, start with a from-scratch sauce. Trust me, don't use store-bought pasta sauce. I know it's tempting. Store-bought sauce is easy and convenient. I'm all for jarred pasta sauce, particularly on a busy evening, but jarred pasta sauce won't ever compare in flavor to a homemade sauce. A homemade sauce doesn't need to be fancy. Many Italian sauces, to my understanding, are very simple, but the flavor factor is always present. As Hilary from Live Yum Yum says, "Simplicity is gourmet."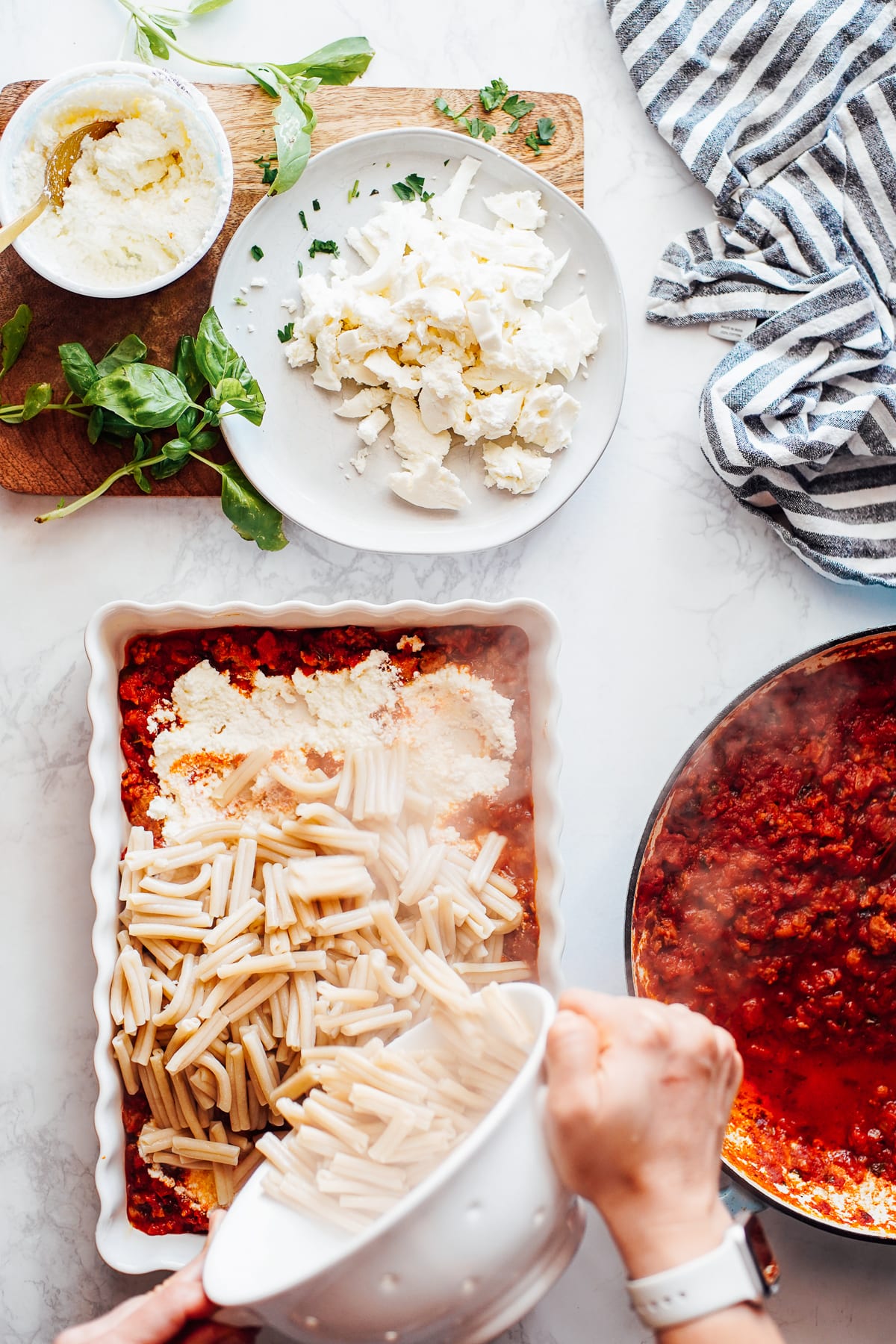 The from-scratch sauce takes about 30 minutes to make, from start to finish and forms the base for the homemade ziti. Once the sauce is made, the ziti comes together in just a few minutes.
For this recipe, I use penne pasta. If you've been around Live Simply, you know that I'm a big fan of Jovial Foods brand (NOT sponsored). Jovial's brown rice pasta is the best tasting pasta, in my opinion. It's a light pasta that doesn't fall apart like so many brown rice pastas and has a delicate flavor (unlike whole wheat-based pastas). Plus, the commitment Jovial has for real food, farming, and sustainability is incredible.
That said, you don't have to use penne pasta or the Jovial Foods brand. If you want to use ziti in this recipe, you're more than welcome to do so. Use the pasta you love best and have stocked in your pantry.
How to Save Time and Prep This Recipe in Advance
Making homemade ziti from scratch is a bit labor intensive, so if you want to make this recipe during the week, here are some ways to save time in the kitchen…
Make the sauce in advance. Prepare the sauce a few days in advance. Cook the sauce according to the recipe, let it cool, and store in the fridge. Alternatively, you can also make the sauce and freeze it. Maybe make a double batch on the weekend, make ziti for dinner, and store the extra sauce in the freezer for a future ziti dinner (or just enjoy the sauce with spaghetti noodles).
Make the ziti in advance. Prepare the recipe, add everything to a 9×13 pan, then cover and set aside in the fridge for up to 2 days before baking and enjoying.
Cook Once, Eat Twice. This recipe makes quite a bit, particularly if you're planning to serve salad on the side. Our family of four can eat this ziti for dinner one night and enjoy the leftovers for a couple of days after that. Make this recipe on the weekend (or whatever day of the week is slower for you as a family) and enjoy the leftovers for lunch and/or dinner later in the week.
Best Homemade Ziti Recipe (Gluten-Free Option)
The best homemade ziti recipe made with a from-scratch sauce, penne pasta, ricotta, mozzarella, and parmesan.
Ingredients
Sauce:
2

TB

extra virgin olive oil

1/2

cup

diced yellow onion

1

lb

Italian sausage

or ground beef or pork, however, the Italian sausage adds great flavor to this recipe

4

garlic cloves

1/2

tsp

red pepper flakes

1

TB

tomato paste

1

18.3 ounce

can crushed tomatoes

I use Jovial brand, see note below under recipe

1

18.3 ounce

can diced tomatoes

I use Jovial brand, see note below under recipe

1/4

cup

water

1/4

cup

chopped fresh flat leaf parsley

1/4

cup

chopped fresh basil

1

tsp

oregano

1

tsp

salt

1/2

tsp

black pepper
Ziti
1

12-ounce

box penne pasta

I like brown rice pasta, or you can use ziti. To make this gluten-free, use gluten-free noodles (such as brown rice).

8

ounces

fresh mozzarella cheese

15

ounces

ricotta cheese

1

cup

grated parmesan cheese

fresh basil or parsley

optional for garnishing
Instructions
Make the Sauce
Add the olive oil to a large skillet over medium-high heat. Once the oil is hot, add the onions. Sauté for 5 minutes, until beginning to brown, then add the sausage. If the sausage is in a casing, remove from the casing before adding to the skillet. Break up the sausage with a wooden spoon as you sauté.

Once the meat is cooked through, add the garlic and red pepper flakes. Sauté for 1 minute, until fragrant. Stir in the tomato paste, followed by the water and canned tomatoes.

Finally, add the chopped fresh herbs, oregano, salt, and pepper. Stir to combine all the ingredients. Bring the ingredients to a lively simmer, then cover with a lid. Simmer for 20-25 minutes to allow the ingredients to marry and flavors to intensify.
Make the Ziti
While the sauce simmers, cook the pasta according to the directions. Drain and set aside. I drizzle and then toss pasta with a bit of olive oil to prevent the noodles from sticking to each other while waiting to assemble to the ziti.

Preheat the oven to 350F.

Spread a layer of the sauce on the bottom of a 9×13 baking dish. Spread half the ricotta cheese on top of the sauce, in dollops. Add the pasta, then add all the remaining sauce.

Add dollops of the remaining ricotta cheese over the top of the sauce, followed by the mozzarella cheese (I tear apart small pieces from the fresh mozzarella ball and sprinkle over the top of the sauce) and parmesan cheese.

Bake the ziti, uncovered for 20-25, until the sauce bubbles on the sides and the cheese melts. Turn off the oven and turn on the broiler. Broil the ziti for just a couple of minutes to brown the cheese. The broiler step is optional, but highly recommended. Top with extra fresh parsley or basil, if desired. Serve warm.
Notes
Tomatoes: I use Jovial brand tomatoes, which come in 18.3 ounce glass jars. This is why the recipe calls for this particular size. Most brands sell 14.5 ounce or 28 ounce size cans. If you're using a different brand, do your best to get about 34-36 ounces of tomatoes. 
The sauce recipe is adapted from The Defined Dish Cookbook. I highly recommend adding this cookbook to your collection, it's a good one! 
Nutrition
Calories:
3751
kcal
Carbohydrates:
43
g
Protein:
205
g
Fat:
305
g
Saturated Fat:
138
g
Cholesterol:
829
mg
Sodium:
9113
mg
Potassium:
2302
mg
Fiber:
4
g
Sugar:
10
g
Vitamin A:
6411
IU
Vitamin C:
43
mg
Calcium:
3320
mg
Iron:
11
mg