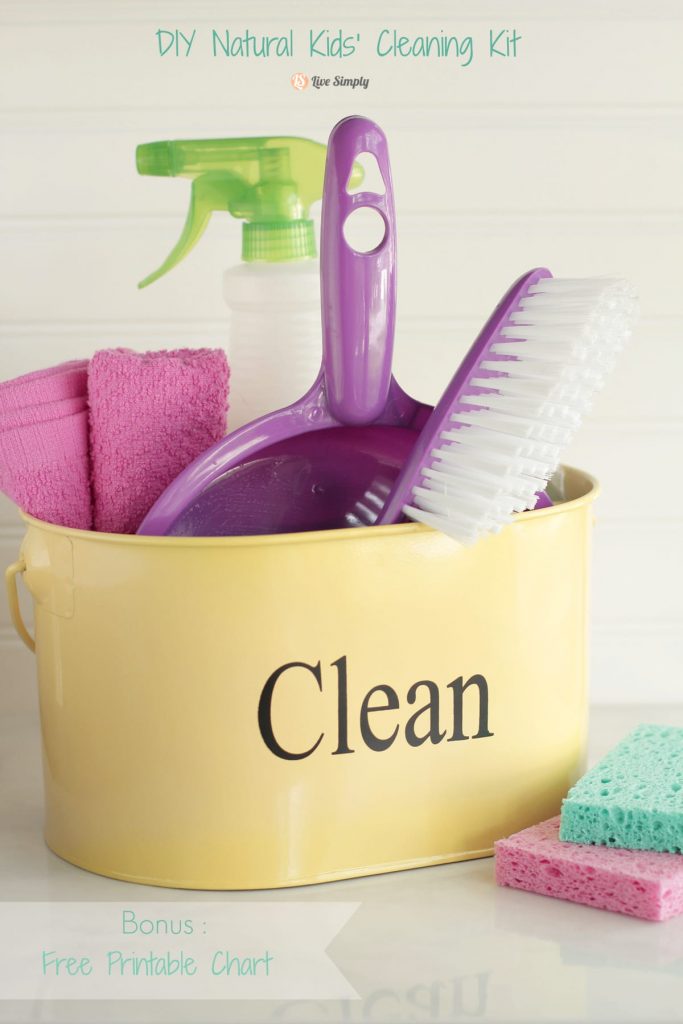 "Say what? Kids' Cleaning Kit? You're pulling my leg, Kristin.  Kids and cleaning? Yea, you don't know my kids!"
Okay, friend, hold the sponge. I get it. Kids and cleaning are as polar opposite as one can get. Much like chia and delicious (except when added to peanut butter and oats).
I'm here to deliver hope, and clean walls. Imagine that.  You may even have time to enjoy the coffee that's been sitting on the counter since 7am. Can you hear the angels singing? Or maybe that's just my four year-old?
With two kiddos, ages two and four, my house encounters its fair share of messiness. A typical day in our house looks like:
8 am: Wake up. Start the coffee pot. Feed the chickens. Cook breakfast. Dirty lots of dishes.
9 am: Stare at the dirty dishes. Feed the family. Start working on the computer.
10 am: Kids play. Kids make a huge mess.
12 noon: Make lunch. Double the size of dishes currently in the sink.
1 pm: Stare at the huge mountain of dishes accumulating in my sink. Lay Londyn down for a nap. Piper makes a huge mess by dumping miniature Legos all over the floor in search of the perfect piece.
2 pm: "Where's the floor?"
3 pm: Londyn wakes up. Snack time. Add more dishes to the sink, if there's any more space.
4 pm: Shoot, dinner needs to be made! Kids play. Dinner is made. Holy cow, look at the kitchen!
5 pm: Clean-up. Eat dinner.
Messes are inevitable. I have two choices: clean up the messes by myself, sticking the kids in front of a movie; or enjoy this season of life and find a way to make cleaning enjoyable for the whole family. I'm going with the latter.
I've been on a hunt to find homemade versions for many of the store-bought products I use for cleaning.  One of the added benefits to using homemade "clean" products is knowing the full ingredient list of every bottle,  which means little people can help clean. Eureka!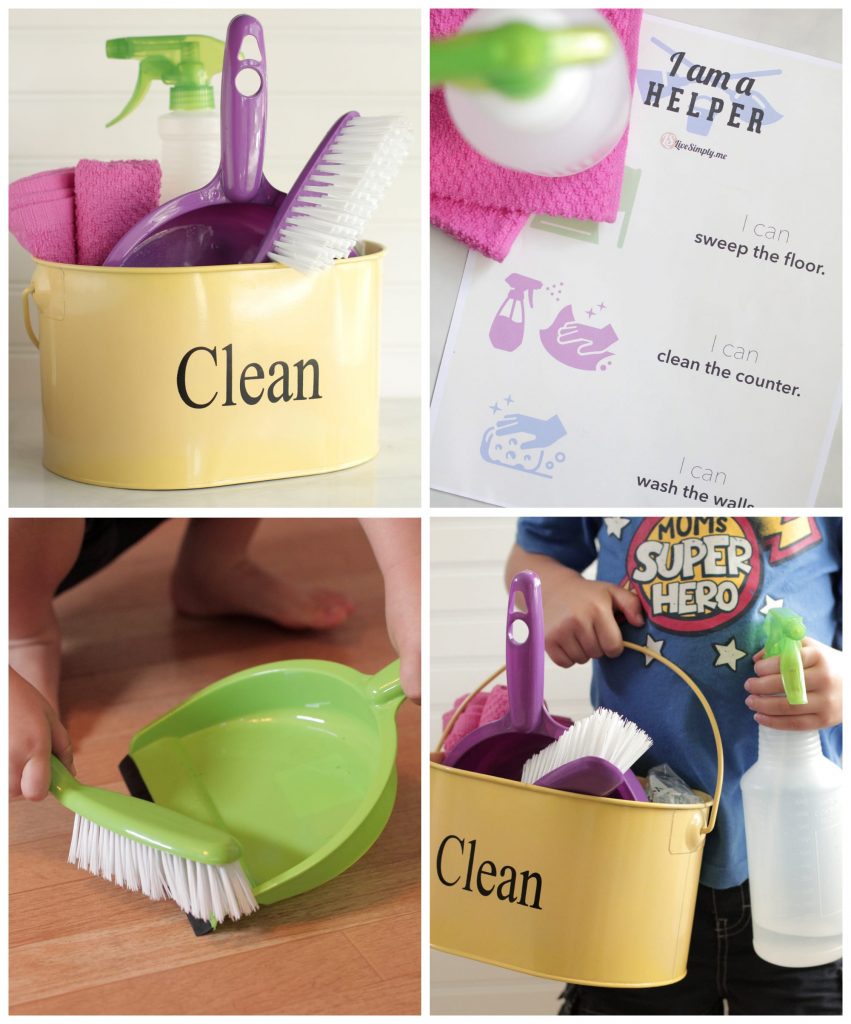 Stocked with homemade cleaning products and the desire to make cleaning enjoyable for the whole family, a natural kids' cleaning kit was born. From homemade surface cleaner to disinfectant sponges, this cleaning kit contains everything needed to get a house sparkly clean with a huge dose of fun.
I keep my kids' cleaning kit in the kitchen along with a handy chart designed to encourage reading skills. Let's take a look at how to build your own natural kids' cleaning kit.  You know you need one!
How to Make a Natural Kids' Cleaning Kit:
First, the caddy (the one pictured came from Home Goods). Every cleaning kit starts with a fun, bright-colored caddy to hold homemade cleaning products. Choose a caddy that's appealing to a child. If your child is old enough they can pick their own fun caddy and decorate it with stickers or paint.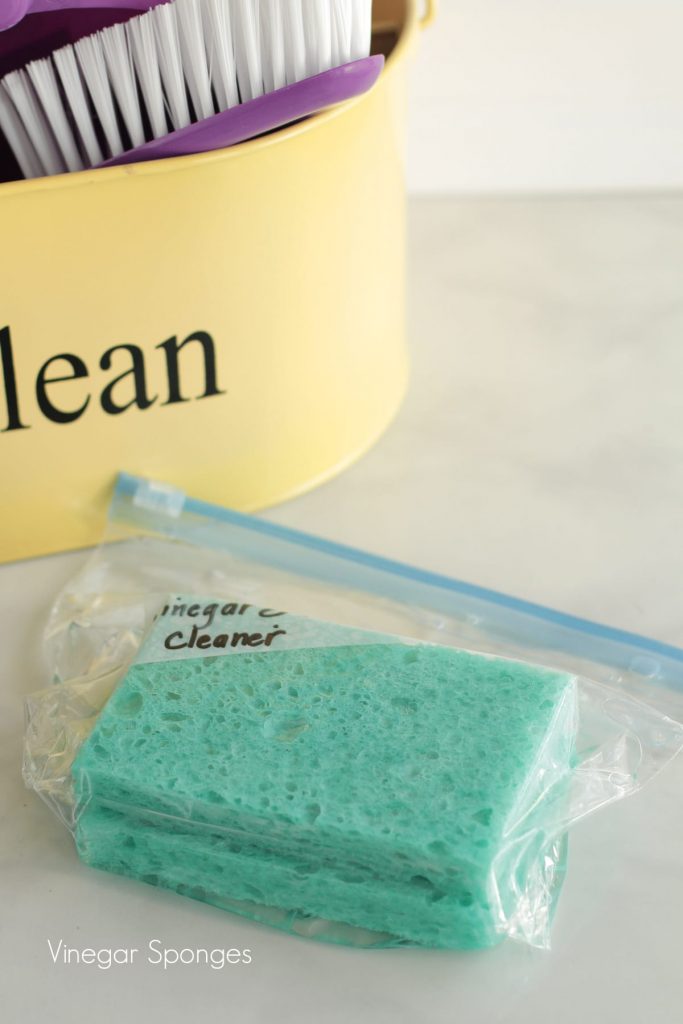 Next, in a ziplock bag add 1 cup of water and 1/2 cup vinegar for a homemade surface cleaner. Place sponges (I found a set at a dollar store) in the bag. My kids use these sponges to wipe messes off the walls or a sticky floor. Simply wash and reuse dirty sponges.
Add extra cleaning power with a homemade, kid-safe spray cleaner and colorful towels. My kids use the cleaner and towels to wash surfaces like the kitchen counter. My homemade cleaner is made with vinegar or castile soap, essential oil, and water so it's safe for little hands, but gets the dirty job done.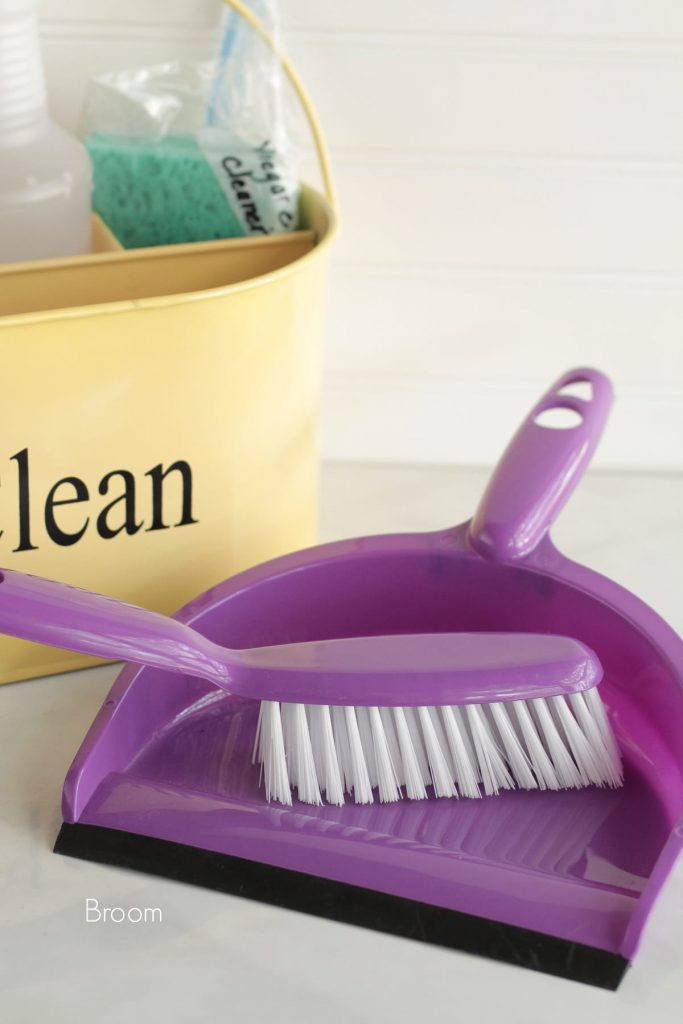 Add a small, kid-size broom (I found the one pictured at a dollar store) for picking up runaway crumbs. Hello, clean floors!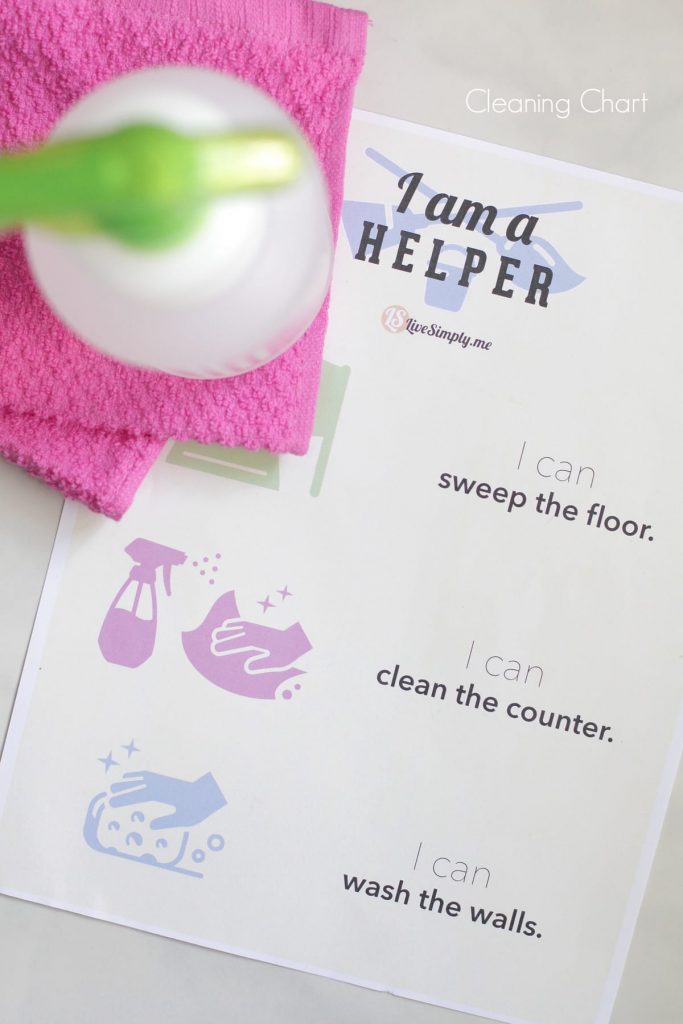 Finally, add a preschool-friendly helper chart so your child knows how to use their important cleaning kit. You can download my kid-friendly cleaning chart here or click the "printable" image below.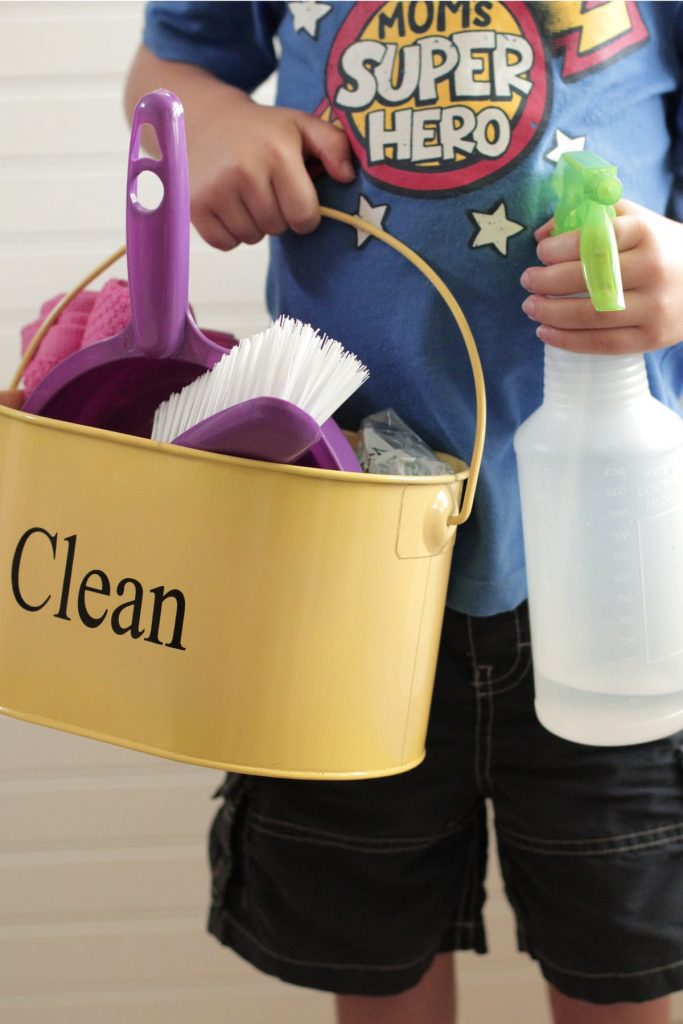 And that my friend, is how you get kids to clean and make the most of this season of messiness! Now, let's enjoy that cup of joe.
More Cleaning DIYs You May Like: