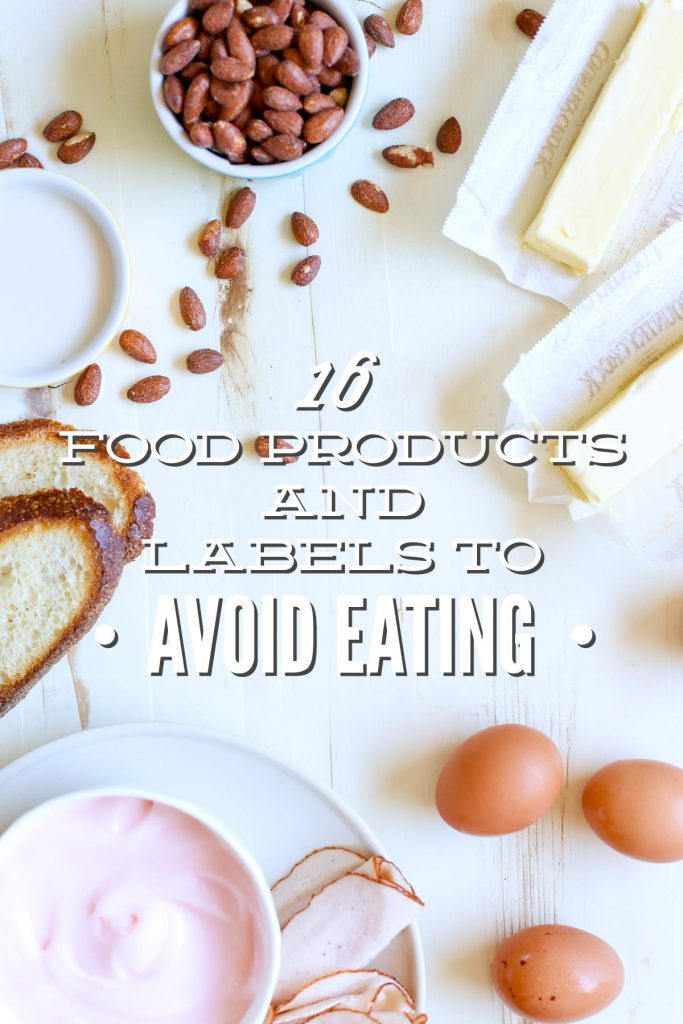 Over the summer, Dustin and I spent many Tuesday nights visiting grocery stores for the Real Food Shopping Series. After visiting the first three stores, Dustin inquired, "How do you know which products are real? Fruits and veggies are a given, but what about milk, eggs, and packaged foods?"
Since we been on this real food journey for a number of years, the act of choosing what to buy and ignore has become innate for me. I don't really give much thought to products as I know what to look for and what to avoid. Dustin, who doesn't shop for food, reminded me of a good point with his thought-provoking question: It's important to know what products and foods to buy, but also the products to avoid. Marketers in this day and age have become quite crafty in the art of advertising food products, knowing that consumers want healthy food. For this reason, many companies use keywords to attract consumers to buy their product.
I like to keep this space positive. I believe there's enough scary food information out there which leaves many people feeling like all food is bad news. My intention is to provide readers with encouragement and simple steps that lead to a practical real food lifestyle. And while I don't like to dwell on the bad side of food, I realized after shopping with Dustin, it's important to know about the ingredients and labels that can easily be avoided to make healthier choices easier to find.
This list contains sixteen food labels or ingredients that I stay far away from when shopping. Sixteen may sound like a restrictive number, but the good news is that every single product or label has a better alternative which you can find in many conventional stores, health food stores, or markets. Many of the ingredients and labels on this list overlap. This list is based off my family's definition of real food and our effort to avoid processed food products.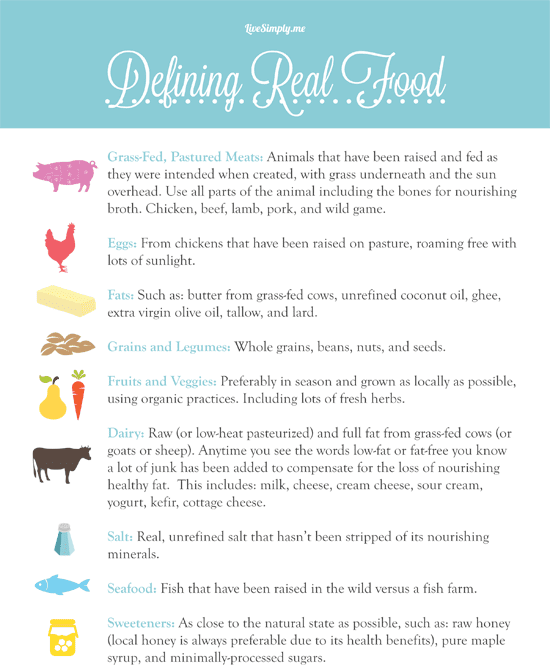 16 Food Products and Labels to Avoid Eating
1. Ultra-Pasteurized Milk:
While my family enjoys raw milk, I'm not 100% against pasteurization. In fact, I purchase low-temperature pasteurized milk when our raw milk isn't available and I don't want to make homemade nut milk. Ultra-pasteurized milk takes pasteurization to a whole new level resulting in a milk with an extended life. Now, I'm not a food scientist, but I know that most real food (that hasn't been preserved in a specific way) spoils quickly. When milk is ultra-pasteurized, it's instantly heated to 280F, then instantly cooled. The result is a milk that can sit on store shelves for months without refrigeration or spoiling. Regular pasteurization heats milk to about 162F for fifteen seconds. Ultra-pasteurization changes the taste and texture of milk, and in my opinion, results in dead milk with very little value. Organic milk is commonly ultra-pasteurized; however, some companies offers a pasteurized alternative.
Alternative: If raw milk is legally available in your state and you can find a clean farm with grass-fed cows (definitely ask for a farm tour and information about safety practices and testing), purchasing raw milk is a great option. If raw milk or a clean source aren't available in your area, look for milk from grass-fed cows (or goats or sheep) that's pasteurized with cream on top. This usually means the milk hasn't been homogenized or ultra-pasteurized. Organic Valley sells a grass-fed milk that fits this criteria, along with Natural By Nature. Homemade nut milk is another great alternative.
Note: In the image below, the milk was labeled "UHT" (ultra-high temperature processing) on the front of the box.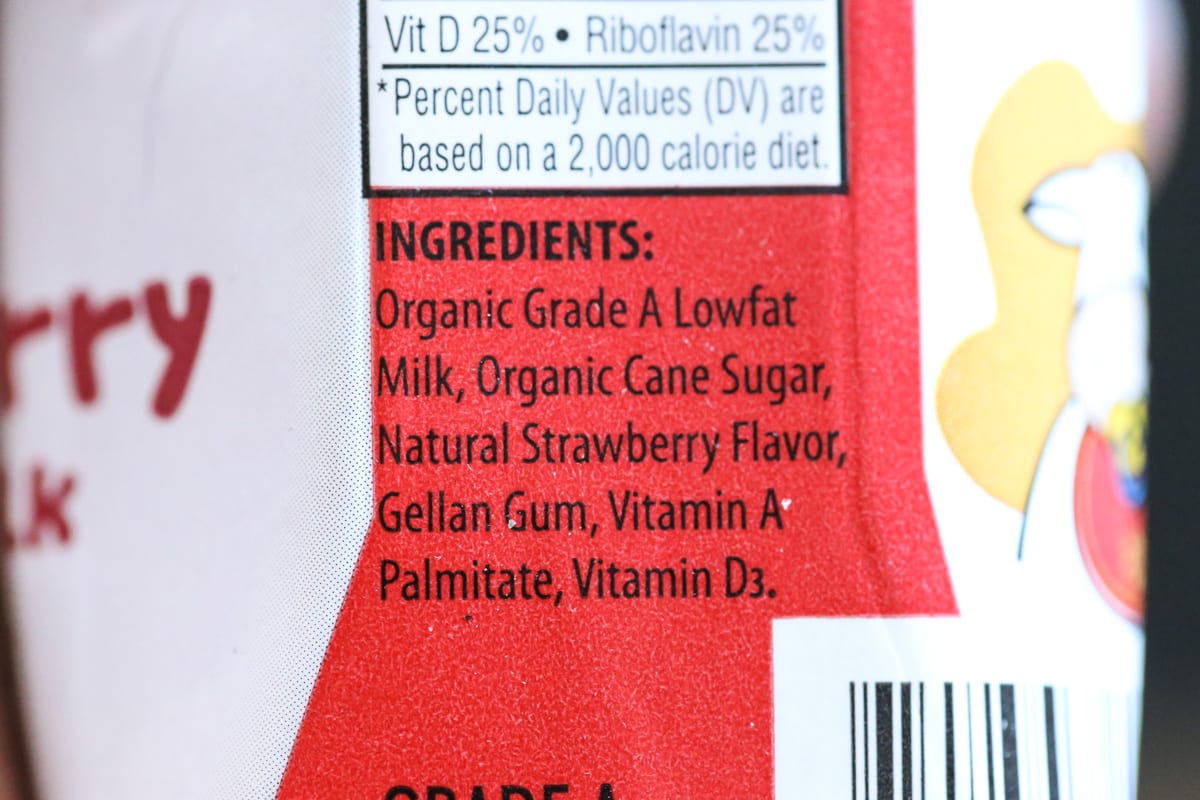 2. High-Fructose Corn Syrup, Added Processed Sugar, Artificial Sweeteners:
I like to keep our food as basic and minimially-processed as possible. This means sticking with sugar that's naturally occurring or minimally processed: raw honey, pure maple syrup, sucanat, and coconut sugar. Sugars that are highly processed are avoided when shopping. It's important to read packages as many foods contain hidden sugar. Dried fruit is a perfect example of a food that often contains large amounts of white sugar…why does fruit need more sugar?
Alternatives: Read product labels! Look for food without corn syrup, added sugar, or any kind of artificial sweeteners. Look for minimally-processed sweetener choices. Read more about Real Food Sweeteners 101, here.
3. Carrageenan:
Carrageenan is a highly debated product. It's usually added to ultra-pasteurized dairy since this process strips dairy of its creamy texture. Carrageenan can be harmful if regularly consumed in large amounts, which isn't too hard when this product is added to many ultra-pasteurized dairy products. You can read more about carrageenan in this article from Wellness Mama. For this reason, I'm not concerned about occasional consumption (for example: at a dinner party), but I choose to avoid this product.
Alternatives: Read ingredient labels. Look for products without carrageenan. For example: Store-bought almond milk usually contains carrageenan, except Silk brand.

4. Canola, Vegetable, or Soybean Oil:
Contrary to modern day advertising propaganda, canola oil is not heart-healthy or real food. Canola oil is made from the rapeseed which in the past was only used for industrial purposes due to a high amount of erucic acid (a heart-damaging acid in rat studies). With a little tweaking and genetic modification the oil was introduced to the public under a new name "canola oil" (formerly known as rapeseed oil).
Vegetable oil does not contain healthy vegetables. Vegetable oil is obtained through the extraction of rapeseed, sunflower, corn, soy, safflower, and others. Vegetable oil is high in Omega-6 which in excess can have health consequences. Conventional corn and soy are genetically modified in the US and are major players in the making of this oil, along with chemicals and additives.
Alternatives: Real food substitutions include: butter, olive oil, avocado oil, lard (not Crisco, real lard), and coconut oil.

5. Low-Fat or Fat-Free Products:
During the Fat-Free Age companies decided to strip products (particularly dairy products) of flavorful fat and add sugar, artificial flavoring, and carrageenan for texture. Anytime you see the words "low-fat" or "fat-free" used to describe a product, run!
Alternatives: For natural products (such as dairy), purchase full-fat food. For other products, always read the ingredient labels.
6. Added Ingredients to Dairy Products:
Many dairy products are stripped of fat to appeal to fat-conscious consumers. Since most of us are accustomed to sweets and flavors, many dairy products also contain added sugars or flavorings (strawberry and banana yogurt or chocolate milk). Canola oil is an example of an added ingredient often times added to butter to make it "healthier" and cheaper.
Alternatives: Read ingredient labels! Always look for minimally-processed dairy that's full-fat vs. fat-free (think: added ingredients to compensate for the taste and texture of the naturally-occurring fat). Purchase plain whole milk yogurt, and add fruit for flavoring.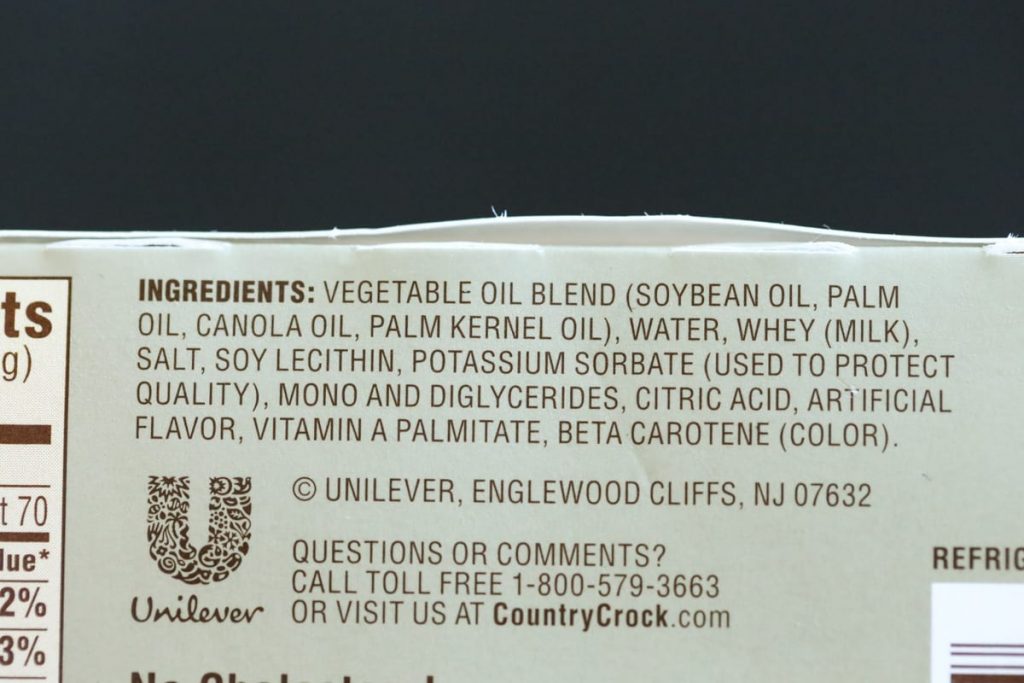 7. Flavorings:
I avoid artificial flavorings and most "natural" flavorings. Take a look at the granola bar section. If a granola bar claims to contain blueberries, most of the time it's nothing more an artificial flavoring. There are many ways to flavor food, so artificially-derived flavorings really aren't necessary.
Alternatives: Purchase real ingredients (oats, flour, minimally-processed sugar, blueberries) versus packaged food that usually contains artificial ingredients. If you need a packaged product, always read ingredient labels!

8. Too Many Ingredients:
Many companies want to claim or highlight specific ingredients on the front of a food package; however, the proof is always on the ingredient label. Think about the ingredients on the label and ask yourself, "Would I use these ingredients to make this product?" If the list just goes on and on, or requires an advanced degree in language and science, put the "food" down.
Of course, there are exceptions to this rule. A decent store-bought granola may contain up to 10 ingredients, since granola may contain nuts, seeds, oats, a sweetener, various dried fruit, etc.
Alternatives: Purchase food with a minimal amount of ingredients, or stick to purchasing ingredients versus ready-made products.
9. All Vegetarian-Fed Eggs:
This label usually means hens spent little to no time outside. Vegetarian-fed chickens receive feed that's free of animal by-products. Chickens are not vegetarians; they love bugs!
Alternatives: Purchase eggs from pastured or free-range hens without the "100% vegetarian-fed" label. I like Vital Farms brand. Even better, purchase pastured eggs (not pasteurized) from a local farm or market vendor. Note: Free-range chickens are required outdoor access, but the actual amount of time is not clear. Free-range chickens can also be supplemented with GMO corn and soy. There are no regulations for "free-range" eggs. Cage-free eggs come from chickens that are uncaged, but don't usually have access to the outdoors or natural food (bugs, seeds, etc.).
10. The Word "Healthy":
Even after eating real food for many years, I'm easily swayed by the word "healthy" on a box or bag. There's truly something magical about that word. My biggest advice is to avoid packaged foods that want to proclaim the "healthy" qualities of the product inside with that magical little marketing word.
Alternatives: Always read the actual ingredient list. Never believe a food is "healthy" just because a label wants you to believe so.
11. "Natural" or Conventional Meat:
Natural labels can easily trick shoppers into believing the food is pure, clean, and even organic. "All natural" means food does not contain any artificial colors, preservatives, or synthetic ingredients (although meat usually doesn't contain any of these). Natural or conventional meat is usually fed heavy amounts of corn, soy, grain, and other by-products. Natural and conventional animals are usually raised in large feedlots or hen houses versus on pasture.
Alternatives: Look for meat labeled "grass-fed" or "pastured." While these labels have come into question (as they become more popular terms), these labels actually tell you how the animal has been raised and fed. I often call companies and ask about their animal practices if a product isn't labeled, but looks promising (not one of the mega meat producing giants).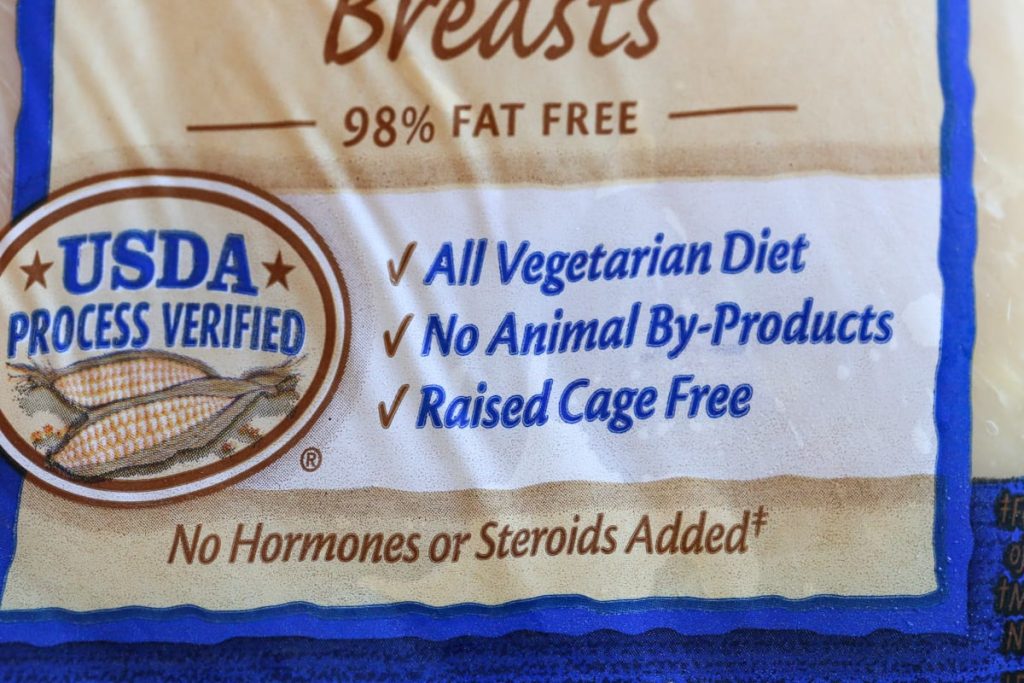 12. Artificial Food Dye: 
I believe many consumers are beginning to question the use of food dyes in our food supply, particularly their effects on mood and behavior in children. We naturally avoid most of the products that contain food dyes due to their processed nature.
Alternatives: Read ingredient labels! When I need food dye for a birthday treat or Christmas baking, I use plant-derived dye from India Tree.
13. Farm-Raised Seafood:
According to Food and Water Watch, "Studies indicate that farm-raised fish contain higher levels of chemical pollutants than wild fish, including PCBs, which are known carcinogens. This is due to higher concentrations in the fish feed. Antibiotics are also a problem with farm-raised fish, effecting consumers directly as well as by developing super strains of bacteria that are resistant to antibiotics, making diseases less treatable, and perpetuates the cycle of increased antibiotic use." (source)
Alternatives: Purchase seafood that's been raised in the wild. Due to the rise in farmed fish many stores label wild fish as "wild-caught." In the shopping series I found many stores carry wild-caught seafood whether in the freezer section or fresh.
14. Imitation Anything:
Expensive products (for example: vanilla extract and maple syrup) often times have imitation alternatives. These products are cheaper because they're made with cheap (nutritionally-void) ingredients usually formulated in a plant versus made from a plant.
Alternatives: Avoid the word "imitation" when purchasing flavorings, such as: vanilla or almond extract. Avoid purchasing margarine, the imitation of real butter. Look for real maple syrup (one ingredient!) versus pancake syrup.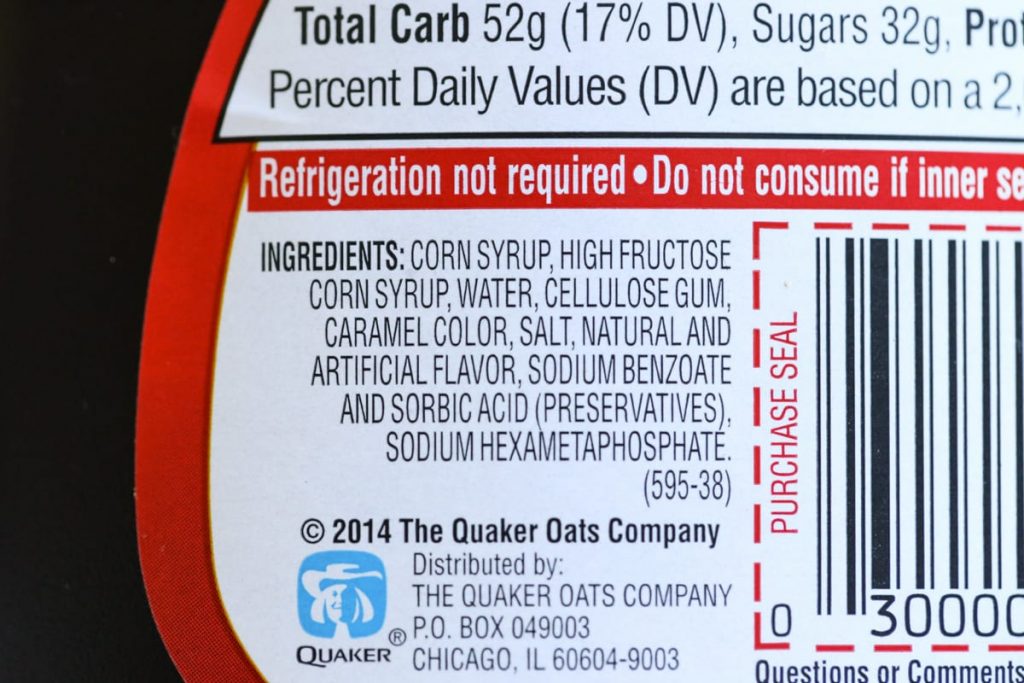 15. Soy Lecithin:
I don't believe soy lecithin is harmful when consumed in very small quantities, as you'll find in chocolate. That being said, I try avoid purchasing food that uses non-organic soy lecithin due to the way it's made and the GMO concern. You can learn more about this ingredient from Chris Kresser.
Alternatives: Look for chocolate products (soy lecithin is usually used to make chocolate chips and chocolate bars) without this ingredient, or one that uses organic soy lecithin. I love Enjoy Life Chocolate Chips.
16. Kid Food:
I'm not a huge fan of food marketed in a restaurant or a store as "kid-friendly." It's always bothered me that most kid-friendly foods contain food dyes, a ton of refined sugar, and loads of additives. I'm not opposed to kids enjoying fun food, but I don't believe kids need special foods formulated with fake ingredients.
Alternatives: Staying away from kid food can be difficult if you have young children and just started enjoying a real food lifestyle. Companies know how to draw kids' attention: colorful boxes, cartoon characters, the promise of a toy. At first, leaving the kids behind (of course, please leave them with a responsible adult) may be the best option if you're shopping at a conventional store. Also, talk to your kids about real food versus fake food–kids need to know about food in order to make informed choices. Finally, start making favorite "kid food" at home: homemade chicken nuggets, fruit-flavored yogurt, popsicles, cookies, and ice cream.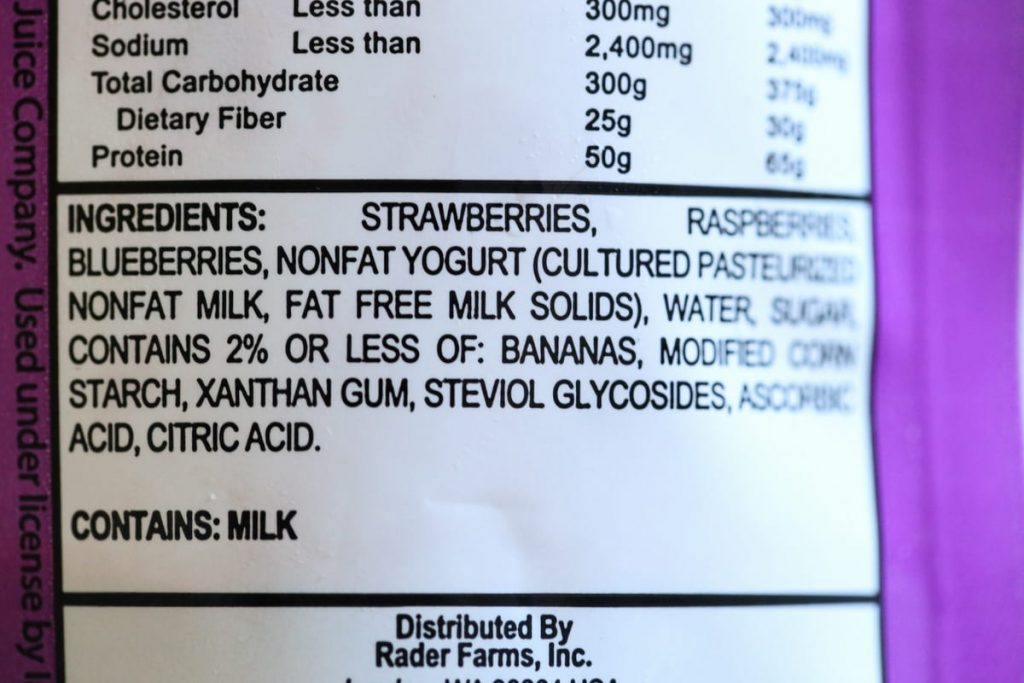 I know that was a long list and you may feel a bit overwhelmed (Isn't it amazing how complicated our food system has become today?), so let's simplify this list with three take away lessons.
3 Food Lessons to Take Away
1. Read labels. Read labels on food that contains an ingredients list. Always ask, "Would I use these ingredients in my kitchen?"
2. Be an informed consumer. Question everything! Get to know the companies who are committed to cleaner food. This takes time at first, but the more you shop as an informed consumer, the more innate purchasing real food products will become.  You can find shopping lists to get you started for nine stores in the United States, here.
3. Stick to ingredients versus packaged foods. Homemade food tastes better than the packaged alternative and you don't have to worry about reading labels.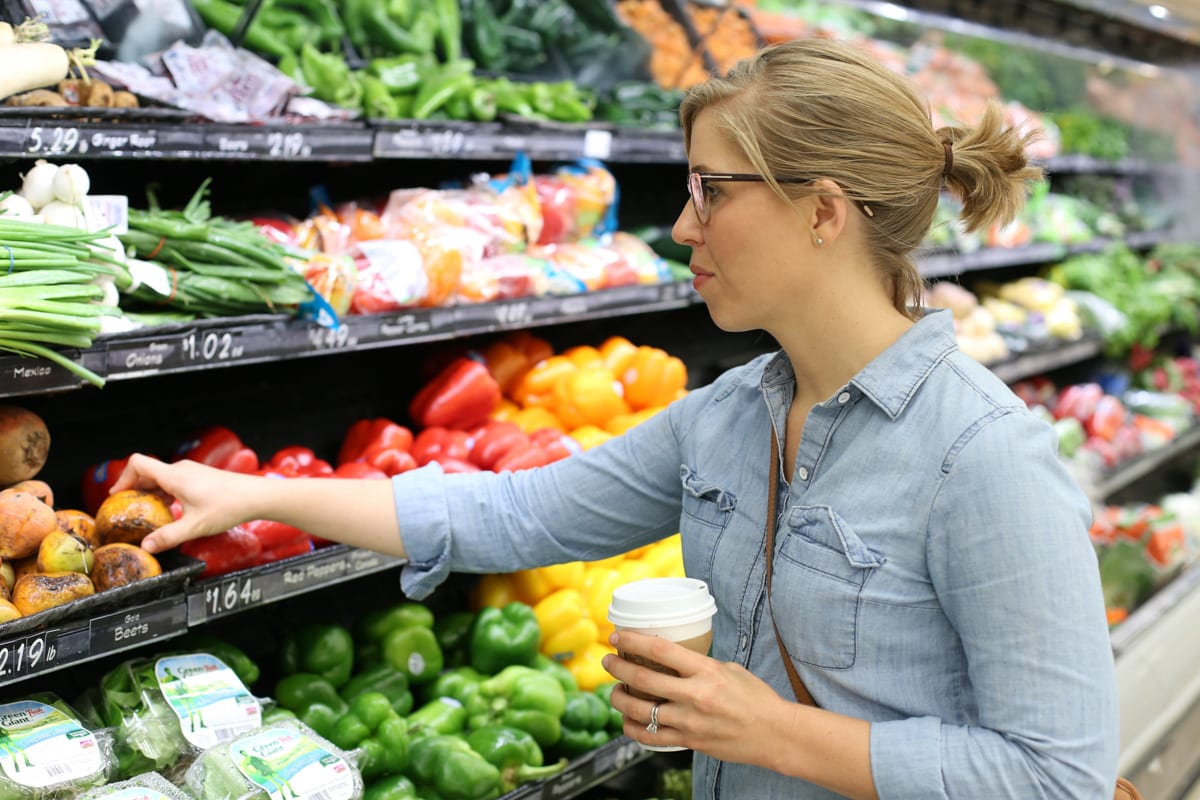 More Real Food You May Like:
7 Kitchen Staples to Stop Buying and Start Making
10 Salad Dressings to Stop Buying and Start Making