I'm always on the hunt for easy, make-ahead breakfast recipes. You know, the kind of breakfast idea/recipe that will save time and reduce morning stress. Today's recipe has become a favorite prep-ahead breakfast meal in our home. Pancake muffins are basically fluffy pancakes in mini muffin form. Pancake muffins freeze wonderfully, which means I can make a big batch for the week to come and save the extras in the freezer for future breakfast needs.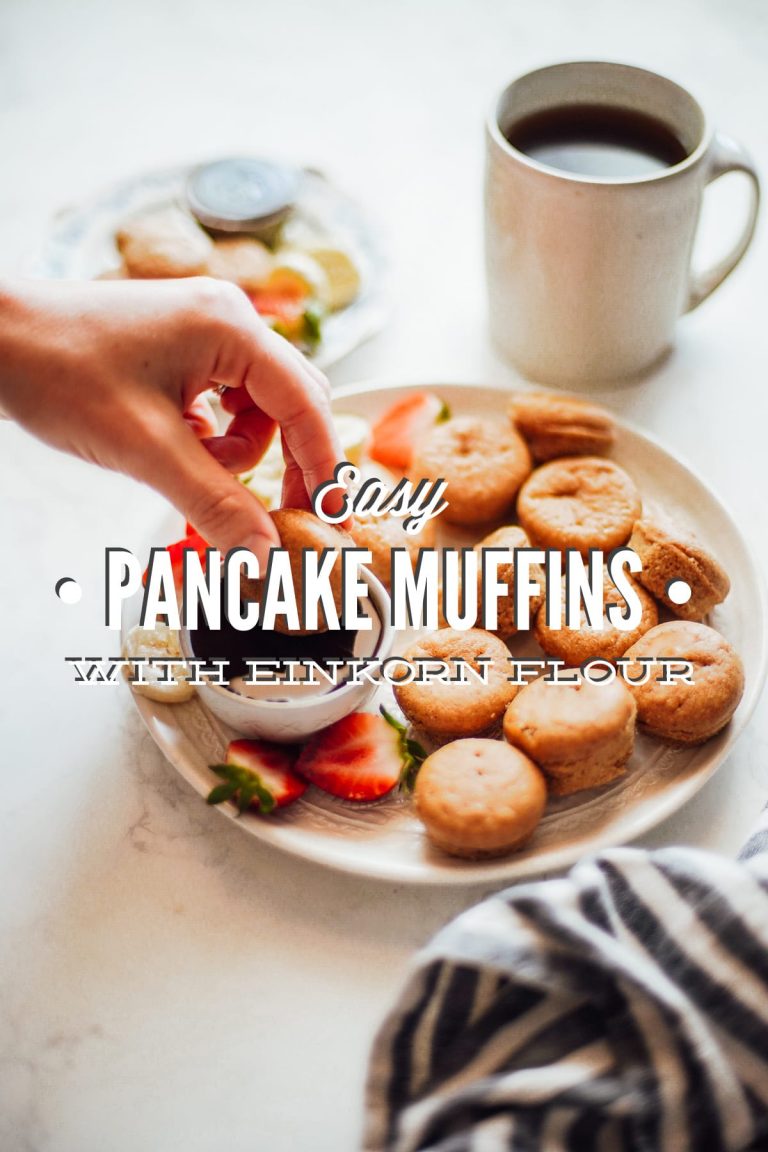 A few weeks ago, I shared a recipe for sheet pan pancakes. You guys LOVED that recipe because not only are those pancakes so tasty, they're also super easy to make. Baking pancakes instead of cooking them on the stove-top (which only allows you to make 3-4 at a time), saves time and simplifies the pancake making experience.
Today's recipe is similar to the sheet pan pancake recipe in that it saves time, can be prepped ahead, and makes a bunch of pancakes at one time. The biggest difference between the sheet pan pancakes and this recipe is the shape: domed muffins versus a flat pancake.
How to Make Pancake Muffins
Making pancake muffins is very similar to making traditional, flat pancakes. Start by mixing together the ingredients…
milk + lemon juice: This mixture makes homemade buttermilk for fluffy pancakes.
egg
a touch of maple syrup
melted butter
vanilla extract
all-purpose einkorn flour: We'll talk about einkorn in a second. If you don't have einkorn, I think you could use all-purpose flour instead.
baking powder
cinnamon
salt
Once you mix the ingredients together, spoon the batter into a greased mini muffin tin. You can also use muffin liners, but I prefer a greased tin. You could also use a standard-size muffin tin, but you'll need to double the baking time to compensate for the increased size.
If you'd like to add mix-ins to your pancake muffins, now is the time to do that. Add chopped fruit or mini chocolate chips. Bake the pancake batter for 10 minutes or until set and firm. Once done, the pancake muffins should have a lovely golden yellow hue. Let the pancake muffins cool for 5 minutes in the tin, then remove and bake the remaining batter.
And that's it: pancake batter baked in a muffin tin. Easy, peasy, and time-saving!
Time-Saving Tips for Making Pancake Muffins
Beyond being a fun food for kids, this recipe is a serious time-saver. Here are some time-saving tips to keep in mind when making the pancake muffins…
Prep the Muffins on the Weekend
Make a batch of pancake muffins on the weekend, say Sunday morning. Serve a few muffins for breakfast, alongside some eggs or fruit, and then store the rest in the fridge for the upcoming week. This is what I call "Cook once, eat twice" and it's a huge time and sanity-saver on a busy school morning.
Stock Pancake Muffins in Your Freezer
Make this recipe with the intention of stocking your freezer for future breakfasts, lunches, or snacking. After baking the muffins, allow the muffins to fully cool, then store in a freezer bag or container in the freezer for up to 3 months. Pull out as many as needed and defrost on the counter or in the microwave for a few seconds.
Serve the Pancakes for Breakfast, Lunch, or a Snack
I'm all about "double duty foods." To me, this is anything I can prep in advance and serve up for breakfast, lunch, snack, or even dinner. I want to get the most return for my time, particularly when prepping food. So if you prep this recipe on the weekend or stash away the muffins in the freezer, use the muffins not only to simplify breakfast but also as a lunchbox option (maybe as a treat or part of the main) or as a quick snack for the kiddos after school. You can add a protein and healthy fat alongside the muffins, too: spread with butter, peanut butter, or serve alongside some cheese cubes.
How to Serve Pancake Muffins
Serve the pancake muffins on their own, just as you would a traditional muffin or serve with a side of maple syrup for dipping. My kids also love getting pancake muffins in their lunchbox with a side container of maple syrup for dipping. I like to pack the muffins with some sort of protein, like cheese cubes, rolled up lunch meat, a hardboiled egg, or some cooked bacon on the side, along with a fruit and veg.
This pancake muffin recipe calls for einkorn flour. What is einkorn?
All-purpose einkorn is light with a delicious taste, which makes for the best cakes, pancakes, and muffins. Einkorn is a variety of wheat. It's known as the oldest variety of wheat, or the first wheat, making it an ancient grain. This particular species of grass grew wild for thousands of years before it was intentionally planted and harvested.
The wheat that's commonly used today isn't the same as the wheat our ancestors consumed for thousands of years. Modern wheat has been hybridized. Hybridization is the act of crossing two different species of plants with the goal of creating a new variety of plant. This changes the very makeup and structure of the new plant.
Why do this?
There are many reasons, from improving the yield of the crop to making a plant more disease resistant. As Carla Bartolucci explains, in Einkorn: Recipes for Nature's Original Wheat, "During the Green Revolution from the 1940s to the 1960s, breeders created new high-yielding varieties of wheat with hybrid seeds that would carry better traits for large-scale farming"
Einkorn and other ancient grains (like emmer and spelt) have a thick husk around the very grain. Modern wheat has a thinner husk that's easier to remove. Modern wheat may seem like a better choice for production and profitability. But with the increased use of pesticides and fertilizers, is this thinner husk such a good idea? Plus, that thick husk naturally occurs on grains for a reason. Why mess with what nature intended as protection?
While cross-breeding may be a good idea from a large-scale farming standpoint, how does this effect our ability to digest the grains? And what kind of effect does consuming large amounts of this grain have on our overall health?
This is where einkorn really shines, because it still holds to its original properties and nutritional values. In our effort to make modern wheat "better" and more efficient from a production standpoint, nutrients have been lost. Einkorn has a much higher protein content (30% more than modern wheat) and less starch (15% less than modern wheat), along with a higher concentration of minerals and flavor. This makes einkorn distinctly different than modern wheat.
And when we look at the enriched white flour that is widely used today and milled from modern wheat, the nutrients are even further removed, which is why key nutrients (now in isolated forms) must be added back in.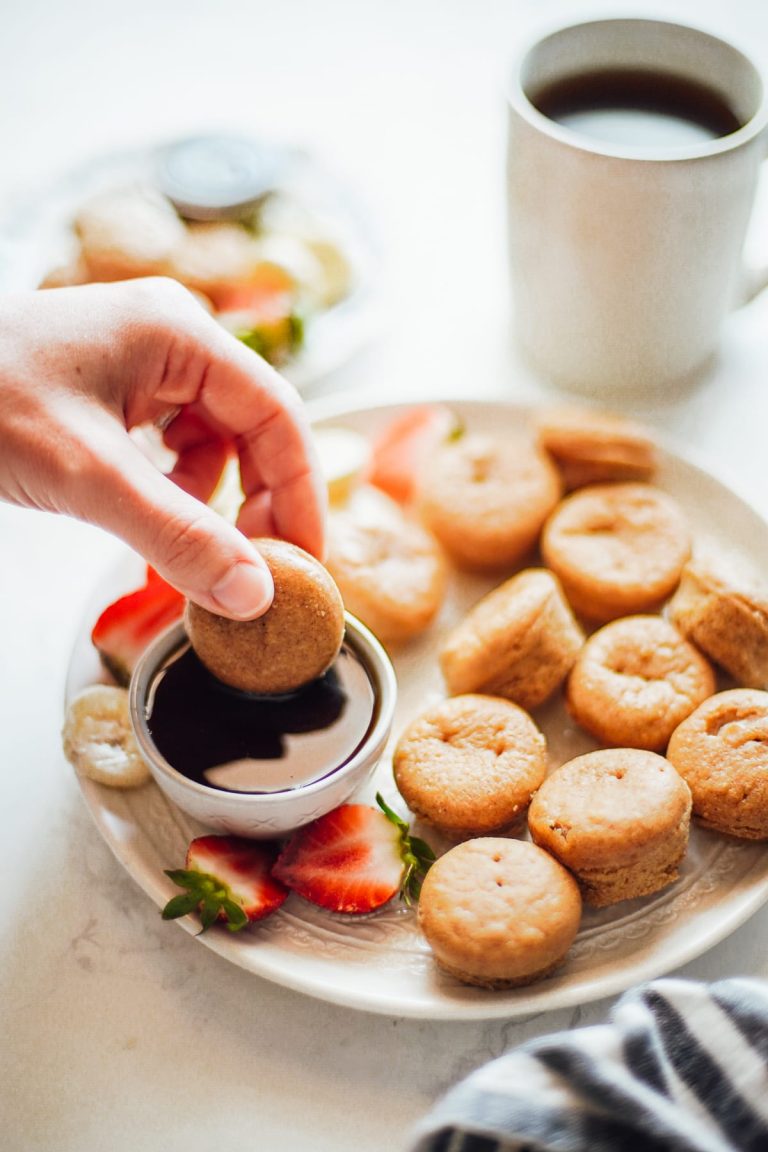 Einkorn is also the only wheat that's missing certain types of gluten proteins that some people are sensitive to. Einkorn doesn't have less gluten than modern wheat. It actually has a similar gluten content to modern wheat. The difference is the gluten structure (in einkorn) is weak, making it remarkably different than our modern wheat. (This is a super fascinating video to watch for a visual.)
Einkorn is not gluten free. Some folks with a gluten sensitivity find that einkorn is easier to digest than modern wheat. If you want to make gluten-free pancake muffins, check out this recipe.
More Easy Pancake Recipes
We love pancakes around here. So there's a plethora of easy, healthy, homemade pancake recipes here on the blog. Here are a few of my favorites…
Easy Mini Pancake Muffins (With Einkorn Flour)
Turn pancakes into an easy, freezer-friendly breakfast or lunchbox food with this easy pancake muffin recipe. Made with an ancient grain (einkorn) and a touch of natural sweetener for a healthy, homemade pancake option.
Equipment
mini muffin tin

large mixing bowl
Ingredients
(Optional) Mix-Ins, Choose One:
mini chocolate chips

chopped fresh blueberries

diced strawberries
Instructions
Preheat the oven to 350F. Grease a mini muffin pan with butter or line with muffin liners. If you're going to serve the muffins like pancakes (dipping them in syrup), I recommend skipping the liners. If you prefer more of a muffin, liners work. You could also use a standard-size muffin tin, but you'll need to double the baking time to compensate for the increased size.

Add the lemon juice to a large measuring cup or bowl and top off with 1 cup of milk. Let rest for 5 minutes.

Meanwhile, in a large mixing bowl, add the sifted flour (to sift the flour, add the flour to a large sieve and then gently shake into the bowl), baking powder, cinnamon, and salt.

Add the remaining wet ingredients to the milk: egg, maple syrup, melted butter, and vanilla extract. Whisk together.

Add the wet ingredients to the dry ingredients and stir until just combined. Some lumps are okay, but for the most part the batter should be smooth. Let the batter rest for 10 minutes to thicken just a bit.

Fill the mini muffin pan (each cavity) about ⅔ of the way with batter. (You will not use all the batter right now.) If desired, press chocolate chips, chopped blueberries, or other favorite pancake mix-ins into individual muffins. Since these are mini muffins, don't add too many mix-in ingredients to one muffin.

Bake for about 10 minutes, or until they look and feel "set." They will not be browned. They should have a yellow, golden hue.

Let the pancake muffins rest in the tin for 5 minutes before removing to a rack to cool. Bake the remaining batter.

Serve with maple syrup for dipping, if desired.

The muffins freeze well and pack well for school lunches. To freeze, wait until the muffins are fully cool. Then add the muffins to a freezer bag or container and freezer for up to 3 months. Defrost the muffins at room temperature or in the microwave for just a few seconds.
Notes
Flour Note: If you don't have all-purpose einkorn flour, I think you could use all-purpose flour instead. I also think you could use whole wheat einkorn without issue. If you're looking for a gluten-free pancake muffin, check out this recipe. 
Nutrition
Calories:
41
kcal
Carbohydrates:
6
g
Protein:
1
g
Fat:
1
g
Saturated Fat:
1
g
Trans Fat:
1
g
Cholesterol:
8
mg
Sodium:
52
mg
Potassium:
51
mg
Fiber:
1
g
Sugar:
1
g
Vitamin A:
45
IU
Vitamin C:
1
mg
Calcium:
25
mg
Iron:
1
mg