I've gathered 20 easy and fun no-sandwich lunch ideas, from dinners that turn into a delicious school lunch to quick and easy food ideas that don't require any prep! Download my free 42 lunch ideas guide for a printable version of these ideas and more lunch ideas.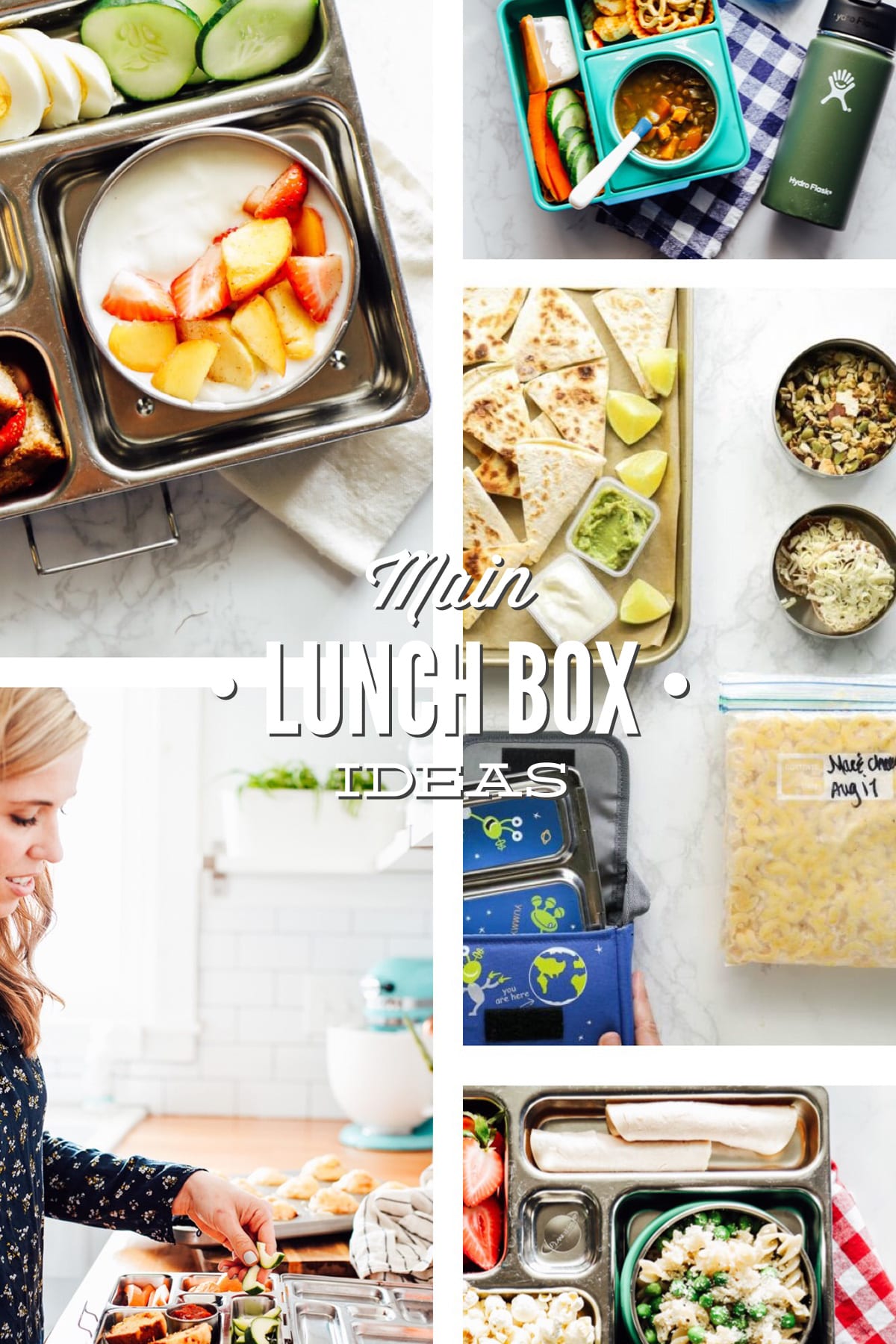 How to Pack Hot or Cold Food In the Lunchbox
Anytime I share lunchbox photos and ideas, I'm asked, "How do you pack hot food? How does that food stay warm?" And the same goes for cold items. Here's the answer…
My kids enjoy many foods at room temperature. I pack an ice pack on these days and pack the food in a bento box (see over 27 easy bento box lunch ideas for kids!).
When something needs to be hot (not everything needs to be served hot; kids can learn to enjoy food at room temperature), I go with a thermos. Add hot water to the thermos container and let the water sit for a few minutes before dumping the water out and adding the warmed up food. This will keep the food warm in the thermos until lunchtime.
Learn how to pack warm and cold food in the lunchbox, with 36 easy cold and hot lunch ideas!
20 No-Sandwich Lunch Ideas for Kids
You don't need to pack a different lunch every single day. I often rotate just a couple of main options throughout the week, like black beans with rice and a sandwich. There's no need to get crazy. Keep things simple and nourishing–that's my motto!
20 No-Sandwich Lunch Ideas Cheat Sheet
Homemade Lunchable
Burrito
Sweet Sammie
Hot Dogs
Meatballs and Dipping Sauce
Build Your Own Parfait
Chicken or Tuna Salad
Quesadillas
Build Your Own Tacos
Corn Dog or Pizza Muffins
Rice and Beans (or Meat)
Soup
Sweet Muffins
Turkey and Cheese Roll Ups
Oatmeal
Oatmeal Cups
Meat and Cheese Skewers
Chicken Tenders or Nuggets
Pasta Salad
Fried Rice
FREE PRINTABLE
42 EASY SCHOOL LUNCH IDEAS CHEAT SHEET
Nourishing meal ideas for effortless school lunches. Download your free lunch guide.
1. Homemade Lunchable
This is a super fun main, because it feels like a store-bought Lunchable, but without all the questionable ingredients. This one also lends itself to a lot of variety.
Choose crackers or sliced pita bread. Then choose a meat, like a cured meat (not all cured meats are evil–curing meat is actually a very traditional way to preserve a bounty of meat), shredded chicken (from a whole cooked chicken), or rolled up deli chicken or turkey, and a hard cheese cut into cubes (cheddar, jack, parmesan, asiago, etc.). I use silicone muffin liners to keep the ingredients separate in the lunchbox.
If you're dairy-free, skip the cheese and add hummus. Try this Instant Pot Hummus or my daughter's favorite beet hummus (it doesn't taste like beets).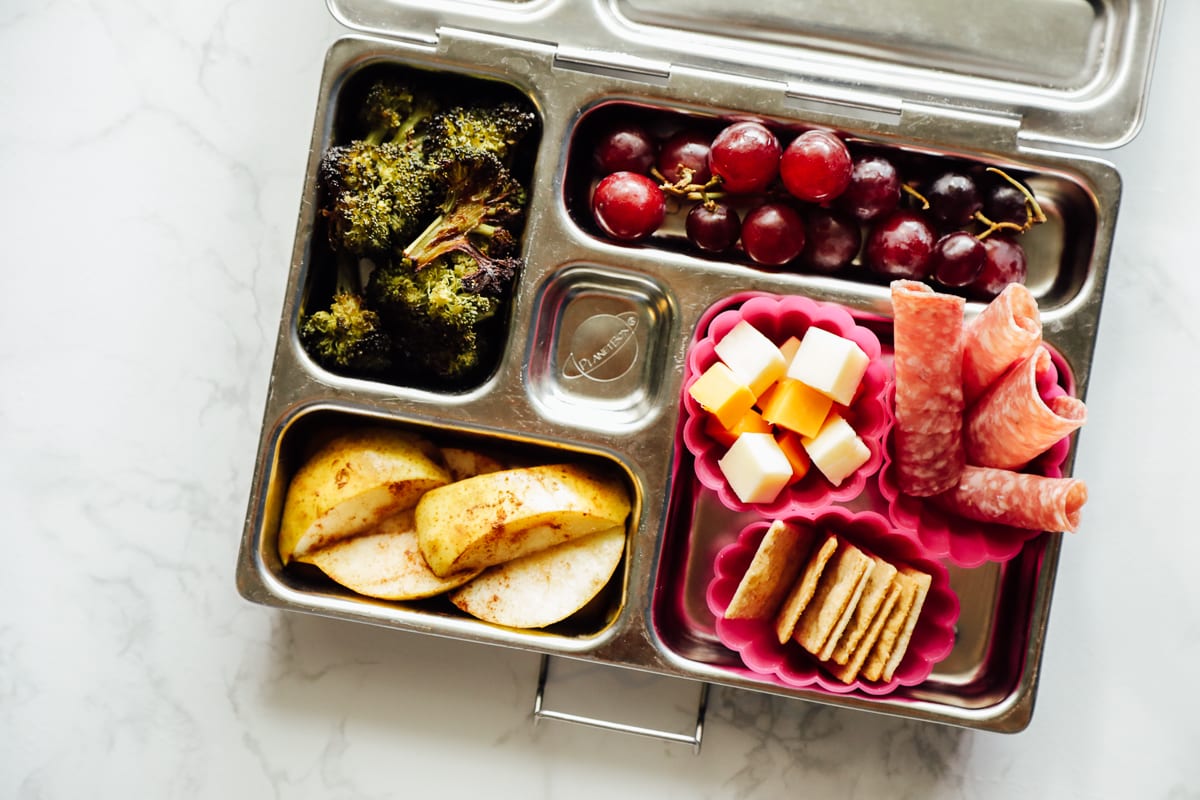 2. Burritos
You can make a batch of burritos in advance and freeze them in a freezer-friendly storage bag. Reheat the burritos in the microwave or in the oven until warmed through. Serve in the lunchbox, which means they'll be room temperature by lunchtime. Or, you can wrap the warm burrito in foil. I love making bean burritos. You can also use chicken, ground beef, or pulled pork.
3. Sweet Sammies
Use pancakes (einkorn pancakes or gluten-free pancakes) or waffles (einkorn waffles or gluten-free waffles) add a nut butter (or seed butter) or cream cheese and jam. Or, skip the jam and use sliced fruit (like bananas, apple slices, pears), a sprinkle of cinnamon, nut butter (or seed butter) or cream cheese, and honey.
4. Hot dogs
This is an easy lunch and a fun one for kids. Grab some grass-fed hot dogs (I like Applegate Grass-Fed Beef Dogs) and serve with ketchup. Serve the cooked hotdogs, cut into smaller pieces, in a thermos for a hot lunch. Or, for a room temperature lunch, serve the cooked hot dogs whole or on skewers. Remember to pack an ice pack when serving at room temperature.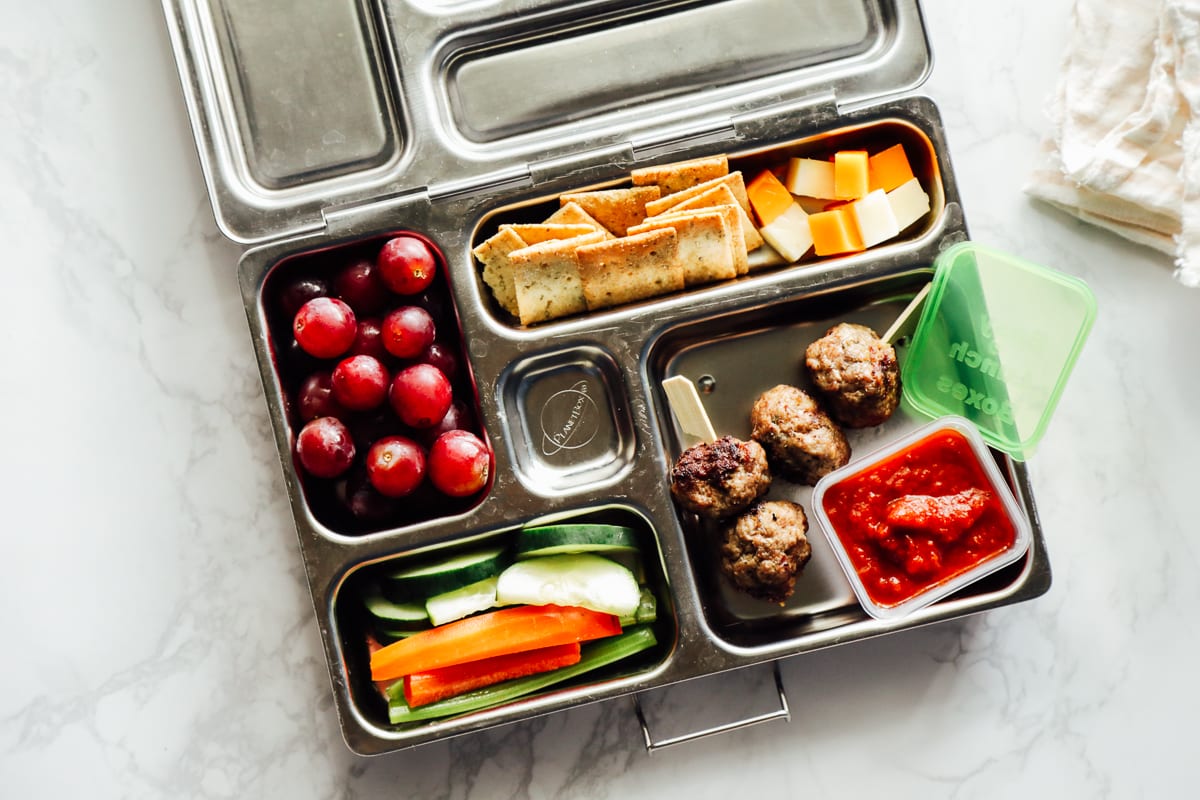 5. Meatballs and sauce
Reuse homemade meatballs from last night's dinner in the lunchbox. Serve the meatballs in a thermos, or at room temperature. My kids love the meatballs on a skewer served with spaghetti sauce on the side or cut up and mixed with pasta and sauce. This oven-baked recipe is perfect for a weeknight meal with leftovers for the lunchbox, or make meatballs in the Instant Pot.
6. Build your own parfait
Healthy yogurt bowls are a favorite breakfast in our house. Turn this favorite meal into a packed lunch: Add yogurt to a sealable container (I use the Planetbox Big Dipper or thermos container) and add parfait toppings on the side for your child to build their own parfait: granola and fruit.
Another option is to make healthy yogurt dip (just honey, Greek yogurt, cinnamon) and add fruit on the side. The yogurt is full of healthy fats and protein and the fruit has complex carbs and fiber.
7. Chicken or tuna salad
Serve chicken (this sour cream based recipe is delicious or go deli style) or tuna salad with crackers, stuffed in a pitted avocado, with mini sweet peppers, or spread on bread or in pita bread.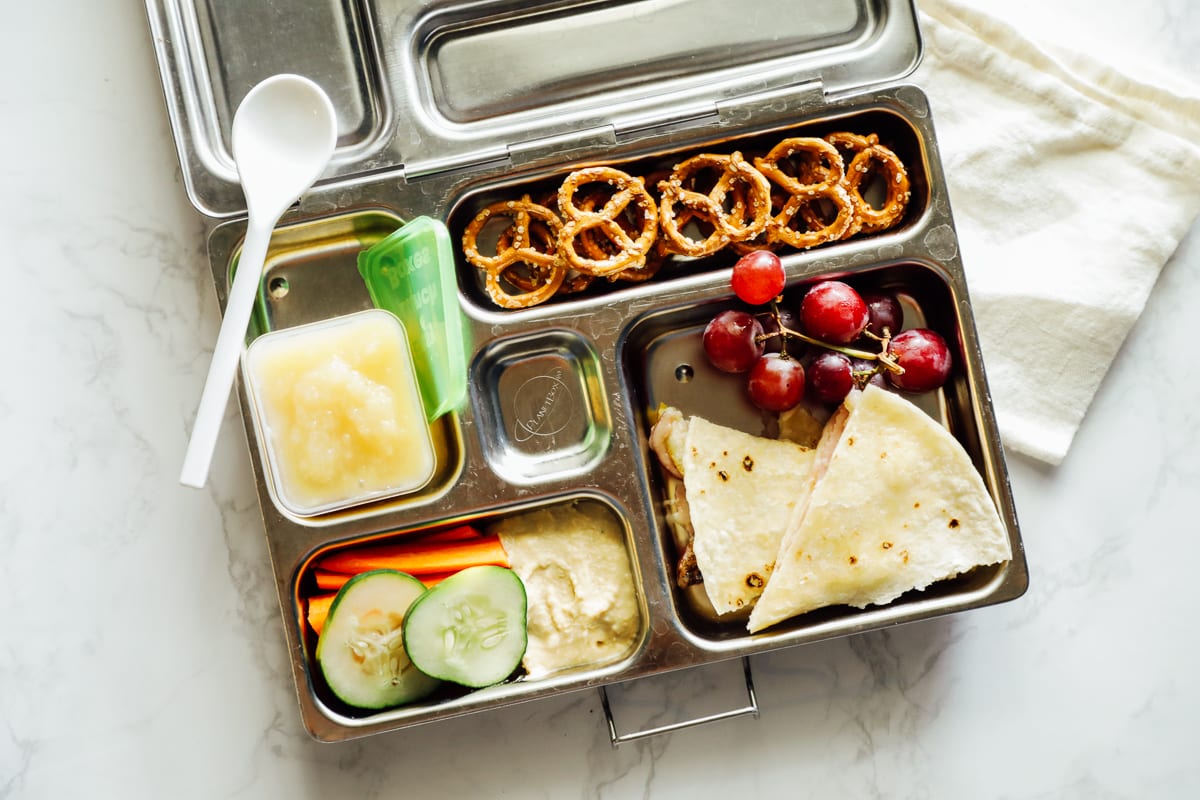 8. Quesadillas
Quesadillas are such a fun and easy lunch that you can even prep in advance and freeze. Spread a tortilla with cheese, pear and ham and cheese, steamed broccoli and cheese, shredded chicken or ground beef and cheese, beans and cheese, or spinach and cheese. Fold the tortilla over and cook until the cheese melts and the outside of the tortilla is crisp. This recipe is a great guide that will show you how to make your own quesadillas in the oven, or use the stove-top method.
9. Build your own tacos
This is a super fun way to use leftovers. Add ground beef, beans, or shredded chicken to the lunchbox (the thermos container or a container like the Planetbox Big Dipper works best), along with a variety of toppings on the side (shredded cheese, lettuce, tomatoes–whatever you have), and a tortilla (or two). This "main" option quickly becomes the veggie option, too. Score!
10. Corn dog or pizza muffins
Most of us usually think about muffins in terms of the sweet variety. Take a savory twist for the lunchbox main with homemade corn dog muffins or pizza muffins. So good! And you can make the muffins in advance and freeze them for later. <–You know, for the week when you just can't pack one more lunch. The finish line is near.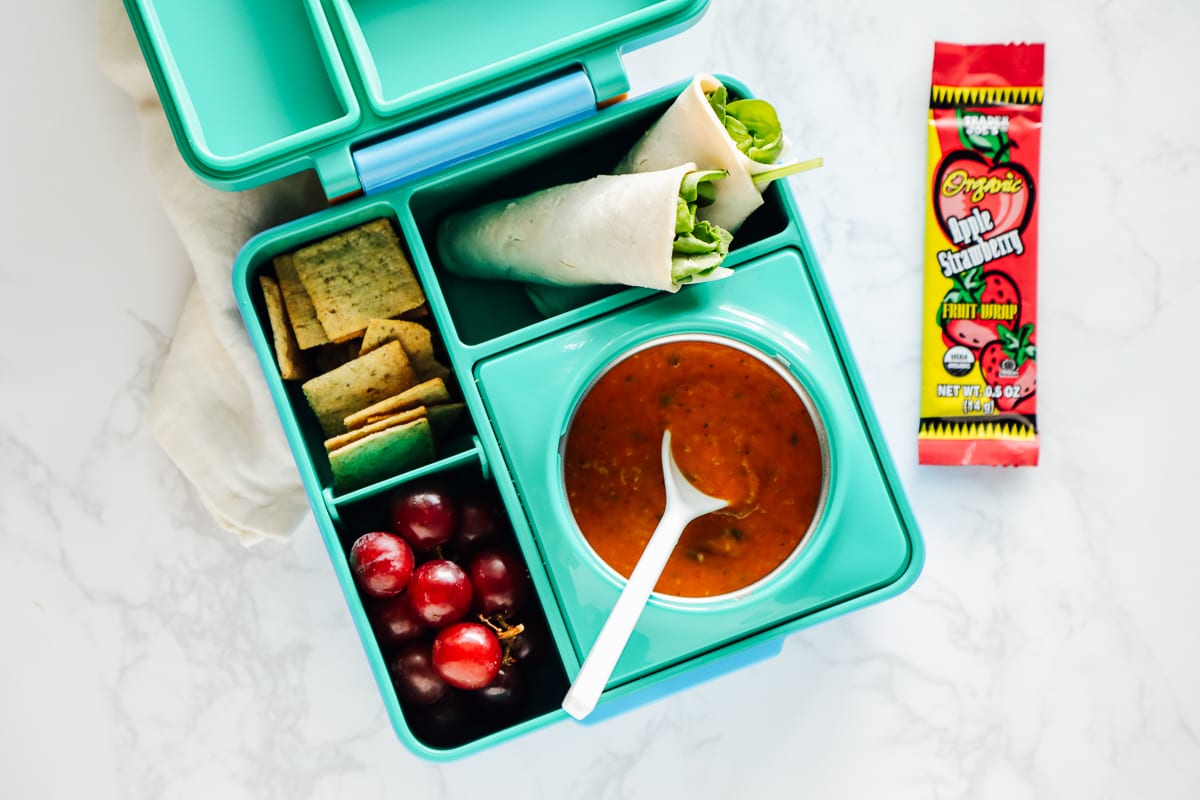 11. Turkey and cheese roll ups
This is a no-prep, low-stress kind of main lunch option. Pick up some deli turkey, ham, or roast beef (I like Applegate brand) and roll it up. Add spinach, arugula, or a slice of cheese before rolling the deli meat.
12. Oatmeal
Surprisingly, this is my kids' favorite lunch! I pack leftover oatmeal from a previous breakfast in the thermos container. To keep them full, I usually add a small amount of butter (or nut butter or seed butter) mixed with the oatmeal for a healthy fat. You can also serve the oatmeal cold in a container, like the Planetbox Big Dipper.
13. Oatmeal cups
Think: oatmeal meets muffin. A super fun breakfast or lunch main for any kid. Serve the oatmeal cups alongside fruit or yogurt or a hardboiled egg. Don't want to make muffin-style oatmeal? Try breakfast cookies! Yes, they're technically for breakfast, but you can serve them for lunch or even an after school snack.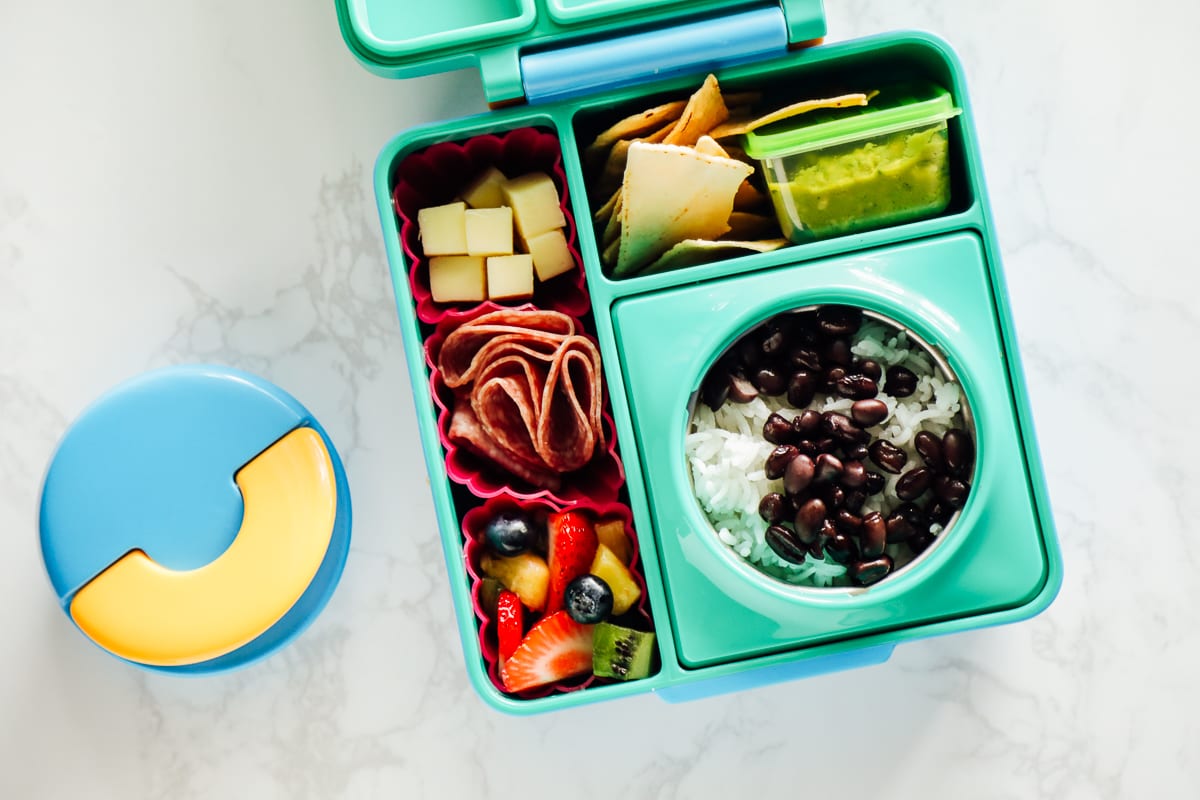 14. Rice and beans (or meat)
Mix together rice (I like to cook rice in the Instant Pot) and beans (I like to cook black beans in the Instant Pot and freeze extra for lunch), or meat (like ground beef with taco seasonings or shredded chicken). Serve warm in a thermos container or at room temperature.
15. Soup
I can't help but sing my praises for humble soup. Soup is budget-friendly, packs a nourishing punch, and it's super easy to prep in advance. I love making a pot of soup for dinner and turning the leftovers into a lunch. Serve soup warm in a thermos container. I like to serve the soup alongside crackers or a muffin (if I have any prepped in the freezer). There are so many delicious soup recipes on the blog. You can browse them all, here. A few of our favorites include:
16. Sweet Muffins
We already talked about savory muffins, but what about sweet muffins? Sweet muffins are a super versatile option that kids never tire from seeing in their lunchbox. I love to use a mini muffin pan so the muffins fit better in the lunchbox. Plus, the kids think mini muffins are fun. A few recipes to try: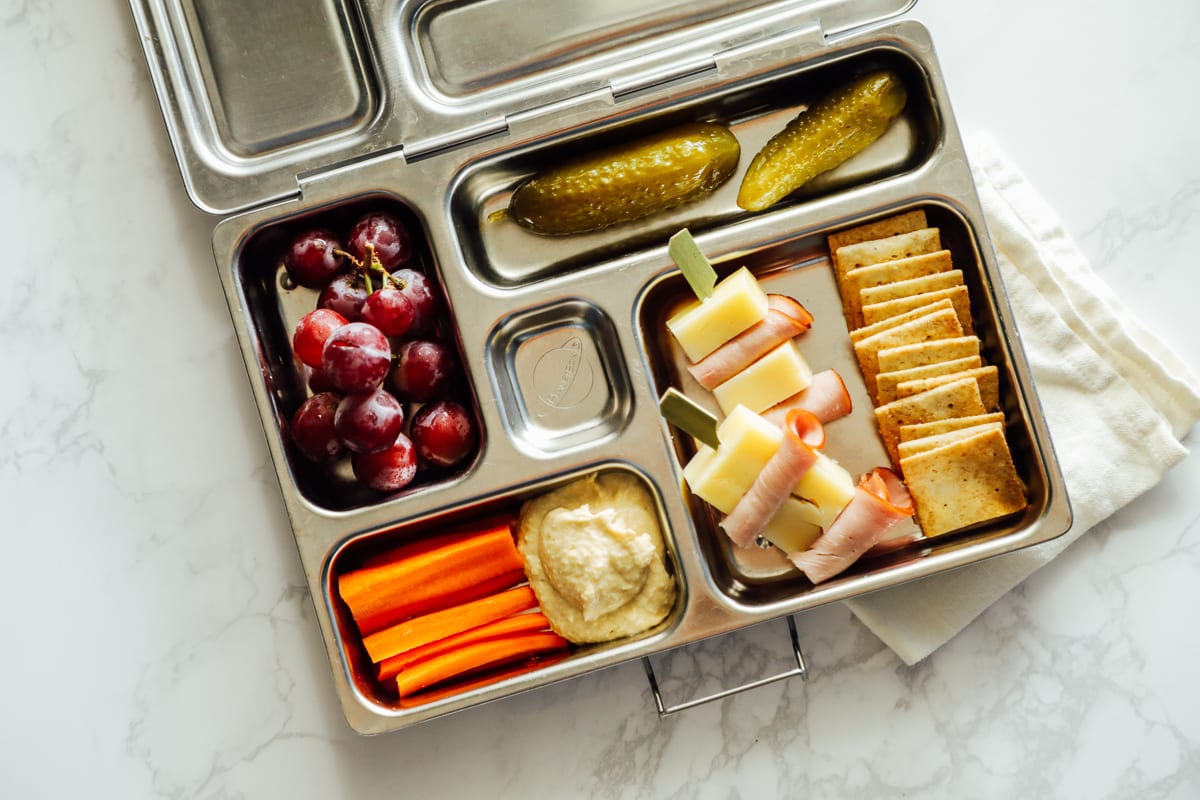 17. Meat and cheese skewers
Another deli meat idea. Roll up deli meat (I like Applegate brand) and then cut into smaller pieces. Cube your child's favorite hard cheese. Add both to a skewer.
18. Chicken tenders or nuggets
Chicken tenders and nuggets can be incredibly nutritious when you make them with simple ingredients. This recipe is a hit with my kids. If you don't want to make your own chicken nuggets or tenders, Applegate and Belle and Evans make options with real ingredients. Serve the nuggets in a thermos container or at room temperature (with an ice pack). Serve alongside ketchup, homemade ranch, or a honey mustard.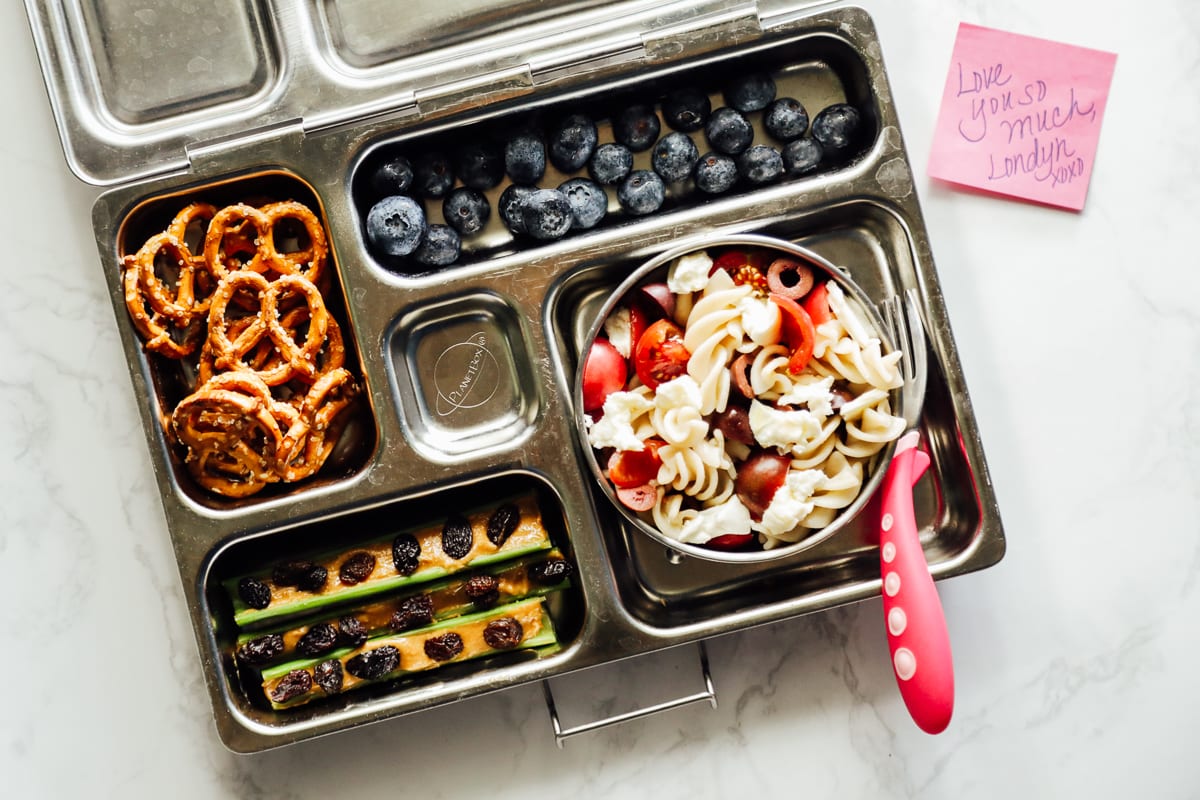 19. Pasta salad
This is another option that you can make your own based what you have and your child's preferences. I love to make this Zesty Italian Pasta Salad (usually with grilled boneless chicken thighs) on a Sunday and serve it for a kid and adult lunch over the next few days.
Toss together some pasta (I like Jovial's brown rice pasta), veggies of choice (like halved cherry tomatoes, cucumber, or sliced carrots), olives, cheese (small mozzarella balls, hard cheese, feta cheese, etc.), shredded chicken or cubed deli ham, and a vinaigrette dressing. You can also add greens, if your child is up for leafy greens, like arugula or baby spinach.
I love to make this Zesty Italian Pasta Salad for the week. It's a great make-ahead meal for lunch.
20. Fried rice
Rice is such a versatile, family-friendly, and budget-friendly real food staple. Put rice to good use with an easy lunch or dinner by making homemade fried rice. Make this for dinner and serve the extras in the lunchbox, either a thermos container or at room temperature.
This vegetarian fried rice is a classic, or up the veggies with this broccoli and cauliflower fried rice. And Instant Pot Chicken Fried Rice is quick and easy meal!
FREE PRINTABLE
42 EASY SCHOOL LUNCH IDEAS CHEAT SHEET
Nourishing meal ideas for effortless school lunches. Download your free lunch guide.