My kids are OBSESSED with sheet pan pancakes. I'm 100% okay with this new breakfast meal obsession, because this pancake recipe is super easy to make, even on the busiest of mornings. It's a serious time-saver and a great food prep option that may be served for breakfast and/or a lunchbox food.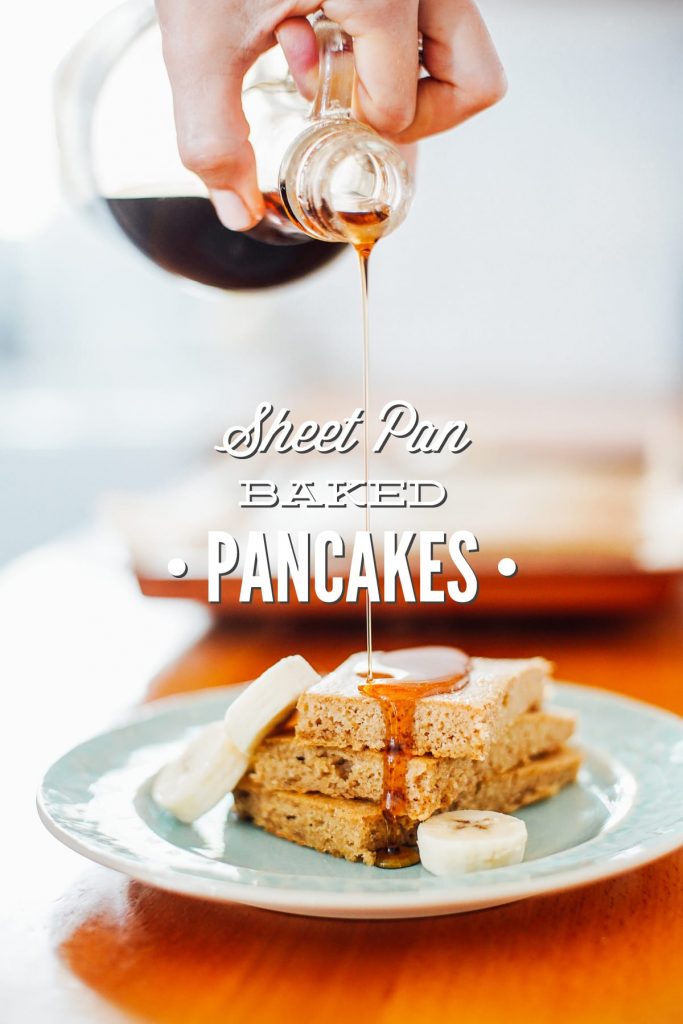 Sheet pan pancakes are different than traditional pancakes…
They're baked on a sheet pan in the oven.
The pancakes (or one big giant pancake) bake all at the same time, leaving you time to get other things done in the morning (like a shower, dishes, or finishing your morning cup of joe).
The giant sheet pan pancake can be cut into smaller pieces, almost like bars or a sheet cake.
Why Bake Pancakes on a Sheet Pan in the Oven?
So, you may be wondering…Pancakes are already the perfect food. Why go messing with pancakes and bake them on a sheet pan in the oven?
I thought the same thing. Until I baked pancakes many years ago (after discovering this technique thanks to a Pampered Chef party). So, let's talk about why you would want to bake your pancakes…
Baking pancakes on a sheet pan in the oven is a serious time saver.
Think about how tedious it is to pour and wait for all those little pancake circles to cook. It takes time! Time I don't have during the weekday, and sometimes don't have on the weekend. Baking the pancakes on a sheet pan in the oven removes the cooking time annoyance.
Baking pancakes changes things up.
I mentioned earlier that my kids are obsessed with sheet pan pancakes. It's not because they taste any different than regular pancakes, it's because they feel like they're getting something different. It almost feels like cake, since the pancakes are cut into little squares. The kids also love the sheet pan pancake squares served up in their lunchbox. Served alongside fruit, yogurt, and a veg…perfection in their eyes!
You can easily customize pancake flavors.
If your household is anything like mine, than it's rare for everyone to love the same pancake flavor. I like blueberry pancakes, the kids are all about chocolate chips, and Dustin is a plain guy. By baking the pancakes on a sheet pan, you can make multiple different custom flavors at one time, baked directly into the pancakes. It's a win-win for the whole family!
What is Einkorn Flour and Why Use it to Make Sheet Pan Pancakes?
Einkorn is the flour I tend to use for most non-sourdough baking needs. All-purpose einkorn is light with a delicious taste, which makes for the best cakes, pancakes, and muffins.
Einkorn is a variety of wheat. It's known as the oldest variety of wheat, or the first wheat, making it an ancient grain. This particular species of grass grew wild for thousands of years before it was intentionally planted and harvested.
The wheat that's commonly used today isn't the same as the wheat our ancestors consumed for thousands of years. Modern wheat has been hybridized. Hybridization is the act of crossing two different species of plants with the goal of creating a new variety of plant. This changes the very makeup and structure of the new plant.
Why do this?
There are many reasons, from improving the yield of the crop to making a plant more disease resistant. As Carla Bartolucci explains, in Einkorn: Recipes for Nature's Original Wheat, "During the Green Revolution from the 1940s to the 1960s, breeders created new high-yielding varieties of wheat with hybrid seeds that would carry better traits for large-scale farming."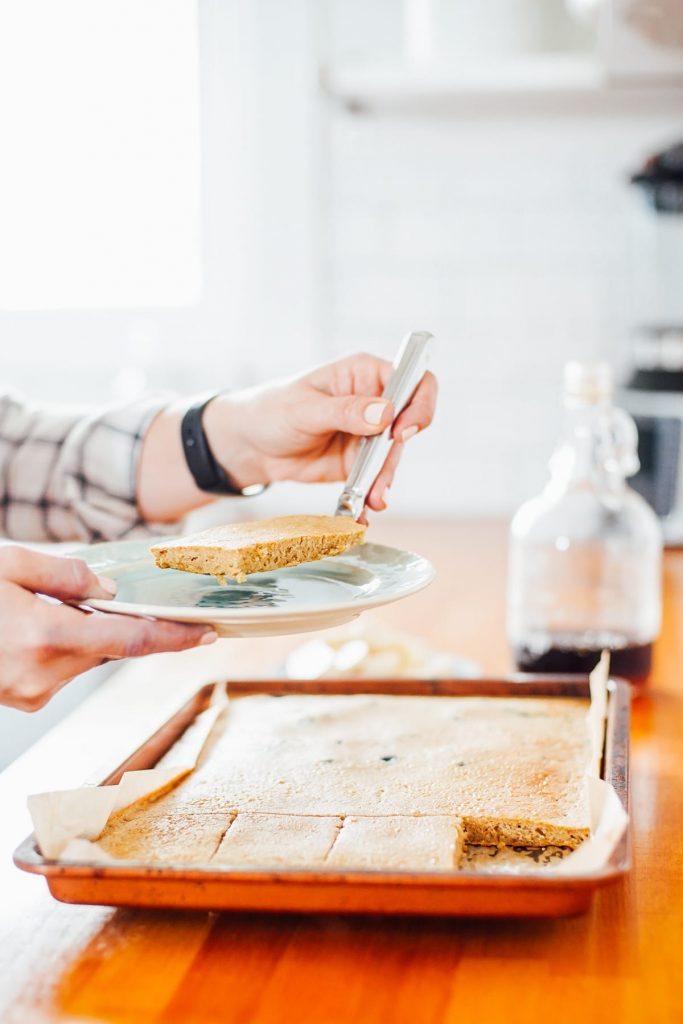 Einkorn and other ancient grains (like emmer and spelt) have a thick husk around the very grain. Modern wheat has a thinner husk that's easier to remove. Modern wheat may seem like a better choice for production and profitability. But with the increased use of pesticides and fertilizers, is this thinner husk such a good idea? Plus, that thick husk naturally occurs on grains for a reason. Why mess with what nature intended as protection?
While cross-breeding may be a good idea from a large-scale farming standpoint, how does this effect our ability to digest the grains? And what kind of effect does consuming large amounts of this grain have on our overall health?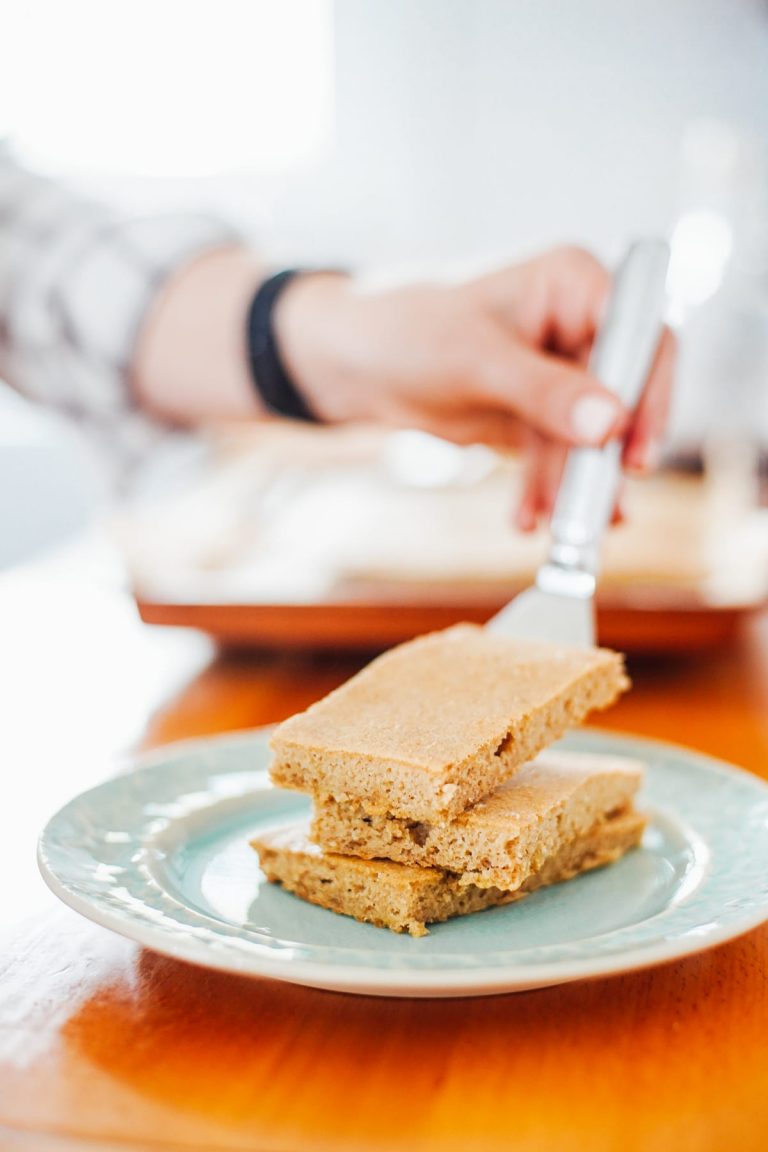 This is where einkorn really shines, because it still holds to its original properties and nutritional values. In our effort to make modern wheat "better" and more efficient from a production standpoint, nutrients have been lost. Einkorn has a much higher protein content (30% more than modern wheat) and less starch (15% less than modern wheat), along with a higher concentration of minerals and flavor. This makes einkorn distinctly different than modern wheat.
And when we look at the enriched white flour that is widely used today and milled from modern wheat, the nutrients are even further removed, which is why key nutrients (now in isolated forms) must be added back in.
Einkorn is also the only wheat that's missing certain types of gluten proteins that some people are sensitive to. Einkorn doesn't have less gluten than modern wheat. It actually has a similar gluten content to modern wheat. The difference is the gluten structure (in einkorn) is weak, making it remarkably different than our modern wheat. (This is a super fascinating video to watch for a visual.)
Einkorn is not gluten-free. Some folks with a gluten sensitivity find that einkorn is easier to digest than modern wheat.
How to Customize Sheet Pan Pancakes
It's super easy to customize sheet pan pancakes with a variety of flavors. Here are a few of my favorites to add to the pancake batter before baking.
Frozen Blueberries: Sprinkle on top of the batter before baking.
Chocolate Chips: Sprinkle your favorite chocolate chips on top of the batter before baking.
Chopped Pecans: for a pecan flavored pancake. Sprinkle on top before baking.
Peanut Butter or Jam: Add a few drops of peanut butter or jam to the top of your batter (while on the sheet pan) and then use a knife to create swirls. Similar to this recipe.
Sliced Bananas: Sprinkle banana pieces or slices on top of the batter before baking.
Cooked and Chopped Bacon: Go the savory route with this option. Sprinkle on top of the batter before baking.
More Easy Breakfast Ideas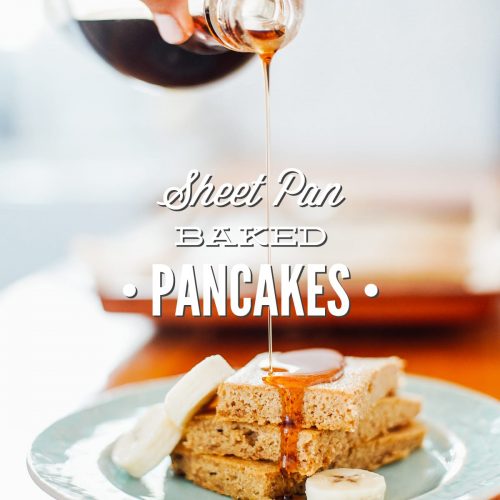 Baked Einkorn Sheet Pan Pancakes
Oven baked on a sheet pan and made with einkorn flour. The perfect pancake recipe for a busy weekday morning or when you want something quick and easy on the weekend. Customize to your liking with various toppings or mix ins.
Ingredients
Mix Ins You Can Add BEFORE Baking, if Desired:
frozen blueberries

sprinkle on top of batter before baking

chopped pecans

sprinkle on top of batter before baking

chocolate chips

sprinkle on top of batter before baking

cooked and chopped bacon

sprinkle on top of batter before baking

sliced banana

sprinkle on top of batter before baking
Toppings You Can Add AFTER Baking, if Desired:
berries

banana slices

chopped nuts

maple syrup

berry syrup

butter

nut butter

whipped cream
Special Equipment:
Instructions
Preheat the oven to 425F.

Line a half sheet pan with parchment paper. Add one tablespoon of butter to the sheet pan and place in oven to melt. Once melted, remove from the oven and spread the butter evenly on the parchment paper.

Add the dry ingredients to a large mixing bowl and whisk to combine: flour, baking powder, baking soda, cinnamon, and salt.

Add remaining wet ingredients (not toppings or mix in ideas) and stir to combine, making sure not to over mix. Some lumps are fine.

Let the batter rest for 5 minutes.

Carefully spread the batter into the prepared pan.

Optional: Sprinkle any mix ins desired EVENLY on top (you don't have to add any mix ins for plain pancakes): chocolate chips, fruit (like banana or blueberries), nuts, etc. You can even make 4 separate "flavors" in the pan. Make sure the mix-ins are evenly spaced out. You don't want clumps of blueberries together as the batter may not fully bake in those spots. Don't overdue the mix ins, a little goes a long way. Also, avoid any mushy or super juicy fruit–this type of fruit is best used on top of the pancakes after baking.

Bake for 12-15 minutes, until lightly golden brown in color and may show a few cracks.

Let the pancake rest in the sheet pan for 5 minutes before cutting and serving.

Store extra pancake pieces in the fridge or freezer in an air-tight container. Reheat in toaster oven or microwave or pack cold for lunches.
Notes
Gluten-Free Option: If you need a gluten-free sheet pan pancake recipe, I recommend this one. 
Flour Alternative: If you don't have einkorn flour on hand, you can try all-purpose flour (my favorite is from Sunrise Flour Mill). I haven't tested this recipe using all-purpose flour, so let me know how it goes. 
Nutrition
Calories:
386
kcal
Carbohydrates:
50
g
Protein:
10
g
Fat:
16
g
Saturated Fat:
9
g
Cholesterol:
93
mg
Sodium:
464
mg
Potassium:
367
mg
Fiber:
2
g
Sugar:
8
g
Vitamin A:
566
IU
Calcium:
199
mg
Iron:
3
mg