Mornings are always a busy time in our home: showers to be taken, clothes to be found, breakfast to be made, and the carline appointment to keep. Smoothies are the perfect fit for busy mornings: easy, nourishing, can be taken on the go. There is definitely an art and science behind making the best smoothies. You know, a smoothie that is perfectly creamy, exceptionally tasty, and super nourishing. Today, I'll walk you through how to make the best smoothies at home.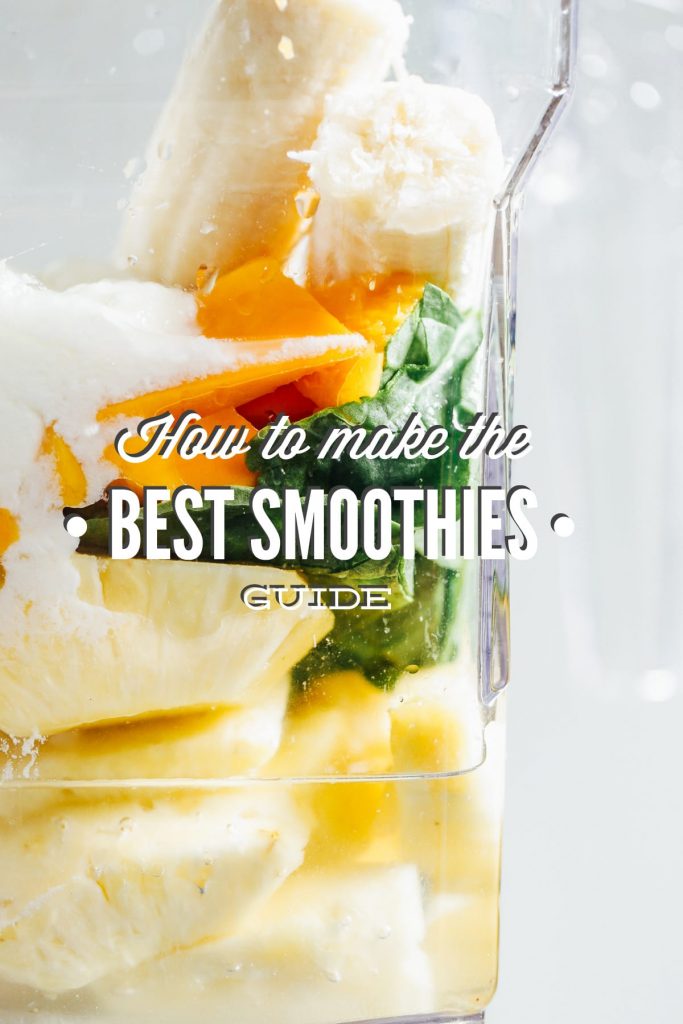 What do you put in a smoothie?
There are many options for what to put in a smoothie. This is what makes a smoothie such a versatile, customizable drink. You can customize your smoothie based on your flavor preferences, seasonal fruit and veggie offerings, and what you have available in your pantry or freezer.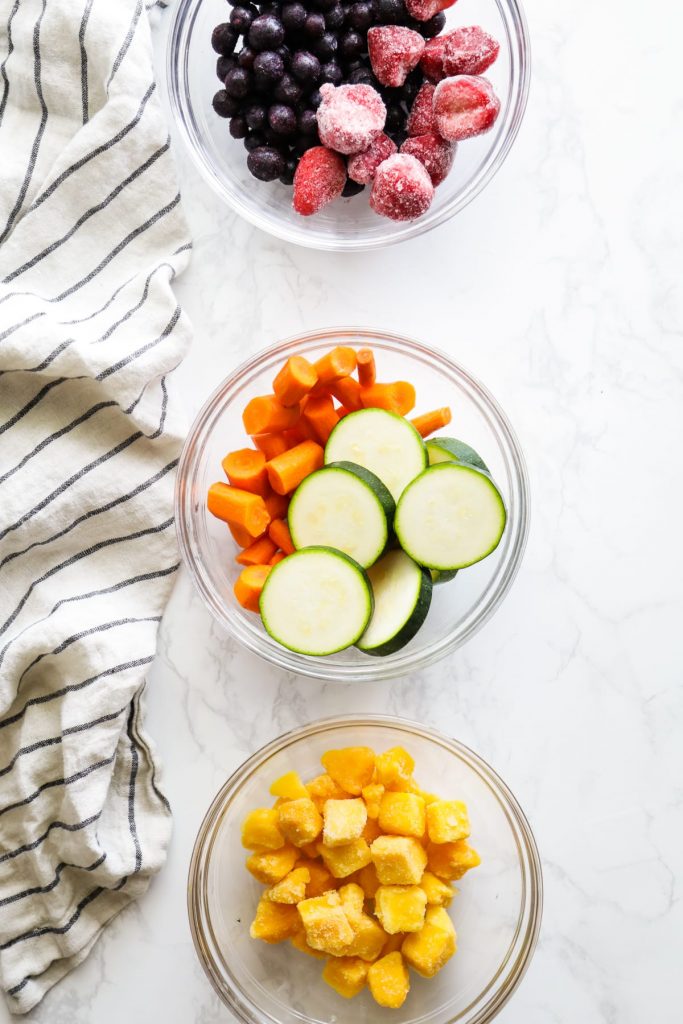 Here are the basics of what to put in a smoothie…
Fruit: Berries, melons (cantaloupe, honeydew), apple, peach, grapes, kiwi, citrus (remove seeds first), avocado, banana. Really there isn't anything "off limits" when it comes to adding fruit to smoothies. Add one fruit or a medley of fruits. Some fruits are sweeter than others, so if you want extra sweetness you may want to combine a not-so-sweet fruit (like grapes) with a sweeter fruit or add 1/2-1 banana (which can also add creaminess to a smoothie).
Veggies: Cauliflower, beets, zucchini, and butternut squash are among my favorite veggies to add to a smoothie. I recommend steaming veggies and freezing on a sheet pan before adding to a freezer bag. Pull out a handful of steamed and frozen veggies for smoothies. You can also add raw cucumbers and celery.
Flavorings: Spices (cinnamon, pumpkin pie spice, nutmeg), herbs (mint, basil), ginger, and vanilla extract can all add a delightful flavor profile to a smoothie. Turmeric is another great spice for a rustic, earthy flavor.
Protein/Healthy Fat: Add a scoop of your favorite protein powder, a nut butter (peanut butter, almond butter, cashew butter), plain yogurt, or a scoop of raw rolled oats. Most protein powders are highly-processed and far from a real food, I like Vital Proteins Collagen or Ancient Nutrition. Avocado is a flavorless addition for healthy fat. Adding fat/protein to your smoothie will make it more satiating and help to regular blood sugar.
Greens: Baby spinach is popular for smoothies because of its mild flavor, but it's certainly not the only choice. Here are a few other options: Swiss chard, kale, beet greens (the leafy tops of beets), lettuce leaves, pea shoots, microgreens, and carrot tops (the leafy tops of carrots). The greens can be fresh, steamed, or frozen.
Liquids: Water or milk are the most common liquids for smoothies. You can also add juice, but most juice contains a ton of sugar and not much fiber.
Plain Yogurt or Kefir: Both options are the result of fermentation, which means both are rich in gut-loving probiotics. I would much rather consume my probiotics from foods (such as kefir, sauerkraut, kimchi, kombucha, etc.) than take a pill, so I'm always looking for ways to add probiotic foods to our daily routine. A scoop of yogurt or about a 1/4-1/3 cup of kefir (a fermented drinkable yogurt-like beverage) is an easy way to add creaminess to a smoothie and probiotics to your diet.
You don't need to use all of the ingredients mentioned above when making a smoothie. This list is simply to give you an idea of what you can put in a smoothie. The options are endless!
How to Make the Best Smoothies
Now that we have the basics down for what to put in a smoothie, let's talk about how to take those ingredients and make the best smoothies. The "best smoothie" is a smoothie that you enjoy drinking. It may be as simple as a strawberry, banana, and water combination or may be more complicated with lots of different ingredients. With this formula, you can build your own smoothies and customize them to your liking.
Start with a liquid: Milk, coconut milk, almond milk, cashew milk, oat milk, water, kefir, or coconut water. This is the first ingredient to add to your blender. I usually add about 1 cup of liquid to start with. You can always add more liquid if needed while blending the smoothie. Once you have your liquid in the blender, begin adding any of the following ingredients.
Add frozen fruit: Think seasonally here. Freeze what's in season in your area or buy large bags of frozen fruit at the store. If you don't want to add fruit, add veggies instead or other options on this list. I usually add about 1 cup of frozen fruit.
Choose additional fruits, veggies, and/or leafy greens: Instead of just one fruit, mix it up with a couple of different fruits or a fruit and veggie combo.

Steam carrots or beets and freeze them in advance, scoop half an avocado in the blender, or add a handful of leafy greens. I usually add a handful of frozen chopped veggies and/or leafy greens.

Add a sweetener: I usually add a banana for the creaminess and extra sweetness, but this is optional. Other options: a touch of honey or maple syrup or a couple of soft dates (with the pits removed). Adding a sweetener is completely optional and your fruit may already offer enough sweetness.
Add protein: Plain yogurt, nut or seed butter, yogurt, raw rolled oats, protein powder. For a protein powder, I like Vital Proteins or Ancient Nutrition. I don't always add protein, but when I do I usually go with 1 scoop of powder or about 1-2 tablespoons of nut butter or 1/4 cup of rolled oats.
Enhance the flavor: Try a pinch of ground cinnamon, a tablespoon of cocoa powder (or cacao powder), a splash of vanilla extract, a tablespoon of coconut butter, ginger (a small fresh piece or ground), turmeric (a small fresh piece or ground), or a few leaves of fresh mint.
Extras: If you want to toss in anything extra like chia seeds, hemp seeds, flax seeds, or pumpkin or sunflower seeds now is the time to add these ingredients. Most of the time these ingredients are added for nutrition reasons, not flavor. Just a tablespoon of extra goodness can add a nice boost to a smoothie.
Mix and match these ingredients to build your best smoothies. You can also build smoothies ahead of time in baggies and freeze the smoothie bags for a quick grab-and-blend smoothie option. Here's how to make freezer smoothie packs to save time.
Once you have your ingredients in the blender, starting with the liquid, it's time to blend. How long you blend your smoothie will depend on the ingredients used and your blender. I usually blend a smoothie for about 30-60 seconds, or until the smoothie is smooth. If your blender is having a hard time blending the ingredients, stop the blender and add enough liquid to get things moving.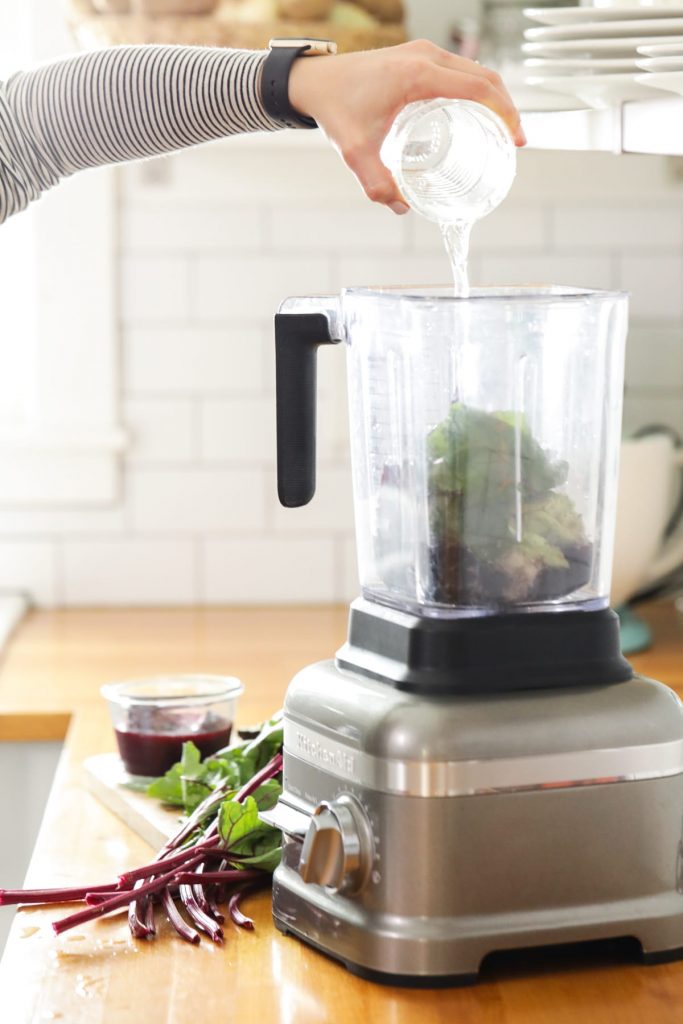 Are smoothies better with milk or water?
The base ingredient of every good smoothie is some sort of liquid. Without a liquid, the ingredients will never blend into a smoothie. This could be milk, coconut milk, almond milk, cashew milk, oat milk (make this homemade since the popular brand on the market contain canola oil, rapeseed oil, which is a highly processed oil) water, or kefir. Many people ask, "Are smoothies better with milk or water?"
The answer: It depends. Both water and milk have their place in making a smoothie.
Adding milk to a smoothie will result in a creamier smoothie and you get the added satiating fat benefit. Healthy fats are a good thing and an important part of a real food lifestyle, not something to be avoided. On the other hand, water can be a great liquid to use if you're looking for a lighter smoothie or just don't have any milk available. Another option is to use water and a scoop or two of plain yogurt, which adds probiotics to the smoothie, healthy satiating fat, and a creamy consistency. Banana and avocado also add creaminess to a smoothie, so you can definitely achieve a creamy smoothie without milk.
Should you put ice in smoothies?
Ah, the great smoothie debate: to ice or not to ice? This also depends. If want a thicker, chilled smoothie and you're using FROZEN fruit or vegetables, then ice isn't needed. If you want a thicker consistency and a chilled smoothie and you're using FRESH fruits and/or veggies, add a handful of ice before blending the smoothie. Ice not only creates a thicker smoothie, but also chills the ingredients. I don't find room temperature smoothies to be very desirable, so adding some sort of frozen ingredient is my preference.
An alternative to adding ice is to add yogurt, milk, or kefir (a fermented milk/yogurt that's rich in probiotics) to an ice cube tray, freeze the liquid, and then place the ice cubes in a bag or container to use for making smoothies. You'll still need to add a liquid to your smoothies, such as water or milk, but this is a great option if you want to avoid watery ice cubes when using fresh fruits and/or vegetables. Another option is to freeze peeled bananas in advance and use the frozen bananas when making smoothies. This way you can use fresh seasonal fruit, no ice, and a frozen banana to achieve a thick, chilled smoothie.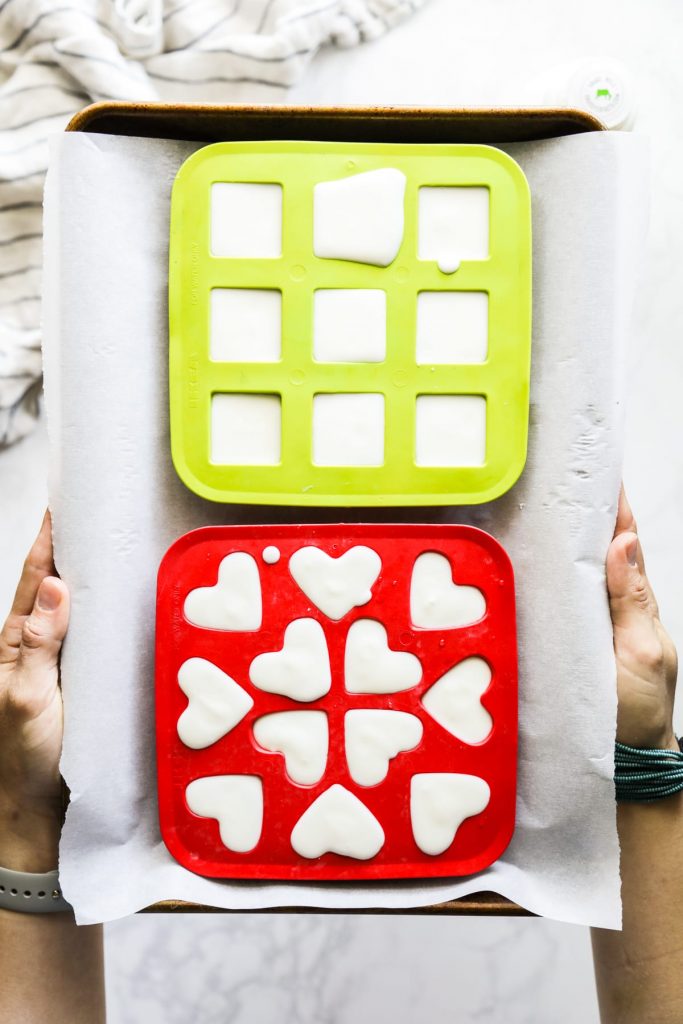 The Best Blenders for Making Smoothies
You absolutely need some sort of blender to make smoothies. Nothing else will blend ingredients like a blender. If you plan to make smoothies often, I recommend investing in a high-speed blender. A smoothie is only as good as the blender it's made in. If you're planning to stick with simple frozen or fresh fruits, then the type of blender used may not be a big deal, but if you plan to add ingredients like dates or seeds or fibrous leafy greens, using a high-speed blender will result in a more desirable smoothie.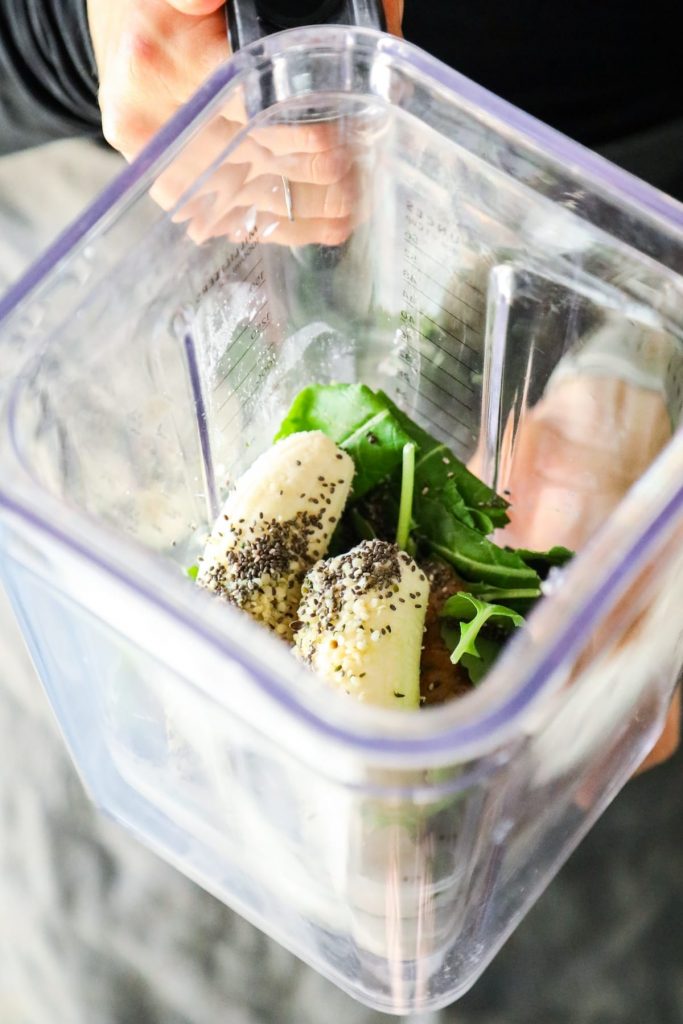 The blenders that have worked best for me over the years…
If you're not using a high-speed blender and want to add leafy greens to your smoothies, I recommend blending up the greens with your liquid first. Then adding the remaining smoothie ingredients to the blender and blending. This will help break up the fibrous greens, ensuring you're not left with big chunks of kale or spinach in your smoothie.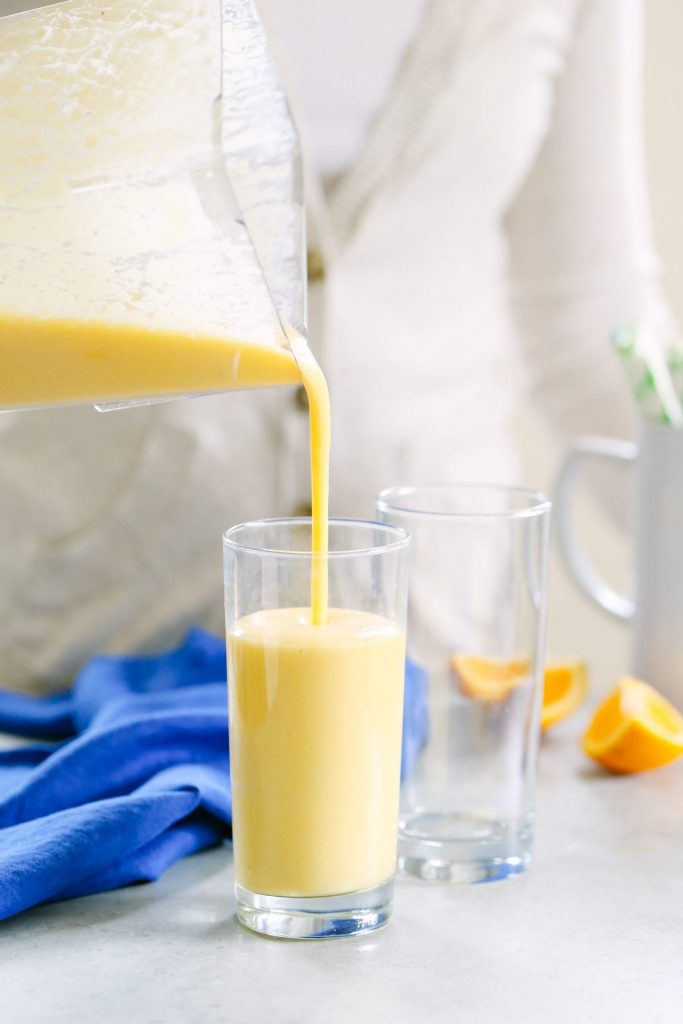 Smoothie Recipes to Make
I hope you're inspired to get in the kitchen and start creating your own smoothies. Here are some of my favorite smoothie combinations:
REFRESHING RECIPES TO MAKE ON A HOT DAY
Take the Guess Work OUt of meal planning
Free 64 Rotational Meals Ideas Cheat Sheet
Breakfast, lunch, dinner, and snack recipes to rotate week after week. Put healthy meals on auto-pilot.