Today we're going to make an easy pantry recipe: Ground Beef Taco Meat. This recipe is made with ground beef, a few basic spices, an onion, and tomatoes. You probably already have everything needed in your pantry right now.
How Do You Make Taco Meat From Scratch?
I grew up on tacos made with a packet of seasoning purchased from the grocery store. El Paso was the brand, I believe. I honestly never knew you could make taco meat without some sort of packet aid.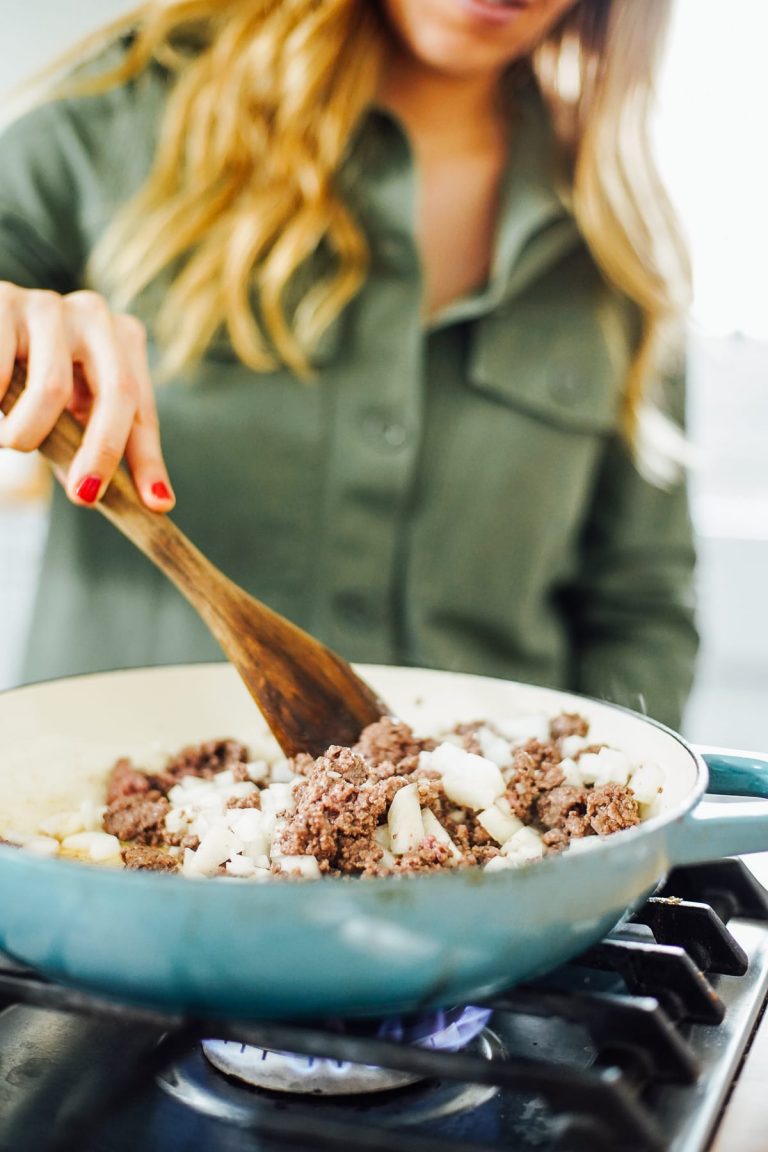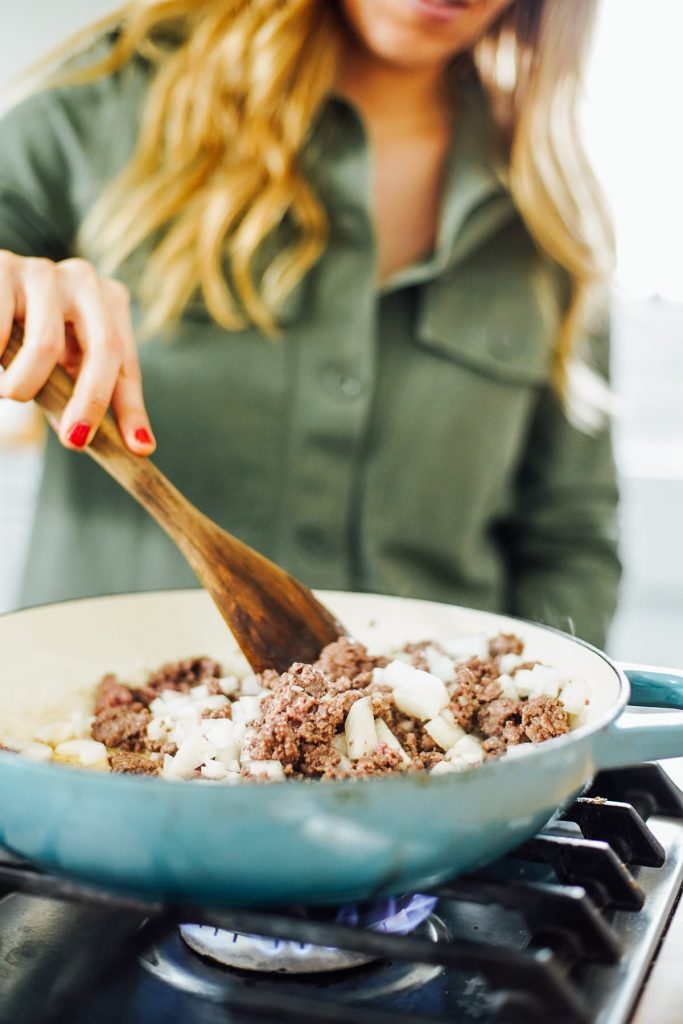 It wasn't until just a few years ago, as I began to experiment with cooking from scratch, that I discovered that most of the foods I once loved could be made at home with simple, real food ingredients. And the from-scratch versions tasted much better!
When you make your own taco meat at home you have complete control over what goes into your food. There aren't any ultra-processed ingredients, like preservatives or mystery flavorings. Just take a look at the back of a store-bought seasoning packet and you'll likely find more than just basic pantry ingredients lurking inside. This is why it's important to always read ingredient lists (learn how to do that here).
Plus, making your taco meat from-scratch (versus relying on a kit or seasoning packet) is much cheaper. The spices needed to make this recipe may be used to make a multitude of other recipes. This is what I call stretching your dollar in the kitchen.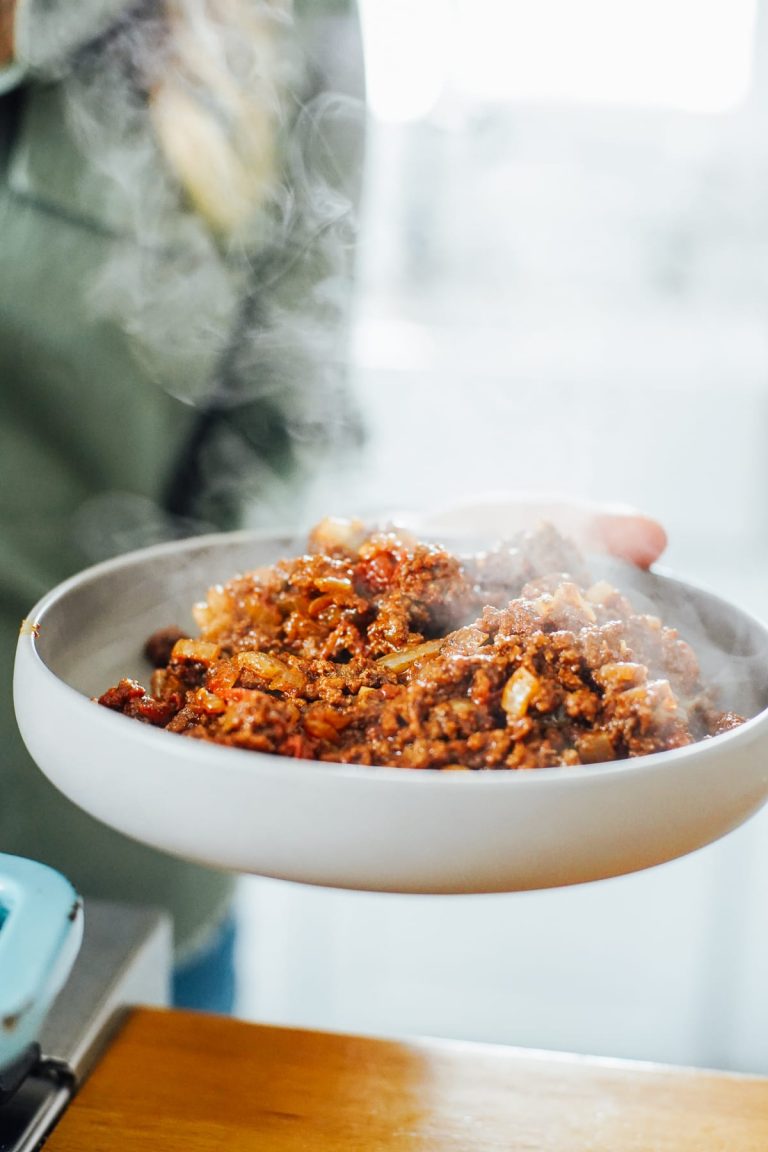 To make your own taco meat from scratch, you must first start with a few basic pantry spices: chili powder, cumin, oregano, paprika, salt, and pepper. The spices make all the flavor in this recipe. Ground beef is mixed with the spices, along with tomatoes and onion. That's it! So simple.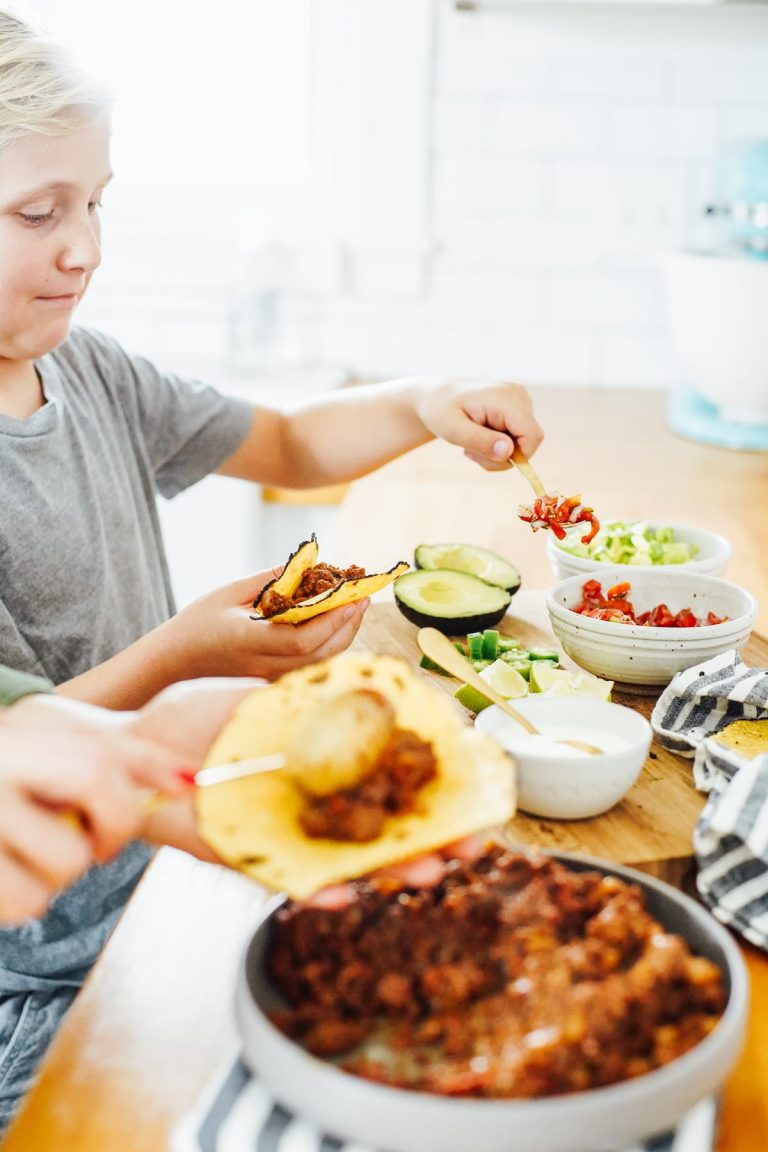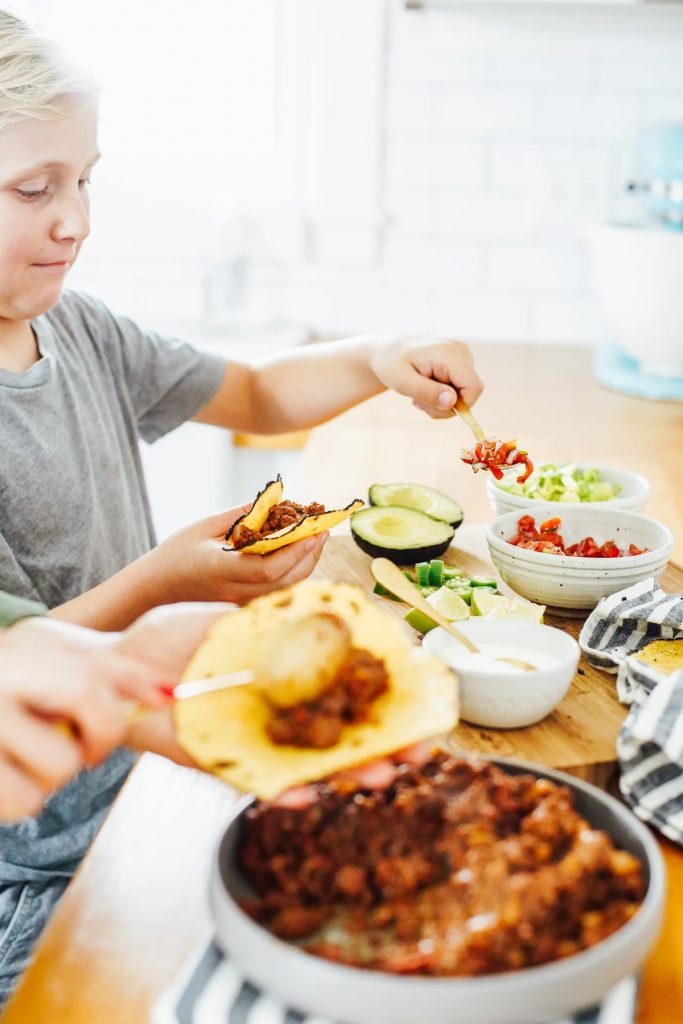 How to Use Homemade Taco Meat
Once the taco meat has been made, you can use it in a variety of different ways. By the way, you can make the taco meat on the spot and serve or make it advance and store in the fridge to use later in the week. Here are a few ways to use taco meat…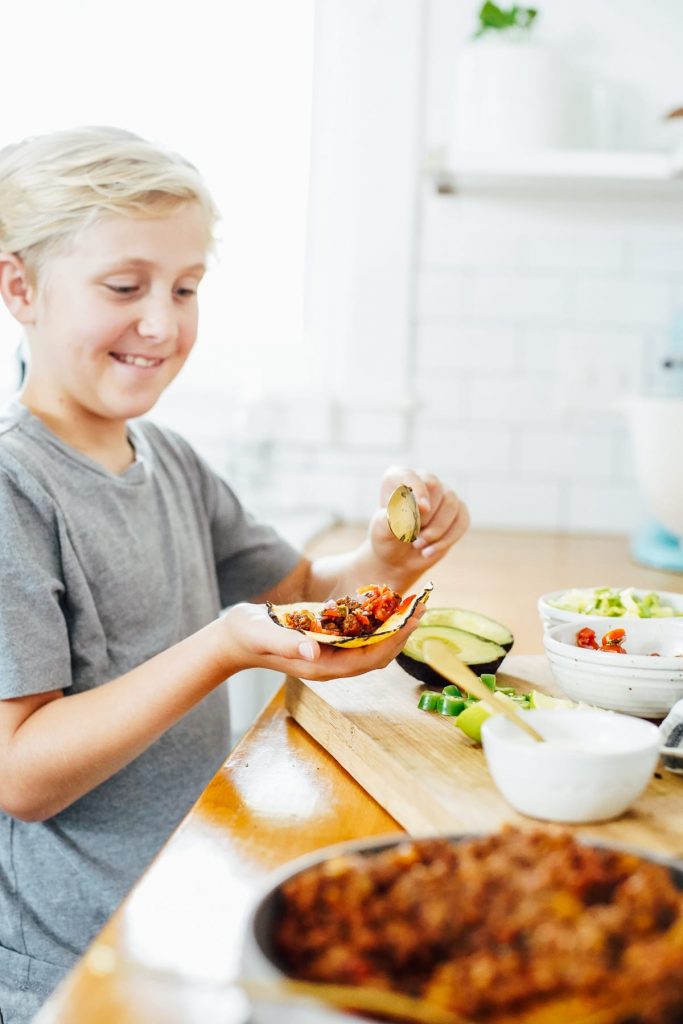 Quesadillas: You can use this recipe as a base but instead of a cheese and veggie filling, add the taco meat (instead of the veggies) and cheese.
Tacos: Fill tortillas with the ground beef taco meat and top with your favorites: lettuce, slaw (try this basic slaw or this multi-veggie slaw), avocados, sour cream, fermented salsa, etc.
Taco Salad: Add this taco meat to a bed of lettuce and tortilla chips, cheese, salsa, sour cream, or whatever you like.
Enchiladas: Instead of the chicken in this recipe, use this taco meat instead.
Taco Bowls: Add the taco meat, rice or quinoa (I love to make Instant Pot rice to save time), and toppings of choice to a bowl. I also love to sauté some onions and peppers to serve on top.
Nachos: Add the meat over tortilla chips, then add shredded cheese over top and broil for a few minutes. See this chicken nachos recipe, just sub out the chicken and beans for this ground beef recipe.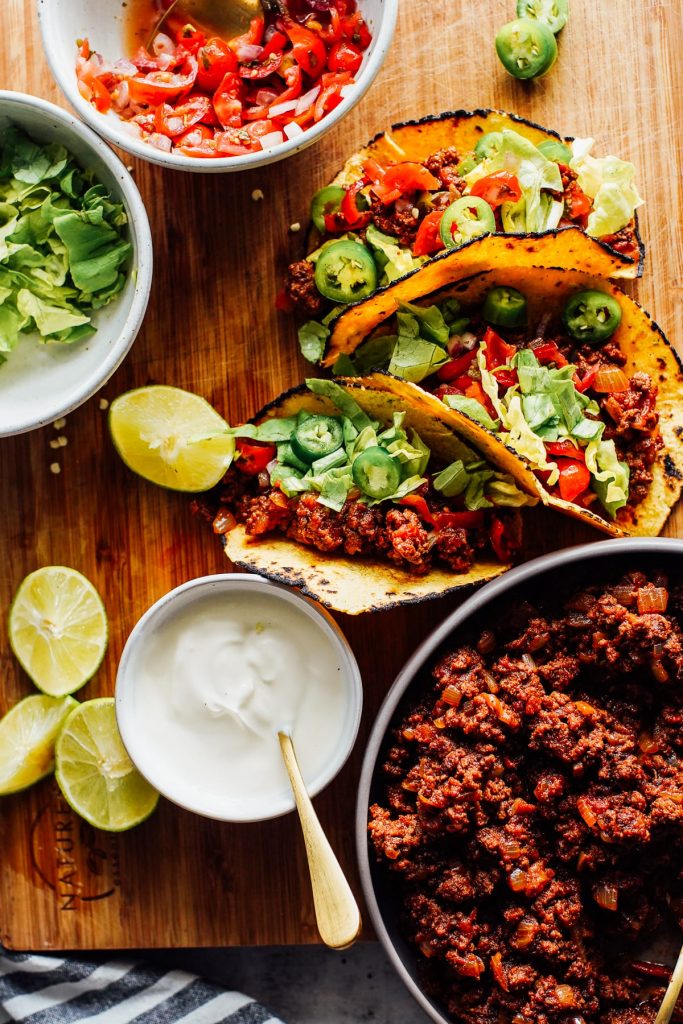 Ground Beef Taco Meat Recipe
An easy homemade taco meat recipe made with ground beef, tomatoes, and a few basic spices. Use as a taco, enchilada, or quesadilla filling or to make taco salad.
Ingredients
1

lb

ground beef

1/2

small yellow onion

diced (about 1/2 cup)

2

garlic cloves

minced

1/2

TB

chili powder

1

tsp

ground cumin

1

tsp

oregano

1/2

tsp

paprika

1/2

tsp

salt

to taste (always taste after making the dish and add more salt as needed)

1/2

tsp

black pepper

1

cup

canned diced tomatoes

or canned crushed tomatoes, I like Jovial brand

1/4

cup

water
Instructions
Heat a large skillet over medium heat. Once hot, add the ground beef. Brown the ground beef for 7 minutes. The ground beef should produce enough fat so extra oil isn't needed. But if the ground beef sticks to the pan, add 1 tablespoon of olive oil while cooking.

Add the onion and sauté for another 3-4 minutes, stirring frequently. Add the garlic cloves and sprinkle in the seasonings: chili powder, cumin, oregano, paprika, salt, and black pepper. Cook for another minute, stirring to incorporate the spices with the beef and onions.

Add the diced tomatoes and water. Cover the skillet. Reduce the heat to a simmer. Simmer for 10 minutes.

Serve the ground beef over tortillas, rice, or quinoa with any additional toppings, if desired: guacamole, salsa, sour cream, cheese.

To make ahead or if you have leftovers, store in the fridge in an air-tight container for up to 4 days. Reheat in a skillet or the microwave.
Notes
This recipe is not spicy, so it's perfect for the whole family (even those young and reluctant family members). It's flavorful but doesn't "smack you in the face" with a ton of spice. If you want more spice, by all means add more chili powder or cumin to taste. And always salt to taste. Everyone's taste is different and this recipe allows for a lot of flexibility to adjust the spice as desired. 
Nutrition
Calories:
205
kcal
Carbohydrates:
3
g
Protein:
14
g
Fat:
15
g
Saturated Fat:
6
g
Cholesterol:
54
mg
Sodium:
314
mg
Potassium:
298
mg
Fiber:
1
g
Sugar:
1
g
Vitamin A:
339
IU
Vitamin C:
4
mg
Calcium:
38
mg
Iron:
2
mg