Friday night is pizza and movie night in our home. The pizza is usually homemade, using either this active dry yeast recipe or (lately) this sourdough recipe and a homemade pizza sauce that comes together in just 2 minutes using basic pantry ingredients.
What is the difference between pizza sauce and spaghetti sauce?
First, let's talk about the difference between pizza sauce and spaghetti sauce. I didn't realize the difference until a few years ago.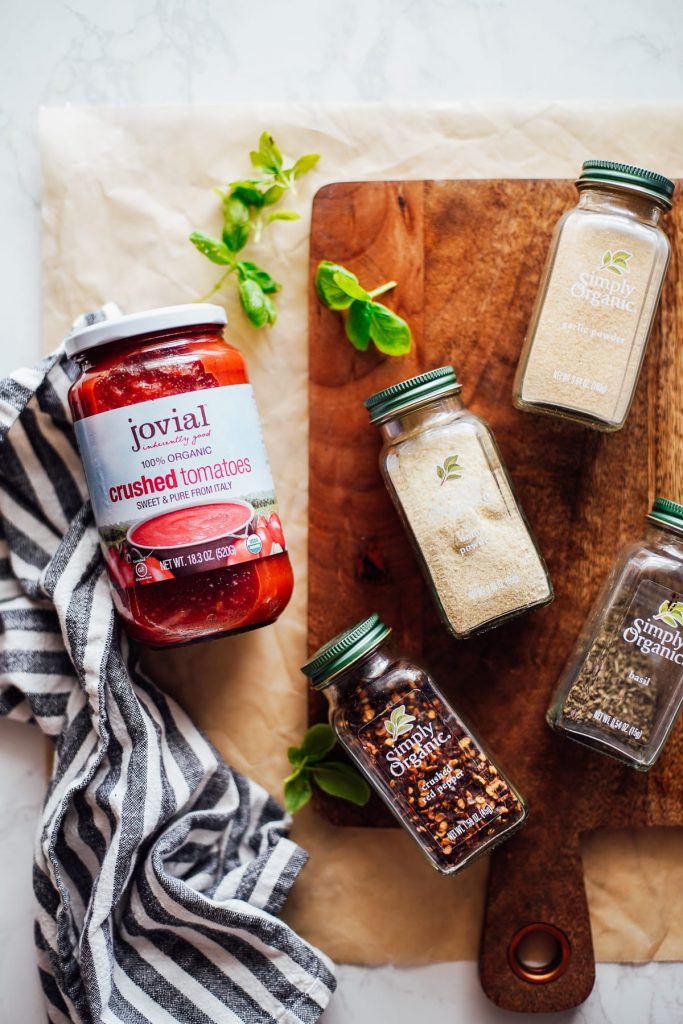 Pizza sauce is an uncooked tomato sauce. Spaghetti sauce, on the other hand, is a cooked tomato sauce that's usually simmered for hours before enjoying.
Today's recipe takes advantage of the no-cook nature of pizza sauce. Thanks to this no-cook method, the sauce comes together in just 2 minutes.
How to make pizza sauce from scratch
To make pizza sauce from scratch, you'll need a handful of pantry ingredients:
Crushed Tomatoes: Crushed tomatoes are a mixture of diced tomatoes and tomato puree (paste). Crushed tomatoes are the perfect consistency for making pizza sauce. I love Jovial brand. This brand uses glass bottles and the tomatoes are from Italian farms. Use whatever brand is your favorite, just avoid added salt in your tomatoes if possible.
Salt: The key to flavor in any recipe. We've talked about making the switch to mineral-rich salt in the past. Salt isn't bad, it's essential, but the type of salt is important. Read more about that here.
Spices: Oregano, basil, onion powder, and garlic powder are added to the tomatoes to create that classic pizza sauce flavor. I also add a bit of black pepper (freshly ground is always the most flavorful) for just a bit of spice.
Most Friday evenings, I open the jar of tomatoes, add the spices, salt, and pepper and stir. That's it! Homemade pizza sauce made in under 2 minutes. No cooking and no mess (well, that is until the kids get involved with assembling the pizzas).
Why make your own pizza sauce?
Now, I get it. You can easily buy pizza sauce from the store, so why make it from scratch? A couple of reasons…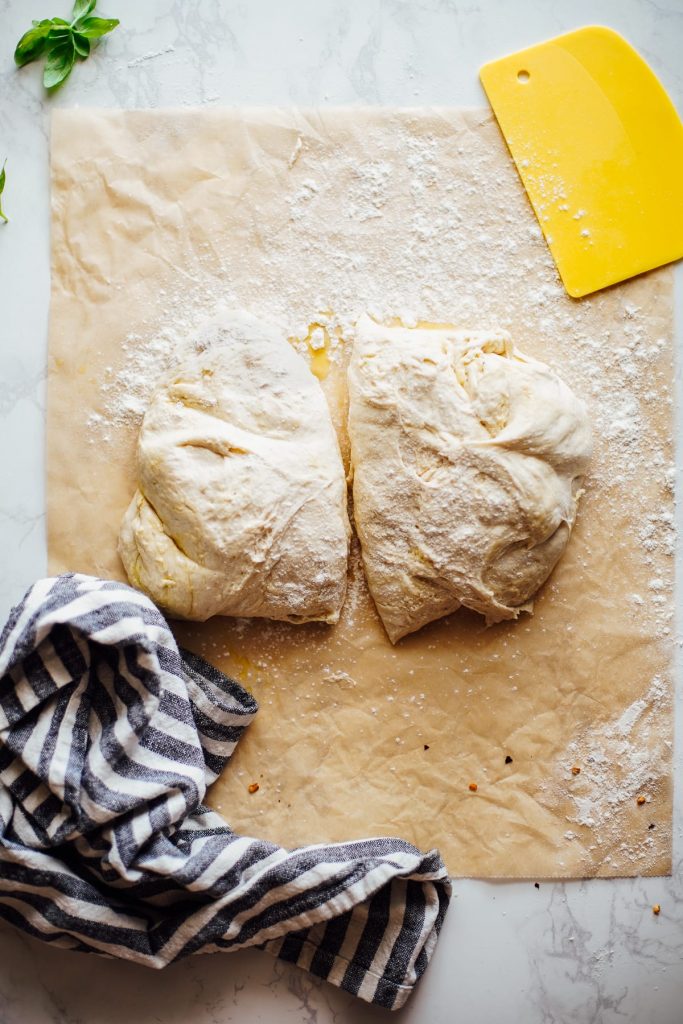 You have control over what goes into your sauce and the flavor: Tomato sauce and pizza from the store lacks flavor, in my opinion. A store-bought sauce just doesn't compare to a flavorful homemade version that's freshly made, even when using dried spices. The quality of ingredients does play a role here. Aside from flavor, a lot of store-bought options contain loads more salt than you would use at home (and many times not the mineral-rich salt you might use) and some even contain "natural flavors." <–Learn more about the issue with natural flavors in this swaps post.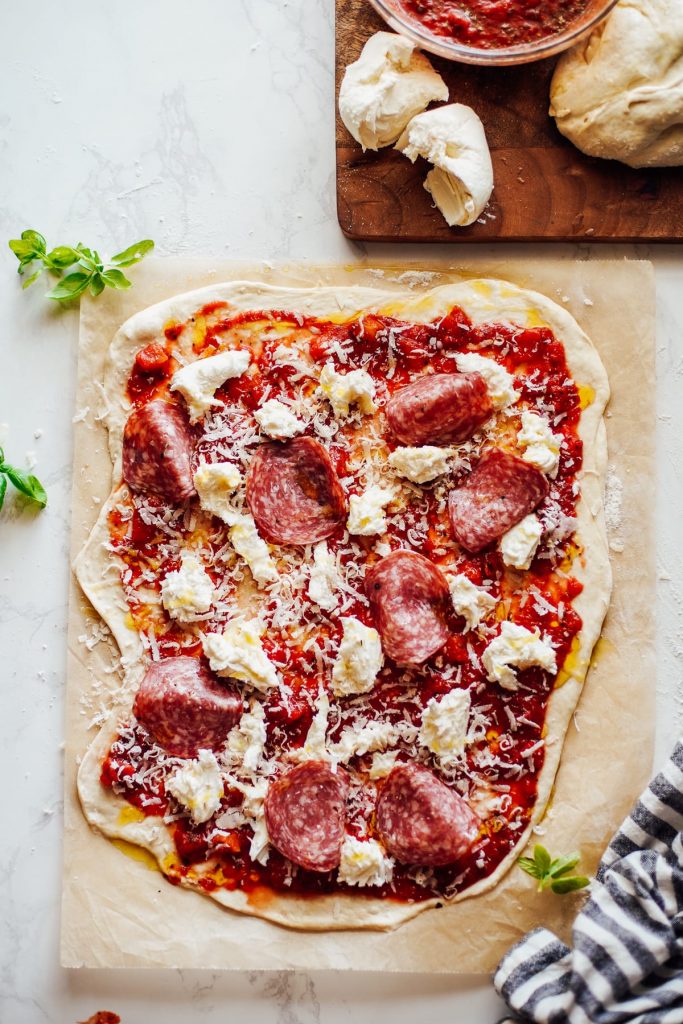 Sauce ideas for homemade pizza
Beyond homemade pizza sauce, there are other ways to top your homemade pizza crust. Here are a few of our favorites:
Pesto: Pesto can be made with carrot tops, beet tops, radish tops, basil, pea shoots, or even spinach or kale. Make a homemade pesto and use it throughout the week: toss with pasta, top on bread, and use as a sauce for homemade pizza. Here's a basic pesto recipe that you can adapt to your liking.
Ricotta Cheese: Change things up and make a white pizza with ricotta cheese. Here's a great recipe.
Garlic and Herb Sauce: Add olive oil, fresh garlic, and fresh oregano to a saucepan and warm, then add to your pizza crust as a sauce. The recipe can be found here, along with other ideas for how to top a pizza.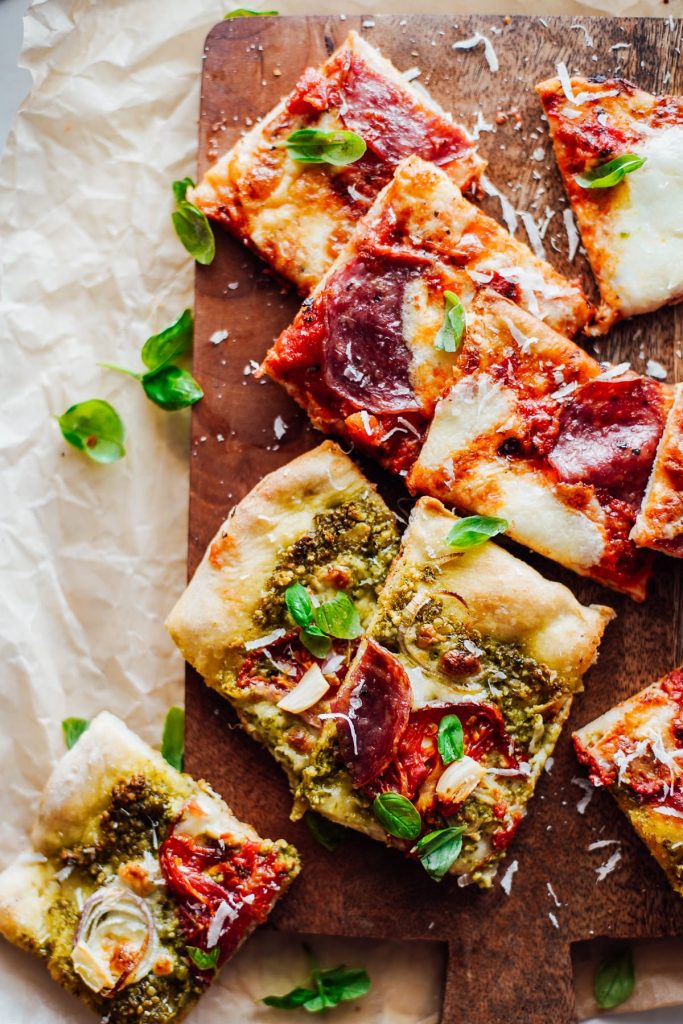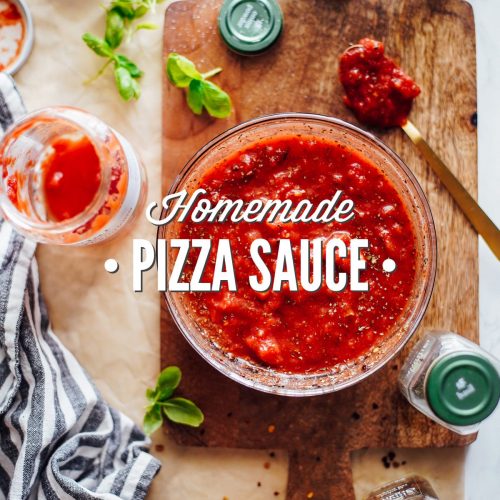 Easiest Homemade Pizza Sauce: No Cook Recipe
The easiest homemade pizza sauce. Flavorful, made with simple pantry ingredients, and sure to impress the whole family.
Ingredients
2

cups

crushed tomatoes

from a can*

2

tsp

dried oregano

1

tsp

dried basil

1/2

tsp

garlic powder

1/2

tsp

onion powder

salt

to taste, add salt and keep tasting until it meets your taste preference (I usually go with almost a 1/2 tsp salt)--this will also depend on if your tomatoes have salt added

pepper

to taste
Instructions
Combine all the ingredients in a medium-size bowl (or just add the seasonings directly to the can of tomatoes). Taste and adjust seasonings as needed, adding more salt if desired.

If you have leftover pizza sauce, store in the fridge for up to 5 days or in the freezer for up to a few months.
Notes
*Tomato Note: I use Jovial brand, which is about 18 ounces versus the traditional 14.5 ounce cans usually sold in stores. With 2 cups, there is a bit leftover with the Jovial brand. In this case, you can use the entire jar if desired. 
Nutrition
Calories:
88
kcal
Carbohydrates:
20
g
Protein:
4
g
Fat:
1
g
Saturated Fat:
1
g
Sodium:
321
mg
Potassium:
734
mg
Fiber:
6
g
Sugar:
11
g
Vitamin A:
554
IU
Vitamin C:
22
mg
Calcium:
125
mg
Iron:
4
mg