This post may contain affiliate links. As an Amazon Associate I earn from qualifying purchases.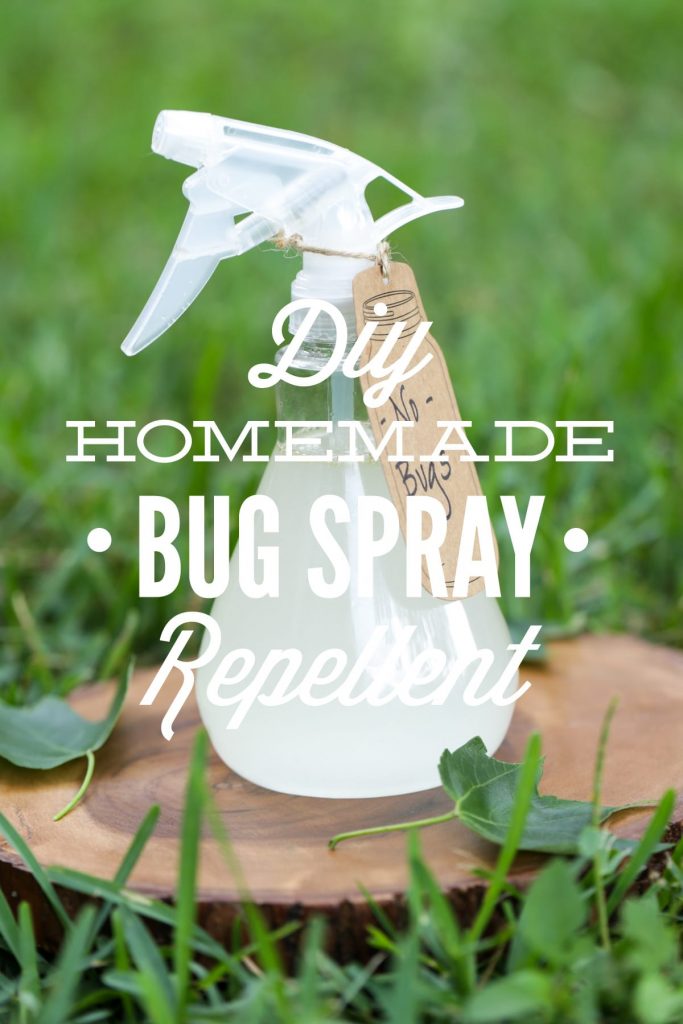 I've been hesitant to make my own bug spray, but this past spring has been the season of conquering DIY hesitations. So far the successful conquering includes this DIY bug spray and a homemade deodorant.
My fears (for both DIYs) have been rooted in the fact that I live in Florida. I know, you're probably already daydreaming about sandy beaches and gorgeous sunsets. I really hate to burst the tourist bubble, but Florida is also known for less attractive qualities–lots of flesh-eating bugs and extreme heat (Ever cracked an egg on your drive-way and cooked breakfast? Yea, extreme). Put the two together and you get a royal disaster for extremely hot summers full of nasty bugs. Welcome to Florida!
Let's talk homemade bug spray today.
I'll admit, the idea of a DIY bug spray crosses my mind every summer. I've also googled "homemade bug spray" and researched many recipes. Every homemade recipe usually scares me away.  It's not that a bug spray is tricky to make. Oh no, it's more like the super long list of essential oils needed to make an effective spray. I love essential oils and keep quite a few on hand, but the idea of having to purchase multiple unique oils and know exactly how to use each one doesn't appeal to my simple DIY mind.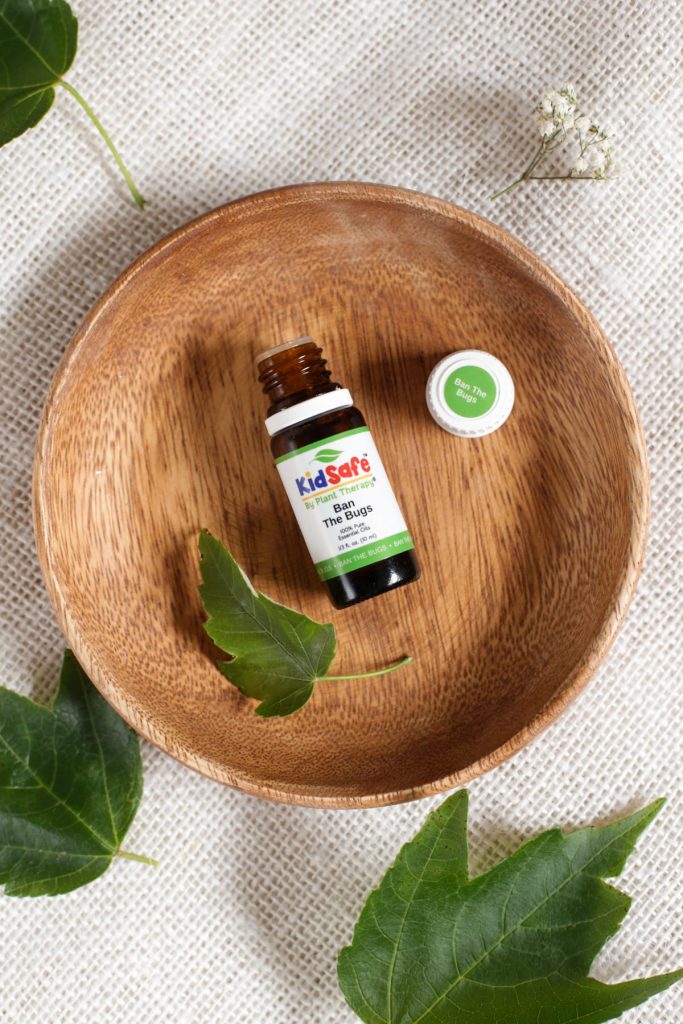 In 2014, Plant Therapy introduced a line of kid-safe essential oils developed with the help of Robert Tisserand. One of the oils that instantly caught my eye in the new line was Shield Me, a kid-safe blend designed to keep the bugs away, naturally. I was thrilled to find an oil blend specifically designed with the exact amount of oils I need to make a safe and effective bug spray for my whole family.
I bought my first bottle of Shield Me (formerly called, Ban the Bugs) as soon as the spring heat arrived. With a few simple ingredients a homemade bug spray was created, and I couldn't have been happier with the results. Now that I've successfully conquered homemade bug spray, I get to share my recipe with you!
DIY Bug Spray Ingredients
High-Proof Vodka or Witch Hazel
High-proof alcohol is known for its ability to kill insects, even pesky mosquitos. We've used alcohol for years as an air-spray during the summer to instantly kill mosquitos that accidentally make their way into our house, as well as other pesky bugs. If you end up with a small bite, vodka (or any high-proof alcohol) can also aid in taking the sting away.
Glycerin
Glycerin is added to balance the harsh alcohol on the skin. Glycerin adds nourishing moisture without weighing down the light spray. If you don't have glycerin, any nourishing oil will work: fractionated coconut oil, olive oil, jojoba oil.
Plant Therapy's kid-safe blend is specifically formulated using five bug-fighting essential oils: Citronella, Grapefruit, Geranium Bourbon, Rosalina, Patchouli.
Pure Vanilla Extract (optional)
Mosquitos, black flies, gnats, and even ticks hate vanilla. This simple kitchen ingredient is optional. It can be added to boost the bug-fighting power of this spray. Make sure your vanilla extract is pure and doesn't contain sugar (high fructose corn syrup). Sugar = a yummy bug dessert.
Finally, we can play all summer long without worrying about the Florida bugs.
PS: Florida is still amazing and perfect. Just make sure you add a few bottles of my homemade bug spray repellent and deodorant to your bag before you visit.
DIY Homemade Bug Spray Repellent
This homemade bug spray recipe will naturally keep the bug away from your skin. Using a combo of vanilla and essential oils, this homemade spray is inexpensive and easy to make.
Ingredients
1/4

cup

vodka

150 proof grain vodka works very well. Witch hazel or rubbing alcohol may be used as a substitute

1/4

cup

water

distilled or boiled water for long-term use

1

TB

vegetable glycerin

fractionated coconut oil, jojoba, or olive oil may be used as a substitute.

85

drops

Plant Therapy's Shield Me Essential Oil

(I'm not affiliated with Plant Therapy but love their oils. If you know of a similar essential oil blend by a different brand, feel free to use that.)

1

tsp

pure vanilla extract
Instructions
Using a funnel, pour the vodka and Shield Me into the bottle. Next, add the water and glycerin (or nourishing oil). Secure the lid on the bottle and shake to incorporate the ingredients.

To Use: Shake the bottle before each application. Spray the bug repellent on the skin, rubbing on the skin if needed. If you're dealing with gnats, you can also spray the bugs directly. This recipe is safe to use on children and adults.
Recipe Video
Recipe Notes
Recipe Variations:
Option 1: If you're short on time or ingredients this essential oil blend can easily be diluted with fractionated coconut oil and then applied directly to the skin. Use the recommendation on the Plant Therapy bottle for dilution. 
Option 2: Since I use this spray on my kids, I prefer to dilute the vodka with water. The dilution isn't needed for adults, if you don't mind the strong vodka smell which is masked pretty well by the essential oil blend. If you choose to skip the water dilution you'll want to decrease the amount of essential oil. Use 40 drops per 2 ounces (about 1/4 cup) of liquid. You'll still need a moisturizing liquid/oil, such as: glycerin or a nourishing oil.
As with any homemade remedy, I highly recommend testing this spray first on one leg (or a small area of the skin). This is how I always test my homemade products before relying on a recipe 100% for protection. This is the recipe that's working best for my family, in our environment, but feel free to tweak the recipe according to your needs and environment.