This post may contain affiliate links. As an Amazon Associate I earn from qualifying purchases.
It's officially summer. The kids are out of school and it's set to reach 100 degrees by the weekend. With summer here, I'm ready to embrace meals from the grill, cheese and veggie boards, and all the frozen treats (from popsicles to homemade ice cream).
When you make your own popsicles (or any summer treat), you know exactly what ingredients are going into that treat. That's the beauty of making your own food.
Today, let's talk about how to make your own popsicles.
How to Make Homemade Popsicles
There are a number of ways to make homemade popsicles and you don't need a specific recipe to do so. That said, there are a few key ingredients you can use to build your own custom pops.
Liquid: This is the base of a popsicle mixture. In order to make popsicles, you need a liquid substance that can be frozen. Yogurt, coconut milk (or another milk, such as: cow's milk, almond milk, cashew milk), coffee mixed with cream or milk (for an adult popsicle), juice, water (or coconut water), yogurt, or kefir (homemade, Siggi's or Maple Hill Creamery are my fav options).
Fruit: Fruit (or even veggies) may be blended with the liquid, or even chopped up and stirred into the liquid. Strawberries, blueberries, kiwis, mangoes, cherries, avocado, steamed carrots or beets are just some of the options.
Sweetener: You may want to sweeten your homemade popsicles. I recommend honey, maple syrup, dates, or a banana. You'll need to use a blender to puree the dates or banana with your popsicle mixture.
Herbs: During the summer, herbs are bountiful. Blend up a few mint or basil leaves for a subtle, fresh flavor.
Extras: Peanut butter, cocoa or cacao, lemon juice, chocolate chips, and vanilla extract are few of the fun ingredients you can add to your liquid to make a unique popsicle.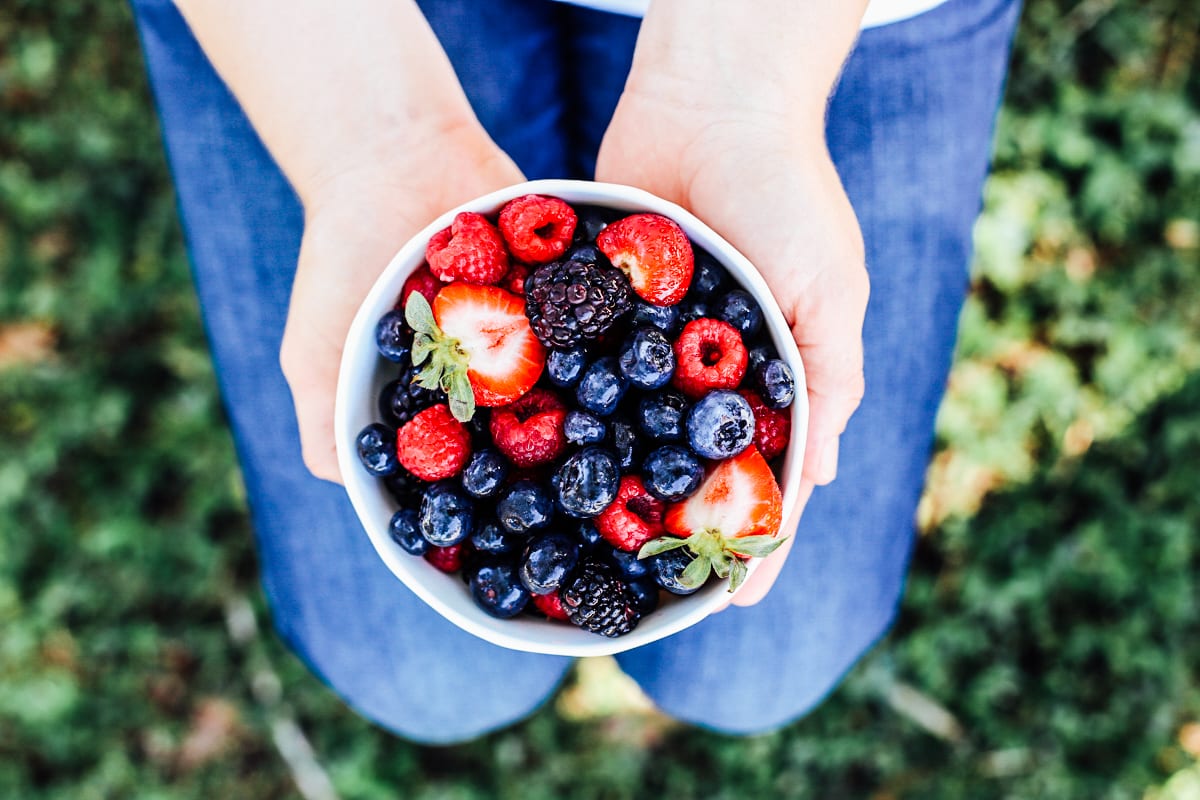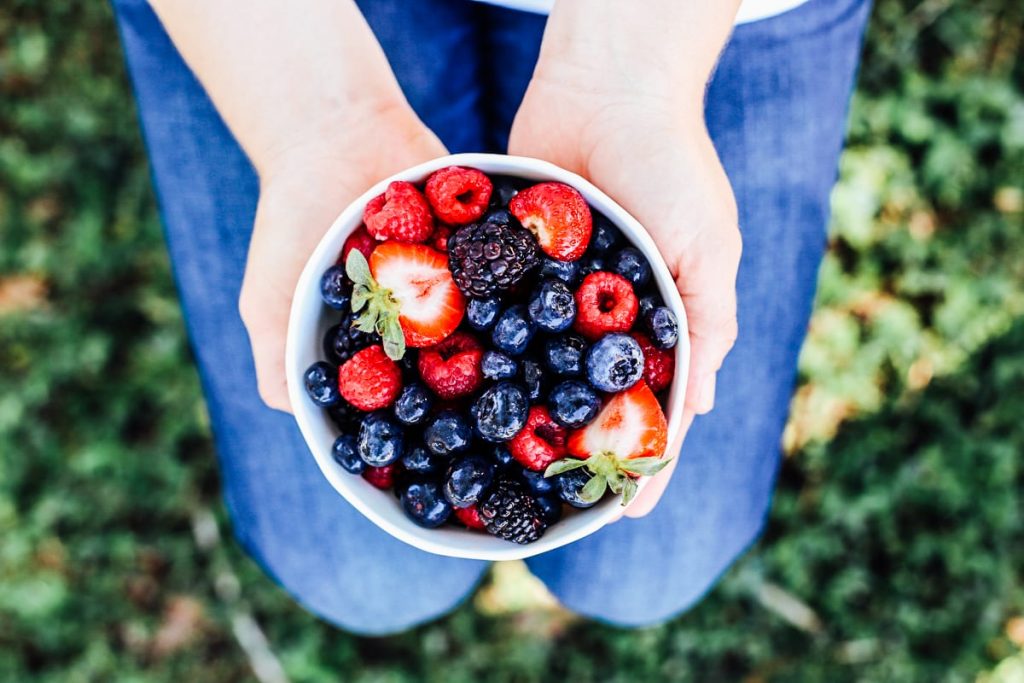 With these options, you can make enough popsicle variations to keep you going all summer long. Let's talk about some specific examples of how to use these ingredients…
Peanut Butter Fudge Popsicles: blend up coconut milk, peanut butter, banana, cinnamon, and maple syrup.
Blueberry-Yogurt Popsicles: blend up blueberries, plain yogurt (or kefir), and honey.
Strawberry-Mint Lemonade Popsicles: blend up water, strawberries, mint leaves, and lemon juice.
Mango-Coconut Popsicles: blend up mangoes and coconut water.
Cherry-Lime Popsicles: blend up cherries, lime juice, and water (or coconut milk).
Making popsicles, initially, is just like making a smoothie (think: same method and consistency). Toss the ingredients in a blender and blend away.
What to Use for a Popsicle Mold
Once your mixture is blended and smooth, you'll need to pour that liquid into molds before freezing. If you plan to make popsicles on a regular basis, or even just occasionally, I highly recommend purchasing popsicle molds.
I purchased my popsicle mold four years ago. $13 well spent! Popsicle molds are super easy to use and most come with sticks/handles. I recommend this popsicle mold.
Another option is ice pop molds. Remember the neon-colored ice pops from childhood? Well, these molds allow you to create your own version. They aren't reusable, like the popsicle molds, but they are a fun summer treat. I recommend this ice pop mold. 
If you don't want to use molds, you can use paper cups and popsicle sticks. Pour your mixture into paper cups, add sticks, and place in the freezer. When you're ready to enjoy, remove from the freezer and peel away the paper.
Homemade Popsicle Recipes
Here are the popsicles that my family makes every summer. I love to make a batch of popsicles each week and keep them in a bag in the freezer (individually wrapped in parchment paper to keep the popsicles from touching). This way you can continue using your molds and have an endless supply of popsicles ready to enjoy. Click on the name of the popsicle (also highlighted in blue/teal) to go to the recipe.
This homemade version of a creamsicle is made with orange juice, yogurt, and coconut cream.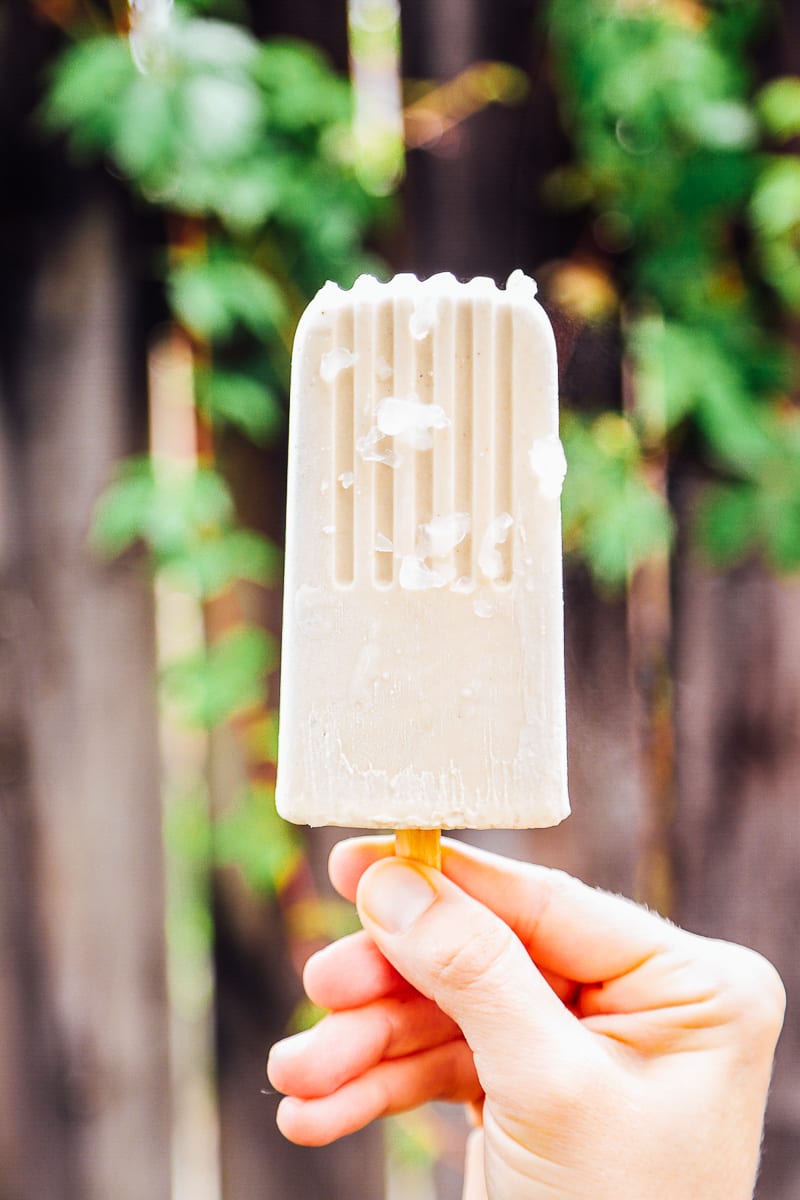 If I had to choose my favorite popsicle, this is it. Love peanut butter fudge? You'll love this popsicle, too.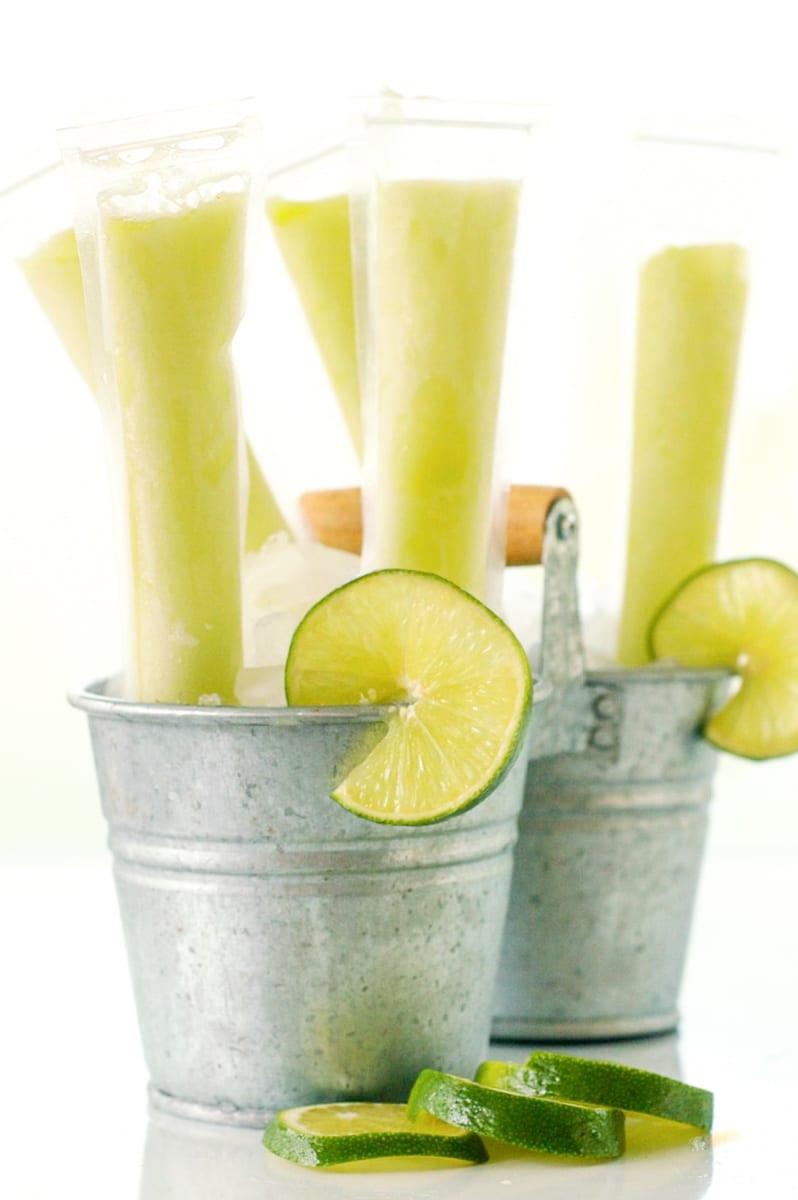 Use ice pop molds to make a naturally neon-colored ice pop made with lime juice and honeydew.
Another favorite, using the same Zipzicle molds (pictured above) are yogurt popsicles. To make, simply blend together in a blender: 1 cup yogurt or kefir, 1 cup of frozen fruit (such as: strawberries, blueberries, cherries, or mangoes), and 1-2 tablespoons of honey. Then pour into Zipzicle molds and freeze. Makes about 5 yogurt sticks.
Made with mango and coconut water, this popsicle is perfect for staying hydrated and cool on super hot summer days.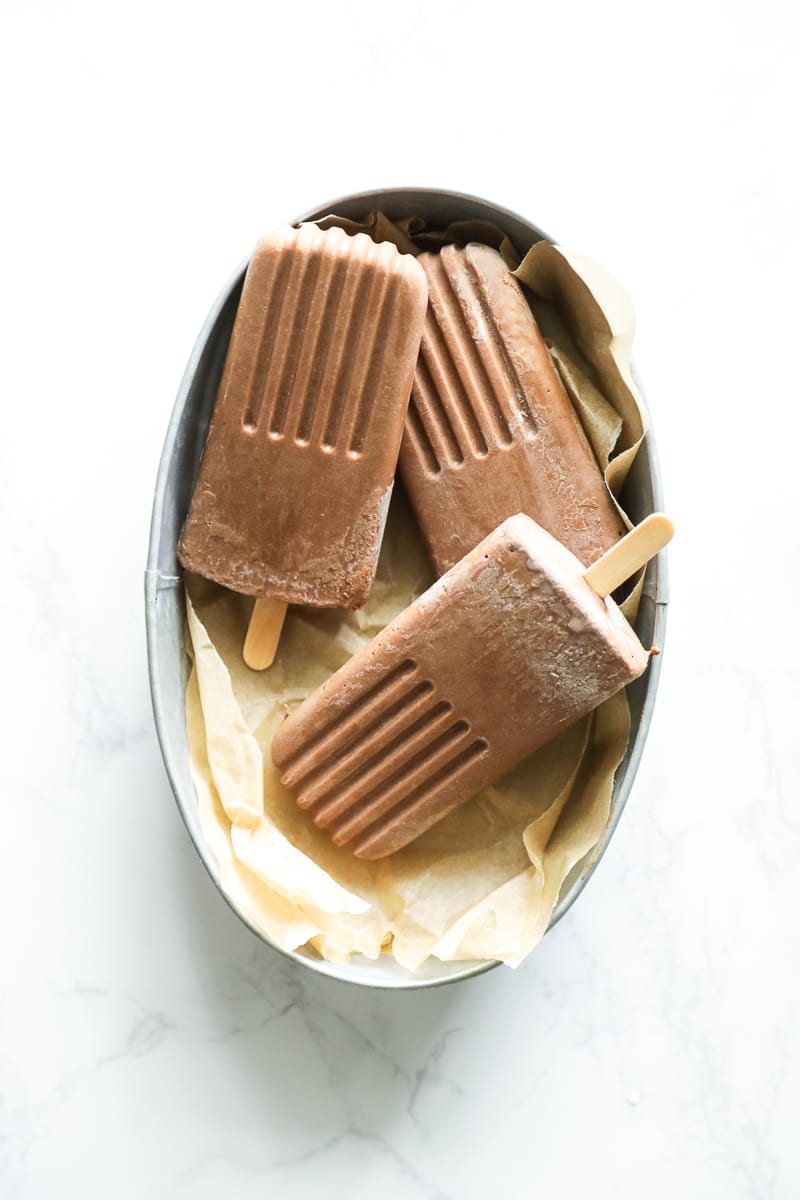 Another knock-off from my childhood. This real food version is made with the simplest ingredients: cacao or cocoa powder, coconut milk, and maple syrup.
This popsicle combines the best of two summer treats: a cream pop and an icy fruit pop. The first layer features strawberries, lemon juice, and honey. The second layer is made with yogurt and coconut cream.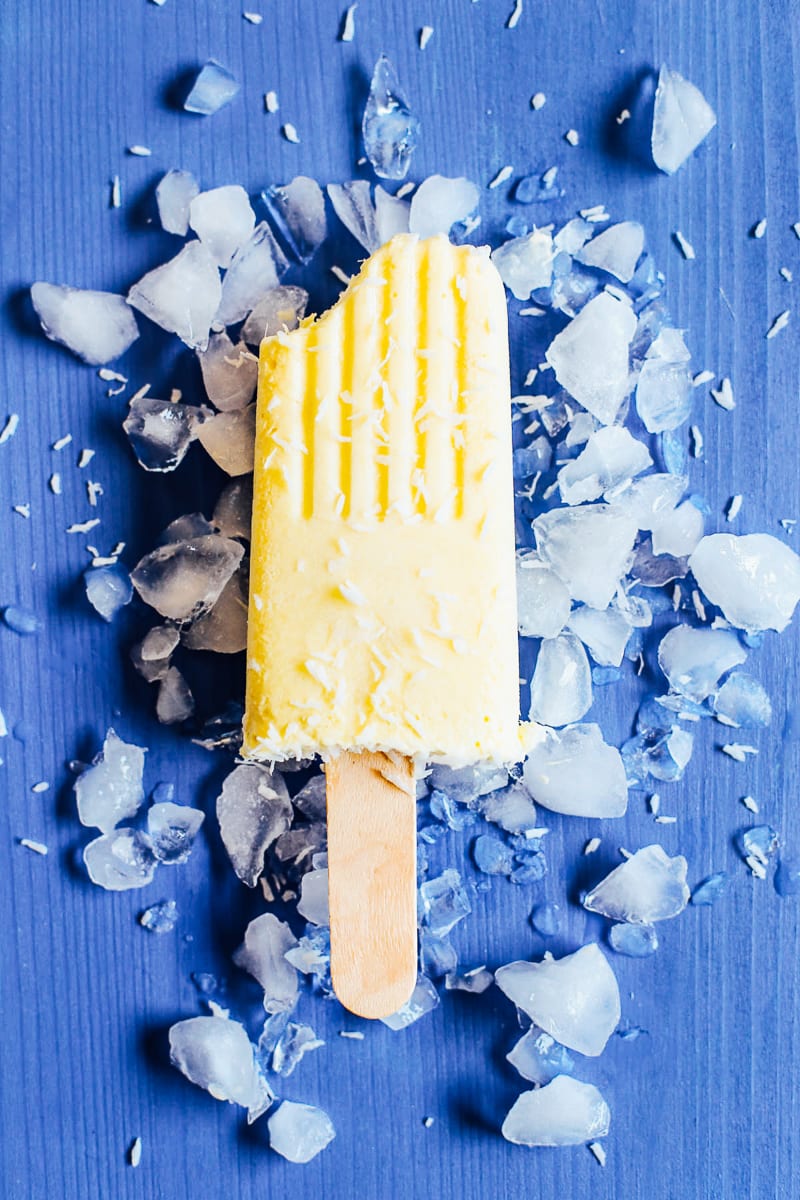 A virgin Pina Colada in popsicle form, made with just two ingredients: fresh pineapple and coconut milk.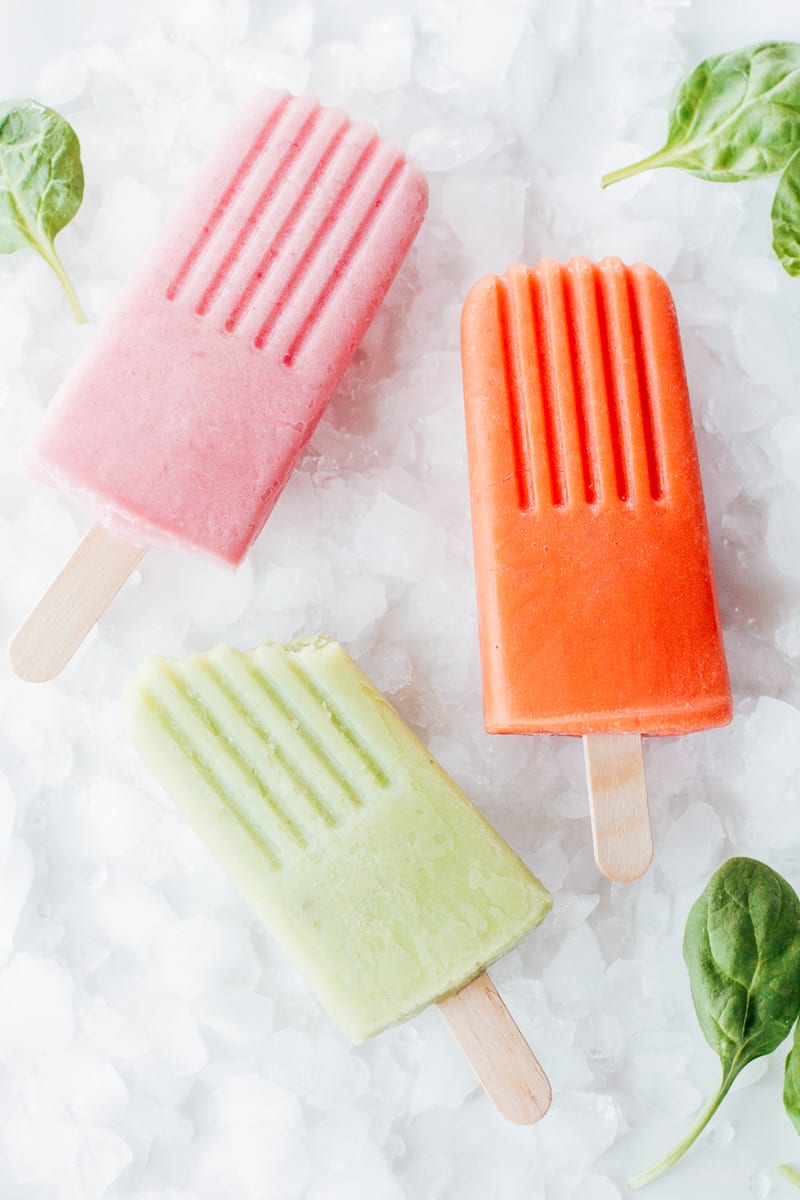 Vegetables can be a delicious addition to a homemade popsicle. And with fun names, like Green Dinosaur and Tickle-Me-Red, the kids are sure to get on board with this veggie-packed treat.