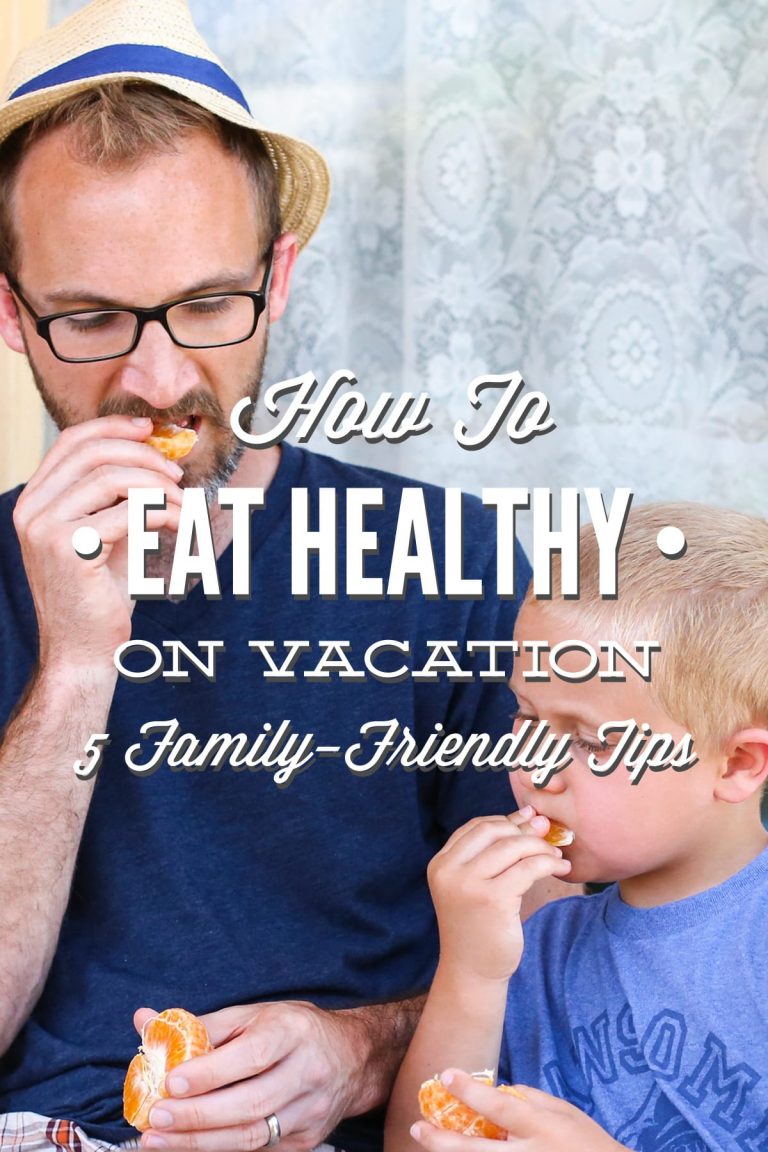 Before making the switch to a real food lifestyle, I never thought much about the food we ate on vacation. Most of our travels consisted of an American vacation diet–chain restaurants, lots of french fries cooked in canola oil, and bag after bag of heavily processed food.
Our first "real food vacation" taught me a lesson: Eating real on vacation can be a difficult choice. I was shocked at the lack of real food options on many restaurant menus, and how difficult it was to find a variety of choices in some conventional grocery stores. Over the years I've implemented a few simple strategies to help us relax on vacation and keep my cooking responsibilities to a minimum, yet still enjoy real food.
Yes, it's possible!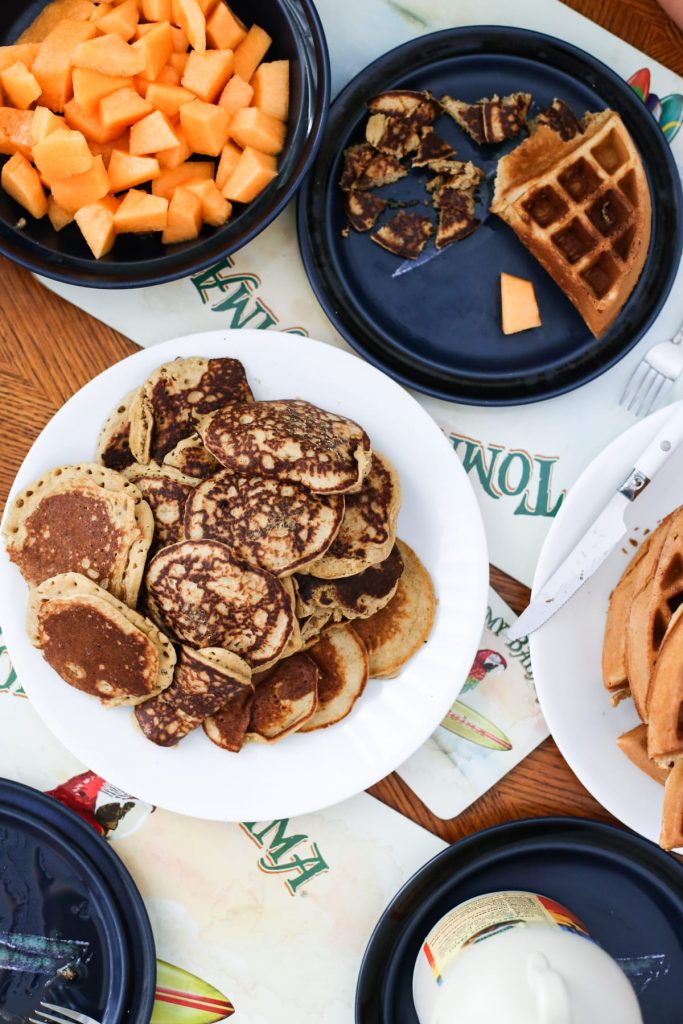 Last week, our family spent time on the beautiful shores of Bradenton Beach and Anna Maria Island. We played in the water, built a sandcastle, and enjoyed real food. Since vacation season is upon us, let's talk about real food and vacation! Let's create an action plan.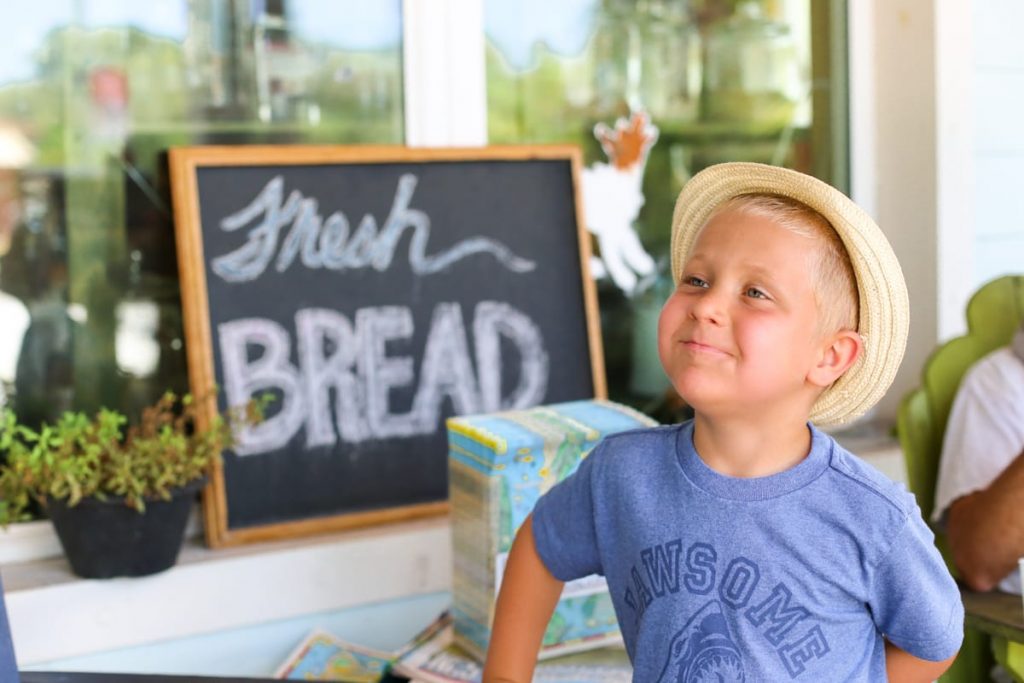 How to Eat Real Food on Vacation: 5 Family-Friendly Tips
1. Go "Mom and Pop"
We usually try to stay in a rental home or resort/hotel with a kitchen. This allows us to keep eating out to a minimum. When eating out is necessary, we always opt for "Mom and Pop" restaurants (AKA: locally-owned), except for Chipotle. Most big-chain restaurants source food from the big industry companies catering toward fast and easy food (freezer meals, etc.). Many times "Mom and Pop" restaurants serve homemade meals. For example: Via a quick Google search we found a local shop (2 minutes away from our beach house) with fresh bread and another shop serving homemade donuts.
2. Pack Staples
It's incredibly hard to source real food on the road (or in the airport), so I always bring a few real food staples. Think about staples that don't require refrigeration or extra utensils. My favorite real food staples are: Justin's Peanut Butter/Nut Butter individual packages, Lara Bars (or homemade), good-quality crackers (spread with a nut butter, if possible), bananas, apples, grapes, organic applesauce, "baby food" pouches for the kids (the pouches filled with fruit or veggie puree), dried fruit, homemade granola bars, nuts/seeds or trail-mix, carrot and celery sticks with hummus (if a fridge is available), Applegate lunch meat and cheese (if a fridge is available), homemade muffins/pancakes/waffles and honey, individual plain yogurts (if a fridge is available) and granola, a blender and fresh fruit (space and a fridge are needed).
3. Research in Advance
Find out what your destination is known for, such as: fish, amazing burgers from a local restaurant, a farmer's market, ice cream, citrus. A simple Google research often yields multiple real food leads. For example: We vacationed on Anna Maria Island, a destination known for fresh fish. We ate fresh fish at restaurants and found a local fish market.
4. Ask the Locals
Google is very useful, but there's nothing like talking to a local resident! Call the local rental office(s) or shops in the area, or visit once you arrive. Ask about restaurants or stores that serve fresh food. For example: We stopped at a local natural spa on Anna Maria. Thanks to that stop we were able to find a local farm-to-table style restaurant.
5. Create a Mental Plan
I know, it's vacation and the last thing most of us want to do is plan food. This plan is more of a mental action plan than a written meal plan.
Creating a mental action plan helps me plan food options, particularly when eating out. For example: When I look at a menu (or a grocery store), I ask myself: Can I order/buy good meat? If good meat isn't available, I look for a good vegetable (maybe steamed with a baked potato and real butter) and beans/grains. I also ask to skip the sauce on many dishes. Sauce is often loaded with colors, flavoring, and other mystery ingredients.
Having a mental plan for the "how and what" of eating out and shopping in unknown stores helps me quickly find enjoyable real food options.
Finally, I think it's important to remember–a vacation should be relaxing. It's okay to enjoy treats you wouldn't normally eat at home, or skip a green smoothie. While a processed food vacation isn't a healthy lifestyle choice, neither is a stressed vacation. With a bit of preparation and planning, enjoying a real food vacation is 100% possible.