Now that we've fully embraced the fall season, it's time to talk about one of the most beloved condiments/desserts/miracles (honestly, I'm not sure what to call this little delight): whipped cream.
Whipped cream is a staple for many fall and winter treats, from lattes to pies. Honestly, I think we make the seasonal treats just to enjoy a spoonful, or three, of whipped cream.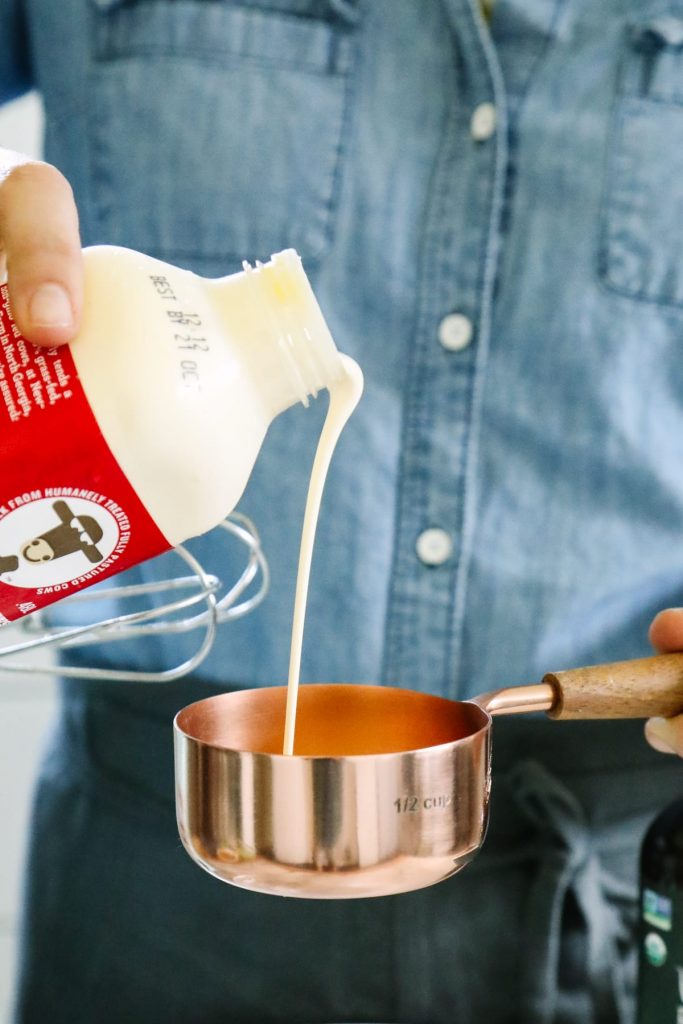 Before our real food days, I thought whipped cream could only exist in a compact can, manufactured in a factory far from my house. I didn't know, at the time, that there was anything wrong with store-bought whipped cream, so the thought of a homemade alternative never crossed my mind.
Then, we began eating real food, and I started reading ingredient labels on the products that I thought were okay. As it turns out, whipped cream isn't so innocent. The whipped cream that I grew up spraying all over my mom's pumpkin pie, was actually a very dirty product. Let's take a look at the ingredient list on a popular can of whipped cream…
cream, water, sugar, corn syrup, nonfat milk, contains less than 2% of the following: natural and artificial flavors, mono- and diglycerides, carrageenan, propellant: nitrous oxide.
The realization that whipped cream wasn't exactly "real" (propellant…what?!) led me to call my grandma, my go-to resource for all-things homemade. Grandma explained that whipped cream is made by whipping heavy cream and a bit of sweetener. Of course, I had to try and taste this homemade creation myself. I purchased my very first carton of heavy cream, with a clean ingredient list from a local farm, added a bit of maple syrup and vanilla extract, and then used my hand-mixer to whip the cream to a fluffy state. I couldn't believe it…
I created whipped cream.
Good-bye canned whipped cream.
Years later, I'm still amazed at how a few simple ingredients come together to create the fluffiest miracle cream known to man.
With fall and winter here, along with all the desserts and warm drinks, now is the perfect time to get back to the basics and make homemade whipped cream.
The Basics of Making Homemade Whipped Cream
The Cream
To make homemade whipped cream, you'll need cream. Yep, full-fat cream!
For some reason, cream has been a shunned ingredient in the past (probably due to the fat scare of the '80s and '90s).  Cream is nothing more than the liquid that rises to the top of milk–it's a completely natural ingredient full of natural fat. Cream isn't evil; it's simply cream.
Now, with that said, good ol' cream isn't always innocent. If you read the ingredient list on many heavy cream options, you'll probably find carrageenan, which is an ingredient that I like to avoid when possible. I recommend using cream that isn't ultra-pasteurized, and doesn't contain carrageenan.  I also recommend finding cream that's sourced from grass-fed cows, whether this is through a local farm, co-op, or a health food store. Natural by Nature and Lazy Meadows are two of my favorite store-bought brands.
If you can't find a good dairy cream, don't fret! Canned coconut milk, or just canned coconut cream, will do the trick. Making coconut whipped cream does require a bit of extra prep work (cooling the cans in the fridge), but that's the only extra step required to make a fluffy, dairy-free whipped cream.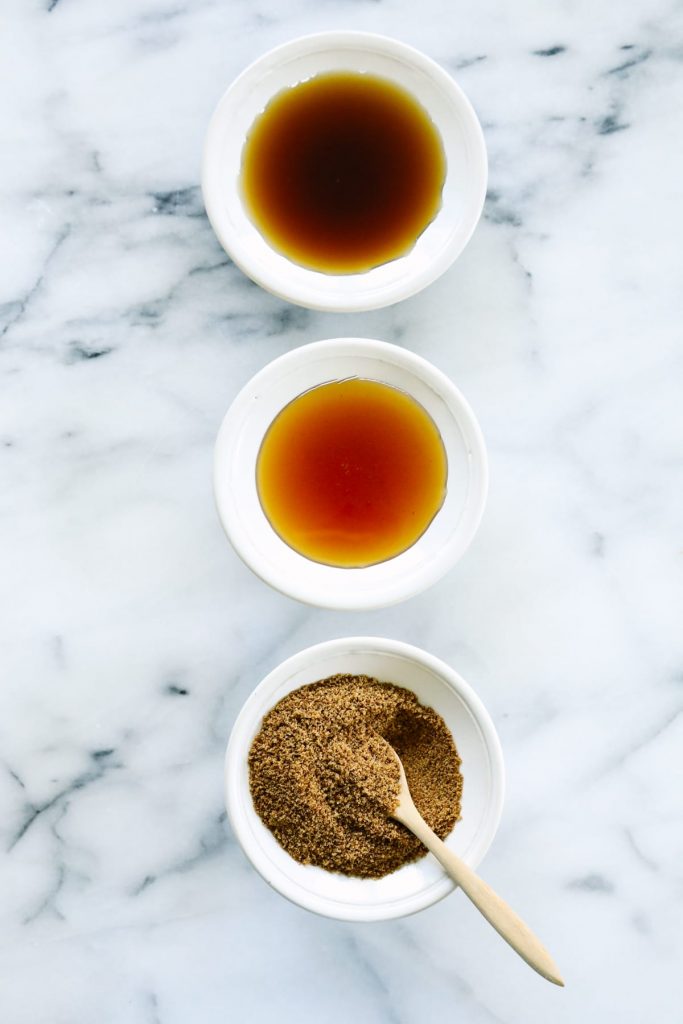 The Sweetener
In order to achieve the sweet flavor we've all grown to love in whipped cream, you're going to need a sweetener. Maple syrup, coconut sugar, sucanat, and honey all work perfectly.
If you'd like to intensify the flavor of your whipped cream, then you may also want to add a bit of spice. My favorite spices to add to whipped cream, include: cinnamon, nutmeg, pumpkin pie spice, and cloves.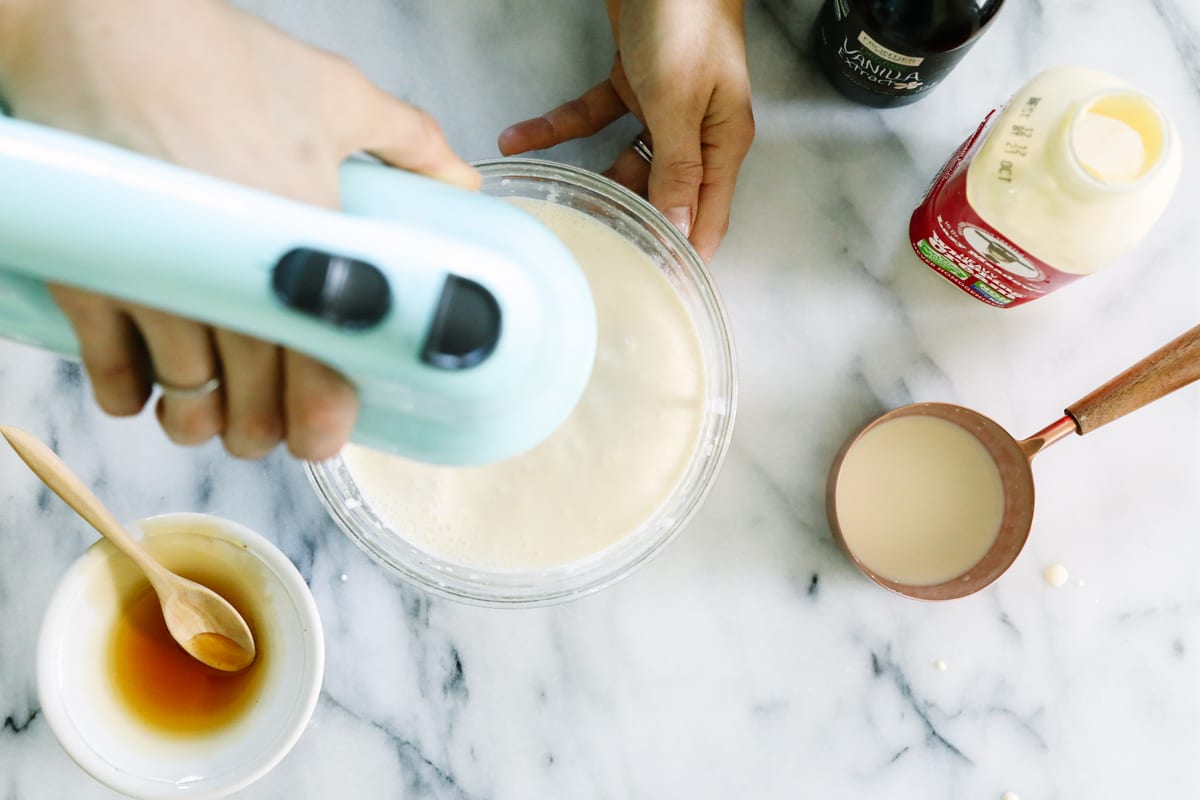 Now that we've covered the basics, let's make some homemade whipped cream…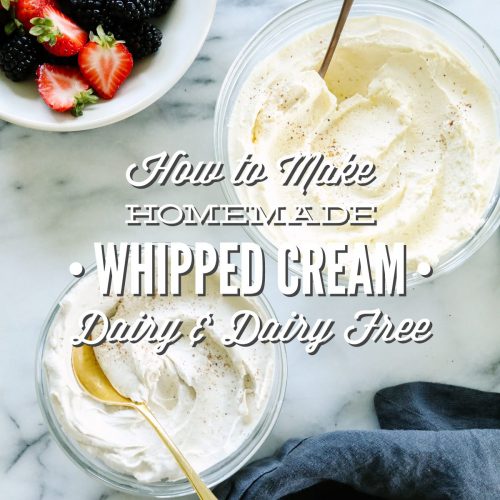 Homemade Whipped Cream: Dairy and Dairy-Free
With fall and winter here, along with all the desserts and warm drinks, now is the perfect time to get back to the basics and make homemade whipped cream.
Ingredients
1

cup

heavy cream

or coconut cream, See "Ingredient Notes" for more information about purchasing and using coconut cream.

2-4

TB

honey

or pure maple syrup, sucanat, or coconut sugar

1

tsp

pure vanilla extract
Instructions
If you're making coconut whipped cream (dairy-free), place the canned coconut milk or coconut cream in the fridge overnight. If you're making whipped cream with heavy cream, your cream has already been chilling in the fridge--so keep reading :).

Pour the the (cold) cream, sweetener of choice, and vanilla extract in a large bowl. Using a hand-mixer, or a stand-mixer fitted with the whisk attachment, whip the cream on medium-high speed until the cream forms stiff peaks. You'll notice the cream will slowly thicken--the entire process will take several minutes for heavy cream, and about 30-60 seconds for coconut cream. Do not over mix the cream. Homemade whipped cream is best prepared just before serving and should not be stored in the refrigerator for longer than two days--it will go flat. Spoon the homemade whipped cream over your favorite dessert, a bowl of berries or ice cream, or in a warm drink.

If you have time, store the bowl and whisk part(s) in the freezer for 15-20 minutes. This step will help the whipped cream to quickly whip and create extra volume.
Nutrition
Calories:
480
kcal
Carbohydrates:
20
g
Protein:
2
g
Fat:
44
g
Saturated Fat:
27
g
Cholesterol:
163
mg
Sodium:
46
mg
Potassium:
89
mg
Sugar:
17
g
Vitamin A:
1750
IU
Vitamin C:
0.7
mg
Calcium:
77
mg
Ingredient Notes
When purchasing dairy cream, you may notice that there are a couple of different options: heavy cream and (heavy) whipping cream. According to Rachael Ray's site, these products are pretty much the same, except for the fact that heavy cream contains more milk fat and produces thicker whipped cream (so it will hold its shape for longer). I've personally used both without any issues.
When it comes to coconut whipped cream, I've found that canned coconut milk brands are very different. My go-to brand for whipped cream is Thai Kitchen. Make sure that you're purchasing full-fat unsweetened coconut milk. First, place the cans in the fridge overnight before making the whipped cream. To ensure that I'll have 1 cup of coconut cream, I refrigerate 2 cans of coconut milk. Once the cans have chilled overnight, open the cans and spoon out the solid cream resting on top. The liquid under the cream may be saved for smoothies or cooking–it just can't be used for making whipped cream. Once the coconut cream has been placed in your bowl, proceed on with the instructions in the recipe. Some companies, like Trader Joe's, sell cans of coconut cream. If you don't want to fuss with separating the coconut cream, then I recommend purchasing canned "coconut cream" (already separated for you) versus canned "coconut milk." You'll still need to chill the can before making the whipped cream.
If, for some reason, your coconut cream isn't whipping, it may not be cool enough. You can try placing the cream back in the fridge to chill, or try adding 1-2 tablespoons of organic corn starch.
The amount of sweetener you use will depend on your taste preference. When making whipped cream for my family, I generally stick with 2 tablespoons of sweetener. When making whipped cream for guests, I generally increase the amount to 4 tablespoons, since many folks are used to sweeter treats.