This post may contain affiliate links. Affiliate links come at no extra cost to you. These links allow me to share the products I authentically recommend (and use) and support Live Simply by receiving a small commission.
We're finally home from our Irma evacuation trip. We don't have power as of yet, but that seems like a small little inconvenience compared to the catastrophic impact that was predicted for our area.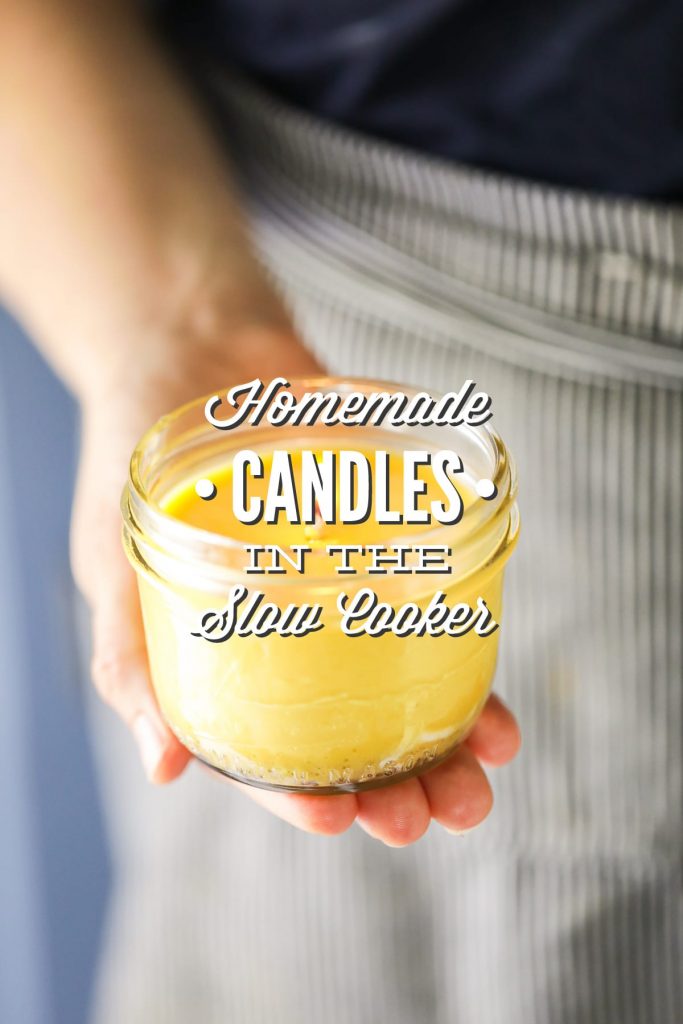 I mentioned in my favorite things post earlier this week that I've been making candles in my slow-cooker. The fact that I'm writing this post/tutorial just after a hurricane that knocked out millions of people's electricity across Florida, including my home, seems very fitting.
Traditionally, candles are a bit of a pain to make because wax is incredibly messy to melt and cool. The wax that's left behind on the utensils and pouring pots is difficult to clean off. While I love making candles, I've always thought of it as more of an occasional craft due to the clean up issue. Well, that is until now…
A few months ago, I decided to try making homemade candles again. Instead of reaching for a double boiler (or my pieced together version) and a pouring pot, I reached for my slow-cooker and mason jars.
FREE Natural Cleaning Crash Course
Hold on, let's talk about cleaning for just a sec. What if I told you it's possible to clean your entire home with just a few simple, natural ingredients? Yep, no more expensive or toxic cleaning products.
Here's what to expect:
a downloadable pdf

natural cleaning ingredient checklist

3 cleaner recipes you can make right now

emails from me to help you along with a natural wellness lifestyle
Just a couple of hours after spooning the wax into the mason jars, adding the jars to the slow-cooker, and filling the slow-cooker partially with water, the once hard wax turned into clear (soy) and golden (beeswax) liquid. Once the waxes melted in the mason jars, thanks to the consistent heat of the slow-cooker, I removed the jars and added the wicks to the jars. Within about two and a half hours (from start to finish), and a very minimal amount of hands-on time and tools, I made five homemade candles.
Success!
Talk about easy, and there wasn't any crazy mess involved.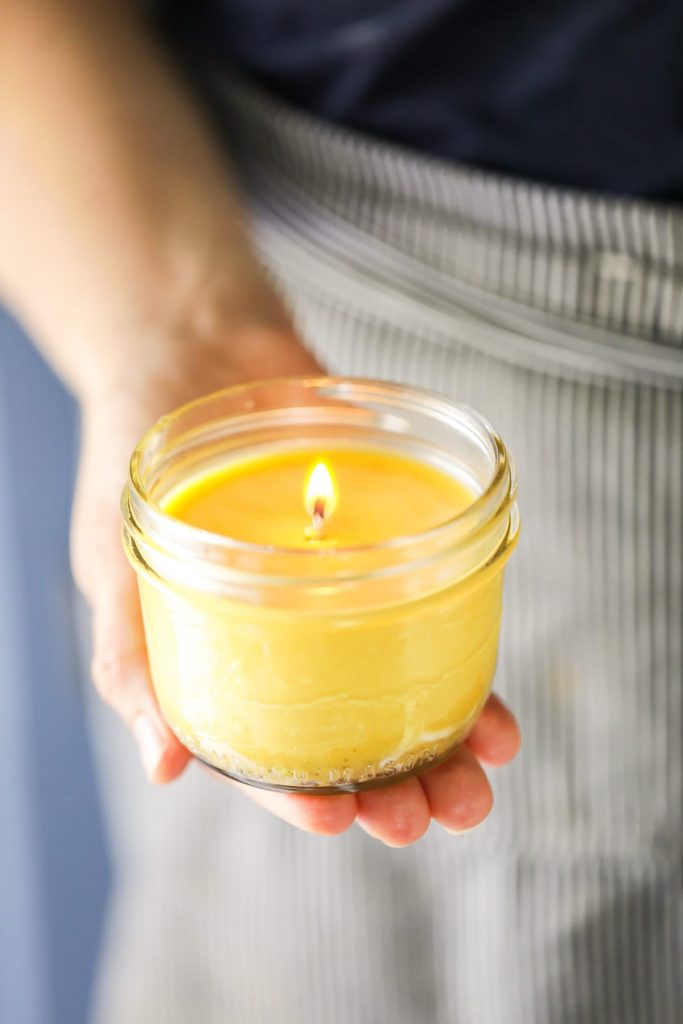 I shared a tutorial for making homemade candles, the traditional way, a couple of years ago. Today, let's update the candle-making options with a tutorial on how to make homemade candles using the slow cooker. I think the appropriate title for this tutorial should be, The Mess-Free, Super Easy Way to Make Homemade Candles. Yes, let's go with that!
Homemade Candles In the Slow Cooker
How to make easy, fuss-free, candles using a slow-cooker/crock-pot.
Cook Time
1
hour
30
minutes
Total Time
1
hour
50
minutes
Ingredients
Supplies:
4

ounce

mason jars

my slow-cooker fits 5 jars

wicks

one wick per jar
Per 4-Ounce Mason Jar:
1 1/2

cups

wax

soy (180g) or beeswax (120g), divided*

boiling water

1

tsp

coconut oil

optional**

50

drops

essential oil

optional**
Instructions
Spoon the wax into the mason jars until full. Using the back of a small measuring cup or large spoon, press the wax down in the jar as it gets closer to the top. Add more wax until the jars are full. At this point, you'll probably only need about 1 cup of wax.

Place the filled jars in the slow-cooker base. Turn the slow-cooker on high. Add boiling water to the slow cooker, until it comes half-way up the exterior of the jars.

Allow the jars to "cook" for 30-45 minutes, covered.

After 30-45 minutes, the wax should begin melting. Add more wax, pressing the wax down with a small measuring cup or spoon until full. Place the lid on the slow-cooker and "cook" the jars for another hour (give or take a few minutes--soy melts quickly, beeswax takes longer to melt), until fully melted.

Very carefully remove the jars from the slow-cooker. Let the candles rest for 10 minutes. If you'd like to add essential oil, stir together 1 tsp of liquid coconut oil and 50 drops of essential oil. Pour the mixture into the candles and stir.

Place the wicks in the jars, holding up the tops of the wicks with clothespins (or mechanical pencils or pens, using the clip portion)--this will keep the wicks from moving in the liquid wax. Let the candles rest until cool and solid (about 30 minutes).

Once cool and solid, cut the top of the wicks to 1-inch. The candles are ready to use at this point.