With Thanksgiving and the holiday season upon us, I thought it would be fun and helpful to gather all the holiday recipes from the blog and put them in one spot. I hope this list serves as a resource for you over the next month as you gather together with friends and loved ones to celebrate the season. I also just released my holiday cookbook and I'd love to send you a copy–it's my gift to you!
This list includes sides for your Thanksgiving table and desserts (from Christmas cookies to pumpkin pie) to brunch classics. Each recipe on this list is special to me and my family in some way and I hope the recipes you try become a special part of your family's celebration, too.
Healthy Holiday Recipes
Made with Real Food Ingredients
This list includes sides for your Thanksgiving table, desserts (from Christmas cookies to pumpkin pie), to brunch classics. Each recipe on this list is special to me and my family in some way, and I hope the recipes you try become a special part of your family's celebration, too.
This casserole is surprisingly low on sugar but big on taste and sweetness. The casserole is made by roasting versus boiling the sweet potatoes. The roasting process brings out the naturally sweet flavor of the sweet potatoes. When you pair the potatoes with almond flour, pecans, maple syrup, and butter…AMAZING!
This is the EASIEST and BEST way to make mashed potatoes. How easy? You don't even need to drain the water from the potatoes.
I absolutely love adding olive oil to mashed potatoes. These potatoes feature the flavor of olive oil paired with fresh herbs. This is a stove-top method, but you could probably take the same flavor concept and adapt the recipe using the Instant Pot Mashed Potatoes recipe (above).
Okay, I have a thing for mashed potatoes. I think that's becoming clear. Another variation of mashed potatoes is to add butternut squash for an extra nutrient-rich side dish.
This pot roast would be perfect to serve for a Christmas Eve dinner. The Instant Pot cooks the meat to absolute perfection.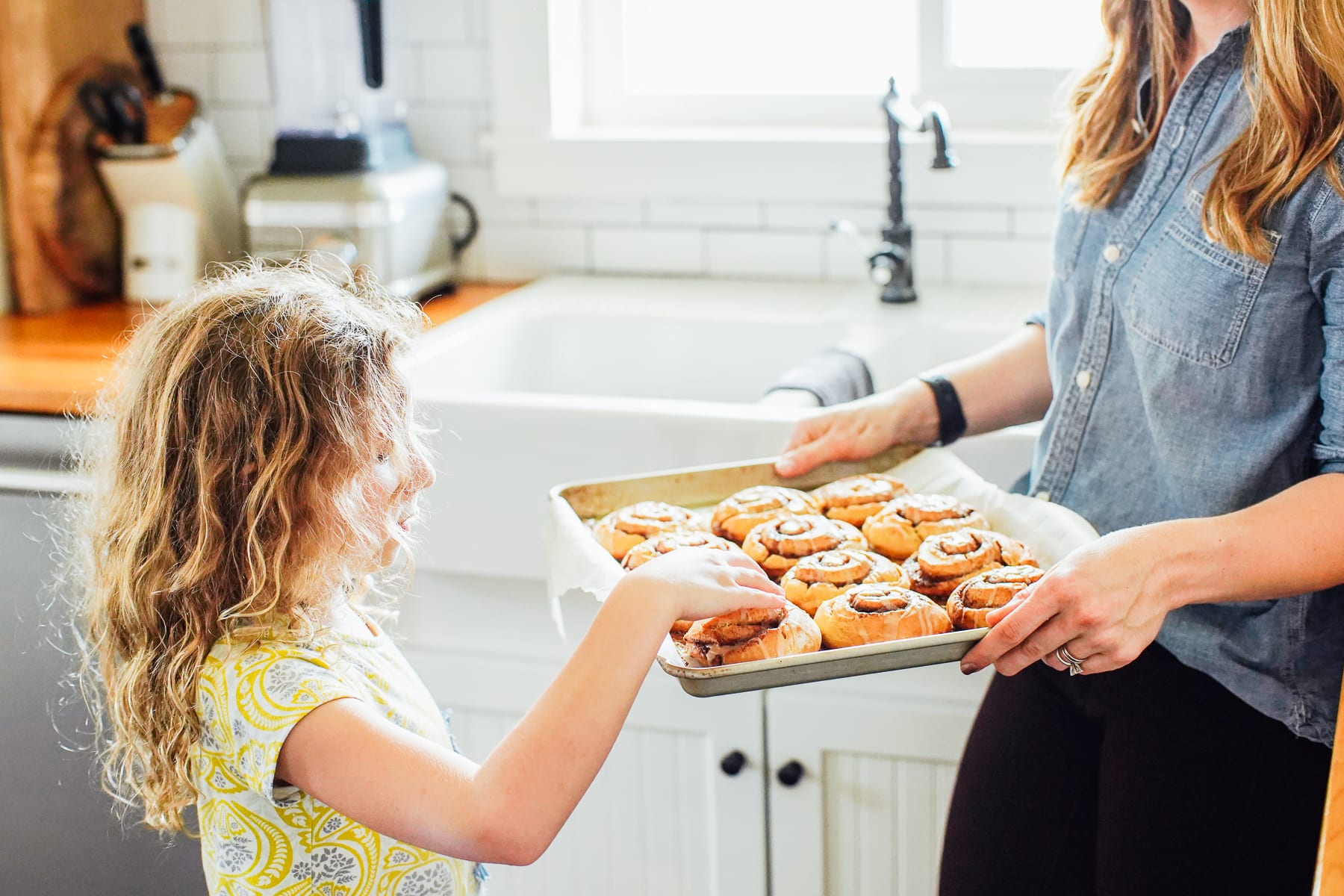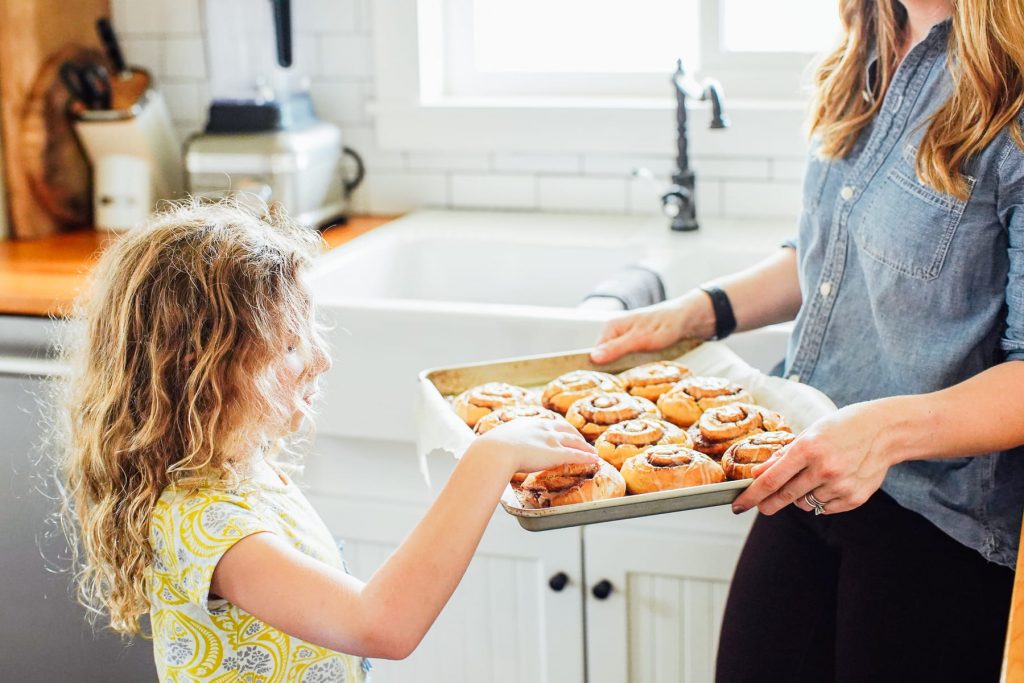 It's tradition in Dustin's family to enjoy beef stew for Christmas Eve dinner. I absolutely love this tradition, which is always accompanied by a cheese and olive spread. This stew recipe was inspired by the family tradition.
Making and enjoying homemade cinnamon rolls has become a Christmas tradition in our home. My recipe uses einkorn flour, which is not only easier to digest but also so easy to work with. Since its structure is very different than modern wheat, there's no kneading or fussing with the dough. A reader friend recently commented, after making the cinnamon rolls, "They were SO delicious and remind me of the Pillsbury variety I grew up on and are so easy! My husband said I'm going to have to hide the leftovers from him!"
This green bean casserole isn't the mushy version that many of us grew up eating at the Thanksgiving feast. This version features slightly crisp green beans and a sour cream sauce. The flavor and texture are spot on.
This is an older recipe on the blog. It's still my favorite stuffing (or dressing, depending on where you live) to make for the holidays. The flavor of the sausage paired with the mushrooms, kale, and bread is an absolute delight.
Einkorn biscuits are a must-make this season. I regularly make these biscuits when the weather drops below 80 in Florida. There's just something about warm, fluffy biscuits on a cold day. And pair those biscuits with chili (stove-top or Instant Pot)…perfection.
If you want to change up classic biscuits with a veggie spin, this recipe is for you. And don't skip the maple-cinnamon butter. It's a must-have with the warm, homemade biscuits.
A frittata is such a great meal to serve for a holiday brunch. This frittata isn't your average egg dish. It's packed full of hearty veggies and greens, and, of course, bacon!
This was one of the first holiday recipes shared on Live Simply. It's my take on traditional cranberry sauce.
Fun fact about me: My favorite pie growing up was chocolate cream pie. And you know what? My favorite pie as an adult is still chocolate cream pie. There's something about combining a buttery crust with chocolate and whipped cream that speaks to my tastebuds. This pie is a homemade, real food version of my favorite pie. It's a great addition to a holiday party spread.
This pumpkin pie tastes just like the classic recipe, except it relies on real ingredients versus overly-processed milks and sugars.
If you're looking for a quick and easy side this holiday season, go with this recipe. This recipe is one of the most popular recipes on the blog. The title says it all!
Einkorn flour makes the best scones. The scones are lightly sweetened with maple syrup and then topped with a decadent homemade glaze.
'Tis the season for all-things pumpkin. This recipe is naturally sweetened with maple syrup and big on the pumpkin spice flavor. I think the muffins would be perfect to serve as a side for Thanksgiving or alongside a holiday breakfast/brunch. Try this almond flour recipe for a gluten-free version of pumpkin bread.
This casserole is one of those special recipes that become family tradition. I love making this casserole for Easter morning, but I think it would also be perfect for a holiday brunch.
More pumpkin recipes because it's pumpkin season! This loaf cake is naturally sweetened and topped with an irresistible cream cheese frosting.
This recipe is an absolute delight to serve for Christmas morning breakfast or a holiday brunch party.
This stove-top version of hot chocolate is a favorite with my children. It's naturally-sweetened with maple syrup and has a rich chocolate flavor.
Do I need to explain this one? What's fall time without a pumpkin spice latte? Skip the coffee shop and make your own this season.
If you haven't made homemade marshmallows before, you are in for a treat with this recipe. You must make this recipe at least once this season.
I use this recipe throughout the year to make sugar cookies for class parties and holiday celebrations at home.
This is my grandma's famous recipe. You must try this recipe at least once this holiday season. I think you'll love this famous treat.
This bread is made with einkorn flour. The classic bread is perfect for any holiday celebration.
Finally, let's talk about a gift idea of teachers, friends, and family. Cookies In a Jar are a fun way to give a thoughtful and homemade gift. This recipe is made with whole wheat flour to keep the cost down. I've also included printable gift cards you can attach to the jar.
Soft and chewy einkorn snickerdoodle cookies. Slightly sweet and tangy, a classic holiday cookie.
Buttery shortbread cookies made with einkorn flour and topped with a jam filling.
Homemade chocolate chip cookies made with the ancient grain einkorn. Soft, slightly chewy, and perfectly thick. Just what a chocolate chip cookie should be.
Between the honey and the fact that the recipe is beyond easy to make and naturally gluten free (and tastes amazing!), I call this recipe a miracle.