After a two week break from officially publishing new content, it feels nice to be writing today's post. I missed my friends (you!) and our chats over a warm cup of joe (and homemade coffee creamer) about real food and natural living.
First, let's chat about what I did on my "break."
Well, France was amazing! The brie, the pastries, the coffee. I'm just kidding. I didn't spend my blogging break in France, and I'm not even sure about French shops serving good coffee. Although France would have been amazing (oh Dustin, take note…life goals).
I spent my days freshening up the blog and brainstorming new content ideas for 2016. I've found that giving myself a two week break around the holiday season (a time dedicated to family, not reading blogs) is super beneficial for my creativity. A few noteworthy changes that I worked on during my break: a simplified main menu, new family photos, and many new photos to replace older food recipe photos. I also worked on the photography and writing for many of the recipes I make for family, but haven't been able to share on the blog due to time (there are only so many hours in a day!). After a two week break, I can confidently proclaim that 2016 is going to be a delicious, naturally-minded, and very practical year for you and me.
During my break, I also read (okay, more like Audible read the books, I listened) two new books: People Over Profit and Essentialism. If you're a business owner, I highly recommend reading (or listening to) both books!
I have so many new recipes and DIYs to share, starting this week with a veggie noodle soup, easy weeknight salad, and homemade vitamin C serum. I thought it would be appropriate to wait a day or two to start cooking and start the week by talking about setting healthy goals.
I've always been one to set some kind of resolution for the new year. And let me be honest, for years and years, my resolutions remained nice thoughts tucked away in the "I really want, but don't know how to" part of my brain. A few years ago, a friend introduced me to the idea of setting action-orientated goals. In all honesty, my initial thought was, "Sure, I've got this! I create goals every year, but nothing ever happens." Yes, I created what I thought were "goals," but the truth of the matter was that my resolutions, while well-intentioned, never came to fruition.
That year, I set my first action-orientated goals, and the results were incredible! The ideas that once bounced around in my head and seemed unachievable were actually taking place in my life. Meal plans were being used in my kitchen, my family was enjoying regular real food meals, and I read one book a month for my mental health (a big achievement for a new mom).
As we start a new year, let's talk about how to create healthy and achievable goals. While the focus of our chat (my examples) is going to be natural living and real food, you can also apply these strategies to business or general life.
How to Set Healthy and Achievable Goals
1. Set Specific Goals: Think about three goals you'd like to see come to fruition this year. Focus on goals that are specific versus large concepts or ideas. Once you've set your three goals, write them down on a paper you plan to keep and hang on your fridge (or another special place) so you can continually refer back to your goals. I personally like to use three papers, one for each goal.
Examples: Get more organized with prepping meals/ingredients in advance? Eat more meals at home? Give up soft drinks? Start using more natural products to clean? Use more natural products for skincare? Spend more time with your family and less time cooking dinner at night? Get your kids to eat more veggies? Get more organized with laundry? Go to bed by 10pm each night?
2. Think About "Why": One of the big lightbulbs for me when I first started goal-setting was the idea of thinking about "the why" behind a goal. Reflecting on why you set a goal helps you figure out what's really important and where you should invest your time. The why also gives you a reason(s) to keep going with a goal when the going gets tough. And we all know the going usually gets tough when you're working toward something important! Write your reason(s) next to each goal.
Example: Will the goal bring your family together around the dinner table and encourage healthy eating? Will the goal help you save money on cleaning products and feel better about the products being used around your family?
3. Create an Action Plan: This step differentiates a resolution or lofty, unachievable goal from goals that actually come to fruition. An action plan is like a meal plan, it tells you exactly how you're going to make this goal work in real life. I like to brainstorm four action plan ideas per goal, and write each action plan underneath my goal.
For example: If your goal is to eat more meals at home, then your action plan may look like this:
Set up a Pinterest Board with recipe ideas–focus on easy meals!
Gather your family together and create a list of meals you can rotate on a meal plan.
Meal plan and create a shopping list every Saturday.
Food shop once a week based on your meal plan so you have food in the house to cook and eat.
Now that you have 3 action-orientated goals, start implementing one goal a month (or give yourself more time…it's not a race). Soon your goals will become lifestyle habits. It's really that simple and doable!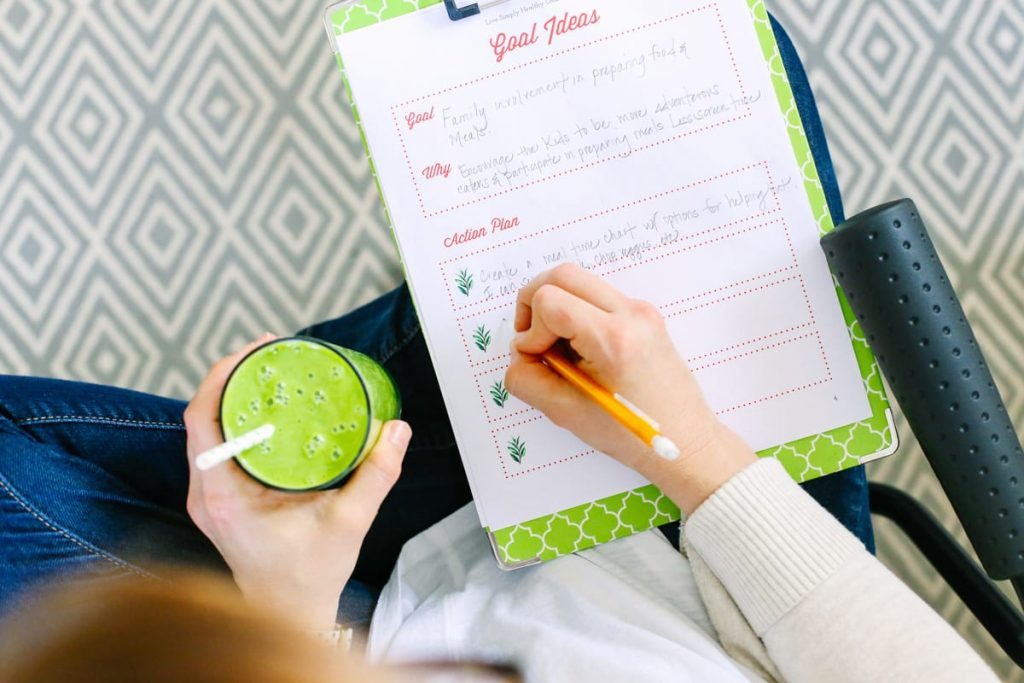 My 2016 Action-Orientated Healthy Goals
Last week, I spent time thinking about healthy goals for my family in 2016. So before I send you off to start creating your own action-orientated goals, here are my IRL (in real life) goals (with my very real life picture–breakfast dishes, messy juicer, and BACON).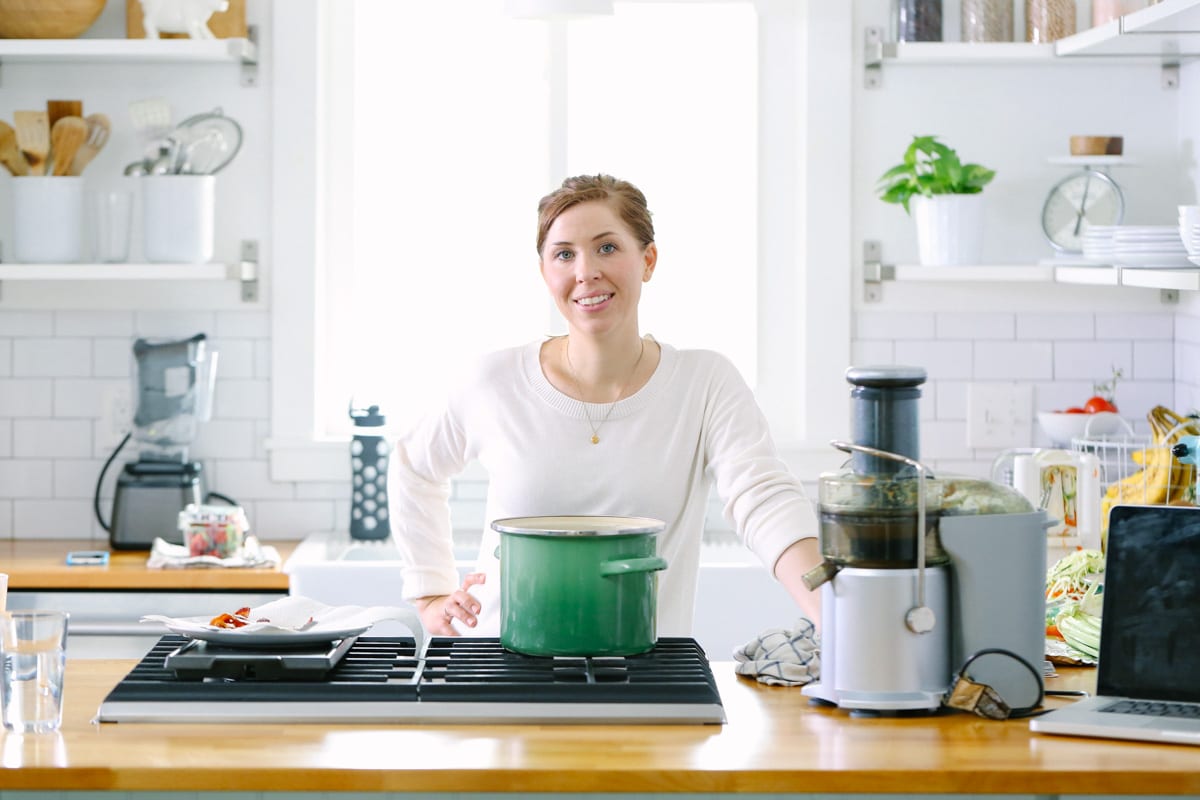 Goal 1: Plant an edible garden as a family. (Sidetone: We took a break from gardening after our spring garden and kitchen remodel project in 2015.)
Why: Teach the kids about growing new foods. Fresher ingredients that are readily available. More outdoor time as a family. Help supplement our grocery needs with freshly-picked veggies and herbs.
Action Plan:
Develop a garden plan and start shopping for seeds/seedlings. Ask the kids for help (see action #3).
Dedicate a weekend as a family to planting the garden.
Give the kids a small plot to plant. Have the kids draw what they want to grow. Find kid-friendly books about growing food at the library/Amazon.
Clean out the garden and backyard (it's a disaster after our kitchen remodel and not planting anything since springtime). Create a picnic area next to the garden.
Goal 2: More family involvement in preparing food and meals.
Why: Encourage the kids to be adventurous eaters and participate in preparing meals. Also, less screen time before meals.
Action Plan:
Create a meal time chart with photos for helping: set the table, wash food, cut food, etc. (I'm still thinking through this chart.)
Provide a monthly grocery allowance. Provide each child with money from the grocery budget (just a few dollars) as their grocery money, and encourage healthy snack or meal purchases with the money while shopping.
Visit the market in St. Pete once a month. (This market is a 25-30 minute drive from our home, and features the largest vendor list of locally-grown and raised food.)
Create a list of ideas (maybe a little book, eventually?) with the kids of recipes we can make together.
Goal 3: More adventures as a family.
Why: Model for the kids how to fully embrace life and new adventures in the form of new flavors, places, and people.
Action Plan:
Choose one new recipe every week (or two, if life is really busy) that's different from our norm.
Purchase one new veggie, fruit, or meat every two weeks to try out in meals.
Go on one new adventure a month: a new park, city, volunteer opportunity, etc.
Create boards with the kids to showcase where they'd like to go, what they'd like to taste, etc. Focus on adventures they want to experience.
To help me stay organized, I created my own action-orientated goal printable that includes my goal, the why, and action plan. I hang the goal I'm currently working toward in my office each month to help me stay on track. My custom-designed printable is available here.
Here's to a healthy, simple, and practical new year!