After a 2-week marathon of podcast recording for season 3 (yes, the podcast is returning soon), I finally have a moment to sit down and share about our recent trip to Italy.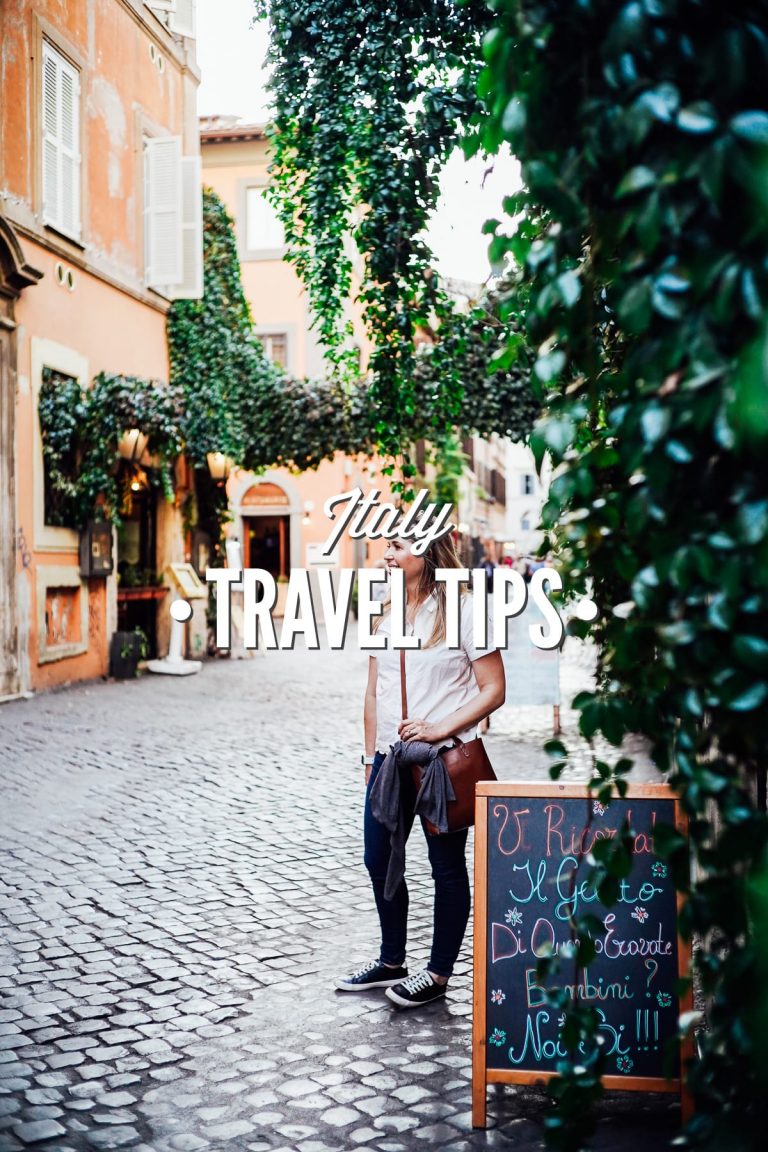 If you follow me on Instagram, you know that Dustin and I left the kids behind with their grandparents and traveled to Italy. This was the first time in nearly 10 years that we've taken a solo, not-business-related, overseas trip. (You may remember that we went to Alaska–the Aleutian Islands–a few years ago. That trip was with Dustin's whole family for his grandfather's 95th birthday so we technically weren't alone.)
Travel has never been a focus of this blog, but it has always been a part of our life as a couple. Before we met (at the young age of 14 and 17), we both traveled, whether this was in the form of family trips (we both come from adventurous families) or church humanitarian trips.
A few years after Dustin and I met, my family moved to West Africa and within a year of living there Dustin made the 20-hour trek across the Atlantic Ocean and the Sahara Desert to visit me in Accra, Ghana. I knew at that moment that he was a keeper. All of that to say, travel has been a very important connection point for us as a couple.
After having kids, we took a break from travel of any kind. We were in the survival years of parenting. I have very little memory of the first 4 years of life with two young kids (that's normal, right?). I can't imagine throwing travel in the mix, too.
As the kids have grown, we've started to make experiences (such as travel and smaller day outings) a higher priority. In the past, we've decided to skip presents for Christmas and birthdays in lieu of experiences (a day out as a family or a family trip). Dustin's work requires a ton of travel which means we're able to travel (for the most part) with the points he accumulates.
Travel has opened up the world to us. It's given us a deep appreciation for culture, traditional foods, and this incredible planet we call home. Travel (and living overseas as a teen, for me) has provided us with an education that simply can't be obtained through books, TV shows, movies, or even the classroom. <—That's one of the reasons why I want our children to experience different cultures and places from an early age.
As we've traveled over the past few years, I've received requests from Instagram reader friends to share details here on the blog. So, before I forget too many details about Italy (like favorite food spots or the names of our hotels), let's talk about our recent trip. If you're not interested in hearing about this, no worries. I'll be back to sharing food, podcast episodes, and wellness posts soon.
Below, I'll share our itinerary, helpful information I found when planning this particular trip (along with the site I love to use to find and schedule tours), how we scored an awesome price on airline tickets (and we didn't fly a budget airline), where we stayed, our favorite food stops along the way, favorite activities, and the souvenirs I highly recommend bringing home from Italy.
Our preferred way to travel is to select a destination (we keep a note in the Notes App on my phone with destinations we've traveled to and places we'd like to visit in the future–a bucket list) and then make our own plans for what we'll do based on information we find online.
We've taken the tour group route (in Greece and Israel many years ago before starting the blog) along with the cruise ship route (visit various ports along a route). We felt too rushed with these options. We much prefer to go at our own speed and take a short, guided tour here and there throughout a trip.
For Italy, we had a few different spots we wanted to visit: Rome, Florence, Venice, Positano (because of the Instagram photos), the Amalfi Coast (Positano is part of the Coast), and Naples. We only had 7 days to explore Italy. We decided, for this short trip, Rome and Florence (and surrounding Tuscan towns) were doable. All the other destinations would have to wait.
After checking on flights, Rome was the cheapest destination. We decided to fly into Rome and then rent a car (with Hertz) and drive to Florence. Renting a car was the best option for us since we wanted to explore some of the small towns around Tuscany, like Siena and San Gimignano. If you don't care to venture out to the smaller towns, the fast train from Rome to Florence is the best option (a 1-hour train versus a 3.5 hour drive).
Once in Florence, we planned to explore a bit of the Tuscan region and the city of Florence. After a few days in Florence, we would drive back to Rome and explore the Eternal City for a couple of days before flying home.
Download our detailed itinerary here.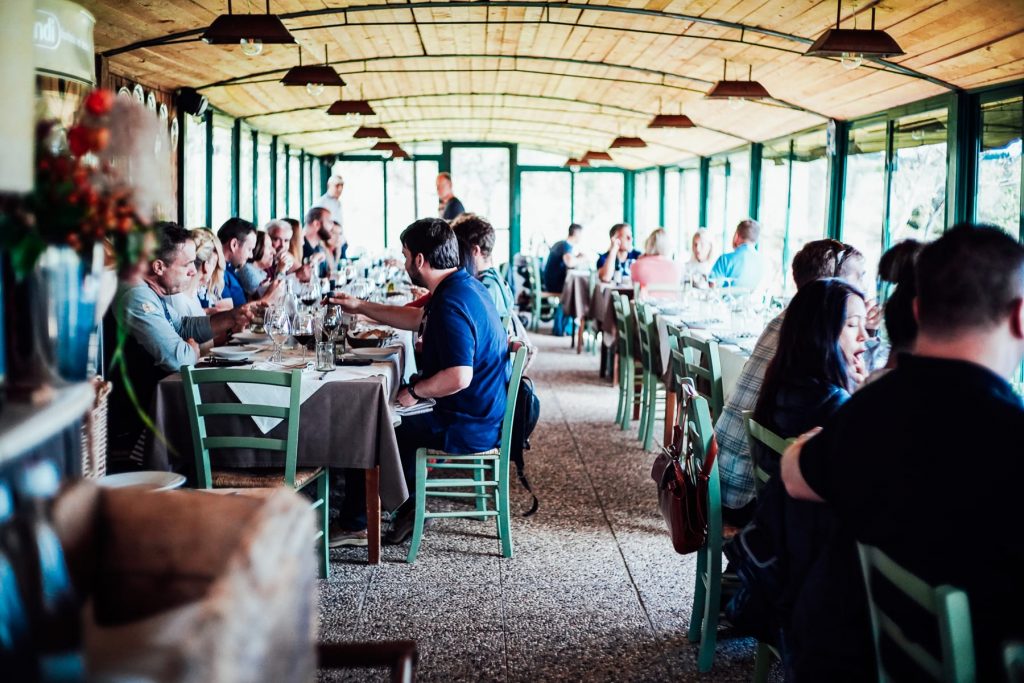 Helpful Guides and Information
In the weeks leading up to our trip, I scoured the internet for information, from what to wear in October to what to do in Rome and Florence and Tuscany. I tend to be a planner. Below, is the information (videos, websites, etc.) I found to be most helpful for planning our trip.
The Roman Guy YouTube Videos: My favorite videos for planning what to do in Rome and Florence. The videos on how to see Rome or Florence in a day were the most helpful. Find the Rome video here and the Florence video here.
Girl in Florence: I discovered this gal (an American living in Florence) from an Instagram post and then started diving deep into her blog. Her recommendations for where to eat and what to do are very helpful. Plus, it was fun to watch her Instagram Stories and get a feel for the city before visiting.
An American in Rome: This blog is helpful for navigating Rome, from places to eat to what to do while visiting the Eternal City.
Viator: This is my go-to site for finding tours throughout the world. This is the website AAA uses to book tours. Tours booked through Viator are guaranteed to be legit, so you can rest assured that you're in good hands and your tour will actually happen (no scams). I'll share more about the tours we took and loved later.
Our Secret Sauce to Saving on Airline Tickets
Last year, a friend told me about an app called Hopper. This app is now my go-to resource for finding a deal on airline tickets. It allows you to watch airline ticket prices for various destinations and receive notifications about price adjustments and the best/worst times to buy.
With the Hopper App, I was able to watch the dates we planned to visit. The app notified me about price increases and decreases as well as projections for when the next rate increase would occur and the best time to buy. After patiently watching and waiting, we decided to purchase tickets through the app when the Lufthansa flight we wanted (direct from Tampa to Frankfurt and then down to Rome) dropped significantly in price. Purchasing at this time proved to be a good decision because over the next few weeks the price for the same tickets increased to over double what we paid.
Another way we're able to score such a good deal on airline tickets is because we travel light. Really light. As in carry-on only light. Since neither of us needed to check a bag, we were able to buy Economy Light tickets which allowed us each to bring a carry-on weighing up to 8KG (17lbs) and a small purse. (When we went to Europe last year, we needed to check a bag due to all the snow gear so we opted to pay to check 1 bag for all 4of us and packed everything else in carry-ons.)
Keep in mind, most European carriers require much smaller carry-on sizes than domestic US carriers. I packed a different shirt for each day, a couple of sweaters, two pairs of shoes (one pair in my bag, the other on my feet ;)), two pairs of pants (and an extra pair of yoga pants that I wore on the plane), and all my skincare products in my carry-on bag without issue.
Not only did packing light help reduce our airfare cost this time, but it also meant that we had less to deal with when moving between destinations and hotels. This is also helpful when traveling with kids or when traveling to multiple destinations via train (such is common in Europe).
Side note: I bought packing cubes to keep my carry-on bag organized. This was the BEST decision. The cubes kept my clothes organized and tidy, and at the midway point of our trip I was able to use one of the packing cubes to hold all dirty clothes which made post-vacation unpacking/laundry super easy.
Also, flying Economy Light with Lufthansa meant that we still enjoyed everything we would have if we bought an economy ticket (two hot meals during the flight, unlimited drinks including alcohol, entertainment), but we didn't get to pick our seats in advance or check a bag. We wanted to sit together so we paid extra (after booking the tickets) to choose our seats in advance. Even with this extra charge, we still scored a crazy good deal on our tickets.
Now, let's talk about accommodations. Most of the hotels in the center of Rome and Florence are super pricey (even when using points) so we decided to stay on the outskirts of the cities. This wasn't a problem because most hotels offer a shuttle service that will take you downtown (and Uber is available in Rome, if needed). The extra 20-minute shuttle service commute was definitely worth the savings.
I enjoyed both hotels we stayed at on this trip. They were perfect for what we needed: a good night's rest after a full day of exploring. If you want to stay in the city center, near all the sights, then renting an AirBnB might be a cheaper and more convenient option.
Hilton Florence Metropole (our hotel in Florence)
Courtyard by Marriott Rome Central Park (our hotel in Rome)
I couldn't help but stand in awe of the joy Italians find in food and their traditions around how and what they eat. This is something I find so beautiful about traveling outside the states (and something I've witnessed in so many of the countries we've visited). I believe that the reason we (in the States) are so easily swayed by diet trends, government pyramids, marketing messages, and online diet influencers is because we've lost our roots in food. We've lost the word tradition. There seems to be an increasing fear and stress surrounding food in the States versus joy and respect.
Italy abounds with wine, sourdough pizza, breads, pasta, truffles, local veg and fruits, cured meats (a lovely way to preserve meat—remember refrigeration and freezers haven't always been around), organ meats and a way of cooking that respects the land and animals (as well as the body). This was seen the more we ventured out of Rome and into the smaller towns and cities.
When it comes to food, I found Italy to be an affordable country. We've visited other countries (like Switzerland and Iceland) that aren't so budget-friendly, but Italy was definitely a country with amazing cuisine at affordable prices.
Here are a few of our favorite food spots from this trip…
Florence
Taste of Chianti Tuscan Cheese, Wine, and Lunch from Florence with WalkAbout Florence: This isn't a restaurant but a tour. The reason I mention it here is because this 10-hour tour took us to five different wineries where we enjoyed traditional Italian cuisine paired with the best wines in Chianti (a region in Tuscany known for wine and olive oil). I can't remember the names of the wineries we visited (I mean, we did spend all day sipping wine so that doesn't come as a surprise), so all I can offer is the name of the tour. For the price, this tour far exceeded our expectations. On this tour, we learned about and sampled Chianti Classico, the type of red wine produced in this area. 
IL Pizzaiuolo: Located in Florence. Pizza varies depending on the region so if you're visiting more than one region grab a pizza at each destination. This pizza was thin crust and more on the chewy side–delicious! This tiny pizza shop is super busy so go for lunch before the long dinner wait. 
Central Market of Florence (Mercato Centrale): This is the main market in Florence. We didn't eat here. Instead, we bought cheese and admired all the veggies, fruits, and hanging cured meats. If you want to grab a quick bite, you can walk upstairs where you'll find lots of delicious cafes serving fresh, authentic options. 
All'Antico Vinaio: A Florentine "fast food" experience. Grab a sandwich and wine! And yes, you can walk the streets with a glass of wine. <–When in Italy! 
Gelato: Gelato is a must in Italy. Our favorite gelato shops in Florence: Riverano, Edorado, Le Botteghe di Leonardo
Siena
Te Ke Voi?: We visited Siena for just a few hours while driving back to Rome from Florence. There are must-try restaurants in Siena, but we didn't have time for a long sit down meal (and meals are LONG in Italy compared to our American standards). This little cafe tucked off a staircase near the main plaza was perfect. Dustin ordered the pasta of the day and I was in heaven with a charcuterie board. Perfect for a quick meal.
Rome
Boccione Bakery: This super tiny (you can easily miss it) bakery is tucked away in the Jewish Ghetto of Rome. This famous bakery is a must-visit while in Rome. Grab some pastries (the ricotta e visciole cake is a must) and sit down on a bench outside to savor every bite and people watch.
Ditta Trinchetti: This restaurant is located in the

Trastevere District, which is beyond picturesque. Picture ivy hanging above the narrow cobble streets lined with cafes.

This little restaurant is just one of many choices in this area. I found this place via Food and Wine and it didn't disappoint. We shared bread with ricotta and anchovies (I ate more anchovies in the 7 days we were in Italy than I have my entire 34 years on this planet, lol), pasta, lamb, and a Tiramisu that was out of this world. Just writing that last sentence makes me want to go back to Italy right now. 
Roscioli Antico Forno: I would visit Rome again just to eat another slice of sourdough pizza from Roscioli. We ate pizza from this classic Roman institution multiple times and still desired more. Since most pizza in Rome is sold by weight (it's considered street food, a snack versus a full meal), you can order a variety of their pizza selections to try at one time. Besides pizza, we also enjoyed a number of amazing pastries. Grab a few slices of pizza, a big beer to share, and stand outside and enjoy the food and people watching experience.
Sant Eustachio Cafe: The best coffee in Rome. This was a fun Roman experience. Pay first and then order an espresso (cappuccino is not enjoyed after noon in Italy) at the bar. This was just the pick-me-up we needed before touring the Vatican for 3 hours. 
Osteria da Fortunata: A must in Rome for pasta! Enjoy homemade pasta prepared in a variety of authentic ways. This spot is also near the Campo de' Fiori, which is a fun place to visit to experience market life in Rome.
As I mentioned, we wanted a mix of guided tours along with exploring on our own. We used Viator to find tours for the Vatican, Tuscany, and Rome. The tours we took were so good. In fact, the tours were some of the best we've ever taken. 100% worth the price of each tour.
Taste of Chianti Tuscan Cheese, Wine, and Lunch from Florence with WalkAbout Florence: I already talked about this tour in the food section so I won't spend more time going over details. If you don't have a ton of time to explore Tuscany on your own, or just don't want to, this tour is a great way to experience the countryside and drink wine all in one day. We learned so much about wine and olive oil and enjoyed delicious food and breathtaking scenery. You must buy tickets in advance because this tour sells out fast since they only take 15 people per tour. 
Roman Street Food Tour: A combination of history and food in 3 hours. I loved sampling and learning about authentic Roman cuisine (and learning how to spot the fakes because those abound in a big city like Rome) while also learning about the rich history of this city. You must also buy tickets in advance for this tour. Our group consisted of 8 other people so it was small and intimate–perfect for a walking and food sampling tour.
Big Bus Tours: You'll find these tours in various big cities. We took a Big Bus Tour in Paris and loved getting an overview of the city while being able to hop on, hop off at popular spots. We decided to buy tickets for this "tour" while in Rome as well. The ticket is good for 24 hours, which is great for a city that's impossible to navigate via car (and scary to navigate via Vespa) and requires a ton of walking. Trust me, we did our fair share of walking. The bus gave us a good overview while also allowing us to cut our walking time down. We still totaled over 60,000 steps after spending 2 days in Rome. <–This explains why we went back for pizza multiple times, lol. You don't need to buy tickets in advance. There are multiple locations around the city where you can buy a day-pass ticket. 
Vatican Guided Tour: We scheduled this tour last minute when we realized the line to get in the Vatican was over 3 hours long. No thank you! The day before we planned to visit the Vatican, we went on Viator and found a guided tour that would allow us to skip the line and provide us with a good amount of information. This tour was absolutely incredible. Our guide wasn't Roman Catholic, which I appreciated, because he very much approached the tour from a historical standpoint versus a religious standpoint (super fascinating). With this tour we were able to see the Vatican Museum, Sistine Chapel, and St. Peter's Basilica. We lucked out with buying tickets just a day before we visited the Vatican, but I wouldn't recommend this. Definitely book these tickets in advance.
Colosseum Tour: We bought tickets directly through the Colosseum website which is affordable and allows you to skip the line. Remember, Rome is one of the most popular destinations in the world so long lines are a given. The only way to beat the lines is to buy tickets in advance. This was a short tour, just 30 minutes, but perfect for this ancient sight. There's honestly not a ton to see in the Colosseum so I wouldn't waste money on a long guided tour.
Must-Have Souvenirs From Italy
Before I wrap up this incredibly long journal entry of a post, I have to share what I feel like are the must-have souvenirs to bring back from Italy, at least when visiting Rome and Florence. Since we didn't check bags, I was limited on what I could bring back, which was probably a good thing. I would have brought back so many great finds if my baggage weight and liquid restrictions weren't an issue.
First, a note on what you can't bring back that is just a shame…cured meats! Such a shame. 
Now that I've stated that, let's talk about the goodies you can bring back…
Cheese: I bought a huge block of parmesan cheese that was vacuumed packed in the Florence market and then packed away in my carry-on. We're slowly slicing off small pieces of that incredible cheese. According to US Customs, you can bring cheese back into the US but there are some restrictions to know about. Of course, you must declare anything like this when going through customs.
Wine: Unfortunately, I wasn't able to bring any bottles home since we were carry-on only passengers. If you don't have this issue, definitely bring the wine home! If not, know that you can find Chianti Classico and other fabulous Italian wines in the States. At least you'll come home, like we did, with the knowledge needed to spot a good Italian wine (for example, for Chianti Classico the bottle should feature the black rooster symbol).
Vinegar: We were able to taste a variety of balsamic vinegars while visiting one of the Roman markets during the street food tour. I wish we could have brought a few back (remember, we were carry-on only).
Extra Virgin Olive Oil: The Italians take their olive oil very seriously. This is my biggest regret about carry-on only because I haven't been able to find legit, quality Italian olive oil in US stores yet (lots of bottles that say "Italian Olive Oil" but when you look on the back of the bottle you find that the sourcing is from multiple European countries versus one farm). Jovial is the one exception to this rule, so that's where I will continue to purchase from.
Olive Wood Spoon and Cutting Board: While in a small Tuscan village, during our wine tour, I bought an olive wood spoon. I should have purchased multiple spoons because the quality is so good, the perfect spoon for cooking and baking.
Italian Leather: Florence is known for the world's best leather craftsmanship so if you're looking for a leather bag, belt, wallet, or jacket, Florence is your place. I didn't purchase any leather because I felt intimidated by all the choices and didn't know how to spot the genuine from the fake. Plus, the only thing I would want to buy is a jacket and we live in HOT, season-less Florida…not very practical. If this is something you have your eye on, definitely do your research before traveling.
Memories: Okay, maybe a cheesy one but a good note to end on. The memories we brought back will be cherished forever! This trip was one of the best we've ever taken! We will definitely return to Italy in the future.