If we're friends over on Instagram (which we definitely should be), you know that October meant the return of the Florida farmer's market season. My kitchen once again abounds with the most delicious, in-season produce (currently: tomatoes, herbs, kohlrabi, all sorts of greens, watermelon, strawberries, green onions, and cabbage). Now is a good time to share one of my favorite recipes: roasted tomatoes.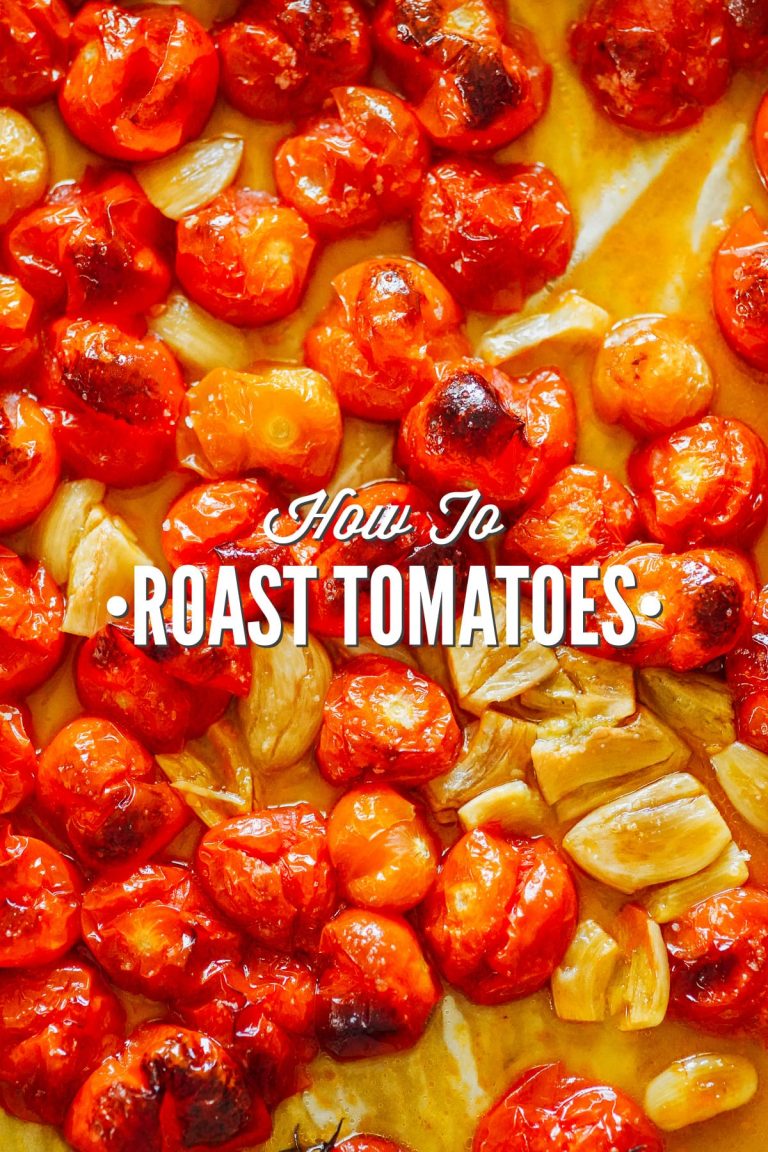 Florida moves to beat of her own drum and our seasons certainly are proof of this. While most of the country is enjoying cooler temperatures and will soon face the closure of many outdoor farmer's markets, our farmer's market season is just getting started. Here in Florida, the season runs from October through May.
During these months, I do most of my shopping at the farmer's market. We're part of a CSA program for both produce and meat (including eggs) and the market is the pick up location for both programs. With both CSA programs, I pay in advance and receive produce throughout the season along with my choice of pasture-raised meats and eggs.
Getting out of the grocery store for the bulk of our produce and meat, and joining a CSA and shopping at a farmer's market, has been one of the best moves we ever made on our real food journey. Purchasing veggies, in particular, this way has opened my eyes and tastebuds to produce that I never would have seen or purchased from the store.
I've also learned about seasons (yes, even in Florida we have seasons for food) and how to enjoy a variety of foods in a variety of ways throughout each season. Did you know even milk and eggs are seasonal? This is the way we were intended to eat. This is what sustainable, real food looks like. It has a rhythm, a seasonal pattern, and our bodies need the variety of nutrients presented with each new season.
If you're interested in learning more about CSA programs, check out this post. I share all the details from how to find one in your area to the cost.
As I mentioned, tomatoes are currently in season and my favorite way to use tomatoes, particularly cherry or grape tomatoes, is to roast them up. Let's talk about how to roast the very best tomatoes and how to use them! Trust me, you need to try roasting tomatoes. Once you do, they will quickly become a favorite in your home.
Cherry or grape tomatoes are my favorite to roast because they require zero cutting or chopping. Both varieties are already small and bite-sized so they make for effortless roasting. That said, even big slicer tomatoes or Roma tomatoes may be roasted. In order to roast big tomatoes, you need to cut the tomatoes into smaller pieces, such as in quarters or in half.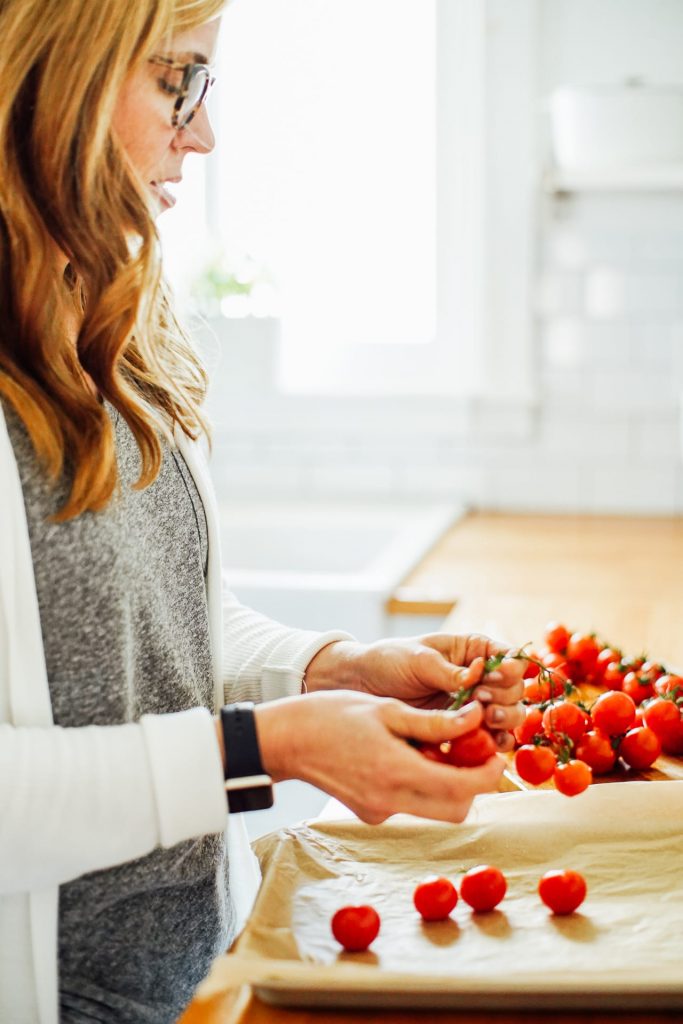 To roast tomatoes, line a sheet pan with parchment paper. Then place whole (or cut) tomatoes and a few garlic cloves on a sheet pan and drizzle with a generous amount of quality extra virgin olive oil. Then generously sprinkle with salt (I like real salt). If you want something extra, sprinkle the tomatoes and garlic with dried spices, like basil or oregano.
(After our recent trip to Italy, I've become a bit of an olive oil connoisseur, or at least I'm trying to be. Currently, this Italian olive oil and Jovial brand are my favorites.)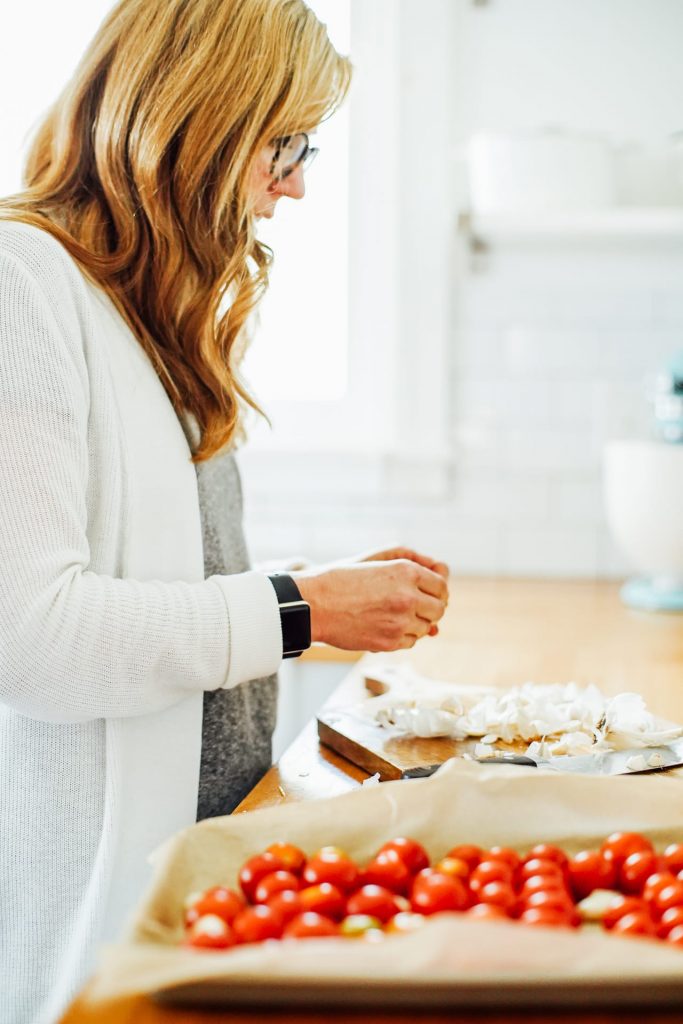 Once the tomatoes and garlic have been showered in olive oil and salt, place the sheet pan in the oven and roast the tomatoes at 425F for 25ish minutes. As the tomatoes cook, the tomatoes will soften and begin to brown on the skin, shrivel up, and sweeten (due to the high heat).
In-season tomatoes are delicious. I love to enjoy tomatoes as a snack (just grab a few from the bowl on the counter and munch away), with homemade ranch, or sliced with a few pinches of salt. In-season tomatoes, which you'll only find at a farmer's market or from a local farm unless your grocery store is in tune with the growing season in your area, are far different from the tomatoes we find in the grocery store that are shipped from hundreds or thousands of miles away.
Roasting tomatoes brings out a deliciously-distinct flavor profile than you'll find with raw tomatoes. Roasting veggies brings out their natural sweetness and this certainly is evident with tomatoes. If you don't like raw tomatoes, try roasting them! I think you'll change your stance on not liking tomatoes. I recommend this for all veggies and veggie skeptics.
How to Use Roasted Tomatoes
Roasted tomatoes are super versatile. That's one of the reasons, beyond the flavor and juiciness of the tomatoes, why I love roasting them. There are so many different ways to use a pound or two of roasted tomatoes. Here are my favorite ways to use roasted tomatoes.
Serve roasted tomatoes on top of a toasted baguette with pesto or ricotta: This may feel more like an appetizer but I serve this often for dinner. Add some prosciutto and salad on the side (use this ultimate salad guide to build a great salad), and you've got yourself an amazing dinner. Even the kids love this dinner. Don't want to use ricotta or pesto? Use burrata (a creamy mozzarella) instead.
Roasted tomato soup: Add a red pepper and onion and dried herbs to the sheet pan. Roast the ingredients and then blend them with broth for a flavorful tomato soup. Here's my recipe for roasted tomato soup.
Roasted tomato salsa: Roast up tomatoes with a poblano pepper and then blend up the ingredients to make the most incredible salsa. Try this recipe and the sheet pan fajitas that pair perfectly with the salsa.
How to Store Roasted Tomatoes
Roasting tomatoes is something you can do in the moment, when you want to make a dish with roasted tomatoes, or in advance. If you want to prepare roasted tomatoes in advance (#foodprep), there are a couple of ways to store them.
Fridge: Store roasted tomatoes in their juices (leftover from roasting) for up to 5 days in an air-tight container in the fridge. Use the tomatoes in any of the ways suggested above. You can enjoy roasted tomatoes cold or reheated. To reheat, warm them up in a skillet on the stove-top.
Freezer: Store roasted tomatoes in their juices (leftover from roasting) for up to 10 months in an air-tight container or bag in the freezer. Defrost the tomatoes in the fridge and then reheat (in a skillet on the stove-top) or serve cold.
More Ideas for How to Use Fresh Tomatoes
As I mentioned, shopping a farmer's market has encouraged me to use veggies in a variety of ways. Slowly, over the years, I've experimented with different ways to use tomatoes. Here are my current favorite ways, besides roasting, to use an abundance of tomatoes.
Fermented Salsa: This probiotic-rich, gut-loving salsa is a family favorite. Even if you don't have any prior fermentation experience, you can make this salsa. Plus, kids love it so this is a great introduction to fermented foods for the littles. Make this fermented salsa.
Tomato and Cucumber Panzanella: A classic summer panzanella made with homemade croutons, grape or cherry tomatoes, cucumbers, red onions, and fresh basil. Make this salad.
Fresh tomatoes as a snack with homemade ranch dressing: There's no need to actually do anything with fresh, in-season tomatoes. They are flavorful on their own. Simply serve tomatoes with with ranch dressing as a snack or as the veggie in the lunchbox.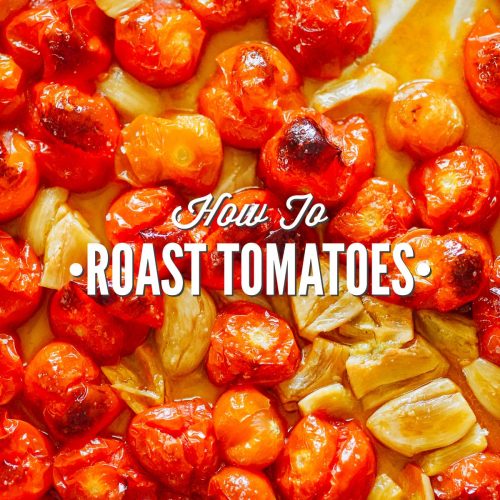 Roasted Tomatoes
The best way to enjoy tomatoes (of all kinds), in my opinion. This easy-to-make recipe is super versatile. Toss the tomatoes with pasta, make a soup, or enjoy on a crusty baguette.
Ingredients
1

pint

cherry tomatoes

or grape tomatoes, see note below if using Roma or slicer tomatoes*

4-6

garlic cloves

peeled and left whole or cut any large garlic cloves in half, add as many cloves as desired

2

TB

extra virgin olive oil

salt

to taste
Special Equipment:
Instructions
Preheat the oven to 425F.

Line a sheet pan with parchment paper (for easy cleanup). Place the tomatoes and garlic cloves on the sheet pan.

Drizzle olive oil evenly over the tomatoes and garlic. The oil should evenly coat the tomatoes and garlic. You can use your hands to toss the tomatoes and garlic in the oil, if needed.

Generously sprinkle the tomatoes with salt. You can always add more salt after roasting, too.

Place the sheet pan in the oven and roast the tomatoes for 25 minutes, or until soft, beginning to burst, and brown in spots. Remove from the oven and allow to cool to room temperature.
How to Use:
Use the roasted tomatoes immeadiately to make tomato soup (will need to add a pepper and onion to the mix when roasting), to make salsa (will need to add a poblano pepper when roasting), or toss with cooked pasta (add pesto for even more flavor), to make prep-ahead lunch bowls, or served on top of a toasted baguette (add ricotta or burrata cheese to the bread before topping with tomatoes for extra yum). Or, allow the tomatoes to cool and store in the fridge in an air-tight container for up to 5 days. Serve the tomatoes cold or reheat in a skillet on the stove-top.
Notes
*Use any variety of tomatoes: cherry, grape, Roma, or slicer tomatoes. For cherry and grape tomatoes, you don't need to cut the tomatoes. Roast them up whole. For Roma tomatoes, cut the tomatoes in half and roast flesh-side down and roast according to the directions above. For large slicer tomatoes, quarter the tomatoes and roast according the directions above. I like to roast 2 pints of tomatoes for pasta. This recipe may easily be doubled based on the amount of tomatoes desired. 
Nutrition
Calories:
351
kcal
Carbohydrates:
23
g
Protein:
5
g
Fat:
29
g
Saturated Fat:
4
g
Sodium:
55
mg
Potassium:
1080
mg
Fiber:
4
g
Sugar:
12
g
Vitamin A:
2314
IU
Vitamin C:
112
mg
Calcium:
74
mg
Iron:
3
mg