We've talked about 7 cleaning product ingredients to avoid and also how to swap out toxic cleaning products for safer, healthier options. Now, let's explore 11 natural cleaning caddy essentials: the products and ingredients that will clean an entire home, from the kitchen to bathrooms to hard floors and dusty surfaces.
What is a Cleaning Caddy?
A cleaning caddy is a physical organizer, or a designated place in your home, where you store everything you need for cleaning. The beauty of keeping everything in one spot is that you can easily find what you need when you need it. Some people like to keep everything (except a broom or vacuum) under the sink (that's my preference), others like to keep cleaning caddy essentials in the laundry area. Here are a few of my favorite cleaning caddy organizers:

What to Put in a Cleaning Caddy
Everyone's cleaning needs are slightly different. You may choose to put a few extra cleaners or cleaning tools in your cleaning caddy. The following items are what I consider to be the top 11 cleaning caddy essentials that will get most (or all, in my case) of your home clean the non-toxic way.
All Purpose Cleaner
Castile Soap or Sal Suds
Vinegar
Baking Soda
Glass/Mirror Cleaner
Essential Oils
Microfiber Cloths
Microfiber Duster
Dustpan Set
Scrub Brush and Toilet Brush 
Microfiber Mop and Bucket
How to Use Your Cleaning Caddy Essentials

1. All Purpose Cleaner
Even if you don't want to make your own cleaning products, I recommend going the DIY route with this cleaner. There are two options, either a vinegar all purpose cleaner (not suitable for stone or granite surfaces) or castile soap/Sal Suds all purpose cleaner (safe for most surfaces). Use an all purpose cleaner to clean: kitchen countertops, dusty surfaces, sinks and tubs, light switches, dirty toys, stainless steel surfaces, bathroom counters, and spot clean floors.
2. Castile Soap or Sal Suds
Liquid castile soap is a plant based concentrated soap used to make multiple cleaning products. Sal Suds is the heavy duty big brother to castile soap and is fantastic at cutting grease and tackling super dirty surfaces.
Clean hard floors by filling a 3 gallon bucket with warm water, followed by a few squirts of castile soap or Sal Suds and (optional) a few drops of an essential oil. Use a mop or scrub brush/rag to clean the floor with this solution.
Use castile soap or Sal Suds to make an all-purpose cleaner for cleaning surfaces in your home.
Use castile soap or Sal Suds to make a scrub cleaner to remove stubborn dirt and stains in tubs and sinks.
Use castile soap to make a stain remover for laundry stains.
3.Vinegar
Vinegar is an excellent natural cleaner and the perfect addition to a natural cleaning caddy. Most household vinegars (used in the kitchen) contain 4-6% acetic acid, which is what makes vinegar such a great cleaning ingredient. White vinegar is considered to be the most acidic vinegar out there and the strongest option for making a household cleaner. If you don't like the smell of vinegar, make a homemade orange cleaning vinegar with vinegar and orange peels.
To make a hard floor cleaner, in a bucket, combine 2.5-3 gallons of warm water with 1 cup of vinegar (white vinegar or homemade orange vinegar) and (optional) a few drops of an essential oil. Use a mop or scrub brush/rag to clean the floor with this solution.
Make an all-purpose cleaner to clean multiple surfaces in your home (not suitable for stone or granite surfaces).
Make a disinfectant spray.
Add vinegar to the laundry to naturally soften clothes and towels.
4. Baking Soda
Baking soda is the most underrated cleaning ingredient in the natural cleaning world. It's incredible and so effective! Baking soda will freshen, deodorize, and remove stubborn dirt and grease from surfaces. I keep a mason jar filled with baking soda in my cleaning caddy.
Sprinkle baking soda in the toilet bowl, then scrub after a few minutes with a toilet brush.
Sprinkle baking soda on carpets and rugs and vacuum after a few minutes to freshen a room.
Sprinkle baking soda in a sink or tub, then scrub the surface with a wet cloth or scrub brush (add a squirt of Sal Suds or Castile soap for extra cleaning power).
For a homemade magic eraser, apply baking soda to a wet cloth and gently rub the surface, repeating until the crayon or unwanted mark dissapears.
5. Glass/Mirror Cleaner
If you make a vinegar all purpose cleaner, you can use it to clean and polish glass surfaces. If you're using an all purpose cleaner made with castile soap or Sal Suds, you'll need to use something else.
Make a glass and mirror cleaner by combining 1/2 cup rubbing alcohol and 1/3 cup white vinegar in a 16-ounce spray bottle, then top off the bottle with distilled water. If you'd prefer to not use rubbing alcohol, skip it and use 1/2 cup of vinegar instead. Spray on a glass surface and wipe with a microfiber cloth.
6. Essential Oils
If you'd like to add a scent to an all purpose cleaner, floor cleaner, or just want to just freshen your home without toxic fragrances, adding an essential oil or a combo of essential oils to a homemade cleaner or a diffuser is a nice option. Essential oils are concentrated oils derived from plants. Above, I've included a chart of some of my favorite essential oils to use for cleaning. You don't need a huge stockpile of essential oils, choose a few scents (or just one) that you love and keep those oils handy for diffusing or cleaning. I personally like lemon, grapefruit, or a germ fighter blend. Want to learn more about essential oils? Check out my recent podcast episode with an aromatherapist.
7. Microfiber Cloths
A microfiber cleaning cloth is a blend of polyester or polyester and nylon. In my opinion, microfiber cloths do a better job at picking up dirt and debris than cotton cloths. And microfiber doesn't leave behind streak marks on glass and stainless steel. According to an article by UC Davis, regarding a hospital that switched over to microfiber mops, "microfiber mops did a better job of penetrating surface pores and removing dust particles than conventional string mops and cloth. For example, after a surface was cleaned with conventional tools, a bacteria culture showed a 30% reduction, while microfiber materials reduced bacteria by 99%."

8. Microfiber Duster
I've used the same microfiber duster with a removable, washable dusting pad for over 5 years now…it's amazing! Just like with the microfiber cloths, I find this duster does a better job than feather dusters as it actually traps the dust versus sending dust particles flying throughout our home. After dusting a surface, I give the surface a spray with an all-purpose cleaner and wipe the surface clean.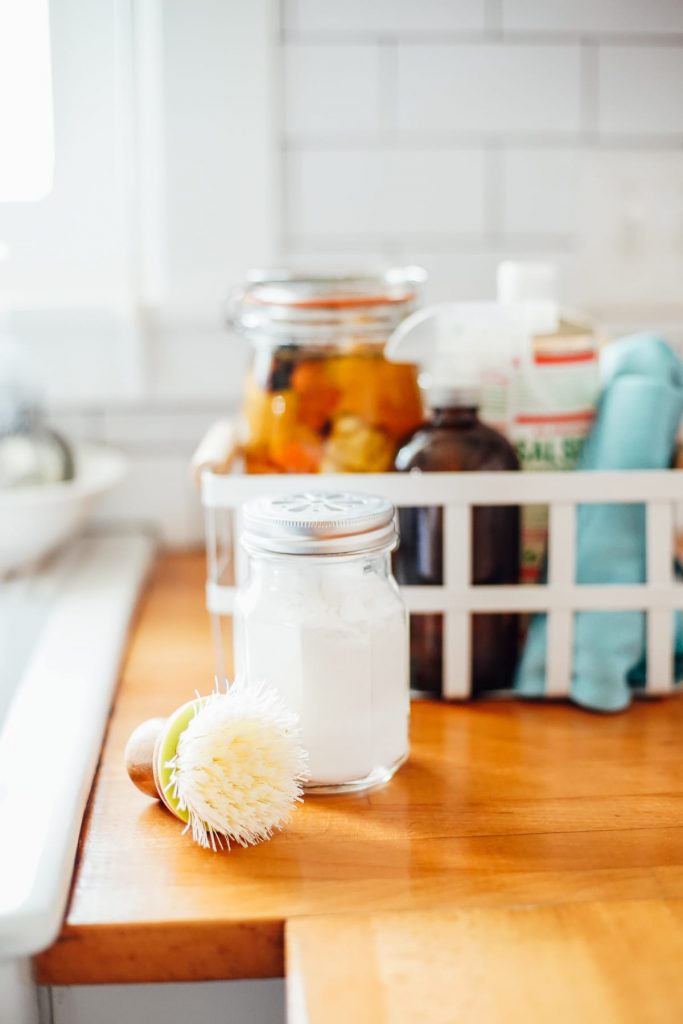 9. Scrub Brush and Toilet Brush
Keep a long handle scrub brush or short handle scrub brush in your cleaning caddy to use when scrubbing tubs and sinks. And, of course, a toilet brush. A sprinkle of baking soda and a toilet brush are all I use to keep my toilets clean and fresh. If you want something extra for the toilet, spray all purpose cleaner or 100% vinegar in the toilet bowl after scrubbing away the baking soda, then scrub again.

10. Dust Pan Set
We have a Roomba in our home (because #animals) but I still find myself reaching for my broom and dust pan daily. I have a small dust pan set and a large broom. If you have carpet, of course, you'll want a good vacuum as well. I have a Dyson and am satisfied with it. Shark brand is also highly rated.
11. Microfiber Mop and Bucket
For cleaning floors, I use the castile soap floor cleaner (mentioned above under castile soap) or vinegar (mentioned above under vinegar) and a mop bucket and microfiber mop. Just like with the duster and cloths, I find that microfiber does the best job at cleaning and picking up dirt. If you're cleaning hardwood floors, it's important to use a minimal amount of water (no soaking the floors). Always perform a spot test before cleaning an entire floor with a new cleaning product, even if it's more natural.