One of the things Live Simply is best known for is DIY cleaning recipes that really work. While my personal health journey started with food (ditching ultra-processed food and eating real food), it didn't take long for me to rethink my cleaning products. One of the very first recipes I ever made and shared here on the blog was how to make homemade all-purpose surface cleaner. Today, let's revisit how to make a DIY all purpose cleaner without vinegar.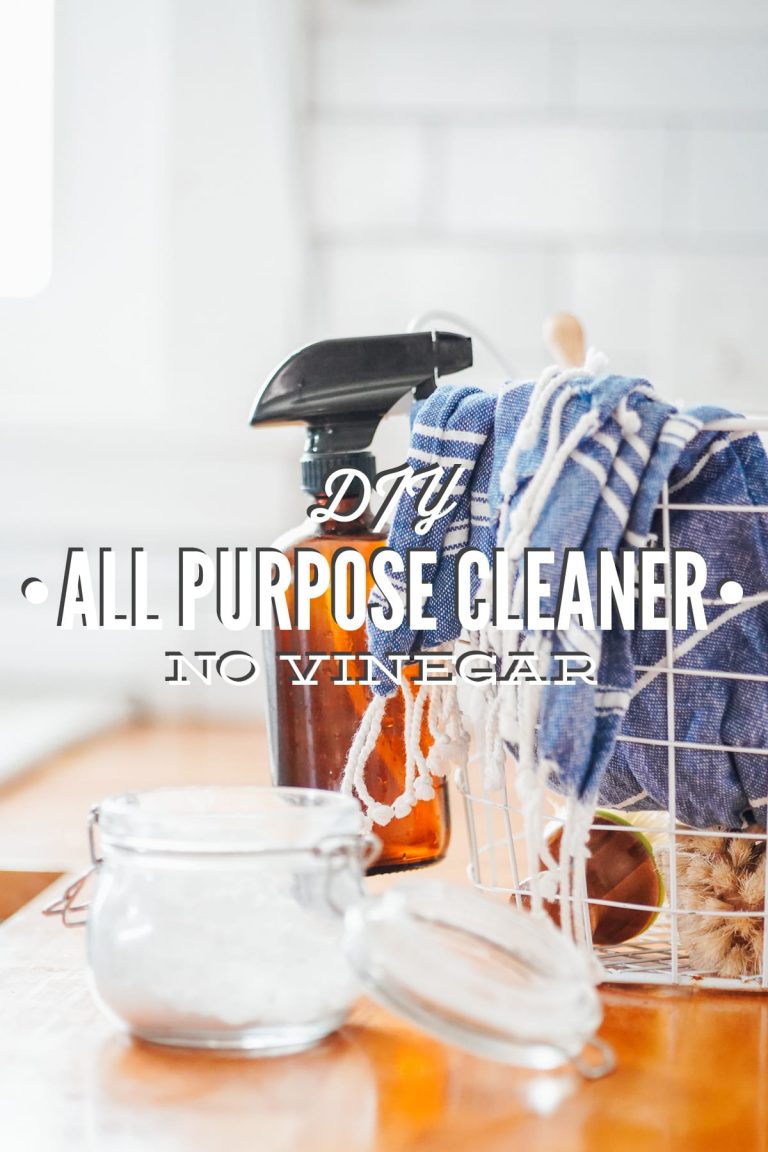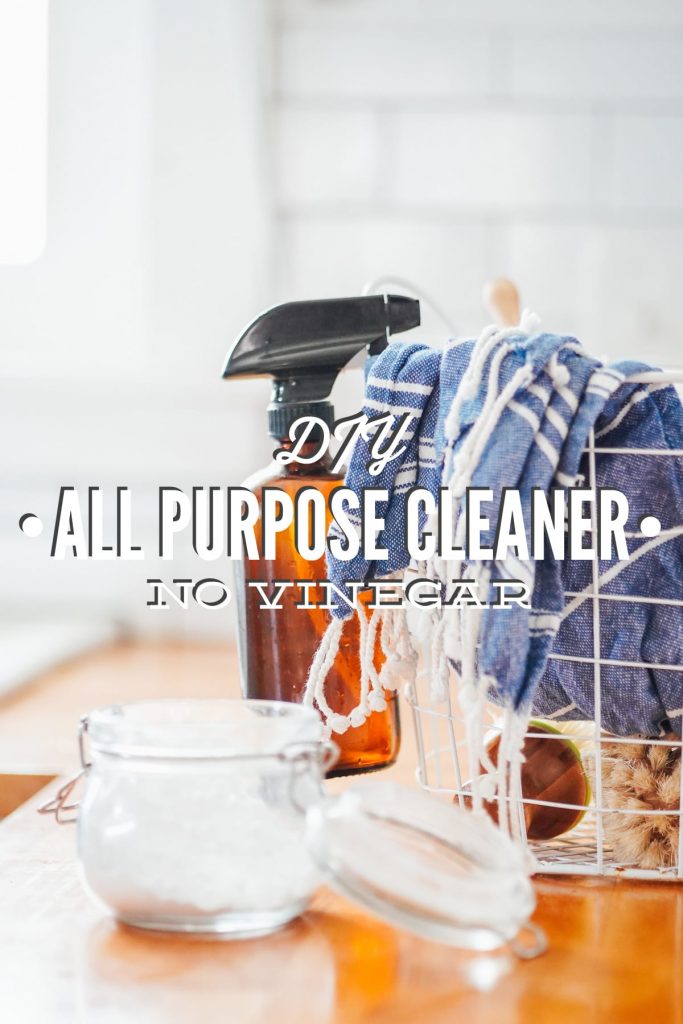 Why Make an All-Purpose Cleaner Without Vinegar?
Most household vinegars (used in the kitchen) contain 4-6% acetic acid, which is what makes vinegar such a great cleaning ingredient. It's one of the major stars in my natural cleaning caddy.
Vinegar has been shown to have antibacterial properties. To quote Dr. Alan Taege, an infectious disease expert at the Cleveland Clinic, in a recent interview with Women's Health Magazine, "Vinegar does have disinfectant activity. Vinegar is acetic acid, which has the ability to destroy bacteria and viruses." But, I totally get not using vinegar to clean your home. If you're in this boat, you may fall under one of two categories…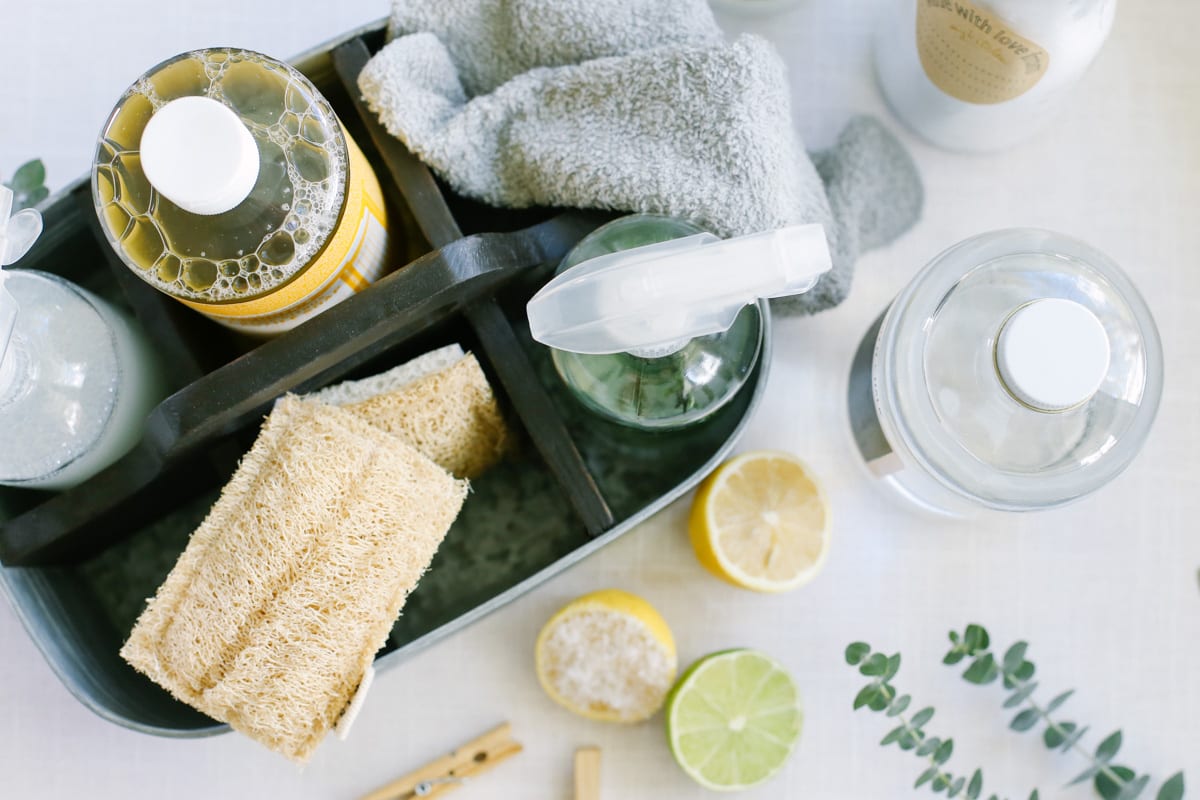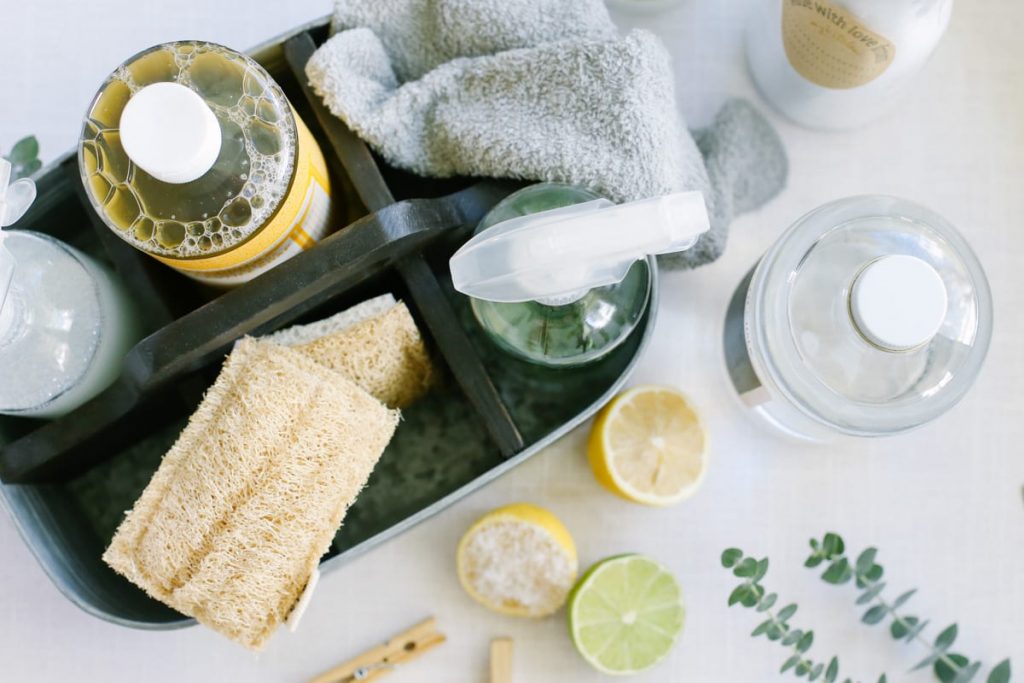 You can't stand the smell of vinegar. I get it. Having your house smell like a bottle of fresh vinaigrette salad dressing (sans the oil and spices) isn't for everyone. Personally, I've learned to deal with the initial odor as it quickly vanishes, but I totally understand the odor issue.
You need to clean a sensitive surface and can't use vinegar. Vinegar can be too harsh for some surfaces, like natural stone, granite, and marble surfaces. The acidic nature of vinegar can be corrosive and damage these surfaces over time.
In these cases, you'll need to reach for something other than the vinegar bottle. And today I'll show you how to do this when making an all-purpose cleaner.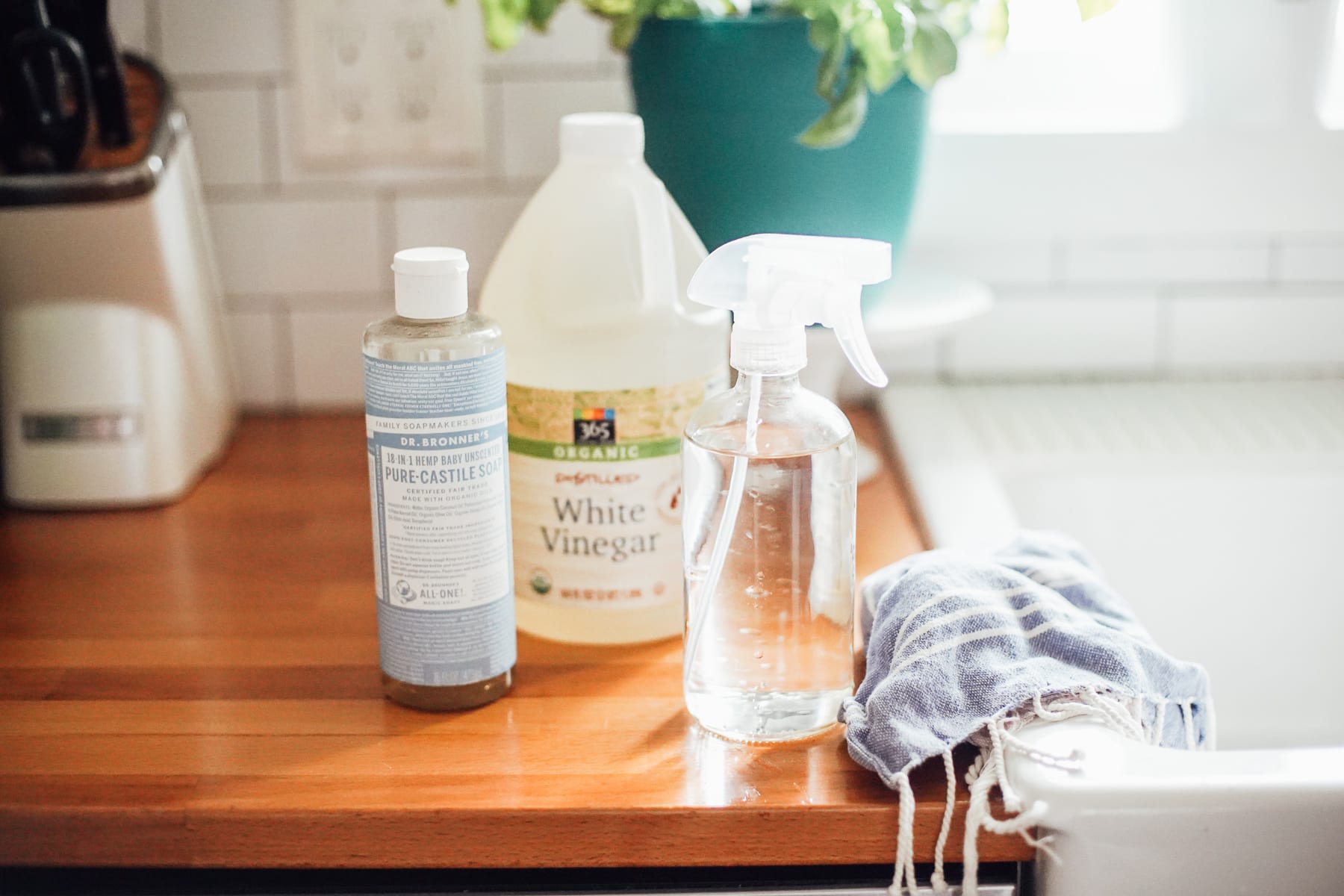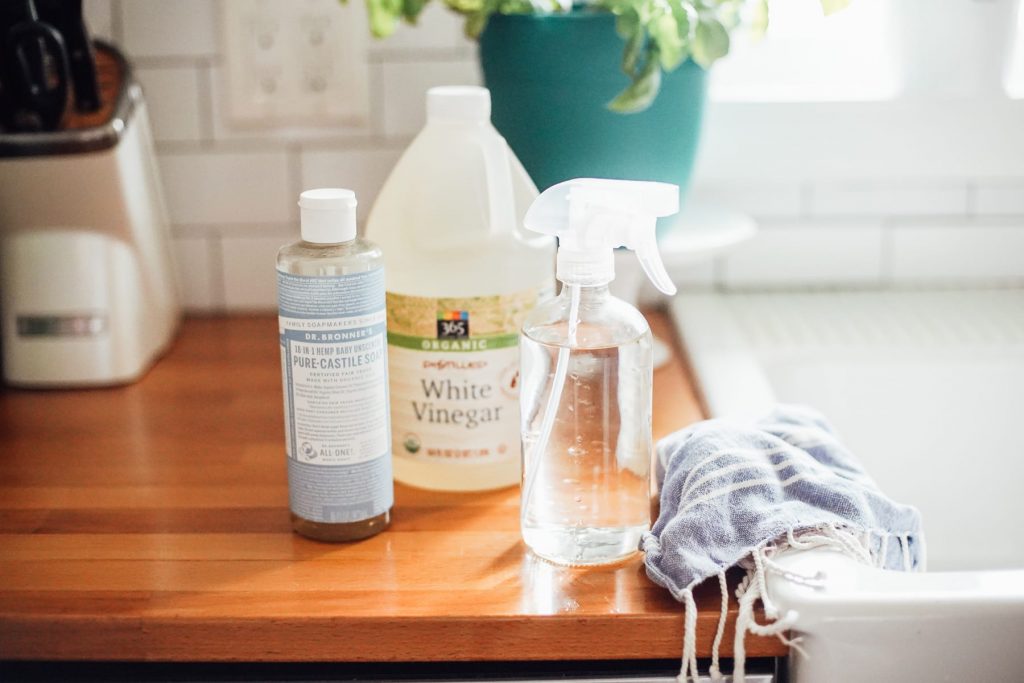 What can you use instead of vinegar for cleaning?
Castile soap or Sal Suds are my top two choices when needing to make an all purpose cleaner without vinegar. Let's take a look at both of these powerhouse ingredients, then you can decide which one you want to use.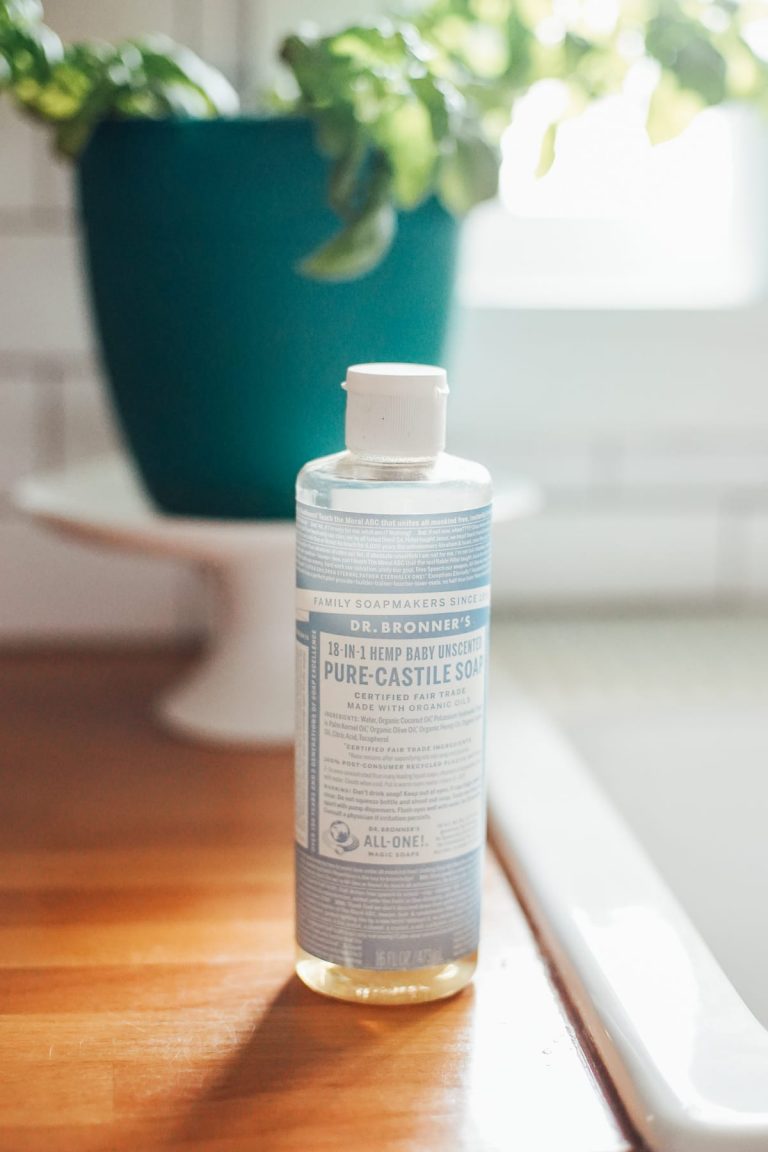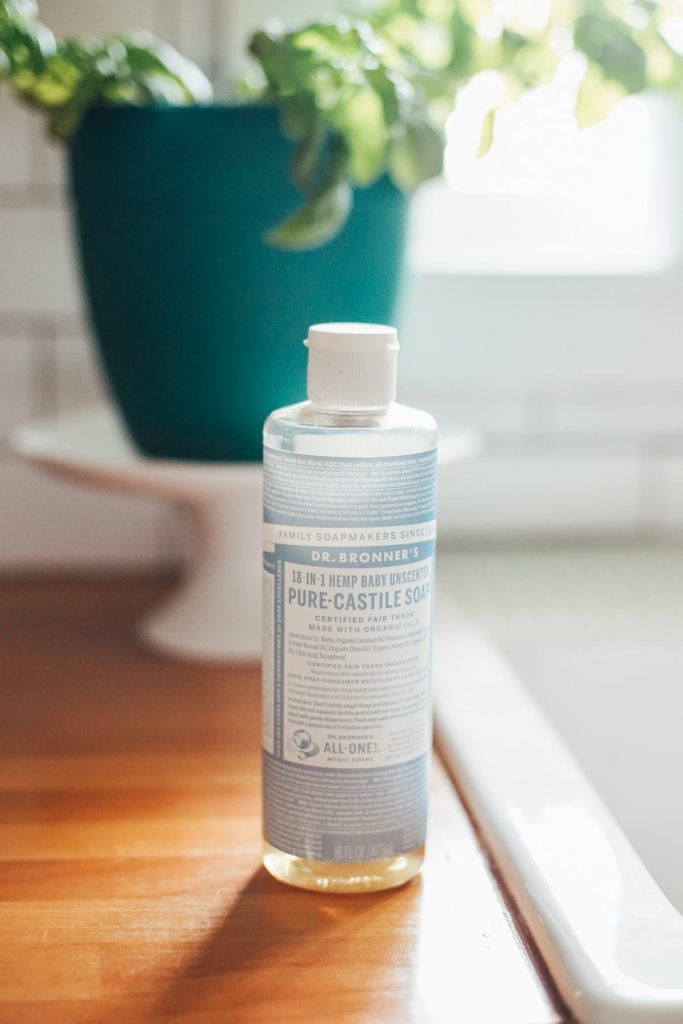 Option 1: Castile Soap
Castile soap is a plant-based soap made from vegetable oils (olive, coconut, palm) and plant oils. Here's the exact definition and ingredient list from Dr. Bronner's  (a popular castile soap brand).
"Castile soap is a concentrated vegetable-based soap with easy to recognize ingredients: Water, Organic Coconut Oil, Potassium Hydroxide, Organic Palm Kernel Oil, Organic Olive Oil, Lavandin Extract, Organic Hemp Oil, Organic Jojoba Oil, Lavender Extract, Citric Acid, Tocopherol." 
Castile soap isn't a new fad. It's been around since the 11th century and was first made in the Aleppo of the Levant region (modern day Syria). The Crusaders learned about this soap which was, eventually, duplicated in Europe without success. That is, until a region in Spain (called Castile) was able to get the recipe right and successfully made what we know today as "castile soap." The soap became popular with Spanish royalty and eventually by the 1500's made its way to England. Castile soap is versatile (you can use it to make multiple DIY cleaners and body products), inexpensive, and non-toxic. Today, there are many different castile soap brands. Dr. Bronner's is my favorite and the easiest to find. Check out this post to learn more about castile soap and make 7 castile soap cleaning recipes.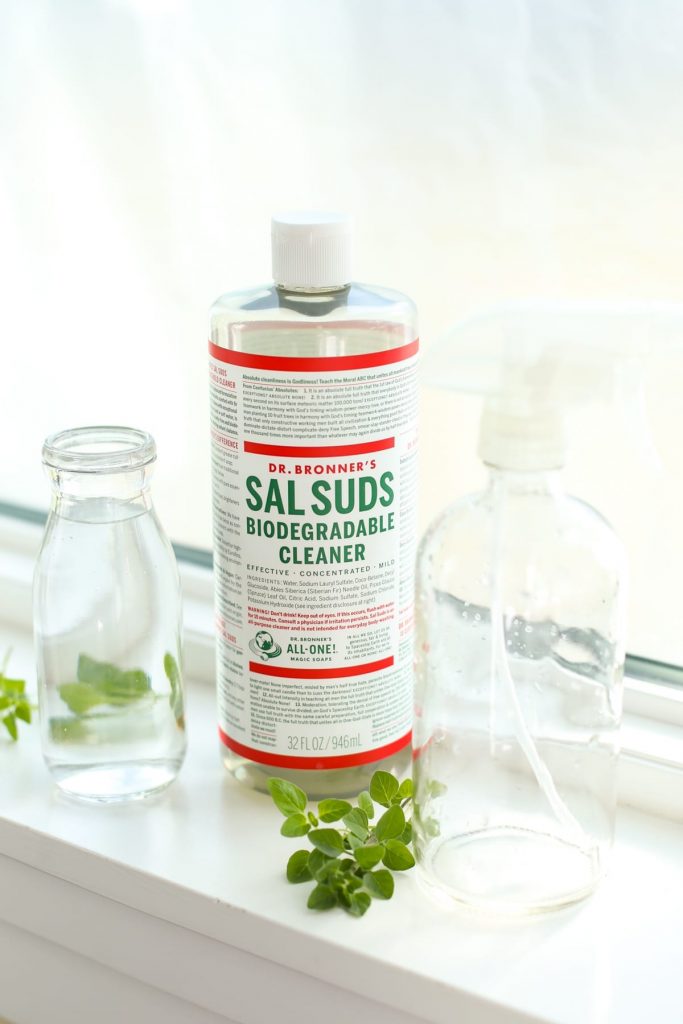 Option 2: Sal Suds
Sal Suds is Dr. Bronner's tougher version of soap, although its chemical makeup makes it a detergent, not a soap. Sal Suds is formulated to conquer tough cleaning projects: unforgiving grease and stubborn dirt.  Sal Suds, unlike castile soap, can be combined with vinegar since it's a detergent with a different chemical composition than castile soap.
I use Sal Suds for tough cleaning tasks, like washing dishes, mopping the floor (it's amazing how much dirt two kids and two dogs can track into a house), and removing stubborn grease stains from garments. Sal Suds is my backup tough guy when castile soap just can't get the job done. Sal Suds is not a body-care product, so it doesn't receive quite the same attention as its versatile cousin, castile soap.
Ingredients Needed to Make DIY All Purpose Cleaner Without Vinegar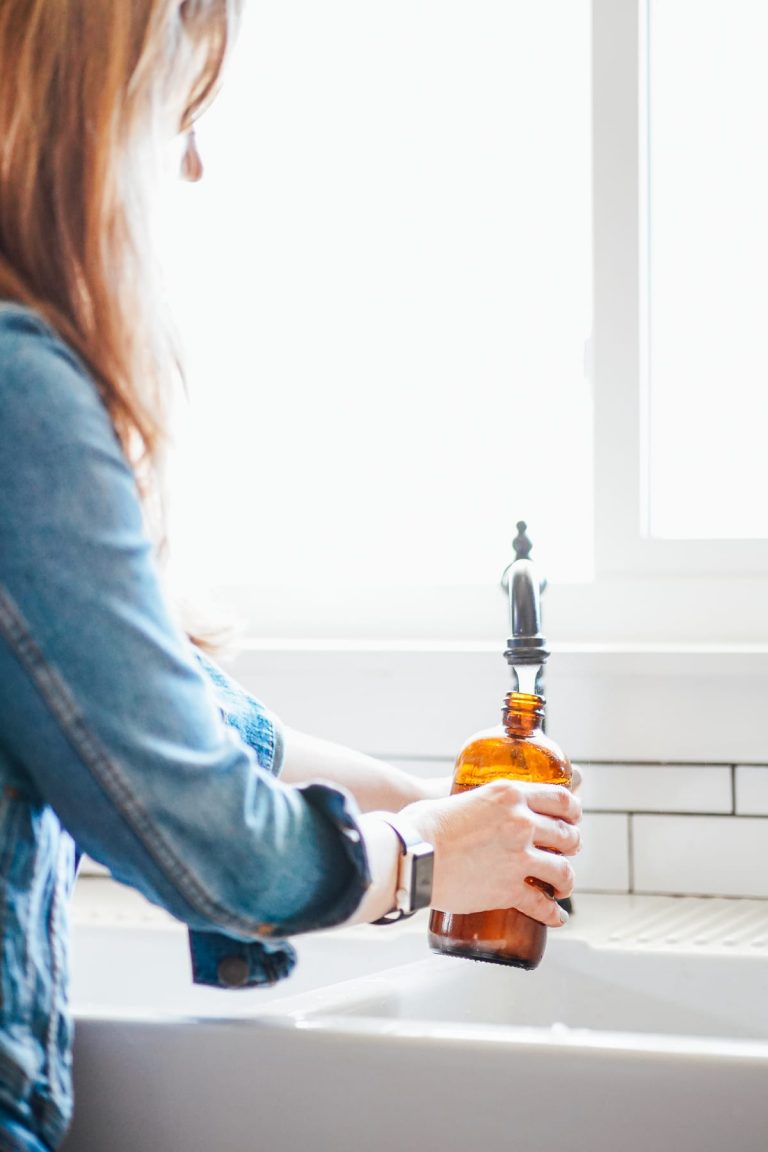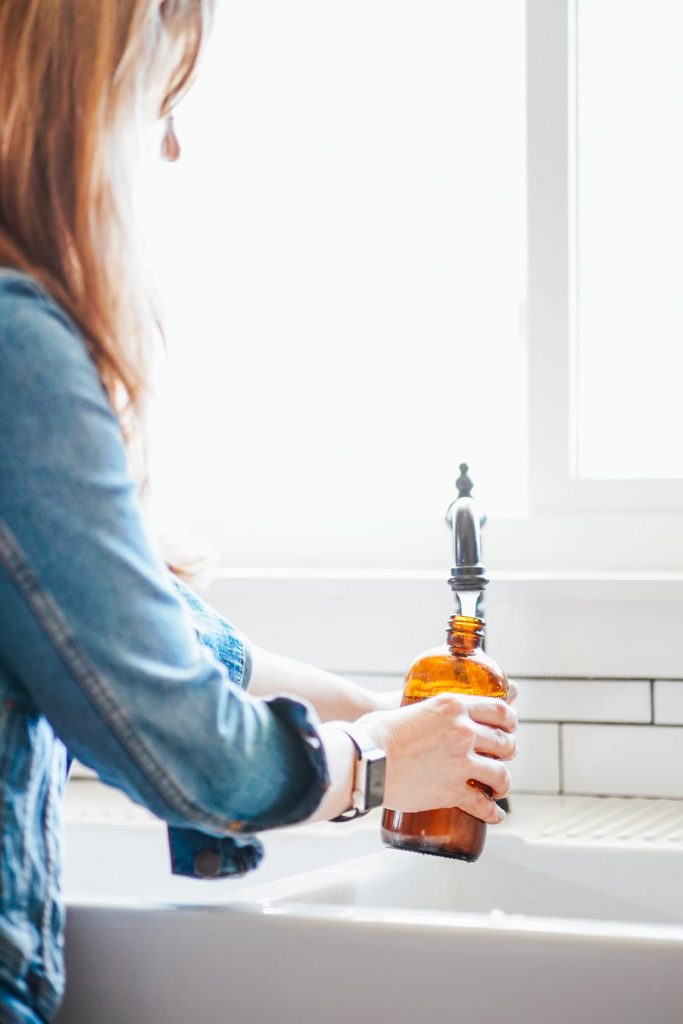 We're going to keep today's recipe super simple. There's no need to complicate this DIY cleaner. Let's take a look at what you'll need.
1. Castile Soap or Sal Suds
We talked about both of these options above so I won't spend much time talking about them here. Keep in mind, both ingredients are used for cleaning surfaces, but are not antibacterial. As Lisa Bronner writes on her blog, "Surfactants, such as Castile Soap and Sal Suds, remove germs and bacteria, as well as dirt and grease. Again, they don't kill. They remove all manner of dirt and germs and grease and other ickies off of any surface."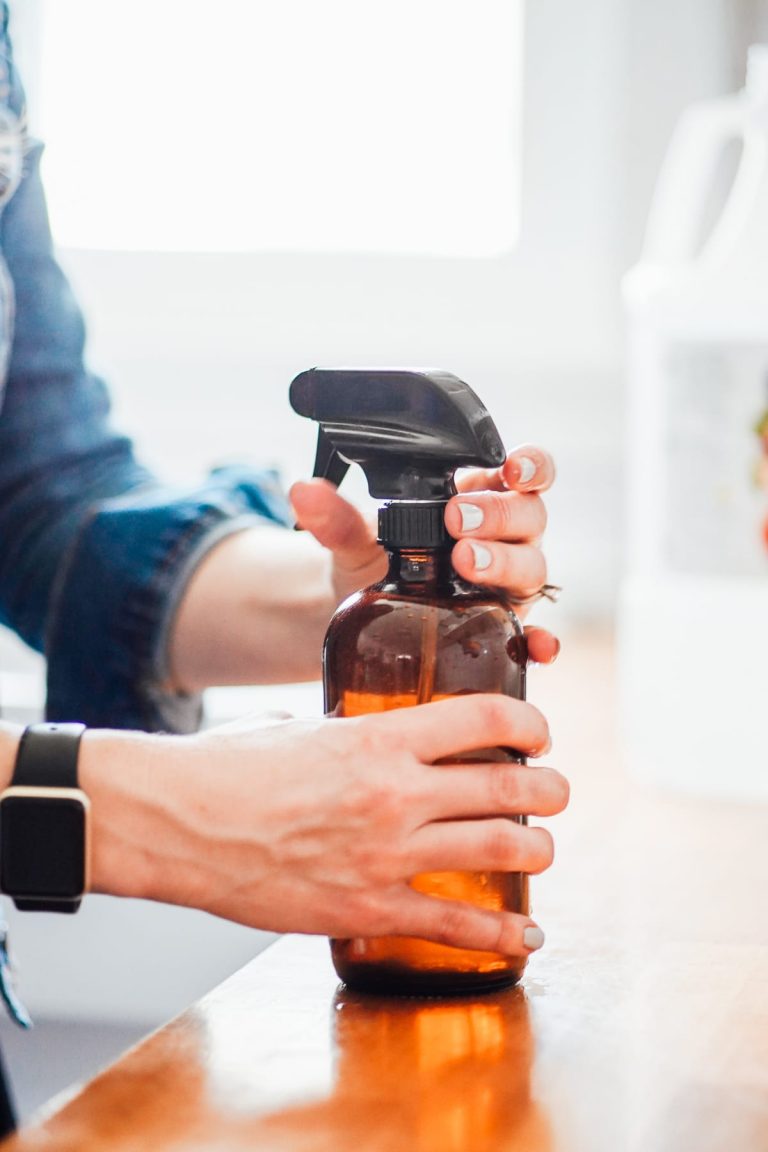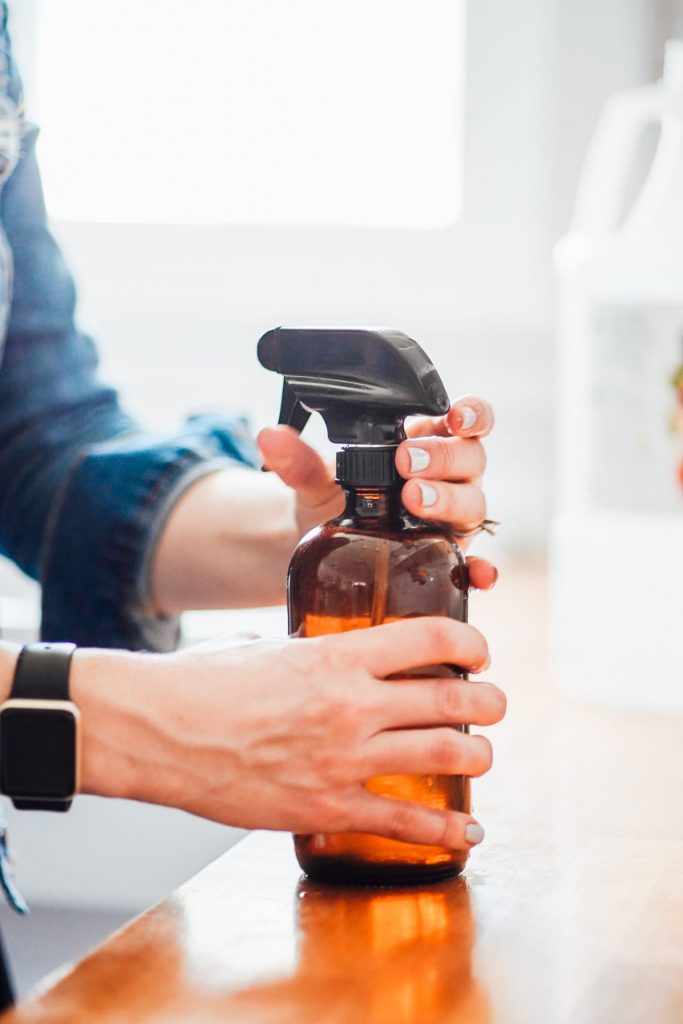 2. Water
If you're going to use this cleaner within a few days, filtered water from your fridge or sink will be just fine. But if you're planning to store this cleaner for a few weeks, distilled water is the safest choice. The distilled water process removes potential contaminants that could cause bacteria growth in this homemade cleaner.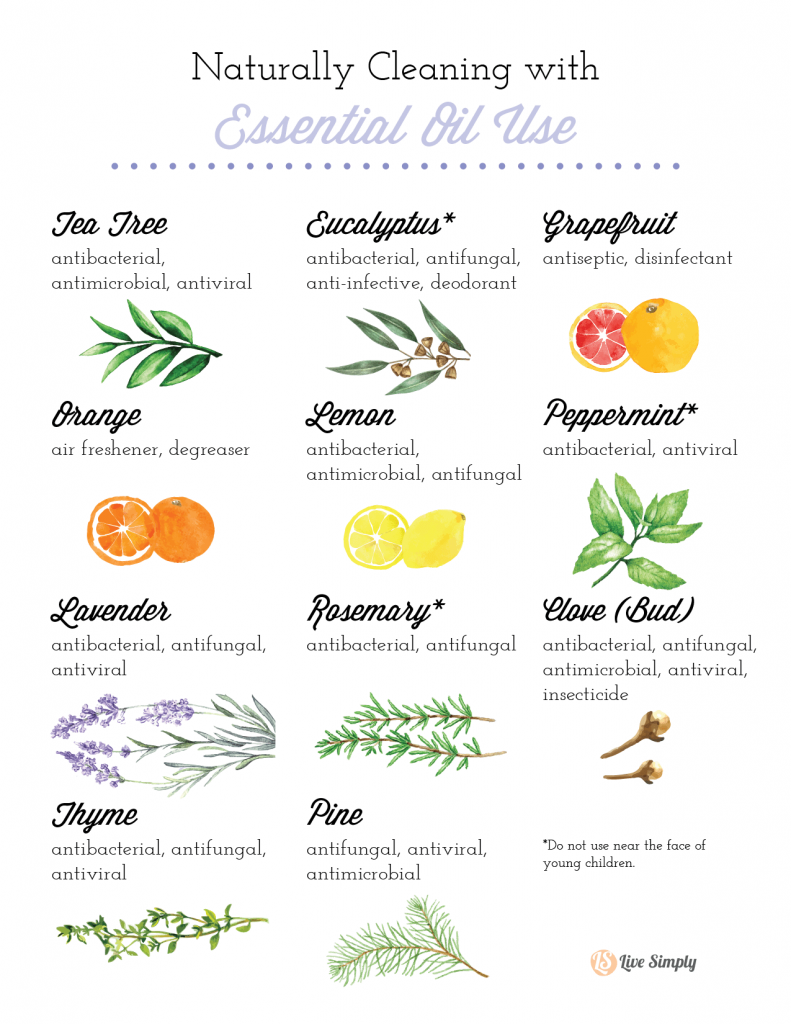 3. Essential Oil (Optional)
If you'd like to add a scent to this all purpose cleaner (outside of using a scented castile soap), or want to add antibacterial properties to the cleaner, adding an essential oil or a combo of essential oils is a nice option. Essential oils are basically concentrated oils derived from plants. Above, I've included a chart of some of my favorite essential oils to use for cleaning. I personally like lemon, grapefruit, or a germ fighter blend. You don't need to add an essential oil to this cleaner to make it effective, this is simply an added bonus ingredient if you choose to use it. Keep in mind, it's very difficult to determine how much of an essential oil is needed to make something like this DIY all purpose cleaner an antibacterial, antiviral, etc. spray. After all, this is a homemade spray and not something we're testing in a lab.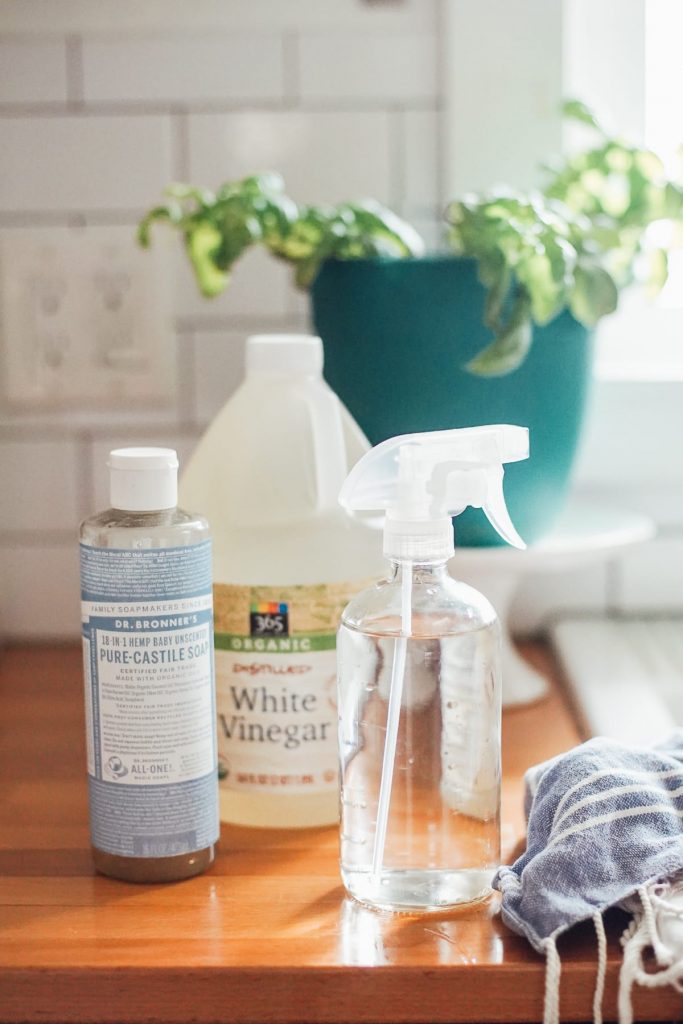 4. Spray Bottle
I highly recommend investing in a couple of glass spray bottles if you're going to make your own all-purpose cleaners. Glass spray bottles will cost about $20 for a set of two. I've had my bottles for years and reuse them over and over again when making all-purpose spray.
How to Use All Purpose Cleaner
There are so many ways to use this cleaner. Let's take a look…
sinks and tubs
kitchen counters and tables
dusting surfaces (I recommend using a microfiber cloth)
dirty toys
door knobs
lightswitches
stainless steel surfaces
bathroom counters
Spray the surface directly with all purpose cleaner, then use a damp cloth to wipe the surface clean. I don't recommend using the cleaner on glass or mirror surfaces as it will leave behind a residue. If you need something for cleaning mirrors and windows, I recommend this DIY cleaner.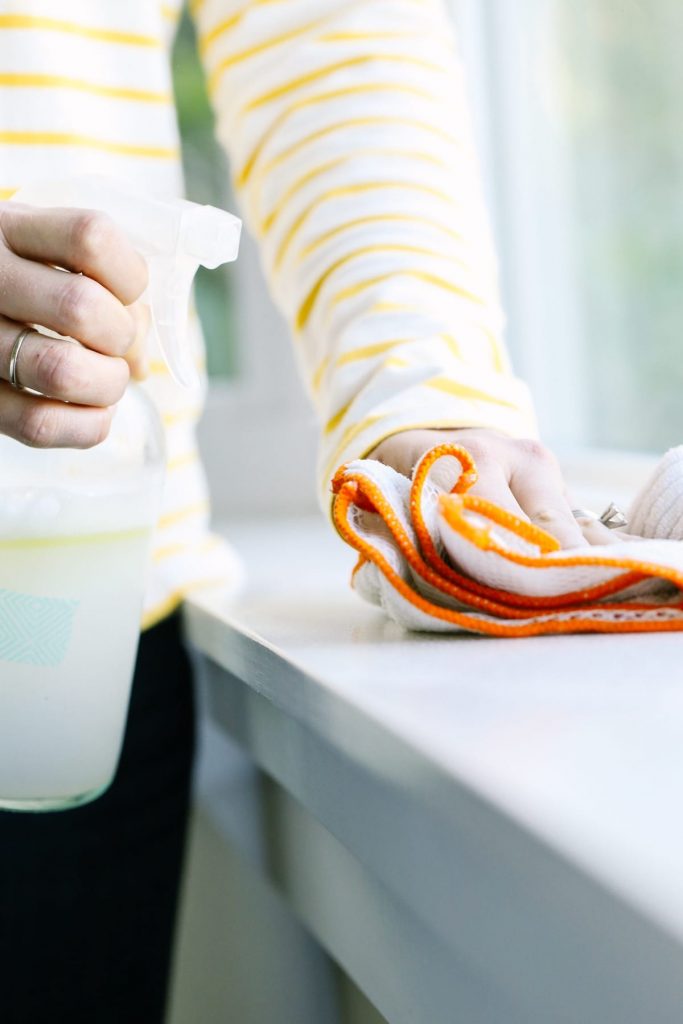 Watch How to Make This Cleaner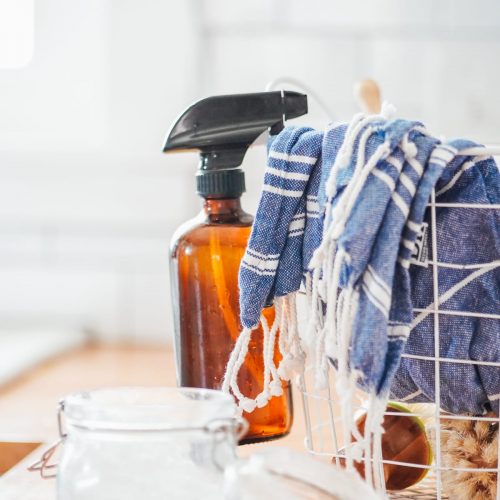 DIY All Purpose Cleaner Without Vinegar
This DIY all purpose cleaner is made without vinegar. You'll need just a couple of ingredients: castile soap or Sal Suds and water. You may also add an essential oil, if desired. This homemade cleaner removes bacteria and germs, along with grease and dirt from surfaces (removes, not kills -->this is a cleaning spray, not a disinfectant spray).
Instructions
Add the water to the spray bottle, followed by the castile soap (or Sal Suds), and (if using) essential oil of choice.

Place the spray nozzle on the bottle and gently shake the bottle to combine the ingredients. You'll want to do this each time you use the cleaner, particularly if it's been sitting and the ingredients have settled or separated.

Spray a cloth or the surface directly, then use a damp cloth to clean the surface. ALWAYS perform a spot test first in a tiny area before spraying this cleaner on a surface, particularly sensitive surfaces. This applies to all cleaning products.
Notes
Where to use this cleaner...
sinks and tubs
kitchen counters and tables
dusting surfaces (I recommend using a microfiber cloth with this cleaner)
dirty toys
door knobs
lightswitches
stainless steel surfaces
bathroom counters
interior car surfaces
More DIY Cleaning Recipes Without Vinegar