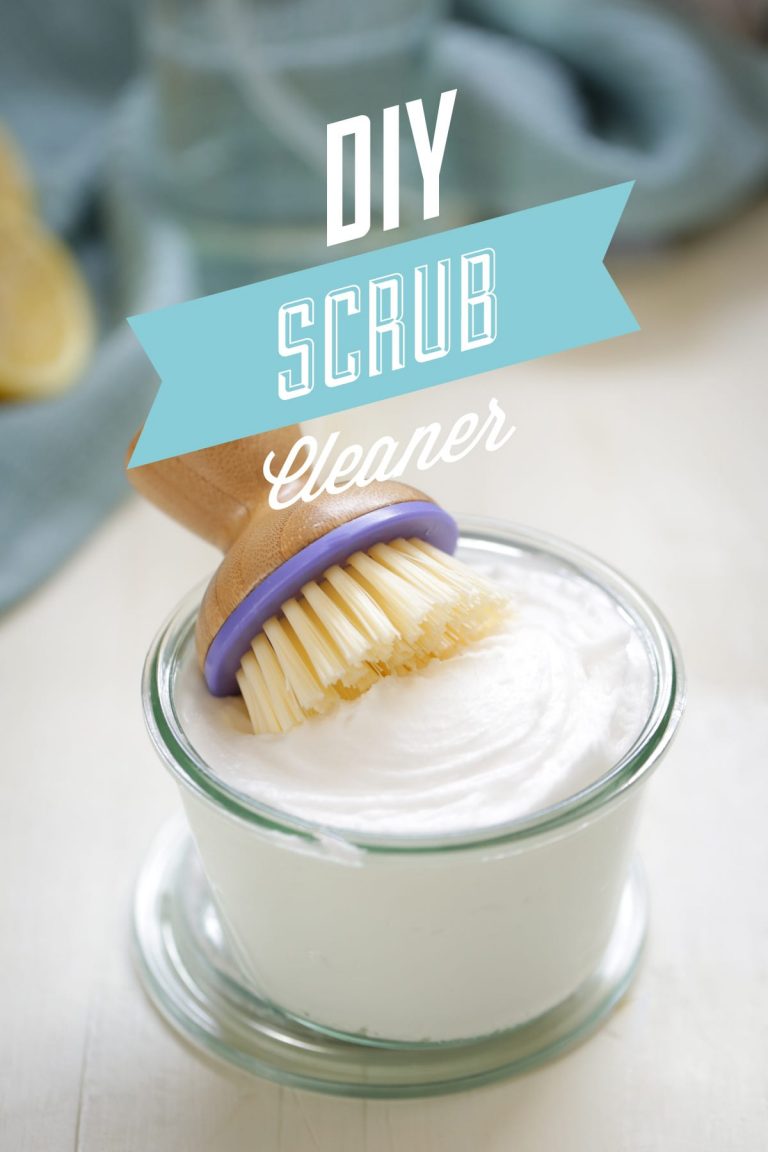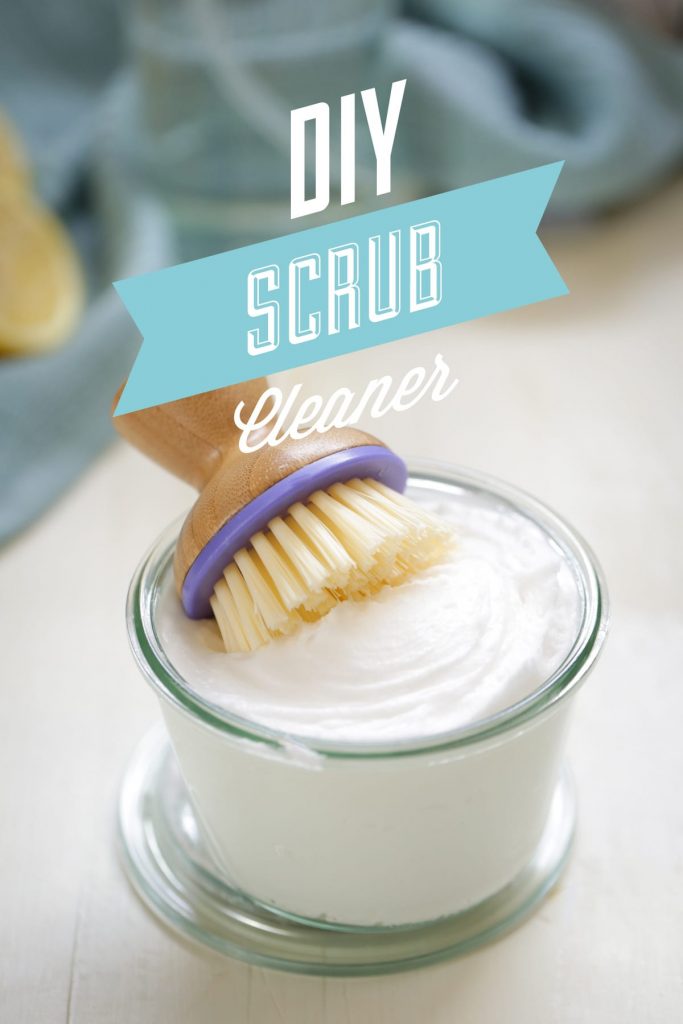 Let's tackle the dirtiest part of the house. You know that room we take one look at and turn around and close the door in a moment of fight or flight. Wait. Is that just me? Let's just pretend this is a global mom thing.
I've confessed before, but it's worth mentioning just one more time…I don't like cleaning the bathroom. It's the one room of the house that strikes pure terror in my obsessive compulsive heart. Maybe it's the fact that we have a wonderful four year-old boy living under our roof (we shall leave it at that…I think you get the point). Or the fact that our tub seems to throw mildew parties on a weekly basis and leaves all the evidence behind for me to clean up. Ah, yes. The bathroom.
Whatever the cause of my bathroom cleaning reservations may be, the dirty job must be done quite regularly in order to maintain a sense of cleanliness for the good of all.
Before having kids the dirty job could easily be accomplished with a washcloth and some water. I know, probably not the best cleaning method, but the bathroom was rarely used when both Dustin and I worked outside the home. Not to blame the kids (because I love my kids and don't want them to have adult therapy sessions because of mommy's bathroom issues), but well…the evidence is clear. The bathroom cleaning job is a bit more necessary during this season of life.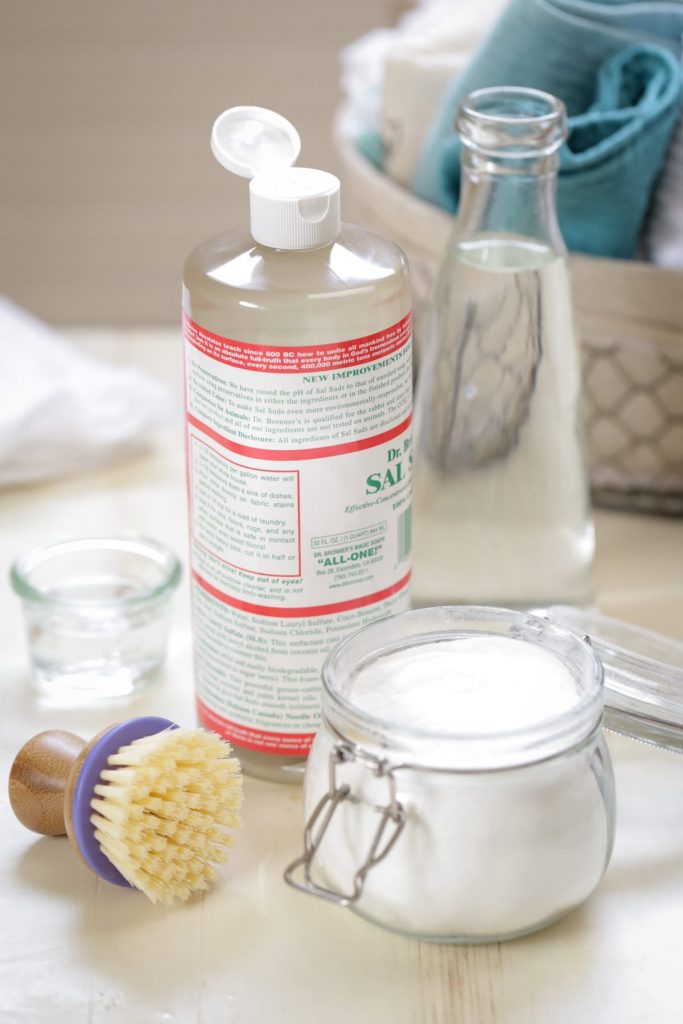 In my quest for a clean(er) bathroom, I created a powerful bathroom cleaner that works against even the most stubborn odors and dirt. That cleaner (which is amazing and you really need to check out!) is the go-to homemade solution for my weekly appointment in the bathroom. There are times when the job gets really dirty! So dirty I need a bit more help than my trusty homemade squirt bottle can provide. It's in those moments that I turn to soft scrub.
Wait. wait!
Don't leave.
It's homemade, I promise.
Soft scrub is an amazing product that works on even the toughest dirt and mildew. Thankfully, making a homemade version of the popular cleaner is as simple as combining three dirt-hating ingredients. Let's take a look at each ingredient…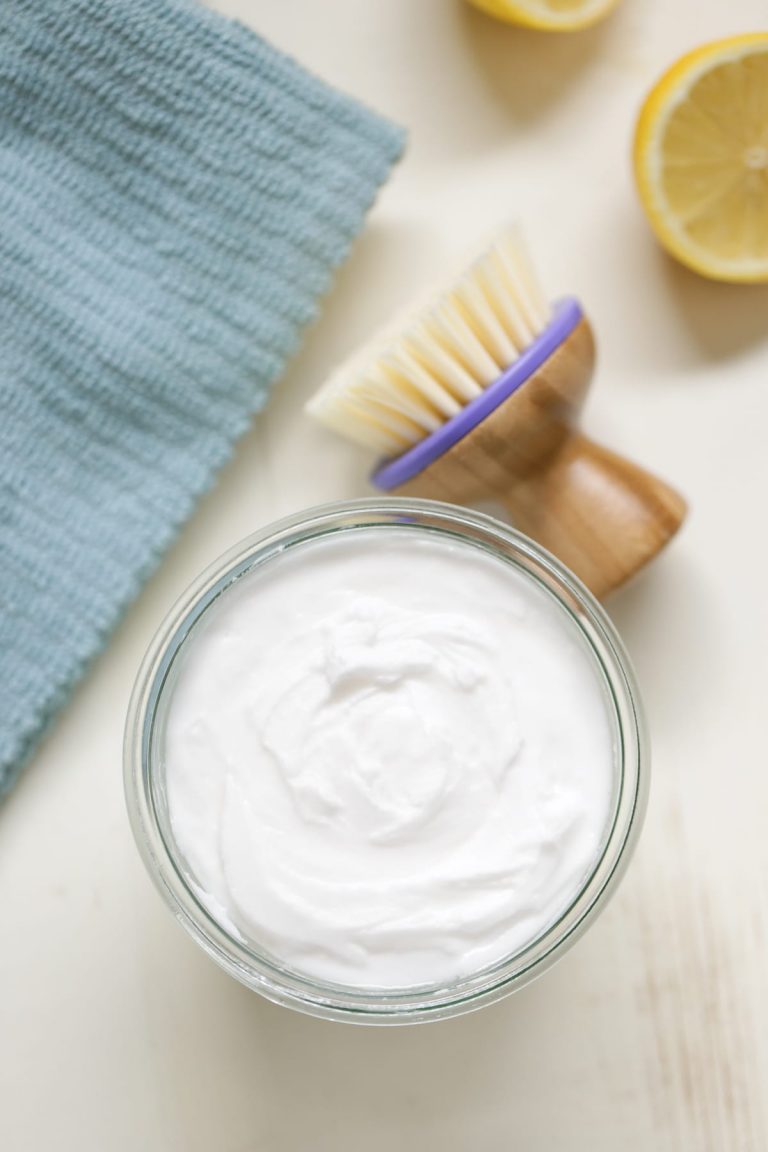 Baking Soda: Baking soda is one of the most effective cleaning ingredients available. This inexpensive ingredient can be used to raise my favorite banana bread and clean a toilet. Pretty amazing stuff! When used as a homemade cleaner, baking soda absorbs odors and scrubs away stains due to its abrasive properties. I use Bob's Red Mill Baking Soda for baking, but go with the cheaper bulk bag of Arm & Hammer for cleaning.
Castile Soap or Sal Suds: One of my favorite multipurpose DIY ingredients. Castile soap is a concentrated vegetable-based soap with easy to recognize ingredients. I use castile soap for everything from homemade laundry detergent to hand soap and face wash. While I love castile soap, I often purchase castile soap's cousin, Sal Suds, for tough cleaning jobs. Sal Suds is tougher on grease and stubborn stains than castile soap.
Hydrogen Peroxide: Hydrogen peroxide is known for its antiviral and antibacterial properties, making it the perfect cleaning ingredient for a dirty bathroom. Hydrogen peroxide takes a bit of time to work so I let my homemade soft scrub sit for a few minutes before the victorious act of scrubbing away dirt and stains.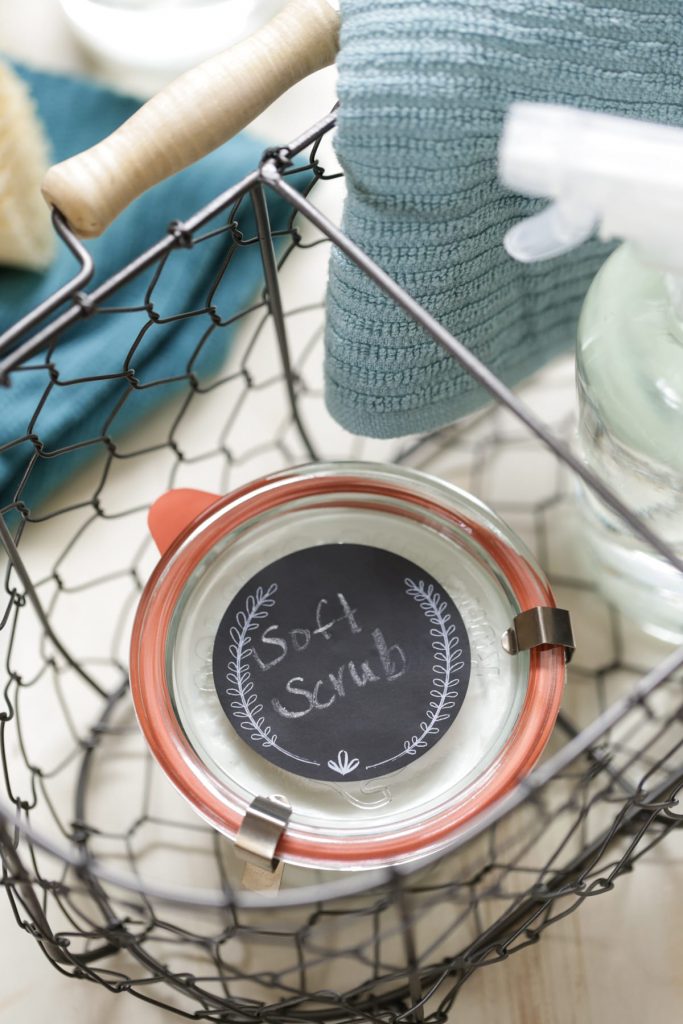 With three simple, cost-effective ingredients homemade soft scrub conquers even the most stubborn bathroom odors and grime. Plus, the act of mixing the ingredients takes less time than a trip to the store to purchase a bottle of the alternative, which means with the extra time you can hide out in a clean bathroom with a homemade latte and good book!
Wait. Am I the only mom enjoying quiet time in the bathroom?
Nah, I'm sure it's a global mom thing.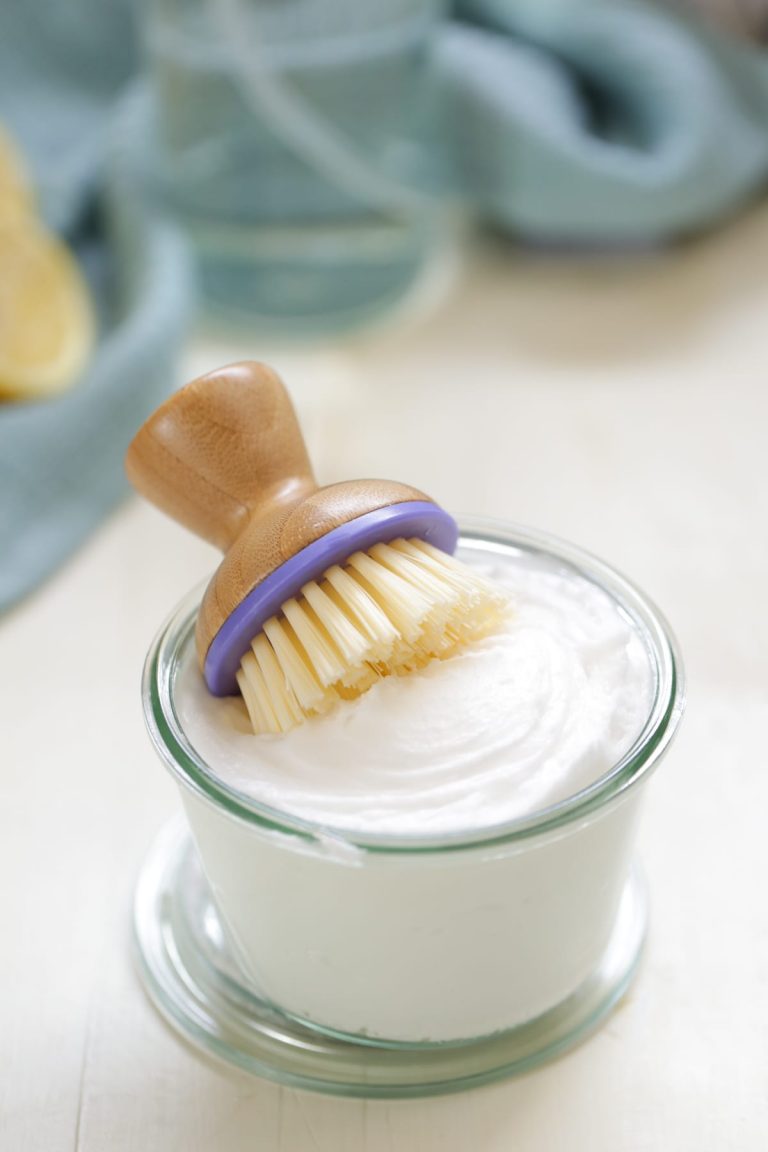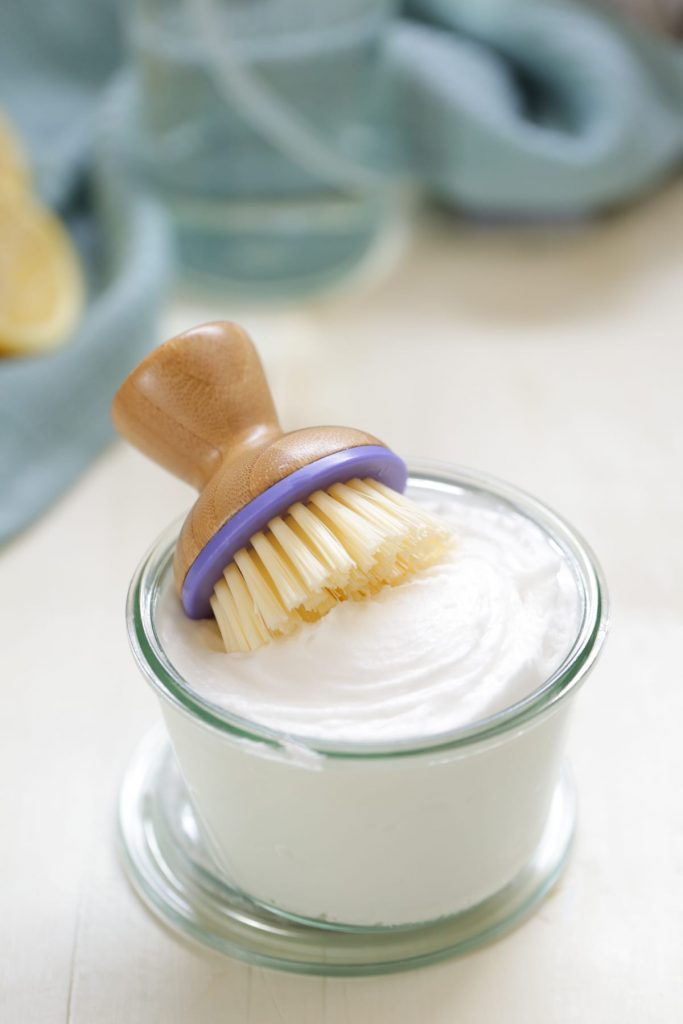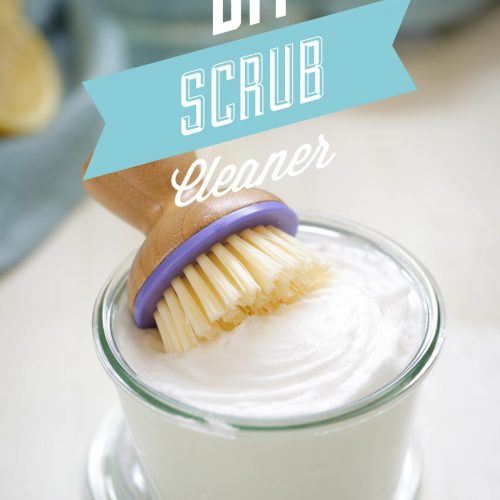 DIY Homemade Scrub Cleaner: Like Soft Scrub
Soft scrub is an amazing product that works on even the toughest dirt and mildew. Thankfully, making a homemade version of the popular cleaner is as simple as combining three dirt-hating ingredients.
Instructions
In a medium-size bowl, combine the baking soda, castile soap or Sal Suds, and hydrogen peroxide. Stir until the scrub cleaner looks like thick glue.

Spoon the scrub cleaner in a large jar with a lid. Seal the jar. This cleaner will harden when exposed to air for a prolonged period of time. The scrub cleaner can be used immediately and kept at room temperature (in a sealed jar) for several months.
Notes
Note: It's important to leave room at the top of the jar for expansion. The cleaner will expand within the first 24 hours. I leave 2-3 inches at the top of the jar for expansion.
To Use: Apply the amount desired to a cloth or
scrub brush
and apply to a dirty surface. Allow the scrub cleaner to sit for a couple of minutes. Wipe the surface with a damp cloth.
Makes 1 1/4 cups of scrub cleaner
The "where to buy" links provide links to the actual products I use. As always, I recommend shopping around online and at local stores for the best prices and products you love. Find my favorite DIY ingredients and tools, here.
Free PDF cheatsheet
How to Make Your Own Homemade Bathroom Cleaners
7 All-Time Favorite Recipes