Last year, Londyn (my youngest child) came home from school and shared that one of her friends at school had a pizza lunch. "You make your own pizzas, Mom. You put the sauce on and the cheese."I knew exactly what she was talking about because I ate that exact lunch growing up: The Pizza Lunchable. Today, let's make a pizza Lunchable alternative, the homemade way. If you're looking for a fun, healthy Lunchable alternative for your child's lunch, today's homemade recipe is sure to be a hit.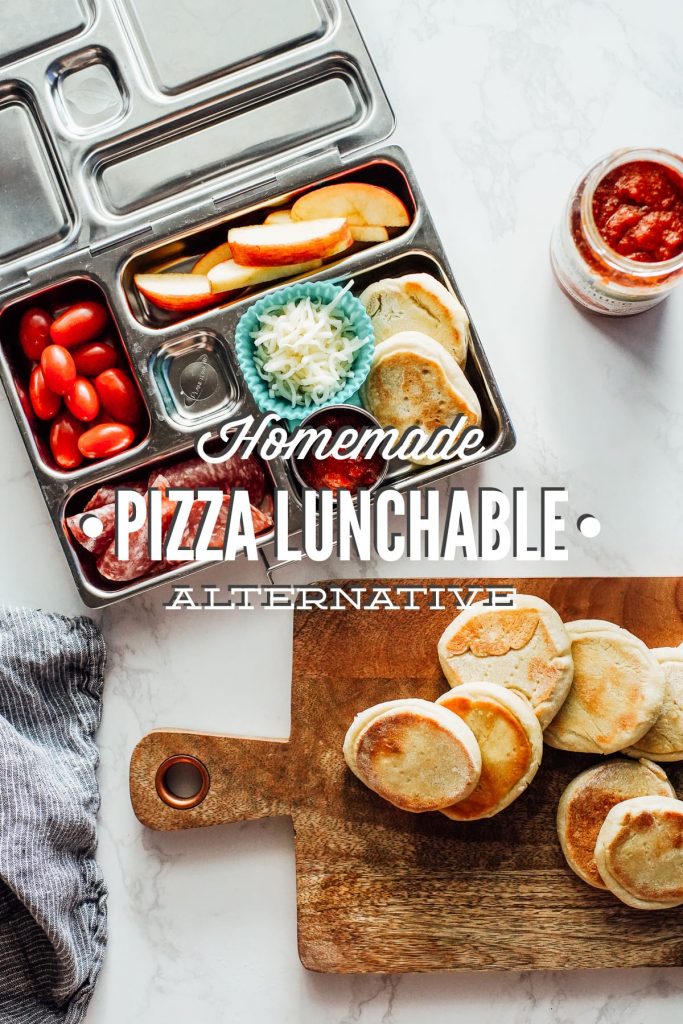 Why Make a Homemade Pizza Lunchable Alternative
To answer this question, let's pick up with Londyn's pizza Lunchable story. I could sense her excitement about this discovery and replied, "Oh yea, I know what you're talking about."
Then she looked at me and said, "I want to make that for my lunch!" Her first reaction was not "let's go buy one" but instead "let's make that." That's her world. That's what we do. This is her norm. This got me to thinking…
I don't want my kids to live in a bubble when it comes to food.
I want my kids to be able to go to the birthday party and partake in the cake and candy without fear or judgement.
I also want my kids to grow up knowing that they have the ability and power to nourish themselves with simple, real ingredients.
I want my kids to know the importance of sourcing (real) food and cooking. <–Something that has always been passed down by grandparents and parents. Something that we've completely lost in the age of ultra-processed food.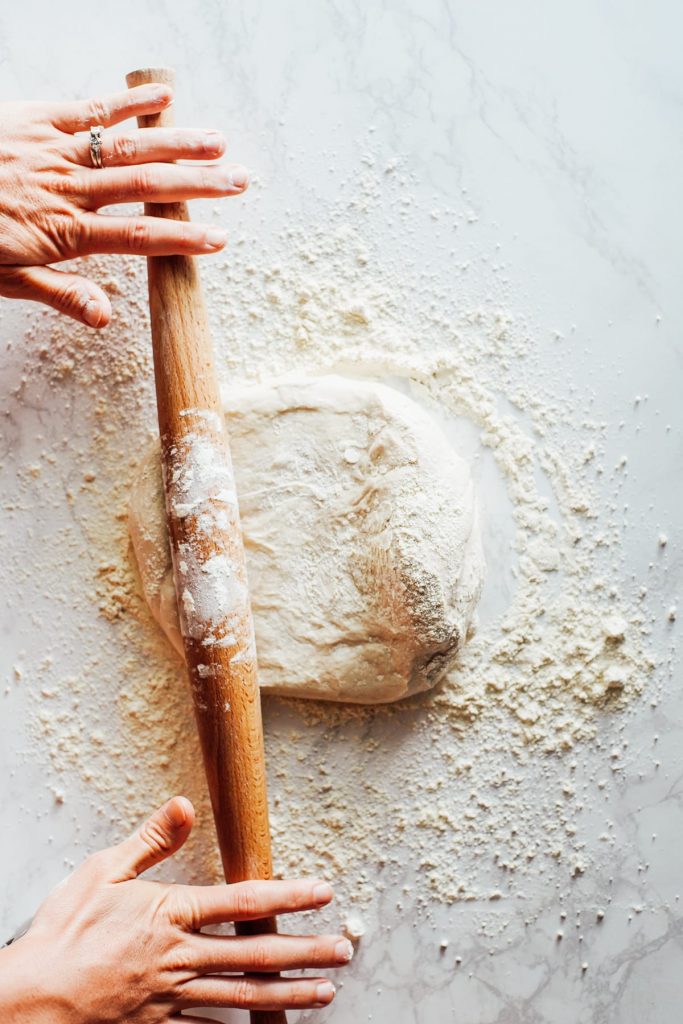 Londyn knew exactly how she wanted to make the build your own pizzas, too. "We need to make pizza dough and shred cheese!" That weekend, we did exactly that, stashing some of the baked pizza crusts away in the freezer for future lunches.
It's moments like this that remind me of the importance of making real food part of your family culture. It's our privilege as parents to create this environment and to make cooking and eating real food an incredibly delicious and positive experience for our children. One of the ways we do this is by teaching our children the incredible joy that comes from cooking from-scratch. This is how we change our health (and our children's health), our broken food system, and the future of food: we get back in the kitchen with our kids!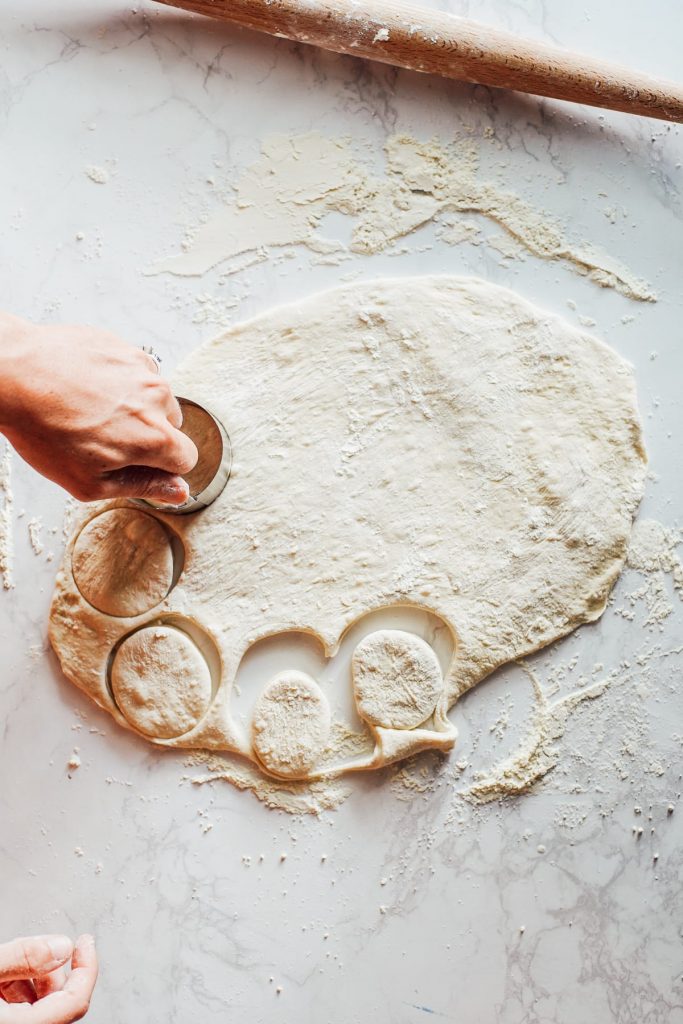 How to Make a Healthy Pizza Lunchable Alternative
To make a healthy, homemade pizza Lunchable, you need to first make the pizza crusts, the base on which you'll pile on all the other toppings. This is the most time-consuming part of making a homemade pizza lunchable. But don't let that scare you. The from-scratch pizza crusts freeze well once they're baked, which means with a little planning ahead you can create a healthy school Lunchable alternative in under 5 minutes.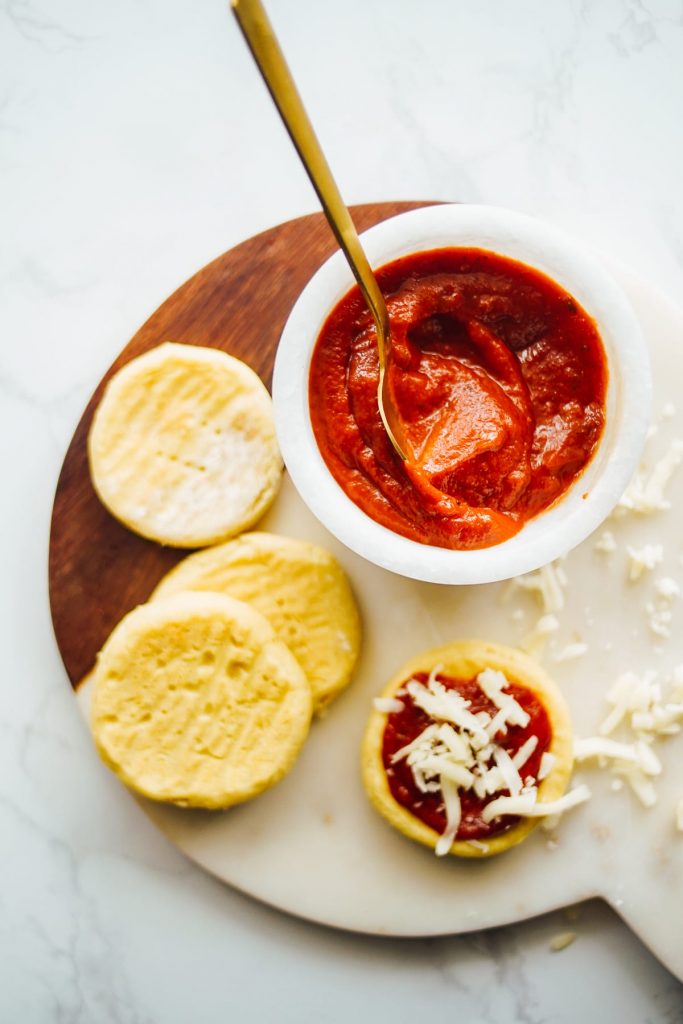 To make the pizza crusts…
Start with 1 pound of your favorite pizza dough. I love this sourdough recipe, this einkorn quick yeast recipe, or this recipe for all-purpose or wheat flour. Or use a store-bought dough.
Roll the dough out on a parchment paper sprinkled with flour.
Use a biscuit cutter or the top of a mason jar to form mini pizza crusts.
Poke the crusts with a fork, then place on a parchment-line sheet pan.
Bake the crusts at 425F for 12-15 minutes until cooked through.
The crusts may puff up in the oven. If this is the case, use the back of a measuring cup to gently flatten the crusts.
Allow the crusts to cool, then store in a bag or storage container.
To make a homemade pizza lunchable…
Add a few mini pizza crusts to a lunchbox.
Add sauce, shredded mozzarella cheese, and any additional toppings desired: olives, pepperonis, sliced mini sweet peppers, sliced cherry tomatoes.
Tips for Making a Homemade Pizza Lunchable
This recipe/concept has become one of Londyn's favorite lunches. It's on regular rotation this year. Here are a few tips I've learned over the past year for making this lunch as easy and fun as possible…
Make the pizza crusts in advance, stashing the pizza crusts away in the freezer for future lunches. No one wants to make homemade pizza crusts at 7am on a Monday morning, lol.
If you make homemade pizza for dinner, double up the crust recipe and make this recipe at the same time. This is what I call in "cook once, eat twice"–a time-saving school lunch strategy.
For variety, add sauce and cheese to the baked pizza crusts, then broil for a few minutes to make baked mini pizzas. My son prefers this option for his lunch as he doesn't like the "rawness" of the homemade pizza Lunchable. See the photo above for an example.
Use a bento-style lunchbox. My favorite brands are Lunchbots and Planetbox. A bento-style box is a lunchbox with compartments, so it makes packing a lunch like a homemade lunchable easy and mess-free. Check out my favorite lunchboxes and lunch gear in this post.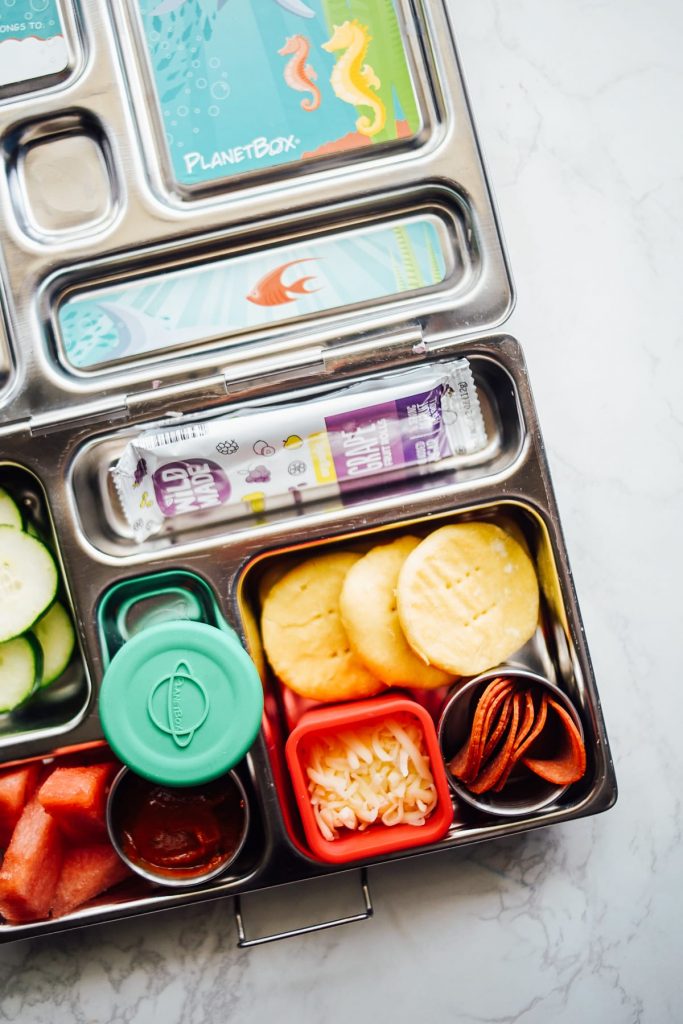 Watch How to Make This Lunch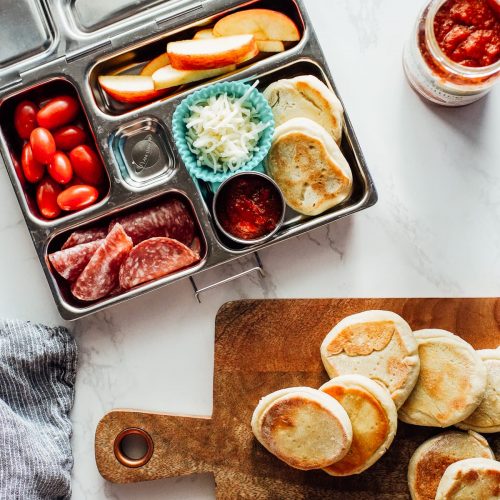 Homemade Pizza Lunchable Alternative
A homemade pizza Lunchable alternative made with from-scratch pizza crusts, sauce, cheese, and your toppings of choice. Make the pizza crusts in advance for an easy, homemade Lunchable option for school lunch.
Ingredients
Additional Topping Ideas:
sliced olives

pepperonis

I like Applegate mini pepperonis, for large pepperonis slice into quarters

sliced raw veggies

such as: mini sweet bell peppers, sliced cherry tomatoes
Instructions
Make the Mini Pizza Crusts:
Preheat the oven to 425F. Line a rimmed baking sheet with parchment paper.

Dust a large sheet of parchment paper with all-purpose flour. Transfer the dough to the parchment paper. Sprinkle a bit more flour over the top of the dough.

Roll out the dough on the parchment paper using a rolling pin or pressing the dough out from the center with your hands. 

Cut the dough into 18-20 mini rounds using a biscuit cutter (or the top of a mason jar or drinking glass). Then place the rounds on a baking sheet. 

Use a fork to pierce several holes in each round. Brush a small amount of olive oil over the top of each round. 

Bake for 10-12 minutes or until cooked through and slightly golden.

Remove the rounds from the oven. The rounds will have puffed up while cooking. Use the back of a measuring cup to flatten each crust.

Allow the rounds to cool before storing in a bag or air-tight container. Store in the fridge for up to 4 days or in the freezer for up to 2 months.
To Make a Homemade Pizza Lunchable Alternative:
Place a few pizza rounds in a lunchbox (a bento-style box is best for this kind of lunch), along with spaghetti/pizza sauce, mozzarella cheese, and any additional toppings desired. To eat, spoon sauce on a round, then top with mozzarella cheese and any additional toppings. 

Alternatively, you can use the pizza crusts to make mini baked pizzas. To do this, add a small amount of sauce and cheese (and a pepperoni if desired or veggies) to the already-baked mini pizza crusts, then broil for a few minutes until cheese melts. My son loves the baked mini pizzas in his lunchbox.
Nutrition
Calories:
67
kcal
Carbohydrates:
12
g
Protein:
2
g
Fat:
1
g
Saturated Fat:
1
g
Cholesterol:
1
mg
Sodium:
201
mg
Potassium:
7
mg
Fiber:
1
g
Sugar:
2
g
Vitamin A:
18
IU
Vitamin C:
1
mg
Calcium:
9
mg
Iron:
1
mg
FREE PRINTABLE
42 EASY SCHOOL LUNCH IDEAS CHEAT SHEET
Nourishing meal ideas for effortless school lunches. Download your free lunch guide.