A few weeks ago, we talked about 3 essential cleaning product swaps. Today, I'd like to follow up and share my favorite non-toxic cleaning brands (and products). Below, you'll find a list of the brands that I turn to over and over again. These brands are transparent about their ingredients, which enables me to make informed choices about the products I bring into my home.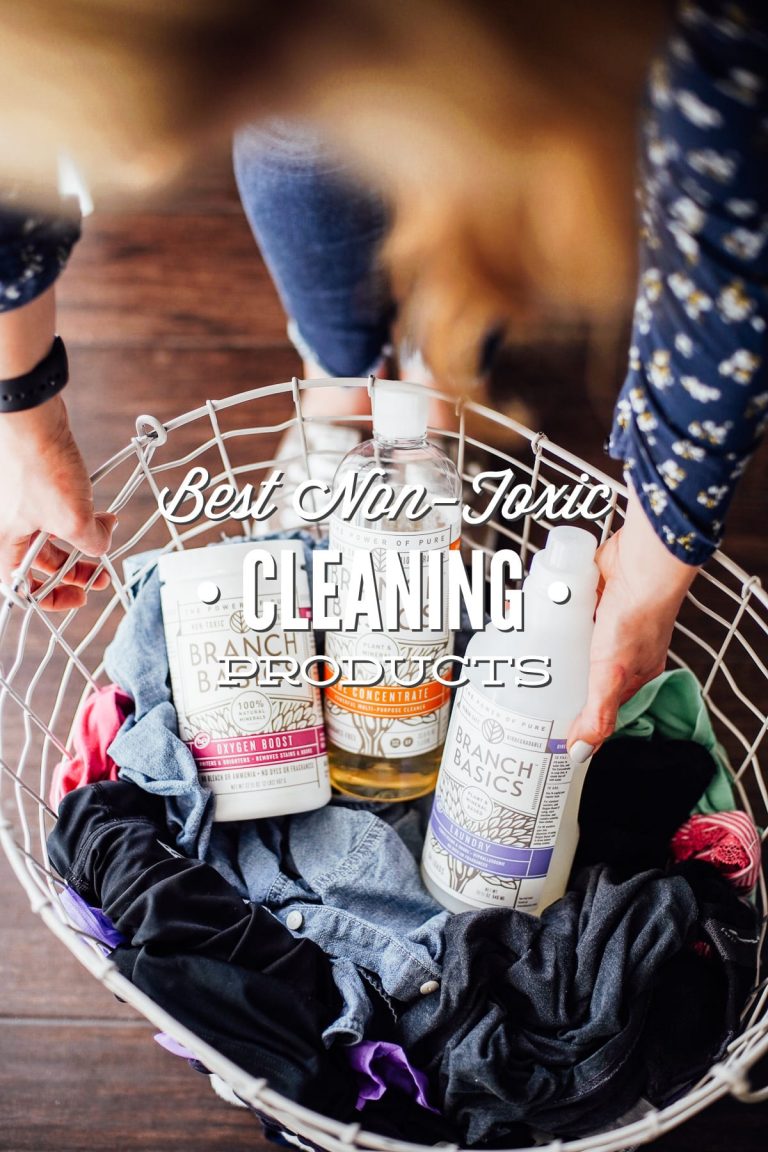 First, let's recap a few of the important points we talked about in the cleaning swaps chat…
The US Government doesn't test cleaning products and doesn't mandate that companies test them either.
Cleaning companies are only required to list active ingredients or ingredients of "known concern."
When you take a deep dive into researching cleaning products and the ingredients used to make many of these products, it's concerning to read about the impact they have on the body (i.e. disrupting hormones, triggering respiratory issues, etc.)
Chemicals are NOT bad. The goal is not to be chemical free (that's impossible as everything has a chemical composition). The concern is that some of the chemicals used to make body and cleaning products today are known to have a negative effects on the body (disrupt hormones, cause respiratory issues, etc.).
3 Steps to a Healthier Home Environment
While it would be great to see change in the regulation and accountability of cleaning products, and we can certainly advocate for such changes, that change isn't here just yet. So let's focus on the steps we can take right now that directly impact our home environment and family.
STEP ONE: Choose one product at a time to swap. Instead of feeling overwhelmed by all the products you want to swap, focus on JUST ONE a month or as products run out. You may even find that you don't need as many cleaning products, so focus on your cleaning needs and find products that are multi-purpose. You'll probably find that as you go non-toxic, you also simplify your cleaning routine. Join my free 5-Day Natural Cleaning Challenge to get started with 3 essential cleaning swaps.
STEP TWO: Learn how to make your own cleaners. You don't have to make everything. (I don't!) Instead, learn the basics of how to make an all-purpose cleaner, a glass cleaner, and a homemade scrub. These 3 products will meet a wide range of cleaning needs. Even if you don't make these cleaners regularly, there's POWER in knowing HOW to make your own products. DIY Natural Cleaning covers how to make the basics and so much more.
STEP THREE: Build a list of trust-worthy companies. There aren't a ton of options on the market when it comes to trustworthy cleaning companies. Kind of sad, right? But this is slowly changing. There are more options today than there were when I started this journey. Knowing which companies are transparent and using proven-to-be-safe ingredients is helpful when navigating the tricky world of cleaning products. Below, I'll share my favorite cleaning brands.
Best Non-Toxic Cleaning Brands and Products
Below, you'll find my favorite non-toxic cleaning products and brands. Some of these brands may be found in stores (I only have experience with US stores) and all may be found online (via Amazon or the brand's website).