Meet my new favorite muffin recipe that checks all the right boxes: veggies, chocolate, einkorn, and make-ahead friendly. What's not to love? These einkorn chocolate zucchini muffins aren't too sweet (made with honey and cinnamon), are healthy enough to serve for breakfast or a snack, and taste rich and decadent enough to be considered a dessert.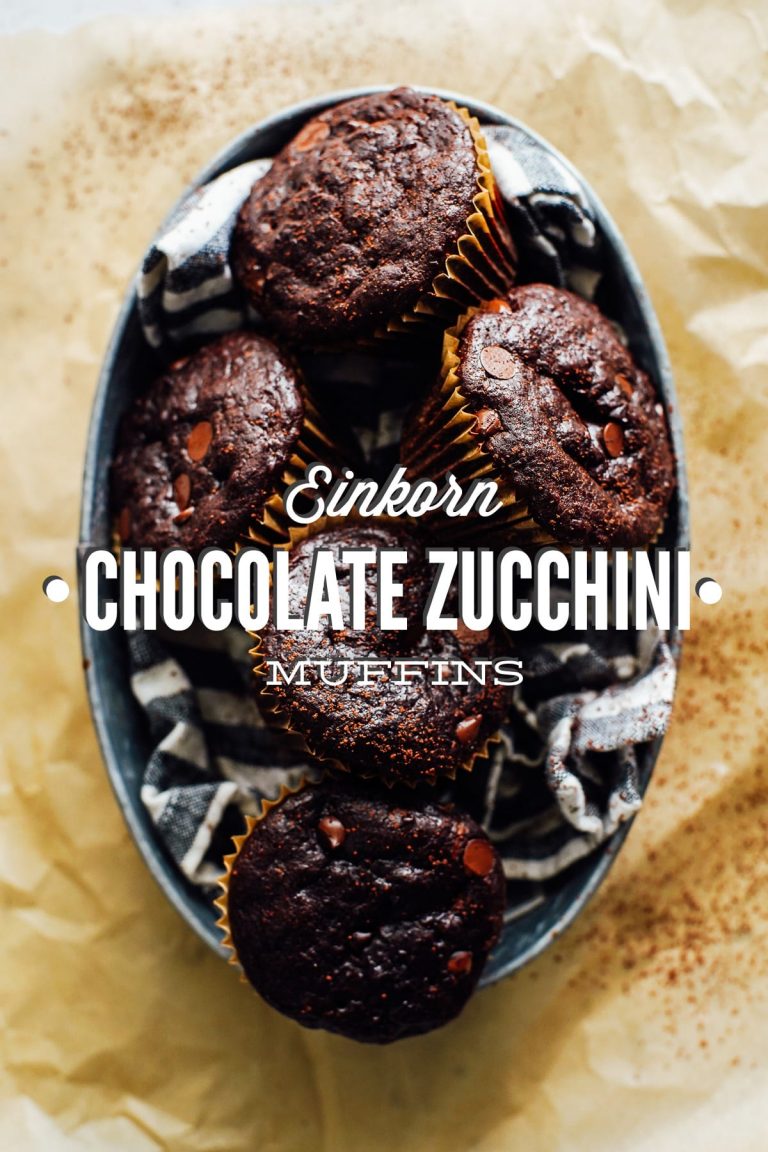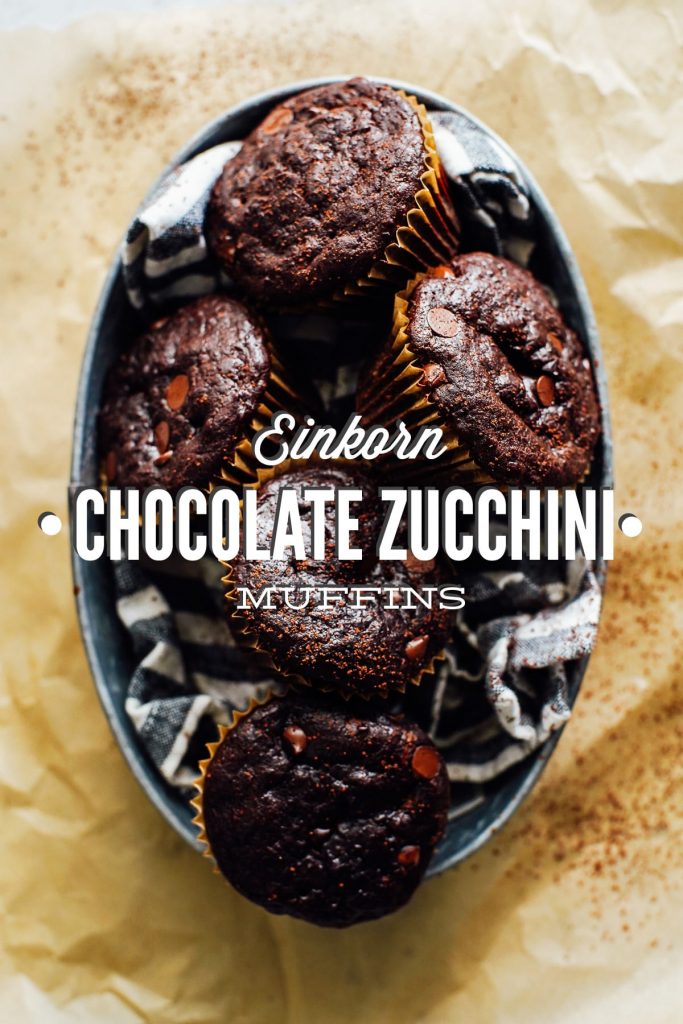 Einkorn Flour Makes the Best Muffins, Here's Why…
I'm a HUGE fan of einkorn flour as evidenced by the number of einkorn recipes that can found on the blog. Einkorn is my go-to flour for making muffins, cakes, pancakes, biscuits, cookies, and dumplings. It's no surprise that today's chocolate zucchini muffin recipe calls for einkorn flour.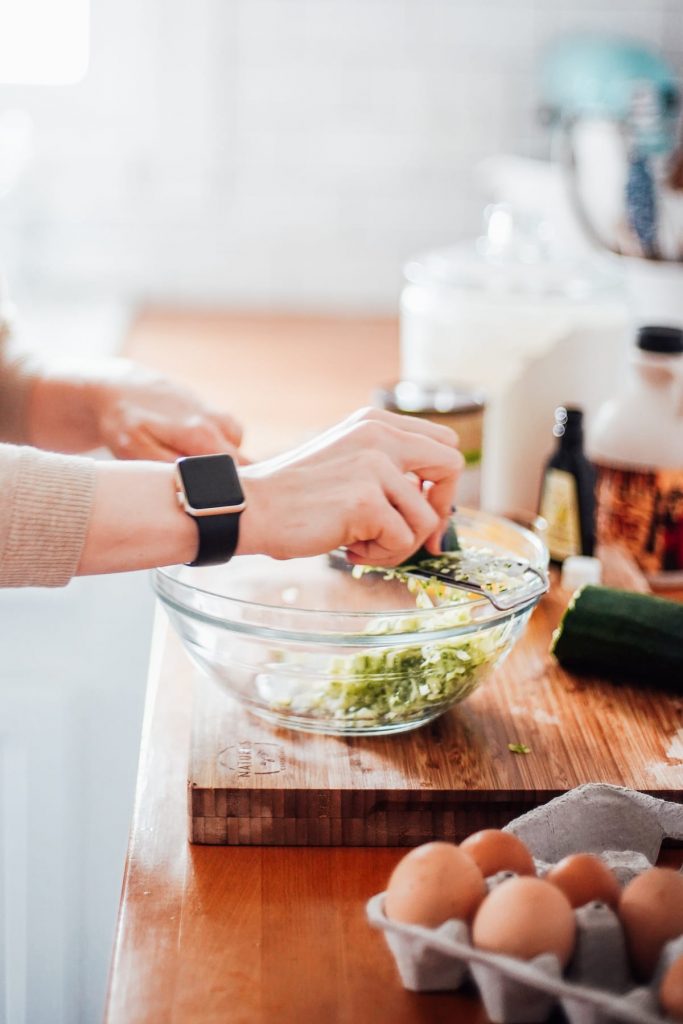 Here's what makes einkorn flour the best flour for making muffins (and other baked goods)…
Einkorn is known as the oldest variety of wheat making it an ancient grain. The ancient grain is believed to have originated in the Tigris-Euphrates region and is possibly the main grain referenced in the earliest accounts of the Bible. Einkorn is said to be the wheat men were eating in the earliest days before modern day wheat varieties. While modern wheat has undergone hybridization, einkorn still holds true to its original properties.
Einkorn is a sweet grain with a lighter texture and taste than modern day wheat.
Einkorn is the only wheat that's missing certain types of gluten proteins that some people are sensitive to. Einkorn is not gluten-free, but many people who have gluten sensitivities tolerate einkorn well (NOT Celiacs, do not consume einkorn if you have celiacs).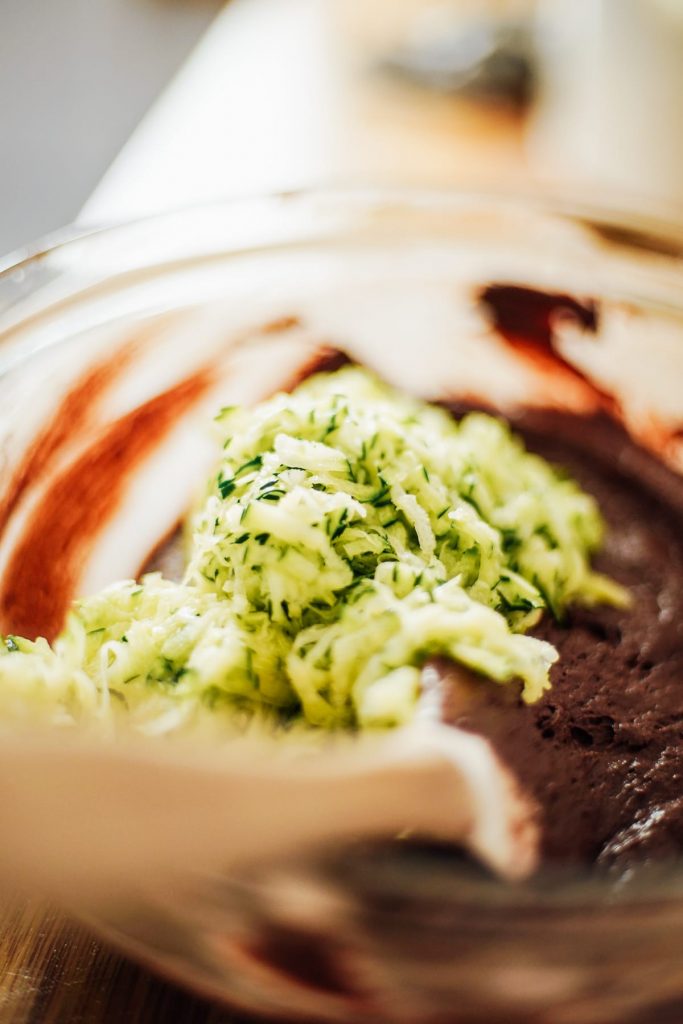 The flavor, texture, and nutritional aspects of einkorn make it a fantastic flour to use for baking, particularly lighter baked goods like muffins. I shared an einkorn 101 post here, it's definitely worth a read and listen (there's a podcast episode included at the bottom of that post) if you're new to einkorn.
Where to Buy Einkorn Flour
Einkorn isn't as common as wheat or all-purpose flour made from modern wheat, so it can be difficult to find in the average grocery store.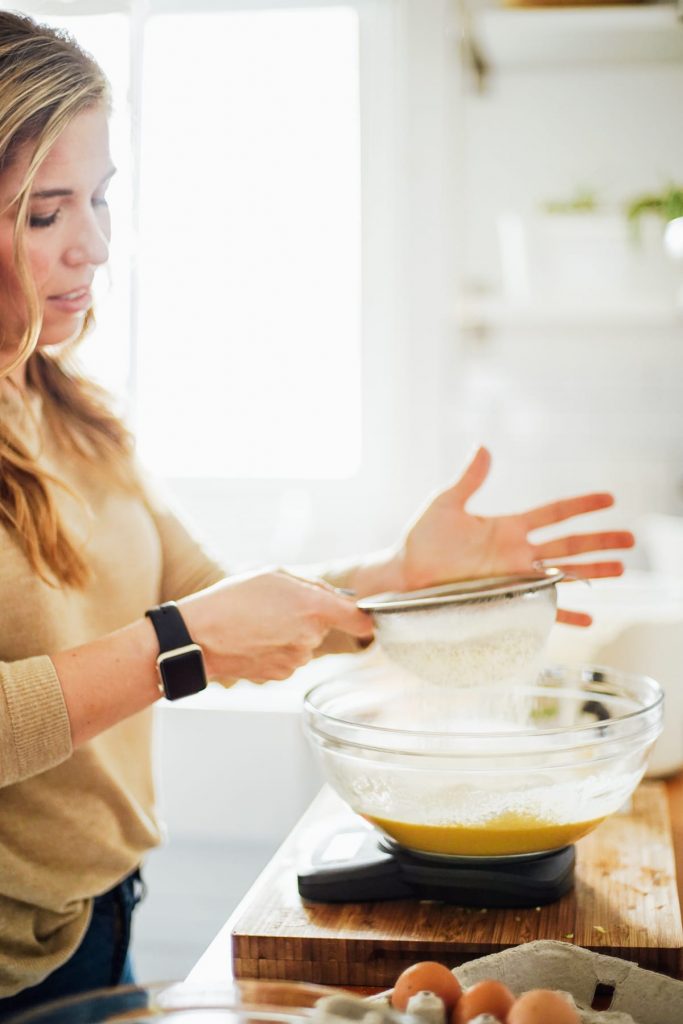 You can find einkorn at Whole Foods and health food stores, Earth Fare, Vitacost, and on Amazon. Definitely shop around as prices can vary based on the retailer. My favorite brand is Jovial Foods since finding their products is fairly easy, and I've come to respect this brand as a leader in the real food movement (check out my podcast episode with Carla, the founder, here). Another fantastic source for einkorn (flour and berries) is einkorn.com.
Tips for Making Chocolate Zucchini Muffins with Einkorn Flour
Sift the einkorn flour: I know, it's a extra step none of us want to take, but sifting the flour by placing it in a fine mesh sieve and then gently shaking it into a bowl means you won't end up with flour clumps in the muffins. And trust me, no one wants flour clumps in a muffin. Einkorn, in particular, seems to get a bit clumpy so I find sifting the flour solves this issue. Sifting flour also helps to make a lighter baked good.
Press the zucchini to remove water: Zucchini retains a ton of water that can make baked goods too moist. Shred the zucchini into a towel and then ball up the towel and squeeze out excess water from the zucchini. Then add the zucchini to the batter and stir in the sifted einkorn flour and other dry ingredients.
Sub whole wheat einkorn: If you want to use whole wheat einkorn instead of the all purpose einkorn flour called for in this recipe, reduce the flour by about 1/4 cup. The batter should be thick once all the ingredients are incorporated. If you find the batter is too runny, add in additional flour until you reach a thicker consistency.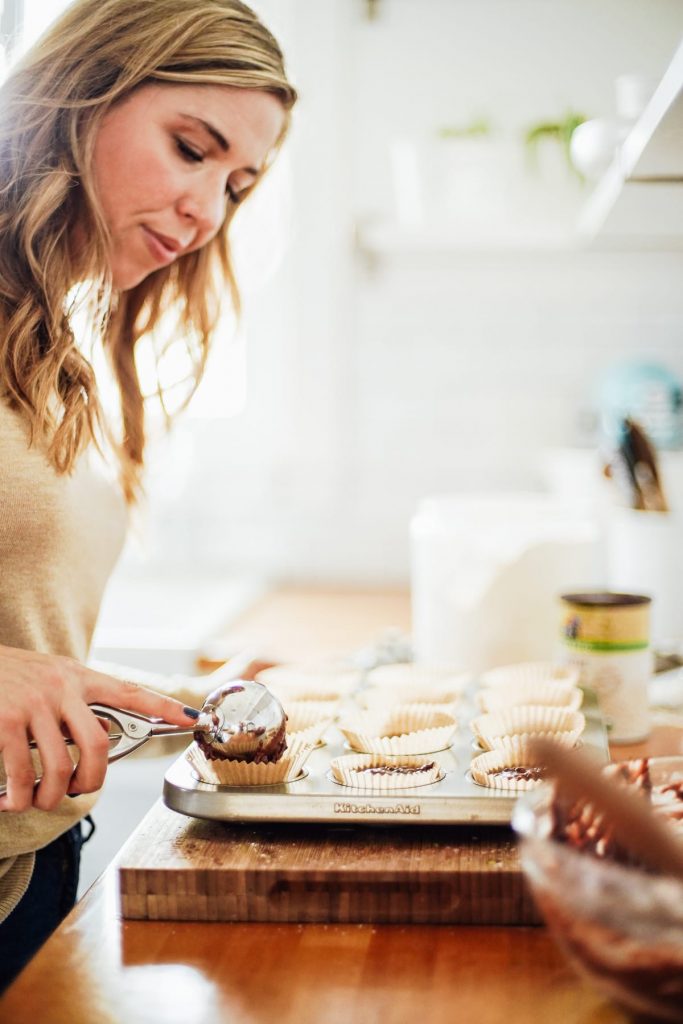 Prep Einkorn Muffins in Advance to Save Time
My kids are obsessed with these muffins and love them in their school lunch or for an afternoon snack or breakfast. (Okay, I'm just as guilty. I love the muffins, too, and will eat them at any meal.)
To be ready for their hungry appetites, I like to prep a batch of muffins on the weekend, particularly when zucchini is in season and available at the farmer's market, to enjoy for breakfast and store extras in the fridge or in the freezer. I think you could also make a double batch of this recipe and freeze the extra for future enjoyment–saving a ton of time and your morning sanity well into the future. This is what I call "cooking once, eating twice."
Love Einkorn? Try My Favorite Einkorn Muffin Recipes
This recipe is just one of many favorite einkorn muffin recipes that we make in our home. I like to have a variety of simple recipes like this to choose from and rotate. All of the recipes below are naturally sweetened with either honey or maple syrup (my preference for something we will consume on a regular basis) and call for einkorn flour.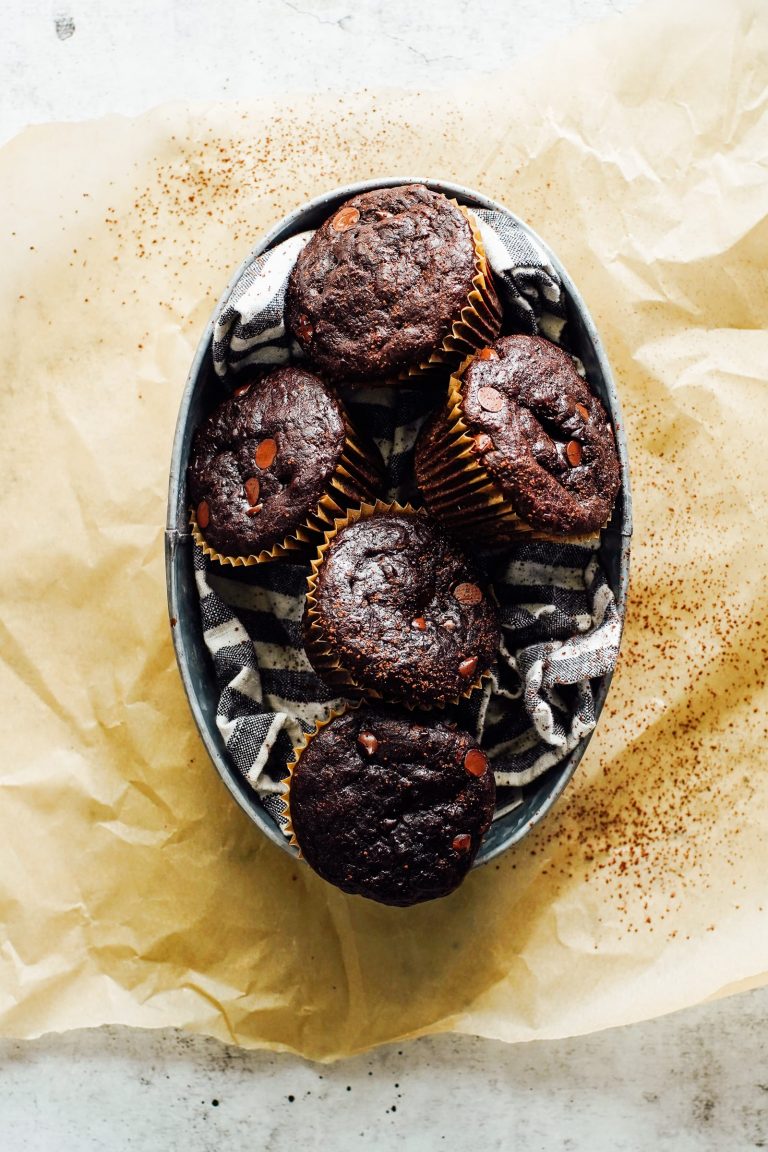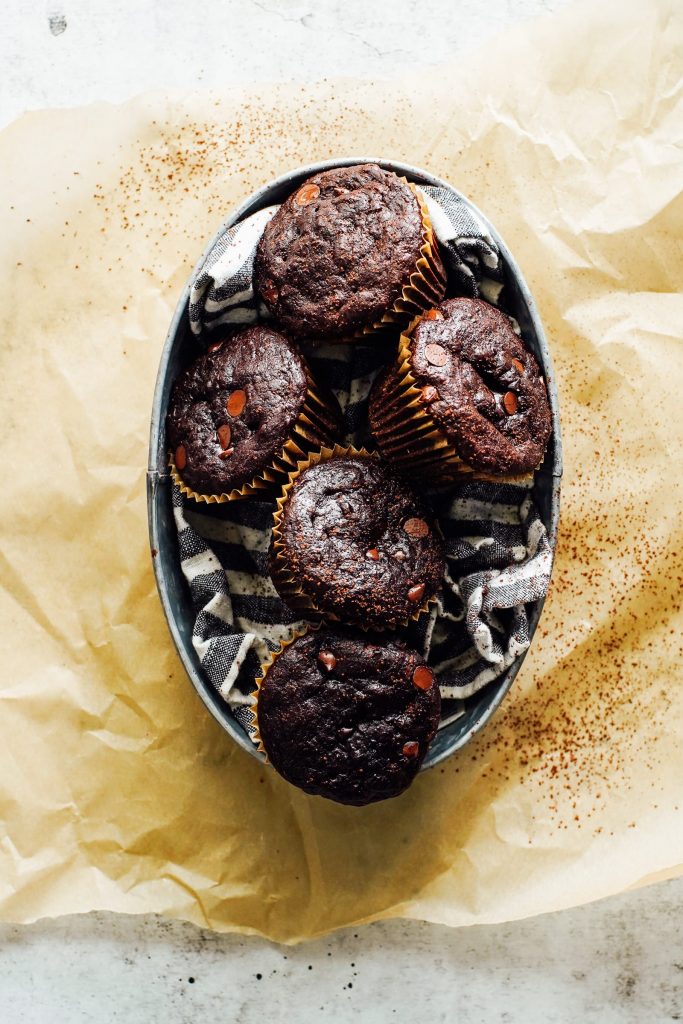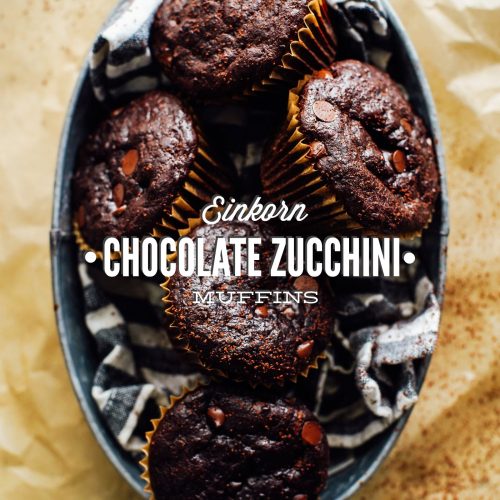 Einkorn Chocolate Zucchini Muffins
A honey sweetened chocolate muffin made with the ancient grain einkorn and fresh zucchini. Add chocolate chips for a double chocolate treat or stick with just cocoa powder for a delicious breakfast option.
Ingredients
Optional Add-In:
3/4

cup

chocolate chips

or chopped nuts (walnuts would be lovely)
Instructions
Preheat the oven to 350F. Line 12 muffin cups in a muffin tray.

In a large mixing bowl, combine the wet ingredients: melted butter, honey, Greek yogurt, eggs, and vanilla extract.

Place the shredded zucchini in a kitchen towel (I grate the zucchini right into the towel using a cheese grater). Bring the edges of the towel together and squeeze the base of the towel (where the zucchini is located) to remove excess water/juices.

Add the shredded zucchini to the batter and stir to combine.

Sift the einkorn flour into the wet ingredients using a fine mesh sieve (add the flour to the sieve and gently tap to sprinkle the flour into the bowl--this removes clumps that can form in the batter).

Add the remaining dry ingredients: cocoa powder, baking soda, baking powder, cinnamon, and salt.

Fold the dry ingredients into the wet ingredients until combined.

Stir in any mix-ins desired (optional): chocolate chips or nuts. I personally love the flavor of the muffins without chocolate chips or nuts, but if you want a sweeter muffin (the muffins aren't super sweet due to the honey), chocolate chips will add more sweetness.

Let the batter rest for about 5-10 minutes to allow the flour to absorb the wet ingredients.

Evenly divide the batter into 12 muffin cups (they will be full). If you don't want such large muffins, fill the liners just halfway and make about 16 muffins.

Bake the muffins for 18-21 muffins, until firm on top.

Let the muffins rest for 10 minutes before removing from the pan to cool completely.
Notes
Sweetener: This recipe isn't super sweet. I personally don't want muffins super sweet, as that  would make them more of a cupcake than a muffin. The honey and cinnamon offer just a touch of sweetness. If you want to use maple syrup, that's an option as well.  Whole Wheat Einkorn Flour: I haven't tested this recipe using whole wheat einkorn flour, but I think it will work. Generally, I decrease the flour by 1/4 cup when using whole wheat einkorn instead of all purpose einkorn. If you'd like to do that, just watch the batter. If the batter is thick, you're good. If it's too runny, slowly increase the amount of flour (a tablespoon at a time) until you get a thicker batter.  Cocoa Powder: I recommend using cocoa powder in this recipe and not cacao powder. Cacao just doesn't have the same chocolatey taste in baked goods, so it may not result in the same rich chocolate flavor. 
Nutrition
Calories:
235
kcal
Carbohydrates:
35
g
Protein:
5
g
Fat:
10
g
Saturated Fat:
6
g
Trans Fat:
1
g
Cholesterol:
45
mg
Sodium:
227
mg
Potassium:
178
mg
Fiber:
2
g
Sugar:
19
g
Vitamin A:
274
IU
Vitamin C:
3
mg
Calcium:
54
mg
Iron:
2
mg