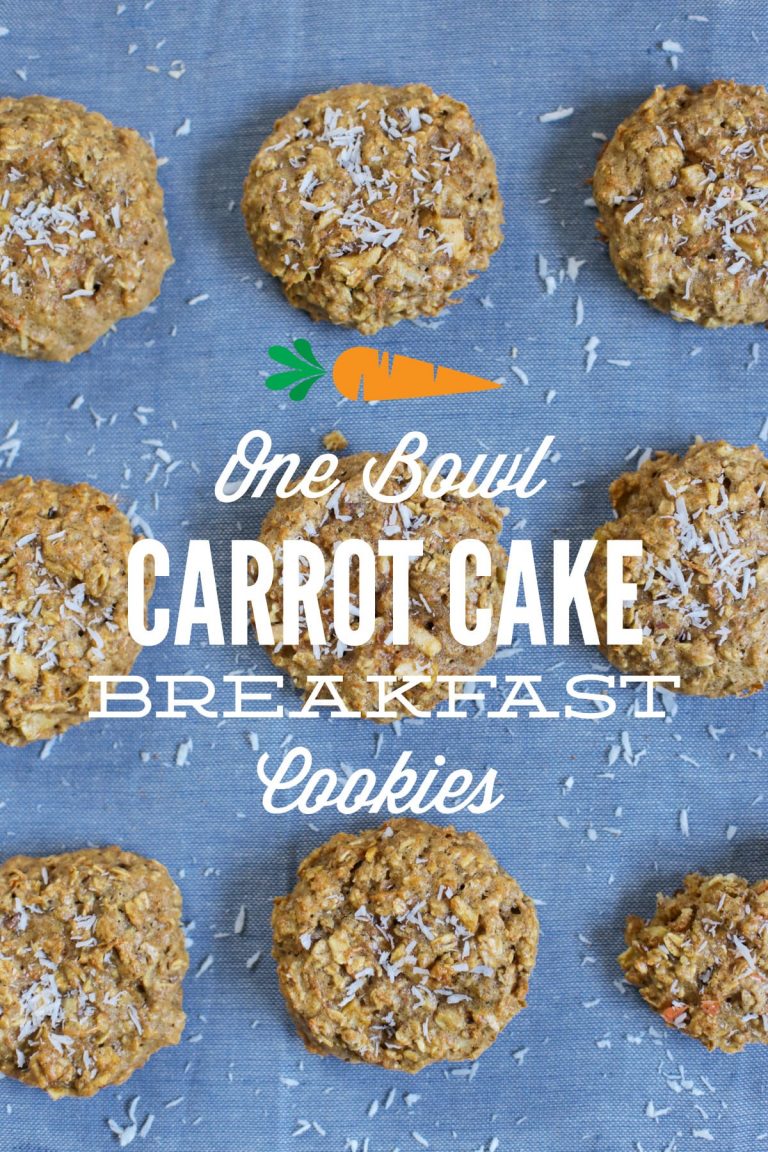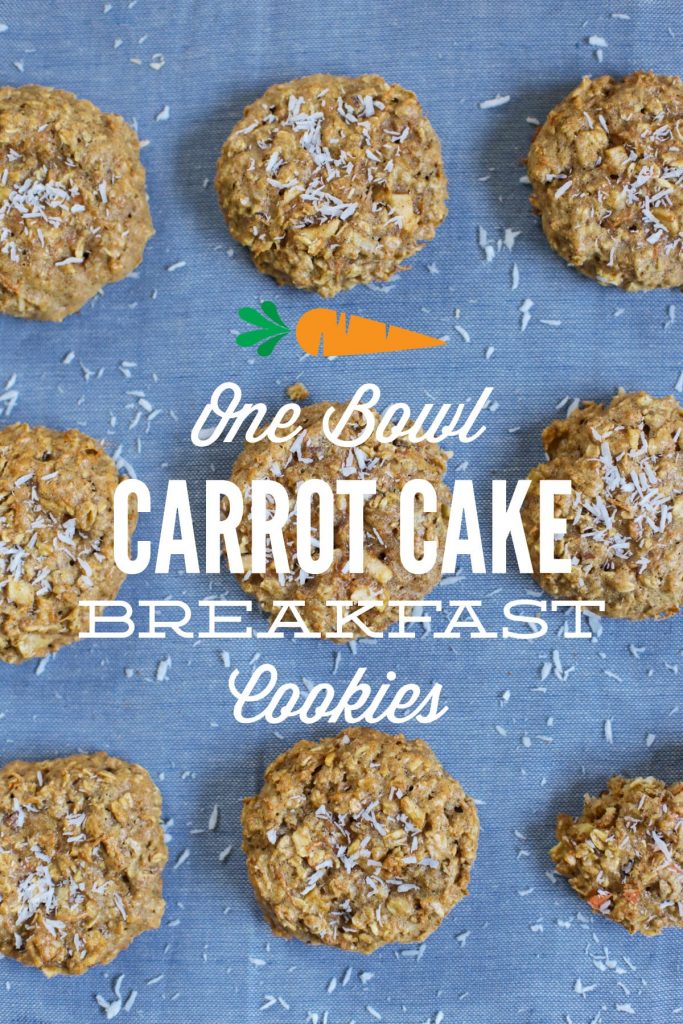 Happy Valentine's Day!
Today, I bring a gift of cookies. Breakfast cookies to be exact. A treat that says, "Hey there Mom, I love you so much I want you to sleep in and not worry about making breakfast this morning."
Breakfast cookies are my peace of mind. I hear ya, "Sounds like a big statement for a little cookie." It's true! Cross my heart. No exaggerations here.
Mornings are not my forte and no matter how much green juice, coffee, or stretches I bring my body to enjoy, mornings just are not my get-up-and-rock-the-world-with-energy time of day.
My ideal morning starts slowly, much like a Foldgers' commercial, waking as the sun shines through my bedroom after a solid 12 hours of sleep in an ultra plush bed with snow white sheets and a fluffy comforter.
My reality morning starts more like this…
I awake to chickens chattering outside the back door and realize my alarm went off 30 minutes ago (oops!). I gently pull Londyn's arm and leg off my body and rush downstairs to feed and hush the chickens before they awaken our neighbors, and then proceed to make coffee. While the coffee brews I realize the upstairs water is running which means Dustin is awake and preparing to walk out the door for work. Work means breakfast. I look at my breakfast meal plan for the day and quickly rush to the oven.
After years of the same morning routine (I think it's more of an accidental routine), a better solution finally came to mind, "Why not prepare breakfast ahead of time?" Lightbulb moment. Making breakfast in advance would allow me more time in the morning, ensure Dustin and kids are always fed on time, and provide (here's that key phrase) peace of mind. Ah, such wonderful morning words.
Today, I keep a list of breakfasts that I can prepare and forget about for the ultimate peace of mind. Instead of keeping a separate list of meals, I simply place a little asterisk next to the recipes that can be made ahead of time based on my list of family favorite meals (the beauty of organized meal planning). A few of my top make-ahead breakfasts include: smoothie packs, fruit on the bottom yogurt, overnight oats, breakfast cookies, pancakes/waffles, muffins, hardboiled eggs, egg and cheese biscuits, and breakfast burritos (recipe coming very soon).
One Bowl Carrot Cake Breakfast Cookies are among the most requested make-ahead breakfast option on my list. Maybe it's the word "cookie" that entices my family into a healthy breakfast? I can just hear Piper's conversation with his kindergarten teacher when school starts this fall, "I had cookies for breakfast, Mrs. Jones. Carrot Cake Cookies!" I should probably explain my whole peace of mind healthy breakfast deal before his first day. Noted.
These cookies are super easy to make and only require, as the name describes, one bowl. Ah, peace of mind! Without five dirty bowls lined up in the sink our favorite breakfast cookies can be mixed, baked, and enjoyed in a clean kitchen with time to spare. Since breakfast is the most important meal of day, these cookies are made with wholesome ingredients: oats, whole grain einkorn flour (learn more about this flour here), freshly grated carrots, apples, coconut, and a bit of spice. And don't forget the butter…it's good for you!
Set out the plates for breakfast and whip up of a few of our favorite one bowl breakfast cookies. Mornings just got a whole lot brighter and more peaceful.
One Bowl Carrot Cake Breakfast Cookies
These cookies are super easy to make and only require, as the name describes, one bowl. Ah, peace of mind!
Instructions
Preheat the oven to 350F.

In the bowl of a stand-mixer (you can also use a large bowl and wooden spoon), on medium speed with the paddle attachment, beat together the honey and butter until creamy. Add the eggs and beat on medium speed for 30 seconds, until the eggs are incorporated into the butter/honey mixture.

Now it's time to add the remaining ingredients: rolled oats, einkorn flour, shredded carrots, chopped apple, chopped pecans, shredded coconut, ground cinnamon, baking soda, and salt. Over low speed, combine the ingredients until the dough is wet and sticky.

Scoop the cookie dough onto a cookie sheet. I use an ice cream scooper to create the perfect size cookies. Dust the back of a spoon with flour or grease with coconut oil or butter. Flatten the cookies (versus just a round ball of dough) with the back of the spoon.

Bake the cookies for 13-15 minutes until golden brown. Sprinkle with extra shredded coconut, if desired. Allow to cool before serving.
Notes
The "where to buy" links provide links to the actual products I use. As always, I recommend shopping around online and at local stores for the best prices and products you love. Find all my favorite kitchen tool essentials, here.
Nutrition
Calories:
261
kcal
Carbohydrates:
30
g
Protein:
4
g
Fat:
14
g
Saturated Fat:
6
g
Cholesterol:
47
mg
Sodium:
216
mg
Potassium:
146
mg
Fiber:
3
g
Sugar:
9
g
Vitamin A:
2065
IU
Vitamin C:
1.1
mg
Calcium:
25
mg
Iron:
1.6
mg
Breakfast cookies may be frozen for 3-6 months for the ultimate make-ahead breakfast.
More Real Food You May Like: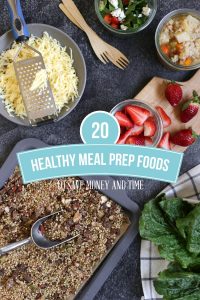 20 Healthy Meal Prep Foods to Save Money and Time
My Favorite Kitchen Tools