One of my pet peeves is a boring salad. I'm talking about the same shredded carrots, lettuce, and tomatoes over and over again. There are many seasonal produce options during the summer, and these ingredients can come together to make a variety of simple salads. Whether you're looking for an easy lunch idea, a side to serve up with a grilled protein, or something to bring to the beach or lake for a picnic, this Prosciutto and Melon Salad with Honey Vinaigrette is stunning in appearance, refreshing, easy to make, and a celebration of the season.
I made this salad for our family's Easter dinner and everyone raved about it, so I just had to share with you. This simple salad is a fun twist on a fruit salad. The melon salad comes together in under 20 minutes and can be prepped in advance for a summer gathering or breakfast. Summer is the ideal time to make this salad, since melons are in season and at their sweetest.
How to Make Prosciutto and Melon Salad
To make a prosciutto and melon salad, start with a melon or melons of your choice. You can use just honeydew or cantaloupe or a mixture of both. Personally, I love the look of both the cantaloupe and honeydew since the color really makes this salad a showstopper. Flavor-wise, both melons bring a refreshing, sweet flavor. I recommend placing the melon(s) in the fridge before cutting, if you plan to serve the salad right after prepping.
Here's how easy it is to make this salad…
First, use a melon scooper to scoop melon balls into a bowl or a serving platter. If you don't have a melon scooper, simply cut the melon into bite-sized chunks.
Next, scatter 8 ounces of mozzarella balls over the melon. Then arrange 3-4 ounces of prosciutto slices throughout the salad. (I like to break the slices in half with my hand so there's not such big pieces of prosciutto in the salad). Both of these ingredients add a savory, salty flavor to balance out the sweet melon.
Then, make the dressing by combining olive oil, lemon, and honey in a small bowl. The olive oil and lemon add a nice acidic flavor to the salad, which balances with the sweet and salty ingredients. Pour the salad dressing over the prosciutto and melon salad. There's no need to toss anything, but you're welcome to do so if you want.
Finally, sprinkle mint over the salad to add a refreshing mint flavor.
Serving Ideas
This salad really has so many uses. The salad works well for a main or a side. Here are a few ideas…
Bring this salad to a summer party or gathering. This would be such a showstopper for a backyard barbecue or baby shower.
Make this salad for a weekend lunch. Serve it alongside a sandwich or wrap, some grilled chicken or fish, or as-is.
Make this salad for dinner, alongside a grilled protein or something like this Instant Pot southern pulled chicken. <–All the backyard summer feels!
Make this salad for breakfast or brunch, alongside maybe this frittata or this egg casserole or French Toast.
Time-Saving Tips for Making This Salad in Advance
A prosciutto and melon salad is super easy to toss together, since there's no cooking required and not much prep involved, aside from some scooping of melon. If you're looking for ways to save time or make this salad in advance for a party, backyard gathering, or a weeknight dinner, here are some ideas…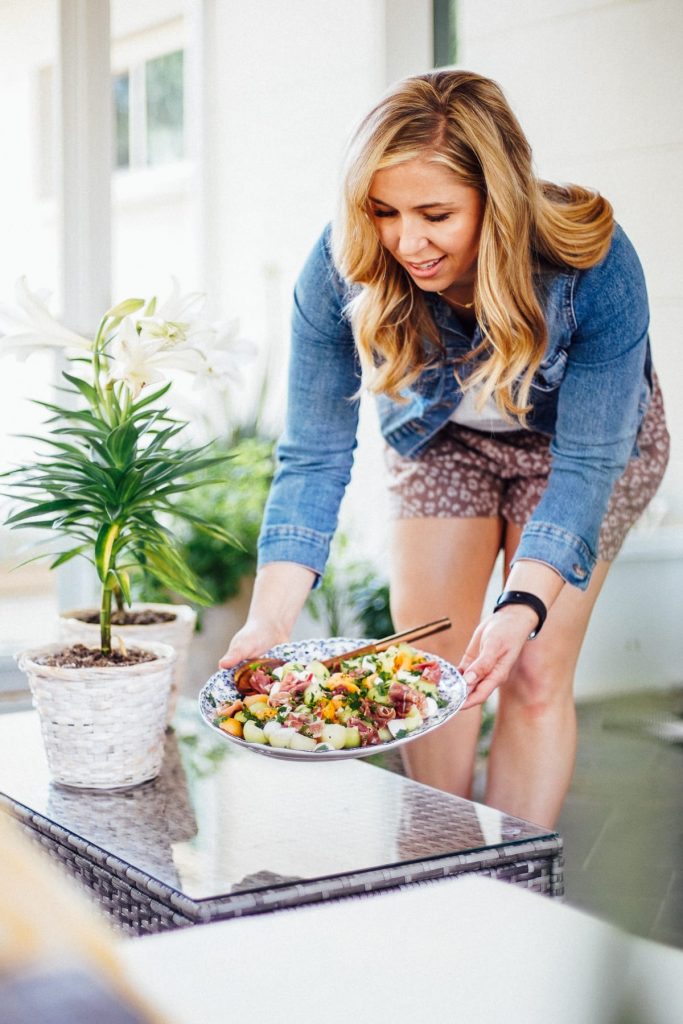 Buy Pre-Cut Melon: You don't have to scoop the melon into balls. That just adds a fancy and visual aspect to the salad. Instead, save time by purchasing pre-cut melon in the produce department at the store. You may just need to cut the chunks a bit smaller so they're bite-sized.
Prep the Salad Ingredients in Advance: I don't recommend prepping the full salad in advance, because once the prosciutto and mozzarella are added this salad is meant to be consumed within a few hours. That said, you can make the salad dressing a couple of days in advance and store it in the fridge (just know it will solidify and you'll need to shake it or let it sit at room temperature to bring it back to a liquid dressing). You may also cut the melon up to about 3 days in advance and store in an air-tight container or buy pre-cut melon.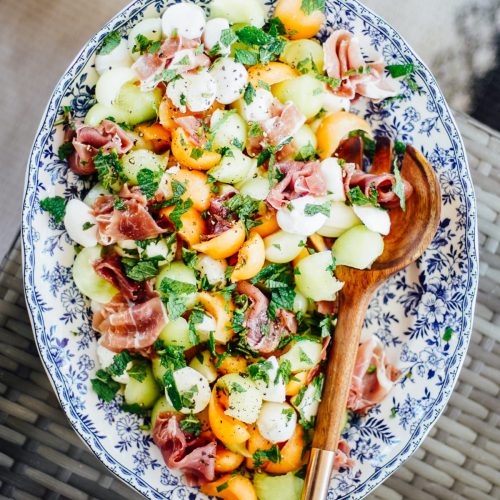 Prosciutto and Melon Salad with Honey Vinaigrette
A refreshing summer salad made with seasonal melon, mozzarella balls, prosciutto, mint, and a homemade honey vinaigrette. Serve as a side or a main.
Ingredients
1

cantaloupe or honeydew

OR 1/2 a honeydew and 1/2 a cantaloupe

1

8-ounce container

mozzarella balls

such as: small pearls or ciliegin style. If you can only find a large ball, tear into smaller pieces.

1

3-4 ounce package

prosciutto

1/4

cup

chopped fresh mint
Honey Vinaigrette Dressing
2

TB

extra virgin olive oil

1/2

lemon

juiced

1-2

TB

honey

a light colored honey is best
Instructions
Scoop the melon into bite-sized balls using a melon scooper. Alternatively, chop the melon into cubes. Place the balls or cubes in a serving bowl or on a platter.

Scatter the mozzarella balls and prosciutto slices over the melon. Sprinkle the mint over the top.

In a small bowl, whisk together the salad dressing, tasting to adjust as desired. Add more honey or lemon juice, if desired, to balance the flavor to your liking.

Drizzle the salad dressing over the salad. Serve within a few hours of making this salad.
Nutrition
Calories:
66
kcal
Carbohydrates:
9
g
Protein:
1
g
Fat:
4
g
Saturated Fat:
1
g
Polyunsaturated Fat:
1
g
Monounsaturated Fat:
3
g
Cholesterol:
1
mg
Sodium:
13
mg
Potassium:
203
mg
Fiber:
1
g
Sugar:
8
g
Vitamin A:
2395
IU
Vitamin C:
29
mg
Calcium:
12
mg
Iron:
1
mg
More Summer Salads To Make
Below you'll find a few of my favorite salads to make during the summer.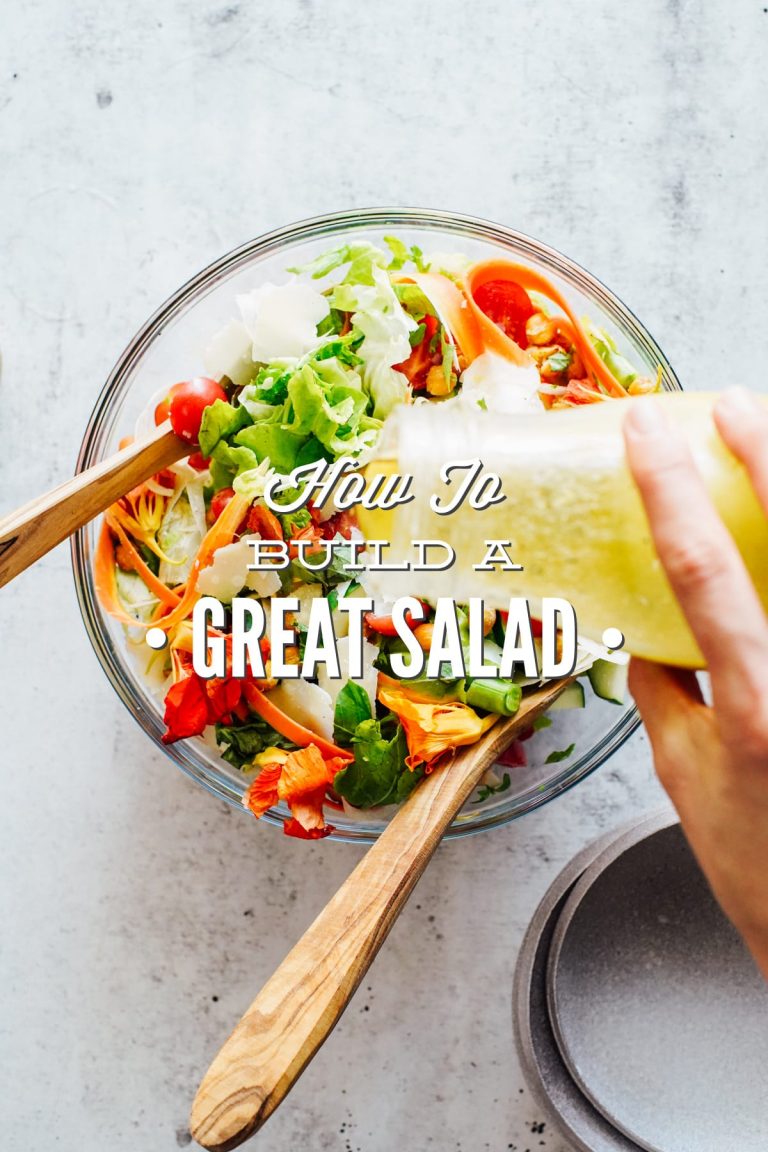 How to Build a Great Salad That Doesn't Taste Like Crap 
Just say no to boring salads this summer with this salad guide. I'll show you how to make a nutrient-dense, delicious salad without a recipe. Get the recipe…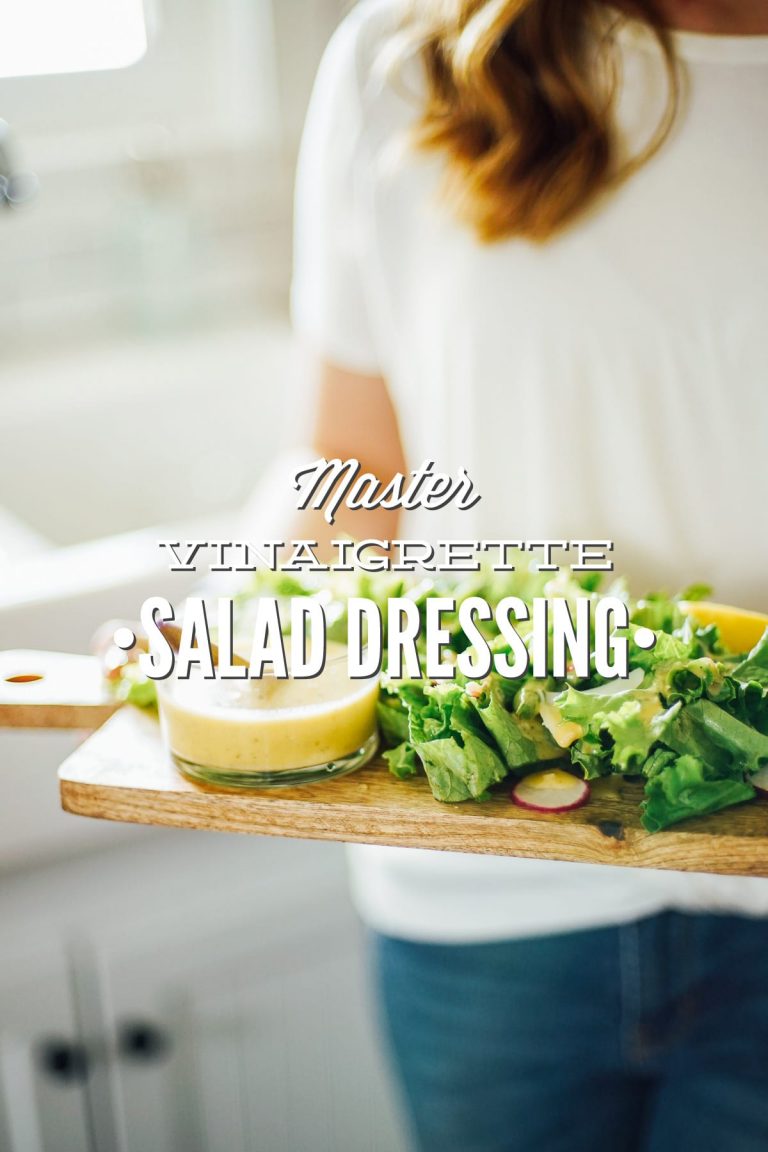 Master Vinaigrette Salad Dressing
One recipe with so many custom flavor options. Start with the simple ingredient base and build from there. Get the recipe…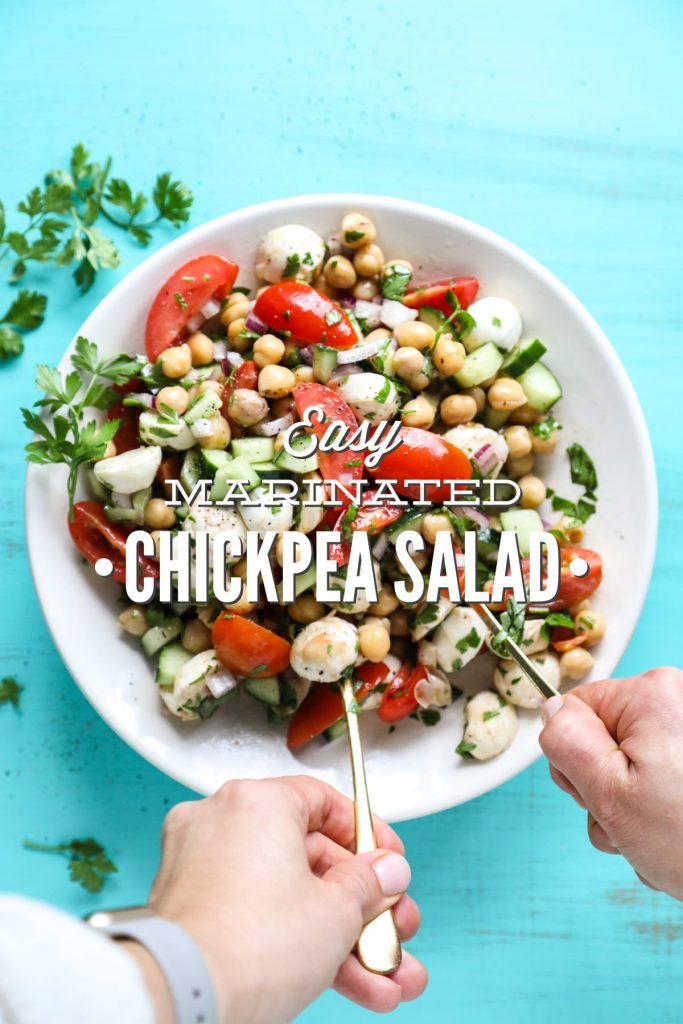 Marinated Chickpea Salad 
A make-ahead salad for lunch or dinner. Made with chickpeas, red onion, tomatoes, and mozzarella balls. Get the recipe…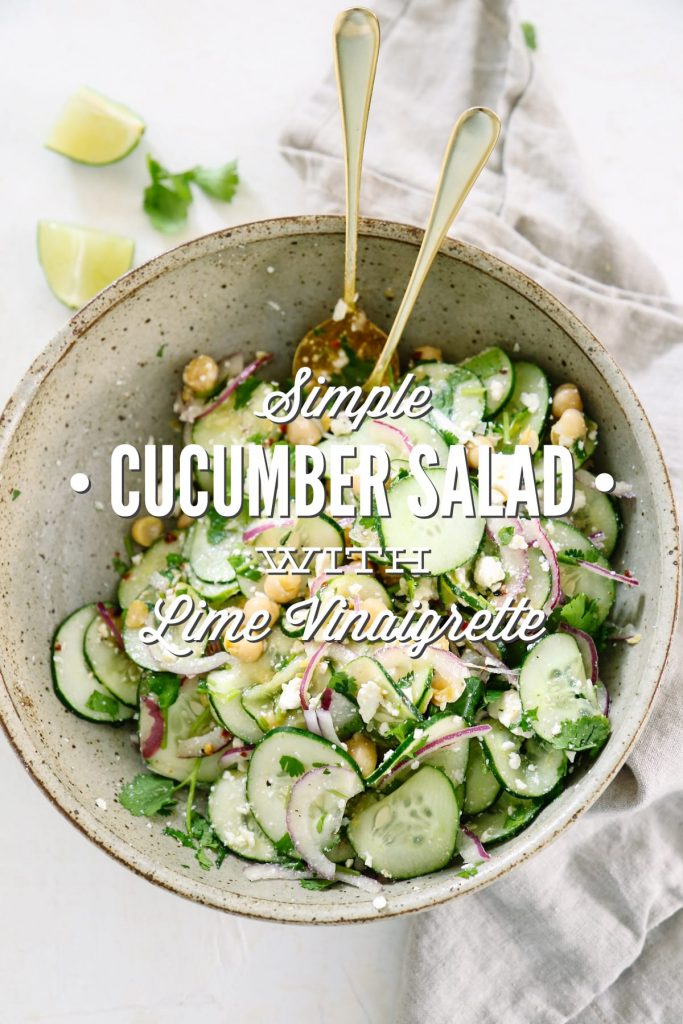 Cucumber Salad 
One of my most popular recipes. Combine cucumbers, red onion, feta, chickpeas, and a homemade vinaigrette for a summer-inspired salad. Get the recipe…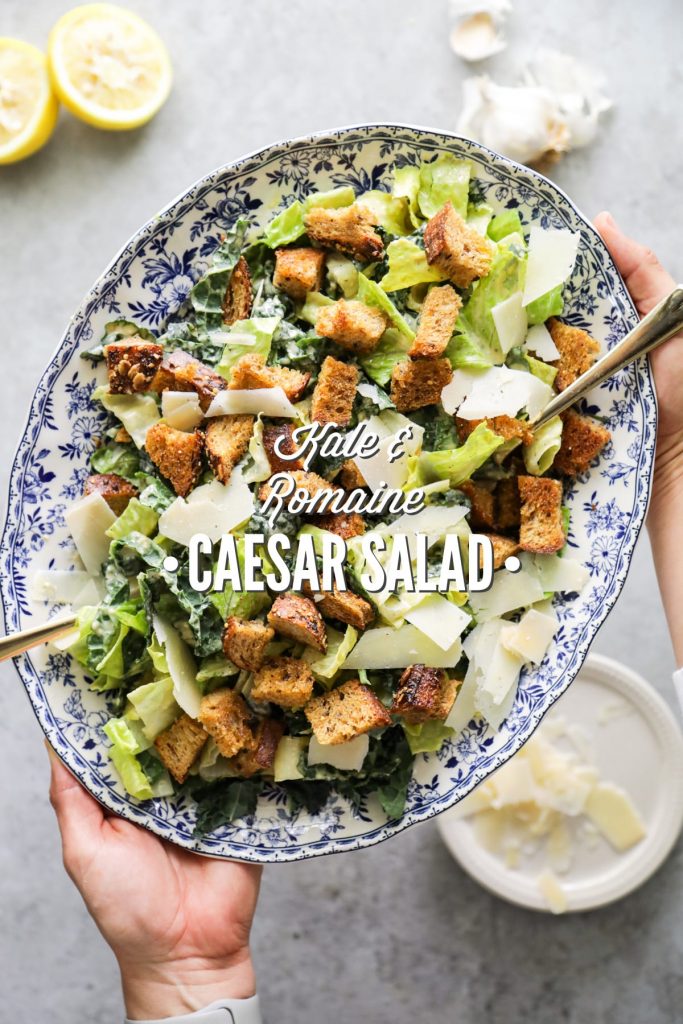 Kale and Romaine Caesar Salad 
My favorite salad. Serve it as-is or add a protein like chicken or steak for a hearty meal. Get the recipe…