Ladies and Gents, meet the frittata of our food dreams! A frittata that packs a nutritional punch, and explodes with more flavor than one could ever imagine possible for a humble frittata.
Is it possible to explode with flavor? Hmmm, let's just go with it!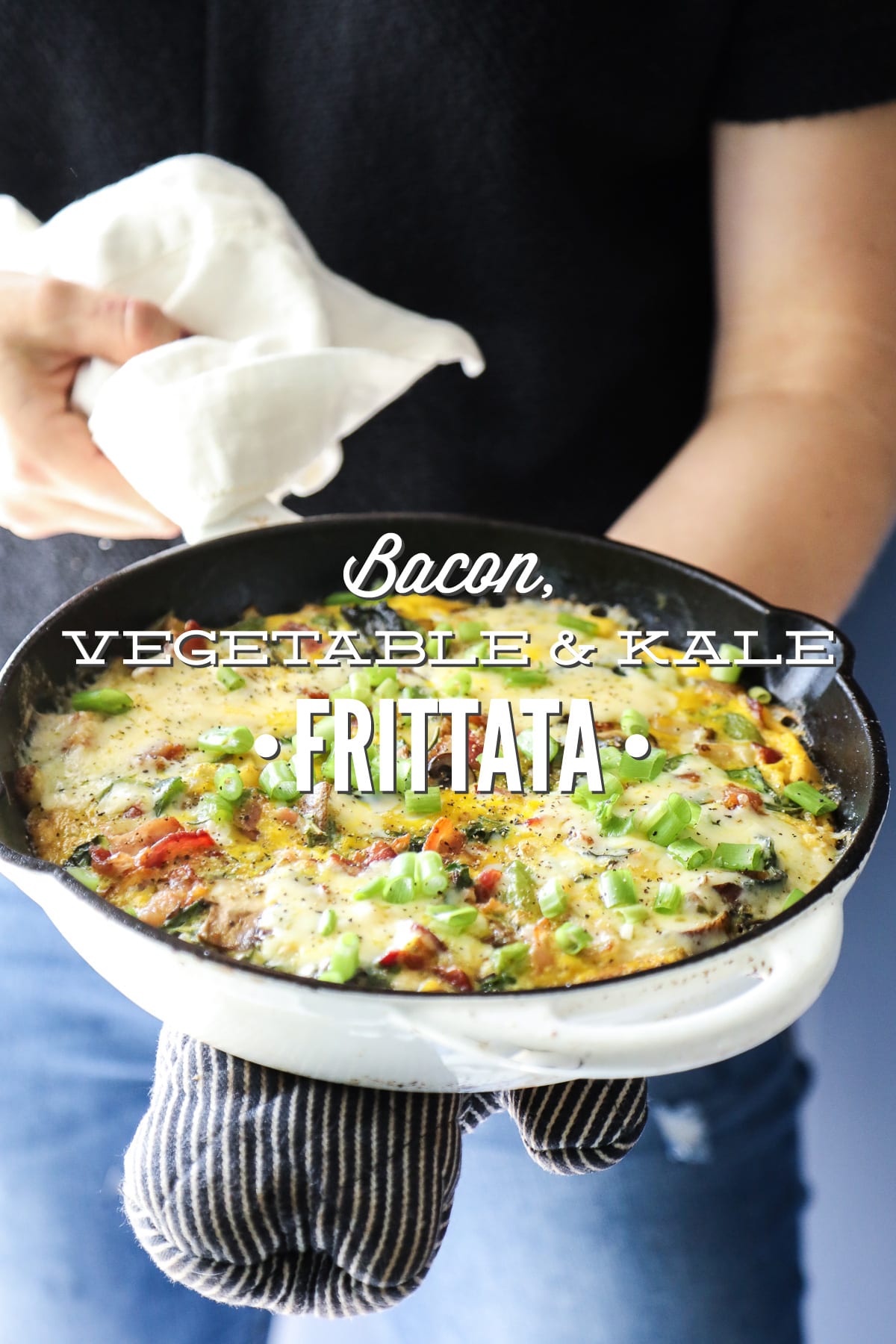 This frittata isn't very photogenic, but it's not what's on the outside that counts, right?! In order to truly get to know this not-so-photogenic frittata, you have to peek inside–past the cheesy surface. Friend, that's where the good stuff is scattered. The really good stuff, like: bacon, mushrooms, peppers, potatoes, and leafy greens.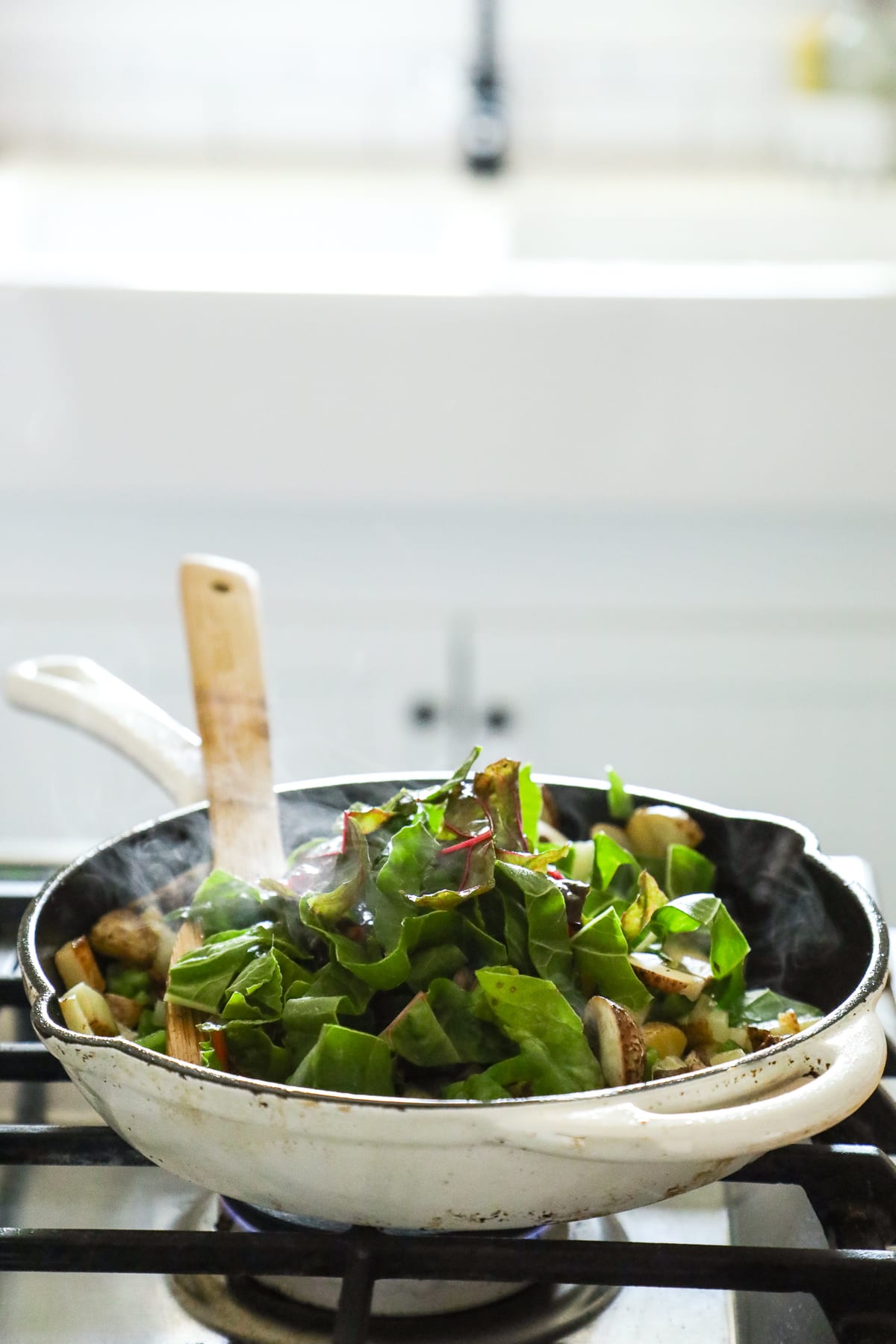 This is the first frittata recipe shared on Live Simply, which is kind of a shame since a frittata is such an easy and inexpensive way to create a hearty, real food meal. So right now, I'm promising you that today's recipe won't be the last. More frittatas to come!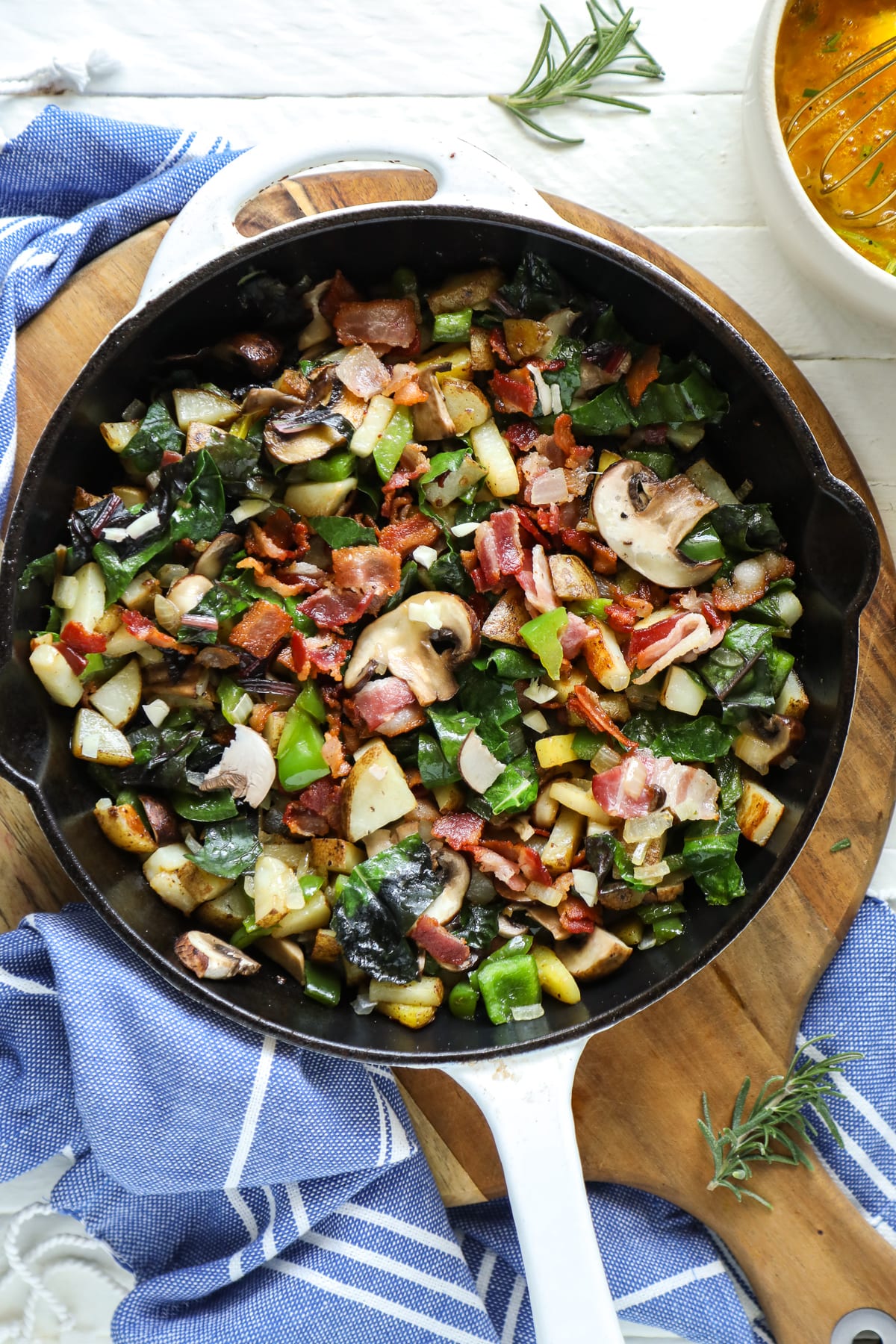 If you're new to the world of frittata making, then you're in for a treat. A frittata is basically, in my opinion, a bulked-up omelet. There are two main differences that set a frittata apart from an omelet:
1. The frittata starts on the stove-top and then finishes in the oven. With fifteen minutes in the oven, there's time to clean-up, set the table, or even fold a few pieces of laundry (maybe, maybe not). Or how about just sitting down to a glass of wine, or coffee–depending on the time of day.
2. A frittata embraces its hearty fillings rather than hiding them. I'll admit, I struggle with getting the fillings perfectly tucked inside an omelet, and then flipping that omelet without losing any of those precious fillings. With a frittata, there's no hiding or flipping. Just pour the eggs over the veggies and meat, and embrace the rustic look that comes from having fillings scattered everywhere–kind of like living in a home with two kids ;). Embrace it, Mom!<–I'm talking to myself here.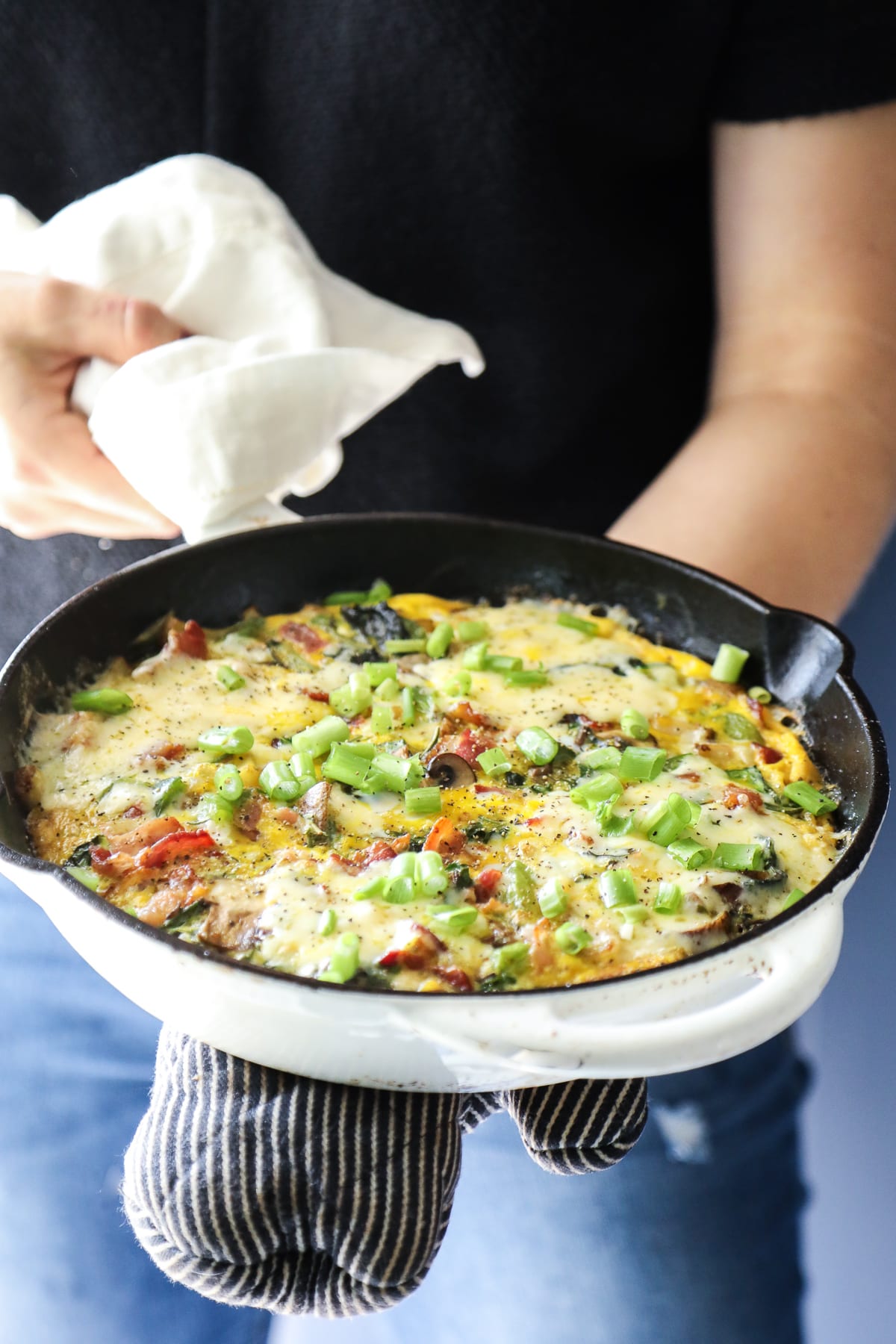 Another way of looking at a frittata is as a bulked-down (again, is this a thing?) quiche. While I love a good quiche, there isn't always time to make a pie crust, no matter how easy my recipe may be to pulse together. That, my friend, is when a frittata recipe comes in handy. A frittata is hearty like a quiche, just without the crust base, which means one less step and mess in the kitchen.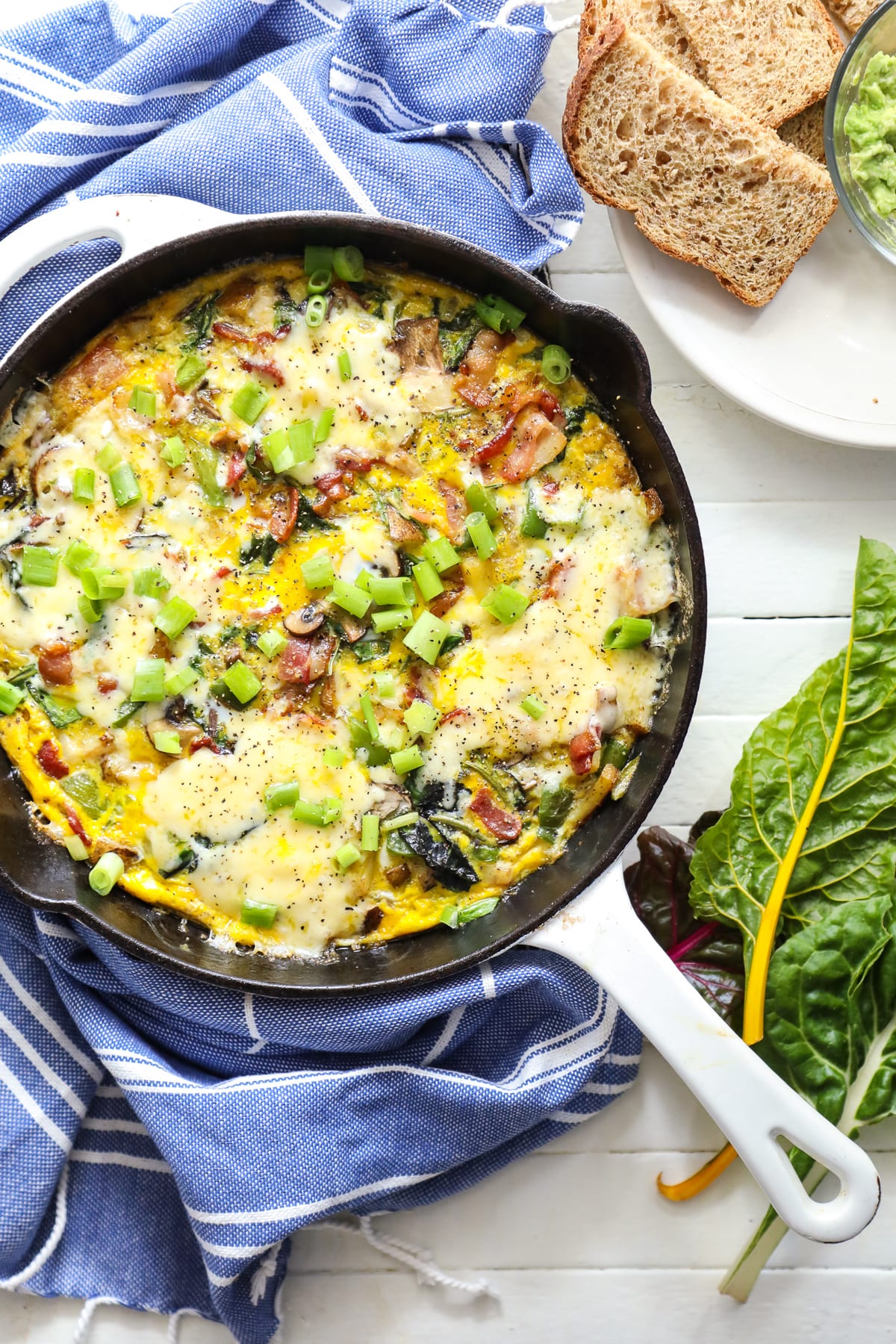 Today's frittata recipe makes for a veggie-packed breakfast, brunch, lunch, or dinner. Since the frittata is so incredibly filling, you don't really need much else to accompany a slice. Of course, if you want to create more of a "meal," then I suggest serving the frittata alongside homemade muffins (maybe make them in advance?) or toast, raw carrots and celery, or a simple salad. I've also been known to sandwich a slice of frittata between two slices of sourdough toast, sprouts, and mashed avocado.
And one more suggestion…
A frittata is a great meal to prepare on a Sunday afternoon, and then enjoy throughout the week as a homemade "fast food" option. It's easy to eat good food on a busy morning when there's something like a frittata tucked away in the fridge.
A frittata is one of 16 different egg styles, and one to add to your meal plan often. You won't be disappointed.
Bacon, Vegetable, and Kale Frittata
A hearty bacon, vegetable, and kale frittata. This nutrient-rich frittata may be served for breakfast, lunch, or dinner. Prep this frittata in advance for an easy "fast food" meal option.
Ingredients
6

eggs

1

tsp

salt

divided

1/4

tsp

black pepper

1

TB

chopped fresh rosemary

4

slices of bacon

chopped

1 1/2

cups

diced potatoes

no peeling necessary (227 g)*

1/2

yellow onion

diced (72g)

1

TB

extra virgin olive oil

1

garlic clove

1/2

green bell pepper

diced, any color will work (74 g)

1

cup

sliced mushrooms

such as: cremini or baby portabella mushrooms (60 g)

1

cup

chopped kale

remove the stems before chopping**

1/4

cup

grated parmesan cheese

1/2

cup

grated cheddar cheese

chopped green onions

optional as a garnish
Instructions
Whisk the eggs with 1/2 teaspoon salt, 1/4 teaspoon pepper, and 1 tablespoon chopped rosemary. Set aside.

Preheat the oven to 350F.

In a 10-inch cast iron skillet, cook the bacon over medium heat until crispy. Remove the bacon and set aside, leaving about 1 1/2 tablespoons of fat in the skillet (I had to drain half the fat–this will depend on your bacon).

Add the diced potatoes and sprinkle with 1/2 teaspoon salt, then sauté until golden brown, about 3-4 minutes.

Add the diced onion and sauté until the onion is translucent and the potatoes are just starting to become tender.

Drizzle the veggies with olive oil and add the garlic, then sauté for 1 minute.

Stir in the bell peppers, mushrooms and kale, sauté until the kale is wilted and the peppers and mushrooms are starting to soften, about 3-4 minutes.

Add the bacon back to the skillet, then pour in the whisked eggs, making sure the eggs spread evenly in the skillet.

Transfer the skillet to the preheated oven and bake for 13-15 minutes, or until the eggs are set. The eggs will continue to cook in the next step…

When the eggs look firm, remove the skillet from the oven and top the frittata with grated Parmesan and cheddar cheese.

Switch the oven to broil and return the skillet to the oven.

Broil, on low, until the cheese bubbles and browns slightly, about 2-3 minutes.

Serve hot. Garnish the frittata with chopped green onions (optional).
Nutrition
Calories:
372
kcal
Carbohydrates:
15
g
Protein:
20
g
Fat:
25
g
Saturated Fat:
9
g
Cholesterol:
280
mg
Sodium:
1166
mg
Potassium:
678
mg
Fiber:
3
g
Sugar:
1
g
Vitamin A:
2305
IU
Vitamin C:
43.3
mg
Calcium:
271
mg
Iron:
4.6
mg
What to Serve With This Recipe
This is a great protein-rich breakfast, lunch, or dinner. Serve this recipe on its own or with a breakfast side. Here are a few of my favorite side dishes:
Take the Guess Work OUt of meal planning
Free 64 Rotational Meals Ideas Cheat Sheet
Breakfast, lunch, dinner, and snack recipes to rotate week after week. Put healthy meals on auto-pilot.
meal plan solution
Family Survival Weekly Meal Plan
The Family Survival Meal Plan is the fast-track way to put real-food meals on autopilot and break out of mealtime survival with the easy-to-follow meal plan, time-saving food prep and cooking methods, and the real-food recipe book that make nourishing your family one less thing to stress about.