This post may contain affiliate links. Affiliate links come at no extra cost to you. These links allow me to share the products I authentically recommend (and use) and support Live Simply by receiving a small commission.
Friend, let me introduce you to the ultimate prep day meal. It's hearty, packed full of protein and vegetables, and nearly every single (real food) ingredient may be prepped in advance.
You probably already know that I'm a huge fan of the make-ahead food strategy. Prepping food in advance, whether it's just an extra batch of weekend pancakes or dedicating time to chopping a few veggies, is my biggest secret to making real food work for my family. I believe food prep is an essential and vital part of enjoying a long-term real food lifestyle, particularly in 2016 when many of us have jobs and responsibilities that take us away from the kitchen.
Prepping food in advance may sound complicated and time-consuming, but it's a simple strategy for making real food a daily reality. Prep time allows me to strategically create a plan for the week. A plan for what my family will eat and how I can prep that food in advance to help our life run smoothly. Prep time reduces stress and the amount of time I spend in my kitchen throughout the week.
When I mention the words food prep, you may immediately envision Pinterest images with 10 glass containers full of meals, or time-consuming freezer cooking sessions. Friend, breathe! This is not the kind of prep work I'm talking about. Personally, I've tried over-achieving prep sessions and they simply don't work for me, mainly because I don't want to spend my precious weekends preparing all the food.
FREE Real Food Crash Course
I get it, switching from processed food to a real food lifestyle can feel overwhelming and confusing. Friend, it doesn't have to be this way.
Here's what to expect: 
printable charts (real food defined, a seasonal produce guide, 

meal planning)

how to get started with a real food lifestyle

how to create a meal plan and stay within a budget

7 real food recipes

emails from me to help you enjoy real food
Bonus: Step-By-Step Guide to Real Food
When it comes to food prep, I'm always thinking about food/ingredients that will give me the biggest return for my time (since I don't want to spend hours on the weekend prepping). Food that will serve multiple purposes throughout the week with maximum nutrition.
By far, my favorite food to prep on a Sunday afternoon or Monday morning is a whole chicken (or two whole chickens). A whole chicken is super easy to roast (or cook in the crock-pot), and the meat may be served in multiple ways throughout the week; from a cobb salad and nachos to chicken salad sandwiches. Once the meat is removed from the bones and shredded, the bones are then placed in the crock-pot overnight to make nourishing broth. This broth may be used to make soups or simmered with quinoa or rice.
Talk about a food that's worth a prep time session! #foodwin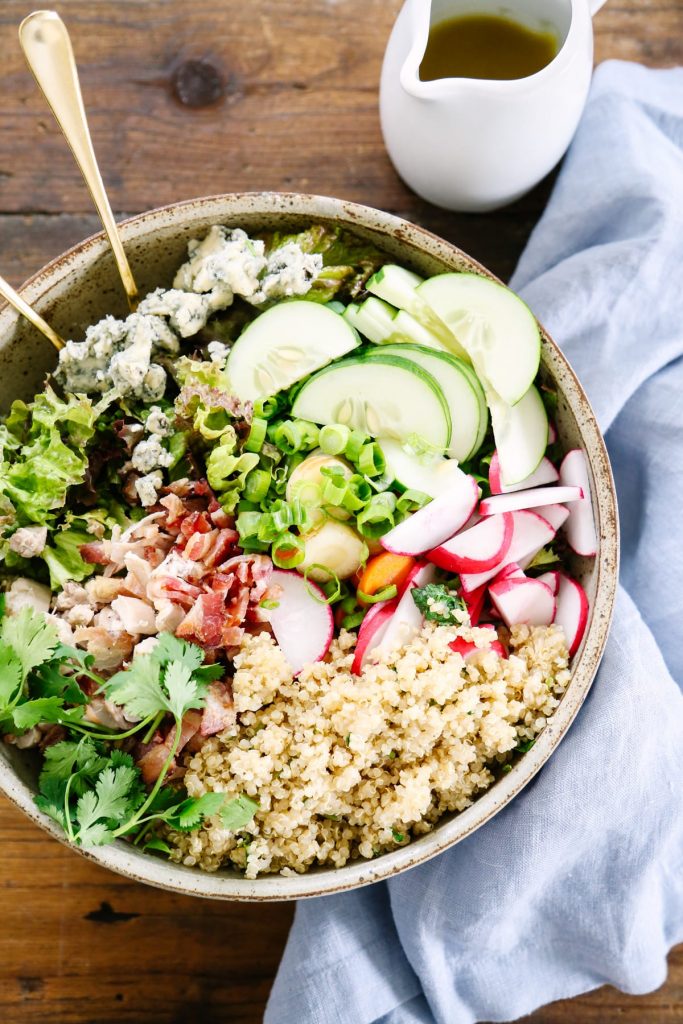 This Make-Ahead Quinoa Cobb Salad is one of my family's favorite ways to stretch a (prep day) whole chicken throughout the week. Not only is the chicken prepped in advance, but nearly every other ingredient for this salad may also be prepped ahead of time: quinoa, bacon, sliced vegetables, and the homemade dressing. Every single ingredient may be enjoyed beyond just this salad (remember my rule that a food must serve multiple purposes? Yep, these ingredients are total rule abiders.) Let's take a look…
Leafy Greens: Prep the greens in advance by simply giving that head of lettuce a nice bath and a good chop. Then store the leaves in a container, and use them for salads and sandwiches throughout the week. When I wash and cut lettuce in advance, I've found that I'm more likely to reach for the lettuce and make a lunchtime salad versus just opting for an apple and a few slices of cheese.
Quinoa: We enjoy quinoa or rice, that's been cooked in a nourishing broth, at least once or twice a week: as a side, in a bowl with black beans, or in a casserole. When I make rice or quinoa, I always double the ingredients so we have plenty to serve for a quick side later in the week, or as a quick lunch. While plain quinoa may be used in this cobb salad, I highly recommend using the Chipotle-Inspired Cilantro Lime Quinoa. Sooo good!
Chopped or Shredded Chicken: We've already talked about this nourishing and versatile protein, so let's move on…
Chopped Bacon: In my humble opinion, you just can't make a cobb salad without bacon. We usually enjoy oven-baked bacon on a weekend morning alongside homemade pancakes. Since I usually meal plan on Saturday morning, I know in advance if we're having this cobb salad later in the week. This means I can easily stash away a few pieces of cooked bacon before the family notices they're gone.
Carrots, Radishes, Green Onions, Cucumbers: Cobb salads are typically made with softer vegetables (or fruit?) like chopped tomatoes and avocados, but I'm personally more of a crunchy girl. If you love tomatoes and avocado in a cobb salad, then I'd highly recommend adding them along with the crunchy veggies. Of course, these veggies are also great to enjoy as a raw side with dips, roasted (my personal favorite)–just not the green onions or cucumber, or added to sandwiches.
Salad Dressing: The amounts called for in my recipe only make enough dressing for this cobb salad. While you're making this homemade dressing, go ahead and double the recipe so you have extra to enjoy later in the week on a weeknight side salad.
Now is the perfect time to add this meal to your meal plan, start thinking about prepping the ingredients, and then toss together an incredibly flavorful and fresh cobb salad on a busy evening when a homemade meal seems like an impossible task. I promise, it's totally possible with a bit of prep work.
Make-Ahead Quinoa Cobb Salad with Dijon Vinaigrette
This Make-Ahead Quinoa Cobb Salad is one of my family's favorite ways to stretch a (prep day) whole chicken throughout the week. Not only is the chicken prepped in advance, but nearly every other ingredient for this salad may also be prepped ahead of time: quinoa, bacon, sliced vegetables, and the homemade dressing. Every single ingredient may be enjoyed beyond just this salad. 
Servings
2
-3 people as a main salad
Ingredients
Cobb Salad:
3

cups

chopped leafy greens

such as: romaine, green leaf, red leaf, or butter lettuce (about half a head of lettuce)

1 1/2

cups

cooked quinoa

1

cup

shredded cooked chicken

4

slices

cooked bacon

chopped (about 1/2 slices chopped bacon, or more to taste)

1/2

cup

sliced carrots

about 1 carrot

1/2

cup

sliced radishes

about 3-4 radishes

1/2

cup

chopped green onions

about 2 green onions, whites and greens

1/2

cup

sliced cucumbers

about half a cucumber

1/2

cup

crumbled feta or blue cheese

cup

optional add-ins

2 hardboiled eggs chopped; 1 hass avocado, choppped; 1/2chopped tomatoes; 1/2chopped cilantro
Dijon Vinaigrette:
1/4

cup

extra virgin olive oil

1/2

lemon

juiced

1

TB

red wine vinegar

1

TB

dijon mustard

1

garlic clove

minced

salt and pepper
Instructions
To make this a make-ahead salad, prep all the ingredients in advance: cook the quinoa, bacon, and chicken, and slice the vegetables. The cooked meat will keep in the fridge for about 3 days. Read more about the make-ahead method in the post above. The links in the recipe will provide you with homemade recipes and instructions for each cooked ingredient.

Assemble all the salad ingredients in a large bowl.

In a small bowl, whisk the vinaigrette ingredients until creamy. Pour the vinaigrette over the salad, and toss to combine the salad ingredients and dressing. Serve.
Ingredient Notes:
I highly recommend sourcing pastured/grass-fed/free-range animal meats and cheese.
See the post above for ideas on how to make the salad ingredients in advance and maximize your time in the kitchen.