Today's meal, a simple and flavorful sheet pan chicken meal, is one of my favorite fall/winter recipes. The ingredients and method used to make the meal couldn't be any simpler.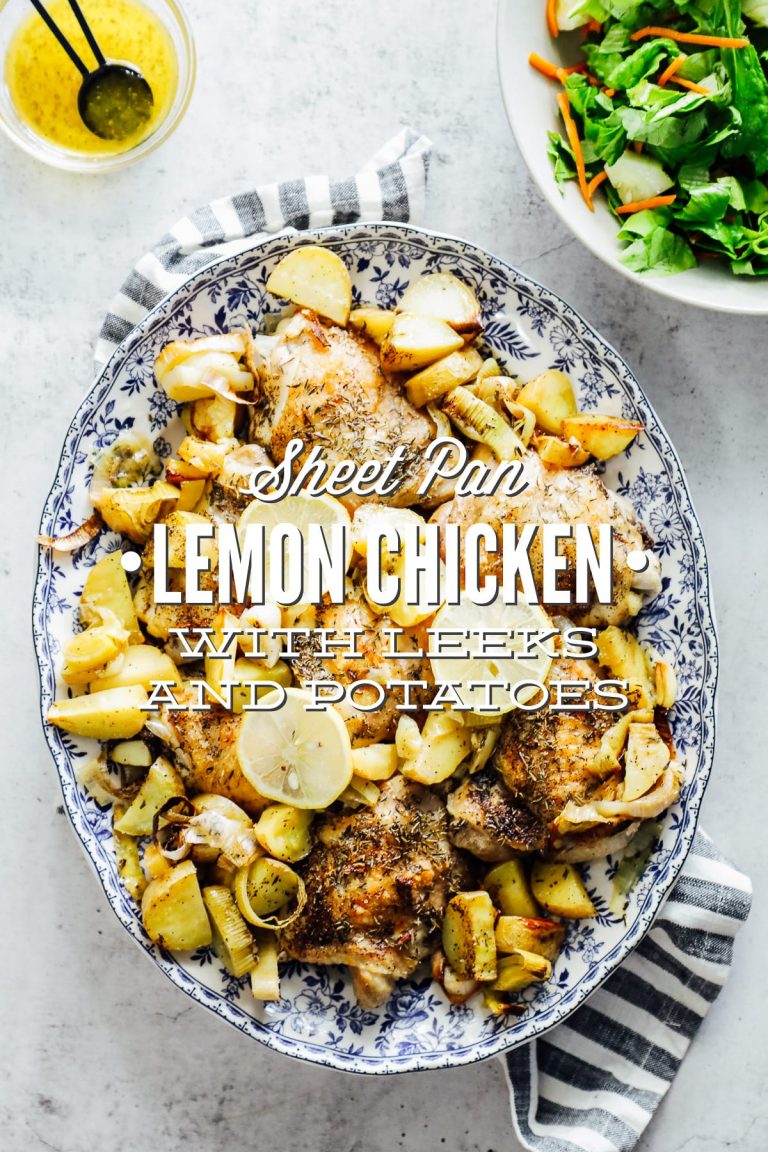 This past weekend, I spent a portion of my time binge-watching the new-to-Netflix documentary, Salt Fat Acid Heat. The documentary is based on Samin Nosrat's book. Several months ago, the book was featured as one of my favorite things.
The book, Salt Fat Acid Heat, is about learning how to take simple ingredients and create great meals. Nosrat believes that anyone can learn to cook really good food when those elements–salt, fat, acid, and heat– are understood and used in the kitchen. Nosrat actually taught Michael Pollan (my real food hero) how to cook real food, or at least gave him some cooking lessons.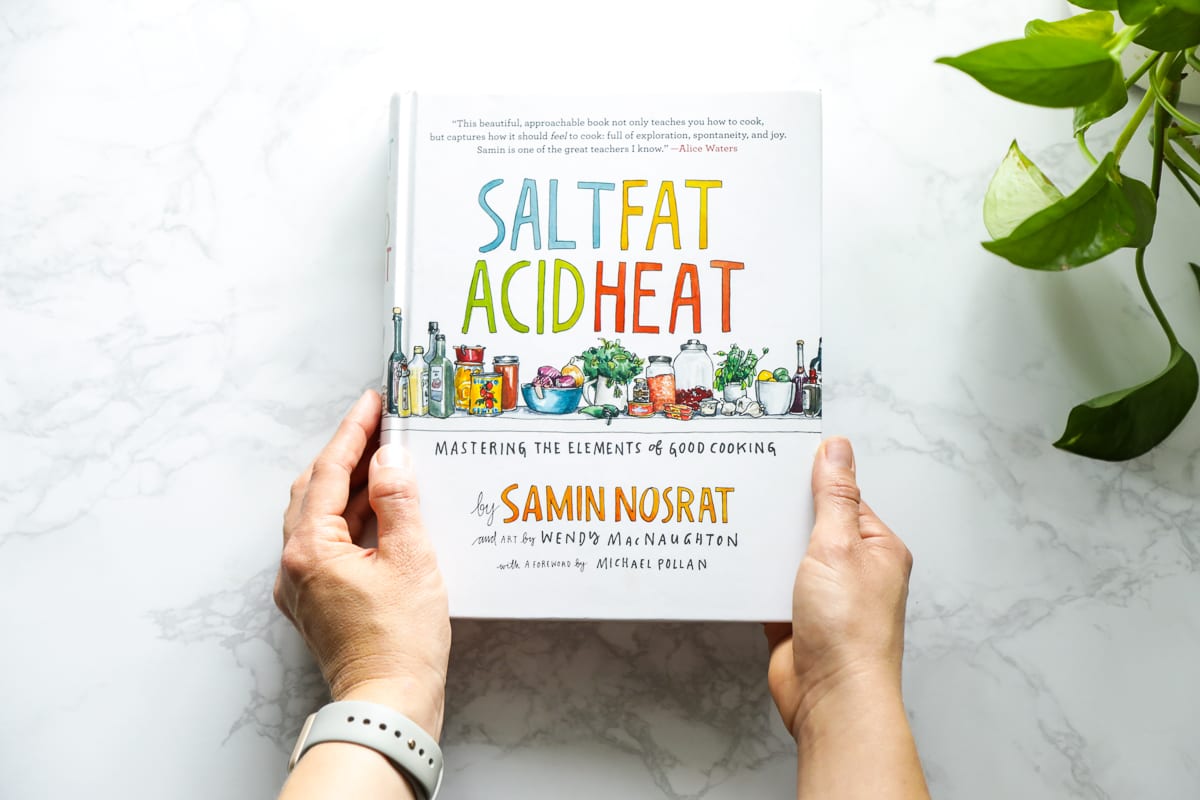 I bring this up because in the fourth and final episode of the documentary, Nosrat is featured walking through the produce department at a local grocery store. It's at this moment that she encourages us, "You don't have to use expensive ingredients to make good food. All you need to find are simple quality staples and treat them with respect." Amen!
I love this documentary because it beautifully depicts just how simple real ingredients are, and also the joy in taking these simple ingredients and turning them into a meal that nourishes us and the people we love. I think it's so easy for us to lose sight of this truth in our current health-obsessed culture.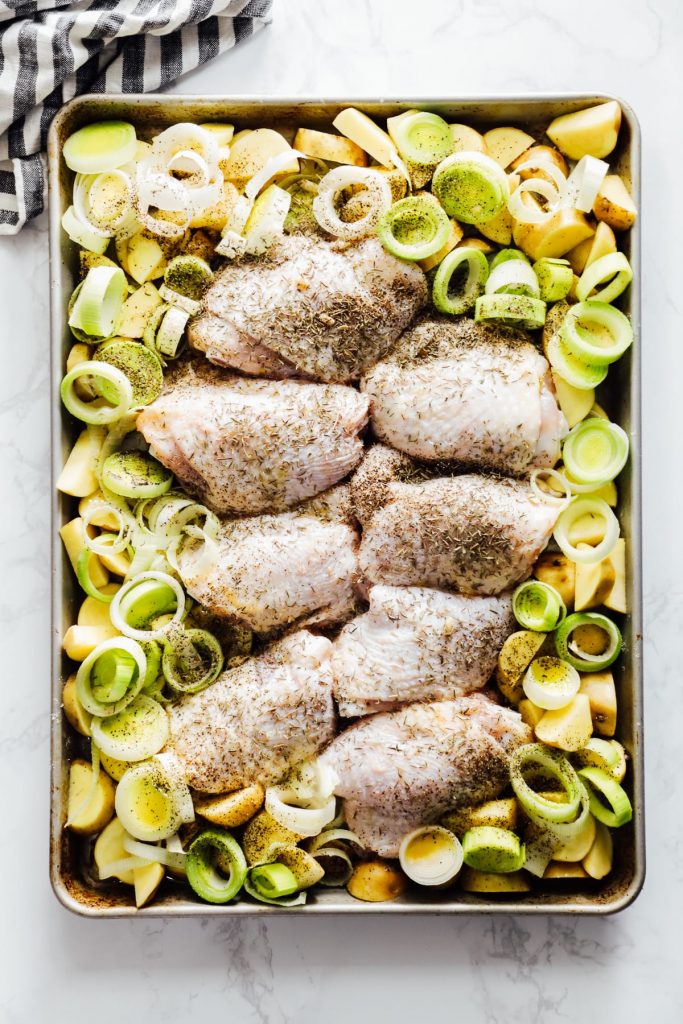 We've gone from one extreme, overly-processed food, to another extreme, overcomplicating real food. We've become obsessed with goji berries, the latest collagen powder, protein powders, and anything that seems exotic or can be marketed as a "superfood." Side note: I would argue that all real ingredients are super in their own.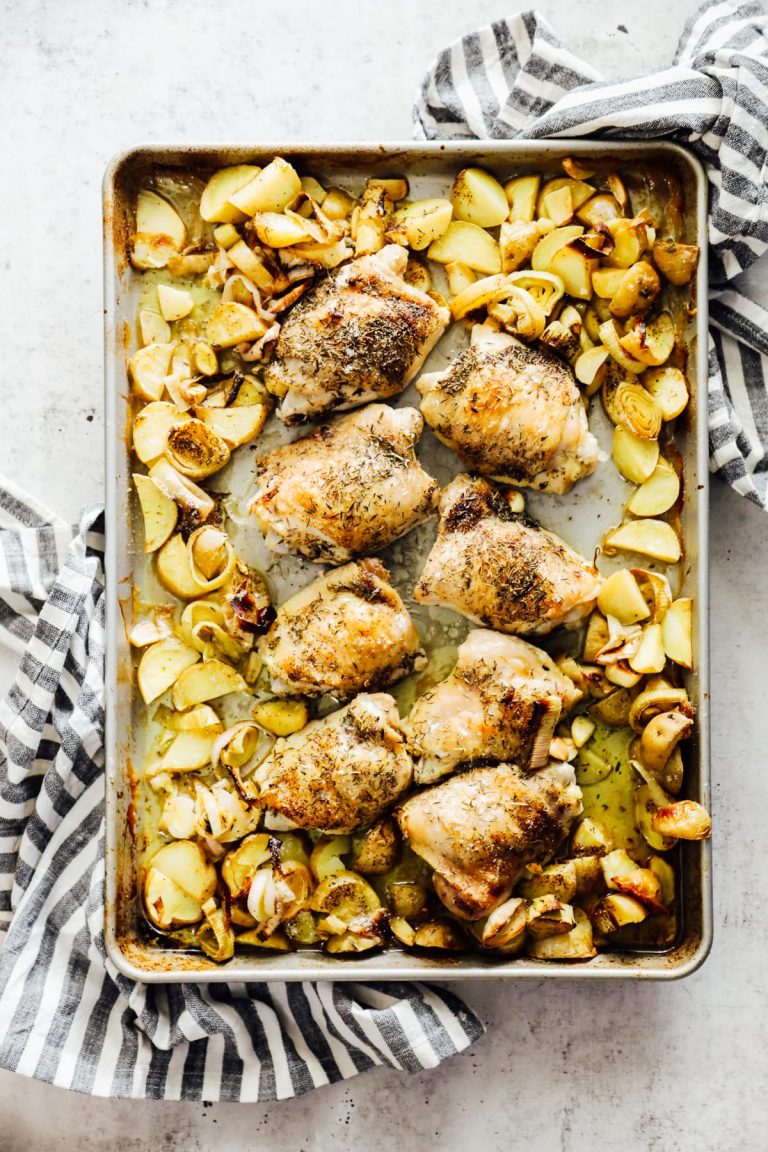 I think in doing this we've lost the simplistic message of real food. The idea that we can pick up the simplest of ingredients: rice, a chicken, and some fresh herbs, and turn these simple ingredients into a meal that tastes amazing and provides nourishment to our body. Sure, I love me some goji berries and I'm down with collagen power (although I don't use collagen powder on a regular basis due to cost and I'm not convinced I need it in my life right now), but let's not forget about the humble nature of real food. The fact that we don't need anything exotic or "super," to make delicious, nourishing food at home. With some good staple ingredients, we can create healthy, flavorful, nourishing meals.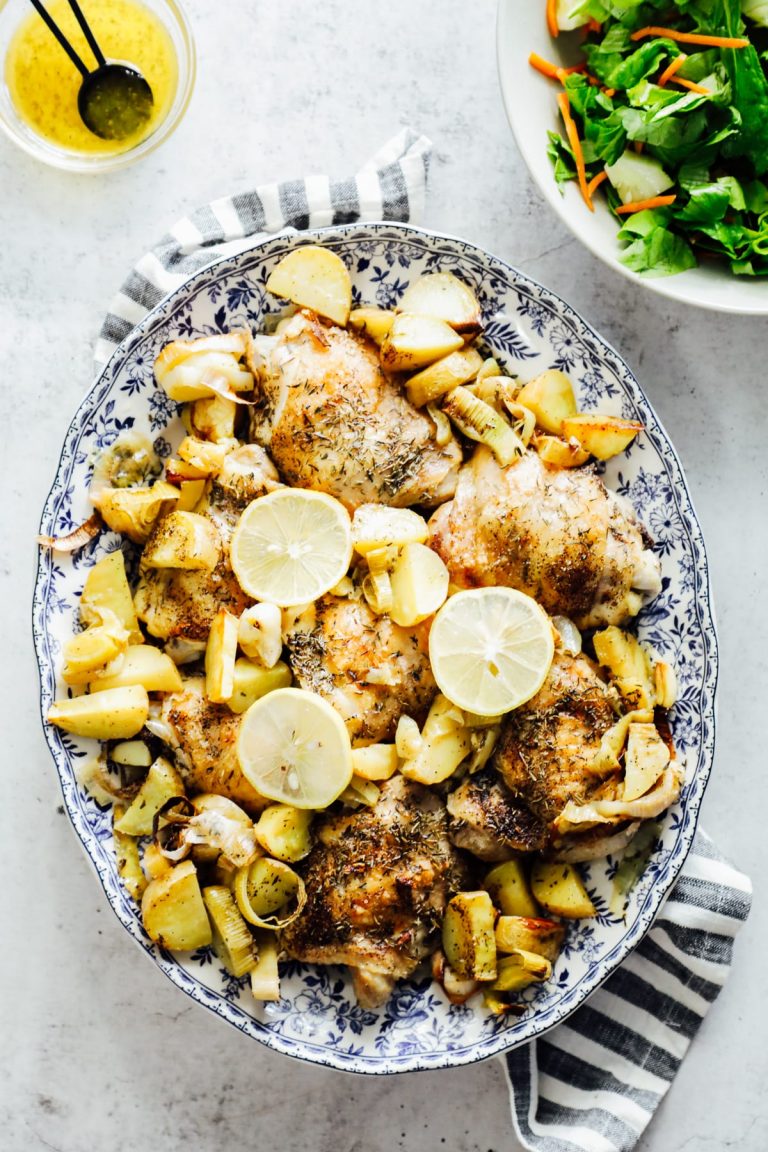 Today's meal is exactly that: simple, flavorful, nourishing, and made with the most basic of staple ingredients (or, in other words, humble): chicken thighs (a very affordable and easy to cook cut of meat), leeks (one of my favorite veggies), potatoes, garlic (because garlic makes every meal AMAZING), olive oil, lemon juice, and simple seasonings.
Not only is this meal simple, it's also incredibly easy to make. Just place everything on a sheet pan and put that sheet pan in the oven. 50 minutes later, dinner is ready!
6 Favorite
Easy Chicken Recipes
Take the Guess Work OUt of meal planning
Free 64 Rotational Meals Ideas Cheat Sheet
Breakfast, lunch, dinner, and snack recipes to rotate week after week. Put healthy meals on auto-pilot.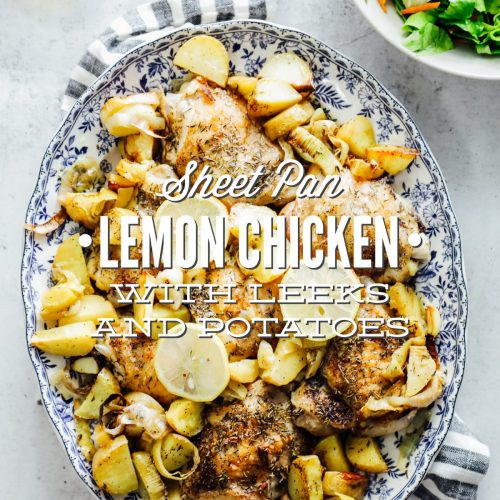 Sheet Pan Meal: Lemon Chicken with Leeks and Potatoes
An easy-to-make sheet pan meal made with the simplest of ingredients: chicken thighs, leeks, potatoes, garlic, lemon, and seasonings.
Ingredients
1.5

lbs

yukon gold potatoes

roughly chopped (about 8-11 potatoes, depending on size)

2

leeks

white and light green parts only, sliced (they shouldn't be super thin and there's no need to cut the leeks in half before slicing)

1

head

garlic

peels removed from cloves (about 8-11 individual cloves)

6-8

bone-in, skin-on chicken thighs

*

1/4

cup

extra virgin olive oil

1

lemon

1 1/2

tsp

salt

to taste, can finish seasoning after the meal cooks

1/2

tsp

black pepper

to taste, can finish seasoning after the meal cooks

2

tsp

dried thyme
Instructions
Preheat the oven to 425F.

Place the sliced leeks in a medium bowl filled with water. Let the leeks soak for about 5 minutes. Drain the water from the leeks using a colander. Rinse the leeks under water to remove any remaining dirt particles. Dry the leeks.

Arrange the leeks, potatoes, and garlic cloves on the sheet pan. Pour half the olive oil over the veggies (you don't need to be precise with your halving, just as close as possible), and squeeze half of the lemon over the veggies. Sprinkle with 1 tsp of salt and 1/4 tsp of the black pepper. Toss to combine. Push the veggies to the edges of the sheet pan, forming a space in the center of the sheet pan for the chicken.

Arrange the chicken in the center of the sheet pan. Drizzle the remaining olive oil over the skin of the chicken thighs, and squeeze the juice from half the lemon over the chicken. Sprinkle the skin with the remaining salt, pepper, and all the thyme. Rub your hands over the skin to evenly distribute the spices, if needed.

Place the sheet pan in the center rack of the oven, and bake for 35-45 minutes, or until the veggies are cooked through and slightly crisp on some edges and the chicken is cooked through (the juices run clear) and the skin is brown and crispy. The veggies should be more steamed than crispy. Check on your chicken around the 35 minute mark to determine how much longer you'll need to cook your chicken–the skin should begin to brown and look crisp right about now. 45 minutes works best for my oven and crispy skin preference so that's my recommendation, but cooking times can slightly vary with each oven. The good thing about thighs (with the skin and bones) is the meat will stay moist even with a few extra minutes of cook time.

For the veggies, you can pierce the potatoes with a fork to check for doneness. If your potatoes were cut into larger chunks, you may need to remove the chicken from the sheet pan and then return the potatoes and leeks to the oven to finish cooking. I've never had to do this (I also go with a full 45 minutes), but it's worth noting depending on the size of your potato chunks and how quickly your chicken cooks (say 30-35 minutes instead of the full 45 minutes).

Remove the sheet pan from the oven and serve warm. Taste the potatoes and add more salt or pepper, until seasoned as desired.

When storing any leftovers, be sure to add the juice from the sheet pan to the chicken and veggies. This juice is full of flavor and will also keep the chicken and veggies tender and moist when reheated. I also love to spoon the juice over the veggies when serving the meal. It makes a delicious jus-like sauce (or gravy).
Notes
*Do not use boneless, skinless chicken thighs, or chicken breasts. This recipe works because of the dark, juicy chicken thighs and using thighs with bones is a must. 
The amount of olive oil used creates the loveliest gravy-like sauce for the potatoes and leeks to cook in, and it's particularly flavorful when combined with the chicken. If you don't want to use as much oil, and don't want such "saucy" veggies, you could reduce the amount of olive oil by 1-2 tablespoons, if desired. This will produce drier veggies, so you may want to grease the sheet pan first before adding the veggies to the pan. 
Nutrition
Calories:
493
kcal
Carbohydrates:
22
g
Protein:
27
g
Fat:
33
g
Saturated Fat:
7
g
Cholesterol:
141
mg
Sodium:
711
mg
Potassium:
861
mg
Fiber:
4
g
Sugar:
1
g
Vitamin A:
620
IU
Vitamin C:
27.6
mg
Calcium:
83
mg
Iron:
5.9
mg