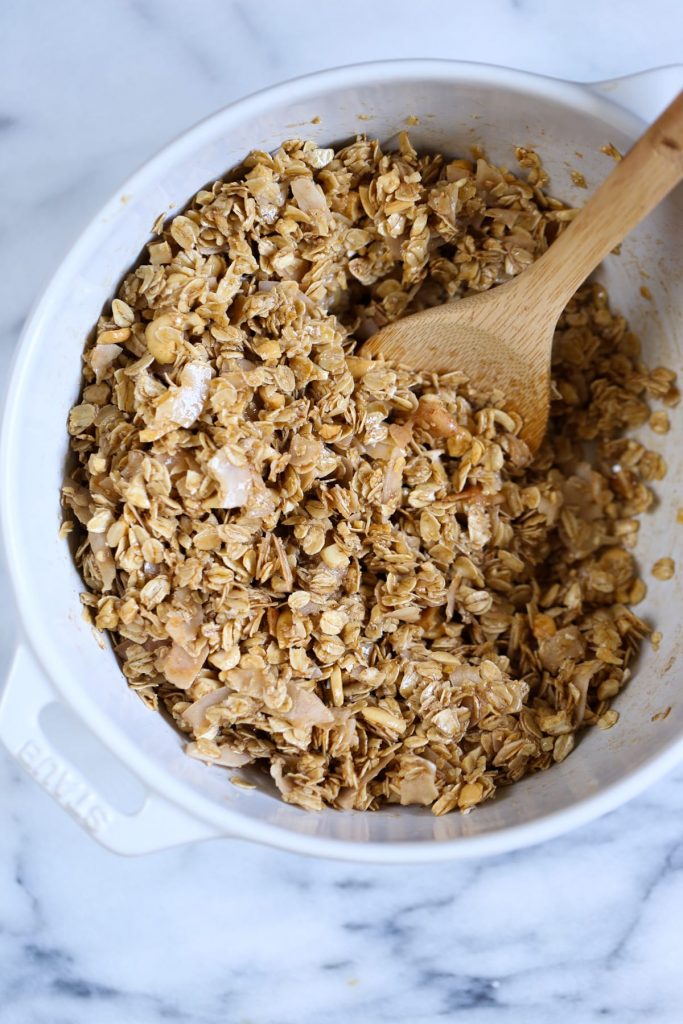 No Pumpkin Spice Latte, yet.
I know, it's almost October 1st, but I just can't go to the pumpkin spice latte side despite what Pinterest may be telling me. Not yet. Not when it's 90 degrees outside and shorts and tanks are still completely acceptable in Florida.
October 1st is right around the corner, and fall officially arrived last week. I also left Florida last week to spend time in Charleston, South Carolina. A week away from the extreme heat and shorts has led me to embrace fall, food-style. In fact, I even bought a couple of fall dresses in Charleston, so maybe I'm even venturing beyond food. I'm still not entirely sure if the dresses will come in handy in Florida.
Before we enjoy a toasty fall recipe, let's talk about Charleston, South Carolina…
I left for Charleston last Monday for a week of food photography with a wonderful group of ladies and two gentlemen. I just arrived home last night which is why this week on the blog the posts have been a bit slower to come out and we haven't talked about prep time. I'm blaming (in the very best way) the slow pace of Charleston for my relaxed blogpost schedule. We all need some good relaxation. Thank you, Charleston!
The week was filled with local food (Frogmore Stew and fresh fish!!). I stayed in a beach house (along with the other photographers) and enjoyed breakfast, lunch, and dinner prepared by a local chef. I know what you're thinking…dreamy is right!  The food was amazing, the company was fun, the photography was non-stop, and the downtown and fish dock excursions were beyond gorgeous. Unfortunately, I don't have any photos of Downtown Charleston since I was too captivated by the fried chicken and waffles, cute stores, and the discovery of Jeni's Ice Cream.
The atmosphere of the local shops, food, and weather made it feel like fall time for this Florida girl. Fall is something I'm not used to experiencing until…well, never! Just kidding. We have fall in Florida, but it's more like the weather dropping to 87 degrees versus 90. My trip to Charleston put me in the mood for all things plaid, toasty and warm bowls of granola, my famous pumpkin spice latte (seriously, it's good!!), and boots.
Maybe I'm dreaming when it comes to boots, but the food? I can make that work!
Naturally, the first thing I wanted to do upon returning from Charleston was bake! Since I also need to visit the grocery store, I needed to bake something easy with everyday ingredients. Homemade granola to the rescue!
This homemade granola recipe is a treat I've made for many years. It's a simple recipe that combines pantry/fridge staples: flaked coconut, rolled oats, warm spices, honey, butter, and nuts. The combination is then baked and cooled for a toasty and crunchy granola. I regularly serve homemade granola over ice cream and a drizzle of honey (oh heavens!), sprinkled in yogurt and topped with fruit, or alone in a baggie while I sit in the car line at Piper's school.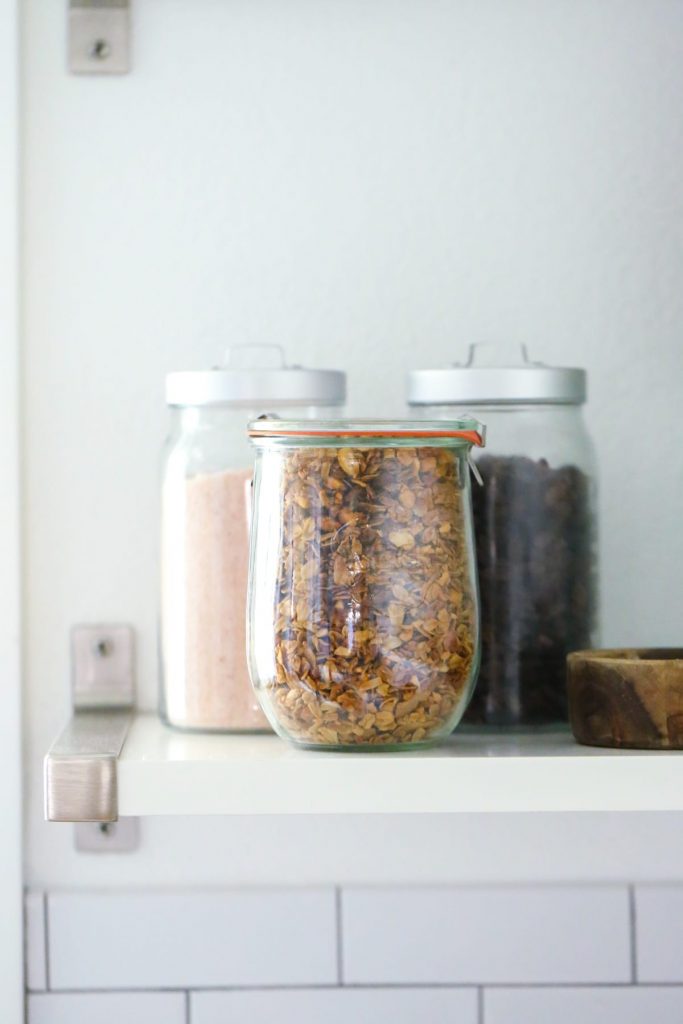 In the name of fall, it's time to warm the oven, mix the oats and honey, and serve up a big bowl of granola. Who's in?
Easy Homemade Granola
This homemade granola recipe is a treat I've made for many years. It's a simple recipe that combines pantry/fridge staples: flaked coconut, rolled oats, warm spices, honey, butter, and nuts. The combination is then baked and cooled for a toasty and crunchy granola.
Instructions
Preheat the oven to 300F.

In a large bowl, combine the rolled oats, salt, coconut flakes*, nuts or seeds, and spices. Set aside.

In a small saucepan, over medium-high heat, heat the honey and butter. Carefully watch and stir the honey and butter mixture, allowing it to come to a boil. Once boiling, remove the honey and butter from the heat and add the vanilla extract (stand back as the alcohol in the vanilla extract will cause a rapid boil). Pour the honey mixture over the oat mixture, and stir until well combined.

Spread the granola over a baking sheet (covered in parchment paper for easy cleaning). Bake the granola for 35-45 minutes on the middle shelf of the oven, until golden brown. Halfway through baking (the 18-20 minute mark), carefully stir the granola so the sides don't burn. Watch the granola carefully towards the end of the cooking time as every oven cooks a bit differently. Granola can quickly turn from golden brown to burnt. Once the granola is golden and has a toasted aroma, it's ready to pull out of the oven. Golden brown and toasted aroma are the key words to remember when making granola!

Remove the granola from the oven to cool. If you'd like to add dried fruit to the granola, add the raisins or dried cranberries now and quickly stir them into the warm granola. As the granola cools, the granola will harden creating a crispy granola that's perfect for yogurt or snacking. Store the cooled granola in an air-tight container on the counter for a few days (I let my granola sit for about 7 days) or in the freezer for several months.
Nutrition
Calories:
893
kcal
Carbohydrates:
106
g
Protein:
16
g
Fat:
49
g
Saturated Fat:
26
g
Cholesterol:
45
mg
Sodium:
319
mg
Potassium:
719
mg
Fiber:
12
g
Sugar:
39
g
Vitamin A:
530
IU
Vitamin C:
1.5
mg
Calcium:
68
mg
Iron:
6.1
mg
*Coconut Flakes: I love the toasty flavor and crunchy texture of the coconut flakes in this granola. If you prefer soft coconut flakes, add the flakes to the granola 10 minutes before removing the granola from oven.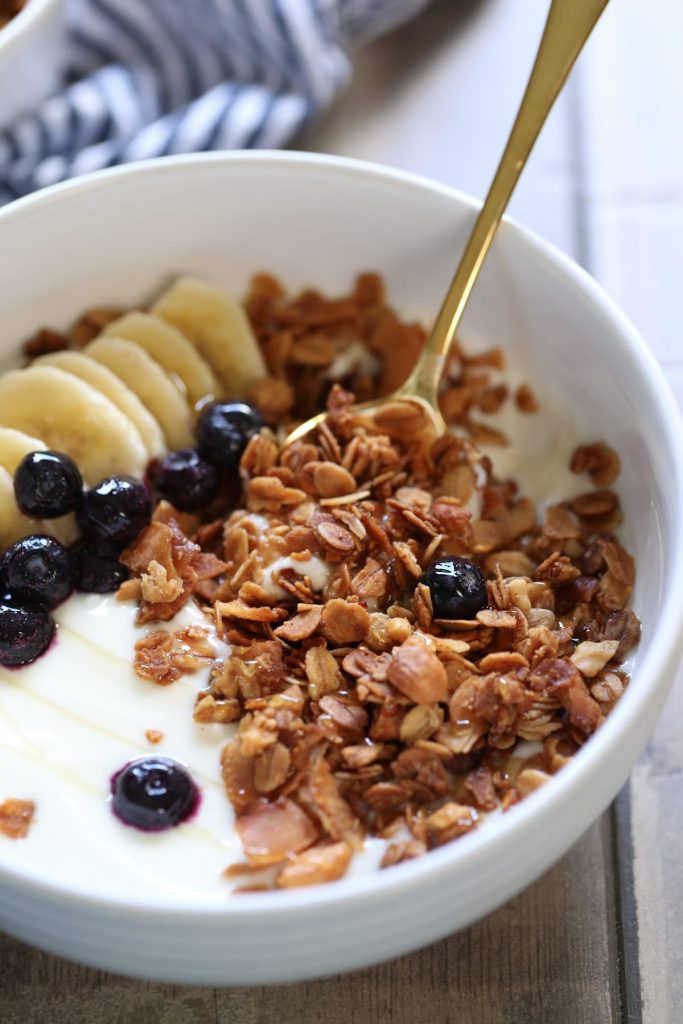 More Real Food You May Like:
Peanut Butter and Jelly Smoothie
Make-Ahead Grab-n-Go Omelet Cups
Make-Ahead Freezer Breakfast Burritos
Special Photo Credit: Dinner table in Charleston, South Carolina via Laura Carnes Photography