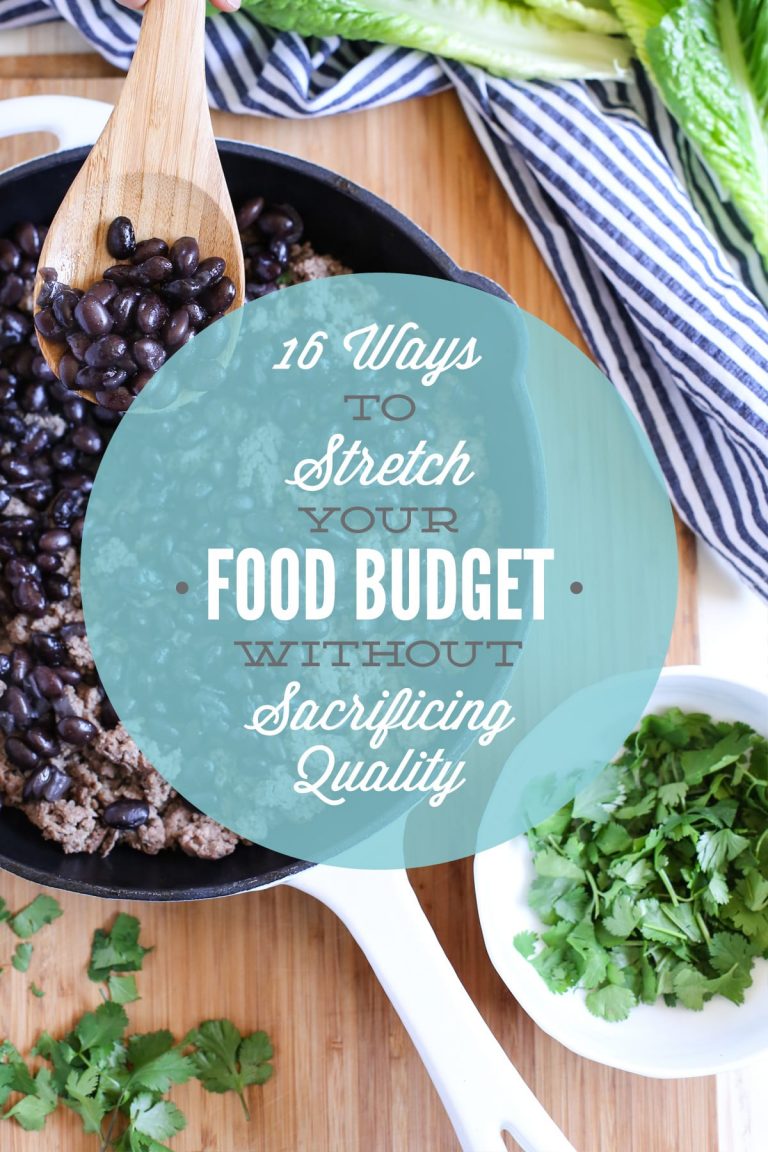 Budgeting is not my forte. Just ask Dustin.
I know, this may sound like an overspending cop-out, but I truly believe some people are naturally budget-savvy (Hi, Dustin). Maybe these budget superstars inherited a special gene?
Since budgeting doesn't rank very high on my awesome skills, I've been slowly teaching myself (with the help of many wise mentors and a gracious husband) to pay attention to the details that make a budget work. I'm learning to embrace functional goals and actions so I can help maintain my family's budget, particularly when it comes to delicious food.
I truly believe a real foodie can save money without sacrificing quality. It's been my goal over the last couple of years to merge quality and budget. Today, I've compiled a list of budget-friendly lessons to help you do the same.
While a list of "16 ways" may sound completely overwhelming, I think you'll find most of these "ways" or lessons are incredibly practical. I'm not asking you to embrace all sixteen lessons–oh no, I don't even embrace all sixteen at one time–rather, choose one or two lessons you can start applying to your own budget.
Let's get started.
16 Ways to Stretch Your Food Budget Without Sacrificing Quality
1. Buy seasonal produce: It's hard to break away from favorite fruits and vegetables, but focusing on seasonal produce can save hundreds of dollars each year. For example: Fall time is apple season and a great time to stock up on low-priced apples. During the summer, apples can cost $7-9/bag (ouch!).
2. Meal plan like a pro: Without a meal plan, food can easily rot in the back of the fridge or sit unused in the pantry. A meal plan is a practical guide of what to buy and how to use that food. You can learn more about how I plan, here.
3. Reuse ingredients strategically:  Meal planning also allows you to strategically reuse ingredients which means less waste. For example: If you purchase a gorgeous head of Swiss chard for a quiche recipe, plan to use the remaining greens in a simple green veggie sauté. 
4. Eggs are powerful: Pastured eggs can be expensive ($4-6 dozen); however, eggs are a great source of fat and protein. Good protein and fat means you'll feel full after a meal (full= less food/snacking). Eggs can be used in multiple budget-friendly recipes: frittatas (with meat or veggies), egg biscuit sandwiches, egg burritos, scrambled eggs, baking, fried rice, quiche/mini quiche, etc.
5. Three cheers for dry beans: Repeat after me, "Dry beans are my friend."  Dry beans are filling, cheap, and can be used in a variety of ways. I use beans to make: soups, tacos, hummus, dips, veggie burgers, taquitos, quesadillas, salads, and nachos.
6. Cut meat in half with cooked beans: Grass-fed meat can be expensive, but I refuse to compromise this area of our real food lifestyle. To reduce food costs, I sometimes substitute half the meat called for in a recipe with cooked beans. This works best in Mexican-inspired dishes (tacos, nachos, etc.) and soups/stews.
7. Name your priorities:  Purchasing 100% organic produce simply isn't possible with my budget and location. Naming my priorities is important. My priorities are: Raw milk, grass-fed/pastured meats, good-quality cheese (preferably grass-fed), quality chicken feed (so we can have eggs from our backyard hens), organic fruits and veggies from the dirty dozen list (local, if possible) , conventional "clean" produce (local, if possible).
8. Cook from scratch: Cooking from scratch is much cheaper than purchasing ready-made food. For example: Ready-made "organic" biscuits from the health food store cost $4.99 for a single tube. Homemade biscuits cost: $3.99 for a bag of flour, $2.99 for a bag of baking powder, $9 for a gallon of raw milk, and $2.00 for a stick of butter.
Wait, Kristin, homemade is more expensive!  It would appear that way, but remember, the store-bought product only makes twelve biscuits. The "from scratch" ingredient list will make dozens of biscuits and other recipes.
9. Eat fat: Fat is your friend! I know, it's hard to forget everything the '80s and '90s taught us about "good nutrition." Thankfully, fat is once again a friend. Fat and protein help fight food cravings so your belly feels full during the day.
10. Buy in bulk: Purchasing ingredients individually can really add up. For example: A small honey bear from the health food store shelf costs $7.99. Purchasing local honey in bulk (1 gallon jug) costs $45. This bulk purchase alone saves me $200 a year. My favorite items to purchase in bulk are: dry beans and rice (from the health food store bulk bins), honey (local farm), beef and pork (local farm), wheat/flour (food co-op).
11. Keep an inventory: Create a list of everything you regularly stock in your pantry and freezer. An inventory will keep you from purchasing food you already own. Keep this list updated weekly before you create a meal plan/shopping list.
12. Shop your inventory: Now that you have a working inventory, shop your own food stock. When you sit down to meal plan take a look at your inventory list(s) and plan as many meals from your own food stock before creating a shopping list. 
13. Make your own lunchmeat: Making your own lunchmeat is super easy. Each week I cook a whole chicken, chuck roast (similar to this method), or ham (special occasions due to cost and availability). Once cooked, I shred the meat and use my "homemade deli meat" for sandwiches, salads, etc. I also use the bones to make broth.
14. Embrace the bones: Meat with bones is usually cheaper than speciality boneless cuts. For example: 3 chicken breasts cost $9-12 and 1 whole chicken costs $14. The chicken breasts will make one meal for 2-3 people. The whole chicken will feed my entire family, and leftovers will be enjoyed the next day. Plus, I can use the bones from the whole chicken to make 10-12 cups of broth!
15. Make your own broth: Store-bought broth is expensive and contains a number of questionable ingredients. Making homemade broth is super easy when you purchase whole cuts of meat. I use my crock-pot to make chicken, beef, and veggie broth. I store the broth in the freezer and defrost as needed.
16. Grow your own food: Growing your own food can be as simple as a pot of fresh herbs next to your front door. Even homegrown herbs may help decrease food costs. I focus on growing food my family loves to eat: broccoli, lettuce, herbs, and tomatoes.
More Real Food You May Like:
7 Money-Saving Recipes Using Castile Soap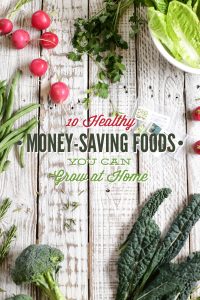 10 Healthy Money-Saving Foods You Can Grow at Home