This post may contain affiliate links. Affiliate links come at no extra cost to you. These links allow me to share the products I authentically recommend (and use) and support Live Simply by receiving a small commission.
Earlier this week, I overheard a conversation in the cubby room at my local barre studio. My heart broke as I listened in…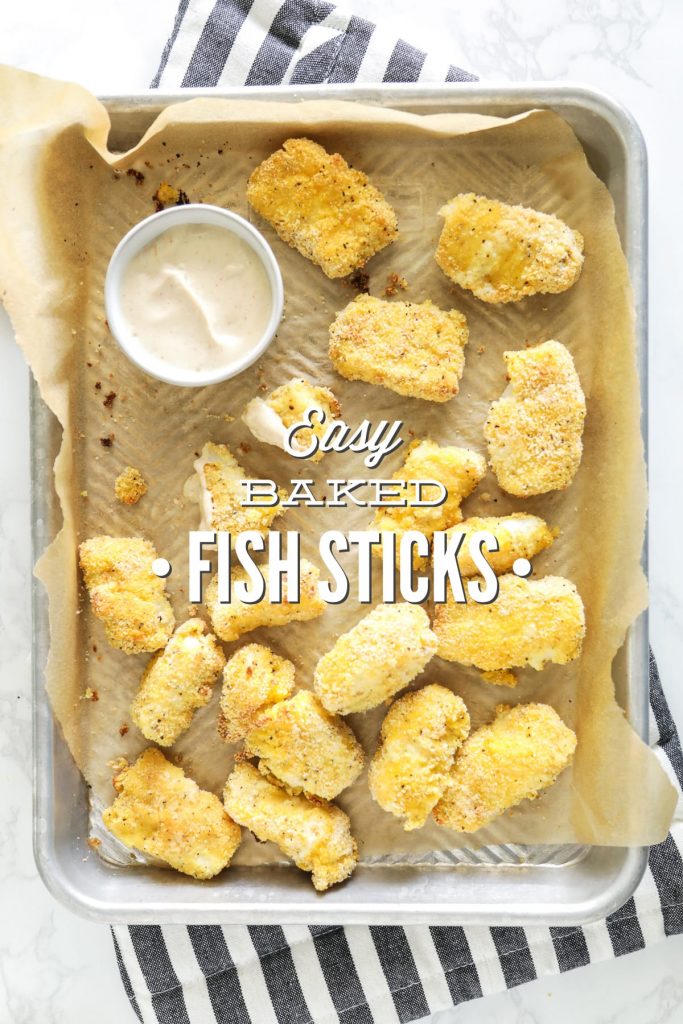 "Ugh, I really want a hamburger right now." A woman declared as she wiped the sweat from her forehead.
A few of the ladies in the room smiled and chuckled.
The woman continued, "But I know, I should have a salad. Or…something healthy." 
FREE Real Food Crash Course
I get it, switching from processed food to a real food lifestyle can feel overwhelming and confusing. Friend, it doesn't have to be this way.
Here's what to expect: 
printable charts (real food defined, a seasonal produce guide, meal planning)
how to get started with a real food lifestyle
how to create a meal plan and stay within a budget
7 real food recipes
emails from me to help you enjoy real food
Bonus: Step-By-Step Guide to Real Food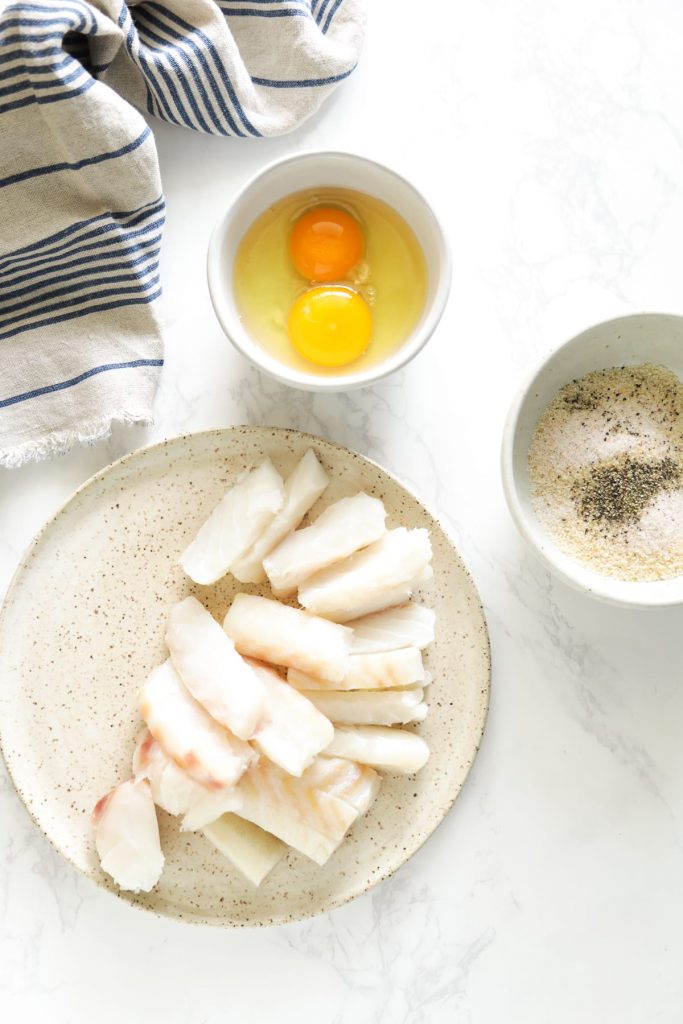 I had to chime in, "You could make a burger at home with real, nourishing ingredients–some grass-fed beef, lettuce, and other fresh toppings. That's my favorite meal. And that kind of burger is very different than a drive-thru chain burger."
The woman smiled at me as she picked up her purse and shoes, "Yes, maybe so. I'm just trying to be healthy."
This mentality is all too common in our current society. It's not surprising that so many people are confused by food, and even scared to eat certain foods. I was there just a few years ago. 
I personally think this confusion comes from years of misguided food marketing, government food pyramid campaigns, fad diets, living off processed food, and the absence of people cooking and passing down food culture/knowledge to the next generation.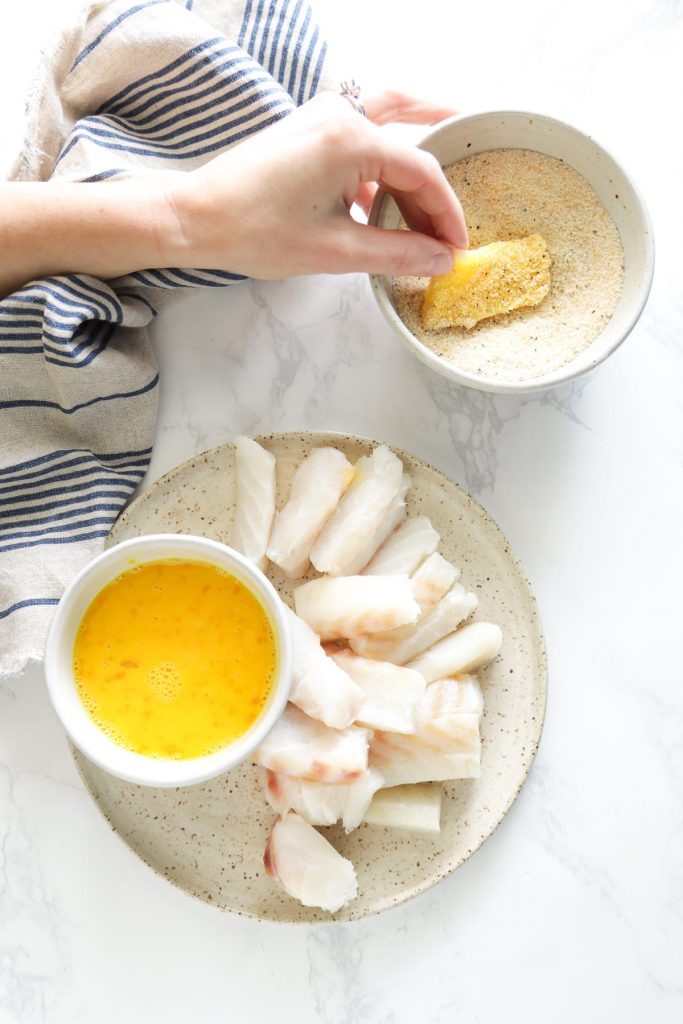 I truly believe that getting back to the basics–sourcing real ingredients and cooking in our kitchens– is the answer to ending this confusion and fear. I know, that sounds so simple. And it is!
When you make food, in your kitchen, using real ingredients–rice, chicken, lettuce, tomatoes, real cheese–every meal is a source of nourishment and joy. Whether that meal is a good ol' burger that's made with fresh, real ingredients, or a big salad with loads of raw veggies.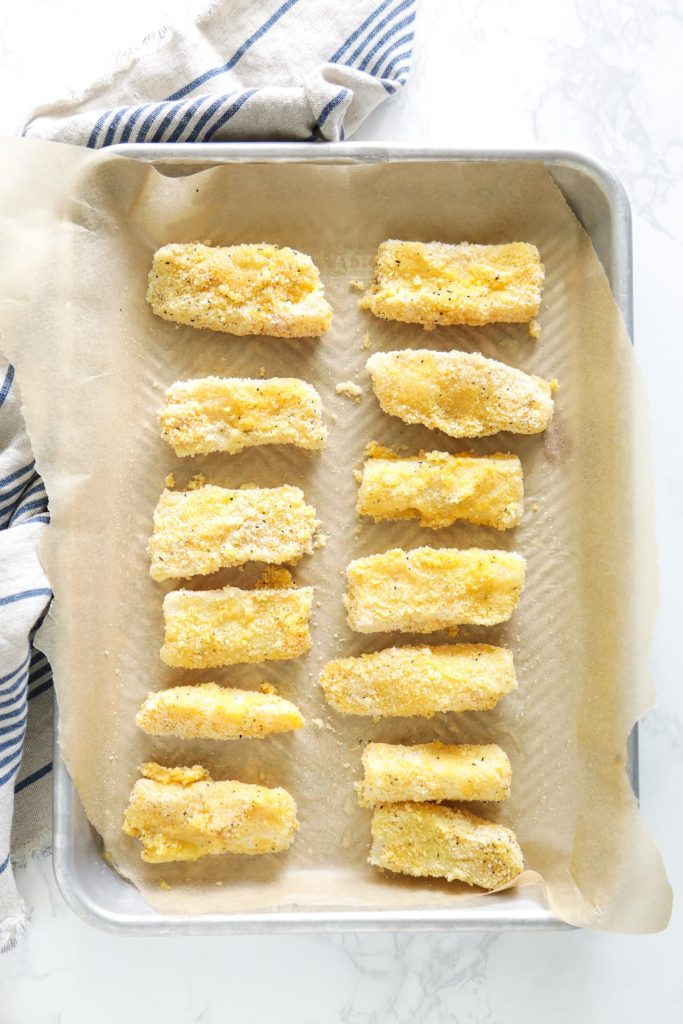 I love sharing real food-based recipes here on Live Simply, especially real-ingredient recipes that are not usually deemed "healthy" by modern day society. 
In the past, we've talked about making homemade chicken tenders and salisbury steak–both of which are usually associated with processed food. We've also talked about macaroni and cheese several times: Instant Pot mac and cheese, stove-top mac and cheese, and butternut mac and cheese.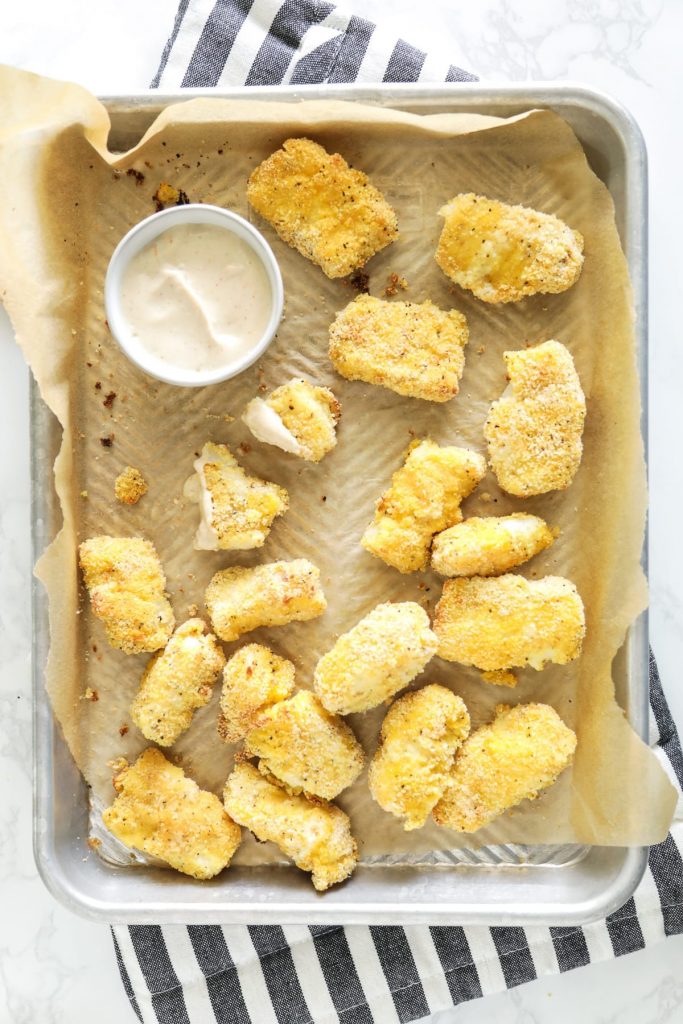 Today's recipe, Easy Baked Fish Sticks, is another real food take on a food that's generally considered unhealthy and overly-processed. These fish sticks are made with just four very simple ingredients:  breadcrumbs, salt, eggs, and fish. That's it! I usually make these fish sticks with cod, but you could also use salmon or halibut.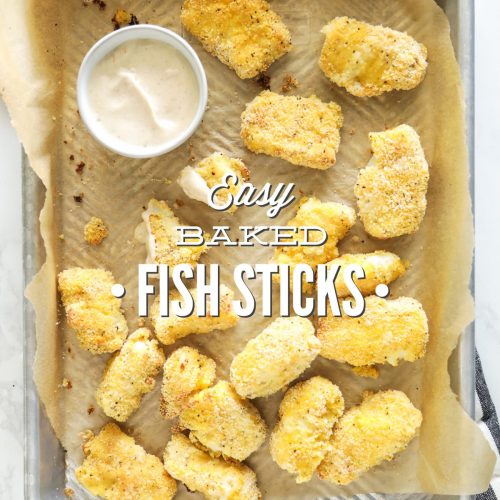 Easy Baked Fish Sticks
These real-food fish sticks are so simple and easy to make, your family won't even miss the pre-packaged ones from before.
Prep Time 10 minutes
Cook Time 14 minutes
Total Time 25 minutes
Servings 4 people
Calories 231 kcal
Ingredients
1 lb cod cut into 1-inch strips, or salmon or halibut
1 cup dry breadcrumbs *fine breadcrumbs work best
1/2 tsp salt
1/4 tsp black pepper
2 eggs
avocado oil spray (optional for toasting)
Special Equipment
Instructions
Preheat the oven to 400F.

In a medium-size bowl, whisk together the breadcrumbs, salt, and pepper. In a separate small bowl, whisk the eggs.


Dip the fish strips, a few at a time, into the egg, and then transfer the strips into the breadcrumb mixture, flipping the strips a few times so the mixture evenly coats the strips. Place the coated strips on a baking sheet or baking stone.

Lightly spray the strips with the oil spray. (optional)

Bake for 11-14 minutes, depending on thickness until cooked through. Serve with a dipping sauce (see notes for an aioli or try homemade ranch), if desired.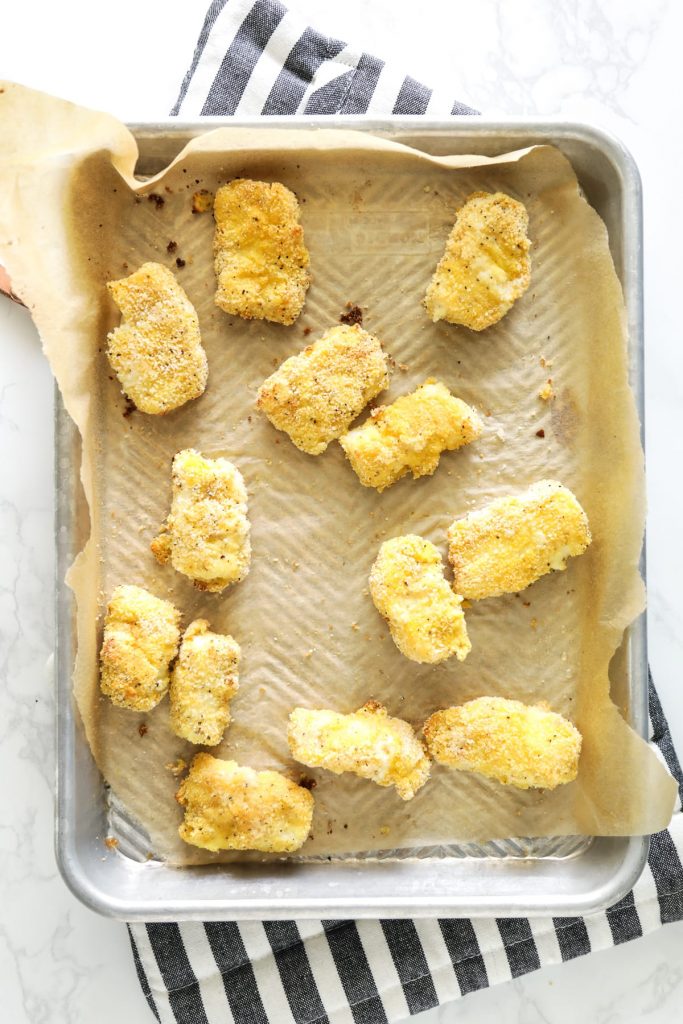 See my lifestyle in real life