Eggs are one of our favorite real foods. They're a nutritional powerhouse, versatile, and budget-friendly. There are over 15 different ways to cook eggs for breakfast. Deviled eggs are one my favorite way to make eggs, particularly in advance, for a holiday brunch or make-ahead breakfast option. Let's make my favorite deviled eggs: packed with bacon and herbs!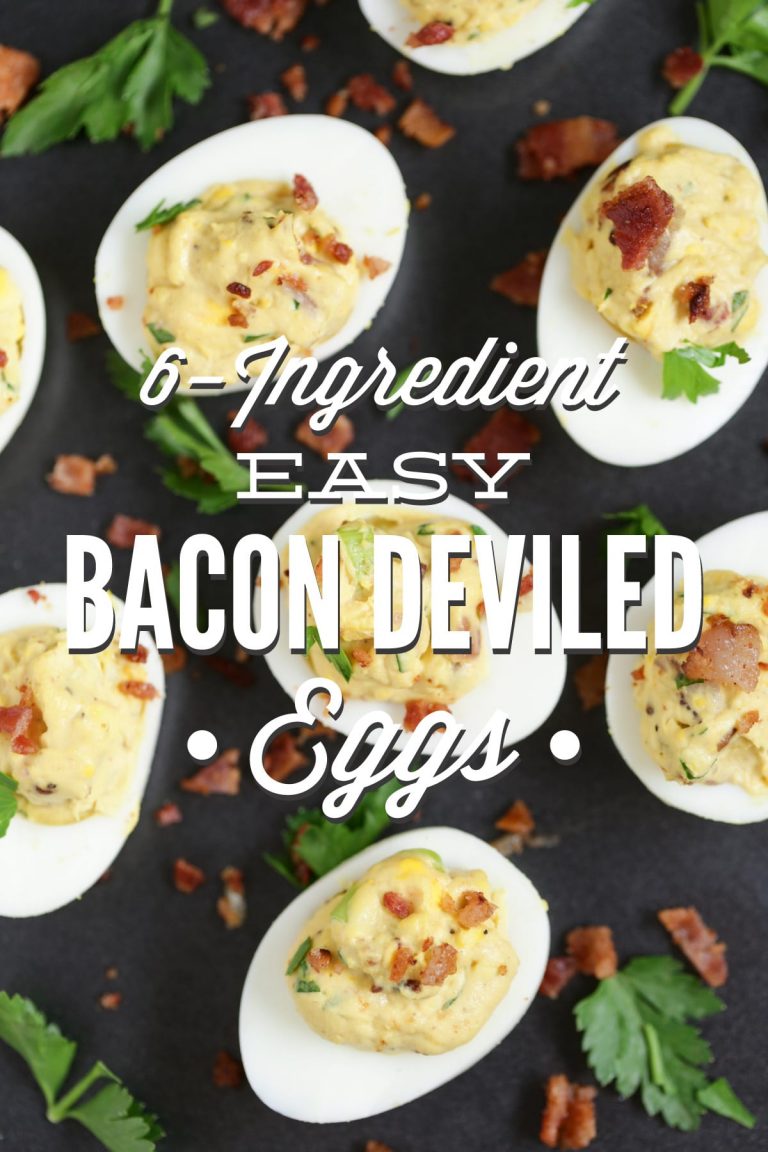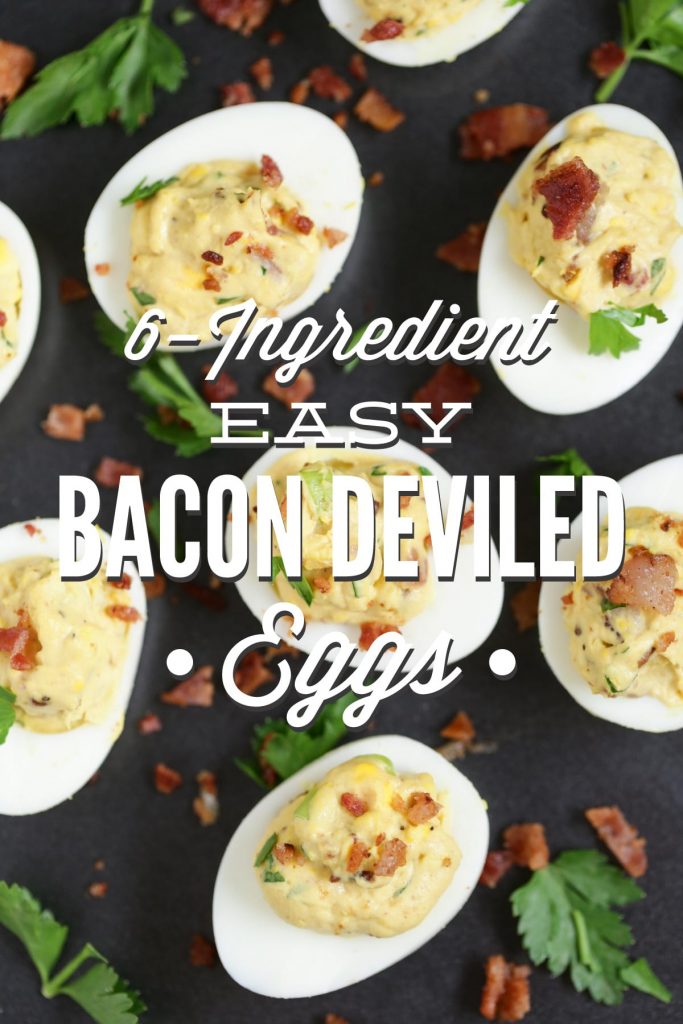 I've never been much of a deviled egg fan. The concept of loading a perfectly good egg with mushy ingredients doesn't really click with my taste-buds.
We all have our food preferences, and a deviled egg just hasn't been one of mine.
And now you're probably utterly confused: "So you don't like deviled eggs, but you're posting a deviled eggs recipe? Kristin, are you feeling okay?"
To clear up the confusion, I should have clarified the last sentence in the first paragraph. Let me try this again…
We all have our food preferences, and a deviled egg just hasn't been one of mine… until now!
As it turns out, there's a simple way to make the classic, mushy deviled egg into the most heavenly meal ever! Seriously, no joke.
The answer lies in one simple ingredient. This ingredient has the power to take lentils and transform them into the most amazing lentil soup ever. The same ingredient can be smothered between eggs, cheese, and biscuits to recreate a childhood classic. And don't forget about the magical transformation this single ingredient provides to a rather bland bunch of collard greens. What's this one ingredient? Do you know the answer? Shout it out, "Bacon!"
And you're 100% correct.
Bacon is the extra ingredient needed to take the classic deviled egg from "Ugh, deviled eggs" to "I must eat all the deviled eggs, now!" Powerful stuff, huh? What makes this single ingredient so miraculous? I'm so glad you asked.
1. Bacon is crispy. One of the major issues I have with deviled eggs is the mushy texture. I need crunch in my life–nuts, better-quality potato chips (for special occasions), and bacon. Crispy bacon is added to my homemade deviled egg filling, and then sprinkled over the top of each egg to provide a crunchy pop.
2. Bacon is packed with flavor. In my humble egg opinion, I believe many deviled egg recipes lack flavor. Bacon adds a smoky, bold flavor that kicks up the "Wow!" factor in my recipe.
3. Bacon is AWESOME! I think this point is pretty self-explanatory. AWESOME!
4. Bacon is the answer 99.9% of the time. Don't like brussels sprouts? Just saute them with bacon. Don't care for lentils? Bacon, my friend. Need to win over your spouse? Bacon is the answer. Okay, so maybe bacon doesn't solve every problem, but don't underestimate its power.
Now that I've convinced you of everything you already know, let's get right to the eggs.
With Easter just a couple of weeks away, it's time to start thinking about the festive food that we'll serve our family and friends. For many of us, even if we don't really care for them, deviled eggs will probably make the menu. Friend, I'm here to tell you, this year deviled eggs are not only going to make the Easter menu, but they'll also wow your guests. Why? Let's say it together…
"Bacon!"
And if you can say it like Oprah, I think your guests' wow factor will greatly increase.
Let's practice…
"You get bacon! And you get bacon! You get bacon!"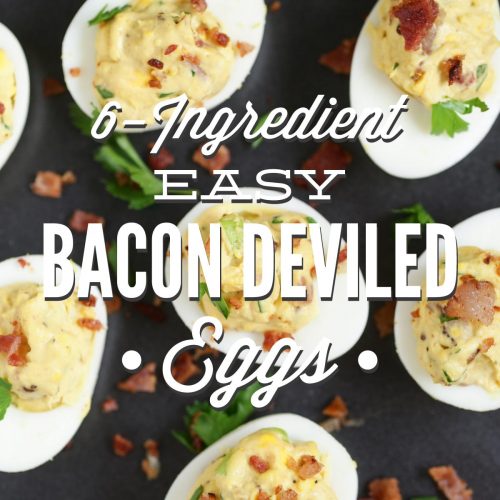 6-Ingredient Easy Bacon Deviled Eggs
Easy, 6-ingredient deviled eggs made with real food ingredients.
Ingredients
Filling:
6

egg yolks

from the six eggs above

4

TB

mayonnaise

1

TB

dijon mustard

3

slices

bacon

cooked and chopped

1

TB

chopped fresh parsley

+ extra for a garnish

salt

and pepper (optional if needed)
Instructions
To cook the hardboiled eggs, place the eggs in a medium-size pot. Fill the pot with water just until the water covers the eggs. Add the salt. Bring the water to a boil, place the lid on the pot, and turn off the heat. Let the eggs steam/cook (with the heat turned off and the lid on the pot) for 10 minutes. This is the perfect time to fry the bacon! After 10 minutes, drain the water from the eggs. Run each egg under cool water and peel. OR use the Instant Pot method (find that recipe here).

Cut each egg in half and scoop the yolk into a medium-size bowl. Set the egg whites to the side. Mash the egg yolks with a fork.

To the egg yolks add: mayonnaise, dijon mustard, chopped bacon slices (reserve a tablespoon or two for garnishing the eggs), parsley, and salt and pepper (if needed). Gently stir the ingredients together.

Spoon or pipe (using a bag with a tip) the egg filling into the center of each egg white. Garnish with with the third slice of chopped bacon and extra parsley.
Notes
Serve the eggs at room temperature or refrigerate for several hours. Either way, these deviled eggs are amazing!
Easy Bacon Deviled Eggs are a great meal to prep in advance and enjoy for breakfast, a snack, or lunch.
Nutrition
Calories:
115
kcal
Protein:
4
g
Fat:
10
g
Saturated Fat:
2
g
Cholesterol:
185
mg
Sodium:
309
mg
Potassium:
51
mg
Vitamin A:
275
IU
Vitamin C:
0.4
mg
Calcium:
24
mg
Iron:
0.7
mg