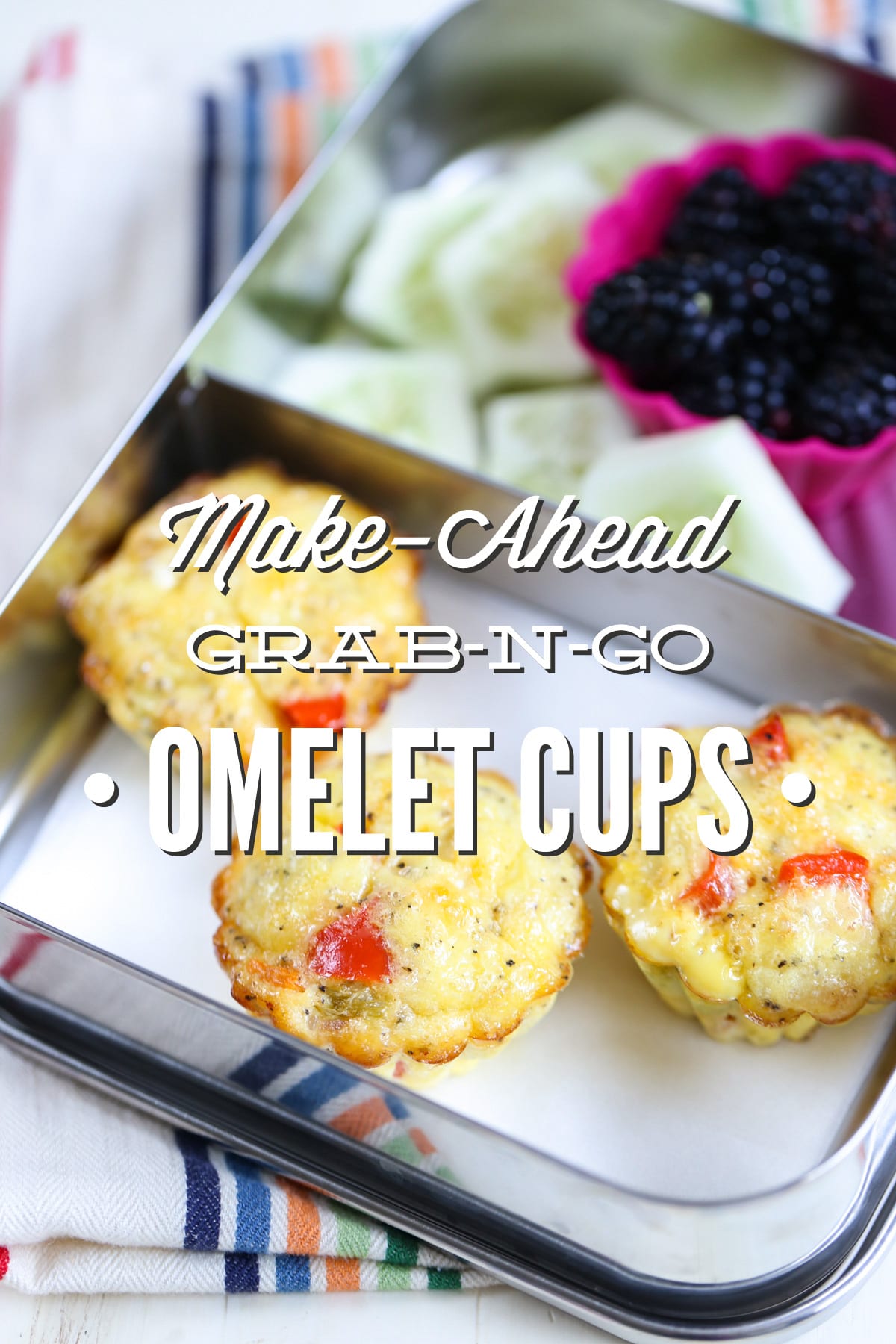 Two weeks down. Thirty four weeks to go.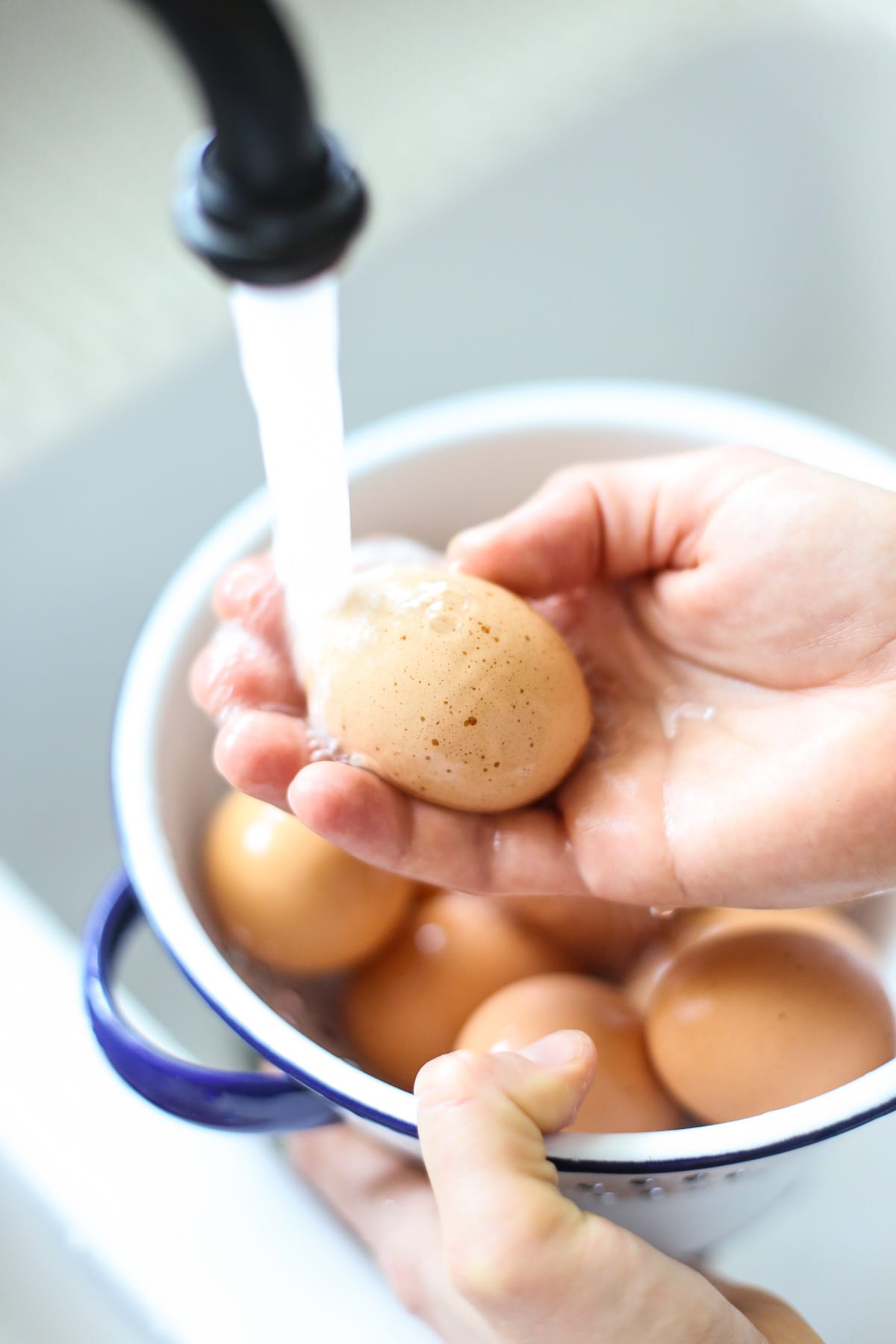 After a year of anticipation and excitement about being a big kid and attending school, Piper is officially a Kindergartener!!
After much consideration, we decided to send him to a private Montessori school. It's important to note that before my life revolved around writing about food and homemade cleaning and bath products, I was an elementary school teacher. I had a great love for the public school system (not always the policies, but the teachers and students–but let's not get into the politics of education today), which meant sending Piper to public school was a non-negotiable. Fast forward five years. Suddenly being on the parental side of school made me start thinking about what would be best for my child and his personality.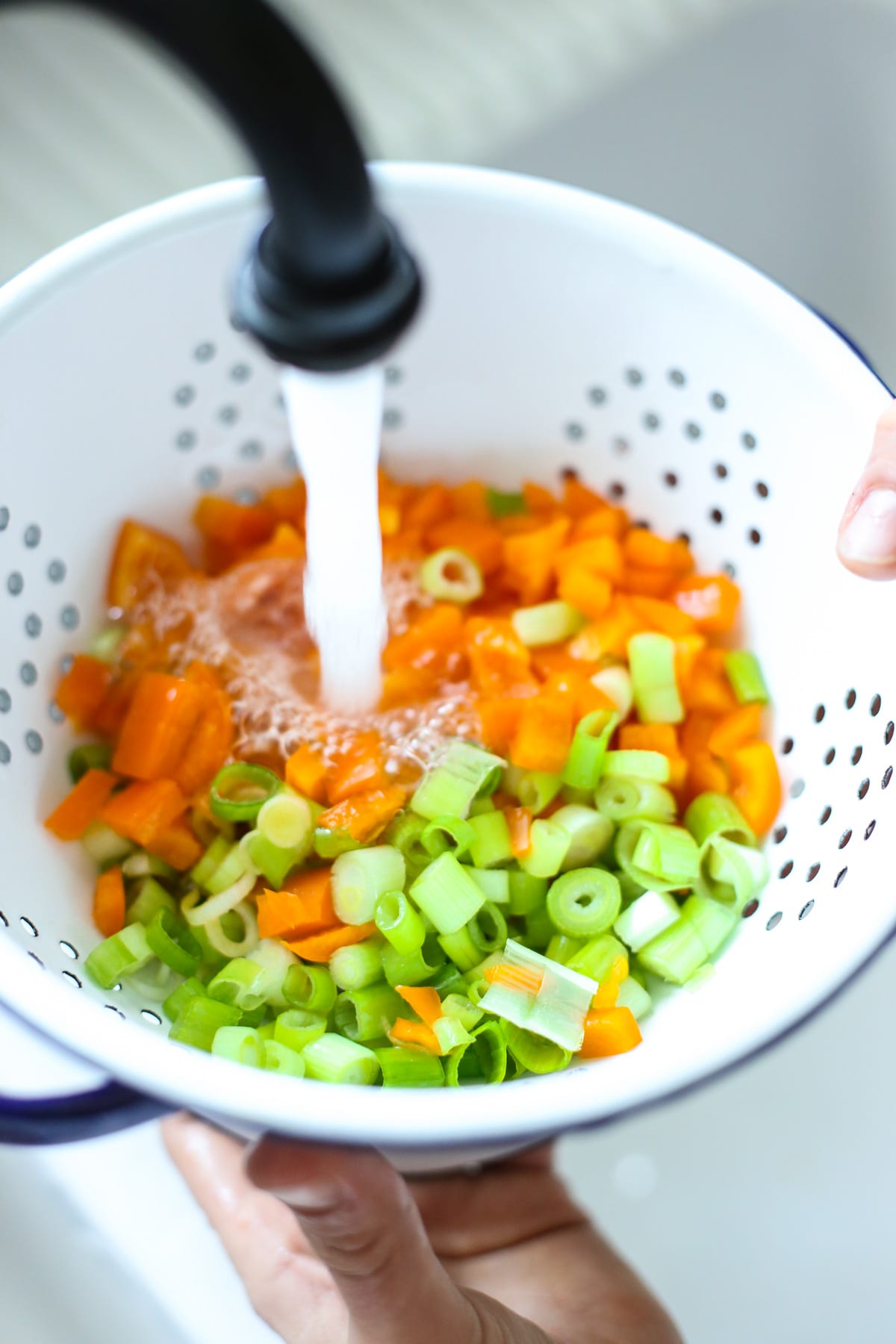 Piper has always been a very active, hands-on kid. He loves exploring and working with his hands–Legos are his prized possession. With these qualities in mind, we started looking at school options that would foster his love for the outdoors, working with his hands, and his great passion to explore how things work and why. Montessori education won our hearts. If you're new to the Montessori concept, like we were a few months ago, here's a basic definition: "Montessori is a method of education that is based on self-directed activity, hands-on learning and collaborative play. In Montessori classrooms children make creative choices in their learning, while the classroom and the teacher offer age-appropriate activities to guide the process." (source)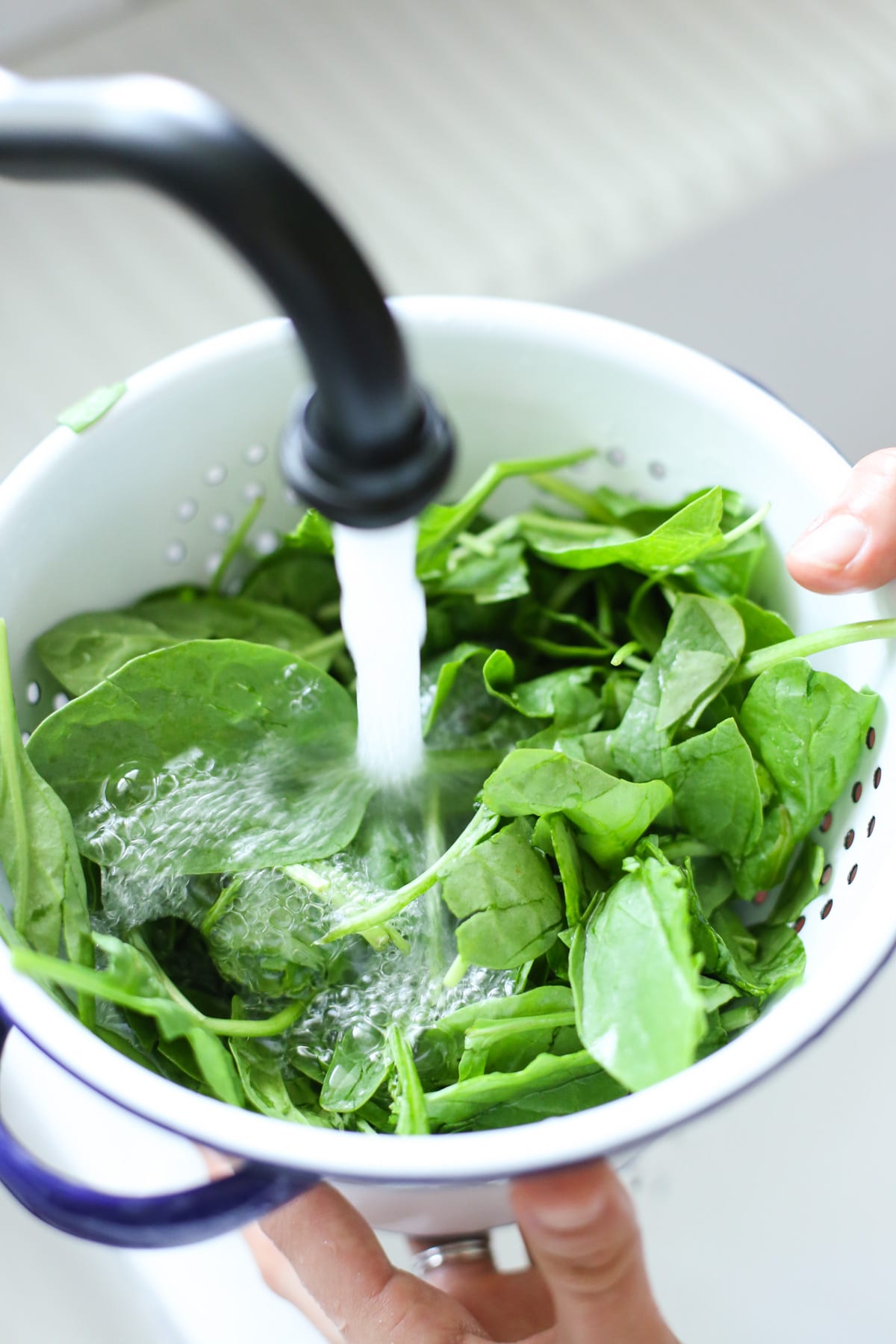 We are now two weeks into the school year and we couldn't be happier with this new season of life. Okay, I'm not a big fan of the driving to and from school daily. Besides the driving, our first two weeks as a kindergarten family have been very enjoyable. Coffee helps with the whole driving issue ;).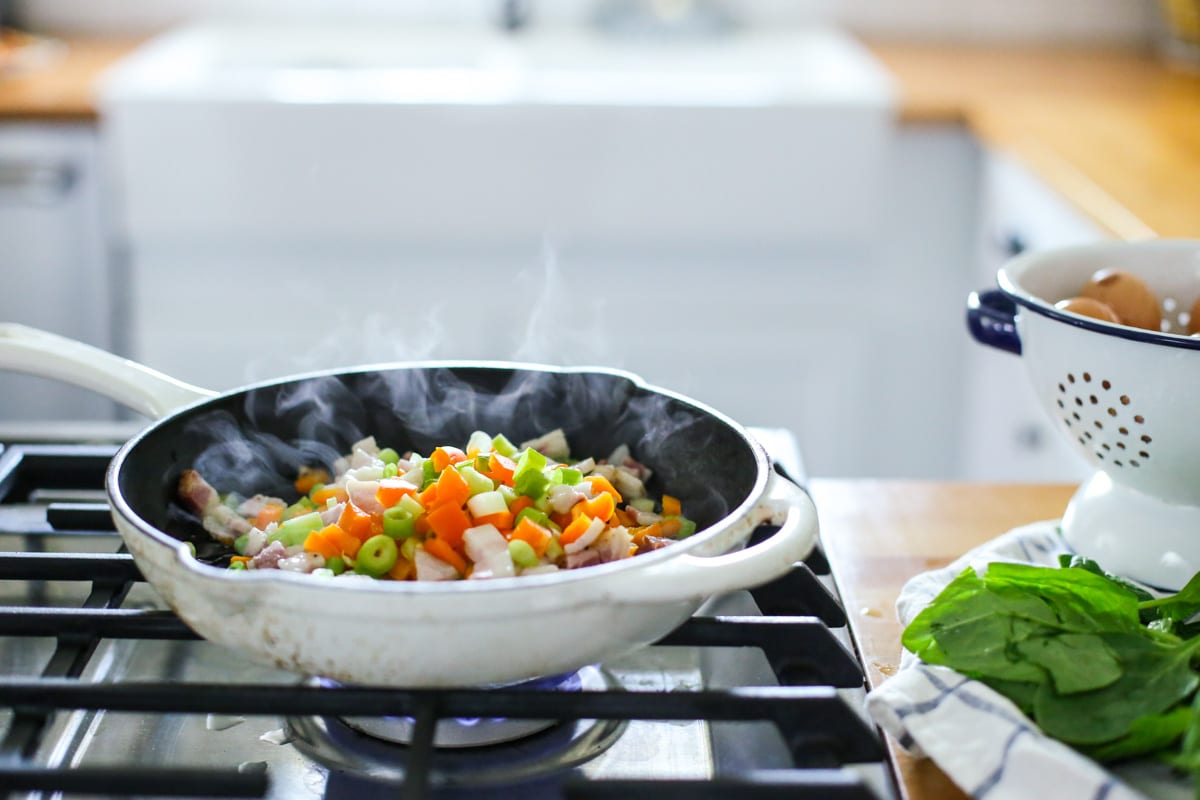 This new season of life means I need to focus, daily, on feeding Piper (and the rest of the family) a hearty, healthy and quick breakfast, along with packing lunches.
In the past, while I prepped food in advance, making meals or ingredients was important, but if it didn't get done I knew food could be made on the spot. Now, it's absolutely essential to prep ahead. Leisurely making breakfast at 7:30am and staying in our jammies until 10am aren't an option anymore. And lunch? After two days of lunch-packing, I learned the importance of packing at least some of Piper's lunch the night before. Real food sanity savers, my friend! And with 34 weeks left in this school year, it's key to do all we can to keep our real food sanity!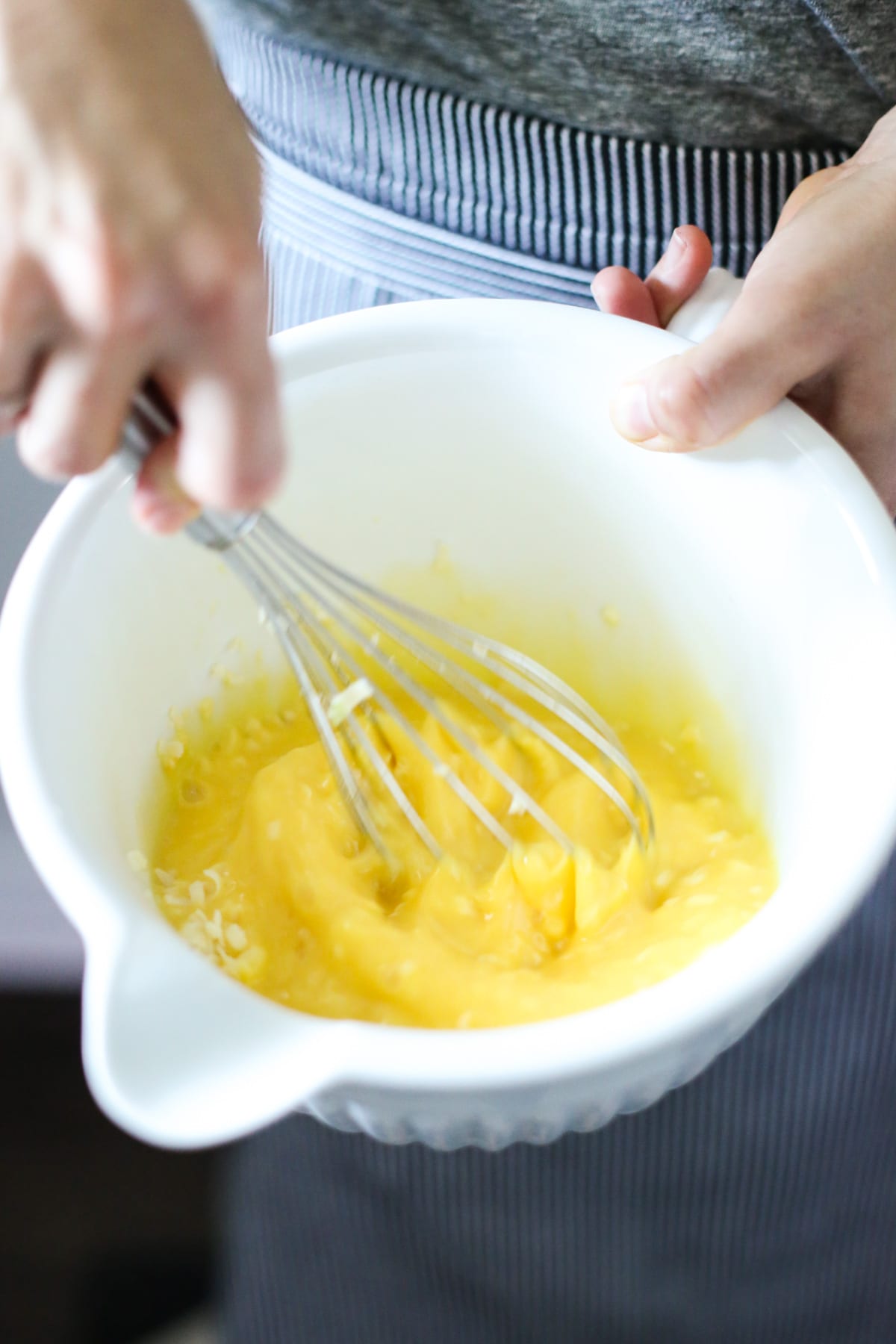 As we talked about in last week's prep day post, eggs are a real food family's best friend! Eggs are super versatile, healthy, packed with protein (which means the belly stays full), and can be prepped in advance. Eggs have quickly become an essential prep day food this school year since they can be served for breakfast or packed in the lunchbox. Each week I add some kind of family-friendly egg meal/ingredient to my prep day list. Usually, I keep my egg prepping very basic: hardboiled eggs, burritos, or omelet cups. Since we've already discussed the basics of a good ol' hardboiled egg and how to assemble egg burritos, let's dedicate some time to omelet cups.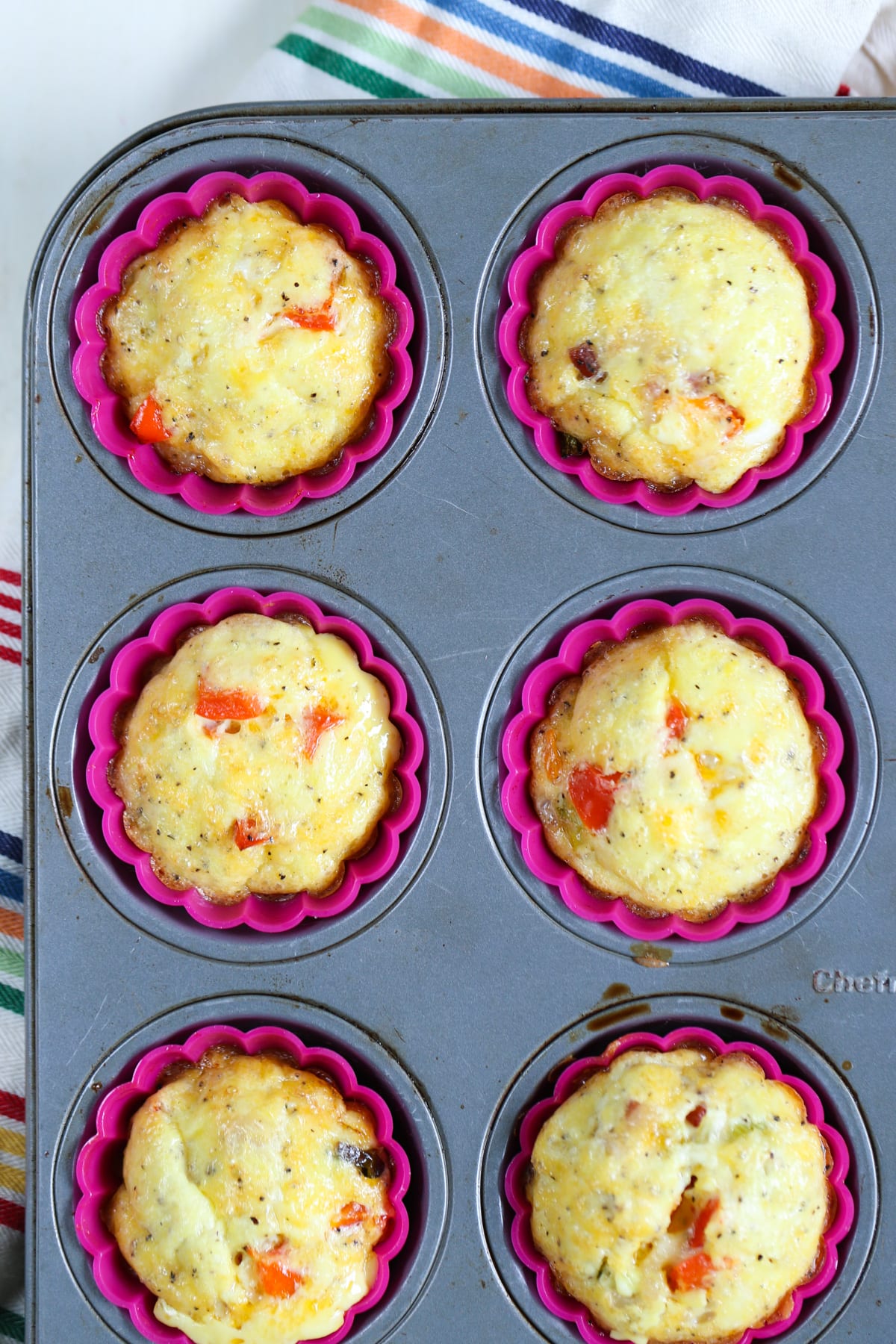 Omelet cups are made by combing eggs, a bit of milk, veggies, cheese, and bacon! The ingredients are then baked in the oven for 20 minutes until the omelet cups resemble muffins.
Even if your kids won't touch an omelet, the muffin appeal of the omelet cup is something a child just can't resist. Something is triggered in a child's brain when they see a muffin shape. Muffin = YUMMY! Must eat! I have absolutely zero scientific evidence for this statement, just many years of observing my own two kids.
PS: Muffins seem to have the same effect on husbands.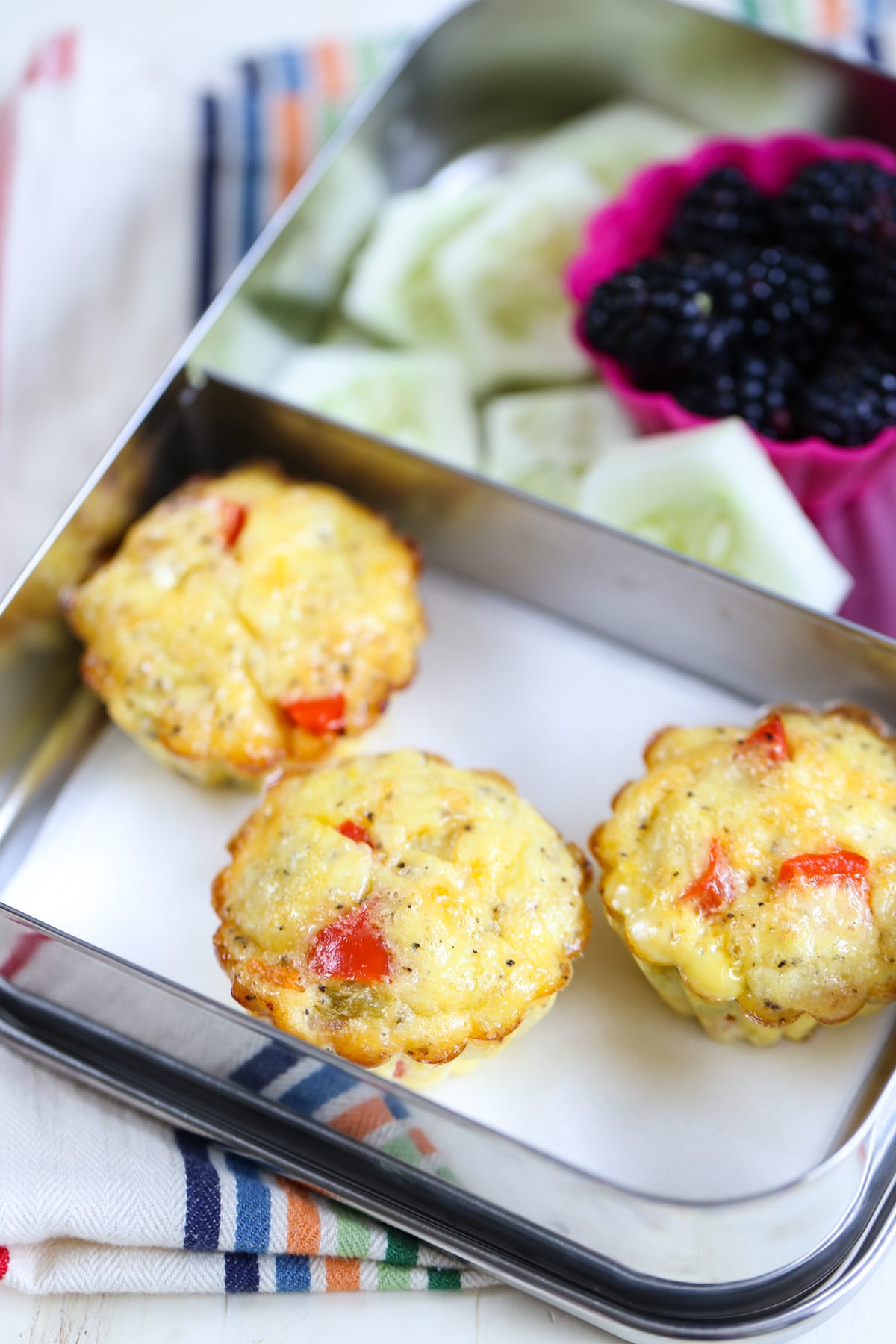 Before I share my omelet cup recipe and finish eating the omelet cup currently wedged between my typing hands and the computer screen (#thestruggleisreal), it's important for me to mention the biggest advantage of making omelet cups…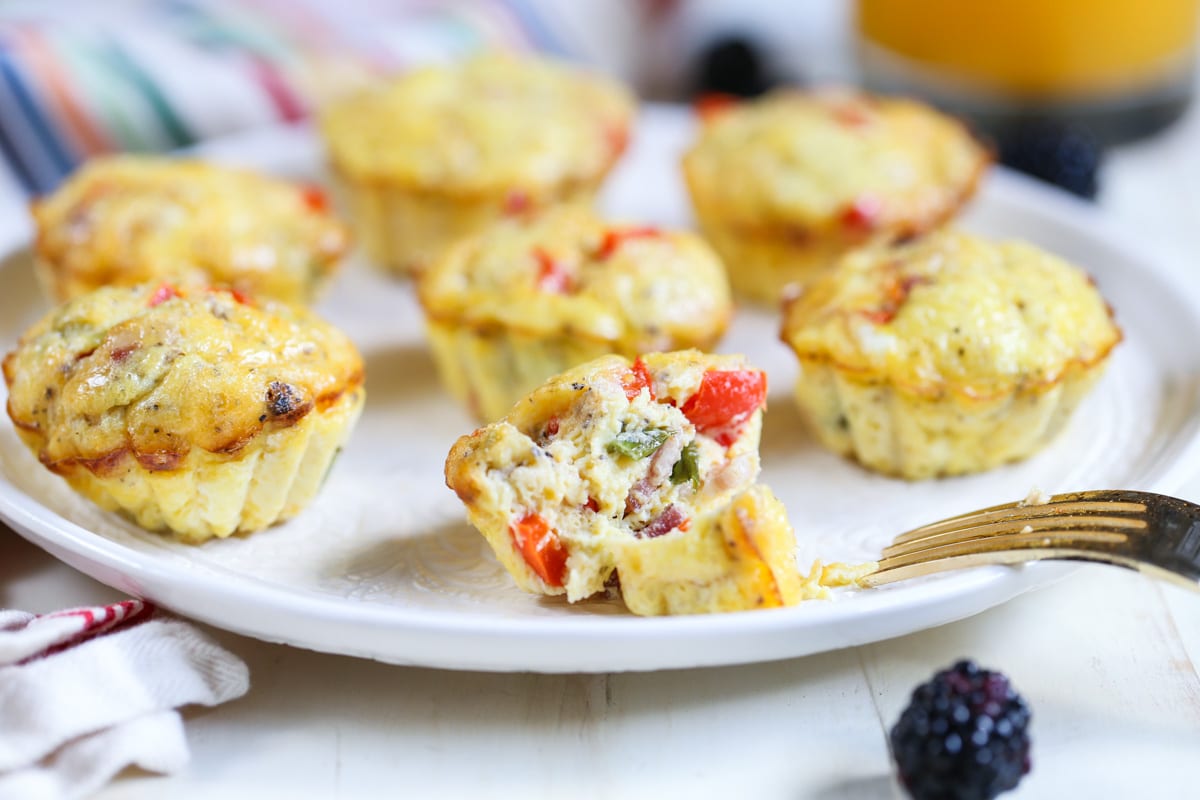 Omelet cups are the ultimate make-ahead busy morning meal or lunch. Omelet cups can be frozen for up to 2-3 months (although three months gets a bit iffy with texture and taste) or stored in the fridge for 3-4 days. Just reheat the egg cups and serve. Easy peasy, healthy, and scrumptious!
Make-Ahead Grab-n-Go Omelet Cups
Baked eggs in a muffins cups with bacon and vegetables make for the best grab and go breakfast. Prep this breakfast in advance for an easy weekday meal.
Ingredients
1

TB

extra virgin olive oil

2

bacon slices

chopped

1/2

cup

diced green onions

whites and greens

1 1/2

cups

diced bell pepper

red, green, or yellow

2

cups

baby spinach

optional

9

eggs

1/4

cup

whole milk

1 1/4

cups

shredded cheddar cheese

1

tsp

salt

1/4

tsp

black pepper
Instructions
Preheat the oven to 350F. Line a muffin tin with muffin liners. I prefer

silicone liners

for easy clean up, but paper may also work–

I've used this brand

with success. If you're using paper, peel the wrapper before storing the cups in the fridge or freezer.

In a large skillet, over medium-high heat, (I use my cast iron skillet), heat the olive oil. Add the chopped bacon, diced green onions, and diced bell pepper. Wait to add the spinach, if using. Saute the mixture for 10 minutes, until the veggies "sweat" and soften and the bacon starts to brown on the tips. If using baby spinach, add the spinach and cook for another 1-2 minutes, stirring until the spinach is wilted. If there's lots of fat in the bottom of the pan (since bacon can differ so much in fat content), drain it before the next step.

In a medium-size bowl, beat the eggs and milk. Whisk in the cheddar cheese, salt, and pepper.

Spoon 1 tablespoon of the veggie/bacon mixture into each muffin cup. Pour the egg mixture over the top of the filling.

Bake for 20 minutes until the eggs are firm and the tops spring back when touched.
Notes
Make-Ahead Tips: Store the omelet cups in the fridge for 3-4 days in an air-tight container. Or store the omelet cups in the freezer for up to 3 months (although I recommend for taste reasons to consume them within 1-2 months). Just reheat and serve!
Customize: This recipe can be customized to your liking. If you don't want to use bacon, skip this tasty ingredient or add a bit of sausage or ham instead. Don't have green onions? Try sweet yellow onions instead. Love mushrooms? Cut the pepper quantity in half and add diced mushrooms. Don't have spinach? Try baby kale or finely chopped chard or collards.
Nutrition
Calories:
112
kcal
Carbohydrates:
1
g
Protein:
6
g
Fat:
8
g
Saturated Fat:
3
g
Cholesterol:
118
mg
Sodium:
296
mg
Potassium:
128
mg
Sugar:
1
g
Vitamin A:
1200
IU
Vitamin C:
22.3
mg
Calcium:
101
mg
Iron:
0.8
mg
Take the Guess Work OUt of meal planning
Free 64 Rotational Meals Ideas Cheat Sheet
Breakfast, lunch, dinner, and snack recipes to rotate week after week. Put healthy meals on auto-pilot.
What to Serve With This Recipe
This is a great protein-rich breakfast, lunch, or dinner. Serve this recipe on its own or with a breakfast side. Here are a few of my favorite side dishes: