This is the week for muffins. The goal in sharing simple muffin recipes is to help you get started with meal prep before the back-to-school busy season begins. Today's recipe is a family favorite. The flourless almond banana muffins are quickly made in the blender (then baked in the oven), naturally gluten-free, and freezer-friendly. Pair the muffins alongside eggs (one of 16 different egg styles), healthy yogurt bowls, or a smoothie.
Muffins are a great food to prep in advance for several reasons:
They're easy to make. About 15-20 minutes is all you'll need to prep muffins.
They keep in the fridge for about a week.
They don't require any special reheating. I keep muffins in the fridge and take out as many as needed when I wake up in the morning. By breakfast time, the muffins are usually around room temperature. Muffins may be reheated in a microwave, too.
They will feed a family for multiple days, especially if paired with eggs, yogurt and fruit, orsmoothies. <–This keeps the muffins from getting boring morning after morning.
It's easy to cook once, eat twice with muffins. Make a double batch so you can save some in the freezer for another week (or even later that week). For most flour-based recipes, I don't recommend doubling recipes in the same bowl since the results aren't always favorable. Today's recipe for flourless muffins can be doubled without any issue.
Muffins aren't just for breakfast. They also make a great lunchbox addition and snack.
A couple of days ago, we made einkorn muffins. Not just any einkorn muffins. We made the master of all einkorn muffin recipes. In other words, with one single muffin recipe, it's possible to make blueberry muffins, zucchini muffins, chocolate chip muffins, zucchini or carrot muffins, and the list could go on.
Today's recipe isn't as versatile, but it is just as special in its own unique ways.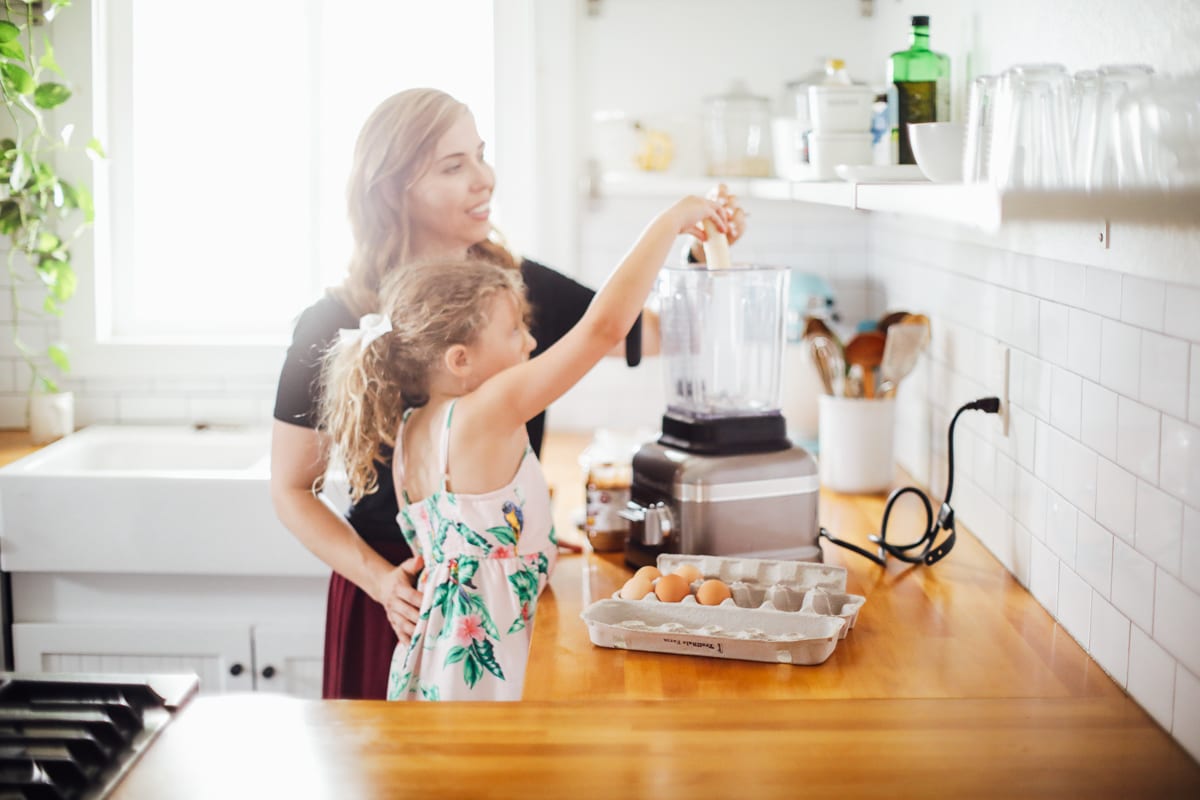 First, this recipe is unique because it's made in the blender (or food processor).
Wait. This statement demands an explanation.
Technically these muffins aren't made in the blender, meaning, cooked in the blender. But they are fully prepared in the blender. Add the ingredients to a blender jar (or food processor bowl), blend, and then pour the batter into a prepared muffin pan. So easy!
Second, this recipe is made with the simplest capsule pantry ingredients: bananas, maple syrup, and nut butter. This combo, when combined with a leavening agent (in this case, baking powder) results in hearty muffins with a uniquely moist crumb.
There are countless variations of flourless, blender muffins shared across the internet. This particular recipe, perfected by Helen and enjoyed by the team here at Live Simply (including my family) is our take on this popular muffin concept.
Finally, the muffin batter only takes about 10 minutes to prepare before baking. This time includes measuring, mixing, and pouring the batter into the muffin pan. You could probably even cut this time down to 5 minutes if you're super fast and organized, and don't have kids helping. Thanks to the blender (or again, food processor), these muffins are an easy breakfast meal to prep in advance, even if you don't have much time to spend on meal prep.
When it comes to breakfast prep, I focus on making just a couple of key breakfast components for the week ahead. This usually means muffins, pancakes, a quick bread, or waffles and cut fruit. With these two components–a baked good and fruit–my weekly meal plan looks something like this:
(Sunday: Meal prep)
Monday: Muffins with hardboiled eggs and fruit
Tuesday: Muffins and plain yogurt and fruit (maybe with granola if there's some in the freezer and I want to stretch the muffins for another day)
Wednesday: Muffins with smoothies
Thursday: Eggs (usually scrambled or an omelet if I'm up early enough) with fruit
Friday: oatmeal (hot or overnight cold oats) with fruit
Saturday and Sunday are lazier days, so there's no need to prep breakfast in advance. Weekend breakfasts look very different: a frittata, burritos, breakfast tacos, or maybe waffles (if we didn't eat them the week before #variety).
Is this weekly menu super exciting and creative? Nope! It probably won't win any Pinterest awards. Is this menu practical and nourishing? Absolutely! Is it budget-friendly and able to meet my family's need for enjoying a real food breakfast without spending a ton of time in the kitchen each morning? Yes!
I hope this example helps you think about meal prep and, in particular, keeping meal prep simple. Remember, make meal prep work for you. Forget all the images you've seen on the internet. And forget what the "ideal" meal prep session looks like. Focus on what will work for you and your family. Ask yourself, "What can I prep right now that will simplify our life in the upcoming days?"
Meal prep doesn't need to be elaborate, unless you need it to be. The goal of meal prep is to meet a need. A need to simplify the week to come. I hope these easy to make, simple-ingredient muffins help you do just that.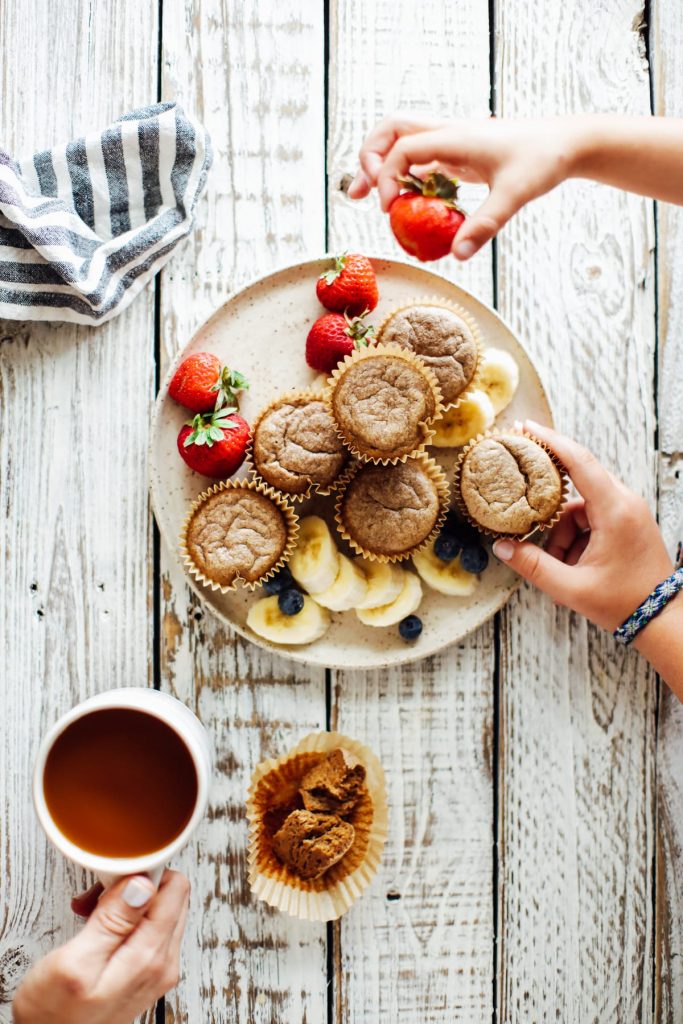 Take the Guess Work OUt of meal planning
Free 64 Rotational Meals Ideas Cheat Sheet
Breakfast, lunch, dinner, and snack recipes to rotate week after week. Put healthy meals on auto-pilot.
Almond Banana Flourless Muffins (No Bowl Required, Blender Muffins)
Easy, flourless muffins made in the blender. Add the simple ingredients to a blender jar (or food processor bowl), blend, and bake.
Ingredients
Optional Mix-In:
1/4

cup

mini chocolate chips

(such as Enjoy Life brand)
Special Equipment:
high-powered blender

or food processor
Instructions
Preheat the oven to 350F. Line a muffin pan with muffin liners–I don't recommend oiling the pan for this recipe. Stick with the muffin pan liners.

Combine the ingredients, except chocolate chips, in a high-powered blender jar or food processor bowl.

Pulse until the batter is smooth, scraping the sides if necessary.

If using, stir in the chocolate chips.

Divide evenly into 12 muffin cups.

Bake for about 18 minutes, or until golden brown and spring back when lightly touched.
Notes
*

Helen perfected this recipe and used Costco almond butter which is fairly runny. I've made these muffins a lot since she perfected the recipe and have used both the Costco almond butter and the creamy almond butter from Whole Foods (just almonds on the ingredient list). If there's a lot of oil at the top of your almond butter jar, thoroughly stir the butter to incorporate the butter with the oil before using in this recipe. Stick with using a creamy almond butter with very minimal ingredients (preferably just almonds). If you don't want to use almond butter, a

ny natural nut butter should work if it's the right texture.  For a nut-free option, sunbutter will work, but it does turn the muffins green when baked. This doesn't change the taste of the muffins, it's just a chemical reaction with the baking powder. 
Nutrition
Calories:
195
kcal
Carbohydrates:
16
g
Protein:
5
g
Fat:
13
g
Saturated Fat:
1
g
Cholesterol:
27
mg
Sodium:
112
mg
Potassium:
293
mg
Fiber:
2
g
Sugar:
9
g
Vitamin A:
60
IU
Vitamin C:
1.7
mg
Calcium:
110
mg
Iron:
1
mg