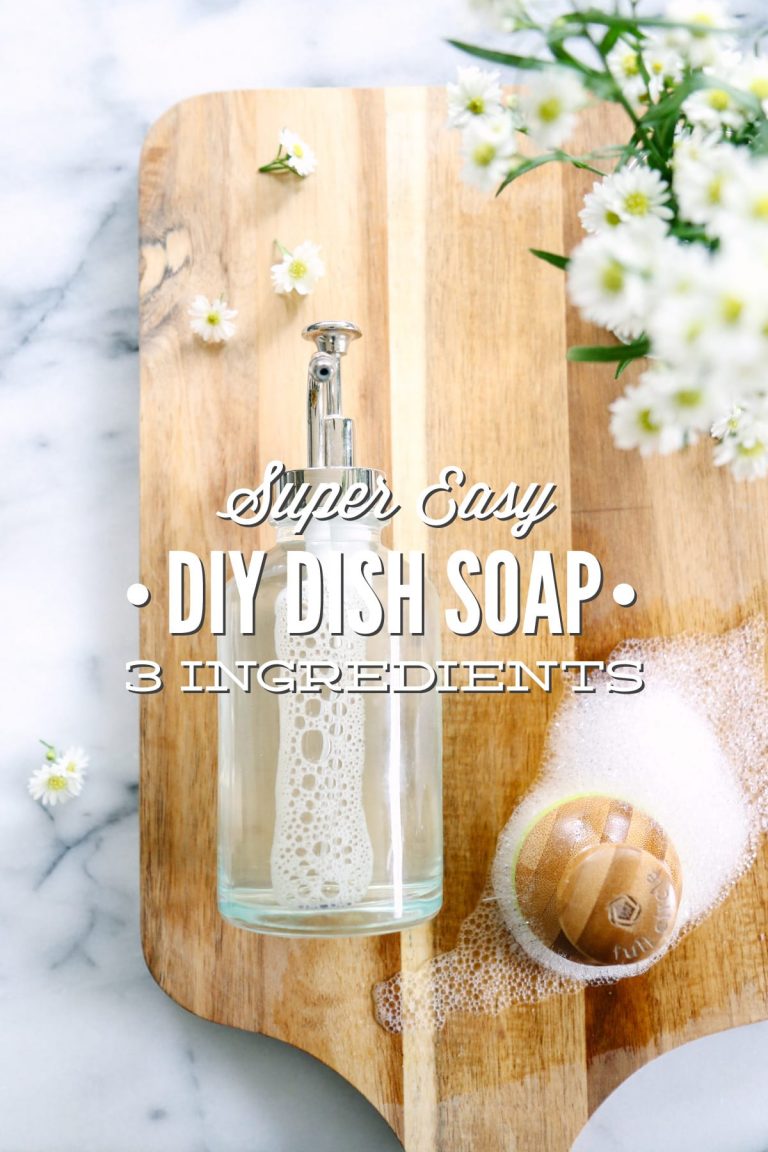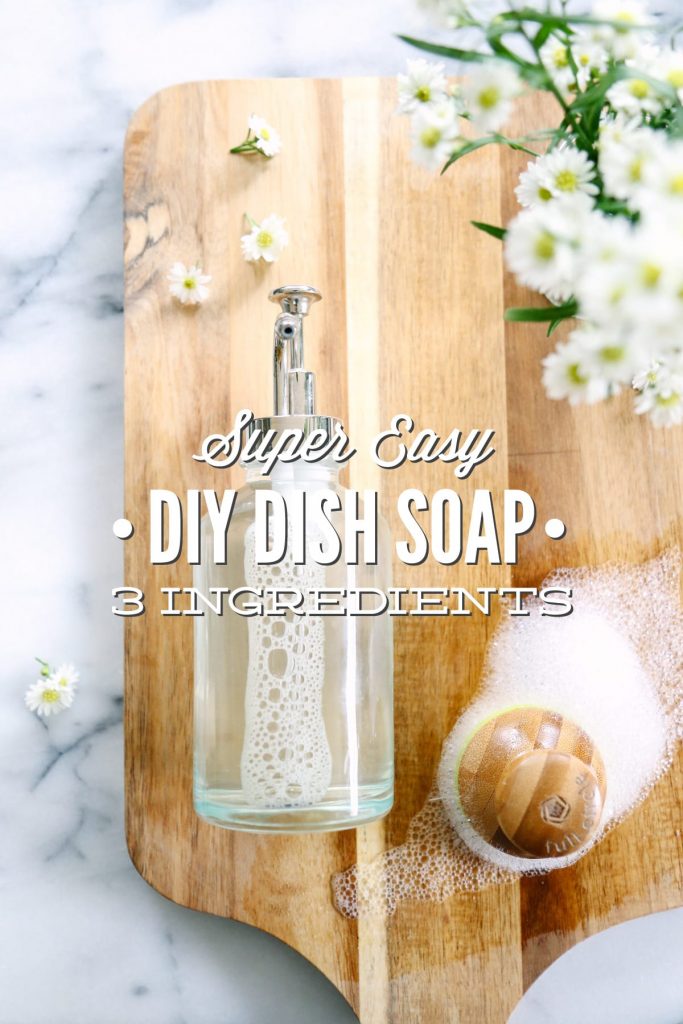 There are so many amazing benefits to enjoying a real food lifestyle (AKA: getting back to great-great grandma's food). While the benefits may be numerous, there's always one big drawback to this lifestyle: dishes!
Dirty dishes, and lots of them, are just a way of life for a real food family. Sure, eating processed food means dirty dishes will accumulate in the sink, but usually this means just a few plates or a bowl (for that boxed cereal or toaster "pastry"). Enjoying "real food" means a family must stock basic ingredients and turn those ingredients into wholesome and delicious meals. This means bowls, skillets, knives, cutting boards, and whisks will be dirtied in the process.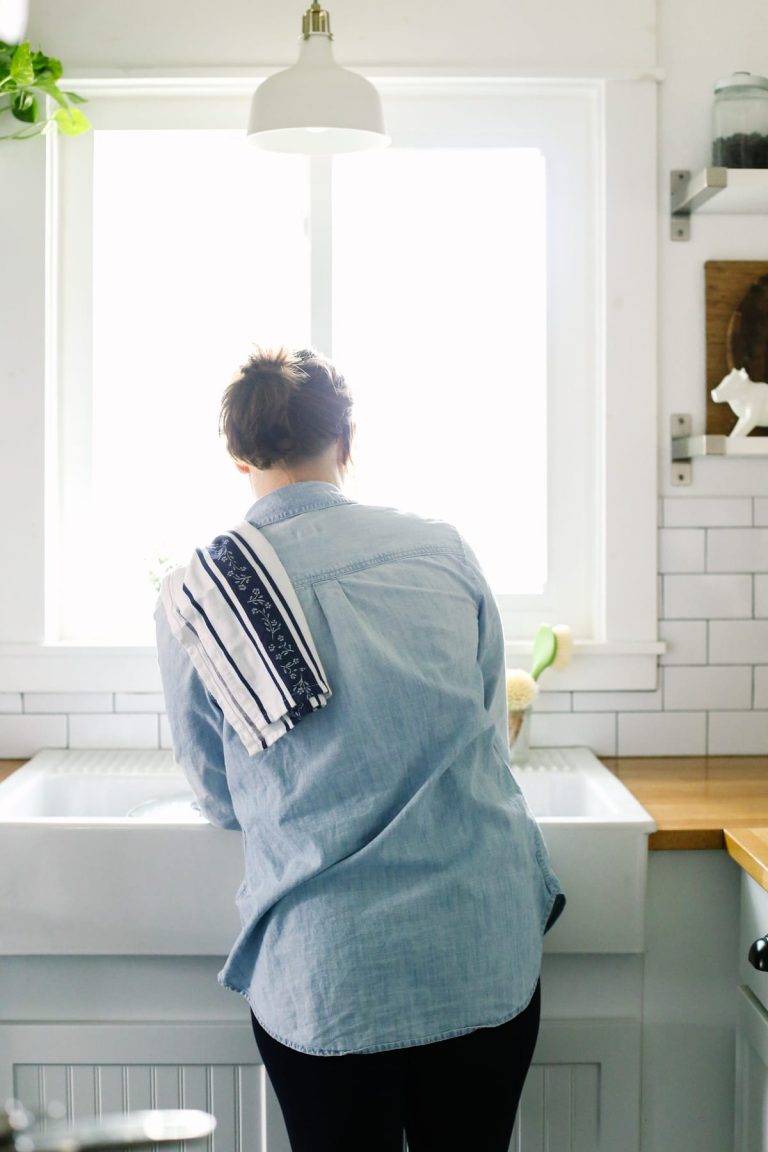 Here's where natural living and real food merge together when it comes to tackling those dishes…
If enjoying real food means cooking and sometimes baking (PS: Did you make the blueberry muffins yet? Just one bowl is required.), a good grease-cutting, hard-working, nothing-left-behind dish soap is a major necessity. And this is where the dilemma begins…
Should I purchase the blue dish soap? It gets a D rating from the EWG.
Should I try out every "more natural" store-bought dish soap until I find one that gets the job done?
Should I try to make a do-it-yourself soap?
What about just castile soap? It seems to work on just about everything in my house.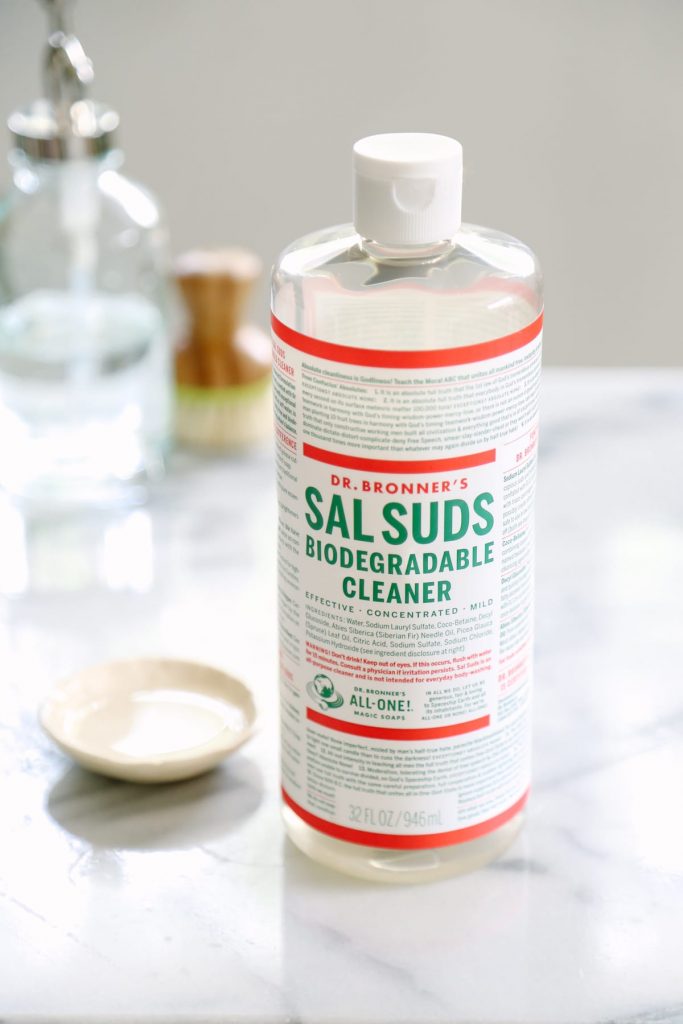 Friend, I'm not here to answer those questions for you. I hope to provide you with a little insight, through today's recipe post, into what I'm currently using to clean my mountain-like pile of daily dishes.
The truth is, what's best for you and your family is a decision that you need to make, whether this means sourcing a cleaner store-bought soap (check out the EWG for the best rated "cleaner" dish soap options) or making a do-it-yourself dish soap. But know this: There are effective dish soap alternatives to the low-graded (according to the EWG) dish soaps that sit in so many American homes, and a do-it-yourself soap is a great alternative option.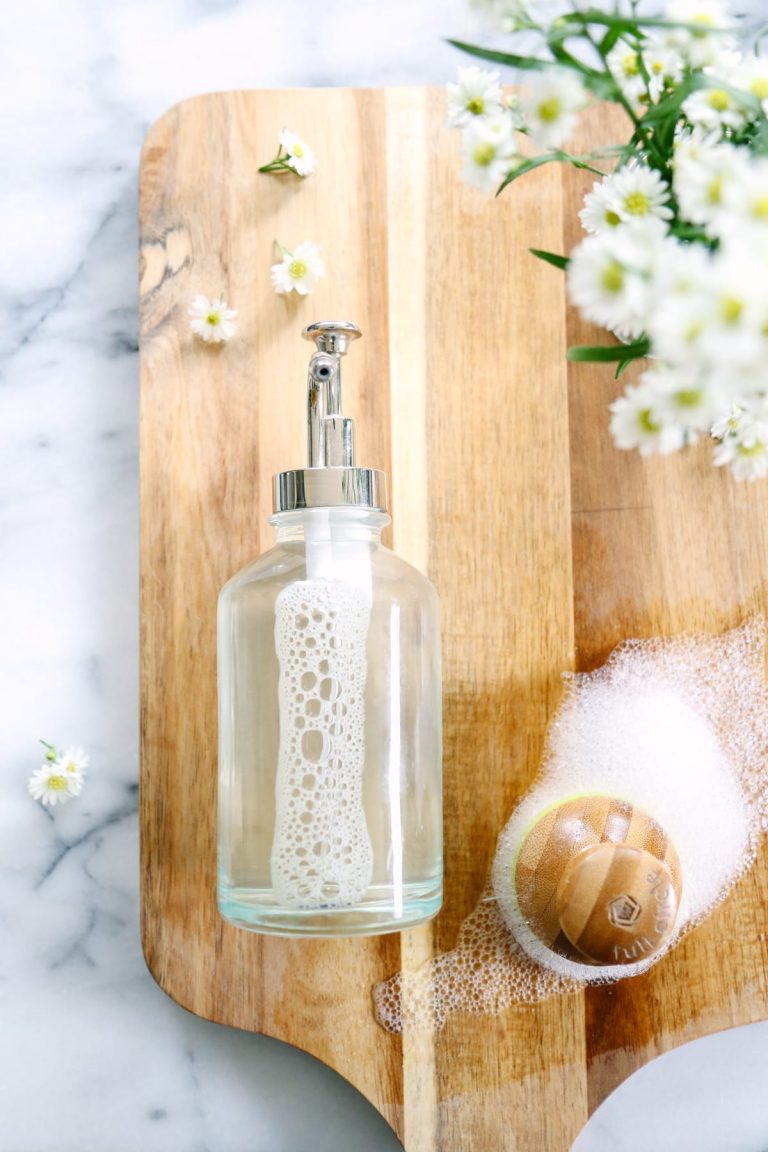 Last year I shared a dish soap recipe on the blog titled, Easy Dish Soap. That recipe truly is easy to make, but after months and months of making that soap, I decided there must be an even easier way to make dish soap, a super easy dish soap.
The key ingredient in my first dish soap recipe is Sal Suds, castile soap's big and super strong brother. With that ingredient, I started to experiment with different combinations, and finally discovered just about the simplest dish soap formula that can be made at home. Simple and effective dish soap that takes less than one minute to make? Yes, please!!!
Let's take a look at the 3 ingredients in this DIY dish soap…
Sal Suds: Sal Suds is Dr. Bronner's tougher version of soap, although its chemical makeup makes it a detergent, not a soap (which is why it works so well to cut grease). Sal Suds is formulated to conquer tough cleaning projects, like sticky grease and stubborn dirt. Sal Suds is a hot topic in the natural community, so it remains a product that some people use and others stay away from. What's all the fuss about? Sal Suds receives an A grade on the Environmental Working Group's website. You can also read more about the big SLS debate on Lisa Bronner's blog.
Sal Suds is highly concentrated, so it's diluted in this recipe with water. You're welcome to play around with a water to Sal Suds ratio that yields the best results for your dishes. I've found that a 1:1 ratio works best for me.
Castile soap doesn't provide enough grease-cutting power to be considered an effective dish soap, in my opinion. If you'd like to try using castile soap in this recipe, then you'll want to leave out the vinegar, but again, I don't believe you're going to get the grease-fighting power most people look for in a good dish soap.
Vinegar: Yep, good ol' white vinegar. Unlike castile soap, Sal Suds may be combined with vinegar (another reason why Sal Suds is a great cleaning ingredient). We have really hard water, which means we deal with a lot of spotting on our dishes, even when we used the blue dish soap. I've found the vinegar in this recipe works like a rinse-aid to reduce some of the spotting that may occur from hard water. You're welcome to leave this ingredient out of the recipe, but I personally prefer to add it.
Moisturizing Oil: This is another optional ingredient. Since this dish soap sits next to our sink, it's also used as a hand soap on occasion, and particularly when Dustin's been working in the garage (hello, dirty and greasy hands). I like to add a skin-loving oil to this soap to help take away the harsh soap feel since it's being used on our bare hands. Water and oil don't mix, so this oil rests on top of the dish soap until we shake the soap dispenser.
The color of your oil will change the color of your final product. If you use a deep yellow oil, like jojoba or olive oil, then your soap will have a slight yellow hue. If you use something like fractionated coconut oil, then your soap will remain clear. In the future, I'd like to play around with adding aloe vera gel (probably a couple of tablespoons) or vitamin E oil (probably a teaspoon) instead of the oil.
I may not be able to help you tackle that pile of glorious dishes (just think of the amazing food that you've made with those dishes!), but I can share my dish soap recipe to help you get those dishes squeaky clean.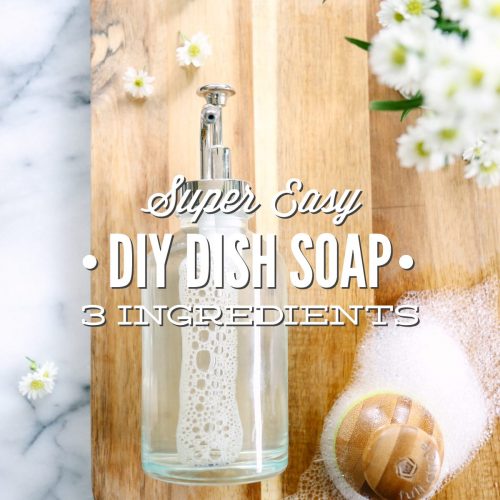 Super Easy DIY Dish Soap: 3 Ingredients
Here's where natural living and real food merge together when it comes to tackling those dishes.
Ingredients
1/2

cup

distilled water

1

TB

white distilled vinegar

optional

1/2

cup

Sal Suds

This ingredient is also available at most health food stores.

1

TB

jojoba oil

or other moisturizing oil: sweet almond, fractionated coconut oil, or olive oil, optional
Special Equipment:
Instructions
Pour the water and vinegar (if using) into a soap dispenser (like this).

Shake the bottle to combine the ingredients. Add the Sal Suds and oil (if using), and gently shake the bottle again to combine the ingredients. There may be bubbles at the top of the dish soap after shaking the bottle. This is completely normal.
Notes
Distilled (sold in stores) or boiled and cooled water is best to use for water-based do-it-yourself projects. Tap water should be boiled for 15 minutes. From my personal experience, clean tap water is okay for short-term use products. Please use your discretion and think about how long you'll be using a product before adding the water.
Just using Sal Suds and water will make an awesome dish soap. The vinegar and oil are completely optional, depending on if you need an extra something to conquer hard water (vinegar), or if you'll be using the soap on your hands (oil–also see my note about experimenting with aloe vera and vitamin E above the recipe). Some folks may find Sal Suds is a bit too tough on the skin, even with the oil addition.