Today, we're talking about cleaning hard floors, naturally, and how to make a homemade floor cleaner using vinegar and hot water (and a couple of optional add-ins). Cleaning hard floors can be a confusing and debated topic: should you use vinegar, what about soap, what about a mop? So many questions, so much confusion. My goal today is to share what I've learned about natural floor cleaning, help clear the confusion, and share a simple vinegar floor cleaner that you can easily make at home.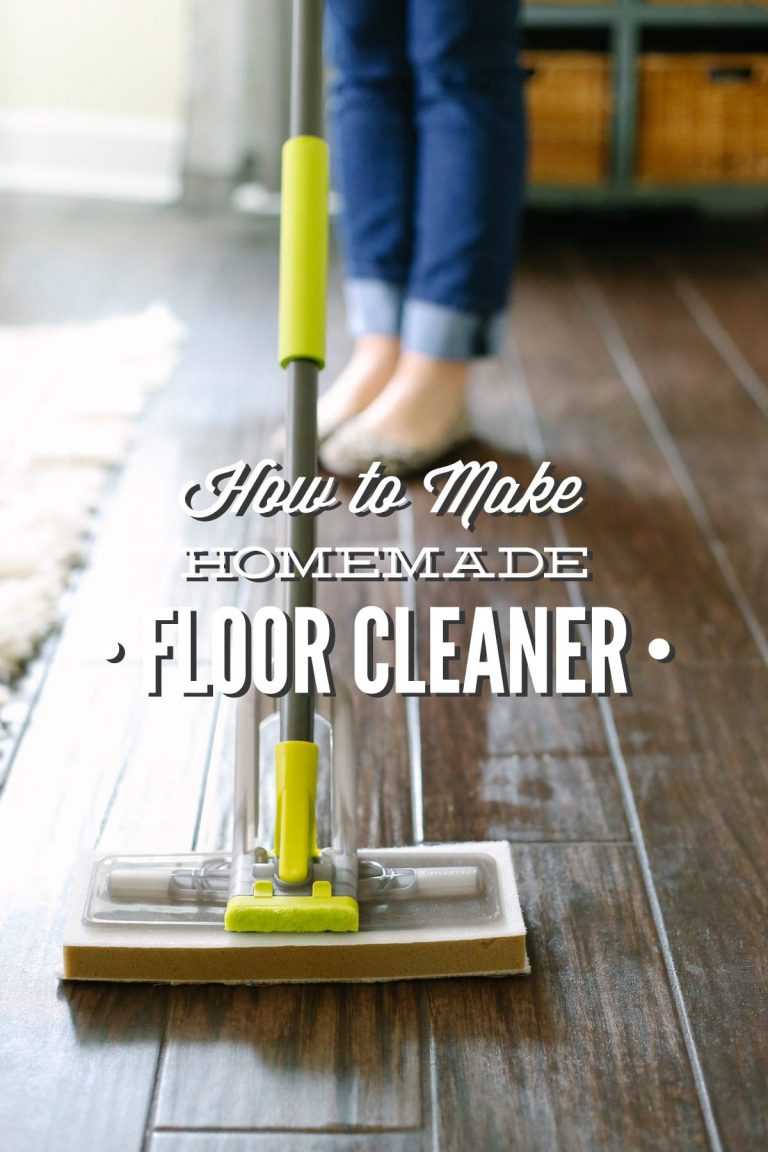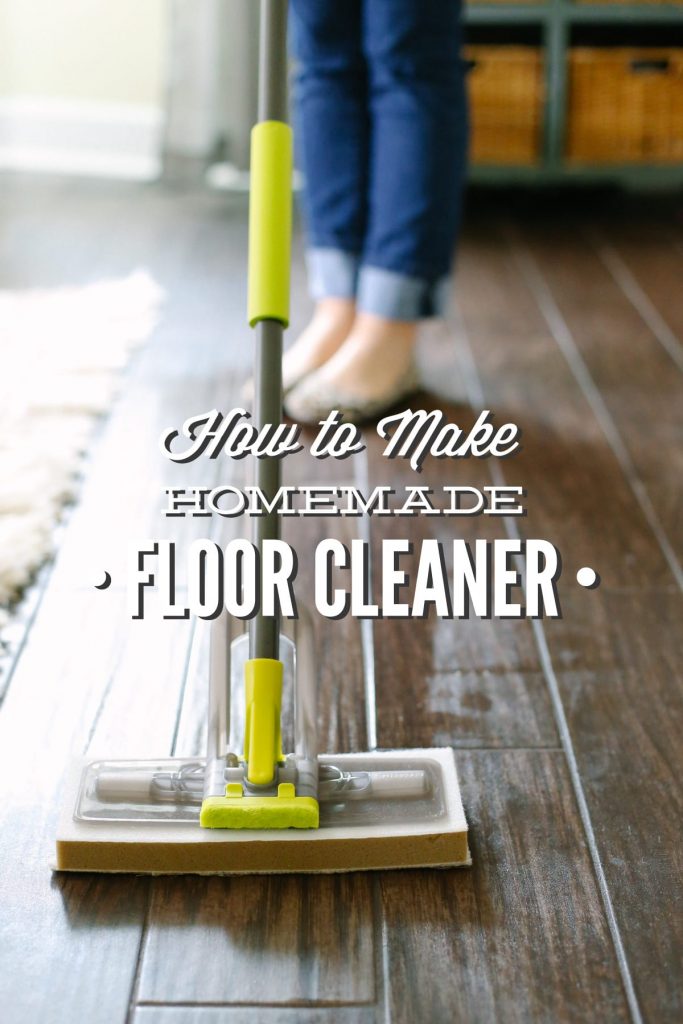 At Live Simply, we spend a lot of time talking about the basics of natural cleaning. We've talked about how to prepare for natural cleaning by stocking a natural cleaning ingredient and tool stash, and the basics of using essential oils in your cleaning routine. We also spent time creating two basic homemade cleaners: all-purpose spray (two ways) and glass and mirror cleaner. I hope these recipes inspire you to think about the cleaning products you're currently using within your home. Making the switch from mystery cleaning products to more natural versions can feel like an overwhelming task, so remember the key is implementing small, practical changes over months and years! These changes are the building blocks to a long-term natural lifestyle.
How do you make a vinegar floor cleaner?
Vinegar is 5% acetic acid, which fights against bad bacteria and other yuckies. Vinegar has a pH level about 2.5, making it ideal for cleaning dirty surfaces. A small amount of dish soap or Sal Suds may also be combined with vinegar to help lift dirt and grime on floor surfaces. (Never combine castile soap with vinegar.) White distilled vinegar is best to use when making a floor cleaner. There's no need to use expensive apple cider vinegar (save this for homemade salad dressing).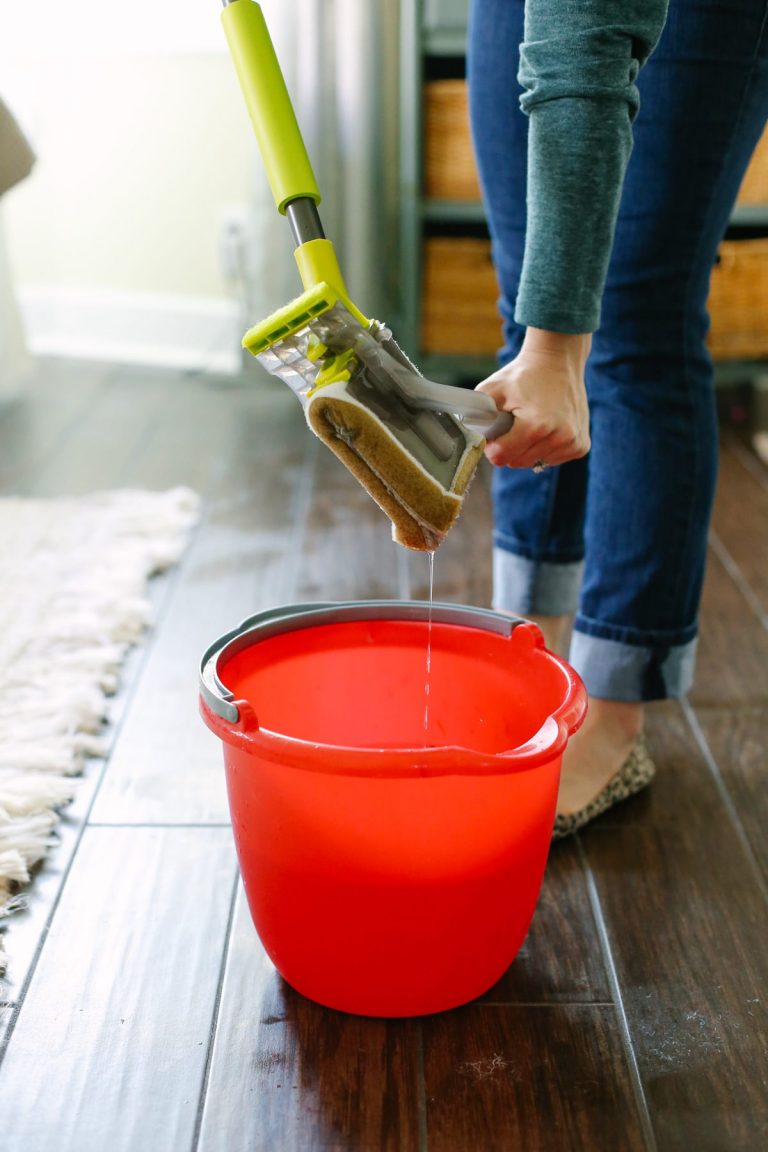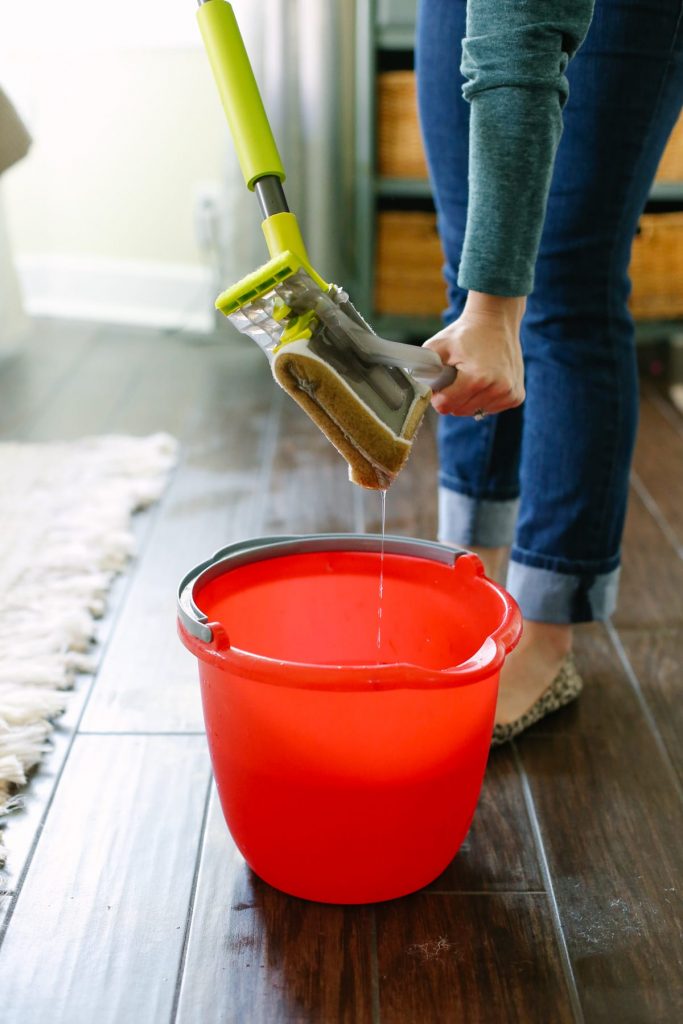 To make a DIY floor cleaner for hard floors…
First, sweep or vacuum the floor to pick up debris.
Next, in a large bucket, add a gallon of warm water (or up to a few gallons, depending on your cleaning needs and bucket size).
Then, add white vinegar to the hot water. Vinegar to water ratio: 1/2 cup of white vinegar per 1-2 gallons of warm/hot water. 
If you're cleaning a kitchen floor, or any floor with grease, add a squirt of dish soap (natural dish soap) or Sal Suds. Soap dissolves grease.
If you'd like a scent, add a few drops of essential oil(s) to the vinegar solution, like lemon, grapefruit, a germ-fighting blend, eucalyptus, or lavender. (How to use essential oils for cleaning.)
Finally, dip a mop into the solution and start cleaning. A few tips as you clean: don't soak the floor with mop solution and you don't need to rinse the floors after using this vinegar cleaner.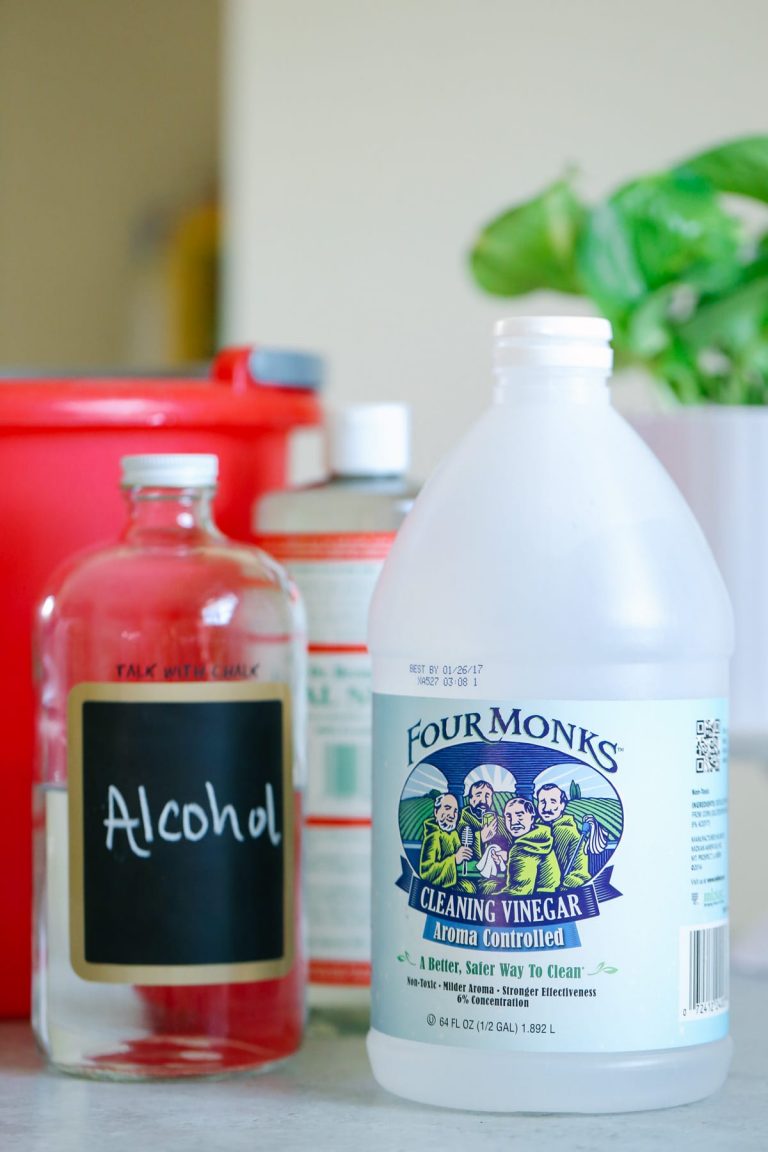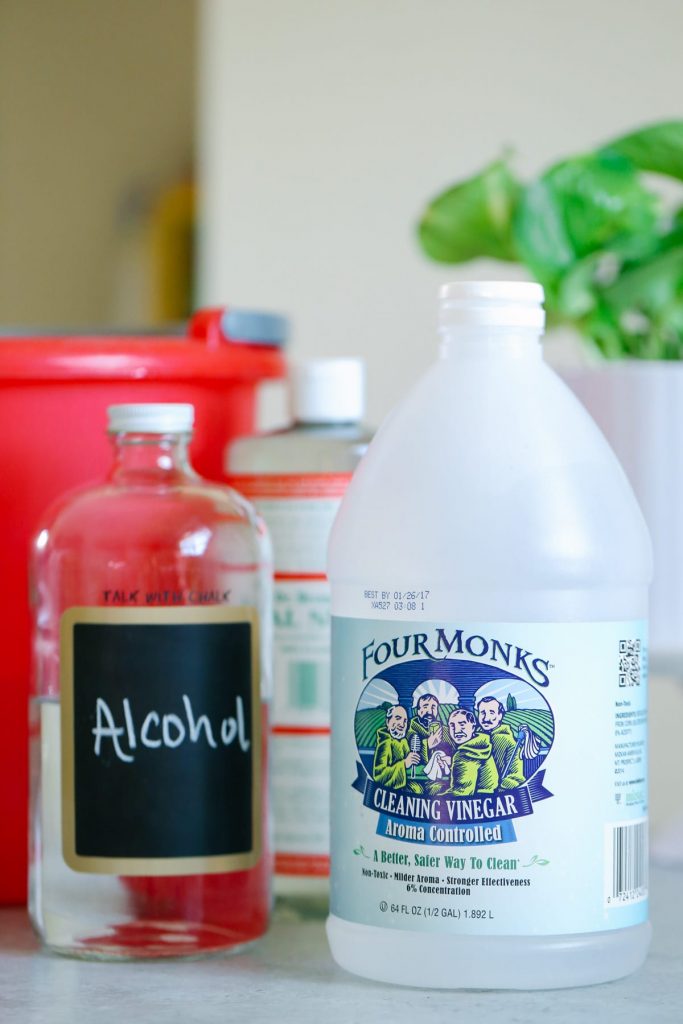 A Tale About Testing and Knowing Your Floor
In our second home, we had an engineered hard wood floor. It was beautiful until I decided to go to Home Depot one day and purchase a "greener" floor mopping solution and a special mop. I was beyond excited to come home and clean the floors. I applied a coat of the cleaner throughout our home, mopped, and waited for the results. Thirty minutes later I was horrified to find the results were less than ideal. Our floors were covered in a white film and no matter how many times I tried to remove the film with water, the film remained. Talk about frustration and disappointment.
I share this story because when it comes to cleaning anything that's special, like specialty floors or countertops, it's important to know your floor, not just trust a friend's recommendation or a cleaning product label. In order to avoid my disaster situation, whether with a homemade cleaner or a store-bought product, here are my testing recommendations:
1) Talk to a floor specialist. This recommendation is tricky since many floor specialists just want to sell a product or the recommendations can greatly vary depending on the specialist. Ask the specialist about the ingredients you shouldn't use on your flooring: vinegar, lemon juice, alcohol, certain oils/waxes, too much water, etc. Google is also your friend. Keep in mind there are many varying opinions out there–some valid and some crazy suggestions. It may take some time to research your specific floor, but flooring is expensive to replace, so it's important to learn how to care for your specific floor before trying any products.
2) Always spot test. With any cleaner that's applied to a special surface always spot test. This applies to both store-bought cleaners and homemade solutions. There are many factors that can play into a floor cleaner working with or against your floor: 1) the products used on your floors in the past, which can leave a film that's brought out by other products 2) your water (hard water can work against cleaning solutions, leaving mineral deposits behind) 3) the material your floor is made from or sealed with. Since there are many variables that may play into cleaning a surface effectively, I recommend spot testing in a small, inconspicuous area or grabbing a floor sample from the home improvement store for testing.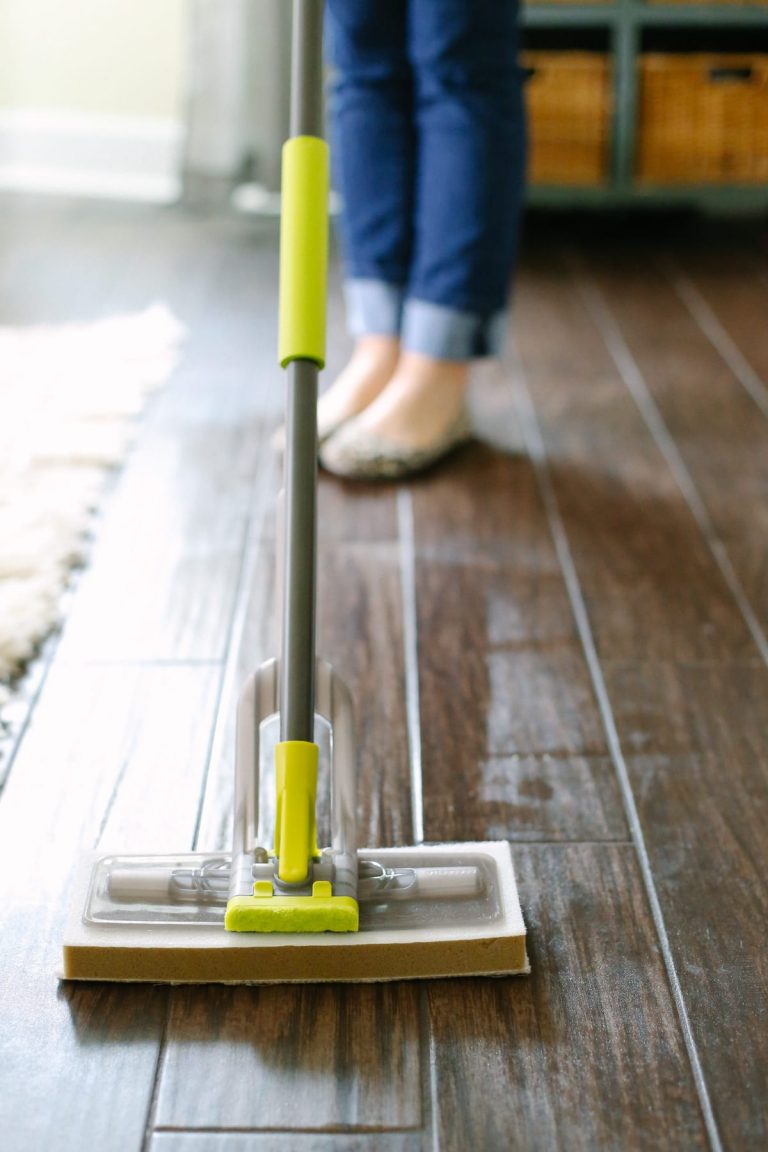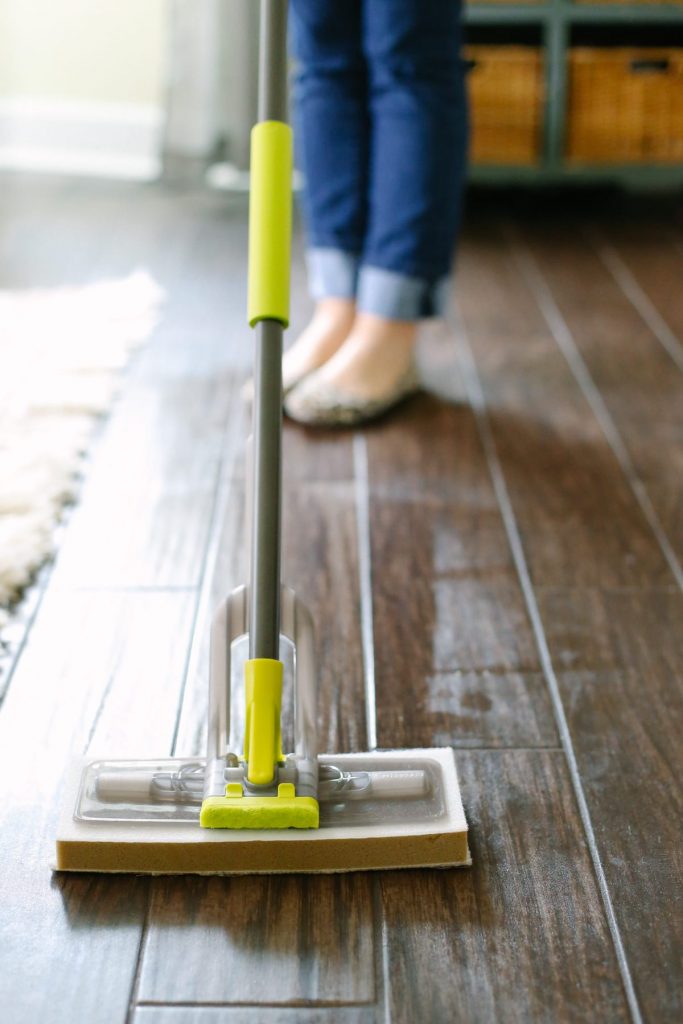 I know this may sound crazy, since I'm sharing a floor cleaner recipe with you, but I don't believe using an ingredient other than hot water is necessary for cleaning the floor most of the time. Here's my reasoning: My family lives in very sanitary, modern conditions. We use indoor toilets, remove our shoes at the door (most of the time), drive cars to most destinations, keep our bodies and clothes clean regularly, etc. Yes, there are many germs all around, but we don't live in an environment that, most of the time, requires constant cleaning or disinfecting. This is a personal choice, and your belief may be different. That's okay!
With this in mind, most of the time mopping with warm water is just fine on our tile floor. When I need something more than just water, a simple mopping solution works well: vinegar, water, essential oil (for scent mainly), and sometimes 3-4 drops of Sal Suds. The key to mopping is to apply a very light coverage to floors (no soaking!). I've found using a microfiber mop (with a washable pad) is the best cleaning tool to use for mopping.
If you're more of a Swiffer kind of person, you can make homemade Swiffer wipes using a Swiffer and towels. This recipe uses vinegar, water, and rubbing alcohol to make a DIY Swiffer-like floor cleaner. That's it!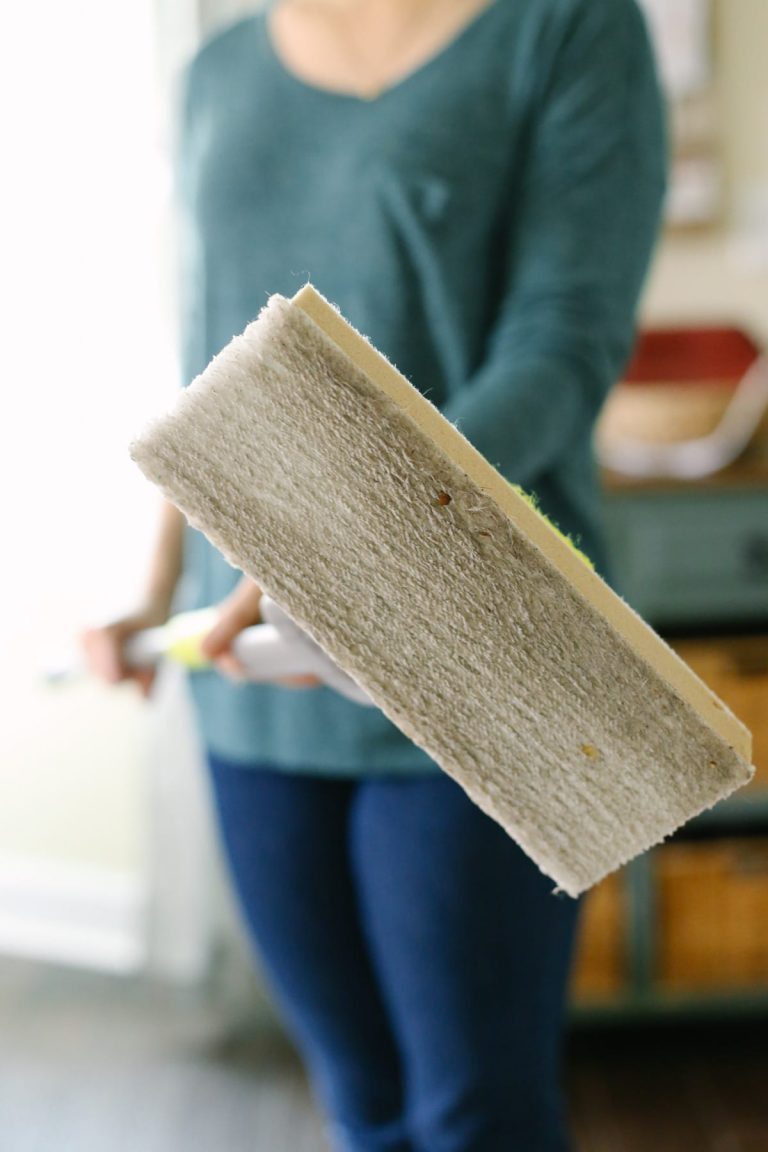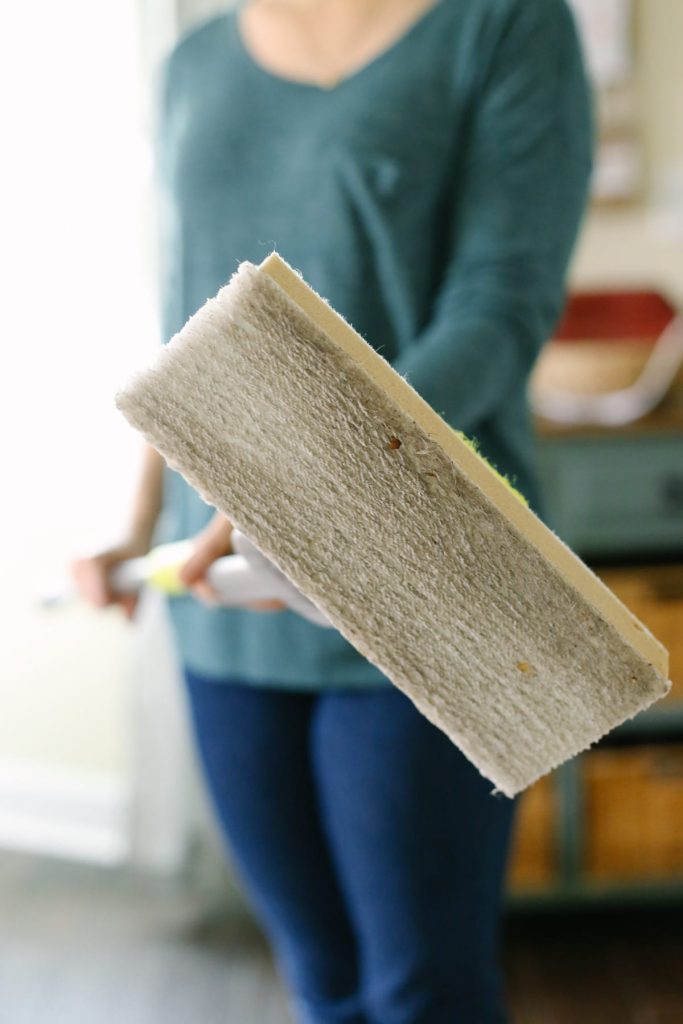 What can you not clean with vinegar?
Vinegar is a good natural floor cleaner and one of the main ingredients to stock in a natural cleaning caddy. But there are surfaces on which you should not use vinegar, including some floors. And vinegar should always be diluted, never use vinegar on a hard floor without diluting first. What not to clean with vinegar…
Stone tile floors: Avoid using acidic ingredients, like vinegar and lemon, on natural stone floors and tiles. Instead, try a mild soap and hot water and always consult your stone installer about best cleaning practices.
Hardwood floors: Some folks swear by using vinegar to clean sealed hardwood floors (like myself) and others report damage overtime. This could be due to the type of sealer used (always consult the sealer instructions for how to clean surfaces). ALWAYS spot test before using any cleaning product on hard floors. This is one of the biggest investments in a home and cleaning floors is something you should always approach with lots of research.
Stone countertops: Just like with stone floors and tiles, avoid using acidic ingredients on stone countertops, like granite and marble.
Without further ado, here's my recipe for a simple mopping solution.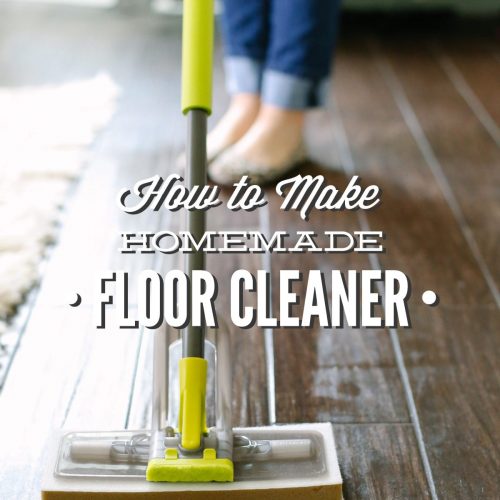 My Homemade Floor Cleaner
Today, my goal is to share what I've learned about the often confusing topic of natural floor cleaning, and to share a simple vinegar floor cleaner. My homemade vinegar floor cleaner is a do-it-yourself cleaning solution that really works.
Equipment
bucket

at least 1-gallon size

mop
Instructions
Sweep the floor first before mopping. Add all the ingredients to a bucket. As you mop the floor, apply very light coverage of the mopping solution. If you're mopping a large area, you'll probably need to rinse the mop often with clean water (it helps to have a bucket or sink filled with clean water nearby to dip the mop into before mopping again if it gets very dirty). This is a one-time use solution.

1 gallon warm water,

5 drops cleaning essential oil,

1/2 cup white distilled vinegar
Notes
Tile: I've used (or currently use) the above recipe on my tile floors when I need something more than just warm water. If you're more of a Swiffer kind of person, you can make homemade Swiffer wipes using a Swiffer and towels. 
Laminate Floors: Find a recipe with similar ingredients on Nature's Nurture Blog. 
(Sealed) Wood Floors: According to Becky at Clean Mama, she uses a vinegar mop solution on her hardwood floors using a special hardwood cleaning technique.  If you're looking for something to use on exposed or waxed wood, I recommend talking to a wood specialist. If your hardwood floors are sealed, it's important to know how they are sealed before using any liquid cleaner (see notes above in the post for more info).
More natural cleaners you make with vinegar