Sunday afternoon we usually spend about an hour prepping food for the upcoming week. Nothing crazy, just components that can be mixed and matched to build a breakfast or lunch or a quick snack throughout the week. Today's no bake energy bites recipe has become a favorite to make during "prep time." The energy bites make a great snack or lunchbox addition or even a quick grab-and-go breakfast alongside a smoothie or hard boiled eggs.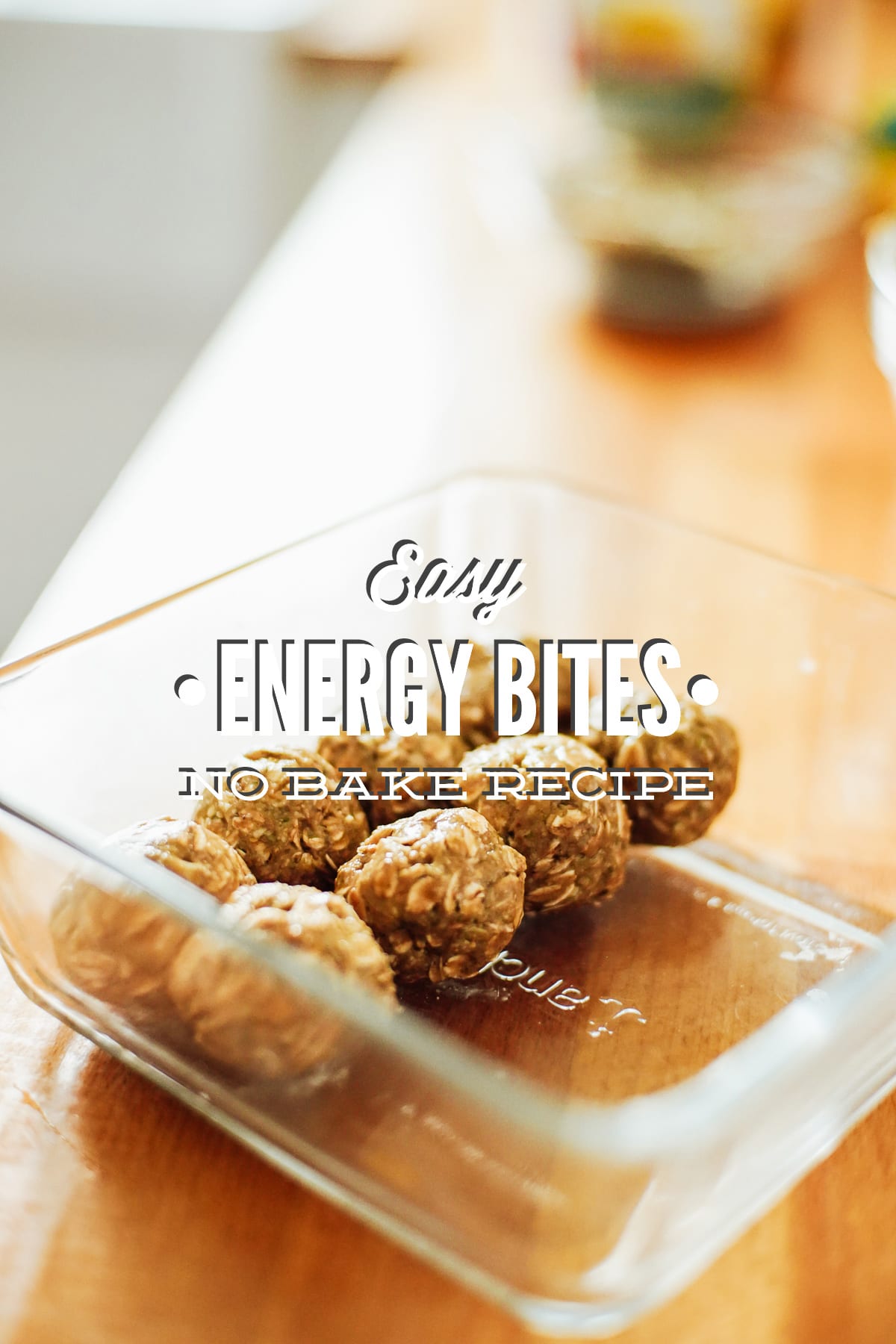 If you love this recipe, you'll also love high-protein overnight oats, overnight oats with frozen fruit, chocolate peanut butter overnight oats, overnight oats with yogurt, baked oatmeal cups, and baked oatmeal with blueberries.
Energy bites aren't a new thing, and I'm not the original inventor of this recipe concept (is there really anything new under the sun?). I first discovered energy bites a few years ago, after picking up a bag of flaxseeds at Trader Joes. On the back of the bag was a recipe for no bake energy bites. I decided to give them a try, and ever since they've become a family favorite. Over the past few years, I've tweaked and modified that recipe to make it work for our taste and also our need for a nut-free snack and lunch option for the kids (they attend a nut-free school).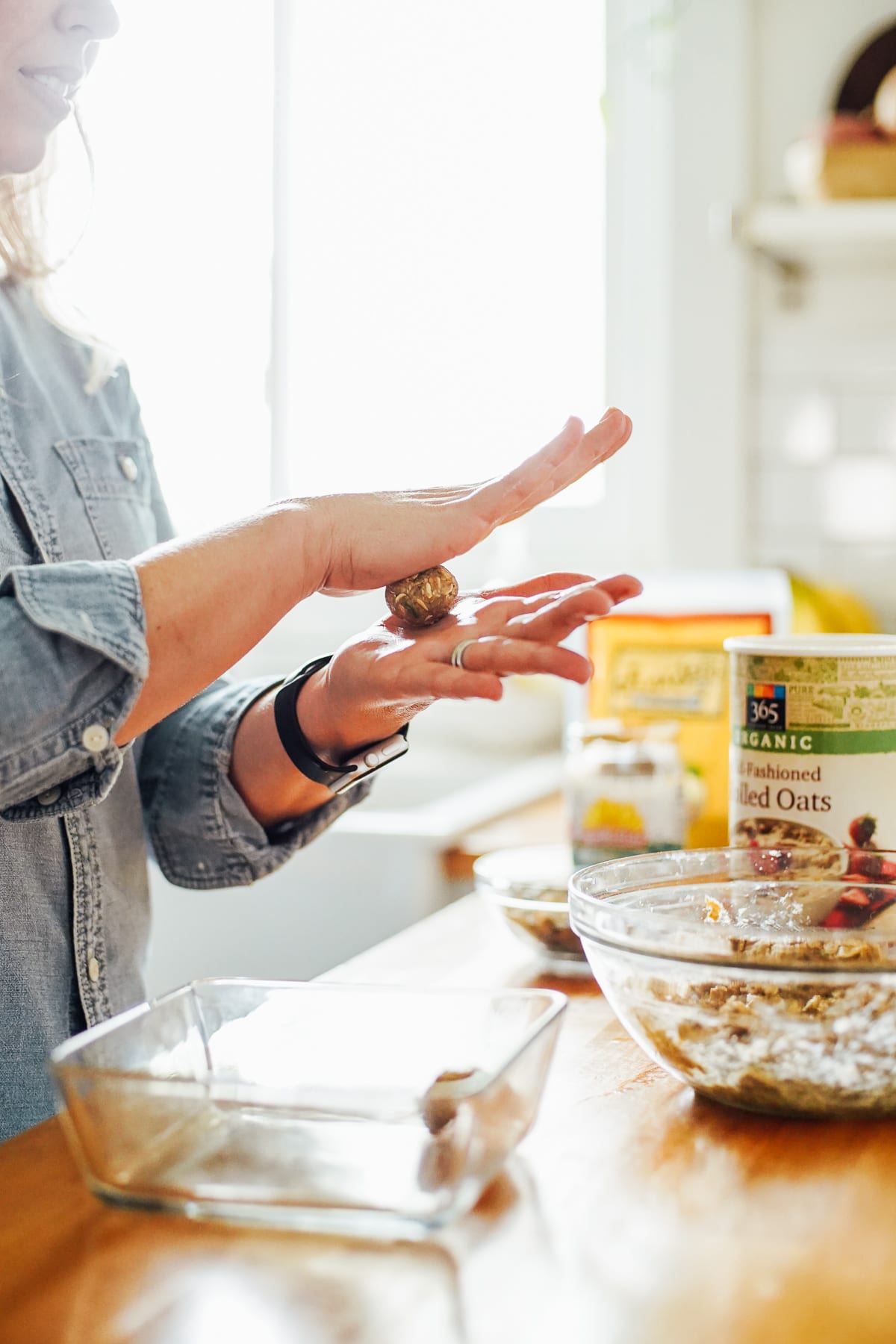 Are Energy Bites Healthy?
Since the energy bites are usually regarded as a health food, and consumed more like a regular snack or lunch component versus a treat, let's talk about the "healthiness" of this recipe.
Most energy bites are made with a few basic real-food ingredients: a nut or seed butter, honey, oats, flax seeds, and chocolate chips. So just from the start, we're not talking about any ultra-processed ingredients. Even honey, being a sweetener, has some benefits and isn't a refined sweetener. (Check out my guide to real food sweeteners here.)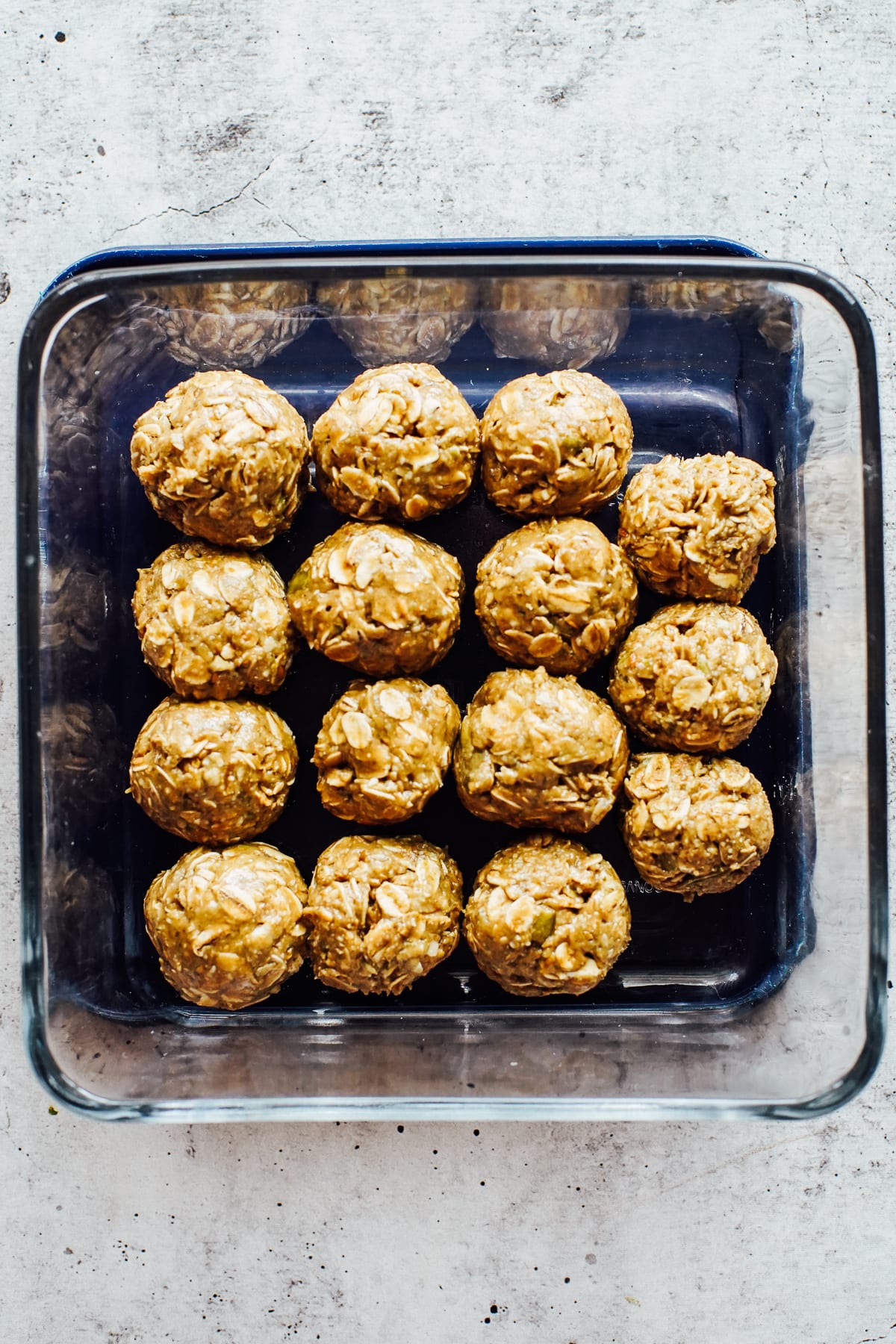 This recipe is referred to as "energy bites" due to the satiating combo of ingredients: protein, carbs, healthy fats, and fiber. Each one comes together to deliver that slow burn of energy needed to keep you from crashing and remain satisfied. That's one of the reasons that energy bites make such a great snack, particularly for kiddos when they're at school and need to make it through a long morning or afternoon that requires lots of focus and energy.
Ingredients Needed to Make Energy Bites
Here's what you'll need to make this no bake recipe…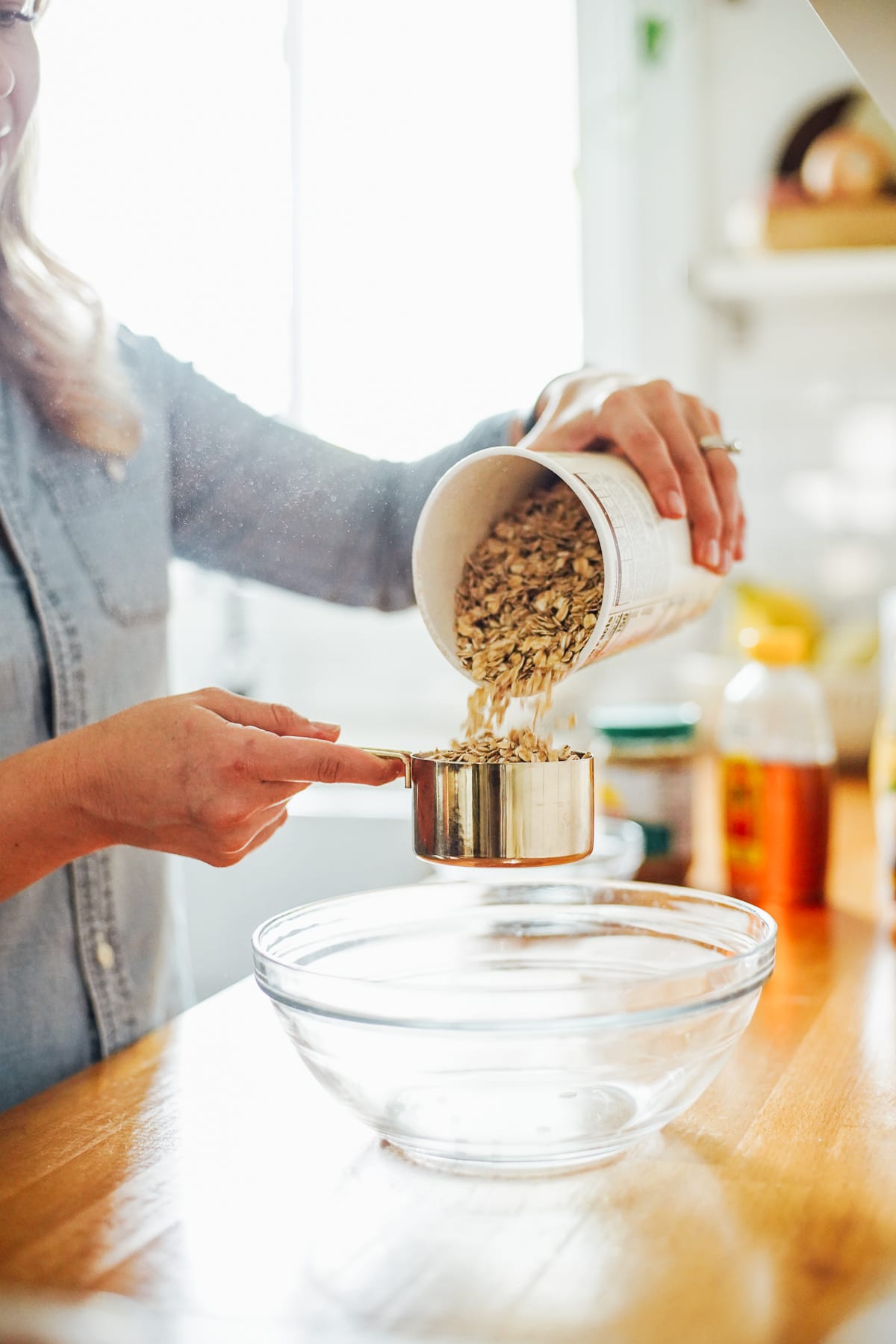 Ingredient 1: Old Fashioned Oats
The base ingredient for this recipe, also known as "rolled oats." I don't suggest using anything else, no quick oat or steel cut oats. Rolled oats provide just the right texture and flavor and, yes, they are safe and delicious to consume raw. I personally like sprouted oats from One Degree brand as they're easier to digest. Sprouting the oats increases the vitamins and minerals and makes them more bio-available. But any rolled oats will work for this recipe, sprouted or not.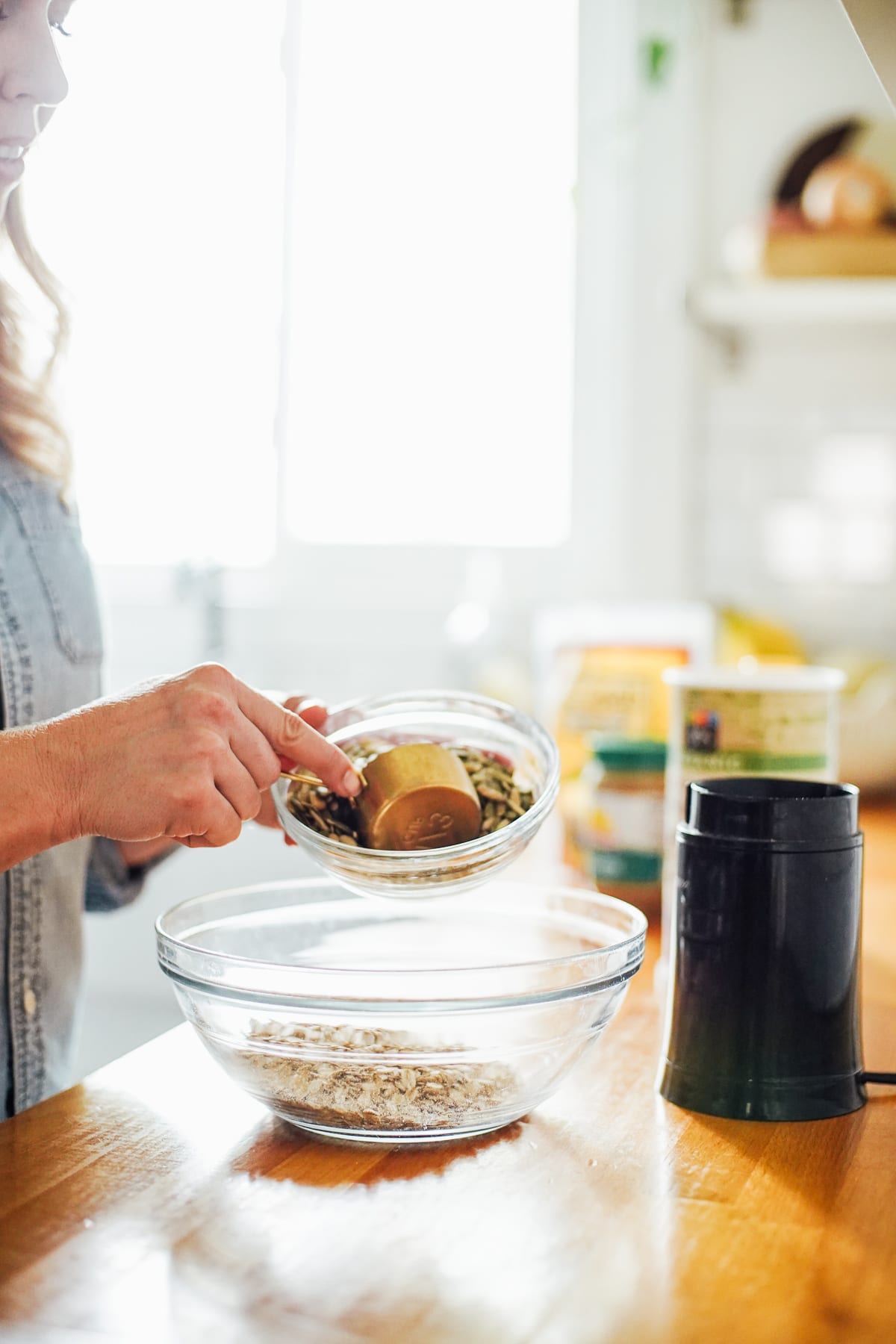 Ingredient 2: Seeds
I like to add seeds to my energy bites recipe. Pumpkin seeds are my choice as they have a delicate flavor and texture (not too crunchy or hard). If you'd like to use a different nut or seed and it's on the large or super crunchy side, I recommend chopping the nuts/seeds first before adding to the energy bites mixture.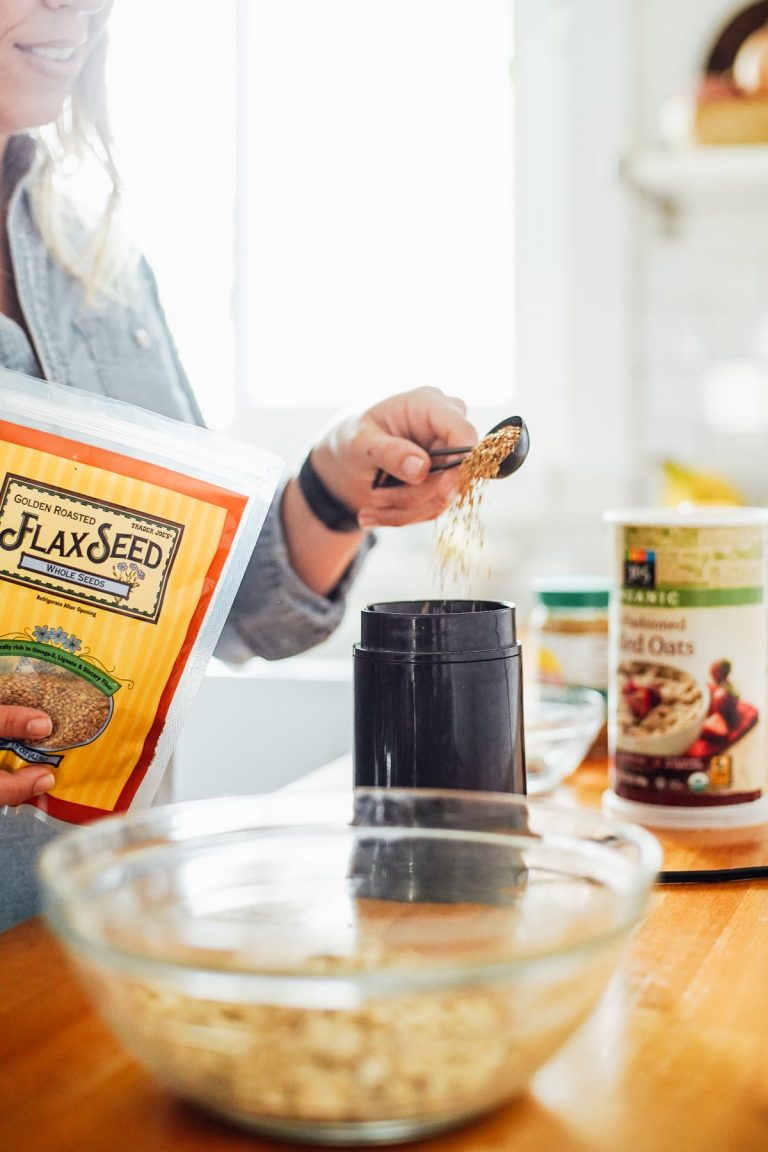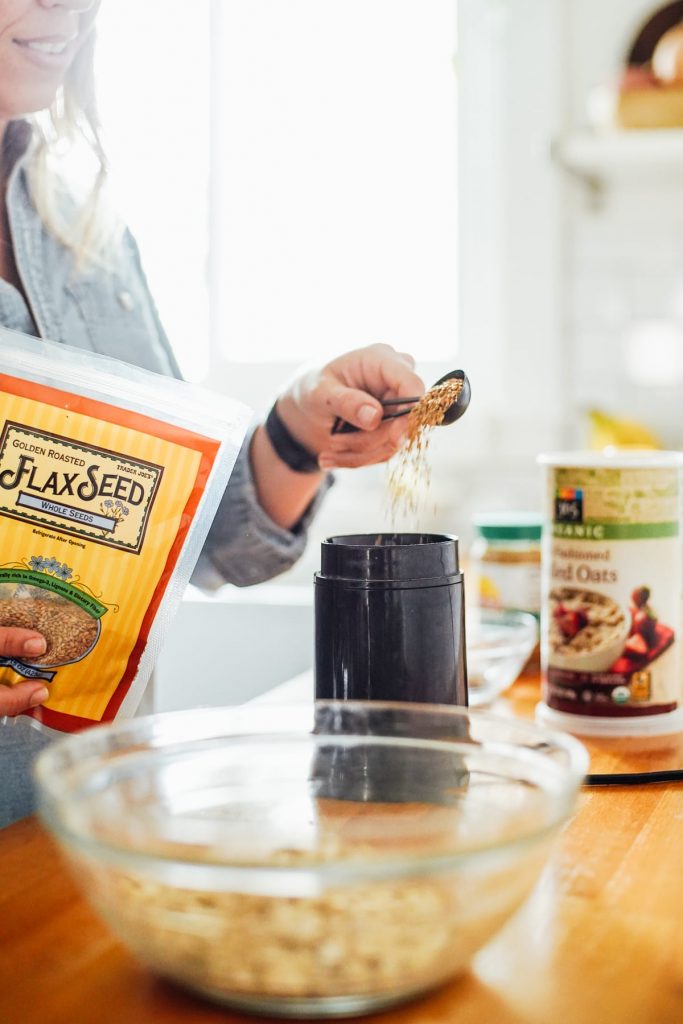 Ingredient 3: Flaxseeds
Not only do flaxseeds add a good amount of healthy fats (omega-3s) and fiber, they also act as a binder for the bites. Since flaxseeds are easiest to consume and digest in their ground state, we're going to grind the seeds first in a spice grinder or you can buy pre-ground flaxseeds. If you go this route, be sure to store the ground flaxseeds in the fridge as the natural oils can cause the seeds go rancid quickly in a warmer environment.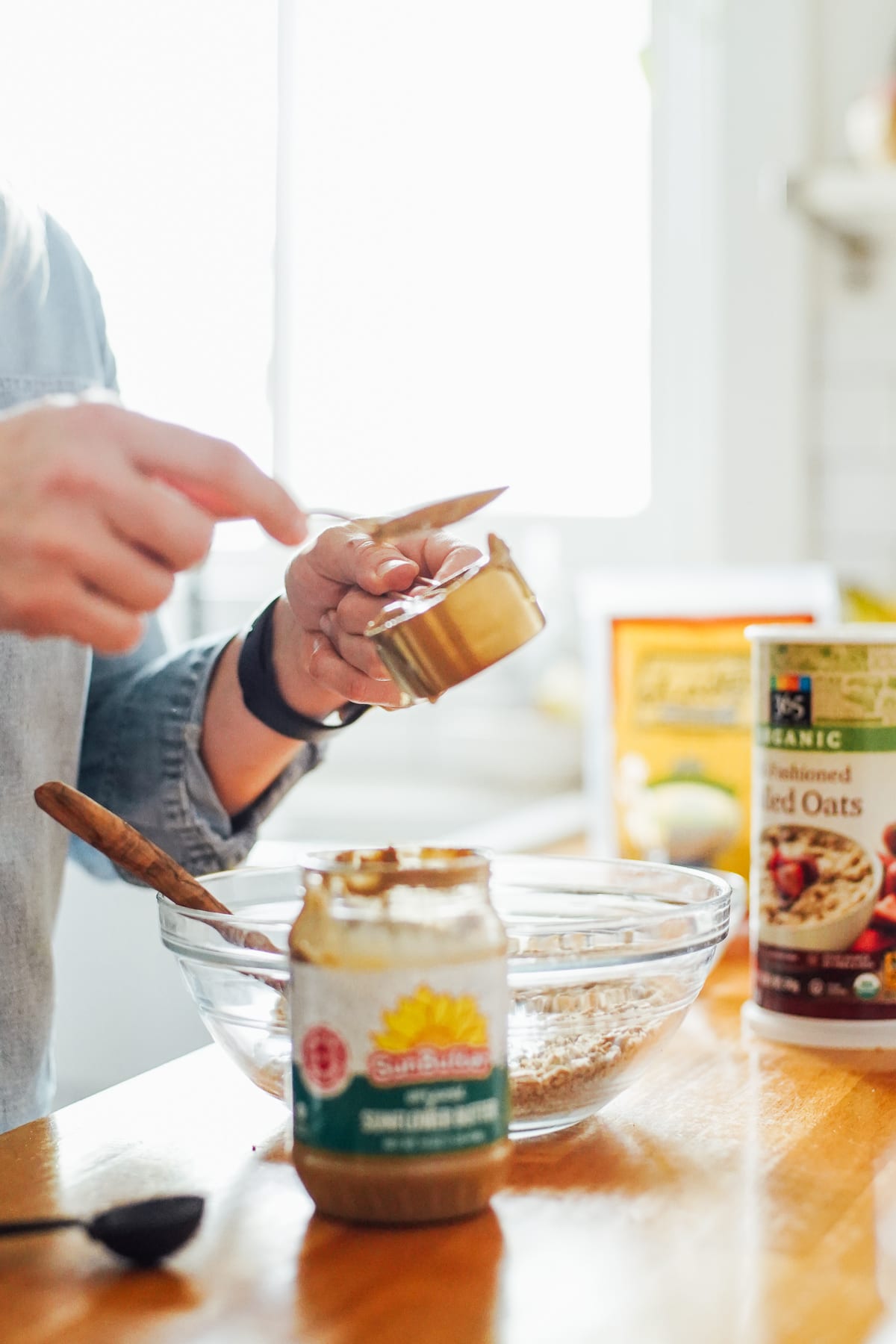 Ingredient 4: Nut or Seed Butter
I use sunflower butter since my kids attend a nut-free school. Peanut butter, almond butter, and cashew butter also work great in this recipe. Each nut/seed butter adds a different flavor profile to the energy bites, so you may even want to play around and switch up the nut/seed butter you use from time to time. To keep the bites healthy, make sure your nut/seed butter only contains nut/seeds and maybe some salt (no extra oils, sweeteners, etc.)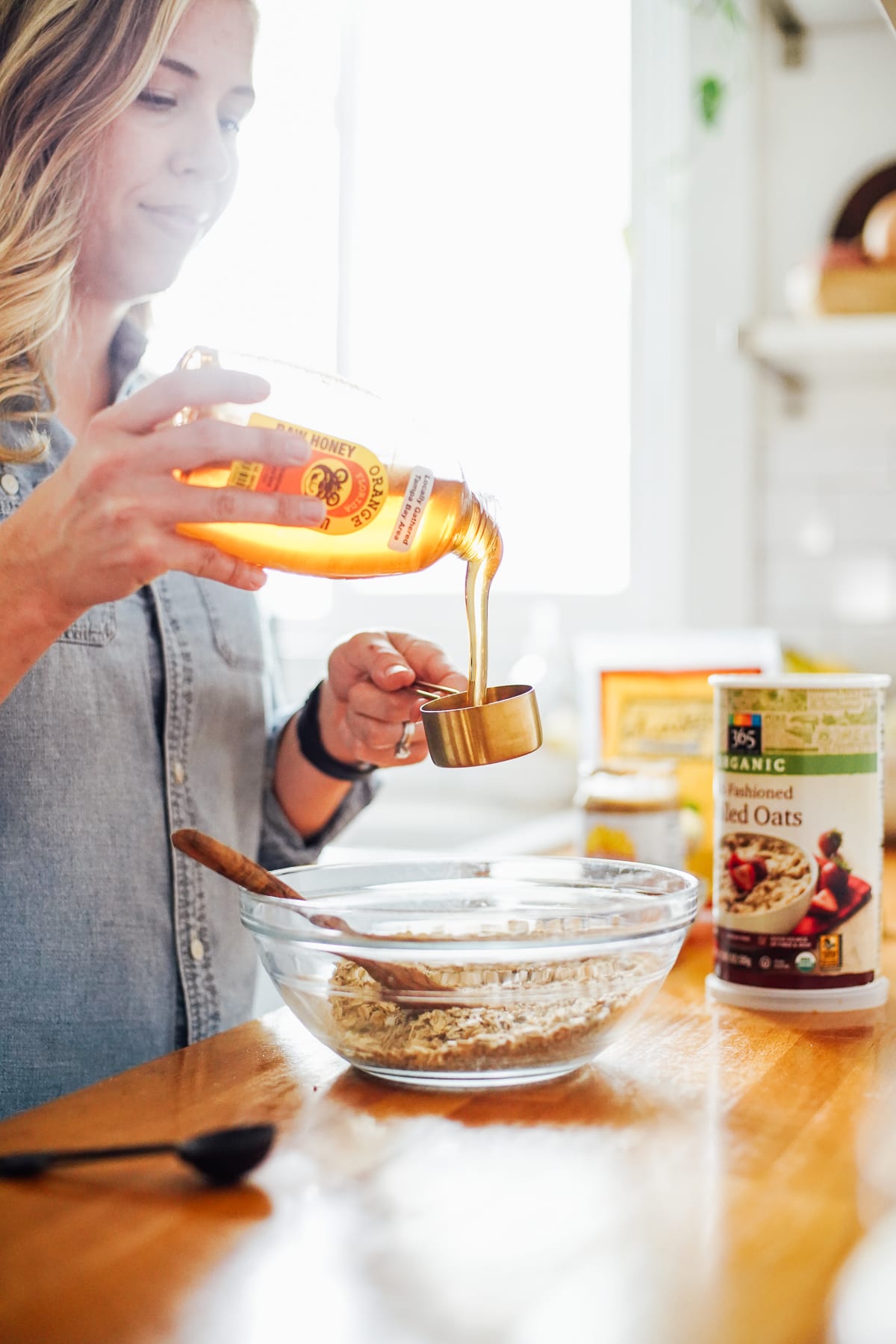 Ingredient 5: Honey
A natural sweetener that adds just a touch of sweet taste to the bites and also helps to bind the ingredients together. I love local raw honey that's lighter in color and taste (like Orange Blossom).
Ingredient 6: Salt
Just a touch of mineral-rich salt (like Real Salt) is all you need to really bring out the flavor in the energy bite ingredients.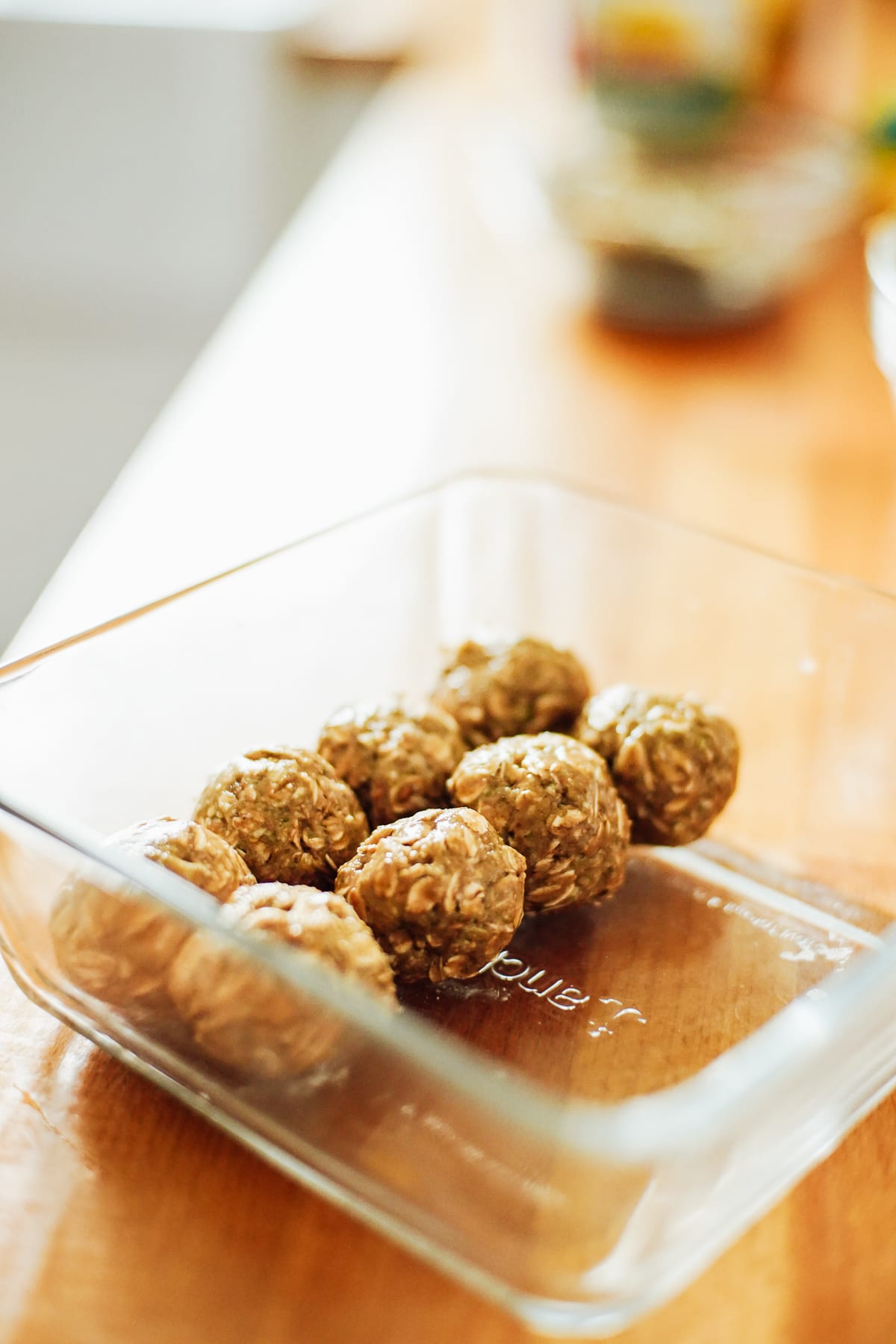 How to Make No Bake Energy Bites
Once you have the ingredients we just talked about, the energy bites come together in under 10 minutes.
To make the bites, first grind the flaxseeds in a spice grinder. You can skip this step by using pre-ground flaxseeds from the store.
Next, add the oats, seeds, flaxseeds, and a pinch of salt to a large bowl.
Then add the nut or seed butter of choice and honey to the dry ingredients.
Give everything a good stir until combined.
Now, with your hands (run your hands under water for a second first to make this step easier and less sticky), scoop a small amount of the mix out of the bowl. Roll the mix around in the palm of your hands to form a ball. You can shape the bites as big or as small as desired. (This is also a great activity for the kids!)
Store the energy bites in an air-tight container (check out my favorite storage containers here) in the fridge for about 7 days or store in the freezer for up to 3 months.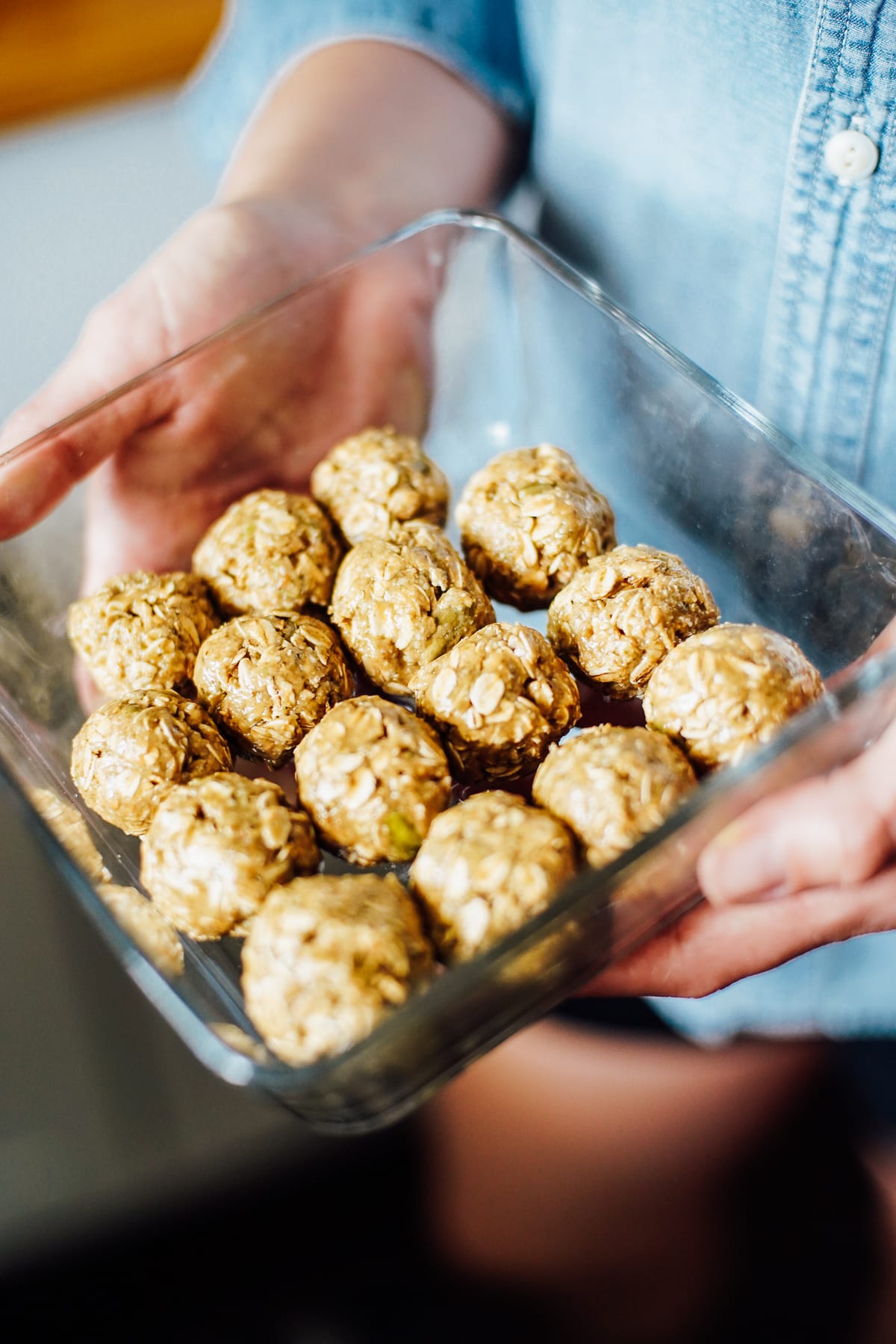 MORE DELICIOUS WAYS TO USE
Oats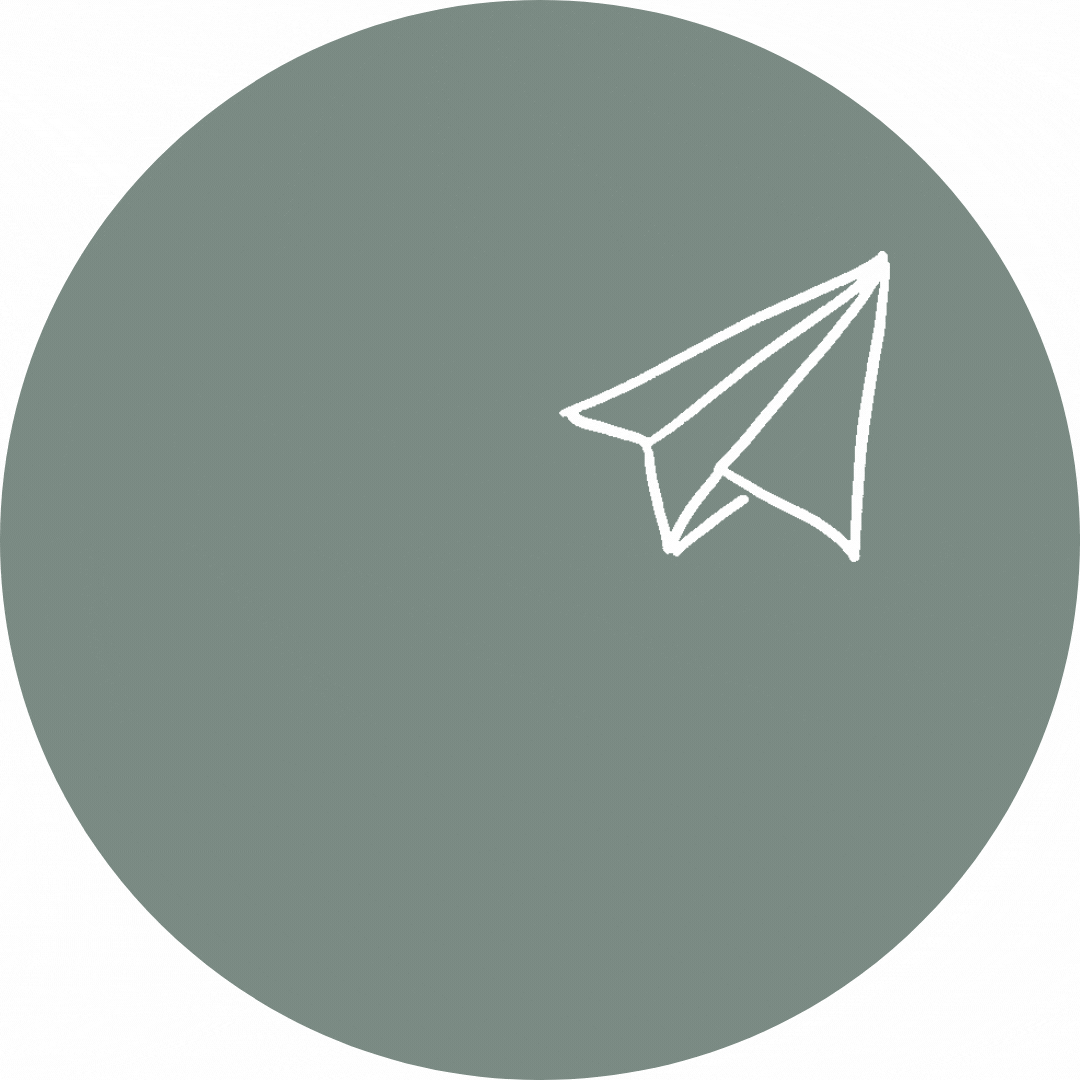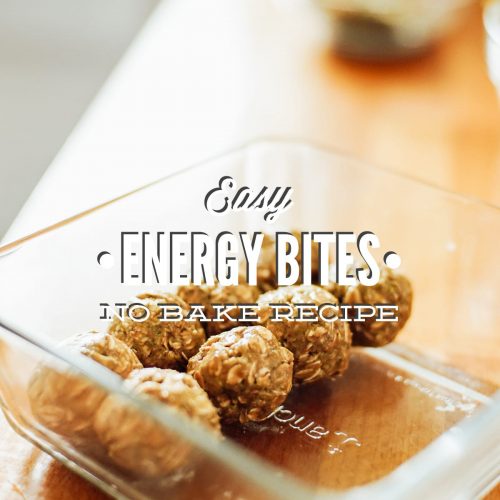 Easy No Bake Energy Bites Recipe
An easy-to-make healthy snack or lunchbox treat made with rolled oats, seeds, flax, nut or seed butter, and a touch of honey. Easy to make nut-free if needed.
Ingredients
1/3

cup

pumpkin seeds

or seeds/nuts of your choice, finely chop any large nuts

2

TB

flaxseeds

or ground flaxseed, I like golden flaxseeds

pinch

salt

1/2

cup

sunflower butter

or nut or seed butter of choice, such as: almond butter, peanut butter, or cashew butter

1/3

cup

honey
Instructions
Grind the flaxseeds in a spice grinder. You can skip this step by using pre-ground flaxseeds from the store.

Add the oats, seeds, ground flaxseeds, and a pinch of salt to a large bowl.

Add the nut or seed butter of choice and honey to the dry ingredients.

Give everything a good stir until combined.

Now, with your hands (run your hands under water for a second first to make this step easier and less sticky), scoop a small amount of the mix out of the bowl. Roll the mix around in the palm of your hands to form a ball. You can shape the bites as big or as small as desired. (This is also a great activity for the kids!)
Nutrition
Calories:
148
kcal
Carbohydrates:
17
g
Protein:
4
g
Fat:
8
g
Saturated Fat:
1
g
Sodium:
2
mg
Potassium:
75
mg
Fiber:
1
g
Sugar:
8
g
Vitamin A:
7
IU
Vitamin C:
1
mg
Calcium:
24
mg
Iron:
1
mg