Today we're going to make a simple skincare DIY: a homemade yogurt mask. I use this mask weekly in my skincare routine because of the many benefits and ease of making.
Here, at Live Simply, we focus on wellness from a natural approach. Part of this focus is what we put on and in our body.
When it comes to skincare products, which make up a large part of what we put on our skin, we focus on using products that are not only made with proven-to-be-safe ingredients but also ingredients that nourish and give to the skin.
If you've explored the world of clean, green, natural products–whatever the current buzz word is today for these products–then you probably know that many of these products are not exactly cheap or inexpensive. This is understandable as these products are made with ingredients that can be expensive to source and most products aren't cut with filler ingredients like so many of the products on the market today.
Going the DIY route is many times more cost effective. However, sometimes this isn't possible or you may just love the results of a particular product from a trusted skincare brand. I've found the best solution is to find balance between making some products and purposely splurging on products you absolutely LOVE and just can't mimic at home.
For me, my splurges are on facial oils (True Botanicals, Laurel, and Blissoma are my favorite brands for this), face cleanser (OSEA is my favorite), and serums for specific skincare needs (for example I love the Intensive Repair Serum from Marie Veronique).
When it comes to DIYing, I save money by making most of my facial masks at home. I've found this is an easy way to save a few dollars and also play around with skincare ingredients. Today's yogurt mask is one of my favorites to make.
Yogurt face mask benefits
I originally learned about using yogurt as a face mask from one of my favorite skincare brands, Marie Veronique. Marie is a chemist and an OG (original) in the green beauty world. She knows her stuff and her products are AMAZING!
Marie and Kristina Holey (her business partner) are big into education, particularly education about the microbiome of the skin and how to care for the skin in a way that nourishes and protects the ecosystem of the skin. Everything I've learned about yogurt masking comes from Marie.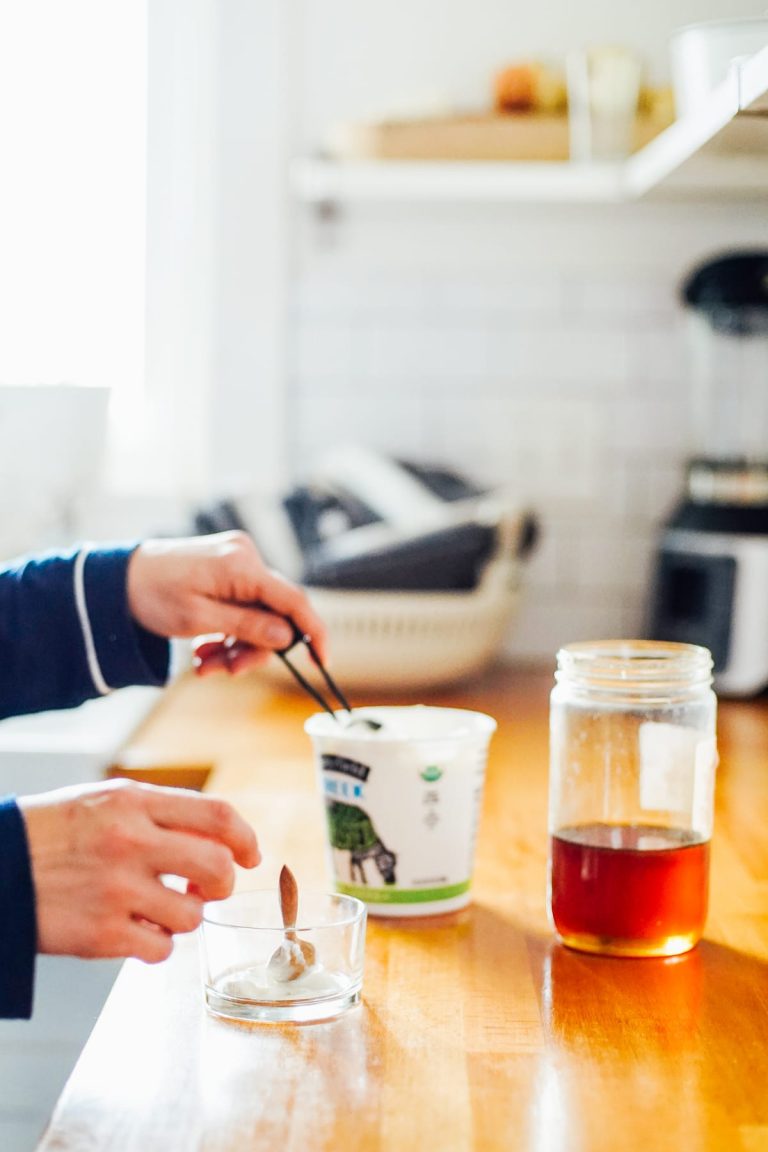 Benefits of using yogurt on the skin…
provides fatty acids, beneficial bacteria, and vitamins and minerals which can soften the skin and provide a glowy, rejuvenated appearance
provides zinc to cool and calm the skin
works as an anti-inflammatory which can be beneficial for the beginning stages of a breakout
provides a very small amount of lactic acid (an alpha hydroxy acid) which can provide a very small amount of exfoliation (dissolving dead skin cells)
while the lactic acid can provide a small amount of exfoliation, its biggest benefit is providing nutrients to help balance and stabilize the skin
Which yogurt is best for face masks?
The best yogurt to use for a face mask is full fat, plain, and organic. Also, make sure the yogurt contains active live cultures (this should be stated on the ingredient list), particularly strains of lactic acid bacteria or Bifidobacterium. Goat's milk yogurt does contain more benefit, but I personally don't purchase goat's milk yogurt so I stick to cow's milk yogurt.
An alternative is kefir (which is much thinner, more of a drinkable yogurt). I use kefir to make smoothies, yogurt tubes for the kids, and ranch dip.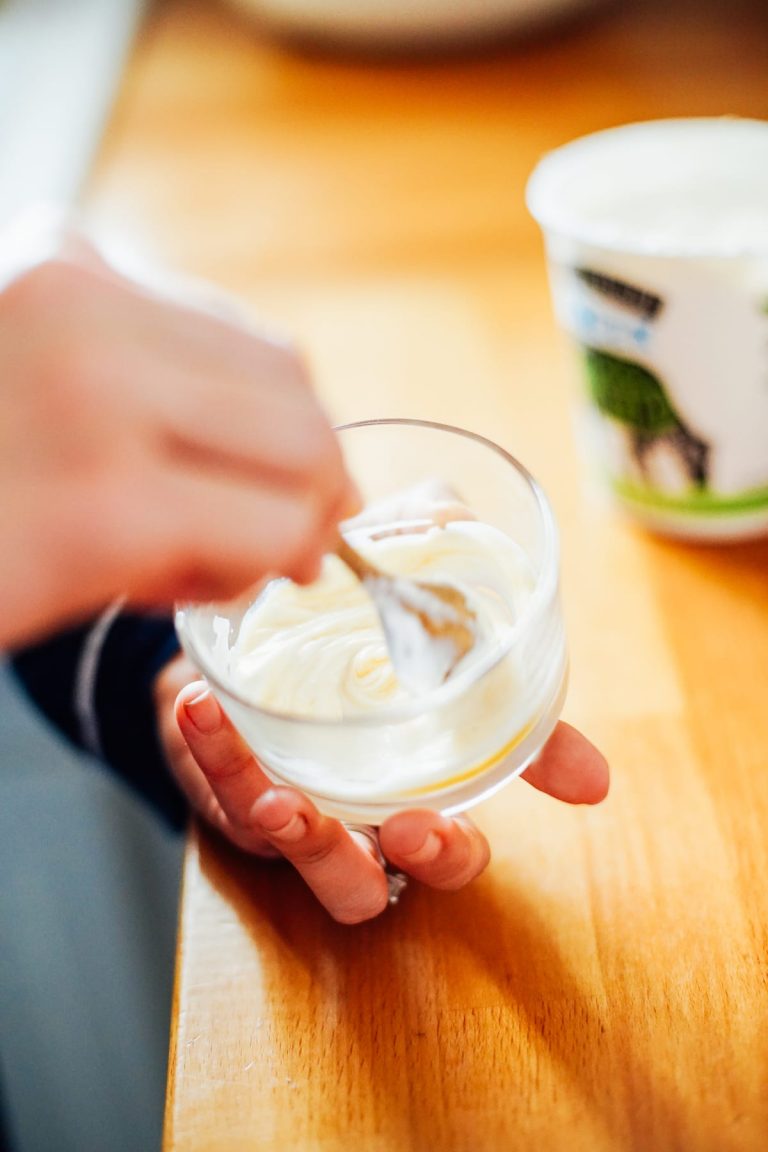 If you are truly allergic to dairy, then it's best to avoid dairy on your skin. In this case, choose a plain plant-based yogurt that contains active live cultures. You won't get the full benefit like you would with a cow or goat's milk yogurt, but there will still be some benefit due to the bacteria in the yogurt itself.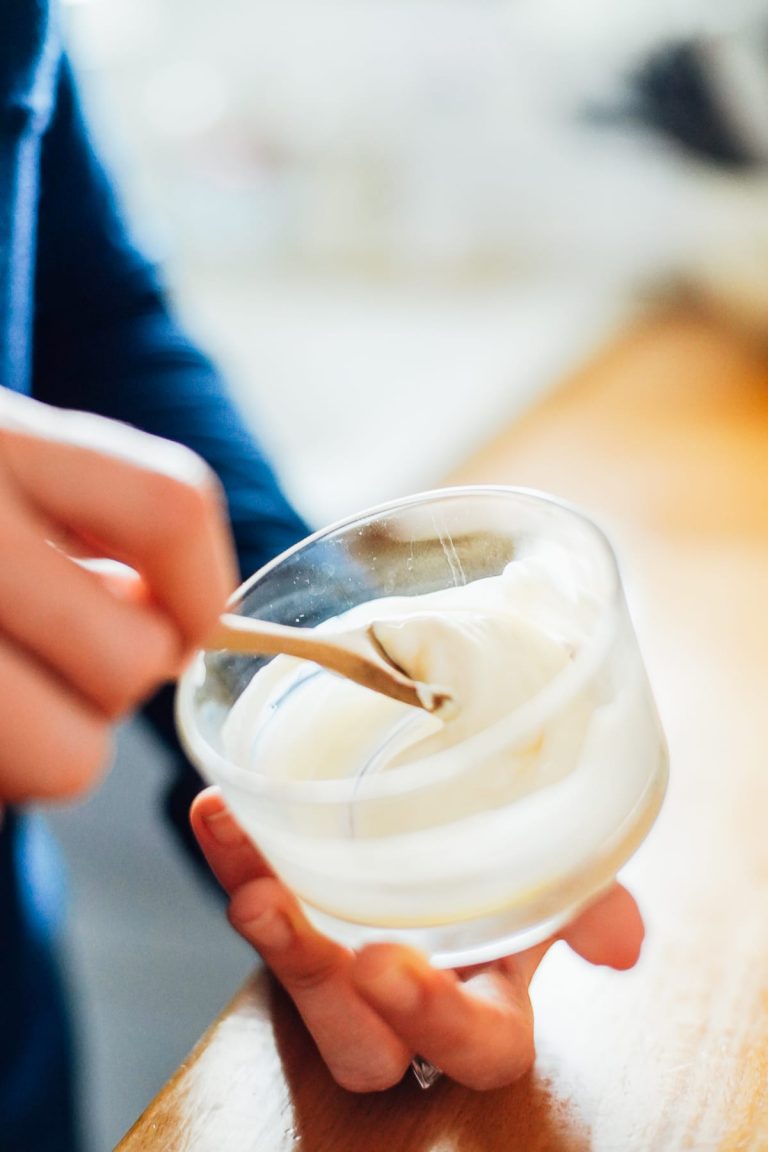 Yogurt mask tips and tricks
To apply a yogurt mask…
First, spoon 1-2 tablespoons of yogurt from the container into a small bowl. At this point, you can use the yogurt as-is for a face mask or mix it with an add-in that we'll talk about in the next section.
Next, use your fingertips (or a mask brush) to apply a small amount of yogurt to the face, continuing to work until the face (and neck, if preferred) are covered. The mask should feel refreshing since the yogurt is cold–another benefit! Allow the mask to rest on your face for 20 minutes.
Finally, rinse the yogurt from the face using a warm, damp washcloth.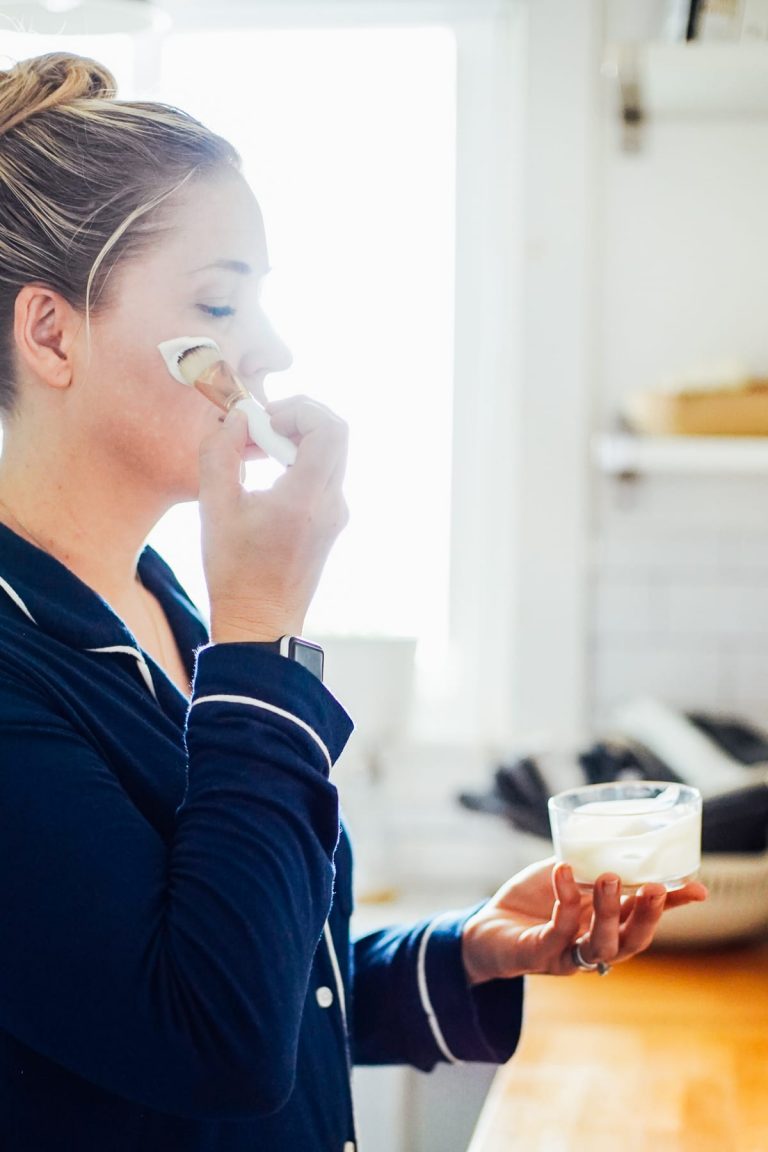 After using the yogurt mask, apply toner and your favorite moisturizer. The yogurt mask may be applied 1-2 times a week.
Yogurt mask customizations
You can use yogurt as-is for a face mask or you can mix it with other add-ins depending on the benefit you're looking for. This is a great way to experiment with a DIY face mask. Here are a few suggestions that you can add to the yogurt before applying on the face. You can add one mix-in or multiple options together.
Honey: Add a teaspoon of honey to the yogurt. Honey is particularly hydrating for dry skin.
Cacao or cocoa powder: Add 1-2 teaspoons of cacao or cocoa powder for the antioxidant benefits.
Lavender: Add a drop of lavender essential oil to soothe and calm the skin.
Aloe vera gel: Add 1 teaspoon of aloe vera (fresh or I love this brand if you're going with a preserved aloe) to soothe and calm the skin.
Spirulina: Add 1/2 teaspoon of this edible bacteria that is rich in nutrients, antioxidants, and minerals.
Turmeric: Add 1/2 teaspoon of this anti-inflammatory spice to help calm inflammation.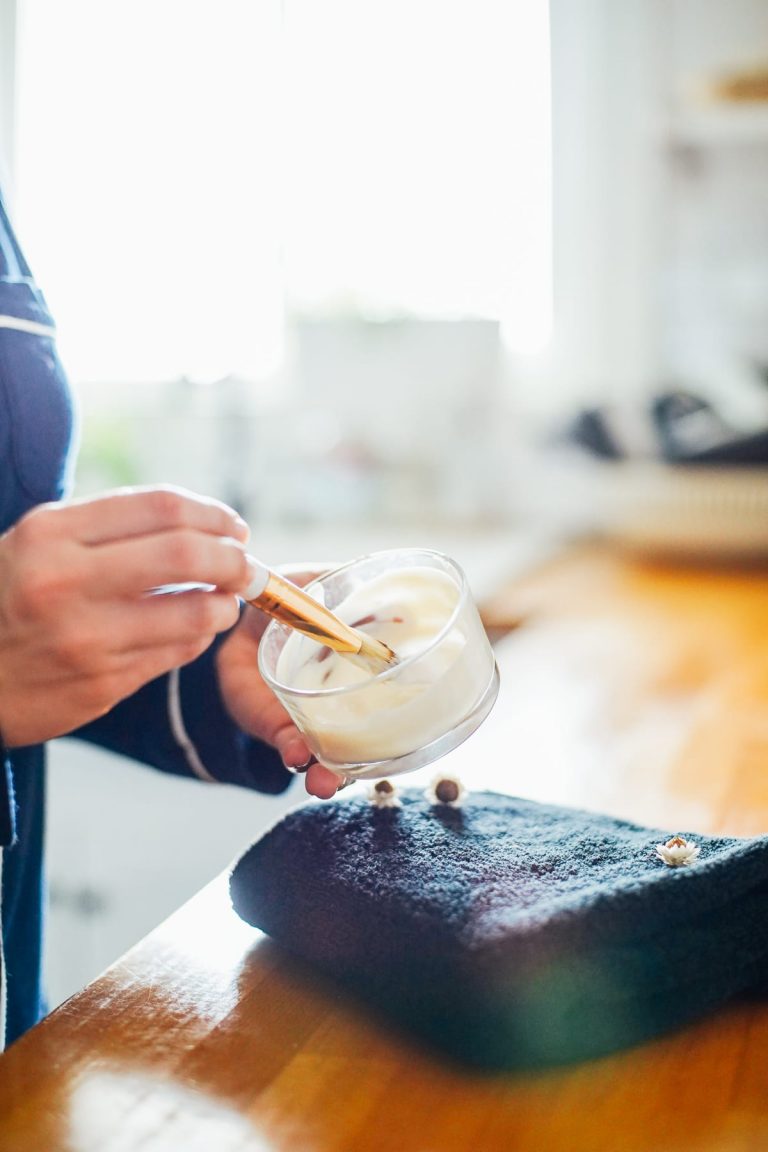 While all of these variations may be used as a face mask, when mixed with the yogurt base, the honey and turmeric mixtures also make for a great acne spot treatment.
More DIY skincare recipes
DIY Yogurt Mask
A nutrient-rich face mask made with bacteria-rich plain yogurt. Use the yogurt as-is or mix the yogurt with your choice of add-ins to make a custom face mask.
Ingredients
1-2

TB

plain whole milk yogurt

choose organic, if possible, and yogurt with active live cultures, particularly strains of lactic acid bacteria or Bifidobacterium (will be listed on the ingredient list)
Optional Add-Ins (choose one or multiple):
Instructions
Add the yogurt to a small bowl.

Stir in any additional add-in desired (from the list above), or just use the yogurt as a face mask.

Use your fingertips to apply the yogurt on the face (and neck, if desired). The yogurt should instantly feel cool and refreshing on the skin as it will be cold.

Let the yogurt rest on the face for 20 minutes.

Use a warm, damp washcloth to gently remove the yogurt mask.

The yogurt mask may be applied 1-2 times a week.