We could all use inspiration to keep going with school lunch, so today let's talk about 8 hot lunch ideas for school. While these hot lunch ideas work for school, most of the ideas also work for adult/office/work lunches as well. So if you don't have kids in school, don't click away. These ideas are for everyone!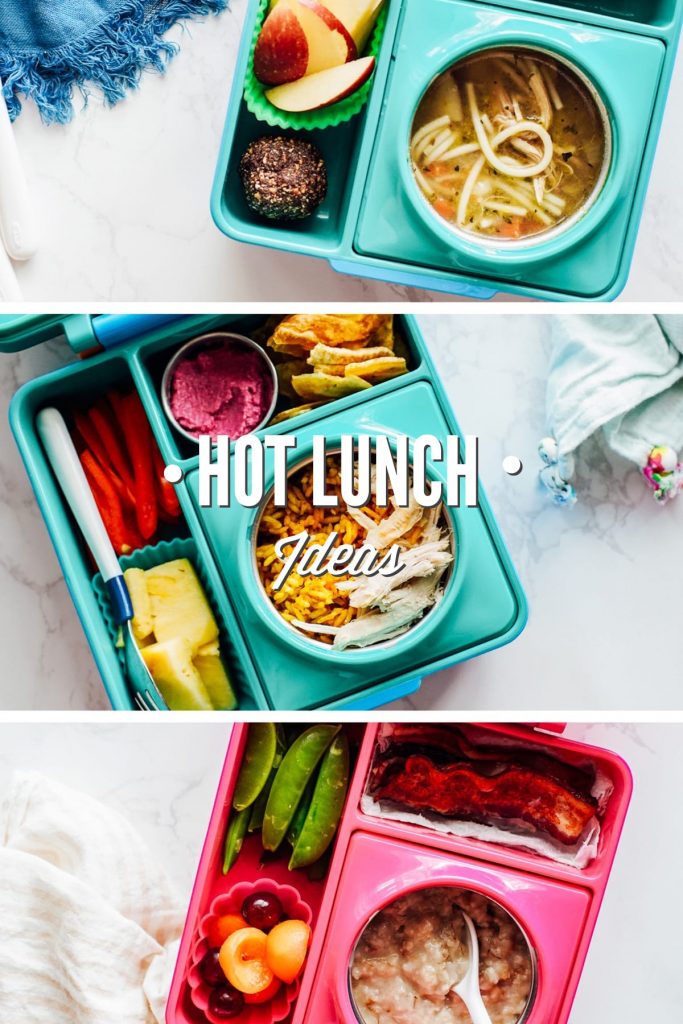 The great thing about hot lunches for school is that most options can be made for dinner or lunch one day and then reheated and repurposed for the lunchbox.
Please don't think I'm asking you to make any of the ideas on today's list in the morning just for the lunchbox. Instead, think about how you can make something like chicken and rice or soup for dinner one night and then repurpose that food for lunch the next day or over the next few days. That's what we call "cooking once, eating twice" around here. It's a great way to work smarter, not harder when it comes to school lunch.
How to Pack Hot Food in the Lunchbox
First, consider if the food being packed actually needs to be warm or hot when served. Roasted vegetables, quesadillas, grilled cheese, fried rice, and meatballs are usually served in a warm/hot state, but they may also be served at room temperature.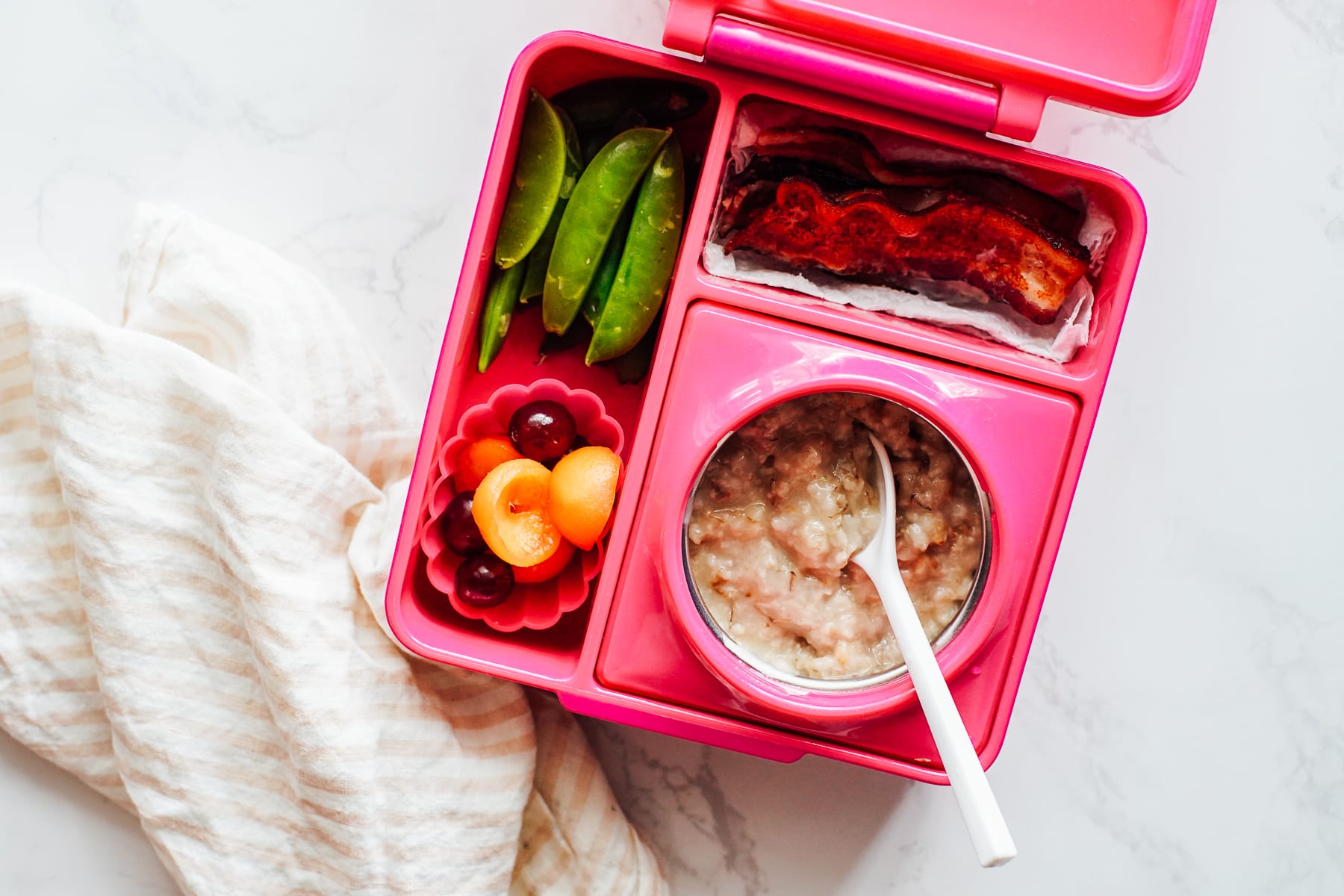 Now, there are some foods that just taste best when served warm/hot. If you plan to serve these foods (soup and certain leftovers like stir-fry), I recommend purchasing a thermos (I'll share my favorites later). Using a thermos is the only way to keep food warm until lunchtime.
How to Keep Food Hot in a Thermos
To keep food warm in a thermos, fill the thermos with hot water. I use water that's been heated in a kettle (this is the kettle we use for coffee, tea, and hot water for a thermos). Hot water from the sink also works. Let the hot water sit in the thermos with the lid on for about 5 minutes while you warm up the food. Then, dump the hot water out and fill up the thermos with the warmed food. Place the lid on the thermos.
When packing a thermos in a lunch bag, don't add an ice pack. The ice pack can interfere with keeping the food warm. In this case, think about packing additional components that may be served at room temperature. I'll share more about how I pack a thermos with cold food in the next section.
The Best Thermos Options for School Lunch
Omielife Bento Thermos Lunchbox: This lunchbox is the only bento-style lunchbox on the market with a built-in thermos. It's great for a younger child. My children used this lunchbox up until last year (ages 7 and 9). It would still work for my daughter who has a smaller appetite, but since my son was upgraded to a big thermos she wanted one, too.
DaCool Thermos: This is a large 16-ounce thermos, which is the perfect size for an older child or adult. My son, a 4th grader, uses this thermos. The thermos also comes with a foldable reusable spoon that fits perfectly on top of the lid.
LunchBots Thermos: This 8-ounce thermos is the perfect size for a child who doesn't have a large appetite and doesn't need a 16-ounce thermos. This is the thermos I use for my daughter.
When sending a thermos to school, I like to use the LunchBots Trio Box to send additional foods (crackers, fruit, cheese, etc.) and the LunchBots bag, which fits the box in the bottom zipper compartment (along with an ice pack) and the thermos in the top half.
8 Hot Lunch Ideas for School
1. Mac and Cheese
Homemade mac and cheese can be made for dinner or lunch over the weekend, then reheated and served for lunch. Adding a splash of milk during the reheating will prevent the mac and cheese from drying out. Try this Instant Pot recipe or this stove-top recipe.
2. Oatmeal
Make a big pot of oatmeal for breakfast one morning and save the extra in the fridge to reheat for lunch. Reheat oatmeal on the stove-top or the microwave with a splash of milk or water to help the consistency. Add berries, nut or seed butter, butter (for a healthy fat), maple syrup, honey, and/or cinnamon once in the thermos. Try this stove-top recipe.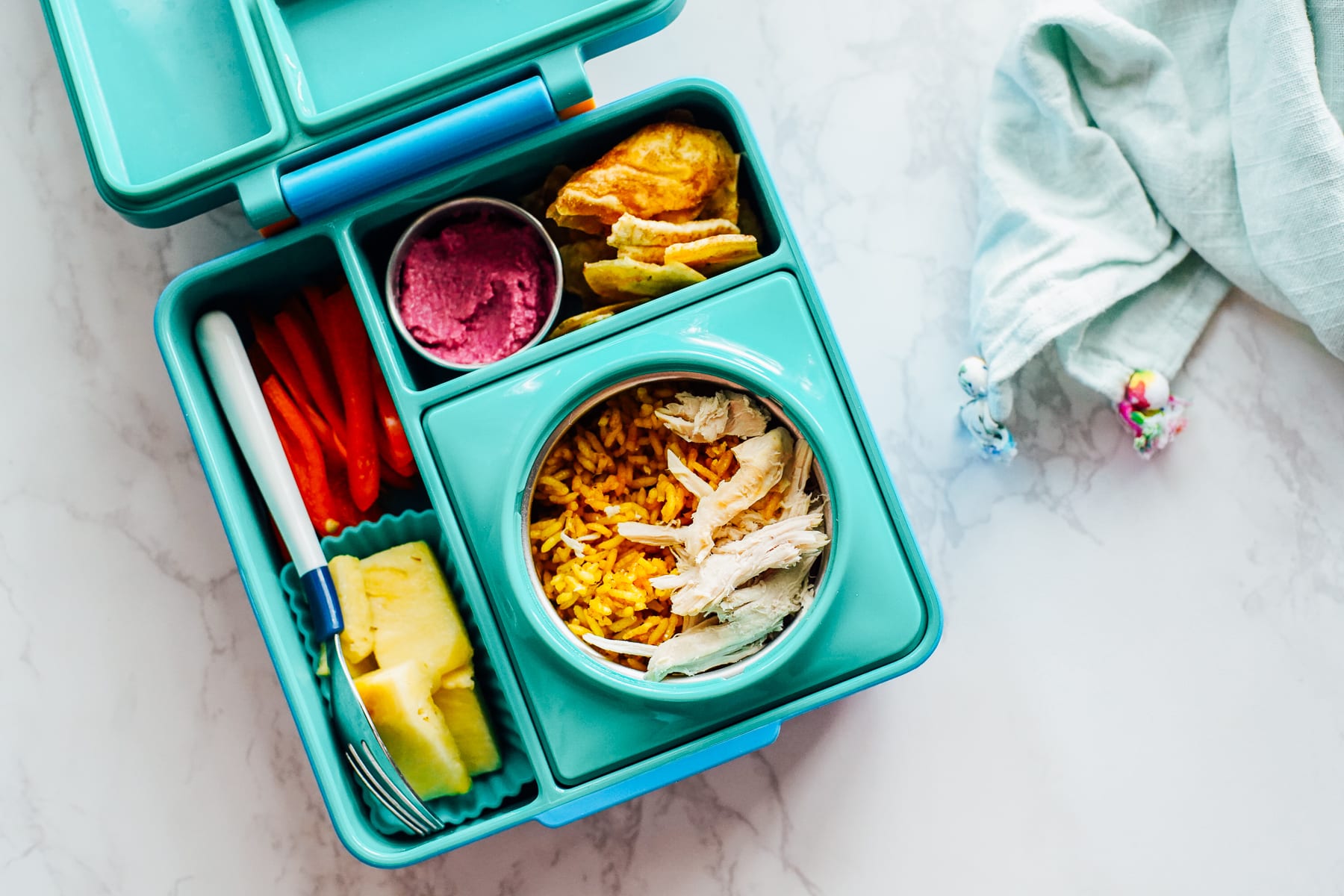 3. Chicken and Rice
One of my favorite weeknight meals. This easy meal is made in the Instant Pot, taking less than 30 minutes from start to finish. It's also a favorite with the kids, making it the perfect meal to cook for dinner and reheat for a hot school lunch. Try this Instant Pot recipe.
4. Stir-Fry
Another dinner-to-lunch meal. When it comes to school lunch, I like to mix warm stir-fry with the rice in a thermos. Warm up the stir-fry in the microwave or a saucepan. For rice, it helps to add a splash of water when reheating to prevent it from drying out. Try this stir-fry chicken and veggie recipe.
5. Fried Rice
Fried rice is always a kid-favorite in our home and also a great adult lunch. Make this meal for dinner and save the leftovers for a hot school lunch, or make fried rice on the weekend for a prep-ahead lunch option throughout the week. Try this veggie fried rice or this traditional fried rice recipe.
6. Soup
Soup is the ultimate "cook once, eat twice" meal. Make a large pot of soup for dinner or on the weekend and serve the leftovers for a hot lunch. Try one of my favorite soup recipes.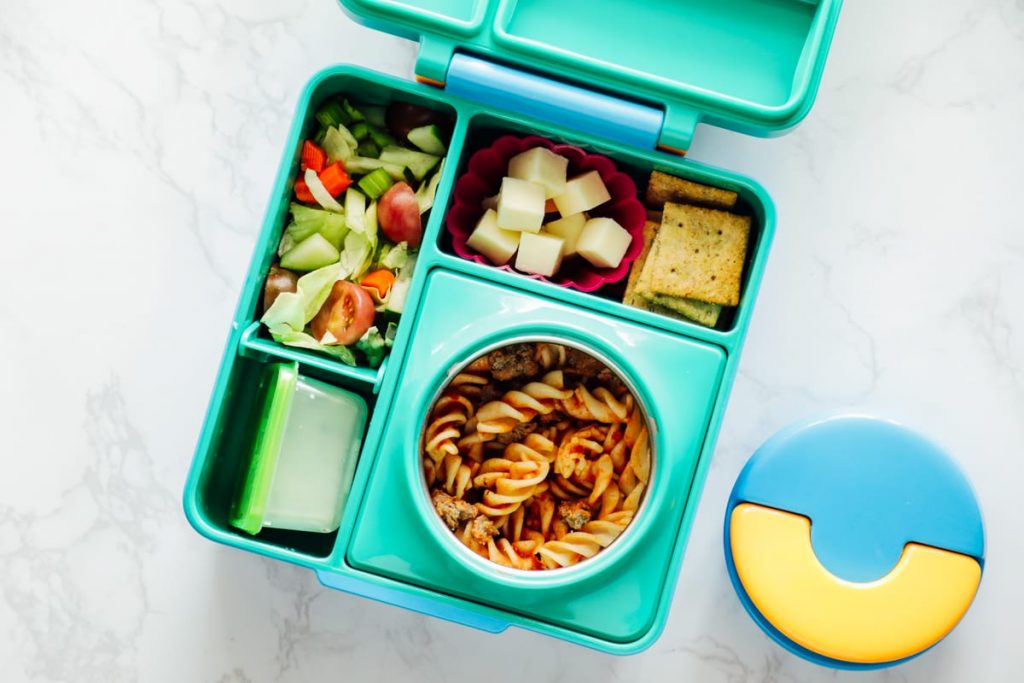 7. Spaghetti and Meatballs
Spaghetti and meatballs can be made in the Instant Pot or oven. Either way, this is a great dinner-to-hot lunch meal. Serve the meatballs whole or crumble them with the spaghetti and sauce in the thermos. Try this Instant Pot recipe or this oven meatball and sauce recipe.
8. Hot Dogs
Hot dogs are a super easy hot lunch. Keep a pack of grass-fed hot dogs in the freezer and you'll always have a main lunch option ready to go. Warm the hot dogs in a skillet or the microwave, then place the dogs in the thermos whole or cut in pieces. Serve the hot dogs with a side of ketchup in a dipper container. I love Applegate and Fork in the Road brands.