Christmas cookies are a sacred and memorable part of my family's Christmas celebration. As a child, I remember spending multiple days before Christmas making festive cookies with my mom and grandma.
During our baking sprints, we would make everything from homemade sugar cookies to colorful spritz cookies to Grandma's famous buckeye cookies.
The cookies were then placed in tins and reserved for the big family gathering on Christmas Day.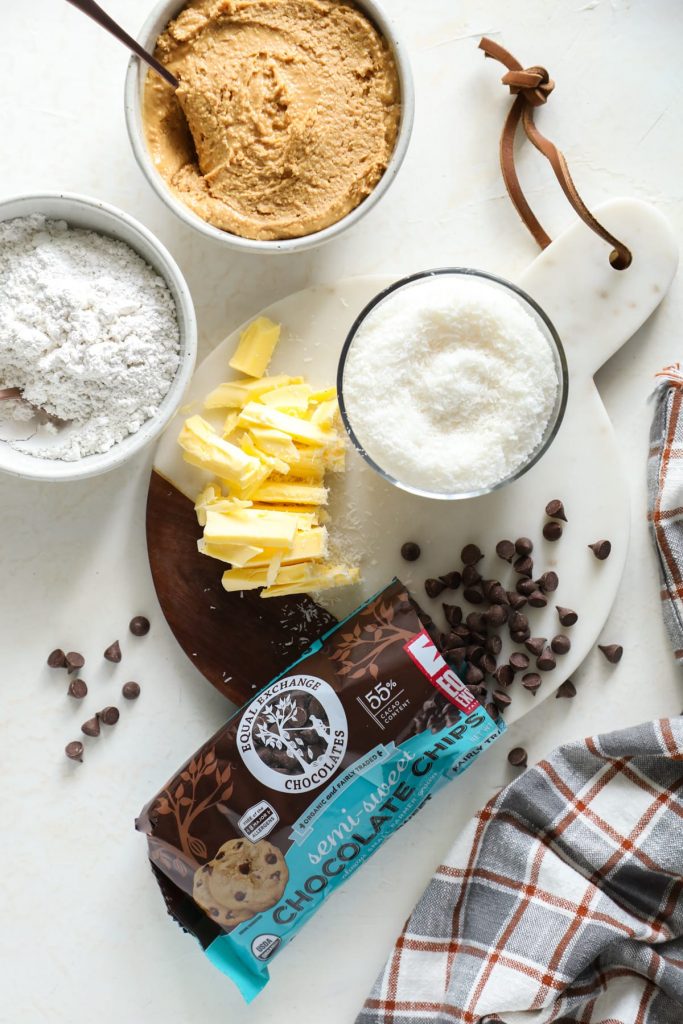 I'm not a huge cookie person, but Christmas cookies are an entirely different story. I have a deep deep deep love for Christmas cookies. Maybe this love stems from my childhood memories of baking with my mom and grandma? Or maybe I'm drawn to the unique flavors, colors, and textures of these cookies?
I'm going with all of the above.
During my birthday celebration at my mom's house last week, my mom pulled out a red tin from her freezer. I knew what was inside: Grandma's buckeyes! She passed the tin around the table and I eagerly reached in for one (or two) of the chocolate-coated cookies. Suddenly, I realized…I have to share Grandma's buckeye cookies with you! You need this recipe.
I looked over at my mom and with my mouth full of peanut butter and chocolate, asked, "May I have the recipe for Grandma's buckeye cookies?"
My mom walked back to the kitchen and moments later came out with a handwritten recipe card from my grandmother. I took a photo of the card, visited the store for the ingredients the next morning, and here we are today.
Before sharing the recipe, let me point out that this recipe calls for a ton of sugar. I'm talking about 2 cups of powdered sugar. Friend, I thought long and hard (okay, just a few minutes) about converting the cookies over to a honey-sweetened or maple-sweetened treat, but then my reasoning took over…
The powdered sugar not only provides a sweet flavor to the cookies, but it also holds the cookies together. 
This is Grandma's famous buckeye cookies recipe. A recipe that's been passed down in my family. A recipe that I enjoyed as a child, and one that I plan to continue making and enjoying with my kids. Memories and tradition win! 
I decided that Grandma's recipe shouldn't be tweaked. Plus, it's Christmas (and my birthday). A homemade treat that's made with (organic) powdered sugar is exactly how I plan to celebrate.
More Christmas Sweets and Treats
Grandma's Famous No-Bake Buckeye Cookies
An easy no-bake peanut butter cookie dipped in chocolate. 
Ingredients
Special Equipment:
toothpick

optional for dipping the peanut butter balls in the chocolate
Instructions
Place the sugar, peanut butter, butter, and coconut in a large bowl. Use a hand mixer (or stand-mixer) to beat the ingredients together. This may take several minutes (2-3 minutes). The dough is ready when the ingredients are fully combined. 

Line a sheet pan with parchment or wax paper. Roll the dough into small balls, and place the balls on the baking sheet. Place the sheet pan (and balls) in the freezer. If you don't have room in your freezer, place them in the fridge.   

While the cookies cool, in a medium-size bowl, melt the chocolate chips and coconut oil. I use a microwave to do this: place the ingredients in the bowl, and microwave in 25 second increments, stirring each time, until fully melted. If you want to use the stove-top, you'll need to melt the ingredients in a double boiler: place a glass bowl on top of a saucepan partially filled with water over medium heat. Heat until the ingredients are fully melted, stirring occasionally.

Remove the balls from the freezer (or fridge). Carefully pierce a ball with a toothpick, roll it around in the chocolate, and then place it back on the parchment paper. I like to drizzle any remaining chocolate over the cookies to cover the toothpick piercings. Repeat this process with each ball. Alternatively, you can use a spoon to lower the balls into the chocolate.  

(Optional) Sprinkle a tiny amount of salt over the cookies. This adds a fancy touch and a nice salty flavor to the chocolate. Just a pinch over each cookie.

Place the cookies in the fridge and allow them to cool until the chocolate is firm (about an hour or two). Store the cookies in an air-tight container in the fridge for two weeks, or a few months in the freezer. 
Notes
*Most stores sell organic powdered sugar. There are plenty of great brands available. If you'd like to make your own powdered sugar, this is a great tutorial from Cookie and Kate. 
**Look for natural peanut butter that contains one or two ingredients: peanuts and possibly salt. I purchase freshly-ground peanut butter from our local health food store, which isn't salted or oily (like some natural peanut butters). Your local grocery store deli may sell freshly-ground peanut butter. The original recipe calls for "crunchy peanut butter." 
***I used salted butter (Kerrygold). If your peanut butter is salted, I recommend going with an unsalted butter. 
Nutrition
Calories:
262
kcal
Carbohydrates:
20
g
Protein:
5
g
Fat:
19
g
Saturated Fat:
9
g
Cholesterol:
8
mg
Sodium:
102
mg
Potassium:
192
mg
Fiber:
2
g
Sugar:
15
g
Vitamin A:
95
IU
Vitamin C:
0.1
mg
Calcium:
16
mg
Iron:
1.2
mg