'Tis the season for cookies and lots of them. In the last couple of weeks, I've shared a couple of einkorn cookie recipes: chocolate chip cookies and jam thumbprint cookies. Today, we're going with a classic, again made with einkorn flour: sugar cookies.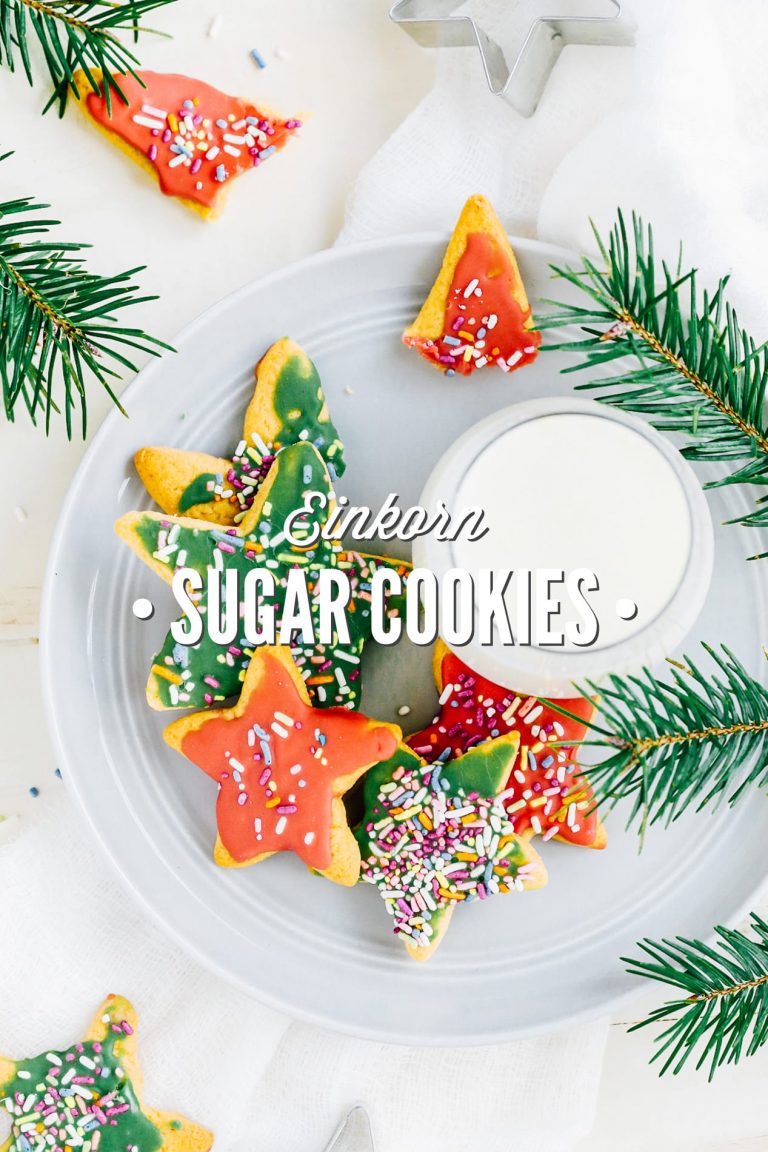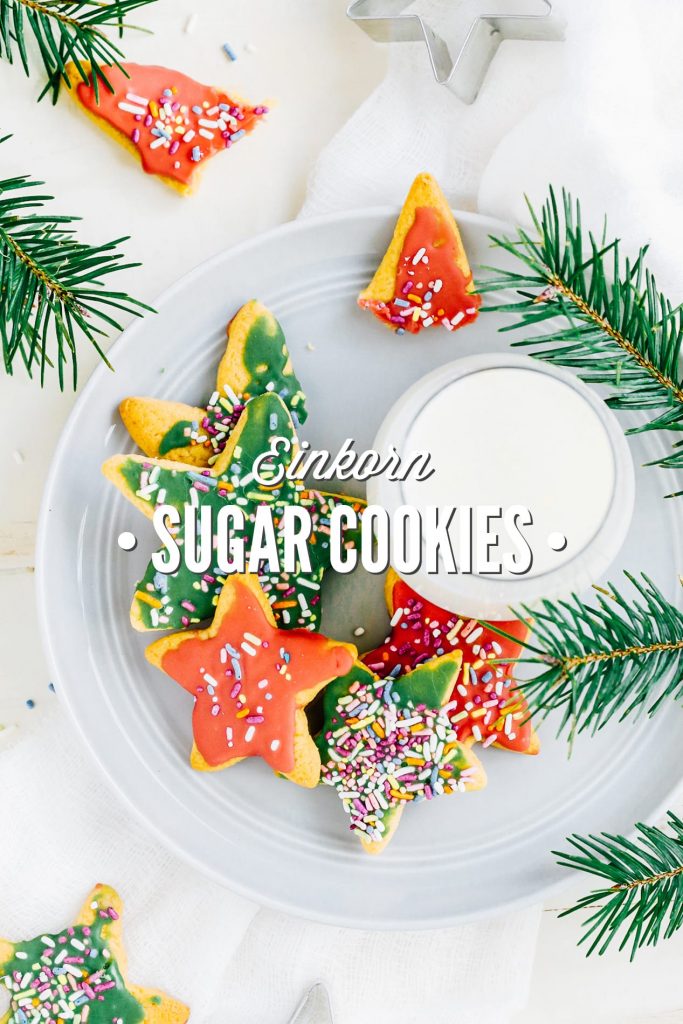 Growing up, Christmas cookies were a BIG deal in our home. Once the tree was up, the endless baking would commence. Throughout December, Mom and I would spend our time baking every variety of cookie imaginable: buckeyes, sugar cookies, Spritz cookies, and so much more.
By December 24th, Mom's freezer would be packed full of metal tins filled with our creations. The best part of the baking experience was pulling the tins out of the freezer on Christmas morning to share with our family and friends.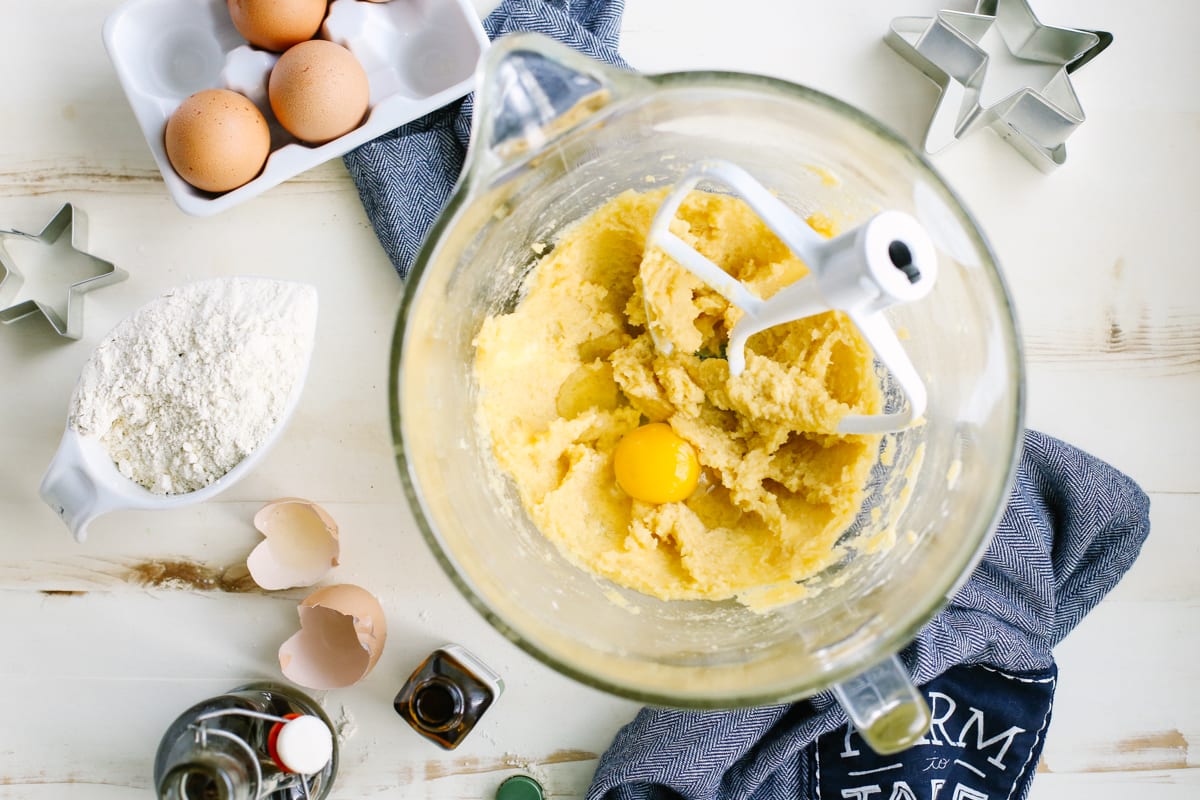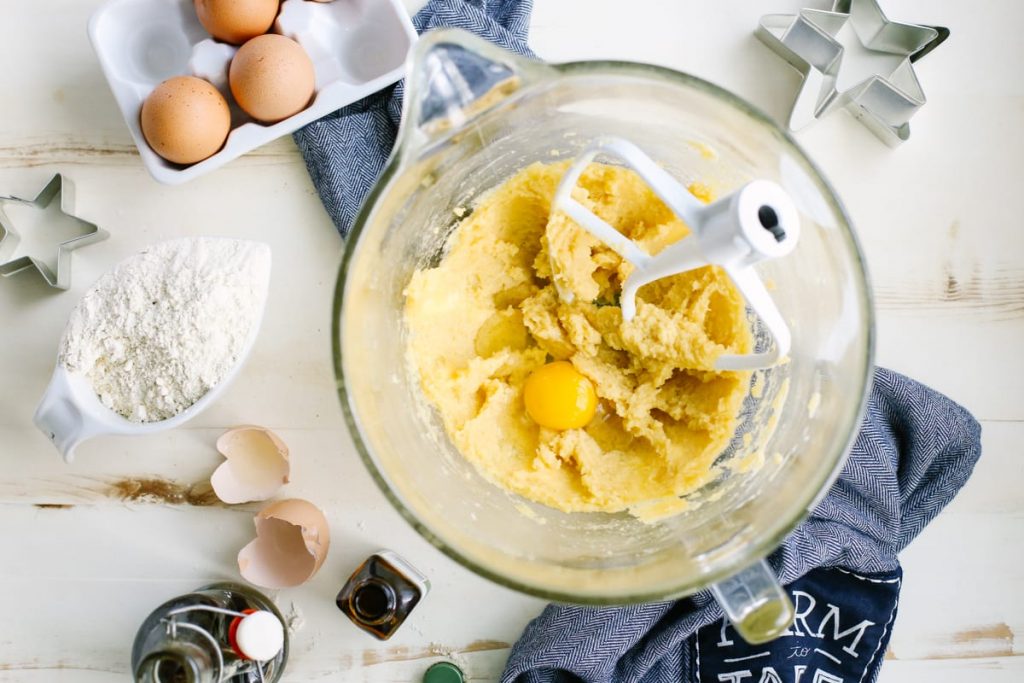 Now that my kids are old enough to enjoy baking and cooking, I'm returning to the cookie memories I hold dear from my childhood in an effort to create new memories with them. With a desire to keep our food as unprocessed as possible, I've been working on reinventing classic Christmas cookies so I can pass the recipes (and memories) down to my children.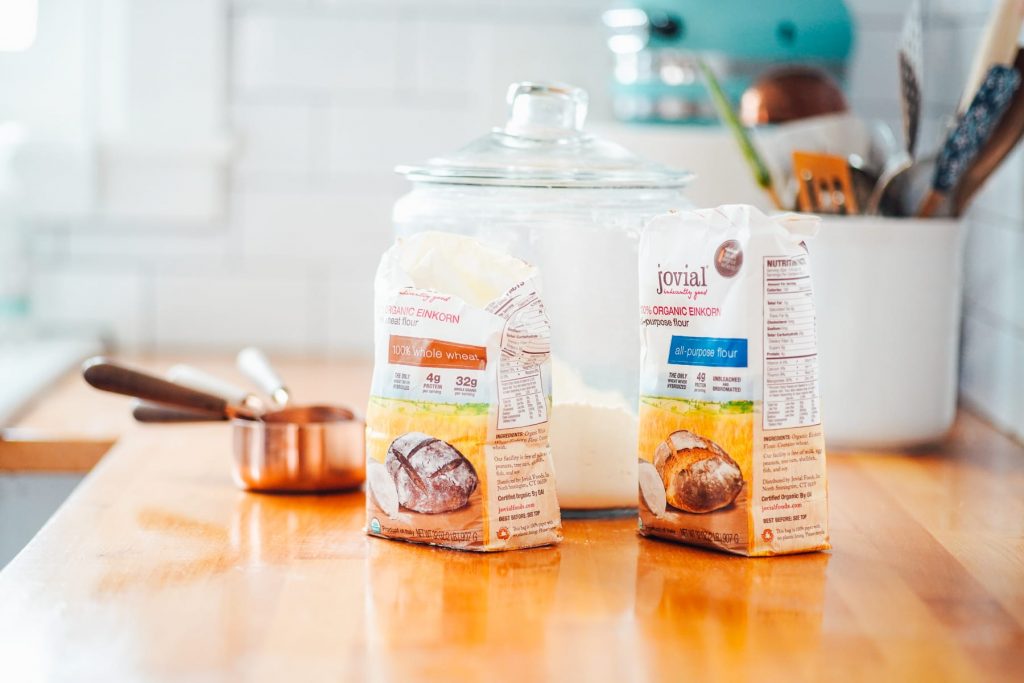 Sugar cookies are a huge offender when it comes to ultra-processed ingredients, particularly store-bought doughs and frostings. The good news is that a real food sugar cookie is easy to make with a few basic  ingredients. (Learn about real food here.)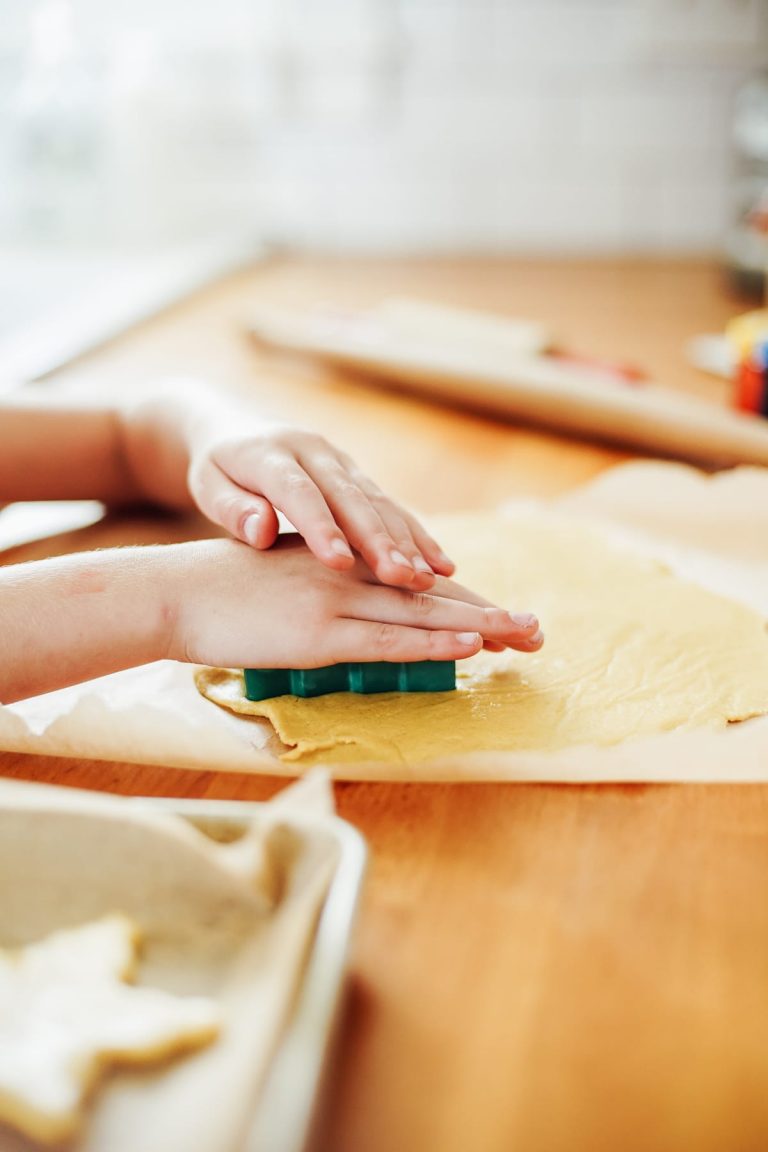 Let's take a look at what makes this sugar cookie so "real" ;):
1. Einkorn Flour:
Einkorn is known as the oldest variety of wheat making it an ancient grain. The ancient grain is believed to have originated in the Tigris-Euphrates region and is possibly the main grain referenced in the earliest accounts of the Bible. Einkorn is the wheat men were eating in the earliest days before modern day wheat varieties. While modern wheat has undergone hybridization, einkorn still holds true to its original properties.
The sweet, ancient grain has a lighter texture and taste than modern day wheat and contains a more favorable gluten ratio. People with minor gluten sensitives may be able to consume einkorn without the issues associated with modern wheat due the lack of D-genome; however, einkorn is NOT gluten-free. (If you need gluten-free sugar cookies, I recommend using Renee's recipe from Raising Generation Nourished).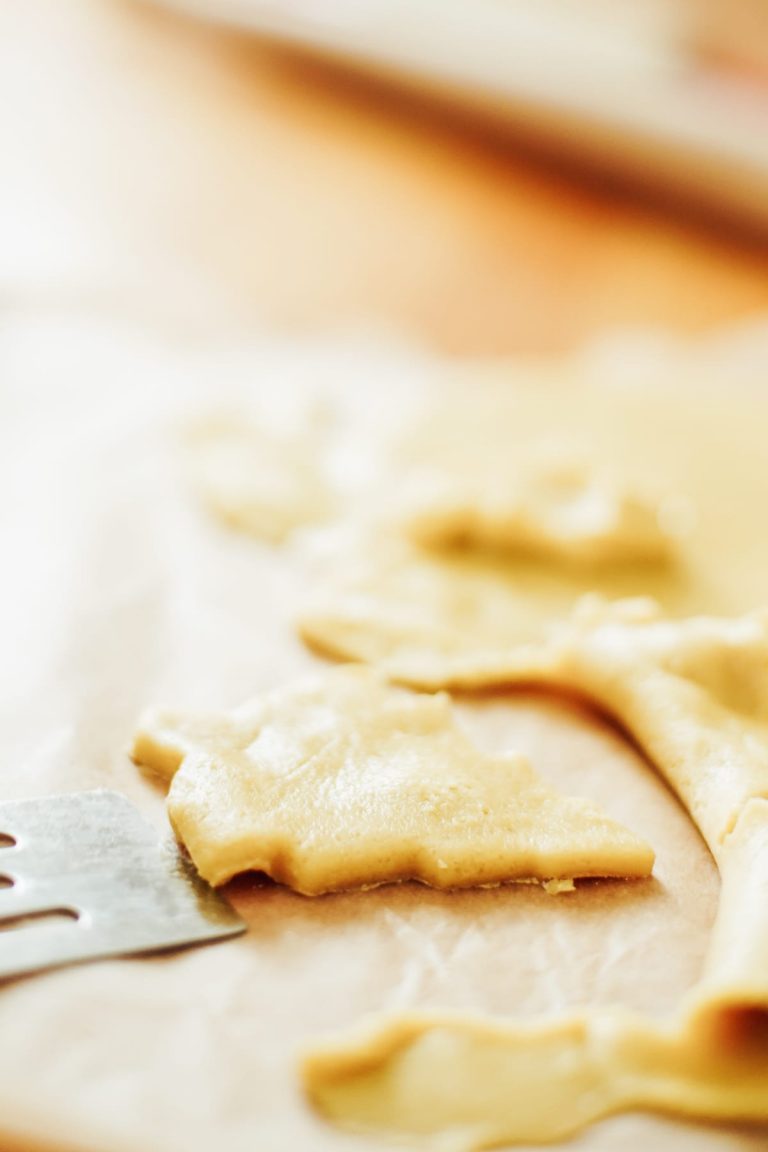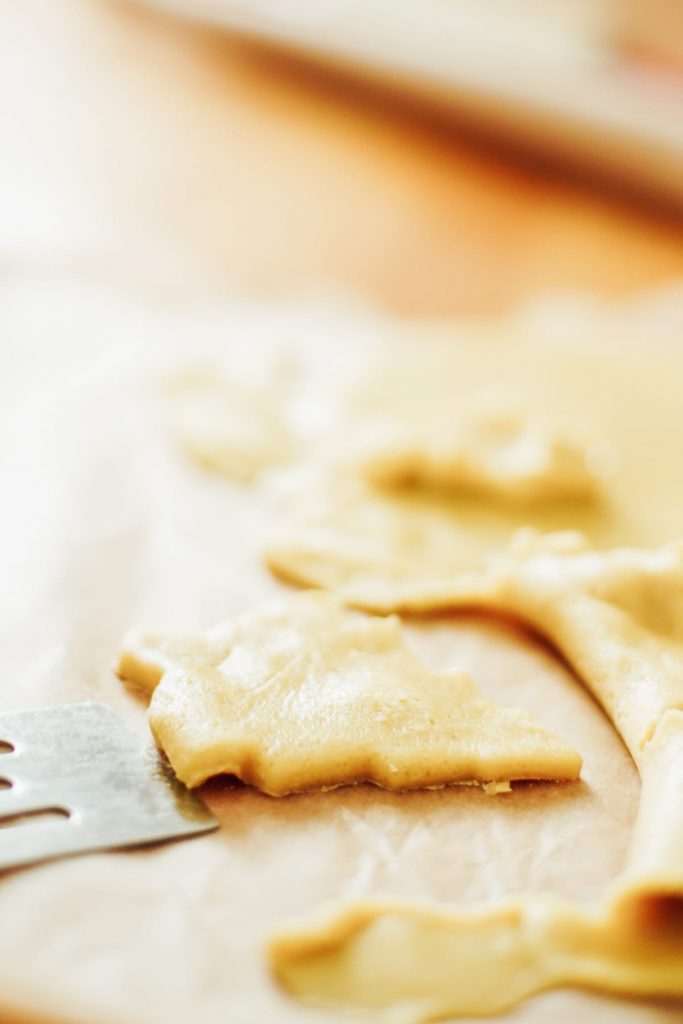 You can find einkorn at some Whole Foods and health food stores, Earth Fare, Vitacost, and Amazon. Definitely shop around as prices can vary based on the retailer.
My favorite brand is Jovial Foods. Finding Jovial einkorn flour is fairly easy and I've come to respect this brand as a leader in the real food movement. If you bake often with einkorn, Jovial's 10lb bag of flour is the best price. Another fantastic source for einkorn (flour and berries) is einkorn.com.
To learn more about einkorn, I recommend reading this post and listening to this podcast with Carla from Jovial (hearing her daughter's story about gluten sensitivity is worth it).
2. Honey:
When I first started playing around with this sugar cookie recipe, I tried to replace white sugar with honey. Let's be honest, sugar cookies are called sugar cookies for a reason: sugar.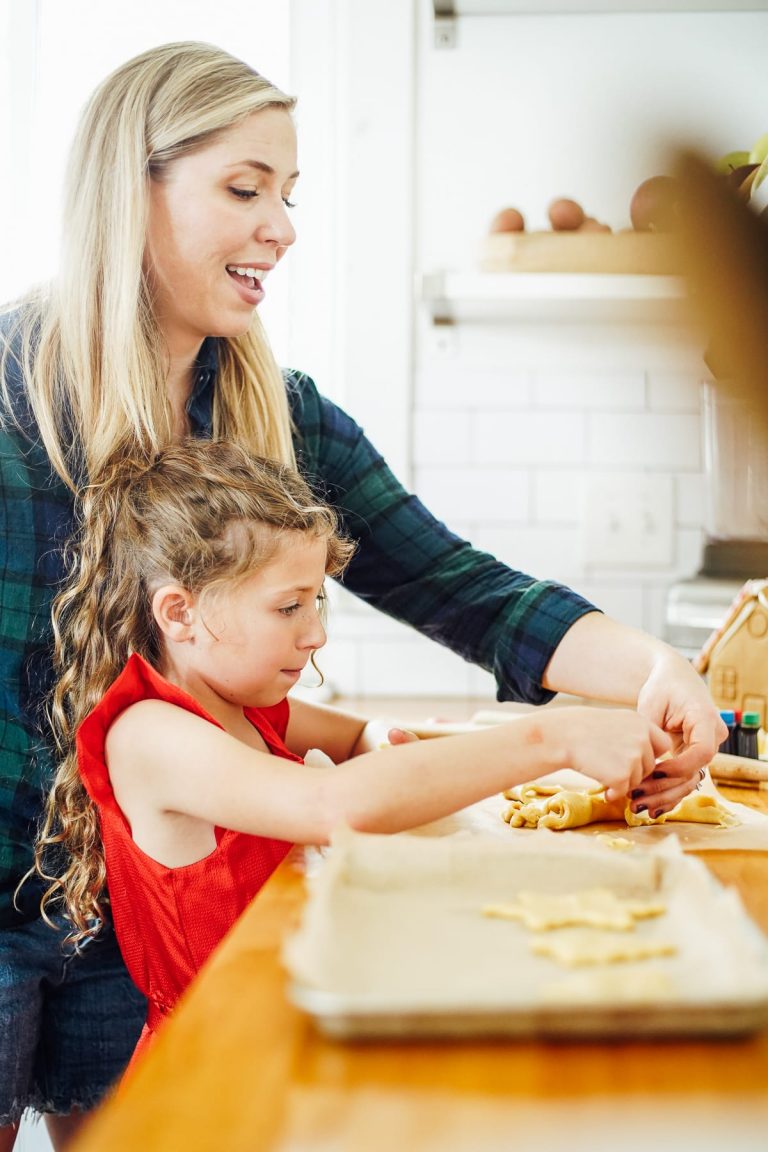 Instead of replacing 100% of the sugar with honey, I decided to reduce the sugar with some honey. The end result was incredible…moist and delicious and perfectly sweet. This recipe calls for 1/2 cup of cane sugar and 1/3 cup of honey. Since the recipe makes about 30 cookies, that's a pretty low ratio of sugar per cookie compared to traditional sugar cookie recipes.
3. Natural Dye:
Sugar cookies are works of art, so naturally a good sugar cookie recipe needs frosting and pretty dyes. Artificial dyes are an ingredient we avoid using in our food. (This podcast episode is a good listen to learn more about artificial food dyes and why they should be avoided.)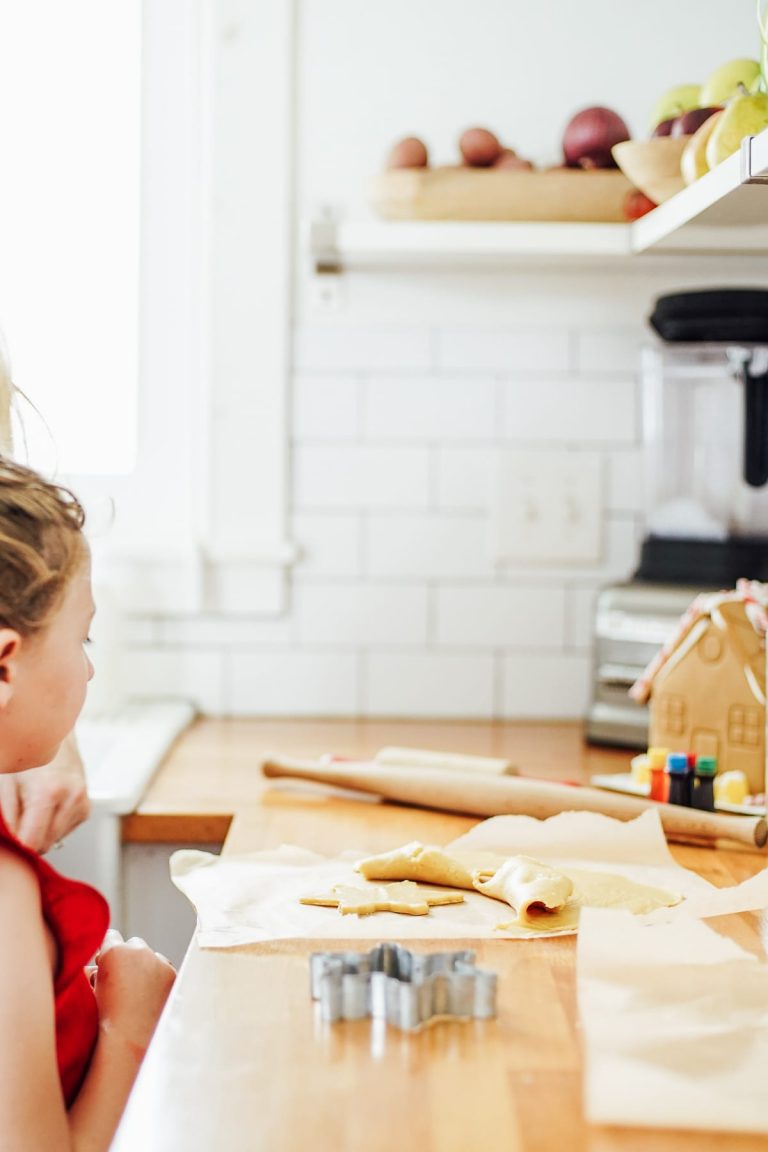 Thankfully, there are dye alternatives made with real ingredients (from plants). My favorite store-bought brand is India Tree, which can be purchased online or at some health food stores. Whole Foods also has their own version of plant-based, natural dyes (365 brand) and McCormick sells an option now, too. Another option is to make plant-based dyes at home (find a recipe tutorial here).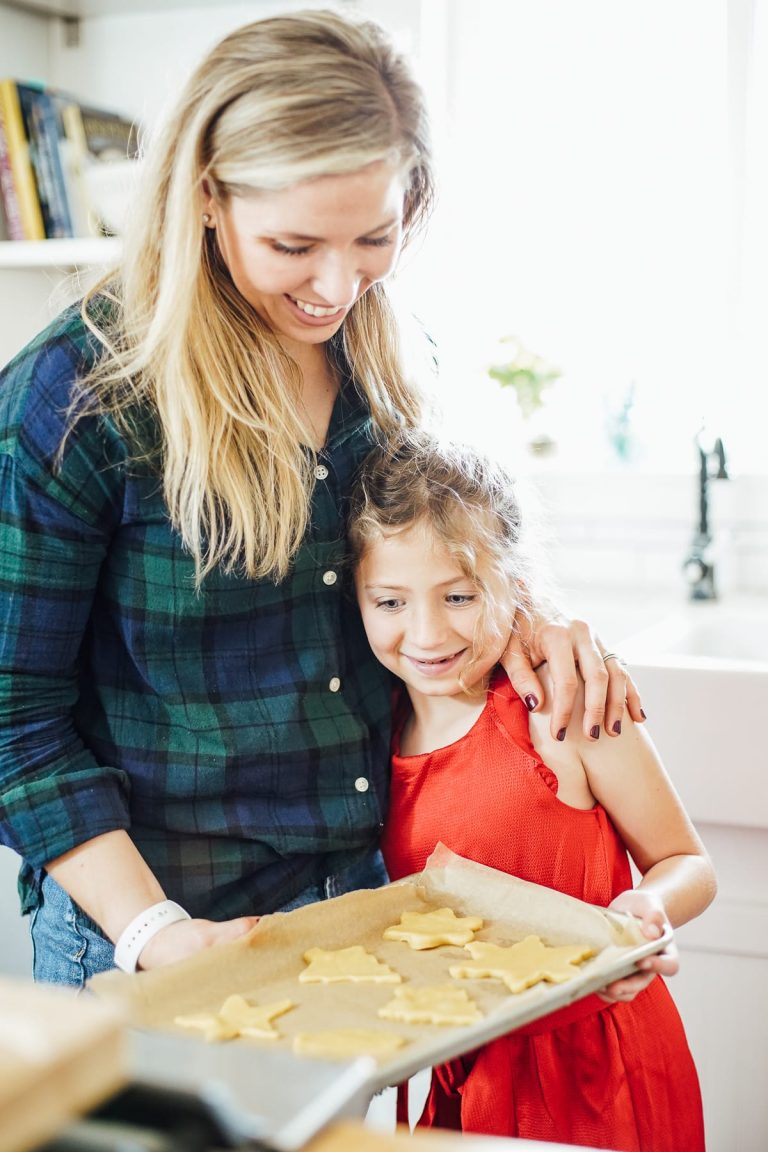 How to Make Sugar Cookies with Einkorn Flour
1. Make the dough: To make the cookie dough, you'll need einkorn flour, honey, cane sugar, butter, vanilla extract, almond extract, an egg, baking powder, and salt. The process starts by creaming the butter and sugars together. Next, the binder, an egg, is added to the mixture along with the vanilla extract and almond extract. Almond extract is definitely a unique ingredient that may require a special purchase. Trust me, this extra ingredient is worth it and makes the dough flavorful. Finally, add the dry ingredients: all-purpose einkorn flour, baking powder (the leavening agent that makes the cookies rise), and salt.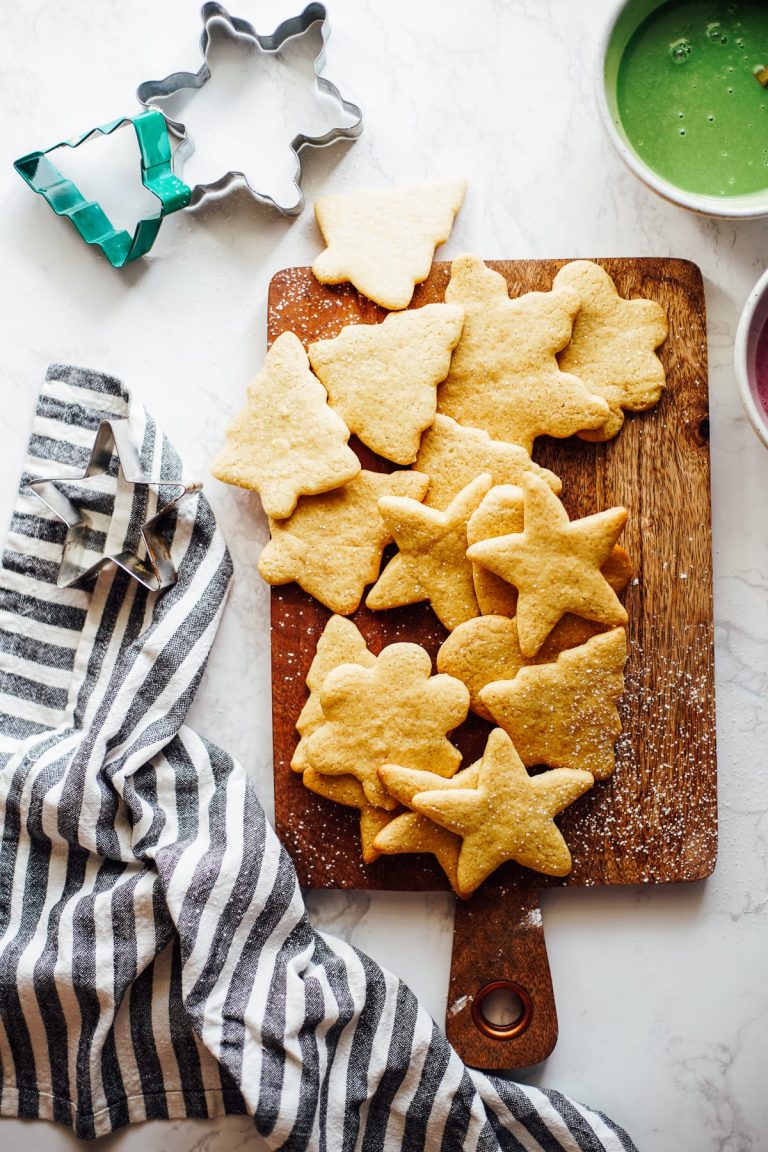 2. Refrigerate the dough: Since we're making cut-out sugar cookies, the dough needs to be chilled before it can be rolled out and cut into designs. I recommend refrigerating the dough for 1-2 hours, or you can make the cookies in advance and store the dough within 48 hours.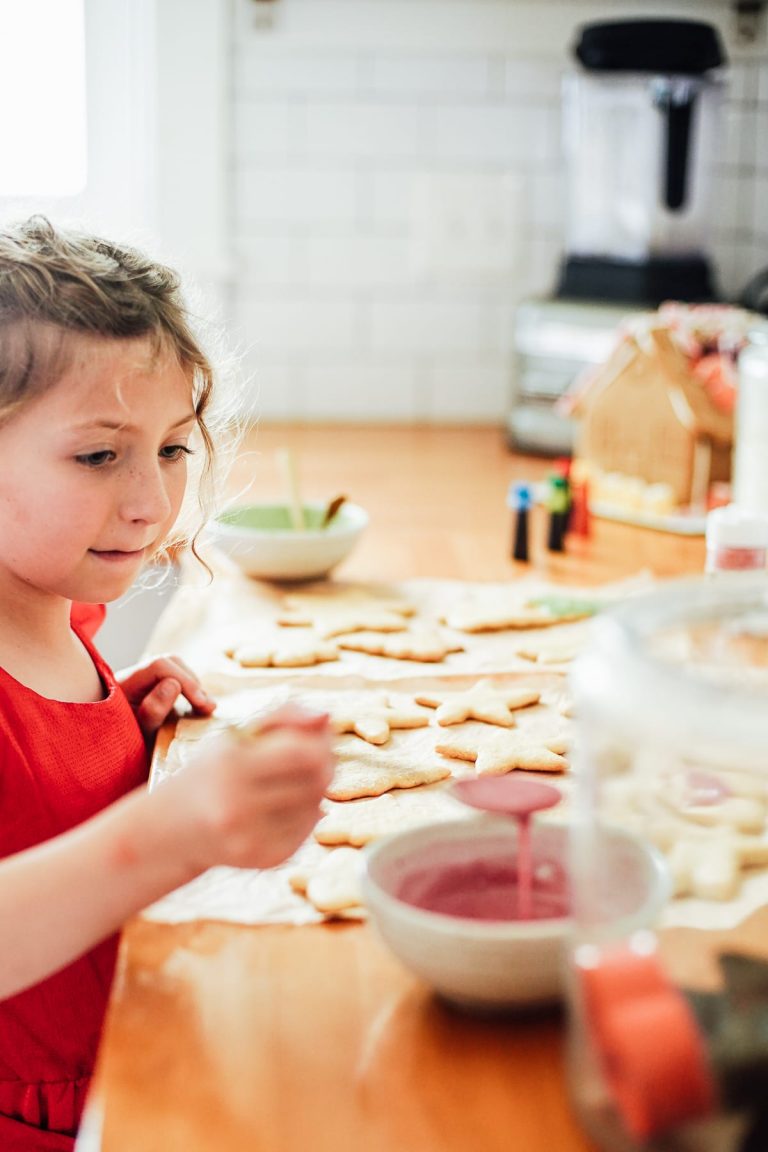 3. Roll out the cookie dough: Divide the chilled dough into two balls. Place one ball in the fridge to keep it chill. Place a piece of parchment paper under the cookie dough and another sheet on top, then roll out the dough (with the parchment paper as a barrier between the dough and rolling pin) to about 1/4 inch thick.
4. Cut out the cookies: Once the dough has been rolled out, use cookie cutters to cut the cookies into cute shapes and bake.
What Else Can You Make with Einkorn Flour?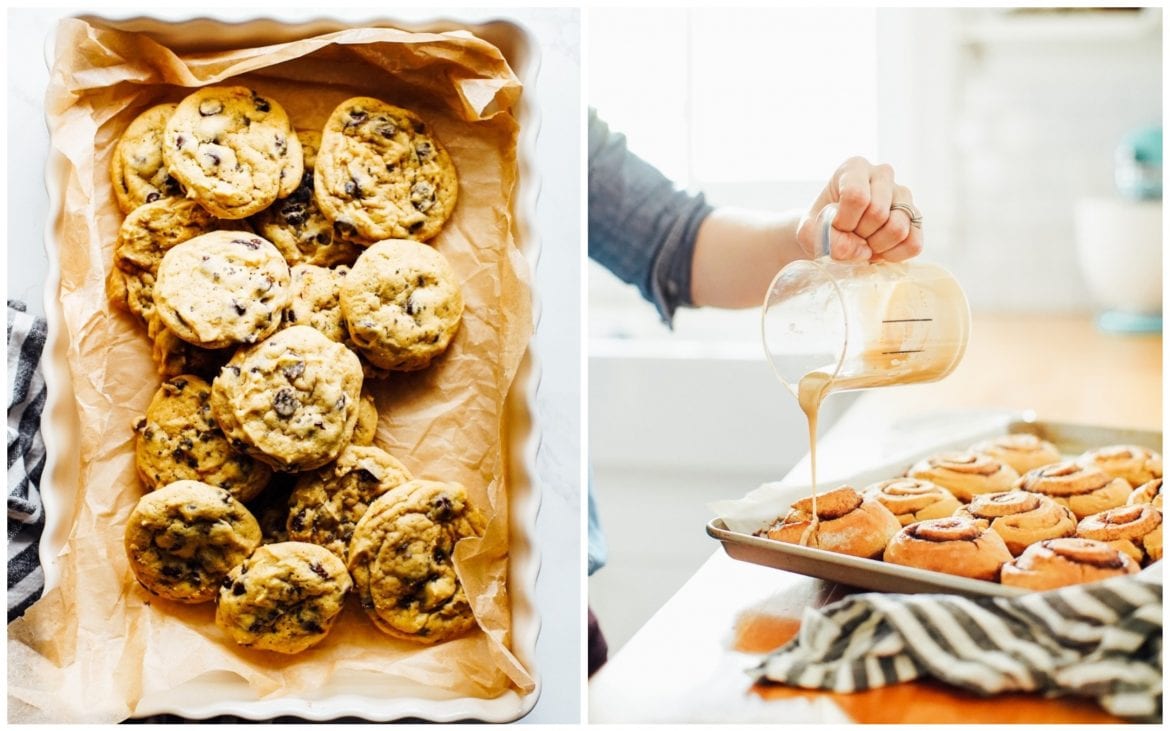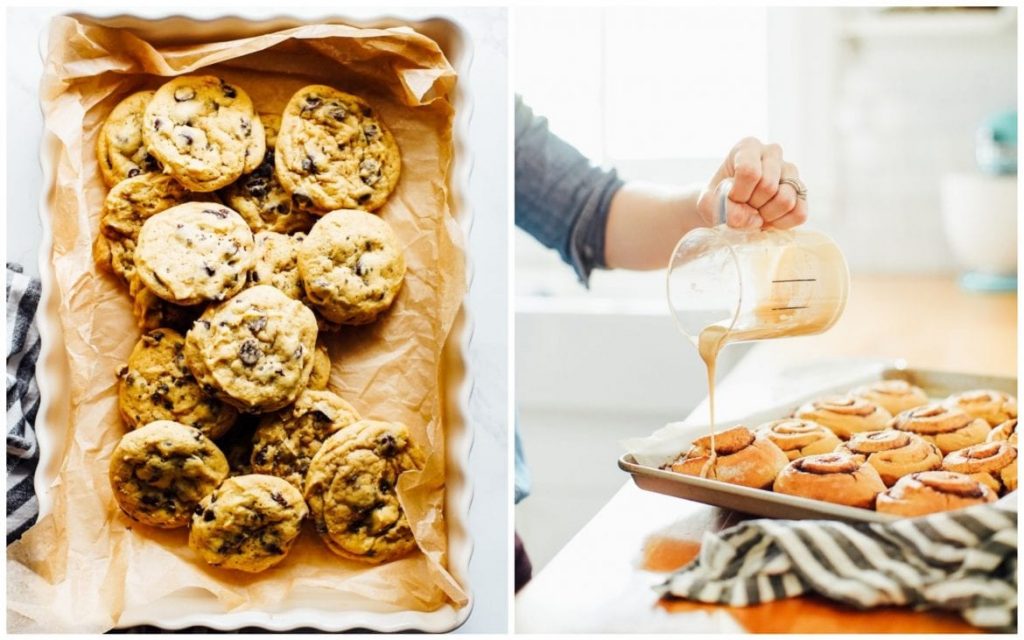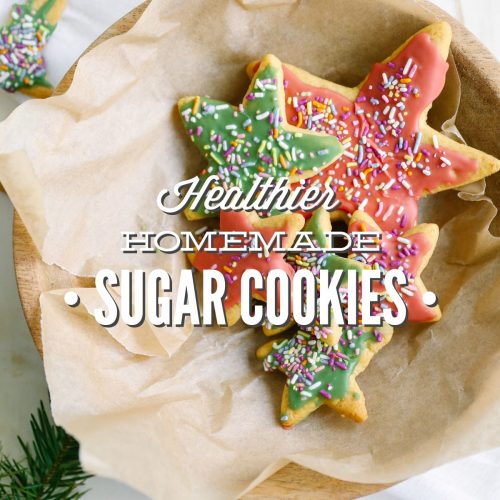 Homemade Einkorn Sugar Cookies
The BEST homemade sugar cookies made with einkorn flour. As one Instagram reader friend said, "I can't believe how good these are! I've made many sugar cookie recipes over the years and these are by far the BEST!"
Ingredients
Instructions
In a large bowl, using a hand mixer (or stand mixer with the paddle attachment), beat the butter, sugar, and honey together until "whipped." This will take about 40-60 seconds on medium speed.

Add the egg, vanilla extract, and almond extract. Beat the ingredients to combine.

Add the dry ingredients to the wet ingredients: einkorn flour, baking powder, and salt. Turn the mixer on low speed and combine the dry ingredients into the wet ingredients (about 20-30 seconds).

Using your hands, form the dough into a ball. Place the dough on a large piece of parchment paper and wrap it up. Refrigerate the dough for at least 1 hour or up to 48 hours.

Preheat the oven to 350F and line a sheet pan with parchment paper.

Remove the chilled dough from the fridge and let it rest for 5-10 minutes at room temperature. Cut the dough in half. Return one half of the dough to the fridge to keep it chilled.

Place one piece of parchment paper under the other half of dough and another piece of parchment paper over the top. Use a rolling pin to roll out the dough to 1/4 inch thick. Using cookie cutters, cut the dough into desired shapes. Transfer the cookies to the sheet pan. Repeat with the dough in the fridge.

Bake the cookies for 10-12 minutes, or until the cookies begin to look golden on top. The cookies will have a lovely golden, yellow hue. That's the classic einkorn baked good color. Let the cookies completely cool on a cooling rack.

Choose your topping of choice: icing (a thin icing) or buttercream (a thick, buttery frosting).

For the icing, combine all the ingredients in a bowl. If your powdered sugar is clumpy (this happens with the organic variety), sift the powdered sugar first through a sieve (like this). Adjust the powdered sugar or milk as needed, by a tablespoon at a time until you reach the desired icing consistency.

For the buttercream, add the butter and powdered sugar (keep the sifting note above in mind) to a large bowl (or stand mixer fitted with the whisk attachment). Beat the sugar and butter on low speed until combined. Add the vanilla and milk and combine. Add more powdered sugar as needed, a tablespoon at a time, until you reach the desired consistency and taste.

Separate the frosting in individual bowls and mix the icing or frosting with your natural dye (see my note about natural dye in the story above).

Enjoy immediately or store the cookies in the fridge (for up to 4-5 days) or in the freezer (up to a few months).
Notes
Calorie Note: We don't believe in calorie counting for the average person eating nutrient-rich, real food (and these are a treat), but if you want to use the calorie information above, the calorie count on this recipe takes into account all the frosting/icing options. If you're not enjoying cookies with both toppings, the count is lower. 
Nutrition
Calories:
190
kcal
Carbohydrates:
32
g
Protein:
2
g
Fat:
7
g
Saturated Fat:
4
g
Cholesterol:
23
mg
Sodium:
46
mg
Potassium:
34
mg
Fiber:
1
g
Sugar:
22
g
Vitamin A:
208
IU
Calcium:
13
mg
Iron:
1
mg