This post may contain affiliate links. Affiliate links come at no extra cost to you. These links allow me to share the products I authentically recommend (and use) and support Live Simply by receiving a small commission.
'Tis the season for cookies, and lots of them.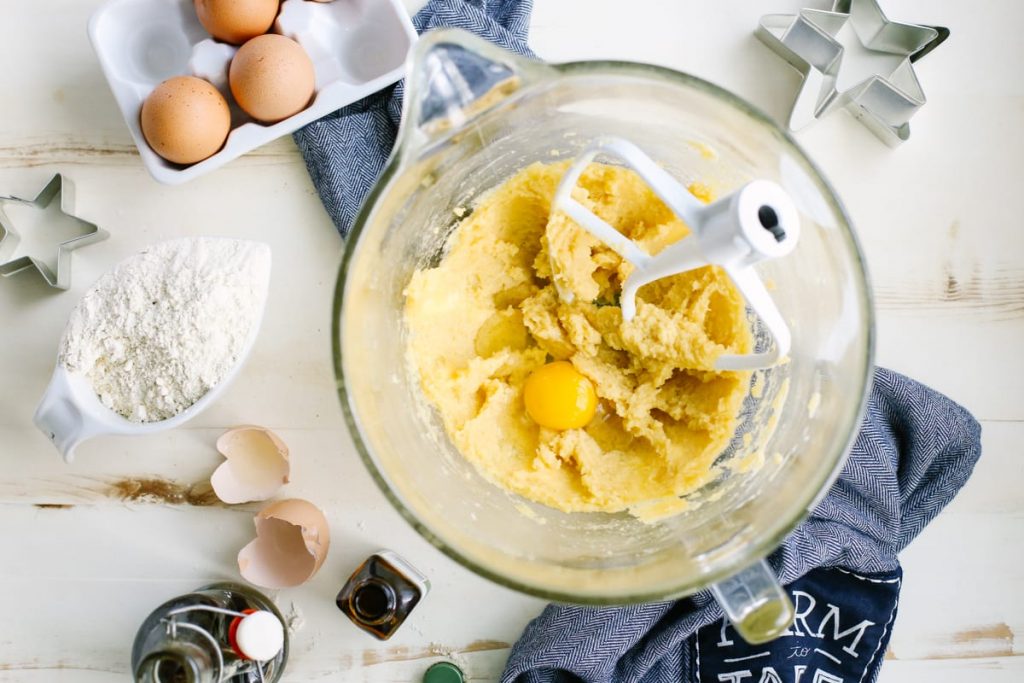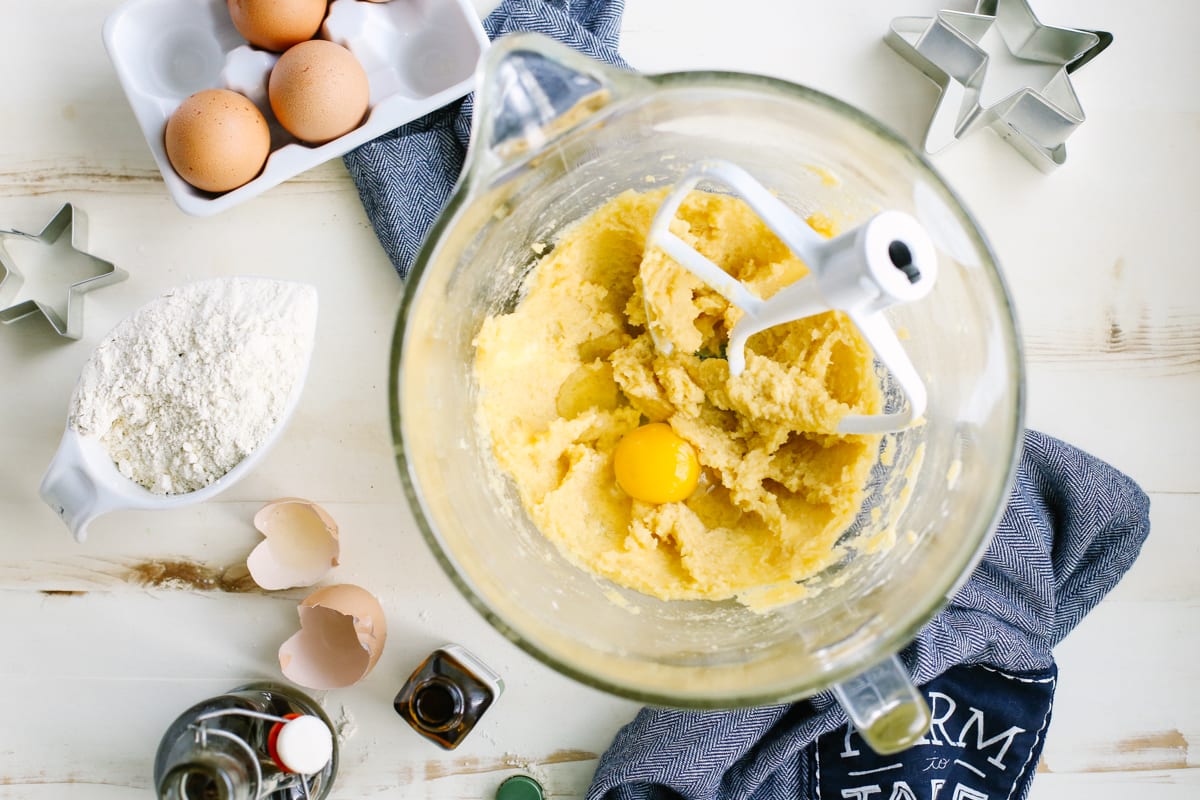 Growing up, Christmas cookies were a BIG thing in our house. Once the tree was up, the endless baking would begin. In the late evenings of December, my mom and I would spend our time together baking every variety of cookie imaginable: buckeyes, sugar cookies with lots of icing, Spritz cookies, Russian tea cakes, and so much more. By December 24th, my mom's freezer was always packed full of santa tins filled with our creations. The best part of the baking experience was pulling the tins out of the freezer on Christmas morning to share with our family and friends.
Now that my kids are old enough to enjoy baking and cooking, I'm returning to the cookie memories I hold dear from my childhood in an effort to create new cookie memories with them. But there's one problem: most of my favorite Christmas cookies from my childhood require highly-processed ingredients; ingredients I don't want to bring into my home. With a desire to keep our food as unprocessed as possible, I've been working on reinventing classic Christmas cookies so I can pass the recipes (and memories) down to my children.
First on my "reinvent list" is the classic sugar cookie. Sugar cookies are a huge offender when it comes to processed ingredients, particularly store-bought doughs and frostings. Since this is a season for being cheery, I'm not going to dive into the list of ingredients on a sugar cookie package (or the really bad stuff, frosting!), so you'll just have to heed my word: stay far away from the store-bought dough and frosting! The good news is that a "healthier" real food sugar cookie is easy to make with a few basic less-processed ingredients.
FREE Real Food Crash Course
I get it, switching from processed food to a real food lifestyle can feel overwhelming and confusing. Friend, it doesn't have to be this way.
Here's what to expect: 
printable charts (real food defined, a seasonal produce guide, 

meal planning)

how to get started with a real food lifestyle

how to create a meal plan and stay within a budget

7 real food recipes

emails from me to help you enjoy real food
Bonus: Step-By-Step Guide to Real Food
So what makes my reinvented sugar cookies perfectly delicious, but also "healthier?" Let's take a look:
1. Einkorn Flour:
Einkorn is known as the oldest variety of wheat making it an "ancient" grain. The ancient grain is believed to have originated in the Tigris-Euphrates region and is possibly the main grain referenced in the earliest accounts of the Bible.  To put it simply, einkorn is the wheat men were eating in the earliest days before modern-day wheat varieties. While modern wheat has undergone hybridization, einkorn still holds true to its original properties. Einkorn is slowly gaining popularity, but is still grown in only a few regions in Europe.
The sweet, ancient grain has a lighter texture and taste than modern-day wheat, and contains a more favorable gluten ratio. People with minor gluten sensitives may be able to consume einkorn without the issues associated with whole wheat due the lack of D-genome, however, einkorn is not gluten-free. Einkorn is packed with nutrition, containing high levels of protein along with the antioxidant beta-carotene lutein and minerals.
Einkorn looks and tastes similar to white flour, so it's the perfect healthy flour to use when making sugar cookies. Einkorn is sold in some health food stores and online.
2. Honey:
When I first started playing around with a real food sugar cookie recipe, I tried to replace white sugar with honey. But let's be honest, sugar cookies are called sugar cookies for a reason: sugar!! Replacing 100% of the sugar used to make sugar cookies is just wrong. Instead of replacing 100% of the sugar with honey, I decided to reduce the more processed white sugar and use some honey in the recipe (a less processed sweetener). The end result was incredible–moist and delicious, and perfectly sweet. This recipe uses 1/2 cup of organic white sugar and 1/3 cup of honey. Since the recipe makes about 30 cookies, that's a pretty low ratio of sugar per cookie compared to traditional sugar cookie recipes. And you know what that means? More homemade icing!! #kidding #notkidding
3. Natural Dye:
Sugar cookies are little works of art, so naturally a good sugar cookie recipe needs frosting (yep, I  use sugar to make the frosting…balance, my friend) and pretty dyes. Artificial dye is an ingredient we avoid using in our food. Thankfully, there are a few great dye alternatives that are made with real ingredients (from vegetables). My favorite store-bought brand is India Tree, which can be purchased online or at health food stores. The price of natural dye is hefty, but a little bit of dye goes a long way, making the price a bit more affordable. I purchased a 3-pack of India Tree Dye from Whole Foods for $18.99. The same set sells on Amazon for $31.00. India Tree also makes sprinkles using plant-based dyes. Another option is to make plant-based dyes at home (find a recipe tutorial here).
Okay guys, heat your ovens. Let's bake! And eat! And share!
Homemade Einkorn Sugar Cookies
The BEST homemade sugar cookies made with ancient einkorn flour. As one Instagram reader friend said, "I can't believe how good these are! I've made many sugar cookie recipes over the years and these are by far the BEST!"
Ingredients
"Healthier" Sugar Cookies:
8

TB

butter

softened at room temperature--I've used both KerryGold salted and unsalted with good success.

1/2

cup

organic white sugar

"Evaporated Cane Juice Organic Sugar."

1/3

cup

honey

Use a light-colored honey, like Orange Blossom.

1

egg

2

tsp

pure vanilla extract

1/8

tsp

pure almond extract

2 2/3

cups

all-purpose einkorn flour

1

tsp

baking powder

1/2

tsp

salt
Buttercream Frosting:
8

TB

butter

softened at room temperature

2

cups

organic powdered sugar

1

tsp

pure vanilla extract

2

TB

whole milk
Instructions
In the bowl of a stand-mixer, fitted with the paddle attachment, beat the butter, sugar, and honey together until "whipped." This will take about 40-60 seconds on medium speed. If you don't have a stand-mixer, use a hand-mixer.

Add the egg, vanilla extract, and almond extract to the butter/sugar combo. Beat the ingredients to combine for about 30 seconds, scrapping the sides of the bowl if needed.

Now it's time to add the dry ingredients to the wet ingredients: einkorn flour, baking powder, and salt. Turn the mixer on low speed (or use a wooden spoon) and combine the dry ingredients into the wet ingredients (about 20-30 seconds). Einkorn doesn't like to be overworked, so only mix the ingredients until combined.

Using your hands, form the dough into a ball. Place the dough on a piece of large parchment paper and wrap it up. Refrigerate the dough for 2-24 hours. I usually let my dough rest for two hours for same day baking, and longer if I want to make the dough in advance.

Preheat the oven to 350F.

After the dough is chilled, remove the ball from the fridge and let it rest for about 5-10 minutes at room temperature, until you can easily roll it out. Place another piece of large parchment paper over the top of the ball, then roll the dough out. The parchment paper on the bottom and top of the dough will make for easy cleanup! Cut out dough into desired shapes, then bake for 10-12 minutes until the cookies begin to look golden on top. Let the cookies cool on a cooling rack.

Choose your topping choice: icing or buttercream.

For the icing, combine all the ingredients in a bowl. If your powdered sugar is clumpy (this happens with the organic variety), then sift the powdered sugar first through a sieve. Adjust the powdered sugar or milk as needed, by a tablespoon at a time until you reach the desired icing consistency.

For the buttercream, add the butter and powdered sugar (keep the sifting note above in mind) to the bowl of a stand-mixer, fitted with the whisk attachment. Whisk together the sugar and butter on low speed until combined. Then add the vanilla and milk and whisk just until combined. Add more powdered sugar as needed, a tablespoon at a time, until you reach the desired consistency and taste.

Separate the frosting in individual bowls and mix the icing or frosting with your natural dye (see my note about natural dye in the story above).

Enjoy immediately, or store the cookies in the fridge or freezer.
If you need gluten-free sugar cookies, I recommend using Renee's recipe (from Raising Generation Nourished).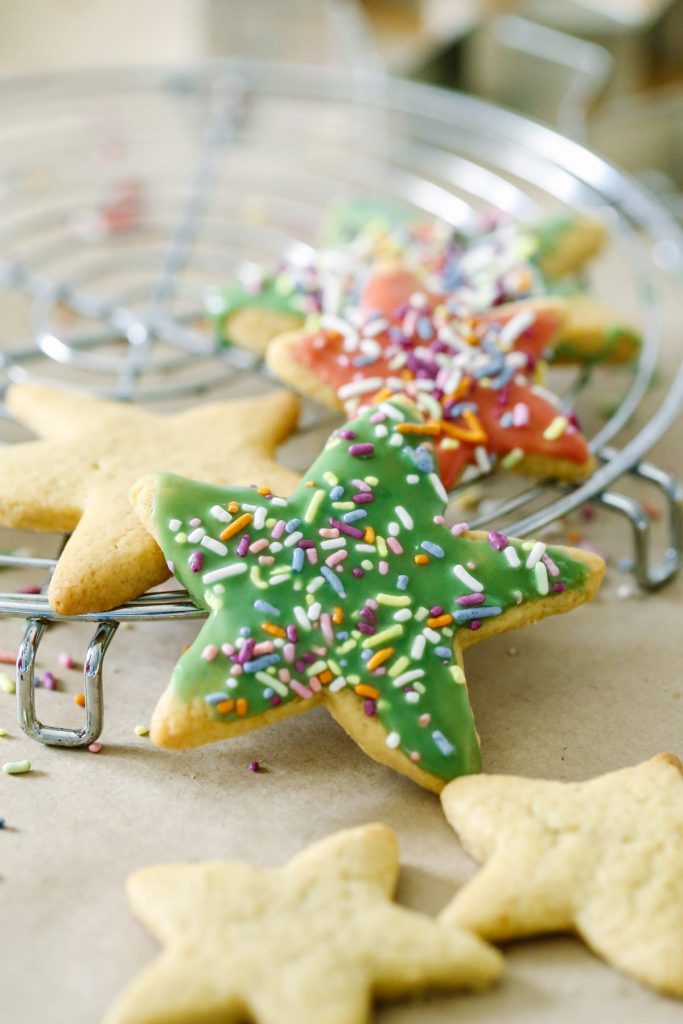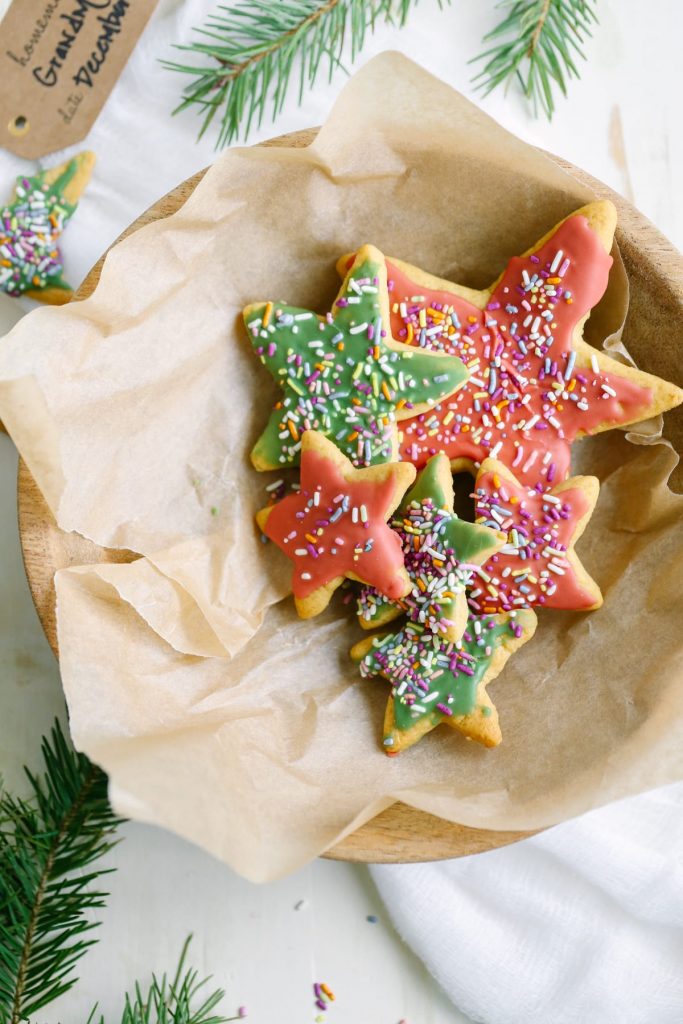 More You May Like: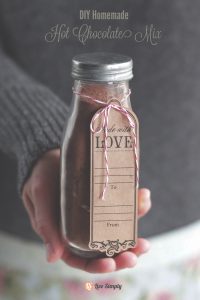 DIY Homemade Hot Chocolate Mix