It's time for another Christmas cookie recipe. Last week, I shared einkorn chocolate chip cookies. Technically, chocolate chip cookies are season-less cookies (you can make them all year long), but there's nothing like a classic. Today, we're going something more seasonal: jam thumbprint cookies. Again, we're going to use einkorn flour to make the cookies.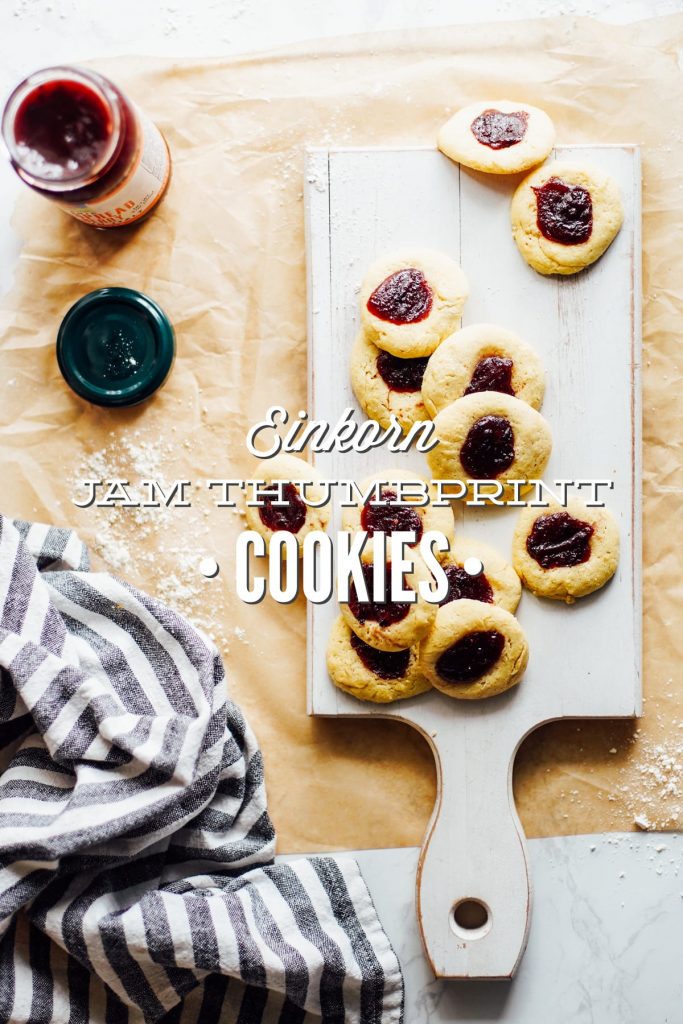 If you've been hanging out here on Live Simply for any length of time, you probably know all about einkorn. Since this flour is not well known, I like to provide an introduction to einkorn before sharing any recipe involving this flour. So, if you know all about einkorn, you may want to skip over this next part. If you're unfamiliar with this ancient grain, definitely read on.
Einkorn is a variety of wheat. It's known as the oldest variety of wheat, or the first wheat, making it an ancient grain. This particular species of grass grew wild for thousands of years before it was intentionally planted and harvested.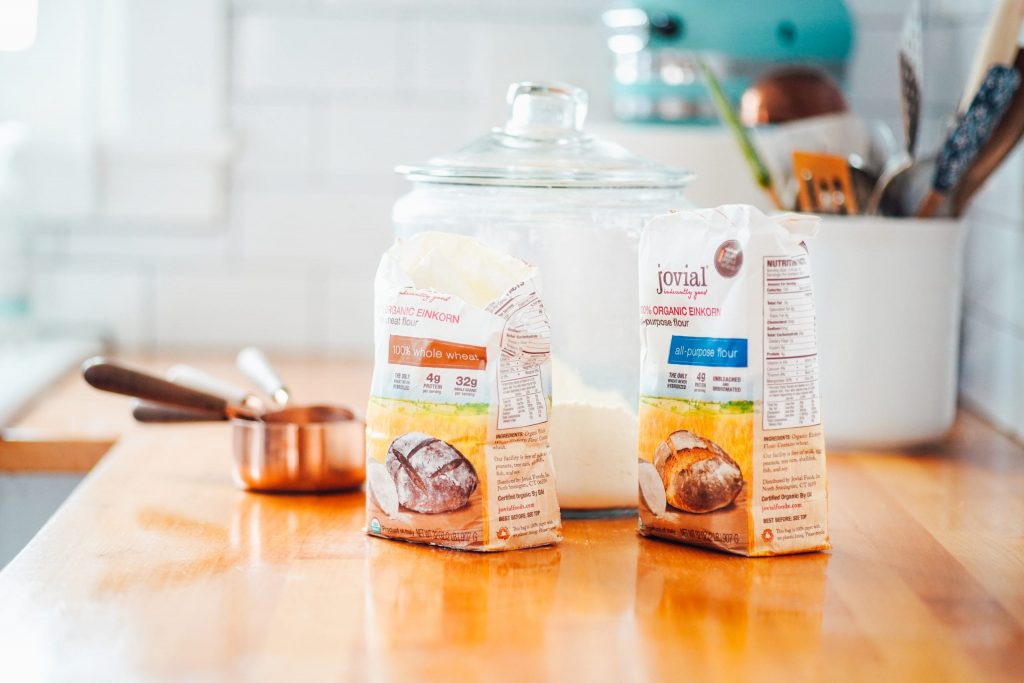 Einkorn hasn't been hybridized (crossbred like modern day wheat) so it still holds to its original properties and nutritional values. In our effort to make modern wheat "better" and more efficient from a production standpoint, nutrients have been lost. Einkorn has a much higher protein content (30% more) and less starch (15% less) along with a higher concentration of minerals and flavor than modern wheat. This makes einkorn distinctly different than modern wheat.
Einkorn is NOT a gluten-free grain. This means einkorn is not safe if you have celiac disease (an autoimmune condition). According to celiac.org, about 1 in 100 people have celiac disease. If you have celiac disease or currently cannot consume gluten (there are times when gluten may need to be temporarily removed to heal the gut, etc.), this gluten-free jam thumbprint cookie recipe looks good.
Personally, I've found that I digest einkorn well (and this is one reason why einkorn is gaining popularity as more people are sensitive to modern wheat), along with wheat breads and baked goods that have gone through the sourdough process (which makes grain easier to digest–a practice that has been around for thousands of years). This is why so many of the recipes on the blog feature this grain.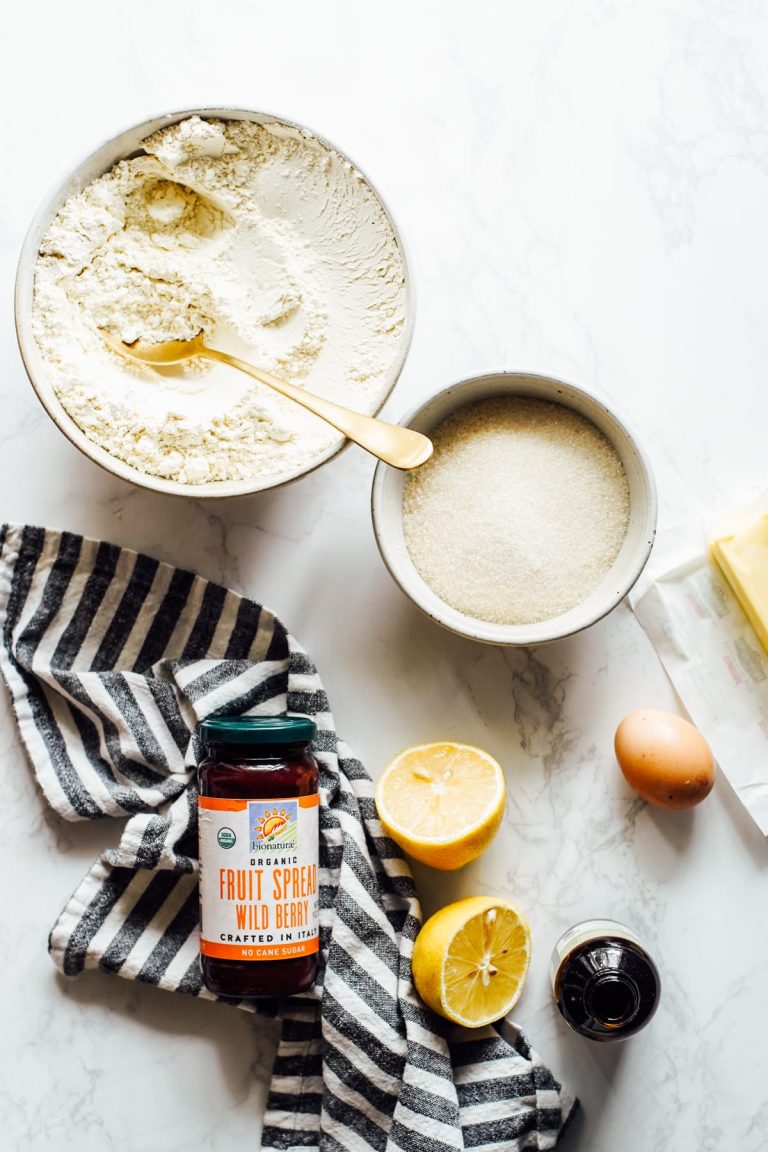 You can find einkorn at some Whole Foods and health food stores, Earth Fare, Vitacost, and Amazon. Definitely shop around as prices can vary based on the retailer.
My favorite brand is Jovial Foods. Finding Jovial einkorn flour is fairly easy and I've come to respect this brand as a leader in the real food movement. If you bake often with einkorn, Jovial's 10lb bag of flour is the best price. Another fantastic source for einkorn (flour and berries) is einkorn.com.
To learn more about einkorn, I recommend reading this post and listening to this podcast with Carla from Jovial (hearing her daughter's story about gluten sensitivity is worth it).
How to Make Jam Thumbprint Cookies with Einkorn Flour
This einkorn cookie recipe, in my opinion, is a bit more advanced than the chocolate chip cookies. This recipe does require attention and time. That said, this recipe isn't difficult.
Jam thumbprint cookies are buttery shortbread cookies with a jam center.
The first step is to make the shortbread cookie dough. To do this, combine butter and granulated sugar in a bowl. Next, add egg yolks and lemon juice to the mixture. Finally, in a separate bowl, whisk the einkorn flour and salt (to remove any clumps in the flour) and then add the flour to the butter mixture. This is the shortbread dough.
The next step is where the time and attention part comes into play.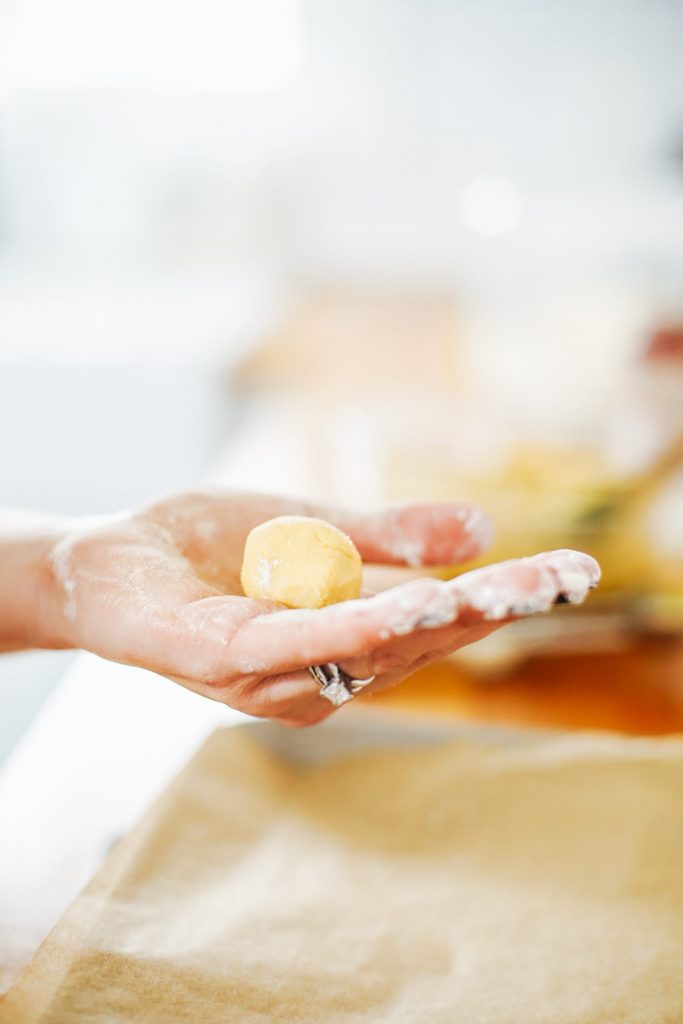 Once the dough has been made, use a small cookie scoop, or your hands, to scoop up a small amount of dough. Place the dough on a cookie sheet lined with parchment paper and use your thumb to make a thumbprint in the center of the dough.
Einkorn dough is very sticky, so I find it easiest to cover my thumb in flour before making the prints. If not, the dough is hard to work with. Once all the dough is scooped out and on the cookie sheet and thumbprints have been made, it's time to fill each print with jam.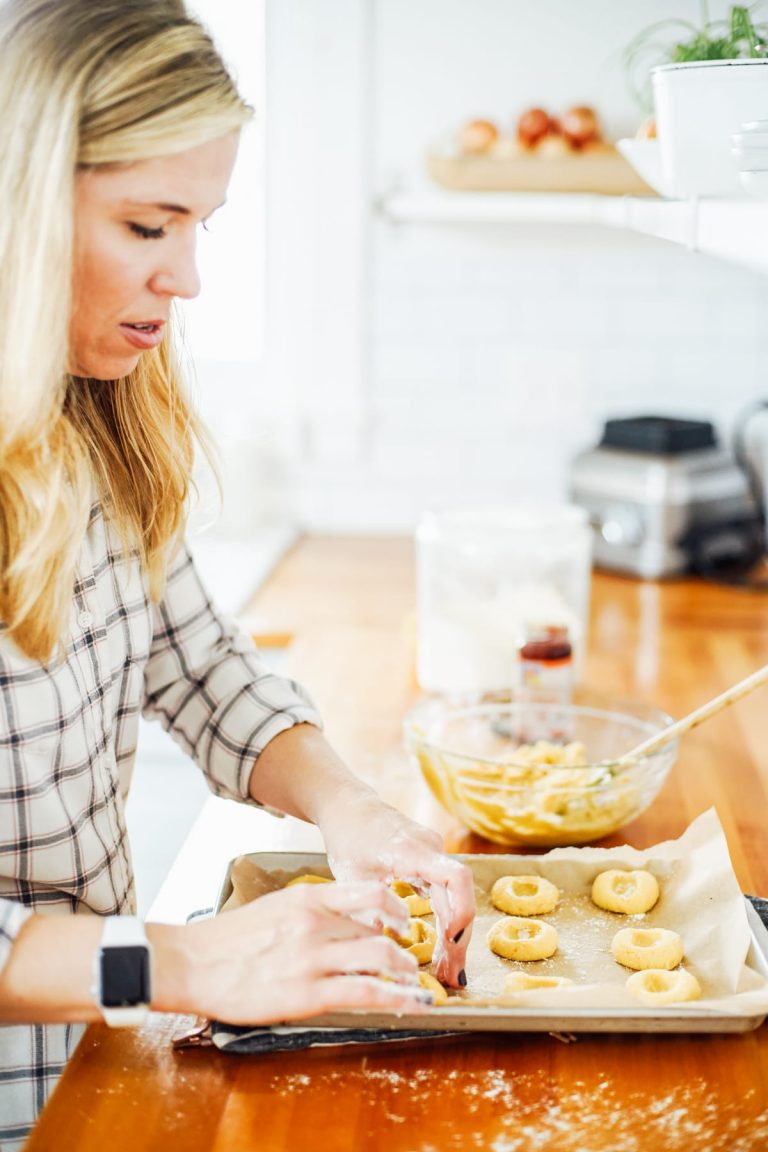 I recommend a jam that's naturally sweetened with applesauce, like Bionature brand, but any jam should work just fine. I love berry jam and that's what was used to test this recipe, so that's what I recommend using.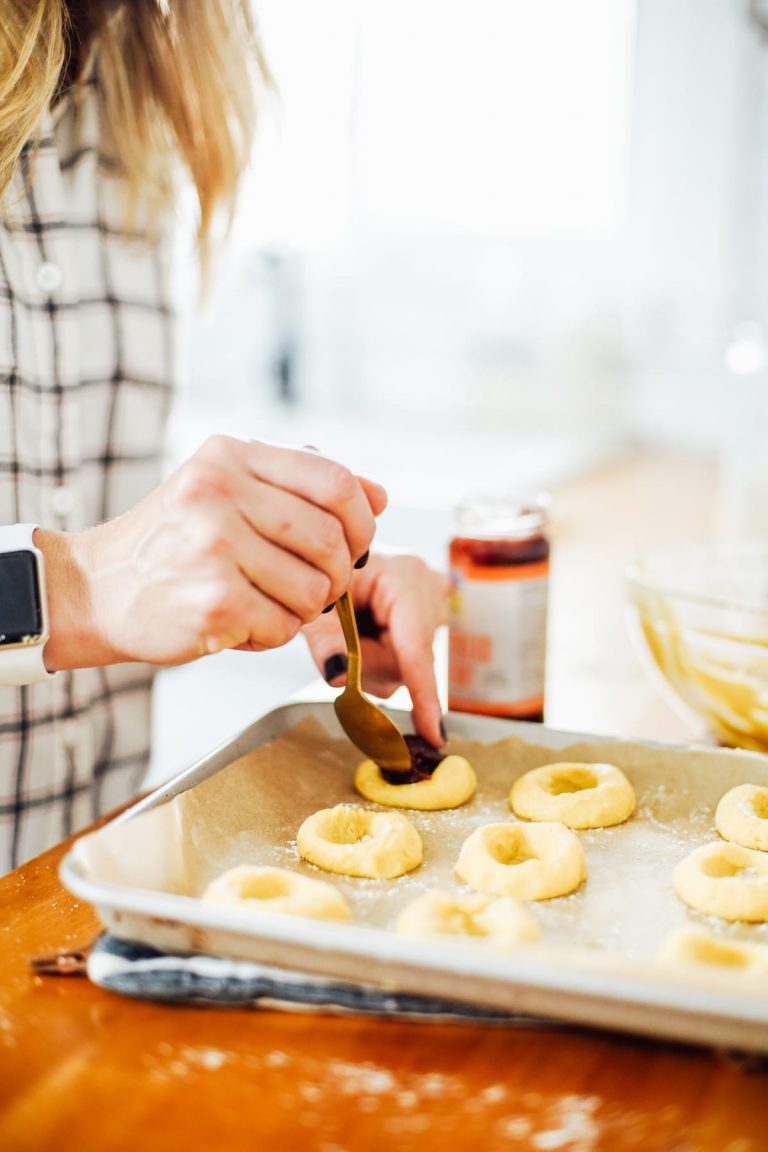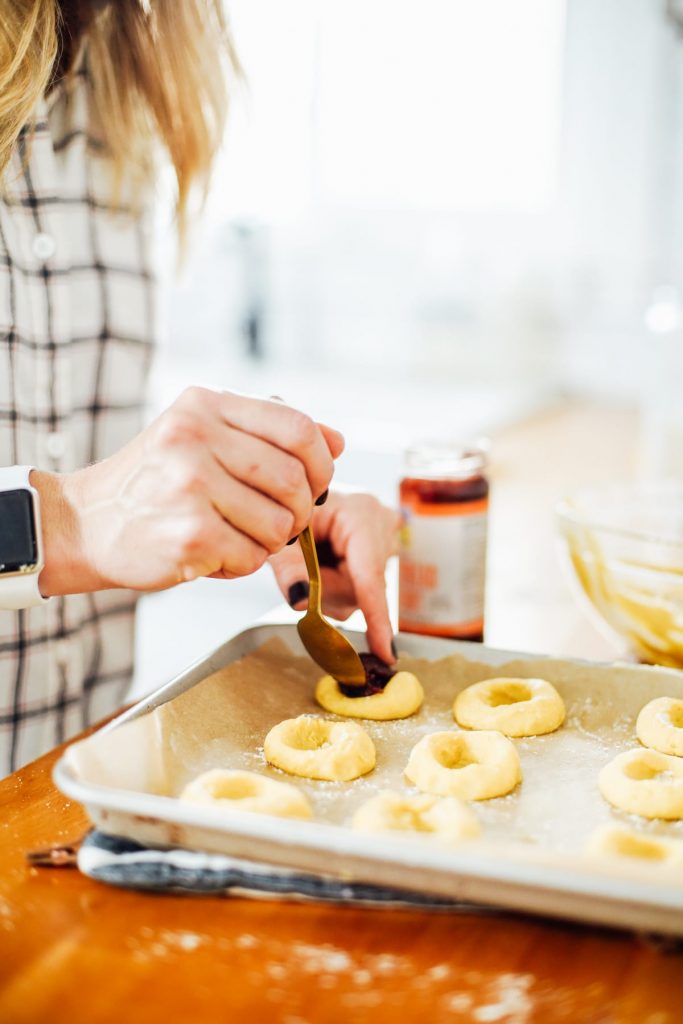 These cookies definitely have a bit more of a "rustic" vibe. Meaning, they're delicious and beautiful, but definitely have character and a homemade feel. Isn't that what Christmas cookies are all about?
The einkorn version isn't as "puffy" as you might expect for a traditional thumbprint cookie, but I actually prefer this flatter variation.
This is the perfect recipe for getting the kids involved. Leave the perfection at the door and make this recipe with the kiddos. Trust me, Christmas cookie-making is way more memorable this way.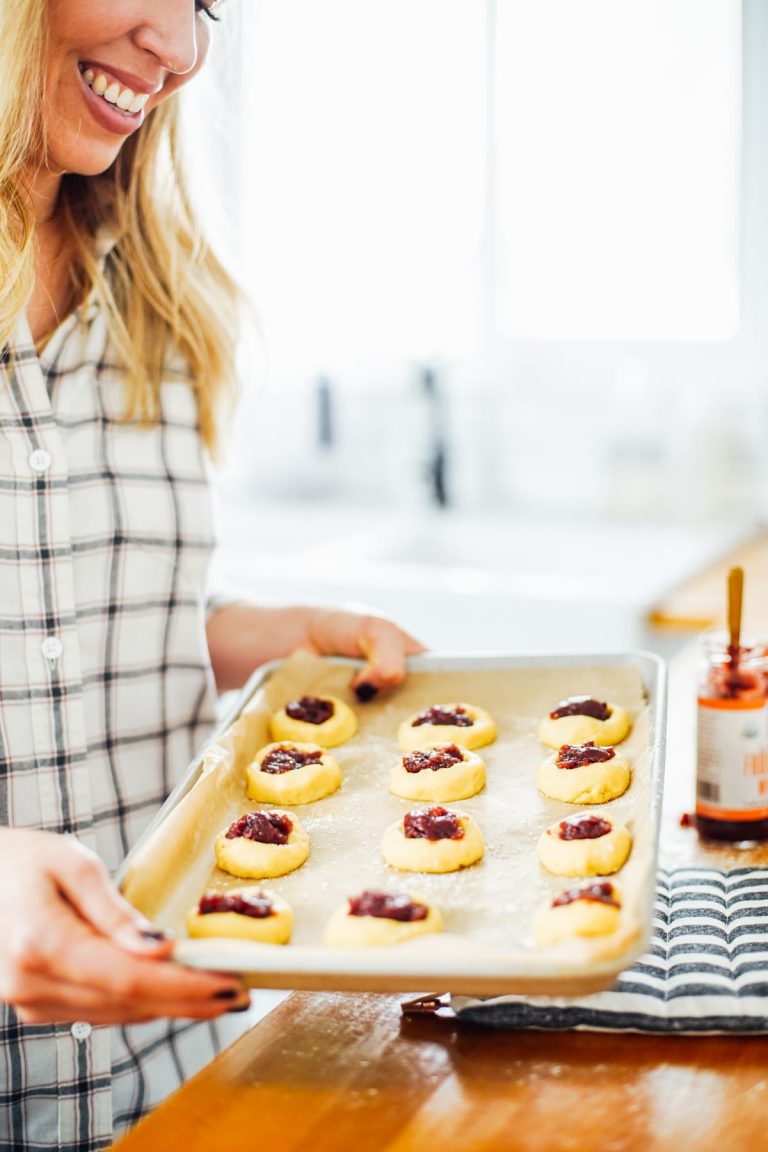 How to Store Jam Thumbprint Cookies
I recommend storing the cookies you want to eat right away on the counter for up to about 3-4 days. If you don't want to eat them right away, stash them away in the fridge for up to a week or in the freezer for a couple of months.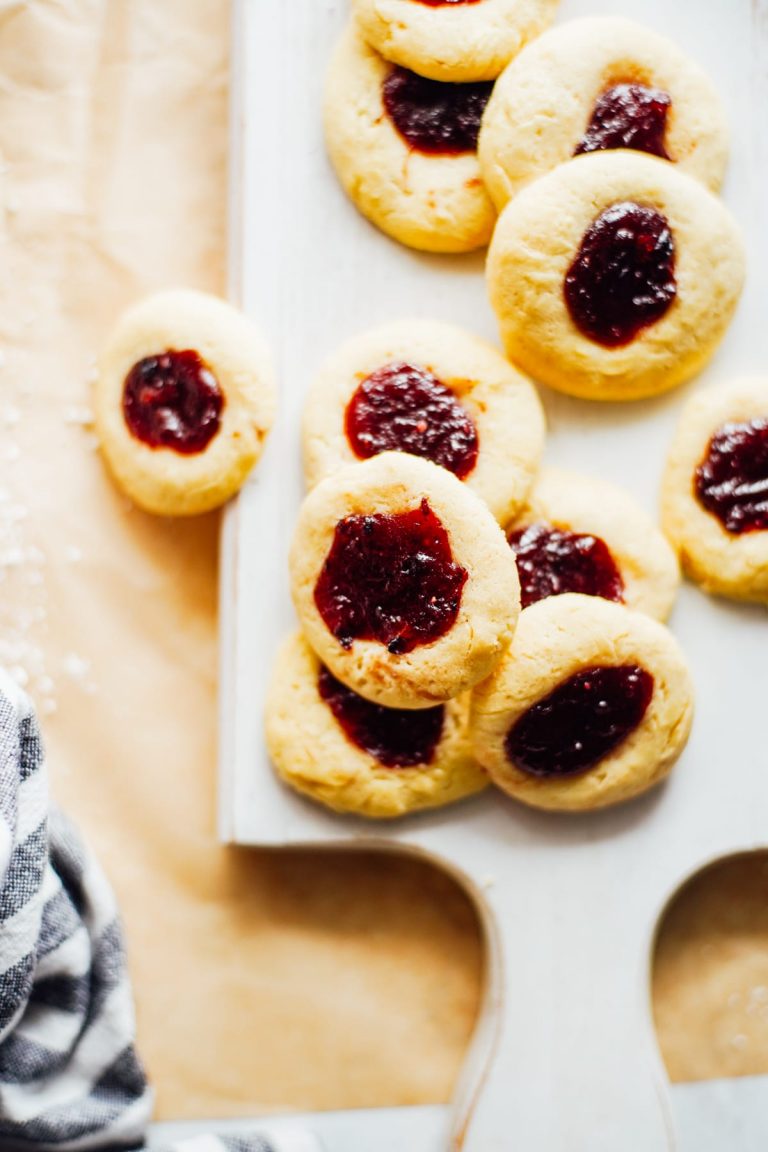 What Else Can You Make with Einkorn Flour?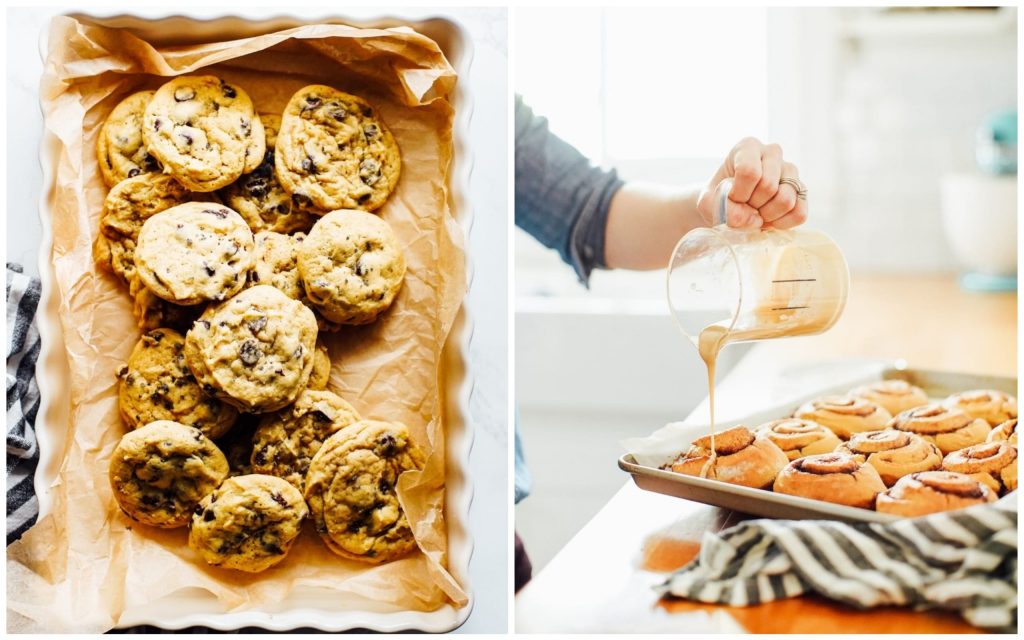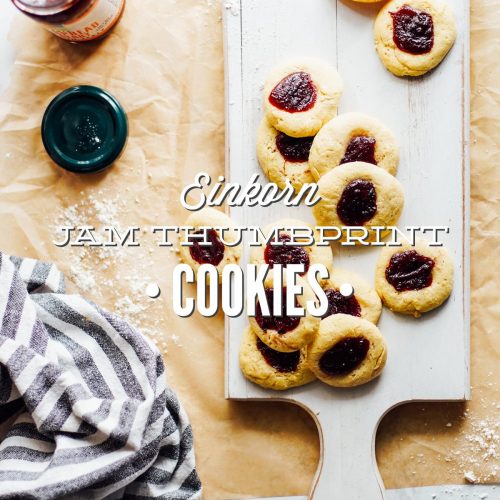 Einkorn Jam Thumbprint Cookies
Buttery shortbread cookies made with einkorn flour and topped with a jam filling.
Ingredients
Special Equipment:
hand mixer

or stand mixer

small cookie scoop

or use two spoons and your hands to form the dough into individual cookies

2

sheet pans
Instructions
Preheat the oven to 350F and line baking sheets with parchment paper.

In a large bowl, using a hand mixer (or stand mixer), cream the butter and sugar together.

Add the egg yolks and lemon juice and beat until combined.

In a medium bowl, whisk together the flour and salt to remove any clumps. With the mixer running on low, gradually add the flour mixture until combined with the butter mixture.

Portion the dough into 38 small balls, making sure to leave 3" between the cookies on the sheet pan. I find it easiest to scoop the dough with a cookie scoop and then use my hands to roll the dough into balls before placing on the sheet pan. The dough is sticky so I recommend coating your hands in flour before handling the dough.

Coat your thumb in flour. Gently press your thumb into each cookie to make a "well." You'll most likely need to refresh your thumb with more flour to prevent it from sticking to the cookies. Don't press all the way through or the cookies WILL break easily.

Fill each well (made with your thumbprint) with about ½ teaspoon of jam.

Bake the cookies for 12-15 minutes, until just beginning to brown on the edges. The cookies will have a lovely golden, yellow hue. That's the classic einkorn baked good color.

Let the cookies cool on the baking sheet for 5-10 minutes before carefully removing to a rack to cool completely. Do NOT move the cookies until they cool some or they will break. The jam and cookies need time to set.

Store the cookies in an air-tight container at room temperature for up to 3-4 days, or in the fridge for up to a week, or in the freezer for up to a couple of months.
Notes
Calorie Note: We don't believe in calorie counting for the average person eating nutrient-rich, real food (and these are a treat), but if you want to use the calorie information above, please know that the jam amount isn't calculated in the total calorie amount per cookie. 
Nutrition
Calories:
85
kcal
Carbohydrates:
9
g
Protein:
1
g
Fat:
5
g
Saturated Fat:
3
g
Cholesterol:
23
mg
Sodium:
32
mg
Potassium:
11
mg
Fiber:
1
g
Sugar:
3
g
Vitamin A:
163
IU
Vitamin C:
1
mg
Calcium:
4
mg
Iron:
1
mg