Over the past few weeks, we've spent time baking up some delicious einkorn cookies. We started out by making einkorn chocolate chip cookies, then jam thumbprint cookies, and einkorn sugar cookies. Today, we're going to make one more recipe made with einkorn: snickerdoodle cookies.
If you haven't heard of einkorn flour before, you may be thinking, "This girl is obsessed with einkorn." Your assumption is accurate.
I do believe in variety and also use almond flour, oat flour, and spelt in my kitchen, but einkorn is definitely the flour I gravitate towards the most. Since there aren't a ton of einkorn recipes on the interweb, I've made it my mission to spread the einkorn recipe love here on the blog. You'll find many einkorn recipes here on the blog. I'll share some of my favorites for the holiday season near the end of this post, along with a quick chat about what einkorn is (if you're new to this ancient grain). But first, we need to talk about today's cookie.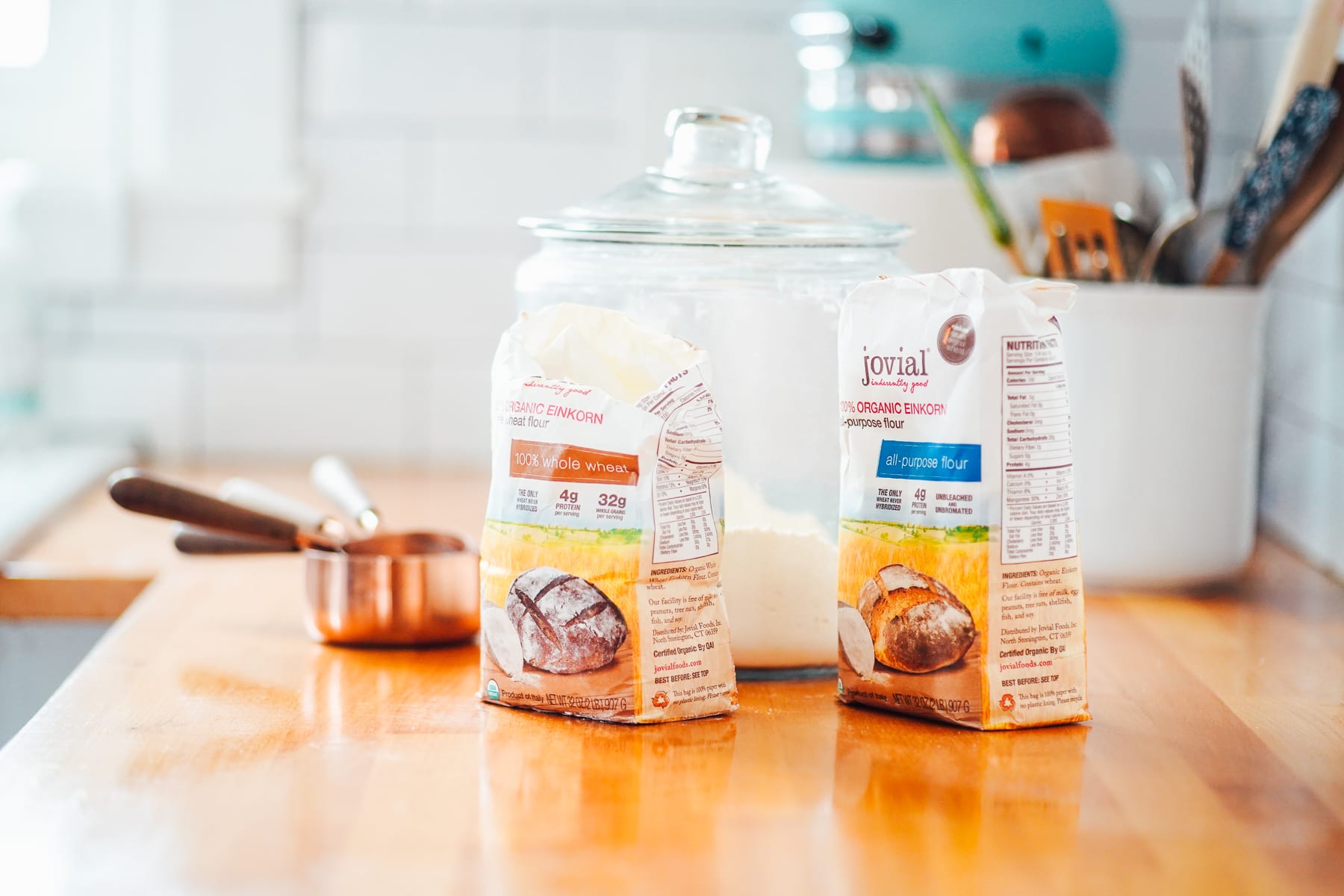 What is a snickerdoodle cookie?
Snickerdoodle cookies (or in this case, einkorn snickerdoodle cookies) are soft and chewy and made with butter, flour, sugar, baking soda, salt vanilla extract, and eggs. Once the dough is made, balls are formed and then dipped into a cinnamon-sugar mixture which coats the outside of the future cookies. This cinnamon-sugar mixture is what gives snickerdoodle cookies their distinct cinnamon taste and tan-ish appearance.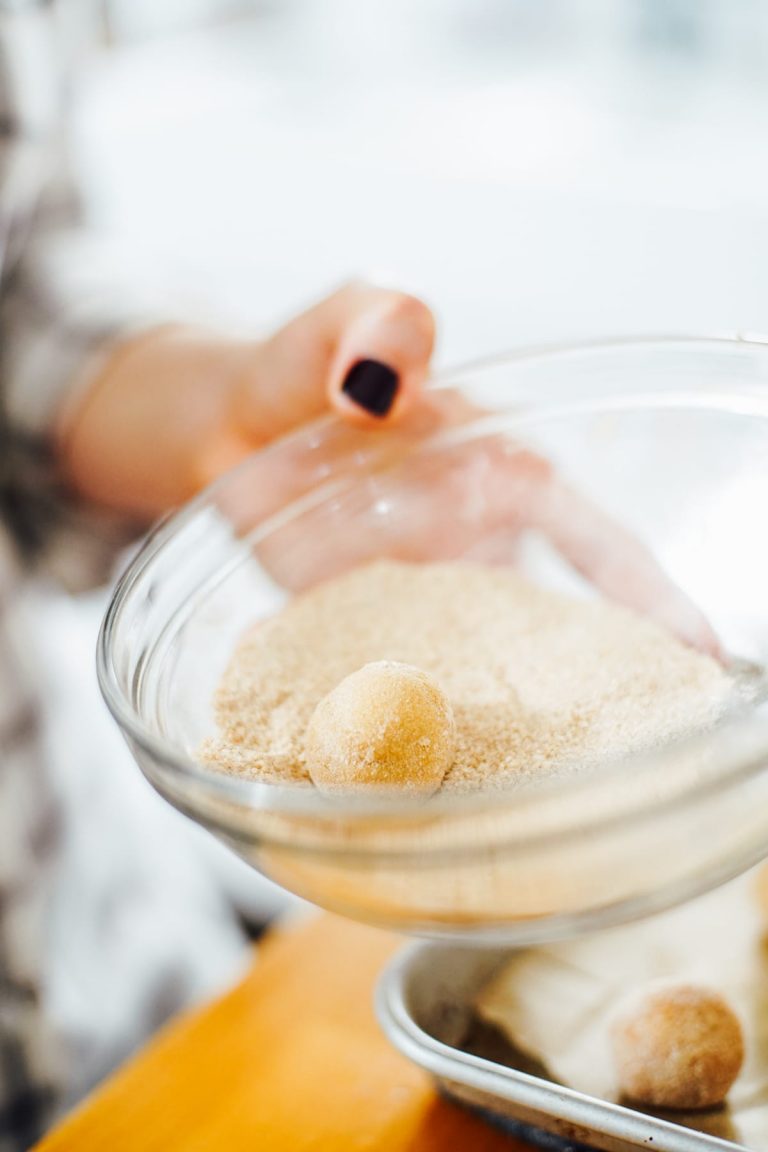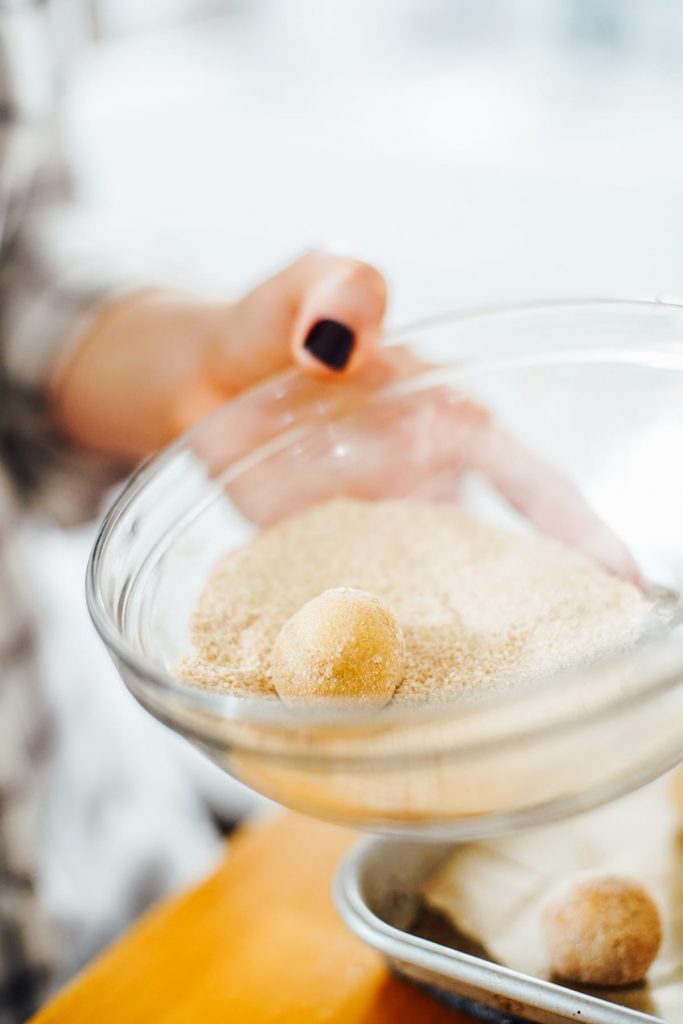 Now, you may be thinking, "Wait, snickerdoodles sound like sugar cookies, just with a cinnamon-sugar coating!" You may remember the sugar cookies we made the other day called for the exact same ingredients.
You're 100% right. But there is a key difference between a sugar cookie and a snickerdoodle and it all has to do with one particular ingredient…
What's the difference between a sugar cookie and a snickerdoodle?
The difference between an einkorn sugar cookie and an einkorn snickerdoodle is one ingredient: cream of tartar. Without this ingredient, snickerdoodles would be cinnamon-coated sugar cookies. This one ingredient is the key to creating not only the soft and chewy texture of snickerdoodles but also the tangy flavor.
Cream of tartar is an acidic by-product that occurs when grapes are turned into wine. It's a white powder that looks like baking soda or baking powder. In cookies, cream of tartar adds a distinct, tangy flavor and prevents the sugar in the cookies from crystalizing which makes a cookie have crunch (i.e. a traditional sugar cookie).
Do you need cream of tartar to make snickerdoodles?
Now, I get it. Cream of tartar is a speciality ingredient and you may be thinking about skipping it. You can totally do that, but you will not get a classic tangy, soft, and chewy snickerdoodle. Instead, you'll get a sugar cookie with cinnamon-sugar coating. If that's what you want, that's fine.
Personally, I highly recommend buying the cream of tartar because that's what makes a snickerdoodle so unique.
Cream of tartar isn't too expensive and you can easily find it in the spice section at most grocery stores. If you want to make something else with the cream of tartar, make a homemade playdough with the kids over winter break. If you're making sugar cookies this season, use the natural dyes to add color to the playdough.
What do snickerdoodle cookies taste like?
Due to the addition of cream of tartar, which is acidic, snickerdoodles have a tangy flavor that's perfectly balanced with the sweet sugar and the cinnamon-sugar that coats the outside of each cookie. Snickerdoodles are buttery and soft and chewy.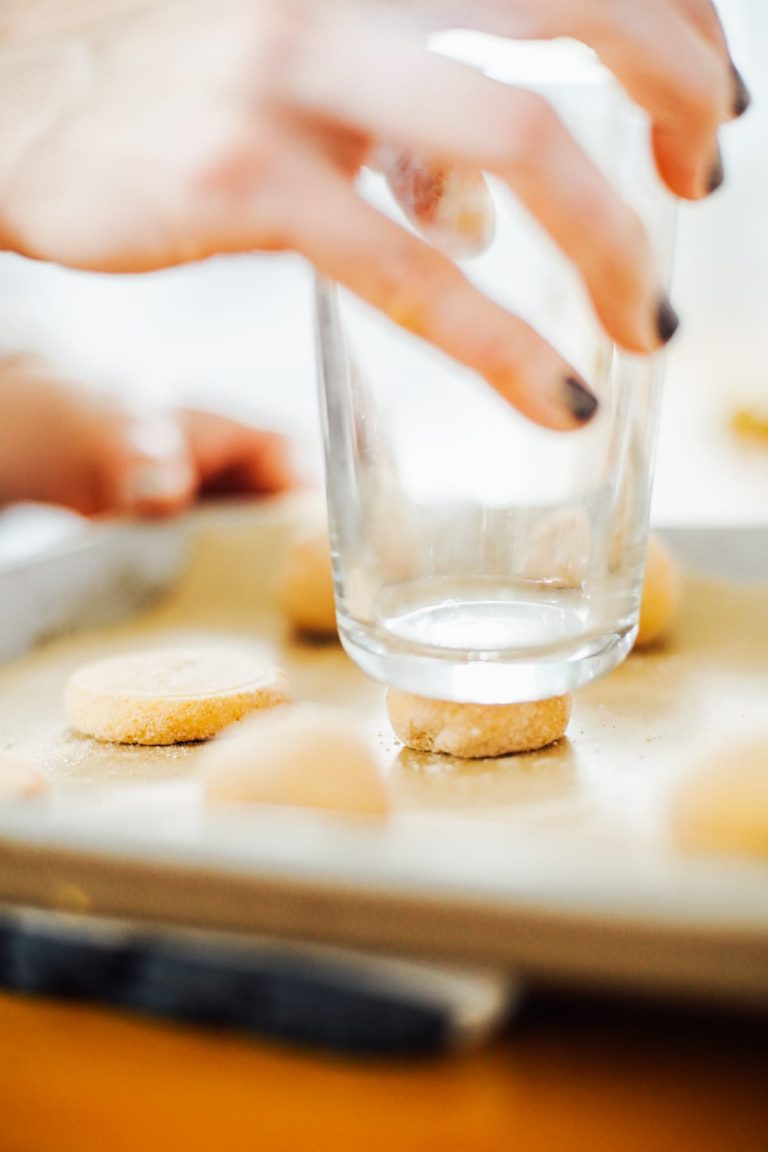 This recipe is made with einkorn flour. What is einkorn flour?
Einkorn is known as the oldest variety of wheat making it an ancient grain. The ancient grain is believed to have originated in the Tigris-Euphrates region and is possibly the main grain referenced in the earliest accounts of the Bible. Einkorn is the wheat men were eating in the earliest days before modern day wheat varieties. While modern wheat has undergone hybridization, einkorn still holds true to its original properties.
The sweet, ancient grain has a lighter texture and taste than modern day wheat (making it perfect for making einkorn snickerdoodle cookies) and contains a more favorable gluten ratio. People with minor gluten sensitives may be able to consume einkorn without the issues associated with modern wheat due the lack of D-genome; however, einkorn is NOT gluten-free. (If you need gluten-free sugar cookies, I recommend this gluten-free snickerdoodle recipe).
You can find einkorn at some Whole Foods and health food stores, Earth Fare, Vitacost, and Amazon. Definitely shop around as prices can vary based on the retailer.
My favorite brand is Jovial Foods. Finding Jovial einkorn flour is fairly easy and I've come to respect this brand as a leader in the real food movement. If you bake often with einkorn, Jovial's 10lb bag of flour is the best price. Another fantastic source for einkorn (flour and berries) is einkorn.com.
To learn more about einkorn, I recommend reading this post and listening to this podcast with Carla from Jovial (hearing her daughter's story about gluten sensitivity is worth it).
What else can you make with einkorn flour?
You can use einkorn flour for all your baking needs. After you make these cookies, here are a few other ways to use einkorn flour.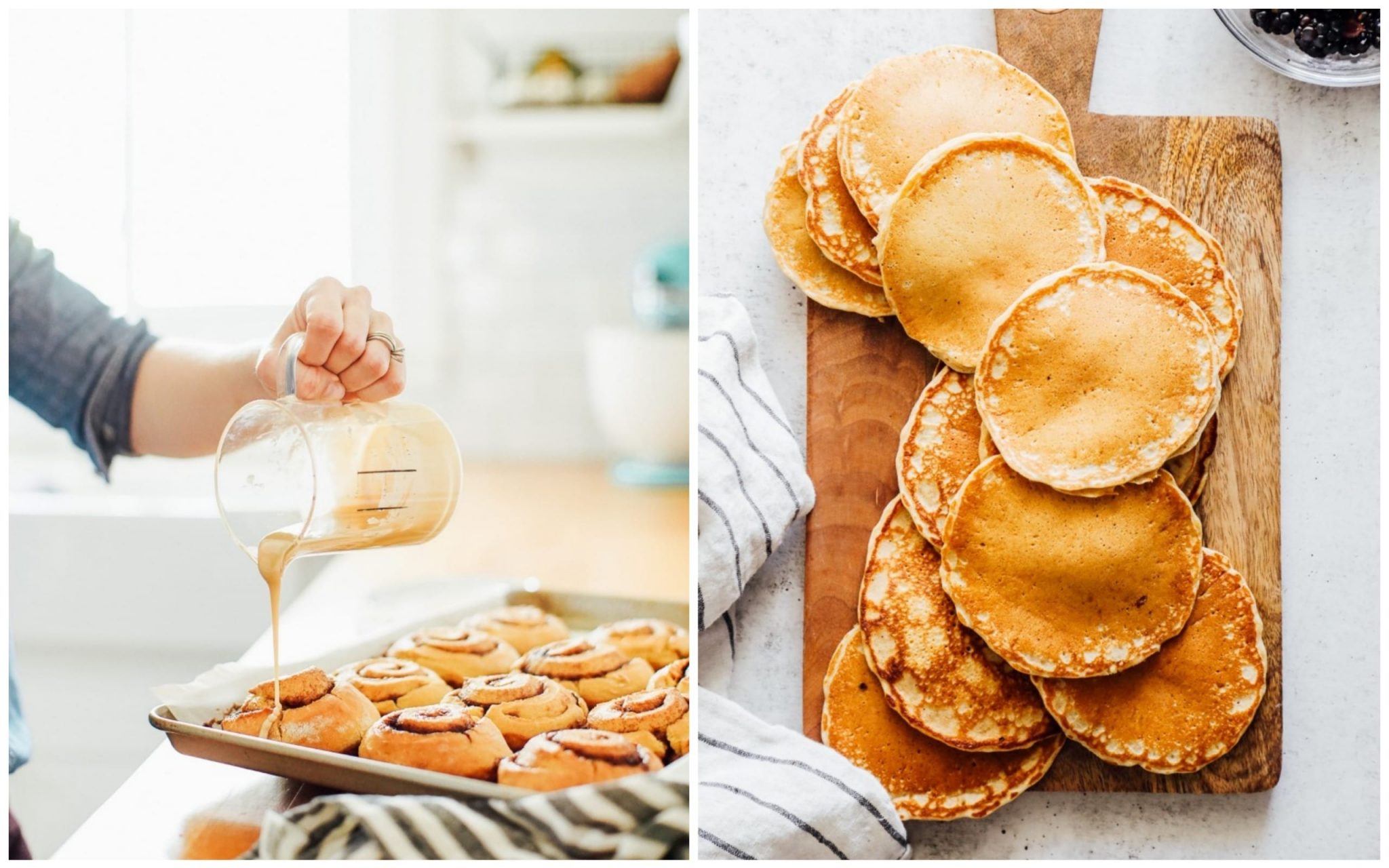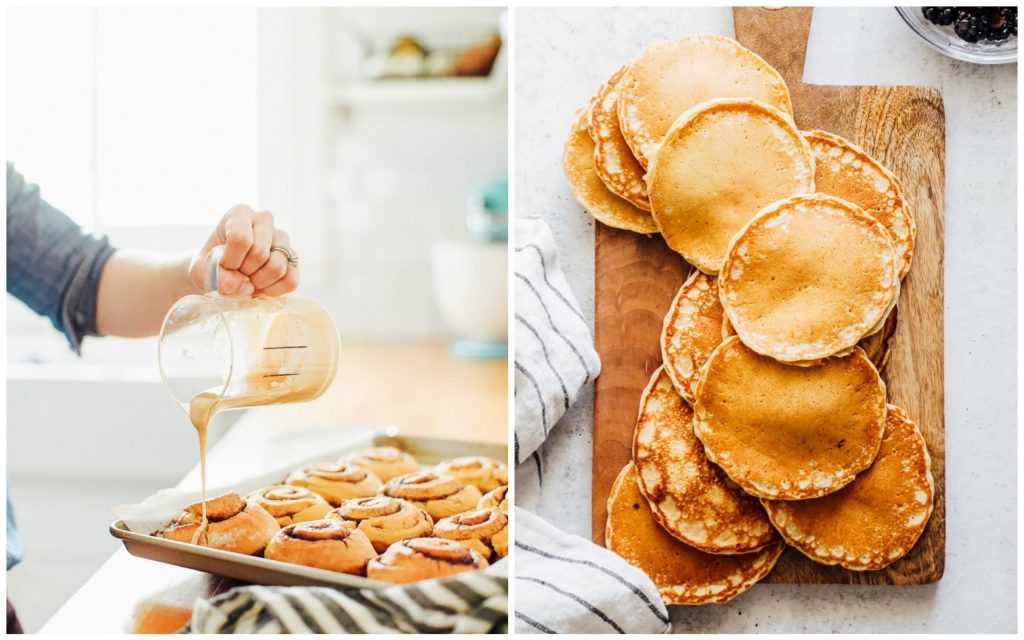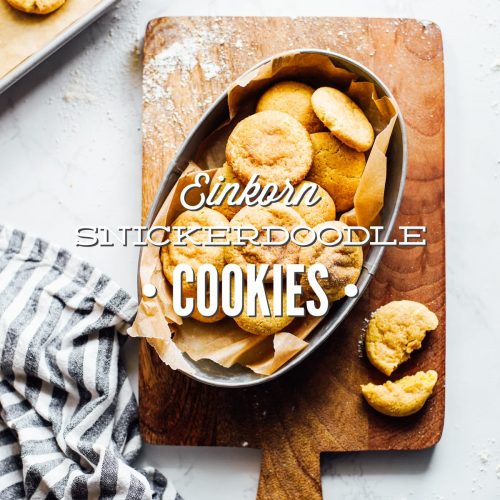 Einkorn Snickerdoodle Cookies
Soft and chewy einkorn snickerdoodle cookies. Slightly sweet and tangy, a classic holiday cookie.
Ingredients
Special Equipment:
hand mixer

or stand mixer

drinking glass

or measuring cup to flatten the cookie dough
Instructions
In a large bowl, using a hand mixer (or stand mixer fitted with the paddle attachment), cream the butter and sugar until "whipped" (about 60 seconds).

Add the egg, egg yolk, and vanilla extract and beat to combine.

Add the flour, cream of tartar, baking soda, and salt in a medium bowl and whisk to combine and break up any lumps.

With the mixer on low speed, gradually add the flour mixture to the bowl and mix until combined.

Gather the dough into a ball and chill in the fridge for 30-60 minutes.

Use the medium-size bowl (used to whisk the dry ingredients-we're trying to conserve dishes) to combine the cinnamon and sugar and stir. Set aside.

Preheat the oven to 350F and line a sheet pan with parchment paper.

Divide the dough into 16 equal parts. Roll the dough into balls.

Roll the dough balls in the cinnamon-sugar mixture and place on the prepared baking sheet.

Gently flatten the dough balls with the bottom of a glass or measuring cup.

Bake for 9-12 minutes or until the cookies are set and have just started to crack across the top. The cookies will have a lovely golden, yellow hue. That's the classic einkorn baked good color.

Let the cookies rest on the sheet pan for 5 minutes before removing to a rack to cool completely.

Store the cookies in an air-tight container at room temperature for up to 3-4 days, in the fridge for up to a week, or in the freezer for up to a couple of months.
Notes
*This tutorial walks you through how to separate an egg yolk (needed in this recipe) from an egg white. 
Nutrition
Calories:
118
kcal
Carbohydrates:
20
g
Protein:
2
g
Fat:
4
g
Saturated Fat:
2
g
Cholesterol:
32
mg
Sodium:
113
mg
Potassium:
53
mg
Fiber:
1
g
Sugar:
8
g
Vitamin A:
122
IU
Calcium:
8
mg
Iron:
1
mg