Over the next couple of weeks, I'm going to share some favorite treats made with real food ingredients. To start, we're going to make a classic: chocolate chip cookies, then einkorn oatmeal cookies. I know the internet is full of chocolate chip cookie recipes. Today's recipe is unique because we're going to make the cookies with ancient einkorn flour. These are the absolute best chocolate chip cookies.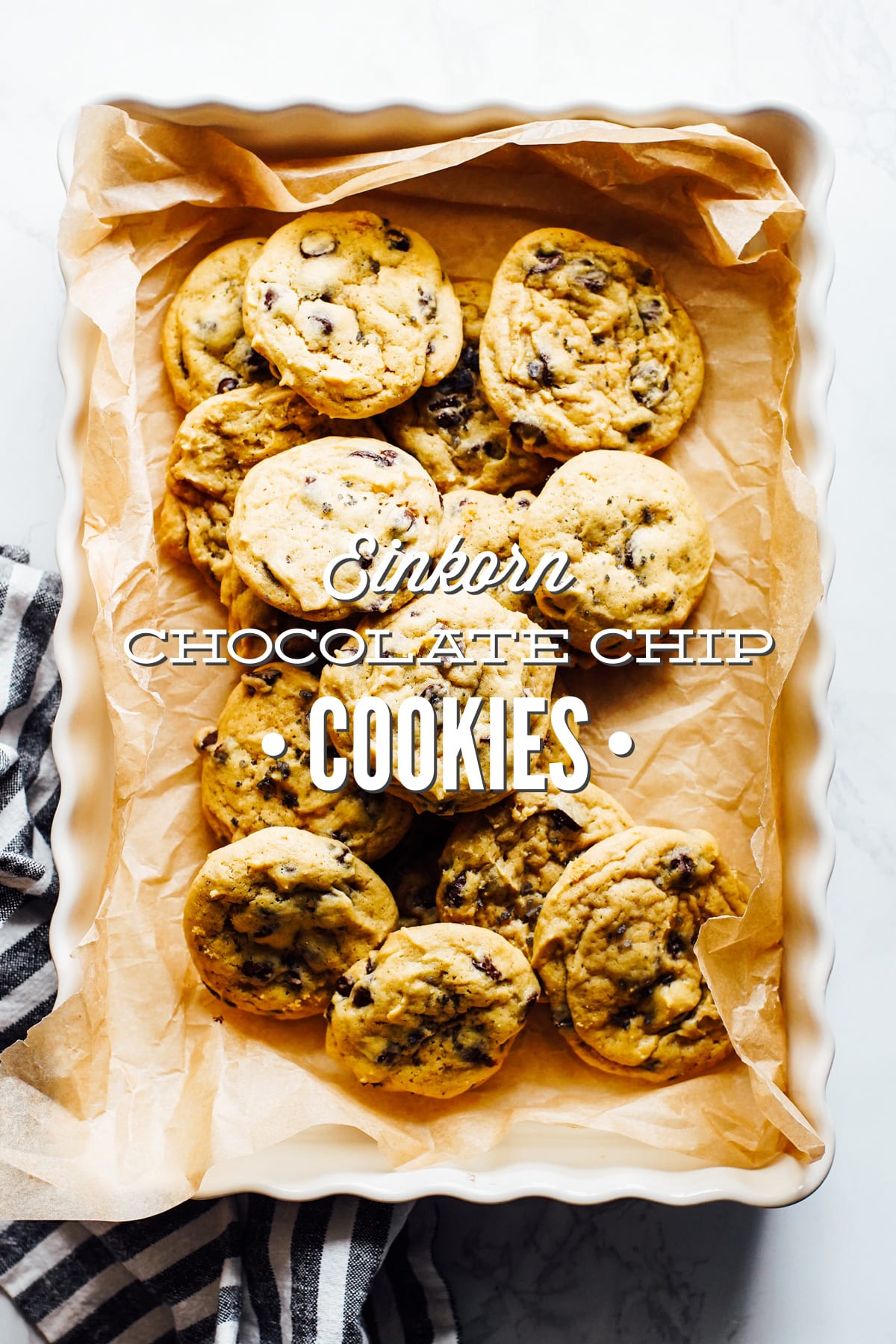 What Readers Say
"These cookies are delicious! I have made them twice in the past couple days. I have just started cooking with einkorn flour this year and was excited to find this easy recipe."
Melissa
What is Einkorn Flour?
I know einkorn flour is fairly new (although it's very old) to most people (including myself just a few years ago). I thought it would be helpful to talk about what einkorn is before sharing this recipe. If you've never used einkorn before, this recipe is the perfect way to "test the waters" and fall in love with this ancient grain.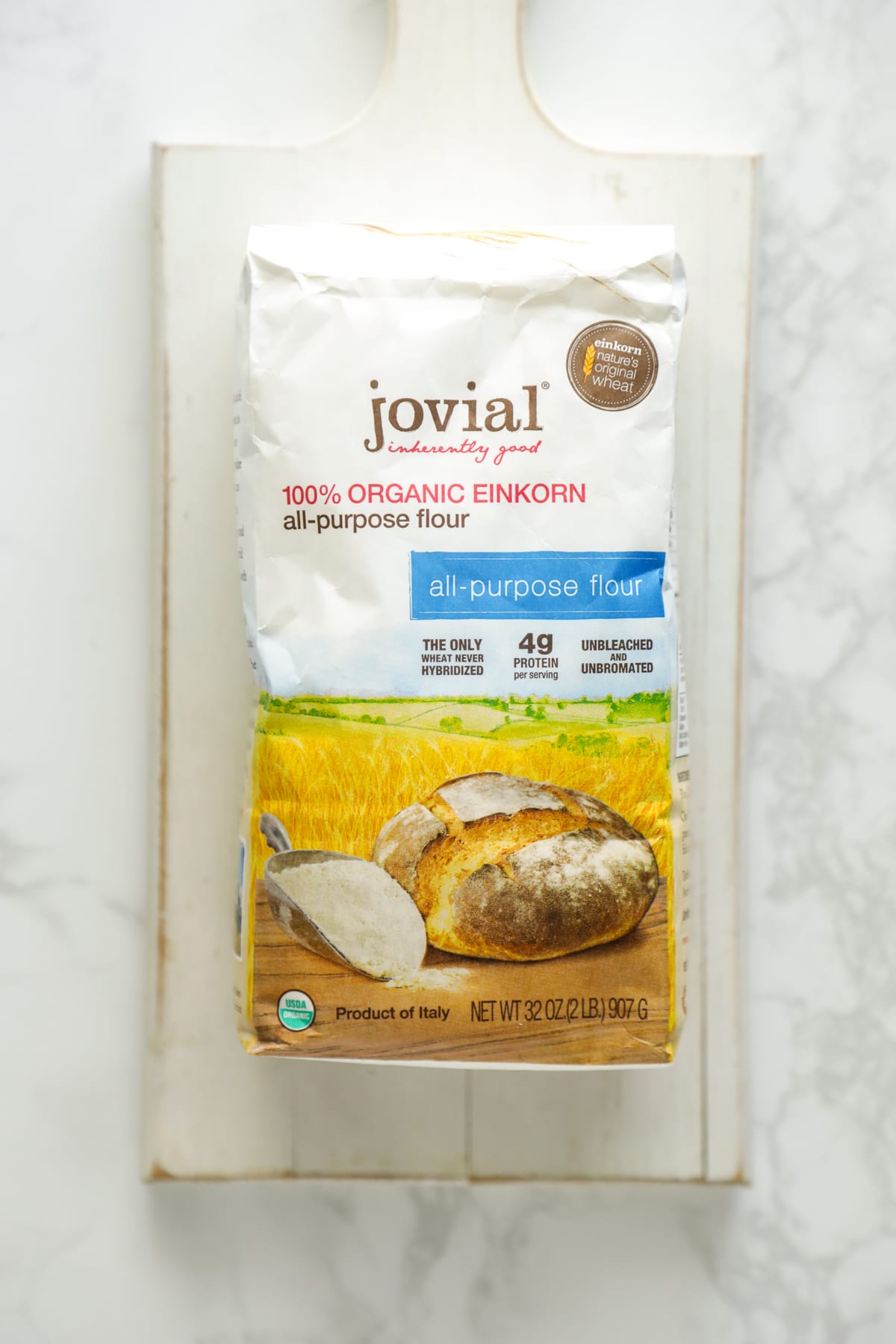 Einkorn is a variety of wheat. It's known as the oldest variety of wheat, or the first wheat, making it an ancient grain. This particular species of grass grew wild for thousands of years before it was intentionally planted and harvested.
Einkorn hasn't been hybridized (crossbred like modern day wheat) so it still holds to its original properties and nutritional values. In our effort to make modern wheat "better" and more efficient from a production standpoint, nutrients have been lost. Einkorn has a much higher protein content (30% more) and less starch (15% less) along with a higher concentration of minerals and flavor than modern wheat. This makes einkorn distinctly different than modern wheat.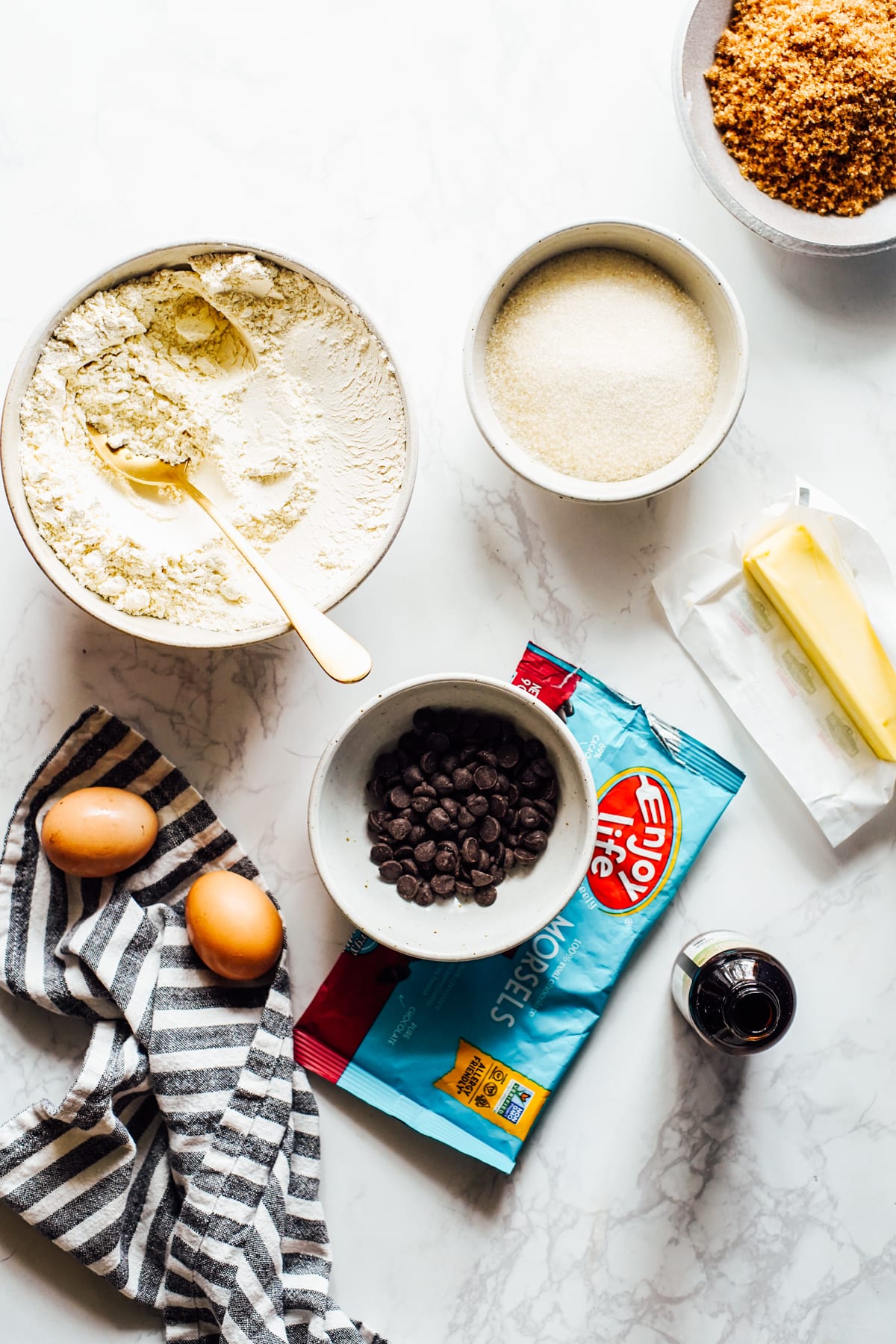 Einkorn is NOT a gluten-free grain. This means einkorn is not safe if you have celiac disease (an autoimmune condition). According to celiac.org, about 1 in 100 people have celiac disease. If you have celiac disease or currently cannot consume gluten (there are times when gluten may need to be temporarily removed to heal the gut, etc.), this almond flour chocolate chip cookie recipe is the best.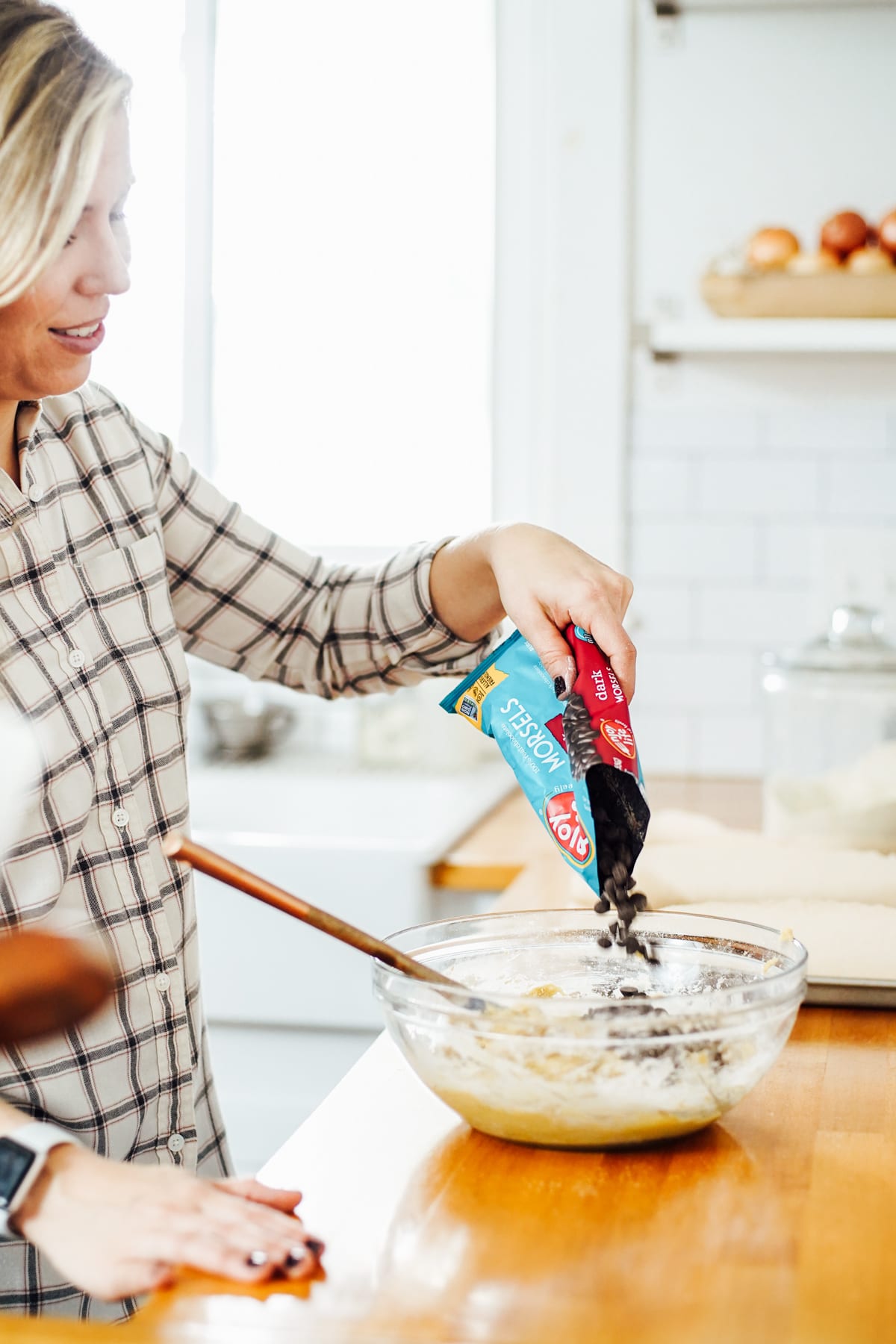 Personally, I've found that I digest einkorn well (and this is one reason einkorn is gaining popularity as more people are sensitive to modern wheat), along with wheat breads and baked goods that have gone through the sourdough process (which makes grain easier to digest–a practice that has been around for thousands of years). This is why so many of the recipes on the blog feature this grain.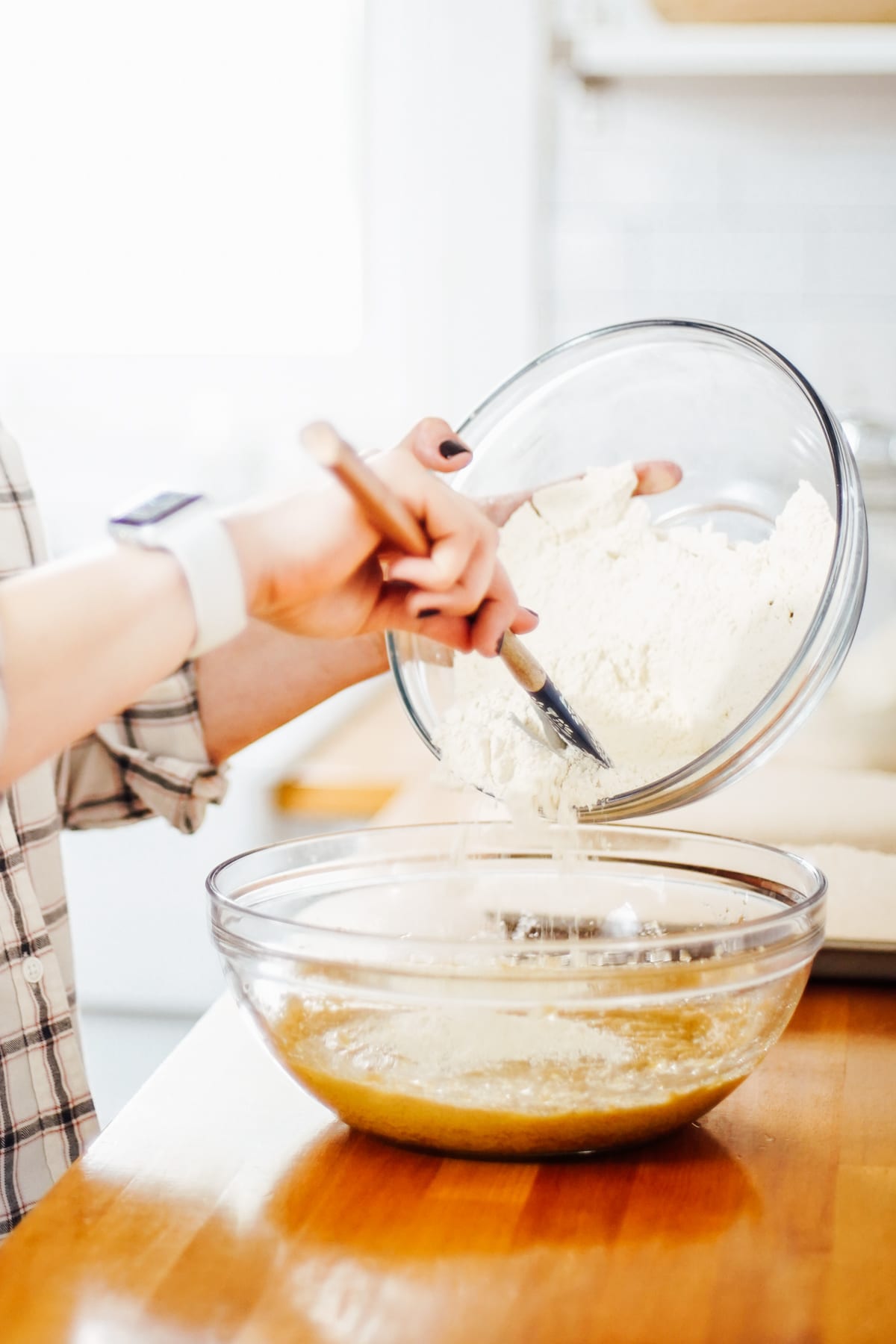 You can find einkorn at some Whole Foods and health food stores, Earth Fare, Vitacost, and Amazon. Definitely shop around as prices can vary based on the retailer.
My favorite brand is Jovial Foods since finding their products is fairly easy and I've come to respect this brand as a leader in the real food movement. Another fantastic source for einkorn (flour and berries) is einkorn.com. If you use a lot of einkorn, buying a large bag of flour from Jovial is the most economical option.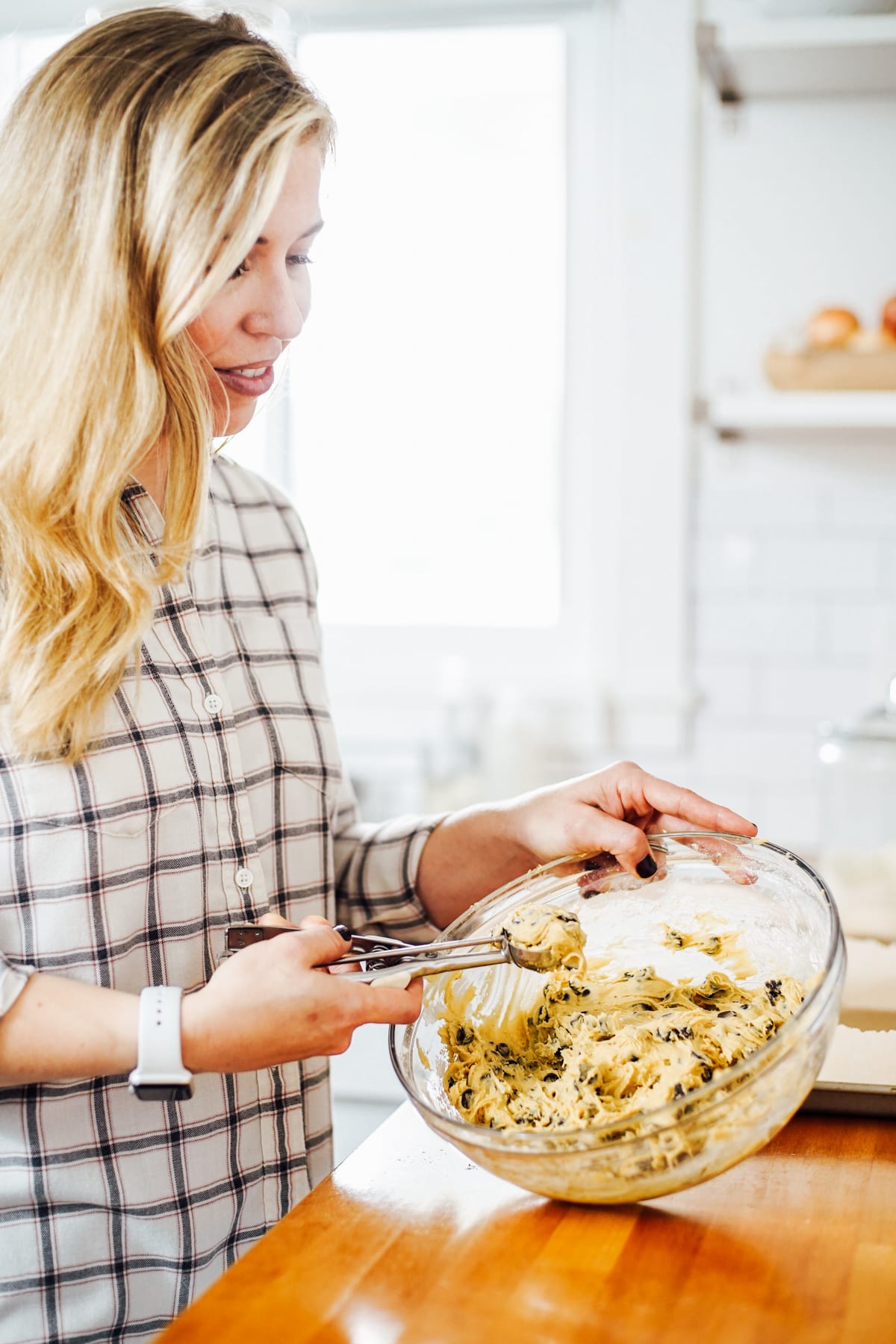 To learn more about einkorn, I recommend reading this post and listening to this podcast with Carla from Jovial (hearing her daughter's story about gluten sensitivity is worth it).
How to Make Chocolate Chip Cookies with Einkorn Flour
Einkorn can be a bit finicky to work with. Due to the gluten structure of einkorn, when the flour is mixed into a batter (when you combine the flour with wet ingredients), the dough can be very sticky. This is particularly apparent with yeasted breads.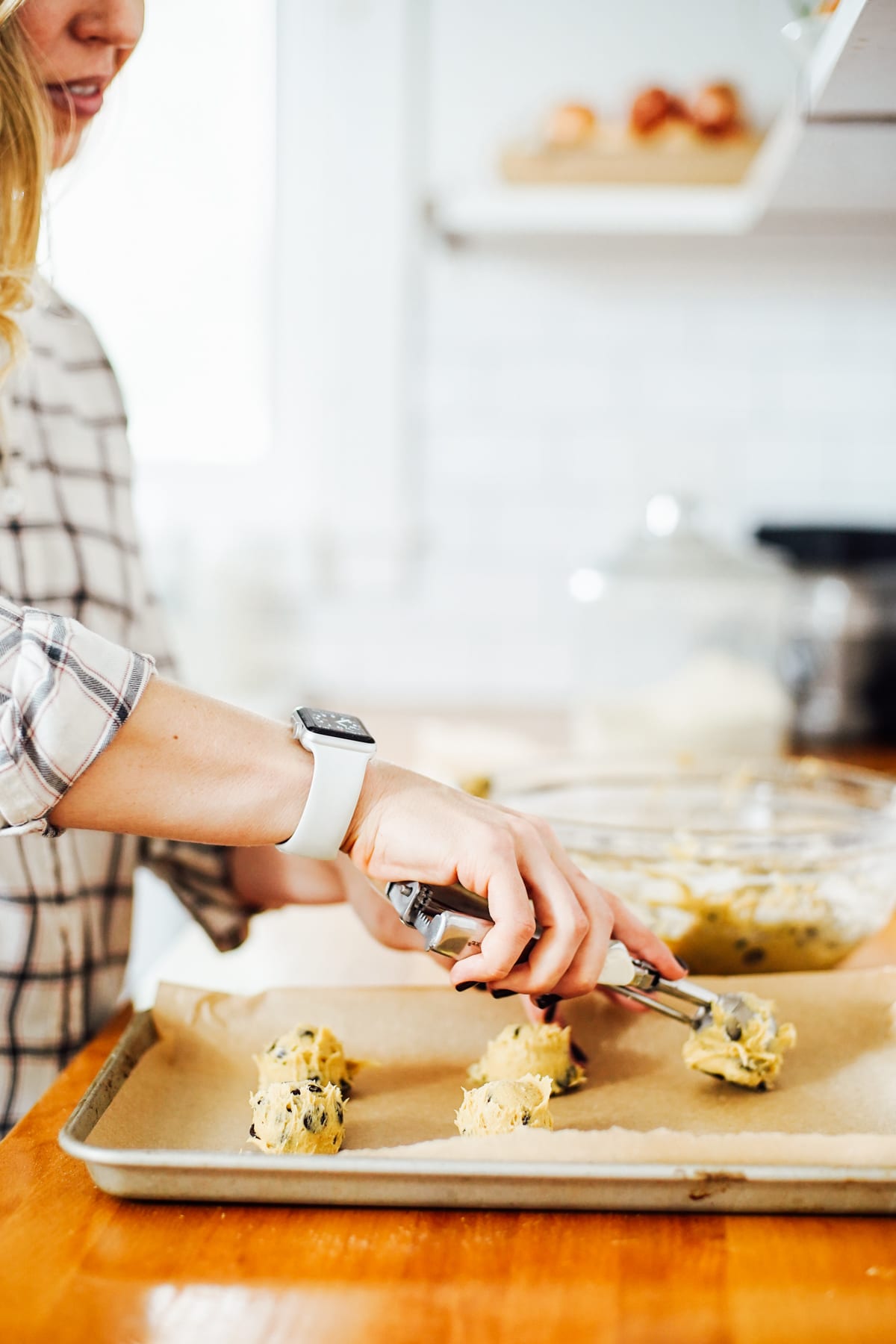 That said, drop cookies, like chocolate chip cookies, are easy to make with einkorn flour. Since chocolate chip cookies don't require any handling, there's no need to worry about a sticky dough that can be hard to handle.
All of that to say, these cookies are perfect for beginners or those experienced with einkorn flour. All levels of experience are welcome with this recipe.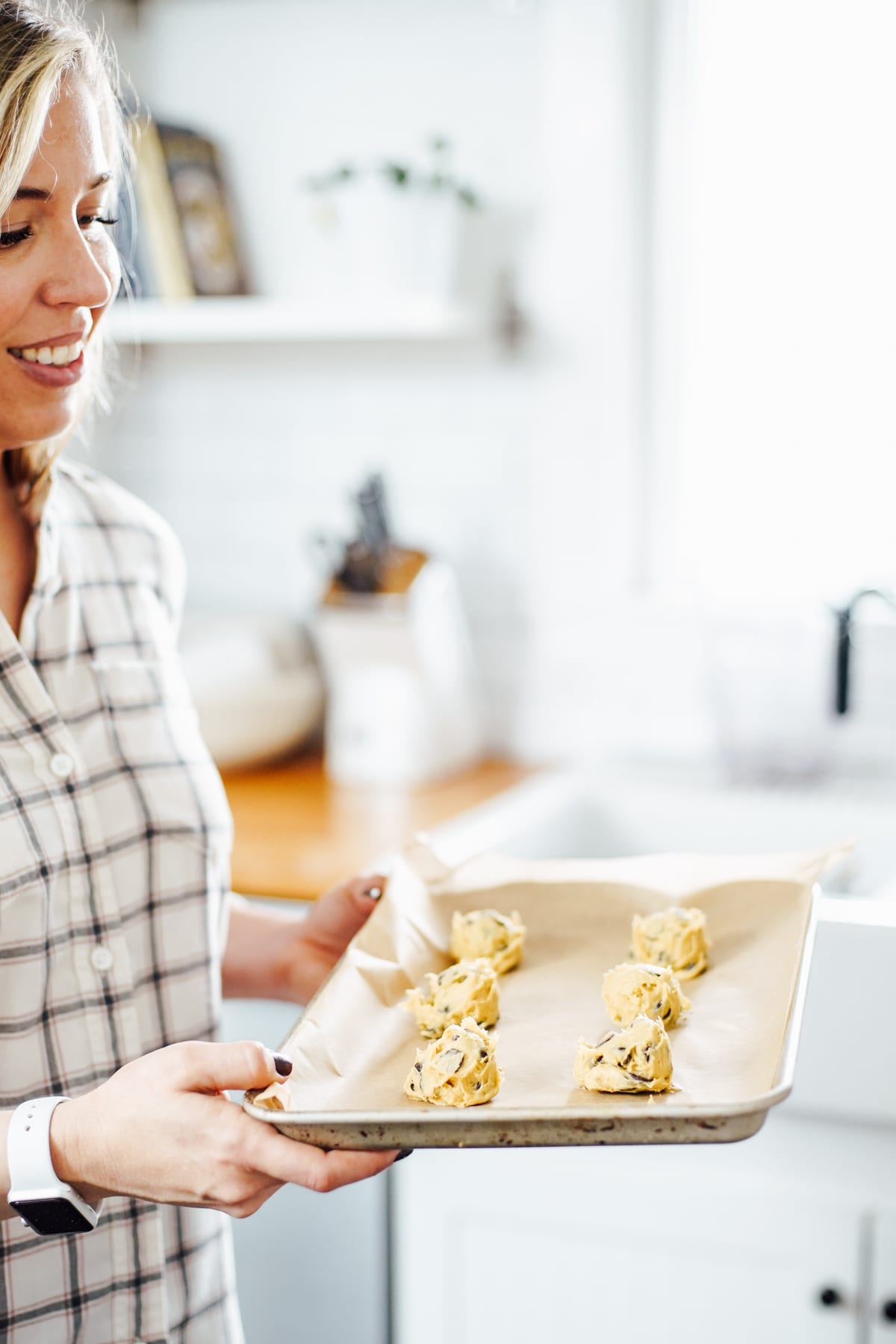 To make the cookies, simply cream the butter and sugars together.
In this particular recipe, you'll find that we use brown sugar and cane sugar. When it comes to sweets, I'm not opposed to sticking with sugar.
I'm definitely in the camp that sweets and treats are to be enjoyed as just that: treats. We don't need to "healthify" these treats with avocados or black beans. (Black beans and brownies just don't belong in the same sentence. I love both, just not together.)
So, we're using sugar here. The amounts are reduced so the end result is a cookie that isn't overly sweet but just right (the BEST, in my opinion).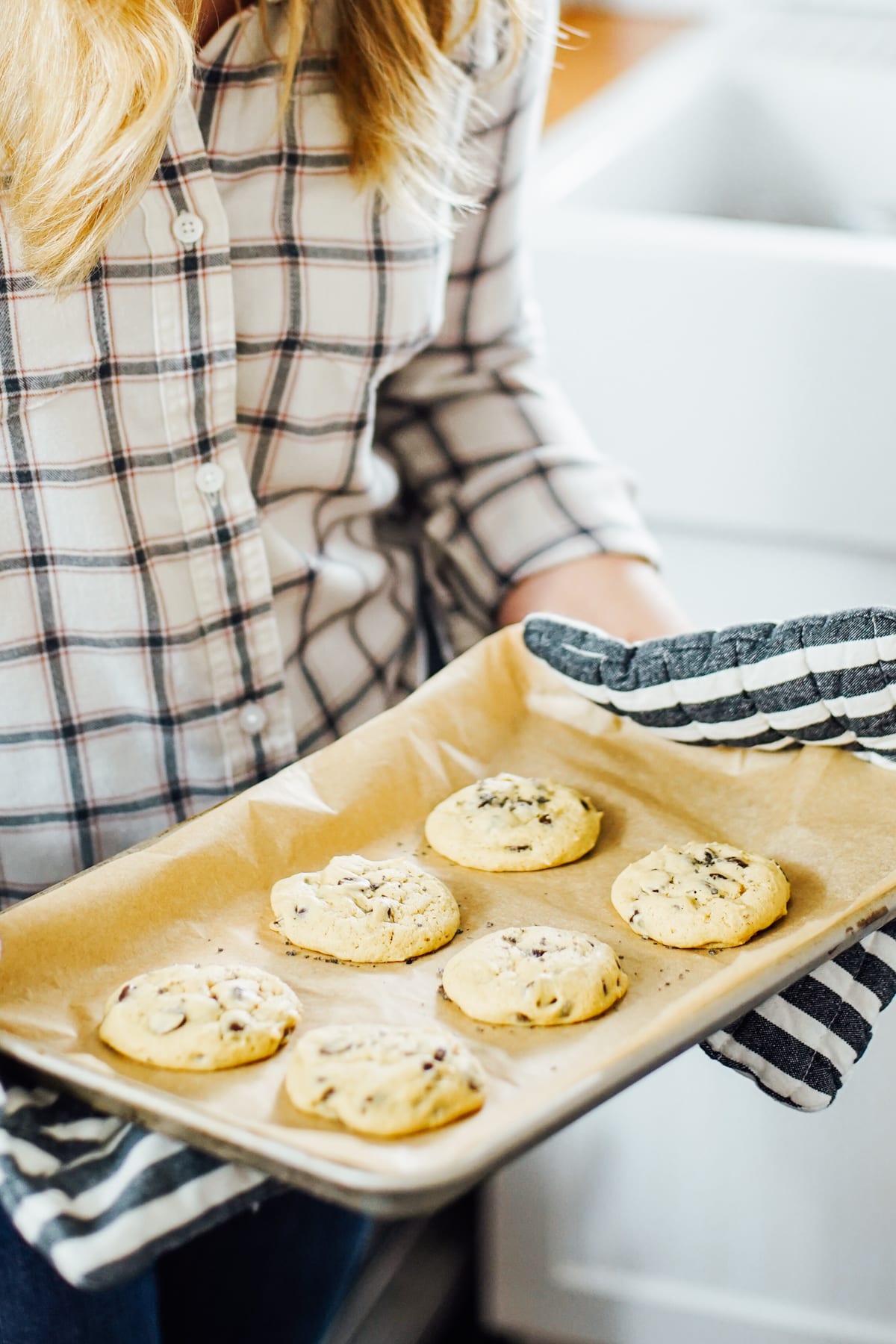 Back to the steps…
Cream the butter and sugars together, then add two eggs one at a time. In a separate bowl, whisk together the einkorn flour and leavening agents (baking soda and baking powder). Finally, gradually add the dry ingredients to the wet ingredients .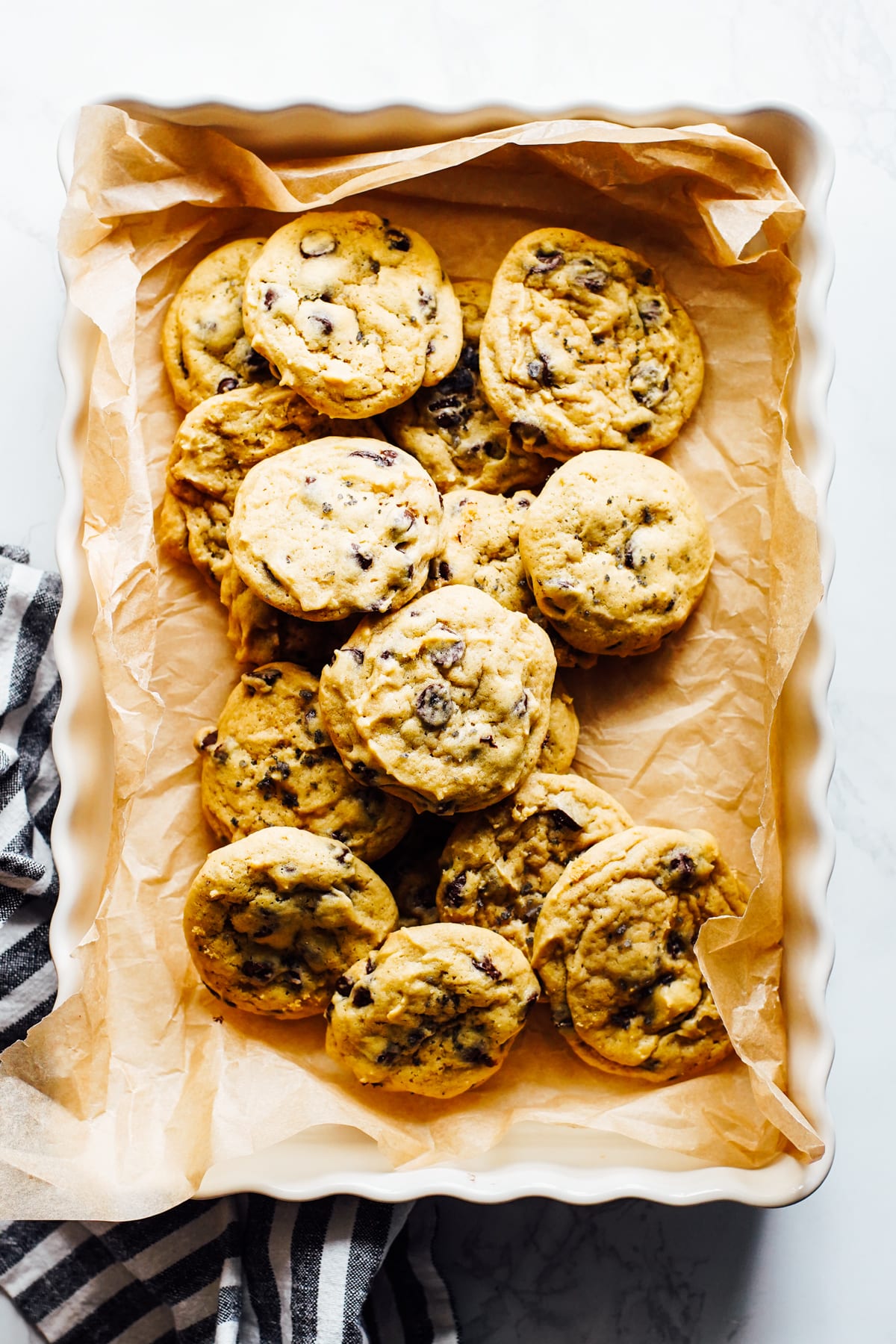 Once the cookie dough is ready, and you've enjoyed a few bites (because sampling homemade cookie dough is a must and since you're using quality, pasture-raised eggs, there's no need to be concerned IMO), bake the cookies for 12 minutes or until just slightly brown around the edges. The cookies will have a yellow tint which is the classic characteristic of a baked good made with einkorn flour.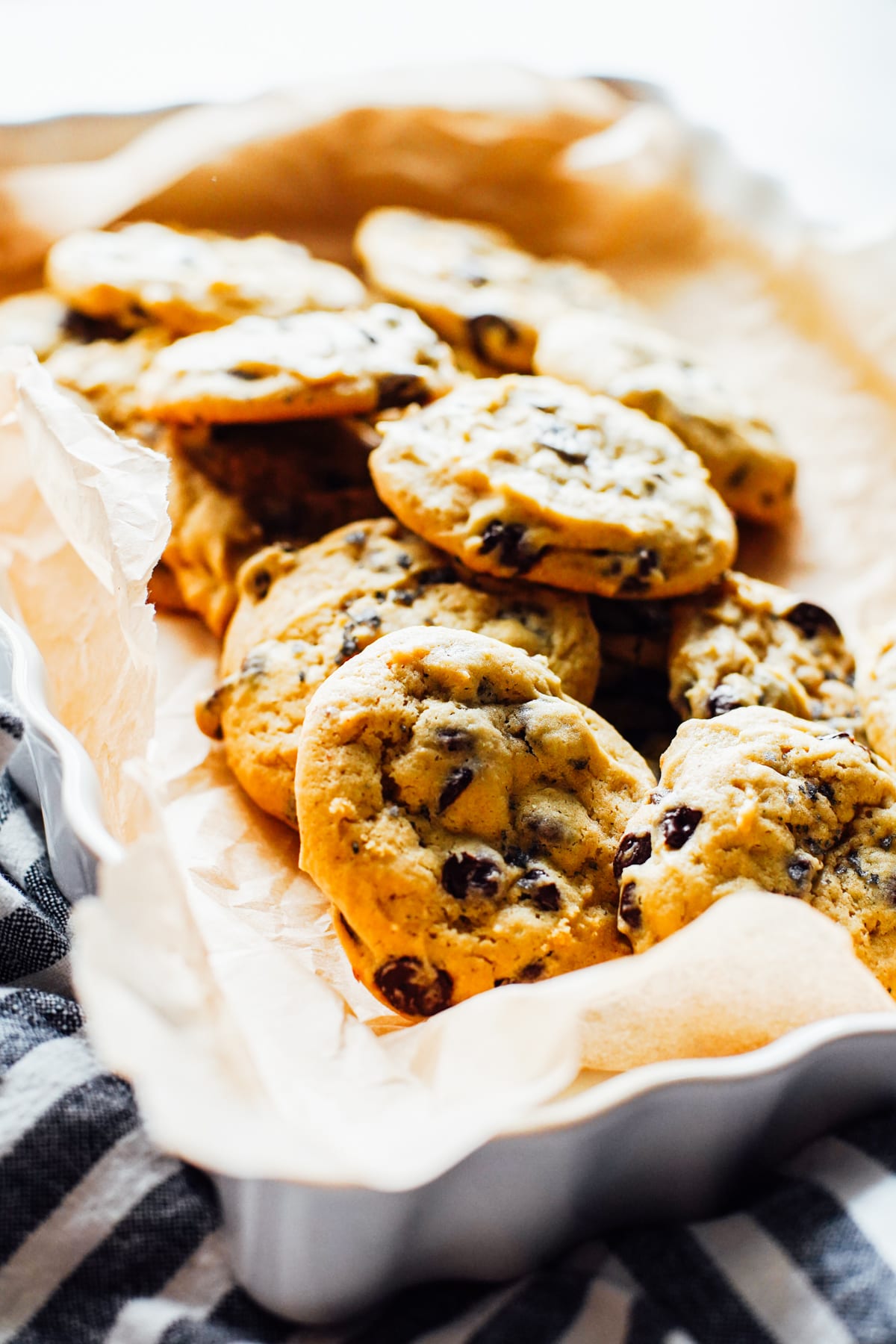 The end result is a soft and slightly chewy homemade chocolate chip cookie that will wow everyone in the family (even the folks that still love cookies from a box). If you don't want to eat all the cookies within a few days, I recommend freezing the extras.
What Else Can You Make with Einkorn Flour?
You can use einkorn flour for all your baking needs. After you make these cookies, here are a few other ways to use einkorn flour.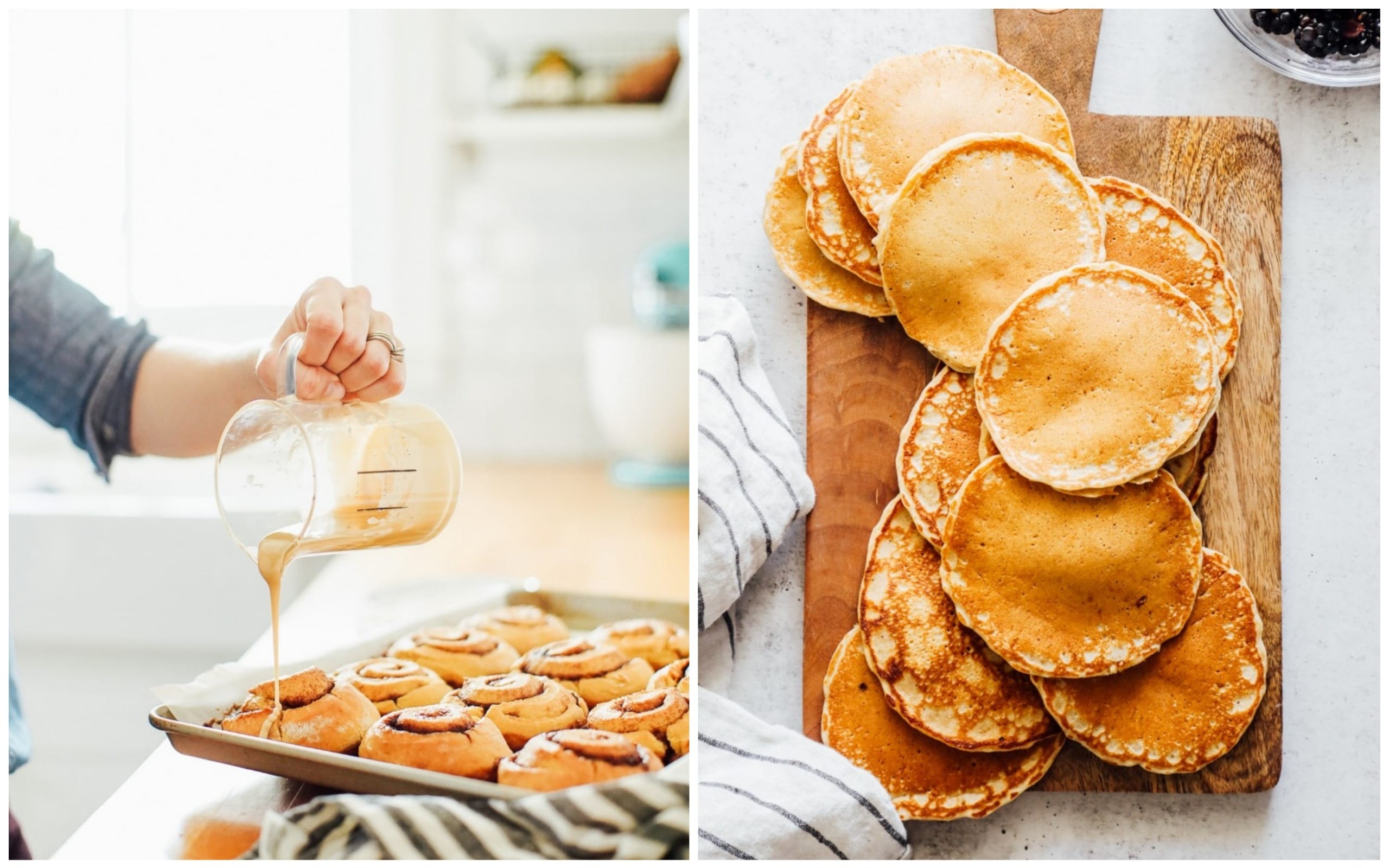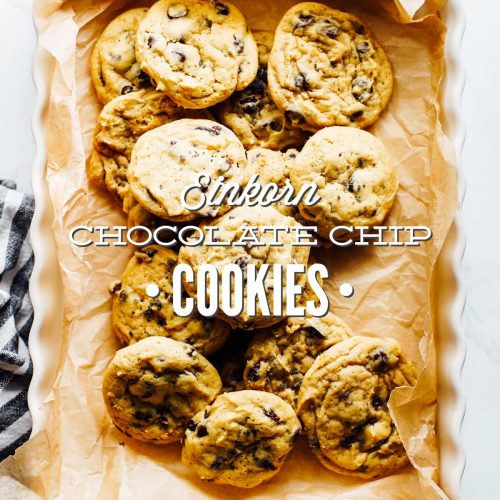 Einkorn Chocolate Chip Cookies
Homemade chocolate chip cookies made with the ancient grain einkorn. Soft, slightly chewy, and perfectly thick. Just what a chocolate chip cookie should be.
Instructions
Preheat the oven to 350F and line a baking sheet with parchment paper.

To a large bowl, add the butter and sugars (brown and cane sugar). Use a hand mixer (or stand mixer) to cream together the ingredients until light in color.

Add the eggs one at a time and beat to combine, followed by the vanilla extract.

In a medium-size bowl, combine the flour, salt, baking soda, and baking powder. Whisk to remove any large lumps.

With the mixer on low speed, gradually add the flour mixture to the wet ingredients. Mix until combined.

Use a wooden spoon to stir in the chocolate chips. The dough will be stiff. Allow the batter to rest for about 10-15 minutes, as the einkorn needs this rest time to absorb the liquid ingredients.

Use a medium-size cookie scoop to scoop the dough and place cookies about 2 inches apart on the parchment-lined sheet pan. They will spread some so be sure to leave room between the cookies.

Bake for 9-12 minutes, or until barely beginning to brown around the edges. They should appear set on top but not browning. Einkorn produces yellowish baked goods, so a light golden/cream hue is normal.

Let the cookies rest on the sheet pan for 5 minutes before removing to a rack to cool completely.

Once cool, store in an air-tight container or bag on the counter for a couple of days, or freeze for a few months.
Notes
Cakey Cookies? Some folks have had an issue with the cookies being cakey and have expressed disappointment in this texture. Here are a few thoughts…
If the butter is too warm, this could be an issue. Try chilling the cookie dough for about an hour before baking or overnight. Personally, I love to make this cookie dough, roll it into a log on parchment paper and then freeze. Then just slice and bake the cookies later. That's what I do a lot so we always have cookie dough in the freezer and the cookies always turn out great.
Use the gram measurements (and a scale), not the cup measurement for flour. Grams will give you a precise measurements when baking, cups will not! My cup of flour will not be the same as your cup of flour, depending on how we scoop the flour, pack it in the measuring cup, etc. This is true for all cookie recipes. Using too much flour can and will result in overly cakey cookies.

Another thought is to allow the dough about 10-20 minutes after mixing to rest on the counter before scooping and baking. Einkorn absorbs liquid very slowly.
Sugar Content: Since the sugar amount is dialed back in this recipe (I don't care for overly sweet cookies and prefer to develop recipes that don't call for a ton of sugar), much of the flavor of the cookies should come from the nutty einkorn and then the touch of sweetness from sugar. Some people have suggested that their cookies were cakey due to the reduced sugar amount. If you feel that you want more sugar, you can increase the cane sugar to 1/2 cup as this will cause the cookies to spread more while baking, resulting in a thinner cookie. I personally like these cookies just the way they are and make them on repeat. 
Nutrition
Calories:
112
kcal
Carbohydrates:
16
g
Protein:
2
g
Fat:
5
g
Saturated Fat:
3
g
Cholesterol:
19
mg
Sodium:
91
mg
Potassium:
23
mg
Fiber:
1
g
Sugar:
9
g
Vitamin A:
111
IU
Vitamin C:
1
mg
Calcium:
17
mg
Iron:
1
mg
In the video, you'll notice the use of a whisk. This is because a clunky hand mixer or stand mixer takes up to much screen space, which wouldn't allow me to show you how the cookie dough/ingredients look at each stage. Using a hand mixer or stand mixer is the best way to make the cookies.