This post may contain affiliate links. Affiliate links come at no extra cost to you. These links allow me to share the products I authentically recommend (and use) and support Live Simply by receiving a small commission.
What a week!
Saturday afternoon Dustin and I packed the car, buckled the kids in the car seats, and left detailed instructions for the loving chicken caregivers (hey, some people need "dog-sitters," we need "chicken-sitters."). Our destination? The "Happiest Place on Earth!" AKA: Disney World.
The plan was to spend each day visiting a few rides and enjoying the many shows, parades, and Christmas programs offered this time of year. For the the first three days we did exactly that. We shook Buzz Light Year's hand about ten times, hugged Minnie Mouse more than I can count, and raced around the speedway (with a two and four year-old driving…which is totally legal at Disney!) multiple times!
As it turns out, Disney is not only the "Happiest Place on Earth", but also the "Germiest Place on Earth." No lie! A few of those little germies decided we needed a few souvenirs (and not the cuddly, plush kind of souvenir). I'm sure you can guess what happened next?
FREE Real Food Crash Course
I get it, switching from processed food to a real food lifestyle can feel overwhelming and confusing. Friend, it doesn't have to be this way.
Here's what to expect: 
printable charts (real food defined, a seasonal produce guide, 

meal planning)

how to get started with a real food lifestyle

how to create a meal plan and stay within a budget

7 real food recipes

emails from me to help you enjoy real food
Bonus: Step-By-Step Guide to Real Food
Yep, Wednesday night I woke up with the chills, a fever, and headache. I really wish those germs came with a return policy.
Dustin and Piper were able to finish Disney with a "bang." Literally, they enjoyed roller-coasters and fireworks. Londyn and I had a much more laid-back ending to our vacation. Literally, "laid-back"…laying on the couch and bed.
The good news is that we are now home (thank goodness for my own bed and homemade elderberry syrup) and despite the germ souvenirs, we had an amazing vacation and much needed family time. With Londyn and I on the mend, huge piles of laundry are waiting to be tended and my list of to-do's is slowly growing (okay, more like rapidly multiplying), so naturally, comfort food is high on my "I need you" list. But here's the thing about being sick and comfort food…cooking just doesn't happen when the germies stay for a visit. Even if you're Superwoman (I know, I like to think of myself that way too), cooking is the last thing a sickie wants to do.
So, what's a sick comfort-food-needing-gal to do?
Prepare and freeze it!
Now, when I say "prepare and freeze it," I'm not encouraging you to prepare for sickness and wait for those germies to make their debut. No, no!
Being prepared is always a good thing! It's your choice when you actually use the prepared comfort food sitting in the freezer: on a busy night, when a sudden sickness strikes, or when you can't cook one more meal.
This busy holiday season is the perfect time to stock the freezer with comfort favorites: homemade slow-cooker chicken noodle soup (I recommend freezing cooked noodles separately and adding them when you're ready to defrost and heat the soup), beef and barley soup, and butternut squash macaroni and cheese (the ultimate comfort food).
Since this is also the time of year for all things squash, my favorite wintery-comfort-classic is made with butternut squash for an extra creamy and nutrient-rich addition (and as I learned from Disney, we can all use extra nutrients right now!).
Butternut squash is amazing when roasted, so this recipe first calls for roasting the squash, then pureeing and creating an extra creamy butternut cheese sauce, and finally baking the macaroni and cheese for a final show-stopper!
Don't let the rich orange color of this macaroni and cheese fool you! The rich orange hue comes from the squash, which means your kids will never guess there's a seasonal veggie lurking inside those cheesy noodles. Since I'm all about honesty when it comes to food and kids (well, actually when it comes to just about everything in life), I recommend sharing the little veggie secret after the first few bites! Trust me, even with the veggie knowledge, they'll be back for more.
Roasted Butternut Squash Macaroni and Cheese
Butternut squash is amazing when roasted, so this recipe first calls for roasting the squash, then pureeing and creating an extra creamy butternut cheese sauce, and finally baking the macaroni and cheese for a final show-stopper!
Ingredients
1

medium

butternut squash

peeled and cubed, about 3 lbs.

3

garlic cloves

6

TB

butter

cubed

1

lb

whole grain macaroni noodles

cooked

2

cups

whole milk

1

tsp

salt

plus extra for roasting

1

tsp

ground mustard

this is found in the spice section of the store

2

cups

shredded cheddar cheese

1/4

cup

grated parmesan cheese

optional
Instructions
Preheat the oven to 425F.

Place the cubed squash in a 13X9 baking pan along with the 2 tablespoons of cubed butter and whole garlic cloves (scattered over the butternut squash).

Sprinkle with salt. Roast the butternut squash for 25 minutes, until soft when pierced with a fork. Reduce the oven temperature to 375F.

Place the squash (along with the garlic cloves and "juice" in the pan) in a blender, puree for 20 seconds until smooth.

Heat the remaining 4 tablespoons of butter in a large saucepan or Dutch oven. Add the mustard powder, followed by the milk, salt, and butternut puree. Whisk the ingredients until smooth and combined. Cook on medium-low heat until slightly thickened, around 5 minutes.

Once thickened, add the cheddar cheese and 1/4 cup of parmesan cheese.

Whisk the cheese into the sauce. Cook the mixture, stirring frequently, until thickened.

Place the cooked macaroni noodles in the 13x9 baking pan used to roast the squash (no need to dirty more dishes). Pour the cheese sauce over the noodles. Mix the cheese sauce into the noodles. Top with additional parmesan cheese (optional).

Cook, uncovered, for 20 minutes until the cheese bubbles.
To Freeze this recipe, simply follow the instructions until step seven. Once the cheese sauce and noodles are added to a freezer and oven safe pan, freeze the tightly wrapped and covered macaroni and cheese until needed. To cook, Preheat the oven to 425F. Remove the macaroni and cheese from the freezer, unwrap and uncover, allowing the macaroni and cheese to defrost while the oven preheats. Bake for 30 minutes, until bubbly.
More Recipes You May Like: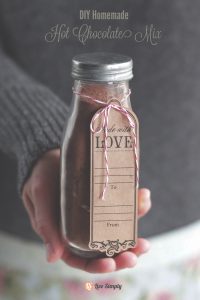 DIY Homemade Hot Chocolate Mix